Are you one of those people who love yellow houses and have painted their dream house yellow? If yes, then this article is just right for you. Yellow is a color full of positive energy. The color also represents enthusiasm and success. Now that you have painted your house yellow. Let's find out the most popular front door color that will add another layer of aesthetic to your house.
Yellow can actually go with a lot of colors, but there are certain colors that just stand out and grabs the attention of the person passing by. So, be classic and royal and try this paint combination for your yellow house.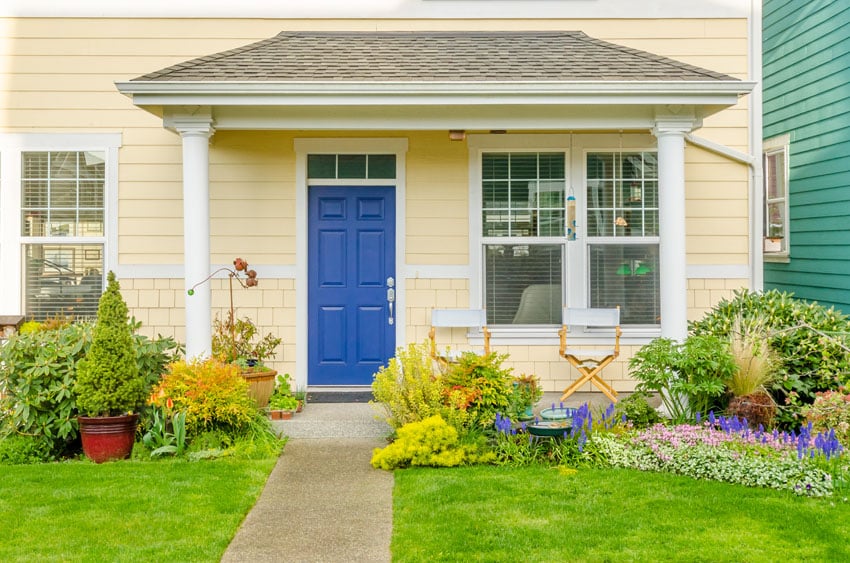 The mighty navy blue is the top color choice for your yellow house. The color implies trust and stability, which is the perfect combination for your yellow house. The color will give your house a contemporary, natural vibe.
The navy blue hues will compliment your yellow house. It will add a sense of depth and peace to your house. The dark color will stand out in front of yellow and will make your door more attractive and welcoming to guests. Also, you can never go wrong with this combination. The color makes your house stand out in the most classic way.
2. White KILZ TRIBUTE)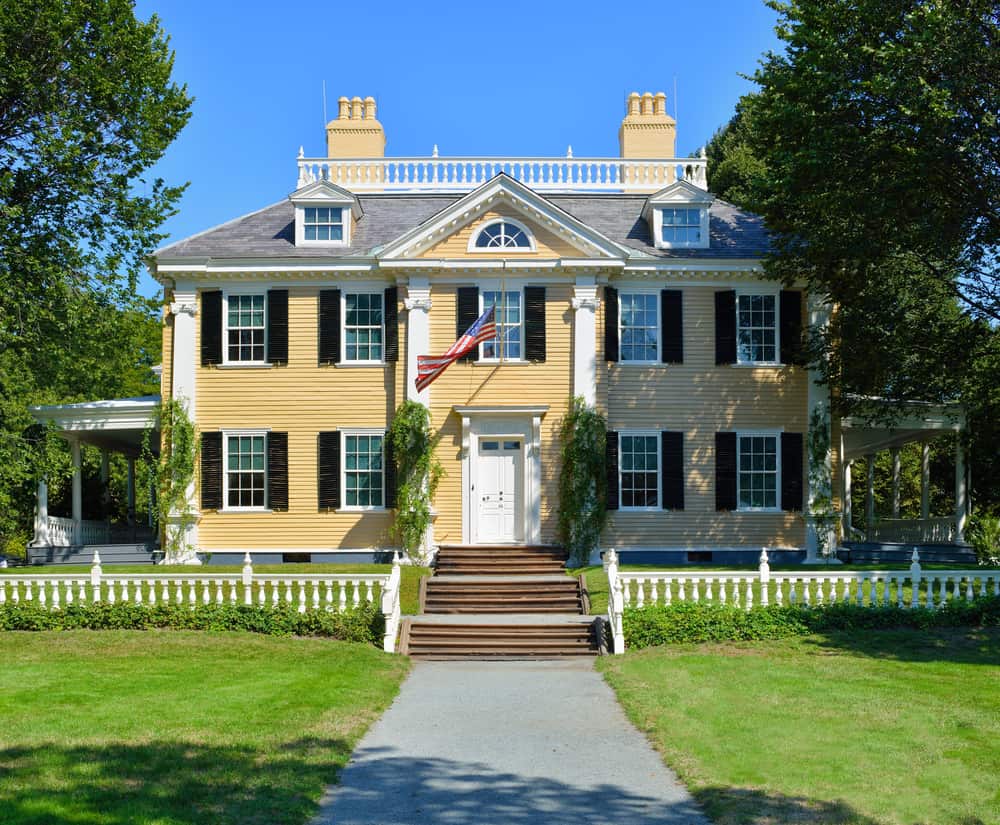 If you are the kind of person who likes to have a color blend into each other rather than complimenting, then white is the color for the door in your yellow house. The color implies peace, harmony, and happiness.
The color gives you a classic look and crisp appearance. It provides a subtle contrast to your exterior. White also does not grab attention quickly, so if you want your house to be subtle and do not want to gain too much attention, then this color is for you.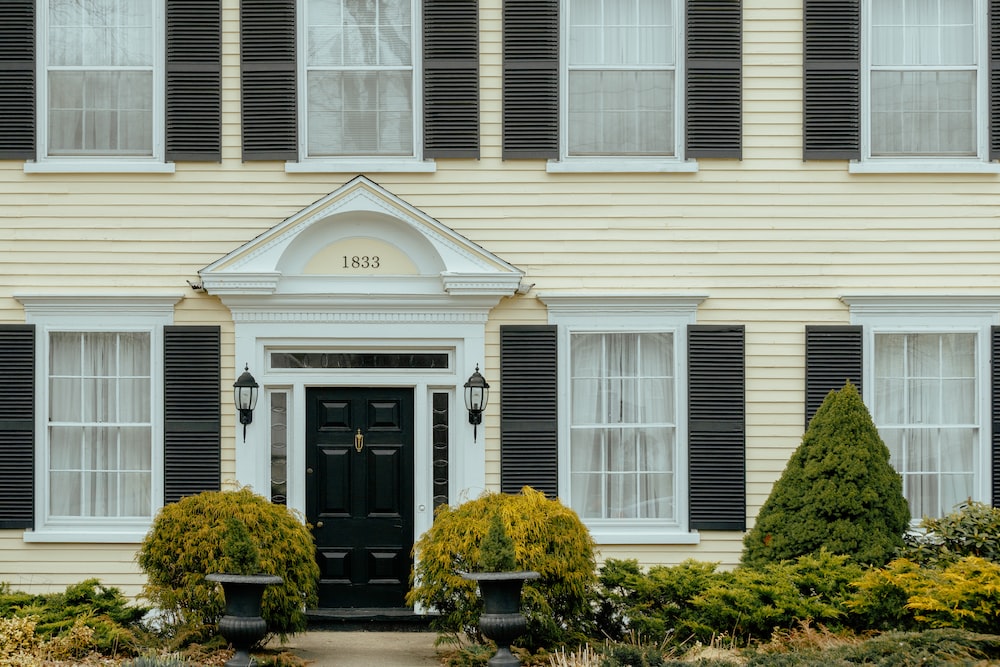 Black is one of those colors that you can never go wrong with. It is timeless, elegant, classic, and beautiful. It will give your front color a timeless vibe. With yellow as the background, the black color will give your house a timeless, elegant look.
The striking contradiction between dark black and subtle yellow will add charm to your exterior. The yellow house will become everyone's favorite once you paint your front door black. It will be everyone's go-to picture background because that combination is aesthetic. It would be the perfect place to click pictures and make memories with people around you.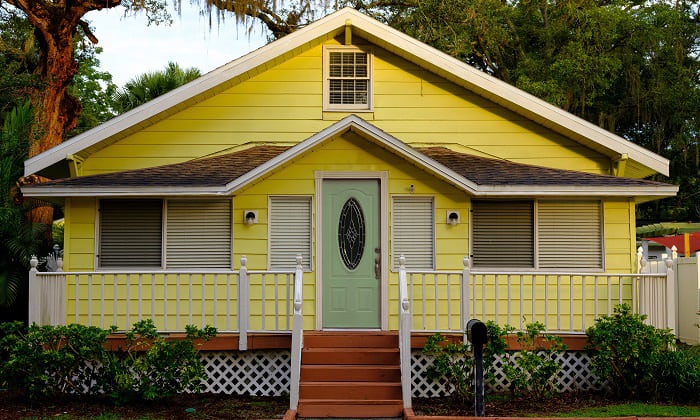 If you are looking to give your exterior some natural vibe, then this sage green would be the perfect color for your yellow house.
The color will give your home a natural, earthy vibe. Opting for this color will give your place a soothing, peaceful look. The color added to the yellow house will give calmness and serenity to your house. If you are looking for a house that invites calmness, nature, environment, etc., then this is for you. The color will reflect your personality and makes you feel more calm once you see that door from far away.
5. Gray (KILZ TRIBUTE)
If black is too much and white is too subtle, then gray is your best friend. It is a versatile color that goes with a spectrum of shades that includes yellow. You can paint your door gray, and it will add to your yellow house. This color will give your house a soft neutral vibe. This color will add a touch of sophistication to your house. This will create an inviting and wholesome house for you and your loved ones.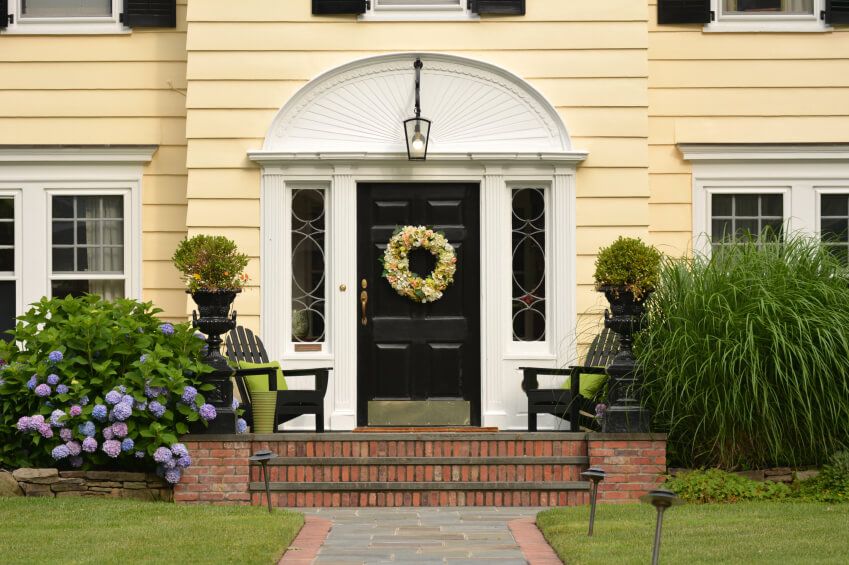 If you prefer a darker tone, charcoal is an excellent option. This deep, rich color provides an elegant and modern look, creating a dramatic contrast against the yellow exterior.
The color is known for its depth and will help you give a dramatic look to your house. It will also act as a conversation breaker as a lot of people are going to be interested in why you chose this color. The color can never go wrong, especially when you want to contrast it with yellow.
Be bold and think out of the box by choosing dark red as your door color. The bright red color will add a vibrant and energetic touch to your yellow house. The combination of red and yellow can never be wrong. The boldness of red and subtleness of yellow will make your house stand out and will attract a lot of good conversation and laughter.
Red is a color for energy and love. Your house's front door will reflect that. Combine the red with the contradicting yellow, and it is a match made in heaven.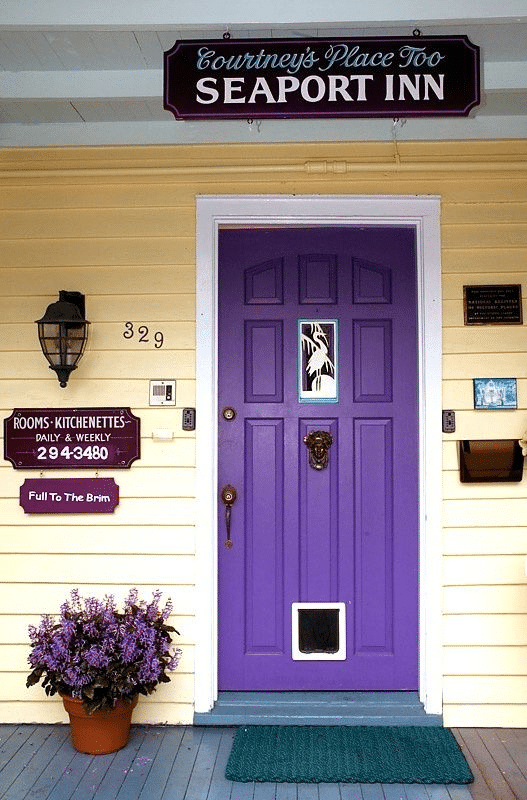 Purple is a color that looks good on anything. Be it a door or plates. Purple always stands out and gives a touch of luxury, class, and elegance. A deep purple door for a yellow house would exactly be like that.
The color will give a contrasting vibe against the yellow backdrop. It will give a strong statement and also add a loyal look to your house. Deep purple is a color for royalty and class. The color combined with yellow is just radiating and beautiful. If you are someone who wants to add a royal, rich, and classic vibe to your house, then this is the color for you.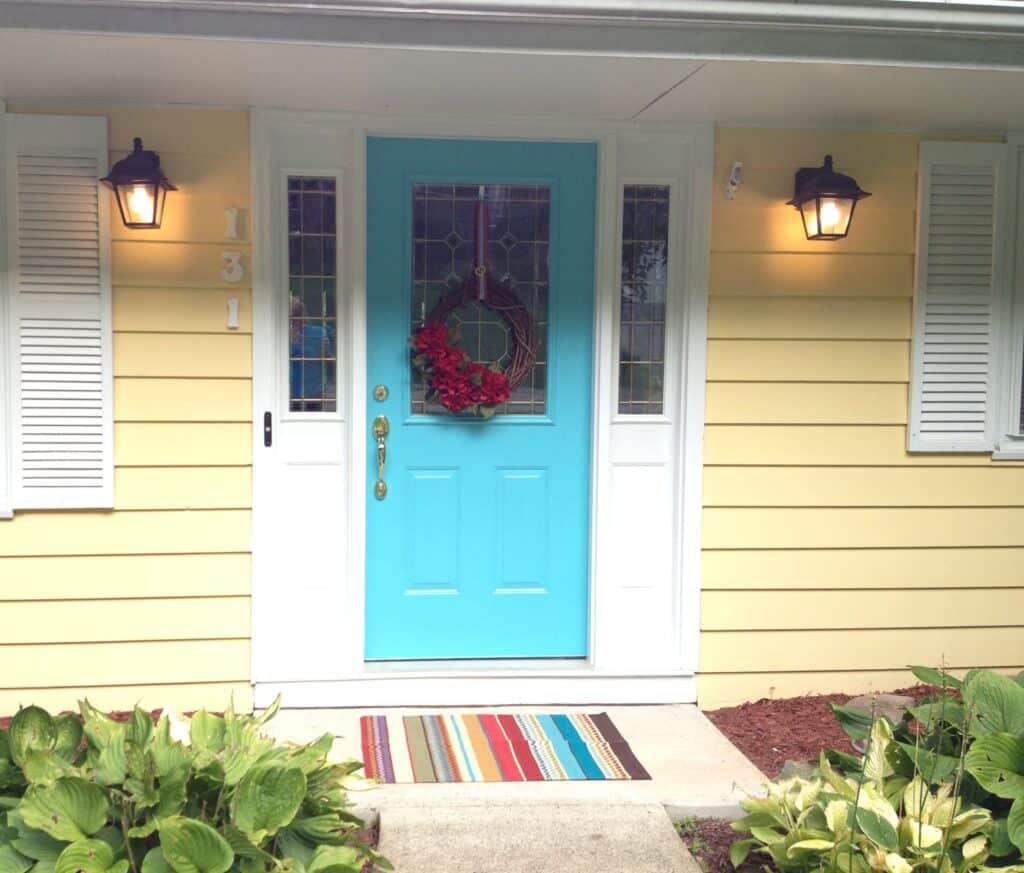 Are you tired of the same old color? If yes, then turquoise is for you. Infused with a tropical and coastal vibe, this color will change the entire aesthetic of your yellow house. The color against the yellow creates a breezy, calm, fun, and fresh atmosphere. By choosing this color for your door, you would give a positive message that one should change the color according to the trend and future.
10. Teal (Prestige)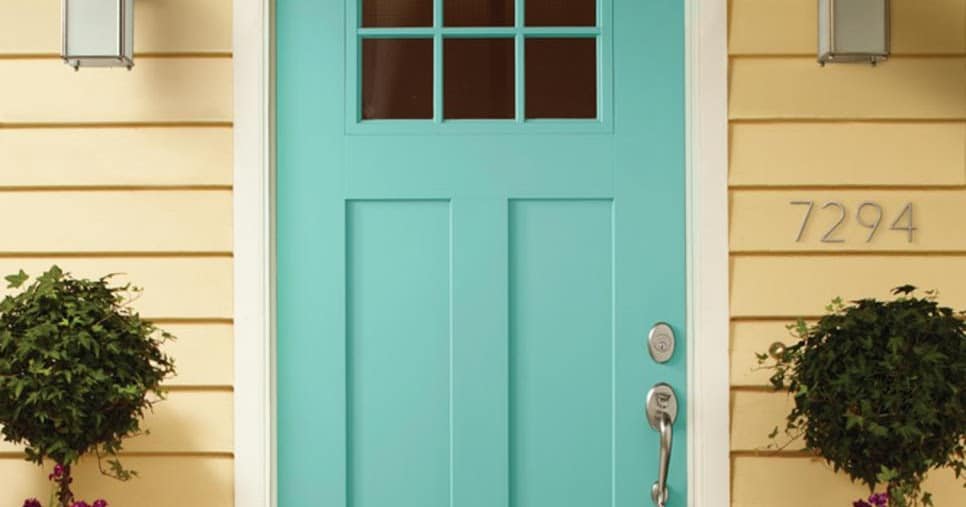 Teal and yellow is a match made in heaven. Your yellow house with a teal door will be an inspiration to many. The color is unique, eye-catching, pretty, vibrant, and classic. Teal is a refreshing color.
You can paint this color to stand out and add a playful and classic vibe. The color also adds a joyous vibe to your house. This color is inviting and welcoming to people. Teal also ensures that your house stays cold compared to the outside temperature, as the color does not absorb heat compared to other colors.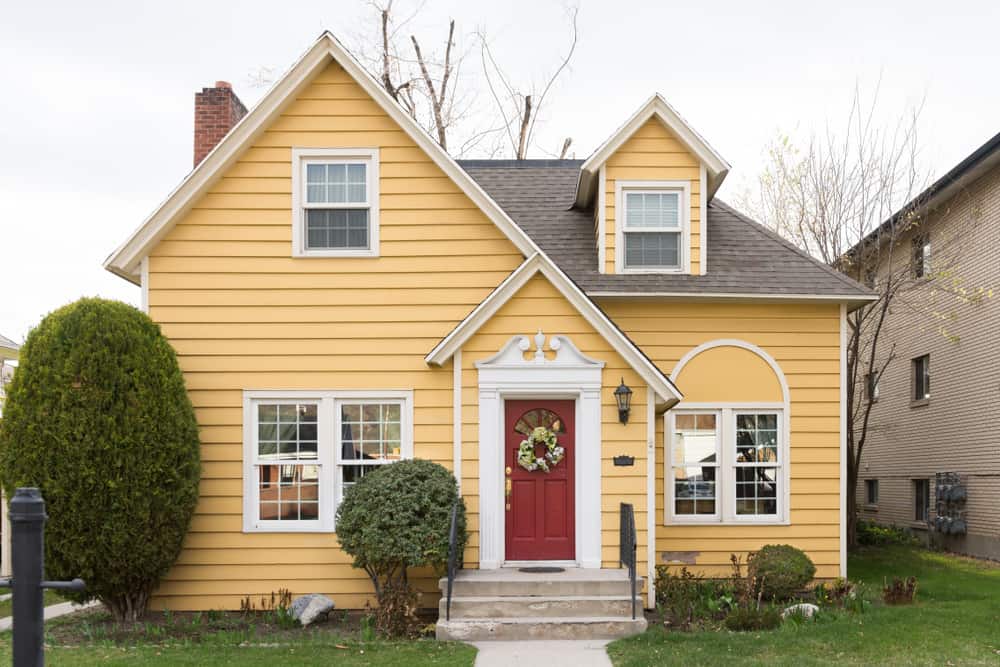 If you are the kind of person who is looking for a rustic, warm, contemporary, charming color, then this is the one for you. Brick red is a whole entire vibe in itself. The color has an earthy, warm tone.
The color, when mixed with your yellow house will create a wholesome, inviting, and interactive space. The color will also indicate the peace and calmness that your house will have. Brick red is known for its rustic look, so if you are looking for that kind of vibe, then this is the color for you. The color also compliments yellow on the color wheel, making it the best contrast you can ask for.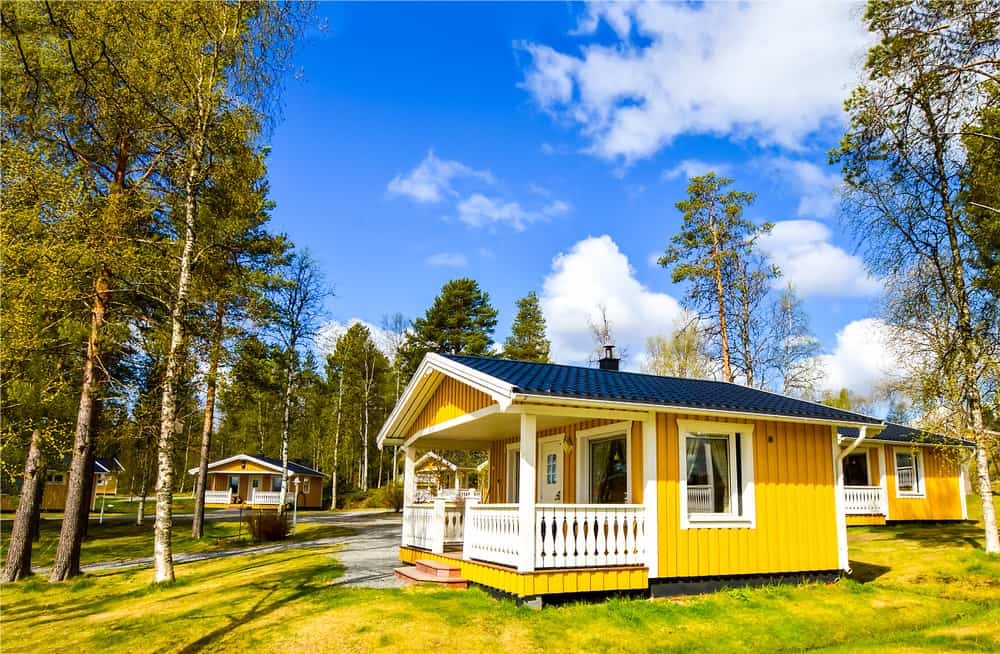 Yellow on Yellow? Well, as much as you are questioning this combination, trust us, it will look fantastic. The color is lighter than the regular yellow that you have painted your house with. The color creates a cheerful, homely, community ambiance which is exactly what you are looking for at your home.
The color also suggests calmness. If you want not to stand out and just blend in, this color is perfect for your yellow house. If you are still unsure about it, try to do a test on the door by painting one of the parts pale yellow; trust us, you will not regret it.
13. Pink (Jolie)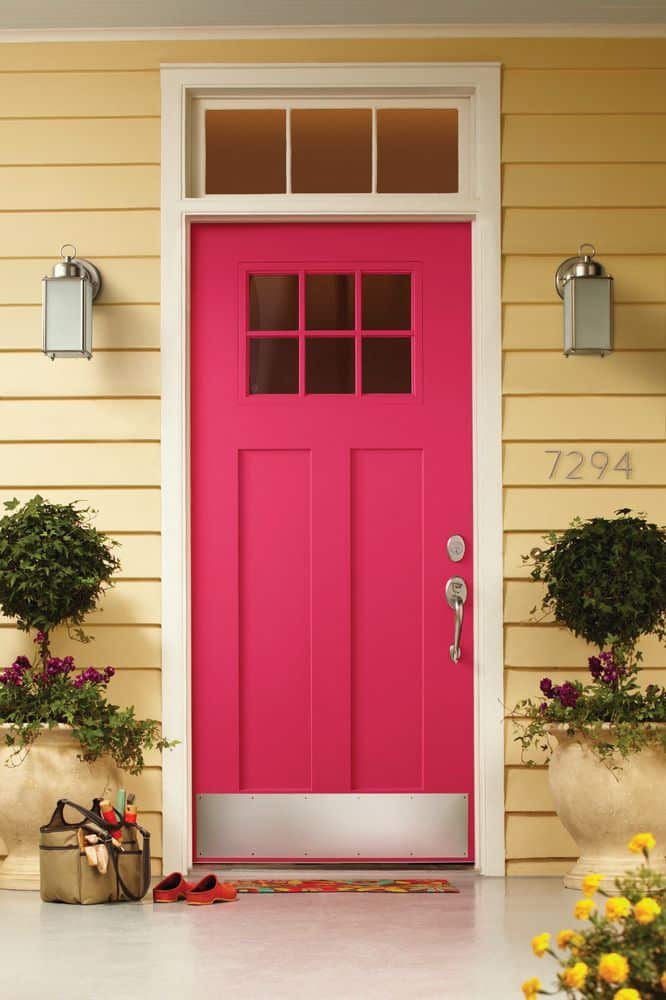 Are you one of those people who have been obsessed with pink as a child? If yes, now is the time to make your favorite color a part of your life. Pink will make your door pop in front of your yellow house. The combination of warm yellow and pink will elevate the overall aesthetics of your house. It will be the perfect combination of subtle yet loud. Pink also reflects happiness and radiates joy.
Picking up color for your yellow house could be a task but do not worry; we have got you all covered. The above are the few colors that you can prefer while selecting the color for your door. The above 13 colors can offer a wide range of possibilities for your house. While selecting the color, remember that the door can change the entire personality of your house, so ensure that you choose the right color combination for your house.
Choose a color that reflects you and the kind of vibes you are inviting to your space because the front food color will definitely be a statement color for your house. So make sure that you choose the right one.
Points to Remember While Choosing the Color of The Front Door
What kind of vibe are you looking for in your house? Are you looking for Positive vibes, Chill vibes, Energetic vibes, Peaceful vibes, Creative vibes, Romantic vibes, Mystical vibes, Vibrant vibes, Retro vibes, Zen vibes, etc? These are just a few examples, and vibes can vary greatly depending on individual experiences and interpretations. So, select a color according to the vibe you are looking for.
When you go to select a color for your outer door for your yellow house, you have to also look at the color combination and colors that complement the yellow color. Not all colors will stand out or will bring out the kind of look you are searching for.
While choosing the color for your yellow house, you have to look at the type of architecture the house has. You can not select a charcoal black for a bungalow house. It might look good, but it might not complement the house. So, when choosing the color for your front door, choose it according to the architecture.
When you are choosing a color for your front door, choose a color that will reflect your personality. Your vibe. The kind of way you want people to know you and feel when they enter your house. Remember, your house should have your element, not everything that is aesthetic. It is your home; make it the paradise you want to be.
When you paint the door of your house in a certain color, you should also consider the natural light because front doors are usually huge, and if it receives a lot of light, that means dark colors will absorb the heat, and light colors will not. So, keep in check the amount of light your door is receiving before finalizing a color.
Conclusion
Choosing the proper front door color is one of the most impactful ways to improve your home's outer appeal. If you have a yellow house, choosing a similar color for your front door can produce a spectacular aesthetic effect that draws attention to your property while also adding personality.
In the above article, we have covered the 13 most common front door colors for a yellow house, providing inspiration and insight to help you make the best decision. But remember, it is your house, your place. Color it according to the way you want to.
Before choosing any color, make sure that you do research, and if you hate researching, then follow our page.
Comment down below and let us know your favorite front door ideas for the yellow house.