So, you live in a mobile home? You're doing pretty well! But are you currently unhappy with your bathroom and considering a substantial renovation? Don't worry if you're caught in a rut and don't know where to begin; we're here to help!
Often, mobile home bathrooms have a dated design, which provides us with a great opportunity to be creative and experiment with a renovation that meets our tastes. All it takes is adequate planning, a dash of creativity, appropriate execution, and, of course, our insight to get you started!
It takes time and work to complete an excellent makeover. So, before we get into remodeling tips, there are a few things to be mindful of for a perfect and individualized remodeling design for your mobile home bathroom.
Major Factors to Consider for Remodeling Your Manufactured Home Bathroom
Because remodeling is a significant investment and you are most likely planning to remodel only once, let us dive into some key factors to consider before you begin creating a plan.
Budget: We're sure budgeting is something that comes to mind when you're thinking about starting anything new. Proper financial planning can help you save both time and money. Even though there is no set cost for rebuilding a mobile bathroom, you can roughly forecast the cost by selecting materials and styles that meet your budget without compromising a nice aesthetic.
Maintenance: Going for extravagant designs can be your first instinct, but do you have the time, energy, and resources to maintain them? This is something that you should consider when selecting your ideal mobile bathroom remodel plan and choosing designs and materials that suit your maintenance schedule.
Plumbing and Electricity Settings: Since most mobile bathrooms are custom-built, some of the designs you want for your bathroom may be incompatible owing to differing electrical and plumbing configurations. If they cannot be upgraded or changed, you should choose designs that will blend in with the existing plumbing and electrical systems and allow you to complete the task quickly.
Regulations and Permits: This may seem burdensome, but you may require permits, especially if you want to make big improvements to your electrical and plumbing systems. You should also be aware of any local regulations. So do your homework and be prepared to receive those permits!
Contractor: One of the most critical decisions you will make when remodeling your mobile home bathroom is choosing a good contractor. You should opt for a qualified contractor who delivers services that are within your budget. Another factor to examine is the contractor's level of experience and availability, as well as whether or not they can complete the task on schedule and without stalling.
That's all, folks! We're confident you now know where to begin with your mobile home bathroom makeover. Now that we've covered some of the important things to think about before you begin let's move on to the best mobile bathroom remodeling tips. We don't want to keep you waiting any longer.
1. Research and Plan a Good Design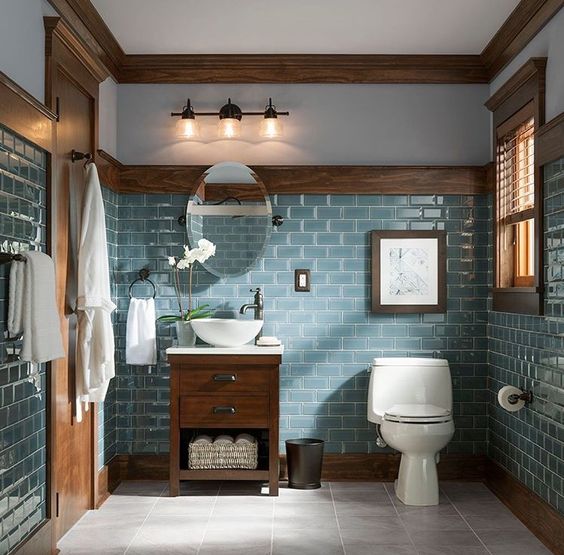 The first thing you should do is take a good look at your mobile home bathroom and see what it lacks. Choose a good design that is compatible with your bathroom and also blends really well with the overall aesthetic of your home. Be mindful of the availability of light and color palettes.
If you don't have much space in your bathroom, stick with simple designs that offer the appearance of space. To achieve this look, utilize large mirrors and light color palettes. If you are a huge fan of vibrant hues, you can also try a bright shower accent wall. Just make sure to choose a design that will have a nice look while requiring little maintenance.
You can also go for luxurious designs and decor, such as marble work and hanging lighting, but one of the most important factors to consider is how functional the bathroom will be. You ought to select a relaxing environment that is both functional.
Explore several styles and pick one that complements not only the home but also your personality. It's not so serious; you'll know when you see it!
2. Stick with the Original Layout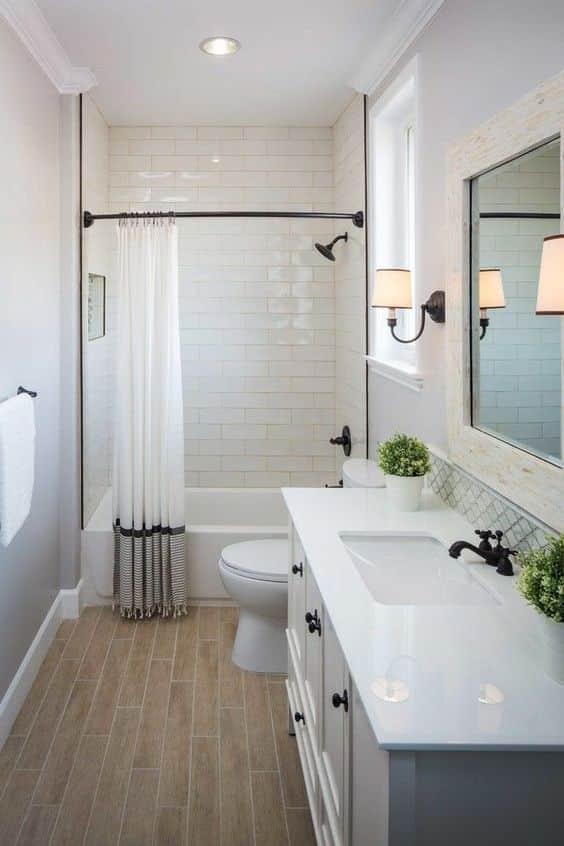 It will benefit you greatly if you maintain the original layout of your mobile home bathroom. The majority of manufactured home bathrooms are restricted in size and are built differently than permanent home bathrooms. Keeping the current layout can help you save money by avoiding excessive construction and damage to the bathroom setting.
Keeping the original layout can also assist you in planning a design that maximizes the space you have. You can also avoid extra work, use existing electricity and plumbing systems, and save a lot of money by following this strategy.
3. Get Inspired by the Many choices for Bathroom Walls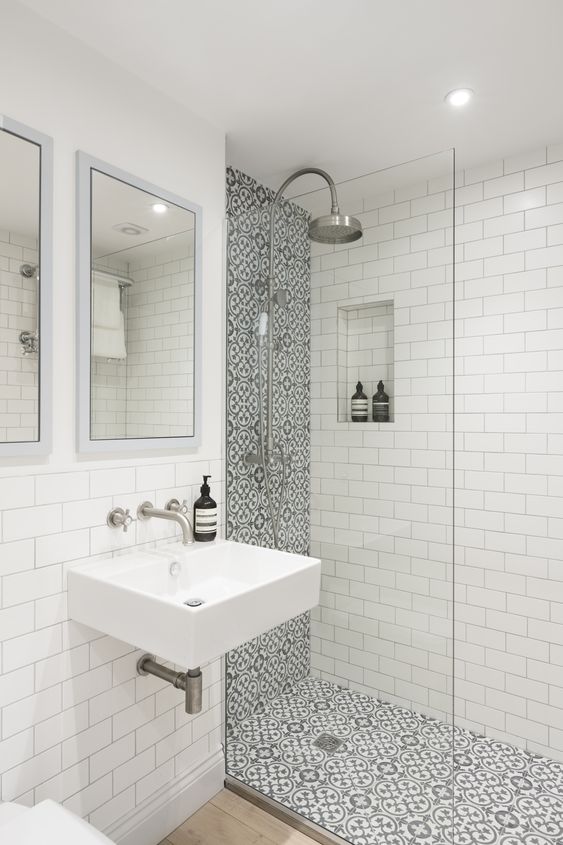 Bathroom walls are a terrific place to explore and choose from a variety of great options. What makes bathroom walls special is their capacity to draw attention, and even if you only rebuild one bathroom wall, the entire mobile bathroom will be transformed.
Many bathroom walls are frequently damaged as a result of constant moisture exposure and might harbor deadly mold growth. Remove the current wall covering and fix any damage. For a successful makeover, you should aim for a clean base.
Some mobile home bathrooms can be transformed with new paint or water-resistant wallpapers. However, there are plenty of other stylish options to pick from.
If you want to add a bit of country elegance to your space, consider wainscotting the walls. There are numerous ways to accomplish this; just be sure to hire an expert to do it correctly.
Shower tiles are another popular option for mobile home bathrooms. We adore how adaptable and long-lasting tiles can be when used on walls. Shower tiles are also available in a wide range of patterns and textures.
You can also cut down on bathroom wall renovation by establishing one dramatic accent wall, attracting attention to it, and leaving the rest of the walls minimalistic.
4. Be Smart with the Flooring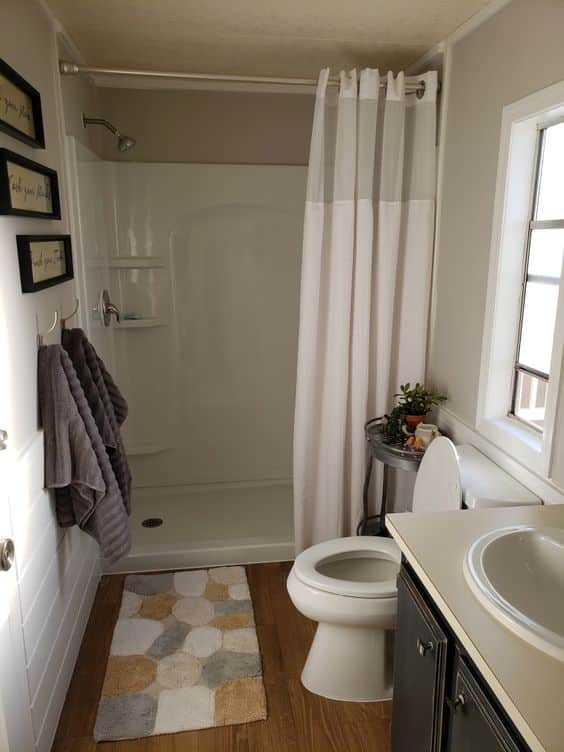 The simplest approach to updating your mobile home bathroom is to replace the present flooring. The techniques for replacing a mobile bathroom floor are similar to those for standard bathrooms, but there are a few things to keep in mind while working with a mobile bathroom floor. Let us look at them.
Most old mobile bathroom floors are made of particle boards, which are highly susceptible to moisture and eventual rotting. Also, since many mobile home bathrooms have limited space, which can also lead to a humid bathroom environment, you should go for floor materials that will suit such an environment.
Some of the good options you can go for are vinyl, luxury vinyl tiles (LVT), ceramic tiles, or opting for waterproof laminating. Make sure to avoid materials like hardwood, which will do terrible things in humid spaces.
While removing the existing flooring, inspect the subfloor properly to avoid damaging any electricity and plumbing lines, which are commonly installed in this area in mobile home bathrooms. You can also use this opportunity to look for and fix any leaks you were worried about.
To ensure a long-lasting bathroom floor, repair and replace any damaged subfloor sections before installing new flooring.
Before you install new flooring in your mobile bathroom, install underlayment. Underlayment will not only provide additional support but will also prevent noise and moisture, all of which are essential in bathrooms.
If you want to be creative and experiment with different types of flooring materials, then make use of transition strips. This will result in a very clean and professionally done bathroom floor while also covering the gaps and height differences between the materials.
Enhance the water resistance of the flooring by adding additional sealing, grouting, and finishing. Take the necessary precautions to prevent water from leaking into the subfloor.
5. Be Mindful of Damage to the Ceiling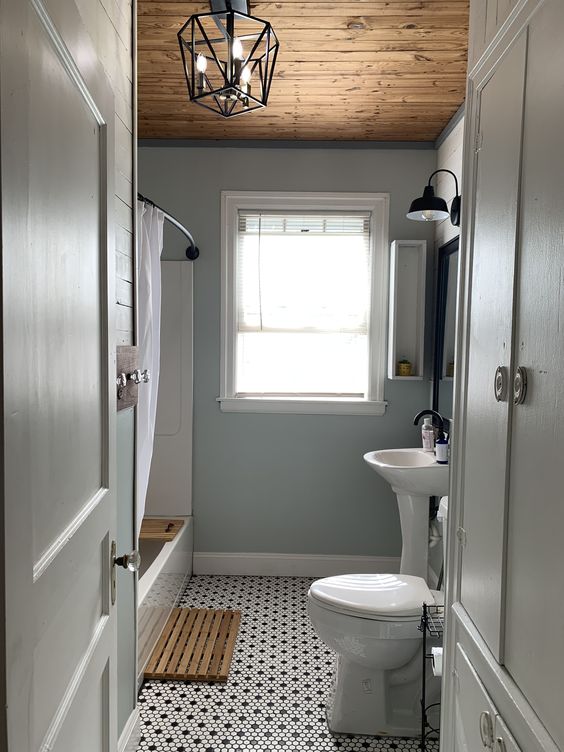 The bathroom ceiling is another area that can be prone to a lot of damage due to moisture and the accumulation of dust particles, and you should seek professional help to investigate and repair the problems in the ceiling completely.
Let's take a look at some of the most important points to pay attention to when upgrading a mobile bathroom ceiling.
There may be weight limitations in many mobile homes, so opt for lightweight materials for your new ceilings. Some of the most commonly used materials for ceilings in mobile home bathrooms are PVC panels, moisture-resistant dry walls, or fiberglass-reinforced panels (FRP).
Sheetrock is a version of drywall that is resistant to moisture and durable, making it suitable for a mobile home bathroom. This is a better option because it can be used throughout the bathroom, not just in the shower.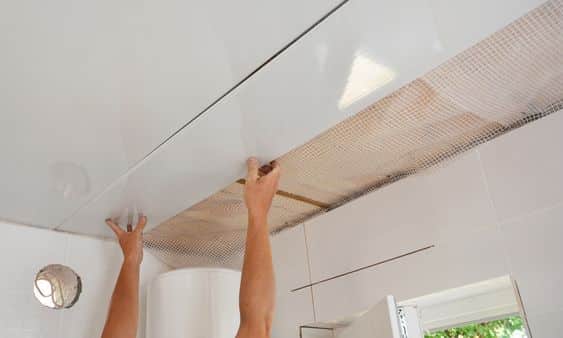 When building the new ceiling, use construction adhesives in addition to screws or nails to strengthen it and avoid damaging the ceiling structure.
One of the hacks you can try to minimize the humidity in your mobile home bathroom is to install ventilation in your ceilings. If you already don't have one, use this opportunity to get one.
For extra protection of ceilings, as a final step, paint the ceiling with moisture-resistant paints and make ceilings long-lasting.
6. Use Wall Mounted Light Fixtures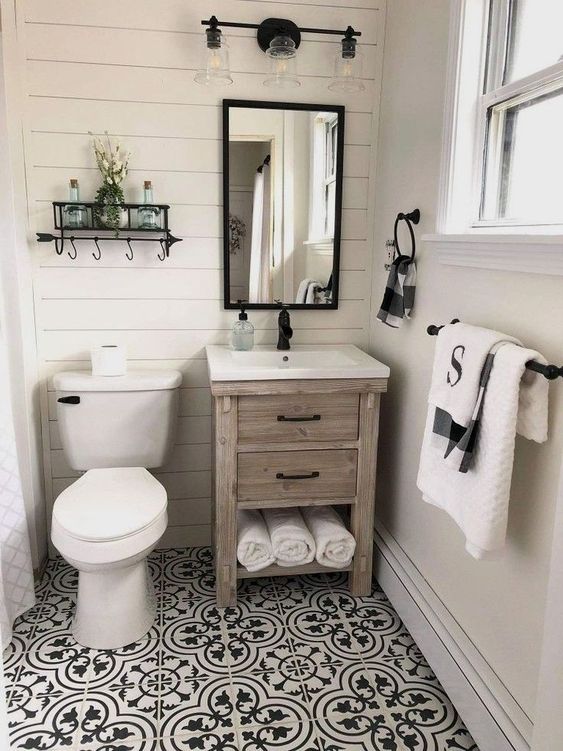 Wall-mounted lighting is a fantastic option for mobile home bathrooms. They are quite attractive and have long been a favorite of interior designers. Because of the restricted space in such bathrooms, they are a perfect solution for saving space.
They are also quite utilitarian, as they provide targeted lighting. Installing them over your bathroom vanity might transform it into your own mini-studio. They also come in wonderful warm lighting and designs that can provide you with a visually appealing and pleasant atmosphere to unwind in.
Scones can also be customized in a variety of ways. If you dislike intense lighting, you should go for wall-mounted lights that reduce glare.
7. Make an Effort in the Shower Area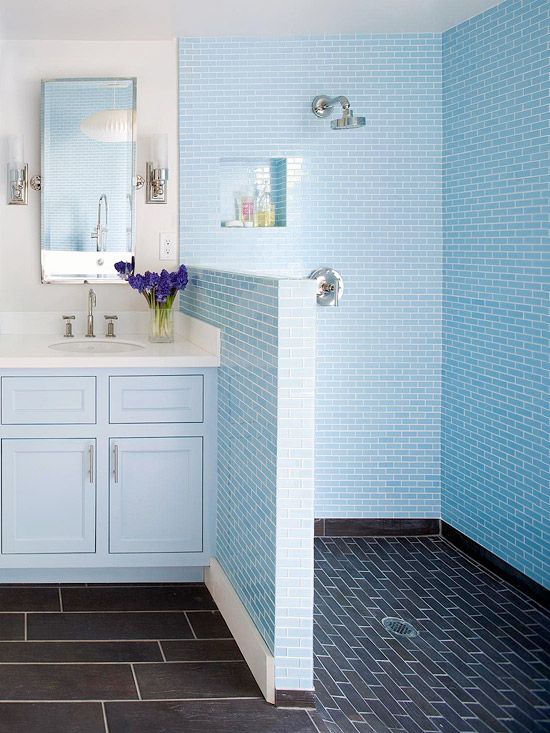 When a person enters a bathroom, they frequently gaze first at the shower area. A shower will not only help you relax, but it will also improve the appearance of your mobile bathroom if it is well renovated.
You should always take into account the amount of space in your bathroom. You can skip installing a bathtub and save space by installing just a shower. But there are lots of ways you can do it.
Open showers are a terrific way to create a sense of more space. They also have a very modern and aesthetically pleasant appearance. With a little imagination, you can design fantastic walk-in showers.
Closed showers are ideal if you want to avoid the whole water splashing situation while also requiring additional privacy. Industrial designs for enclosed showers can inspire you to remodel your bathroom.
If you can't decide between walk-in and enclosed showers, consider a partially enclosed shower with a glass panel or half wall to add flare to your mobile home bathroom.
8. Explore Different Styles of Bathtubs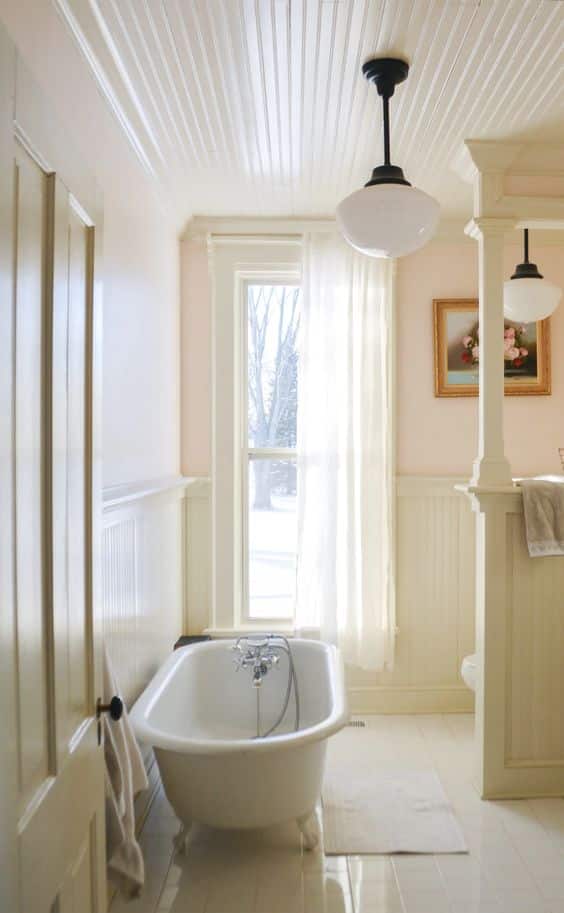 We can all agree on one thing! That's how soothing a bath will be after a long day. Bathtubs are a lavish addition to any bathroom. However, due to space constraints in mobile home bathrooms, it may be difficult to install them in a functional and aesthetically acceptable style.
Instead of going for extravagant styles, many other types of bathtubs are ideal for mobile home bathrooms. Let's have a look at them.
Standard Alcove Bathtub: Designed to fit into three wall enclosures, a standard Alcove bathtub is your best choice to save space in your bathroom. They are, in fact, designed with this in mind.
Corner Bathtub: Do you have a spare nook in your bathroom? Then make use of it by installing a corner bathtub.
Drop-in Bathtub: If you want a custom-built bathtub that also saves space, this is the choice for you. Choose a drop-in bathtub if you want to express your personal style.
Shower Bathtub Combo: If a shower and bathtub in the same unit sound cool to you, then go for this style, which will be so effortlessly stylish and functional.
Freestanding Bathtub: If you have enough room in your mobile home bathroom, a standalone bathtub is a pleasant and glamorous addition. The newly refurbished bathroom will undoubtedly be luxurious.
Mastering the Makeover
We went over the entire tips for remodeling a mobile home bathroom, and we sincerely hope that you found this post useful and are now ready to begin preparing for the ultimate overhaul.
Plan your new bathroom adequately, from budget to style, and never neglect any damage in your current bathroom. A renovation is always dependent on the bathroom layout, so if you want to save extra labor, try not to change the basic layout.
Try to personalize your new bathroom, and if you're hiring a contractor, effective communication is essential. Make sure to hire an experienced professional and get creative with modifications. Also, don't forget to add some nice decorative accents that will blend with your style. Even a simple houseplant can bring a splash of color to your bathroom.
There are numerous styles to pick from; which one do you prefer? Tell us how long the renovation took and which style you chose in the comments.