Thinking about redoing your house or trying out ways to make your new house a little quick and fun? Well, if yes, then here is one of the ways to uplift the spirits of your house with blue stains for wood that will complement your project and meet your aesthetic preferences.
The vibrant hues of blue will uplift the spirits of your space and infuse it with a positive, fresh, and captivating charm. Be it staining furniture, decking, or smaller DIY projects, blue stains for wood offers an ideal and creative way to add character to your home.
The beauty of blue stains lies in the wide range of shades and undertones to choose from. You can choose calming pastel blues to make a beautiful and soothing ambiance in your space.
If you want to experiment more, you can choose deep navy or turquoise stains that can add a touch of drama and sophistication to furniture pieces or accent walls.
Blue stains for wood are also an excellent choice for exterior projects like decks and fences. They can easily evoke the tranquil ambiance of beaches like getaways or bring a pop of color to your outdoor spaces, reminding you how beautiful life is and creating a welcoming atmosphere for everyone in your life.
Step-By-Step Guide to Assist You in Selecting the Perfect Blue Stains for Wood
1. Select from The Variety of Wood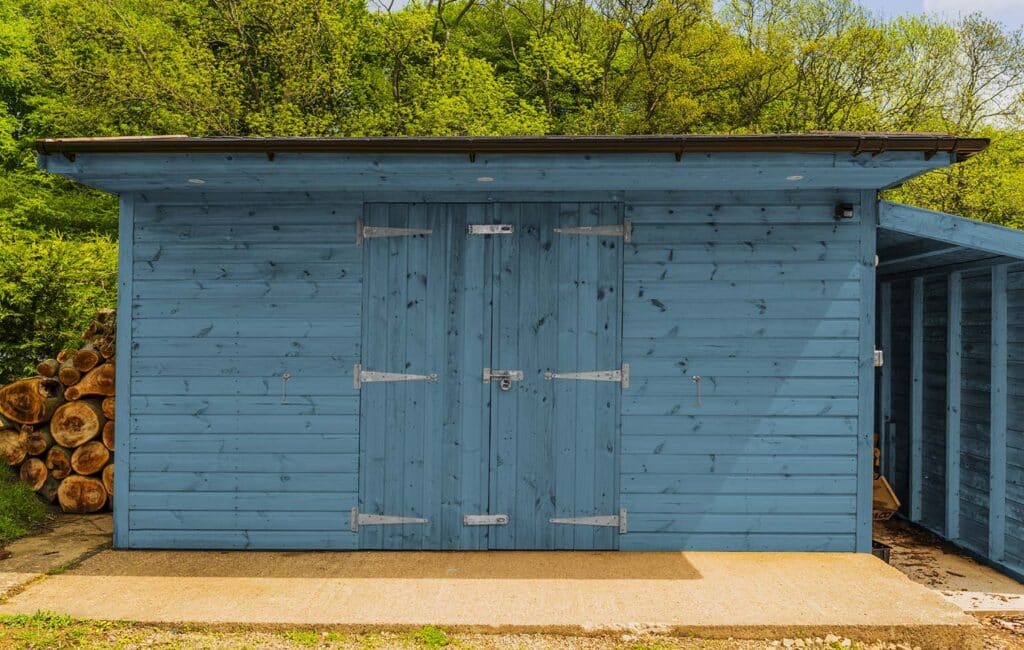 When you go out to look for wood for your blue stains for wood, you have to also keep in mind that different types of wood absorb stains differently, which can affect the final color.
Woods like pine, oak, and maple have distinct grain patterns that can affect how the stain looks. You have to research how you have chosen the wood type to react to stains to get an idea of how the color will appear. You have to understand how different types of wood absorb stain so that you achieve the desired color and finish your projects the way you always wanted to.
Pine, oak, and maple are a few of the most popular wood choices with distinct characteristics that can impact stain absorption and appearance. Pine, being a softwood, tends to absorb stains more readily, which will end up in a deeper coloration.
Oak has a more pronounced and open-grain structure, which can create a beautiful effect when stained. The stain tends to settle in the grain, highlighting its texture and giving the wood a rich and attractive appearance.
Maple, being a dense and tight-grained hardwood, is less porous and absorbs stain less effectively, which means it can be challenging. But with the right research, you can achieve what you want.
2. Choose the Type of Project You Are Looking For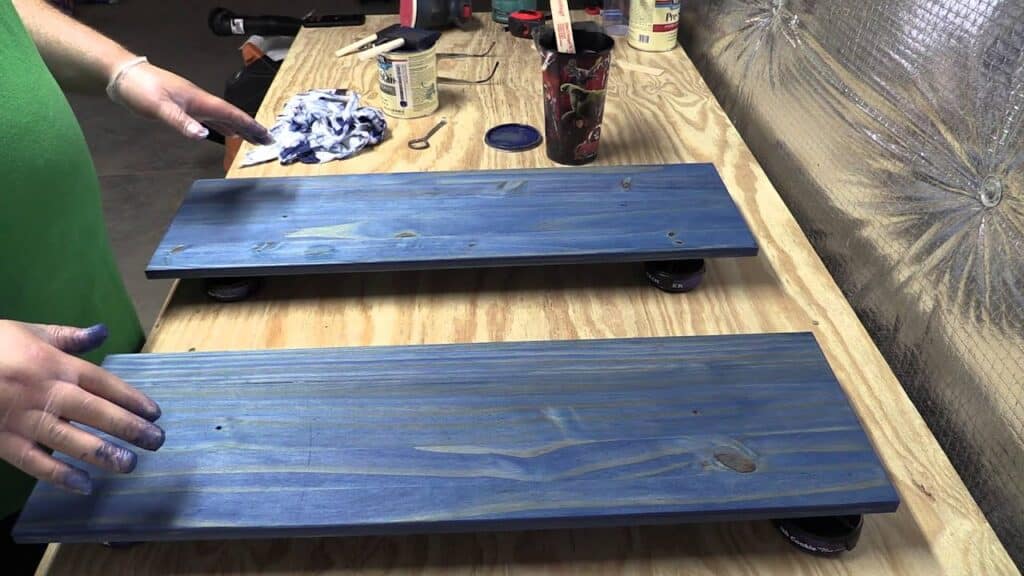 Before you select blue stains for wood, you should determine the purpose of your wood project. What is your aim? Are you staining furniture, a deck, a fence, or a smaller craft project? The size and location of the project can make a huge difference in the choice of color. For example, a bold blue might look great on a small decorative item but might be overwhelming on a large deck.
You should consider the purpose of your wood project. If you are looking for just staining furniture, such as chairs, tables, or cabinets, you have the flexibility of choosing bolder and vibrant stains of blue colors.
If you are choosing outdoor projects like a deck or a fence, the color shading may differ. Larger projects that cover significant outdoor spaces can be better made for more neutral or natural stain colors, such as earthy tones or semi-transparent stains that enhance the wood's natural beauty.
3. Indoor or Outdoor Location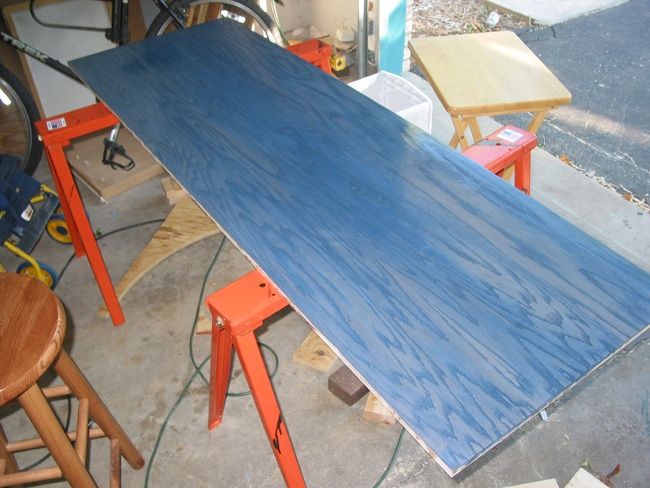 Before selecting blue stains for wood, determine the color shade you would want and where you want to paint. Is it indoor, outdoor, or both? If it is an indoor project like furniture, cabinetry, or interior trim, interior wood stains are the ideal choice. T
hese stains are specifically designed to enhance the appearance of the wood, bringing out its natural grain and color while providing a protective seal. Interior wood stains often come in a wide range of colors and finishes, allowing you to match your desired aesthetic and design style.
On the other hand, for outdoor projects like decks, fences, pergolas, and outdoor furniture, exterior wood stains are the recommended option.
Exterior wood stains are formulated to withstand harsh weather conditions, UV rays, moisture, and temperature fluctuations. They provide a robust protective layer that prevents water penetration, rot, and decay, extending the life of the wood and maintaining its beauty for years to come.
If you paint a darker tone on the exterior, there is a lot of chance that it will become a lighter tone, so choose the shade accordingly. Keep in mind that this can last you for a lot of time.
4. Type of Lighting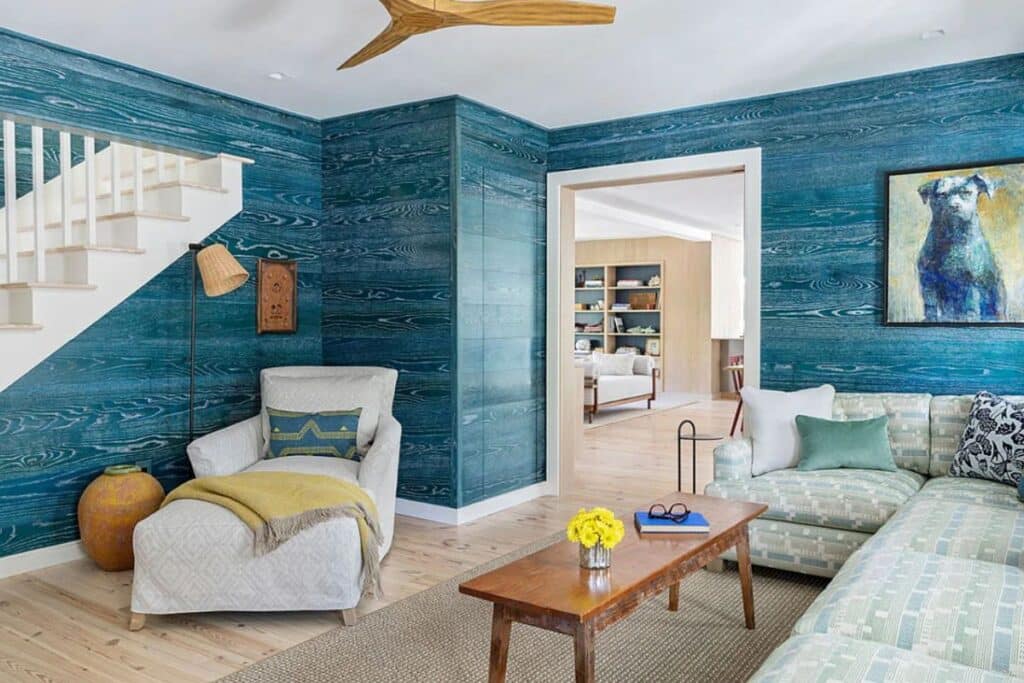 Blue stains for wood are an ideal choice with different lighting as it goes very well with Natural light that can significantly impact how the color appears outdoors and indoors. To make sure that you choose the right stain of blue, you should take a sample of the stain and view it in different lighting conditions to get an accurate sense of its hue.
Once you get to select the area, consider the lighting conditions in the area where the wood will be placed so that you know what the blue stain will look on that area.
With the right kind of lighting, you will know how blue looks and how natural light can have a significant impact on the color, making it essential to assess the color under various lighting conditions to achieve the desired effect.
You should also sample the color around the type of light bulbs used in the area and as it can also affect how the stain color is perceived. Incandescent, LED, or fluorescent bulbs can cast different tones and intensities of light, altering the appearance of the stain.
Once you take the time to assess blue stain color in various lighting scenarios, you can confidently choose it to complement the space, ensuring that its hue remains consistent and pleasing, no matter the time of day or type of lighting used.
This attention to detail will lead to a visually harmonious and well-coordinated space, and it will represent how important it was for you to get the right blue stain.
5. It is All About Undertones and Hue
Blue stains for wood come in various undertones and hues, ranging from light pastels to deep navy blues. Some stains may have a greenish or grayish undertone, affecting how they interact with the wood. Decide whether you want a vibrant or subdued blue tone.
For a vibrant and eye-grabbing look, choose blue stains with bold and saturated hues. These shades of blue can add a pop of color and create a focal point in your space. Vibrant blue stains work well in smaller craft projects or as accents on furniture, where they can infuse a sense of energy and playfulness.
Whereas, if you prefer a more subdued and calming ambiance, consider pastel or muted blue stains. They offer softer tones that are ideal for larger surfaces such as walls, decks, or flooring, where a less intense color allows other elements in the room to shine while still creating a soothing and elegant atmosphere.
By choosing which vibrant or subdued blue tone and considering the undertones of the stain, you can confidently select the perfect blue wood stain that aligns with your design vision and enhances the overall ambiance of your space. It is your space. You decide on blue stains for the wood and shades you want.
6. Sample Testing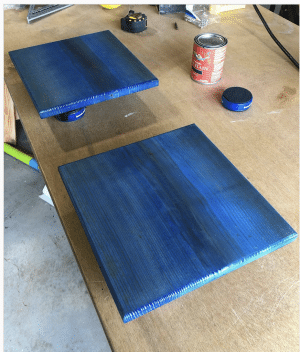 You can never predict how a color looks. Blue stains for wood can be tested in a lot of ways. You can paint it on walls indoors and outdoors and see how it looks at different times of the day.
Always test the stain on a small, inconspicuous area of the wood before applying it to the entire place. It will allow you to see how the color will appear on your specific wood type.
Testing the stain on a small, inconspicuous area of the wood is a crucial step in the wood staining process. It provides valuable insights into how the stain will interact with your specific wood type and enables you to make any necessary adjustments before committing to the entire project.
During the testing phase, consider factors such as the wood's absorbency and how well it takes the stain. If the tests are not as expected, you can make changes before proceeding to stain the entire project.
Remember, taking the time to test the stain on a small area will help you get a clear understanding of how it will look on your specific wood type and in your particular place.
This information empowers you to proceed with confidence, knowing that the final outcome will meet your vision and deliver the aesthetic you wanted for the stained wood project.
7. Check the Compatibility with the Wood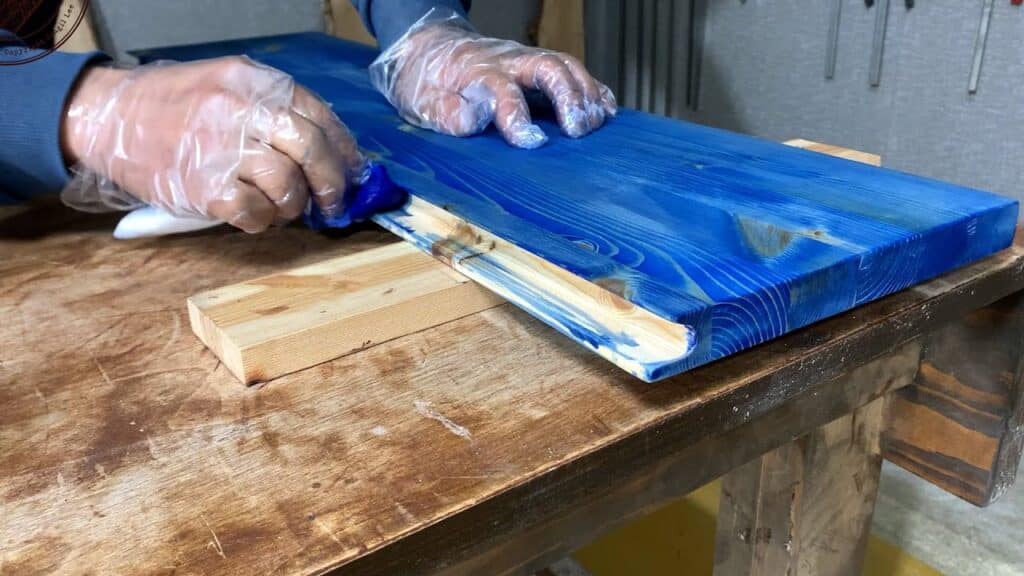 Blue stains for wood should also complement or contrast with the wood's natural color.
When you are selecting a blue wood stain, it's important to consider how it will complement or contrast with the wood's natural color, especially regarding the wood's undertones.
Different wood types have inherent warm or cool undertones, which can significantly influence how the blue stain interacts with the wood's surface.
Suppose you want to achieve a more neutral or muted look where the blue stain doesn't overpower the wood's natural color. You can achieve it with a blue stain with a similar intensity or undertone.
8. Keep Transparency In Mind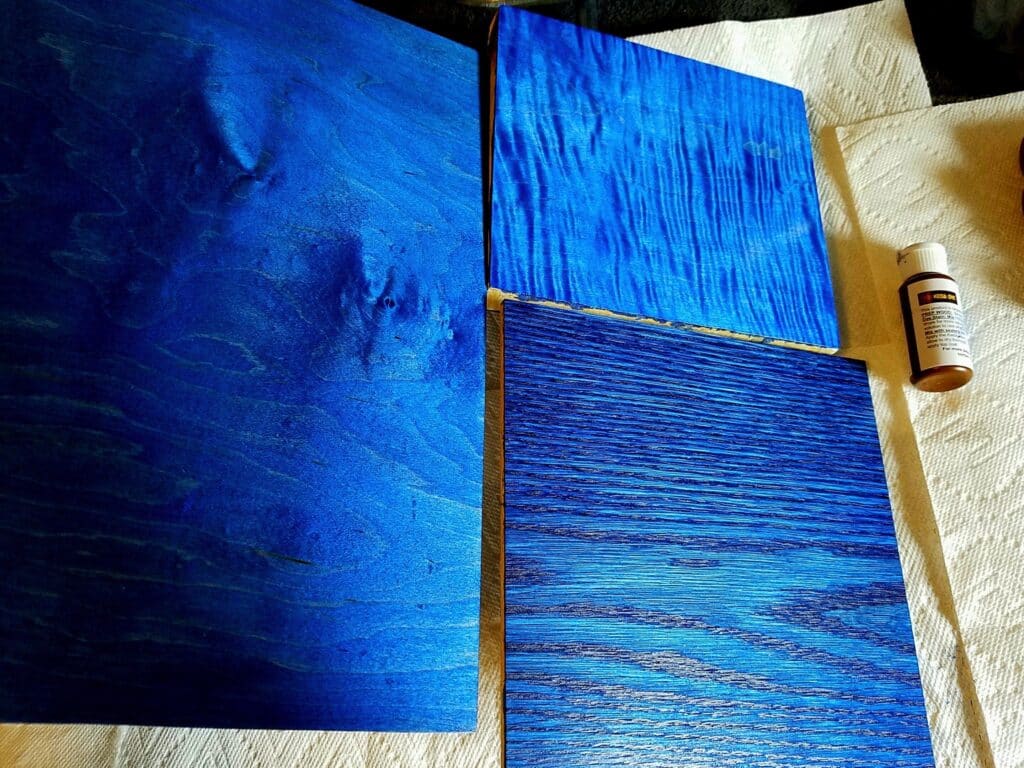 Blue stains for wood stains come in different levels of opacity, ranging from transparent to solid. Transparent stains give more of the wood's natural grain to show through, while solid stains give more consistent color coverage.
The level of opacity in wood stains is a crucial factor to consider when choosing the right blue stains for wood.
They are designed to enhance the natural beauty of the wood. They allow the wood's grain, knots, and texture to shine through, providing a more subtle and nuanced appearance.
Semi-transparent stains strike a balance between transparency and color coverage. They give a moderate level of opacity, allowing some of the wood's natural unique features to look through while offering more color consistency compared to transparent stains.
9. Remember About Existing Décor And Theme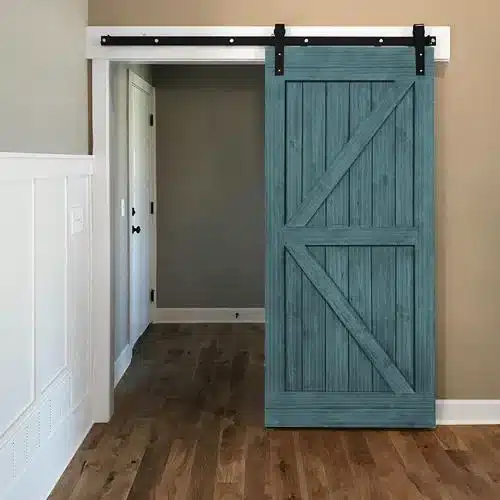 When you are selecting blue stains for wood, you have to consider how the blue stain will fit in with the existing décor and color theme of your place. It should go with other elements in the space.
When incorporating blue stains for wood into your project as part of a bigger design scheme, it's important to consider how the color will blend in with the existing décor and color theme of the space. The blue stain should match with other elements in the room, creating a cohesive and visually pleasing environment that is welcoming to everyone.
You can start by examining the current color palette and décor style of the space. If the room already features a specific color scheme, look for a blue stain that complements the existing colors.
10. Check the Quality of the Brand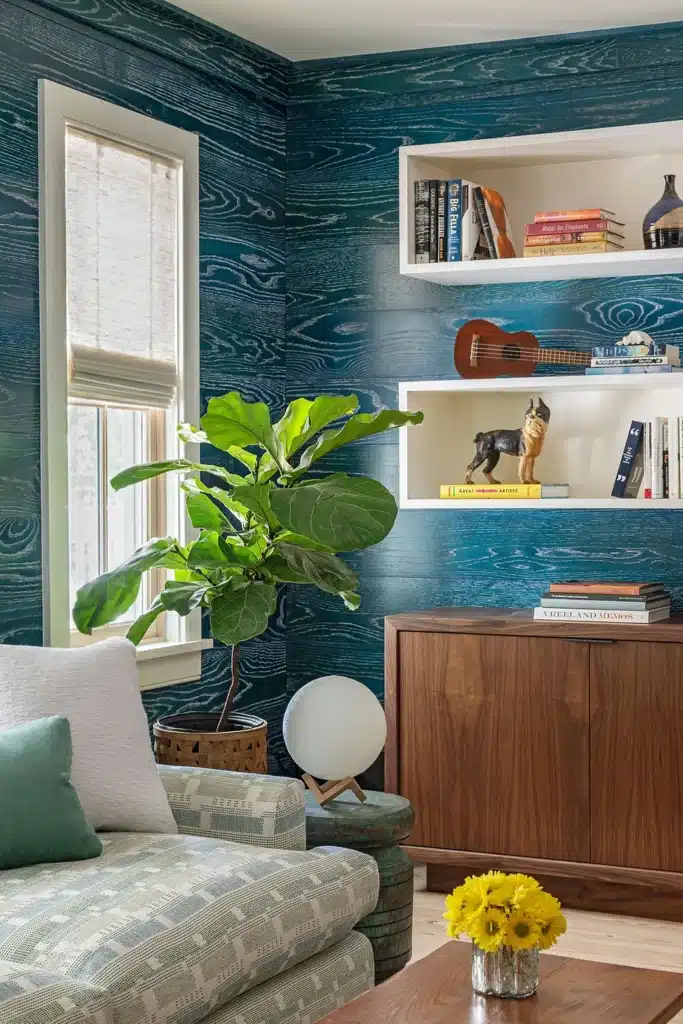 You will be seeing blue stains on wood in your house all the time, so choose a reputable stain brand known for producing high-quality products. Cheaper stains might not provide the desired color or durability.
It is important for selecting a wood stain; it's essential to choose a reputable brand known for producing high-quality products. Investing in a reliable stain brand ensures that you get the desired color, longevity, and performance for your project.
In contrast, reputable stain brands invest in quality, research, and development to create a paint that is not only visually appealing but also durable and resistant to wear and tear.
Their products undergo extensive testing to ensure they meet industry and government standards and deliver consistent results.
11. Environmental Impact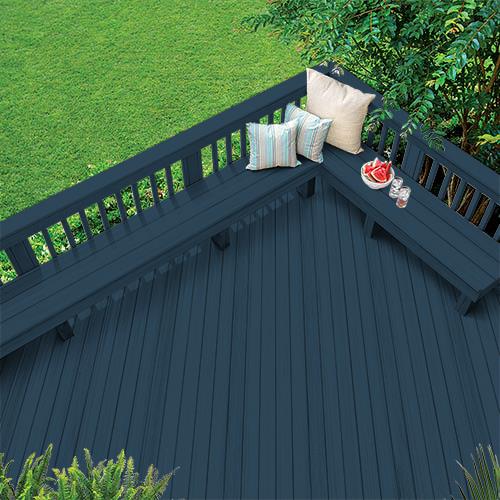 When you are choosing blue stains for wood, make sure that you choose one that is environmentally friendly. Some wood stains contain harmful chemicals. If you like to buy eco-friendly brands then you should look for low VOC (volatile organic compounds) or water-based stains, which are better for the environment.
For eco-conscious individuals, it is crucial to be mindful of the environmental impact of wood stains. Some wood stains on the market can have harmful chemicals, such as volatile organic compounds (VOCs), which can be released into the atmosphere during and after application. These can contribute to air pollution.
Look out for products that have low VOC stains and contain significantly lower levels of harmful chemicals, making them a safer and more environmentally friendly option. These stains emit fewer harmful fumes, reducing the risk of respiratory issues and allergic reactions during application.
12. Check Review and Recommendation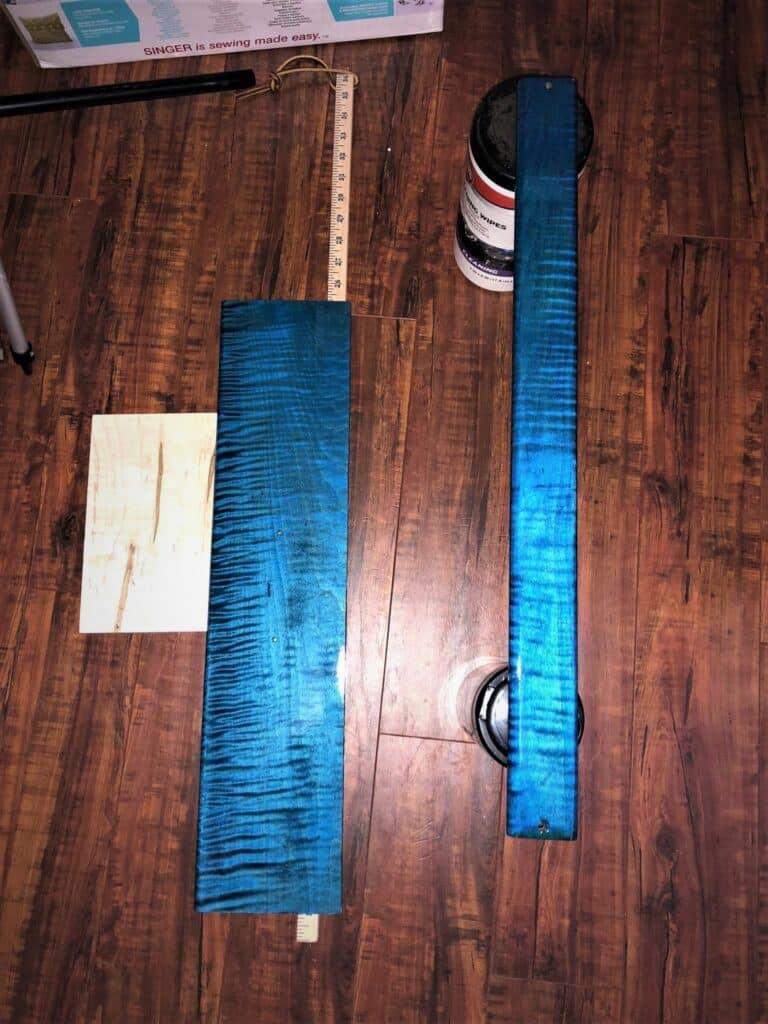 You can not always be right, but you can make a smart decision by reading reviews and recommendations from others who have used blue wood stains. With their experiences, you can understand and make valuable insights into how the color looks and performs in real life.
Reading reviews and seeking recommendations from others who have used blue wood stains can offer important insights into the performance and appearance of the stain in real-life.
With online reviews and testimonials, you can get first-hand accounts of users' experiences, helping you make a list of the pros and cons of different blue stain brands and shades.
Reviews often help you understand how the stain color appears on different wood types and how it interacts with the wood's natural color and grain. This information helps you to make informed decisions based on your specific wood project and desired outcome.
Conclusion
By considering the above points, you can confidently choose blue stains for wood. That will add beauty and character to your place. Incorporating blue stains for wood is a fantastic way to uplift the atmosphere of your home, whether you're renovating or moving into a new house.
The versatility of blue hues allows you to tailor the ambiance to your specific preferences, from creating a calming retreat to infusing your space with vibrancy and personality.
Now that you are done with blue stains for wood read more ways in which you can uplift your place by following our blog.