Do you want to give your dining room a luxurious and glamorous touch? Mirrors can be a great way to decorate your dining room and give it a stylish look. By selecting the right frame, size, and shape of the mirror, you can brighten up even minimalist dining areas. Mirrors have both functional and decorative advantages when it comes to interior design. In small dining areas, they create the illusion of space by bouncing light around the room.
You can add a beautiful square accent mirror gallery or create a dresser-like space in your dining room with the help of mirrors. Antique mirrors can also be used to create dining areas straight out of a magazine. Mirrors also can also emphasize artwork on adjacent walls and breathe life into dining rooms that do not have windows.
Let's take a look at a few more dining room mirror ideas that will transform your space from boring to breathtaking.
Breathtaking Dining Room Mirror Ideas to Make Outdated Spaces Feel Fresh
We have curated a list of dining room mirror ideas to amplify light and add visual interest to your spaces.
1. Put a Big Mirror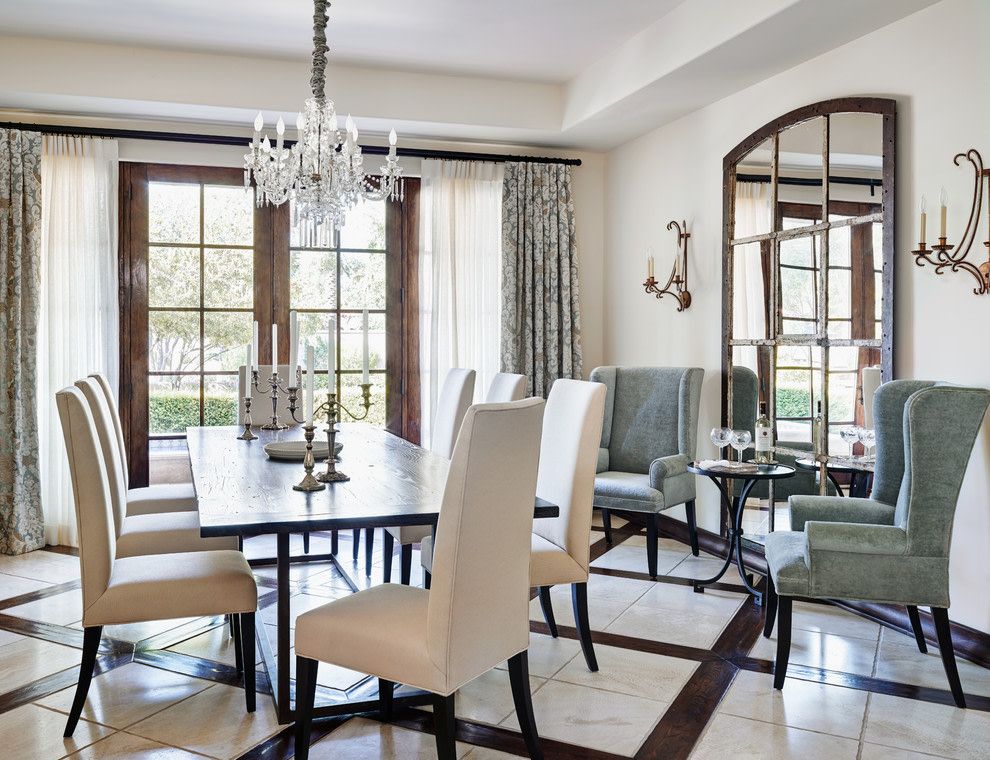 If you have gotten bored of single-tone wall paint in your dining room, or haven't updated your décor in a while, then you can add an oversized mirror to instantly upgrade your space. An oversized mirror can expand the sense of visual space in your dining room. Buy the biggest size mirror and mount it on your dining room wall to expand the square footage of your space. Due to their large, reflective quality, it would become impossible for your guests to look away from them.
You can also buy an arched top floor-length mirror to add architectural interest and vibrancy to your space. It will give the illusion of an arched doorway to your dining room and elevate its style factor. If your dining room lacks personality, go for a highly decorative oversized mirror to add a bit of flair to your room.
2. Line the Entire Wall with Panel Mirrors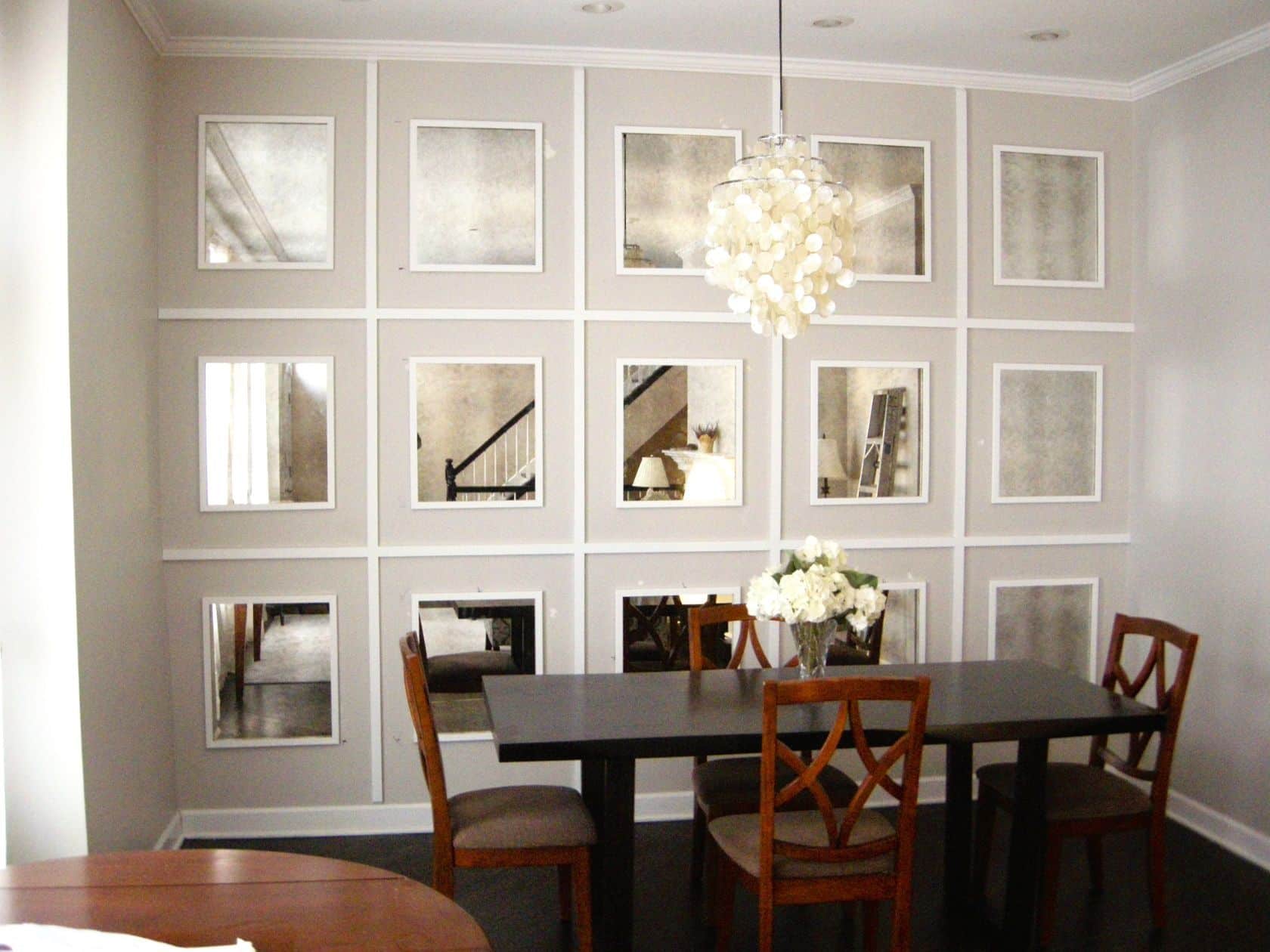 Are you looking for an interesting alternative to classic wall decor options such as wallpaper and paint? Add a mirror wall to make your dining room feel more airy and open. Walls covered with mirrored panels can give a high-end look to your dining room. You can lay out the mirror panels in staggered patterns or a straight line as per your preference. The best thing about mirror wall panels is that they are timeless and don't go out of style like other decorative elements.
You don't need to put panel mirrors on the biggest wall in your dining room. If there is an unusually narrow wall in your dining room, you can dress it up with mirror panels. Pair the panel mirrors with beautiful light fixtures to give a one-of-a-kind look to your dining area.
3. Use a Mirror as Faux Window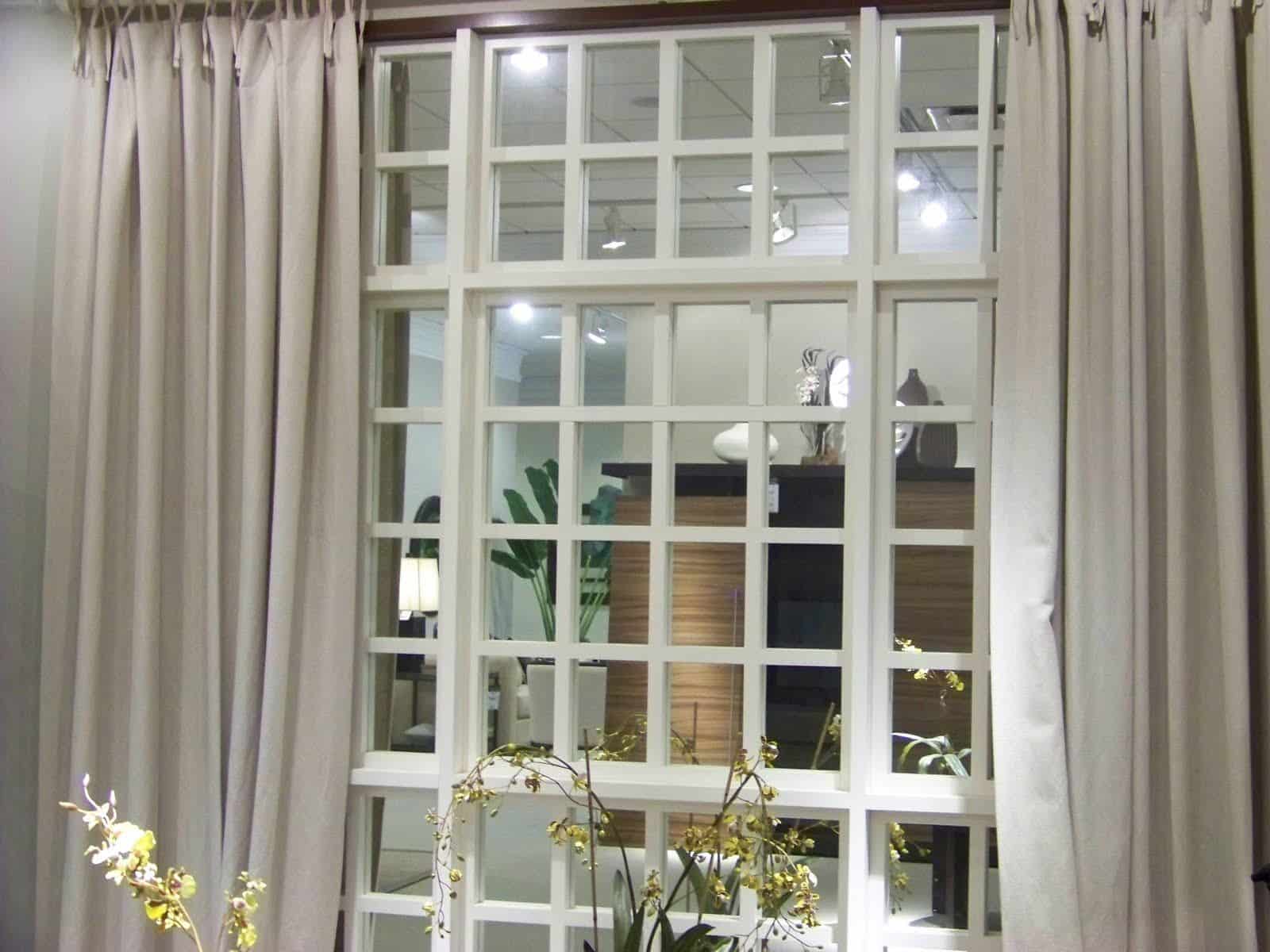 What can be done to brighten your space if your dining room doesn't have any windows? If you like the window's multi-pane aesthetic but don't have enough space for this type of addition, you can use a mirror as a faux window. Purchase a mirror that has a frame and replicates the shape and size of a window.
A rectangular mirror is a better choice than a round mirror since round windows are not present anywhere. Place the oversized rectangular mirror on a wall and install a curtain rod above and hang stylish drapes to complete the look. If you're going for this approach, remember that a window-like mirror is very large and oversized, so ensure you have enough space on the wall to hang the mirror safely.
4. Go for a Minimalistic Design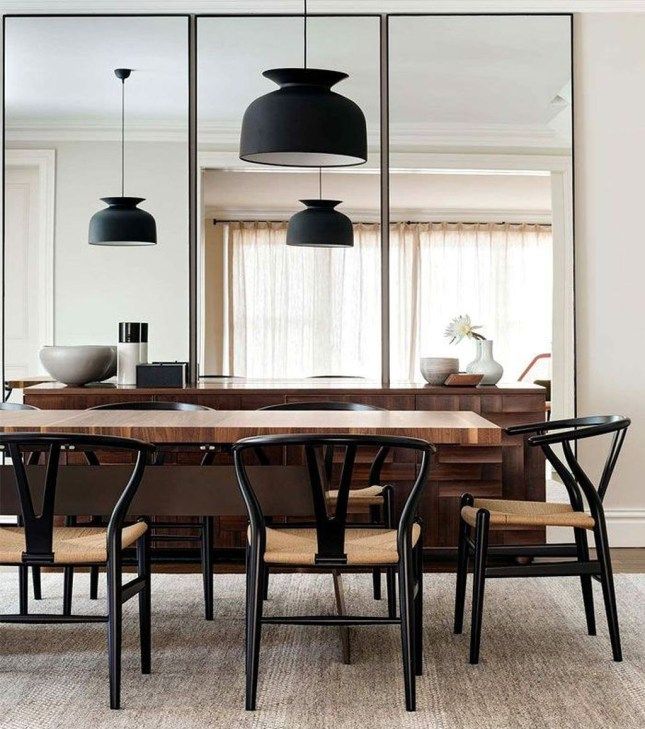 If you don't want the mirror to be the center of attraction in your dining room, you can opt for a simple, rectangular mirror. This way it will not steal the attention away from your expensive decor pieces or furniture yet create the illusion of more space. This idea can especially work well in large dining rooms wherein you do not want to create an airy feel or an illusion of more space.
But if you're going for this idea, introduce such accessories or artwork in your dining room that can leave your guests awe-struck. If you have wooden furniture or cabinets in your dining area, go for a mirror with a golden frame, as it will perfectly complement the design scheme.
5. Create a Dresser Like Space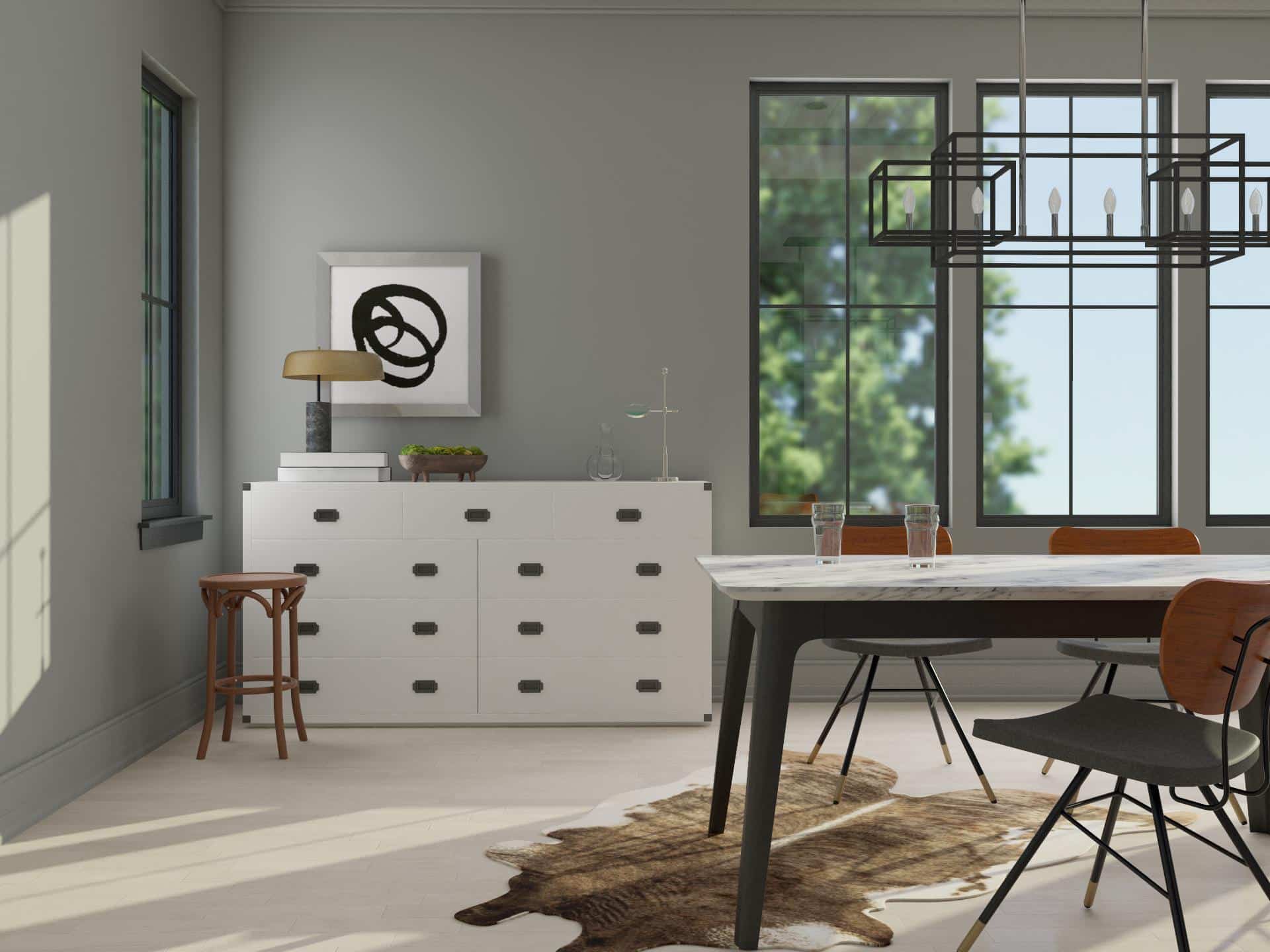 When it comes to dining rooms, they are primarily used for enjoying home-cooked meals or socializing with your loved ones. But your dining room has much more potential than you can even think of. You can place a huge mirror above your cabinet to create a small dresser-like space. Place a comb and a few skincare items on the dresser so that you can get ready if other rooms are occupied. When you hang the mirror, ensure it is at your eye level when standing so you can do touch-ups easily.
With this type of arrangement in your dining room, you will love spending hours in this area. You can also check your appearance before clicking the after-dinner pictures with your friends.
6. Place Two Mirrors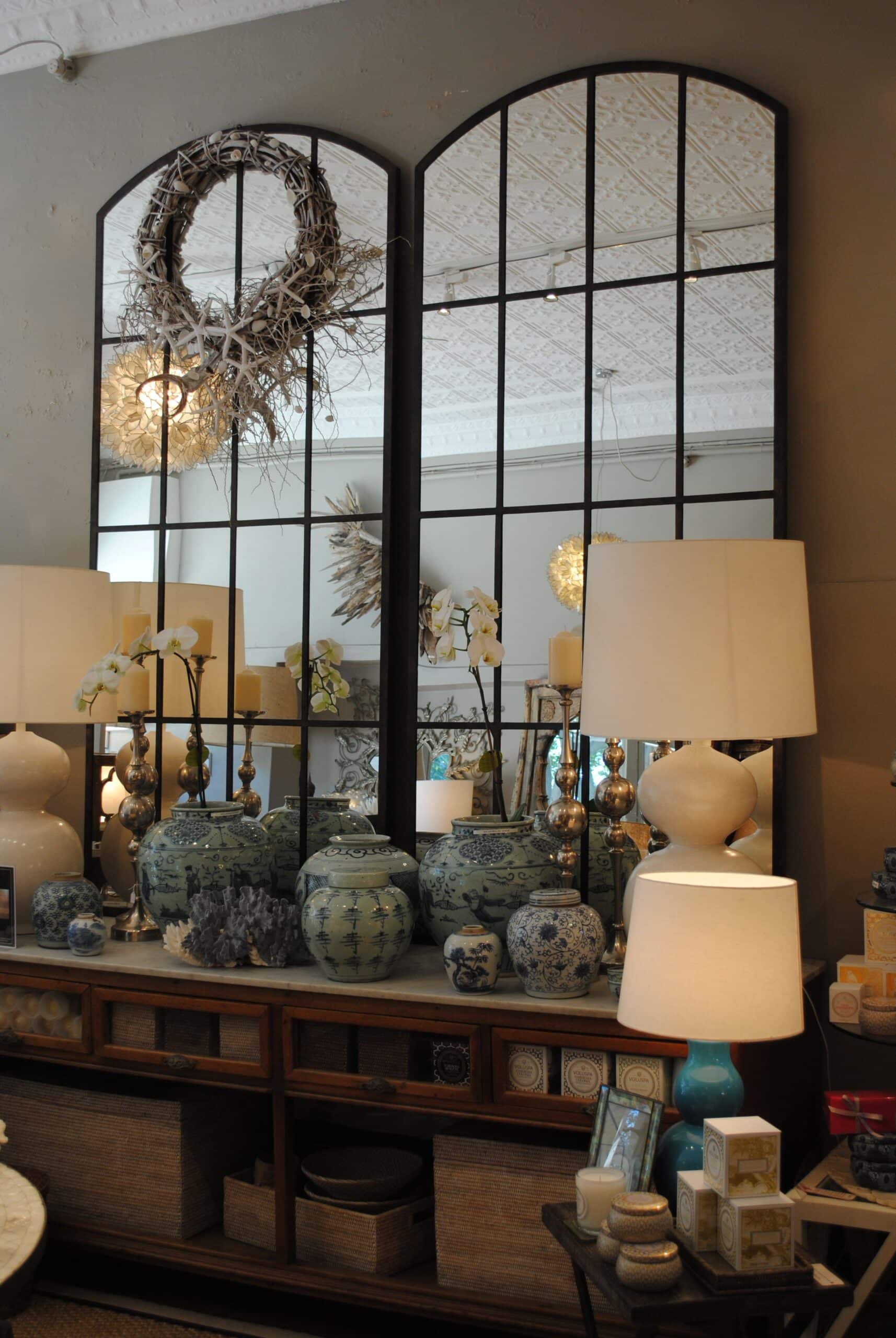 Adding two mirrors can be the perfect idea for dining rooms that might need additional light or feel small. Hang two identical mirrors in a line in your dining room to make your space look more spacious and airy. To maximize the effect, you can place both mirrors opposite a window and use a mantlepiece to position the mirrors to frame a ceiling light. You can also play with the proportion and size of the mirror to create some interest. You can also layer mirrors on a fireplace or mantel surround to create a beautiful effect.
However, ensure the mirrors have a bit of interest, like an unexpected shape or beautiful frame. Don't hang mirrors on different walls within your dining room; otherwise, it will look very imbalanced.
7. Antique Mirror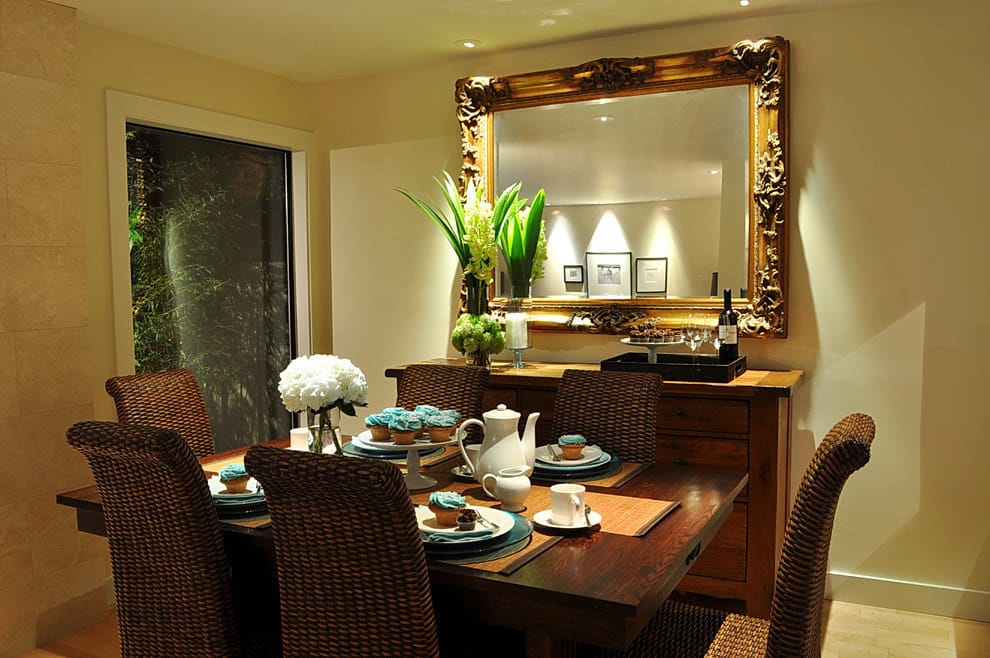 Are you looking for a dining room mirror idea to create a regal and luxurious ambiance? A beautiful antique mirror placed horizontally above the fireplace can create an otherworldly ambiance in your dining room. Antique mirrors have dark or distressed patches and ornate frames that can instantly transform the decor of your dining room.
You can choose an antique full-length or wall mirror as per your needs. If you like a minimalistic and classy look, stick to silver antique mirrors, and for old-world charm, go for gold, rustic mirrors. Antique mirrors especially go well with dining rooms having vintage furniture and artwork. You can also tone down your dining room's contemporary décor with the addition of an antique glass mirror.
8. Surround the Mirror with Beautiful Artwork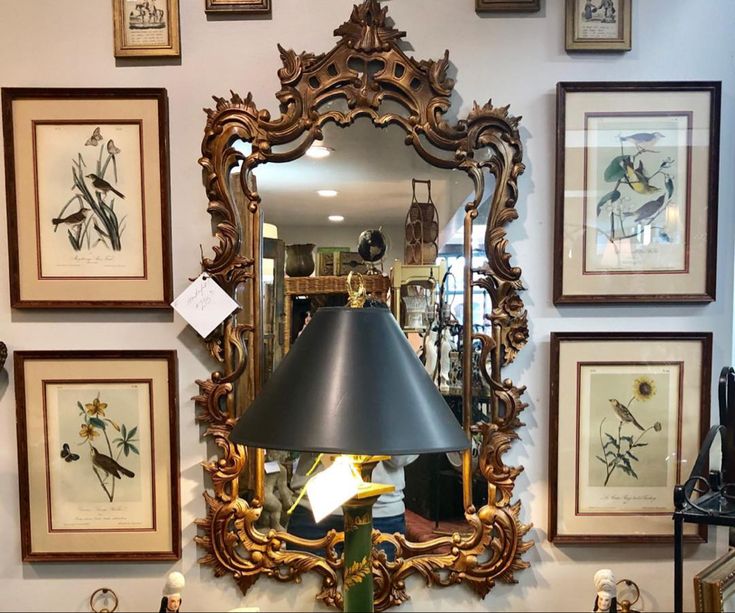 One of the most brilliant ways to make your mirror the centerpiece of your dining room is by surrounding it with beautiful artwork. Ensure that the mirror is in the center of your art gallery wall, or else it won't stand out. Don't incorporate too many paintings or artworks around the mirror, or else the area will look overcrowded. You just need to select a few of your favorite pieces to enhance the allure of your dining room and mirror.
If the arrangement of the artwork around the mirror doesn't look right, you can keep changing it until you get the desired results. If you don't want to invest in artwork, you can create a mirror wall gallery with framed mirrors. Choose frames that have the same color, style, or shape to create a balanced look.
9. Use Statement Worthy Mirror Designs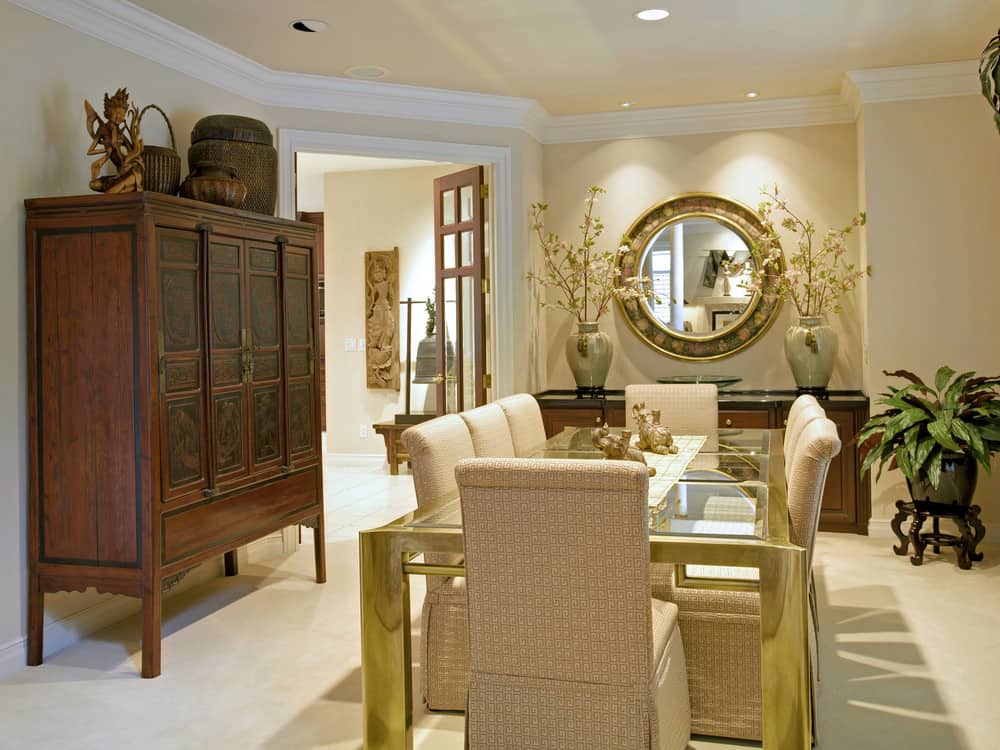 If you're using mirrors in your dining space for decorative purposes, don't go for the regular designs and shapes. Opt for statement mirrors that can add elegance and style to your dining space. Using a statement mirror can also be the perfect choice for people struggling to think about what to do with an empty corner of their dining room.
You can use a standout mirror alone or use decorative mirrors as part of a bigger collective group. Take some inspiration from the above picture, wherein the gorgeous mirror design elevates the look of the dining area. You can put pots on both sides of the mirror to elevate its style quotient. Another idea is to put a huge grid statement mirror on the dining room's back wall to create a dramatic effect.
Tips to Give a Charming Look to Your Space with Dining Room Mirror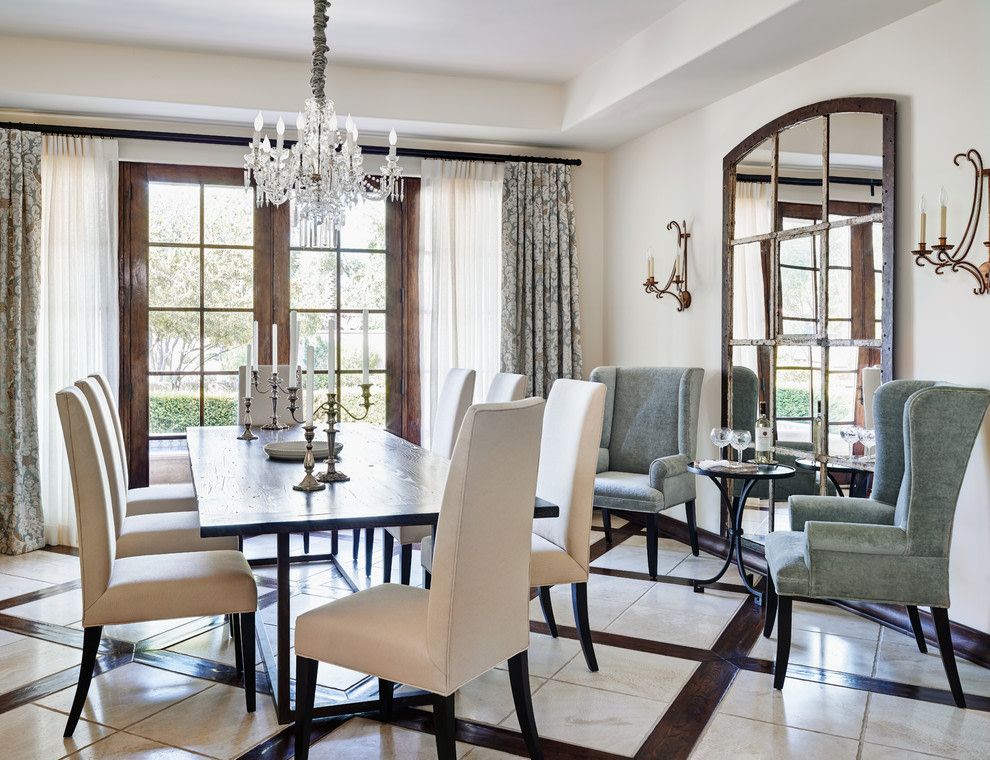 Check the objects in front of the mirror and the view that is being reflected. Ensure that nothing awkward is being reflected in the mirror, else anyone enjoying conversation or eating over the dinner table will become uncomfortable.
Expand your creativity and use a multi-functional mirror that will become the showstopper piece of your dining area. You can opt for a mirror that also works as a clock.
When hanging a mirror, ensure that it stays in place and secure. Don't lean a large mirror unsecured against a wall else it can lead to unexpected accidents.
Set a mirror at your eye level or above so that it reflects a window, chandelier, or other visually appealing focal points.
If you're hanging multiple mirrors in your dining room, choose mirrors that are the same size or style so that they look good together. Hang them on the same wall so that your dining room doesn't look cluttered.
If you're adding mirrors for decorative purposes in your dining room, opt for unusual designs like diamond, octagonal, hexagonal, and retro bubbles.
Surround the mirror in your dining room with indoor trees, houseplants, attractive artwork, lights, or candles.
Break the monotony of the dining rooms with matte black pieces by incorporating a shiny gold mirror. The unexpected addition will create a contrast and make your dining room look more interesting.
For a large wall, one large mirror can be the best choice to fill the empty space. If you want to go with multiple mirrors, hang three medium-sized mirrors in a linear design across the wall.
Match your dining room walls to your mirror to craft an elegant and sleek space. You can also choose a mirror having one shade darker frame than the wall.
Conclusion
A dining room mirror can be a wonderful way to expand the space and add beautiful wall decor visually. But the style, shape, color, and design of the mirror you choose can have a huge impact on the look of your dining room. The right mirror can make a small dining room appear larger, heighten a short space and conceal an architectural flaw. You can use an oversized mirror to create a strong impact or go for multiple mirrors to add interest to your wall.
If you still need some guidance to create a magical effect in your dining room with the help of mirrors, you can check out the ideas mentioned above.
These are surefire ways to take your dining room from bald and boring to visually appealing.
Frequently Asked Questions
What Types of Mirrors Can You Use in Your Dining Room?
You can use all styles and designs of mirrors in your dining room, ranging from circular to rectangular, diamond, and octagon, depending on the type of look you want to create. An oversized mirror can also be used to enhance the sense of visual space in your dining room.
How High Should You Hang a Mirror in Your Dining Room?
The dining room mirror should be hung about 57 to 63 inches above the floor. This will ensure that it doesn't create the reflection of diners while eating, making them feel uncomfortable. Another way to determine the dining room mirror height is that when you stand, it should be at your eye level.