Are you looking to give your old bathroom a 2023 makeover? Or perhaps you are looking for some small bathroom tile shower ideas! Maybe you just want some interesting tile ideas for your new bathroom.
Well, whatever you need, you have come to the right place. We have scoured the internet for some of the best modern shower tiles ideas so that you can choose the best one for you.
From a clean marble look to intricate mosaic accent walls, from pebbled walls to glossy ones, we have it all here. This article will explore a range of textures, colors, and tile layouts so that you can make the best choice for your bathroom.
So, let's get started on the best tile designs for 2023.
There are some choices in bathroom tiles that are classic and do not go out of vogue. These beautiful white marble tiles are just one of them. Your bathroom will look neat and elegant and exude classiness.
To add a bit of texture, you can use an accent niche using mosaic tiles. Keep everything in the bathroom a classic white color.
Adding some framed art is a good choice. Go for minimalist art in a clean black frame. This will complement the neat aesthetic of the washroom.
These white marble tiles will help open up the space, so your washroom will appear spacious. So, if you are looking for small bathroom tile shower ideas, this might be your safest pick.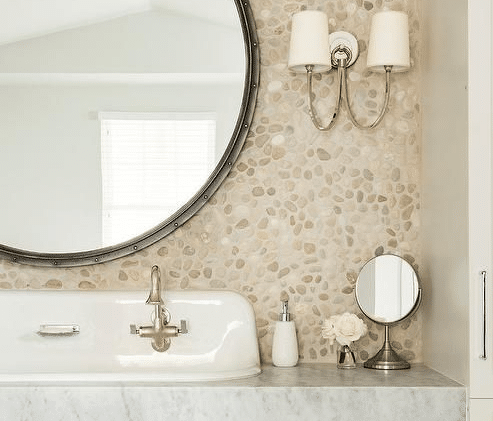 If you want to add an interesting texture to your washroom, you might want to consider these niche-pebbled tiles. We love the pebbled texture. It is earthy, rustic yet modern, and adds character to your bathroom.
You can use these tiles for an accent wall or even for the floor in your shower. These will add some personality and intrigue to your bathroom. Unlike smooth marble tiles, these pebbled ones provide some friction; this makes them a good choice for bathrooms, for they help prevent accidents by slipping.
We think you should definitely consider them; look how cool they look.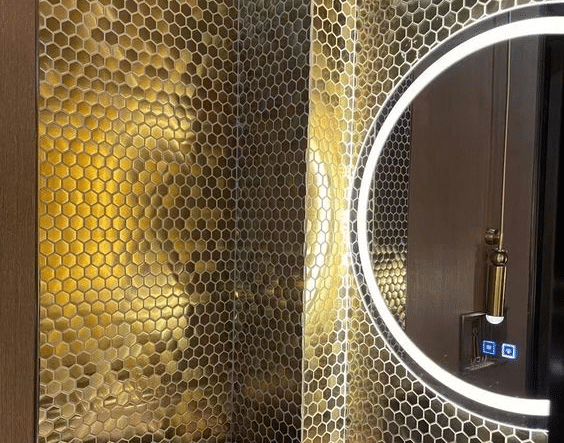 c tiles. Look at this washroom. Wouldn't these tiles be a cool addition to it? These metallic mosaic tiles are perfect for an accent wall in the washroom. You can go all out and choose to tile your entire shower with them.
One thing to keep in mind with these tiles is the lighting. Make sure that the lighting is in harmony with the metallic accent of the tiles. Don't choose stark white lighting with gold accent metallic tiles.
A lot of these tiles are recycled or can be recycled, so you can rest assured about doing a little for the environment.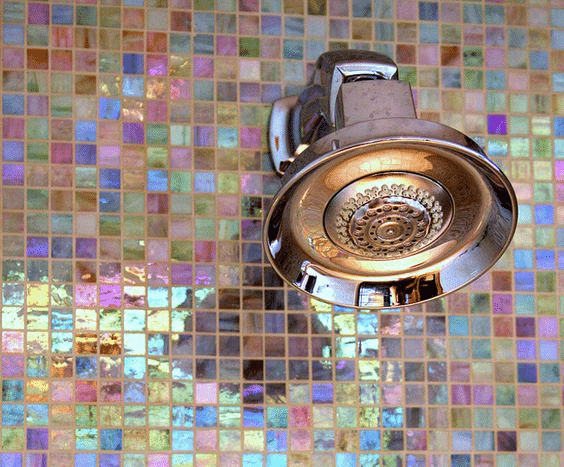 These iridescent tiles are a head-turner and will give your bathroom a statement look. We would recommend these tiles in the shower or use them on an accent wall in the washroom. If you don't want to install these on an entire wall, you can choose to use them on shower niches.
We would recommend you don't just make a choice among these tiles in the shop or online. These tiles can look very different in different lighting. Take a few samples and see which one suits your taste and your home better.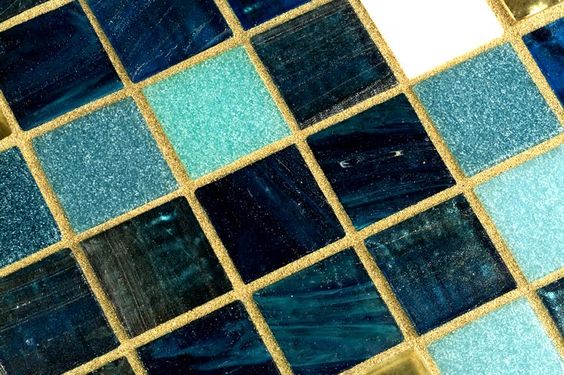 We all pay a lot of attention to selecting the right kinds of tiles for our bathrooms, and rightly so. This is an important decision and will determine the look of your bathroom. But we might not pay a lot of attention to grounding. Interesting grouting can enhance the beauty of your tiles, and who would say no to some glitter?
Glitter grouting adds a touch of magical charm to tiles. You can easily purchase the glitter grout additive from Amazon or your local hardware shop.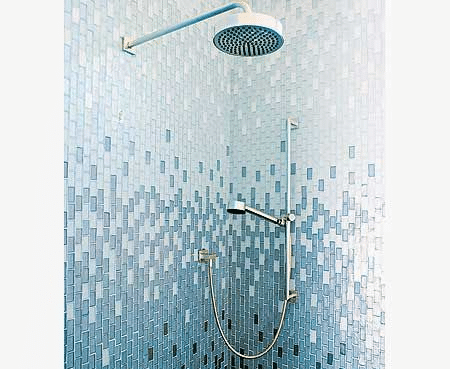 You can create interesting designs with small tiles. Laying out these tiles in interesting patterns can be just what creates intrigue and interest in the shower layout.
Looking at this raindrop layout of the tiles will encourage you to take more showers. This layout reminds us of rain and makes showering a little bit special. The lighter tiles on the upper part of the wall add some height to the shower. This will be a perfect addition to small bathroom tile shower ideas. While grouting these small tiles might take a lot of time, this little DIY project will be creatively satisfying. So get started!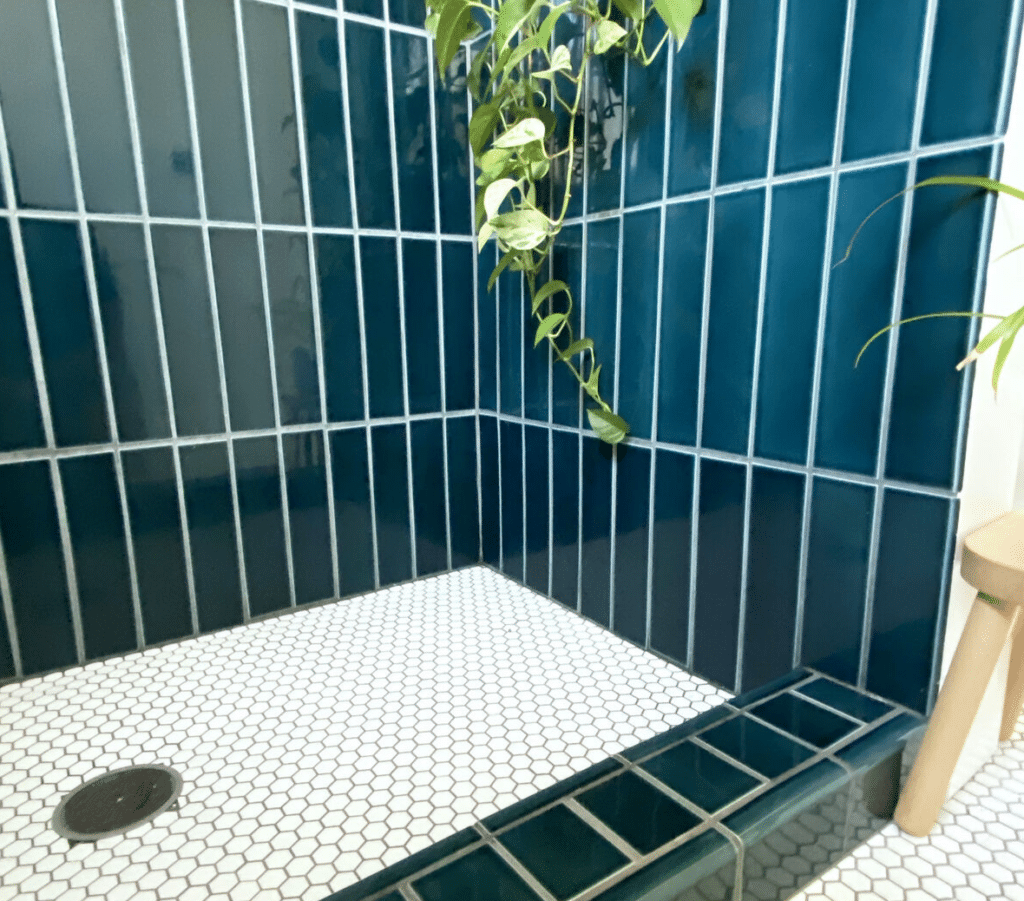 These Caspian Blue bathroom tiles introduce freshness to your bathroom. This color and the glossy finish remind one of the deepest blues of the ocean. And what a great choice that is for your bathroom. Choose classic white grouting for these tiles. They don't need much else. You may choose a silver glitter grouting if you like to add some sparkle to the look.
We love the good transition of tiles; white hexagonal tiles for the floor add a good transition color and pattern. These tiles also have a different finish to the glossy blue tiles, which helps provide a nice contrast.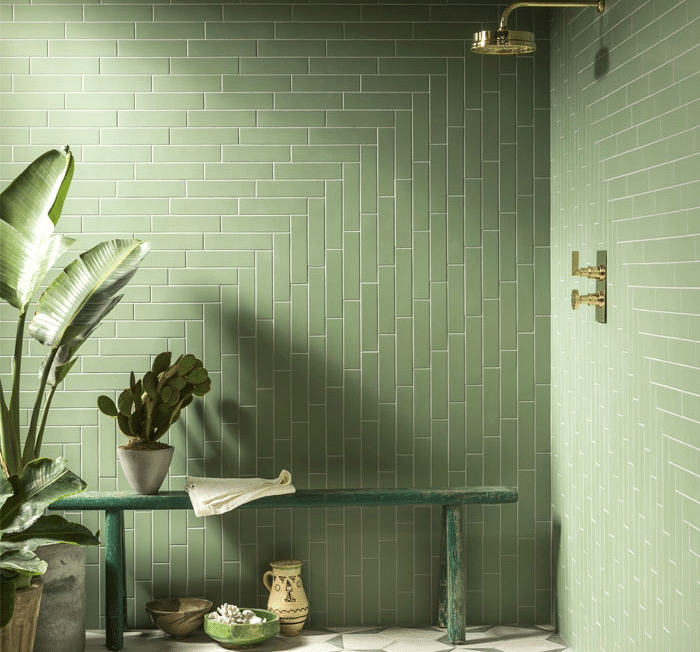 We are in love with these mint-green subway tiles. If you are a fan of the classic subway tile but are looking for a modern twist on them, these matte mint green tiles are just what you need. Look how elegant and fresh they look. They enhance the soothing ambiance of the place, and your bathroom is a place where you should be leaving all the worries of the work away to bathe in peace.
Green color has a calming effect, and this green is perfect for your shower or the entire bathroom.
Another cool thing we would want you to adopt with this is the layout of the tiles. Don't go for the standard horizontal layout. Add some dynamism and fun by choosing an interesting one.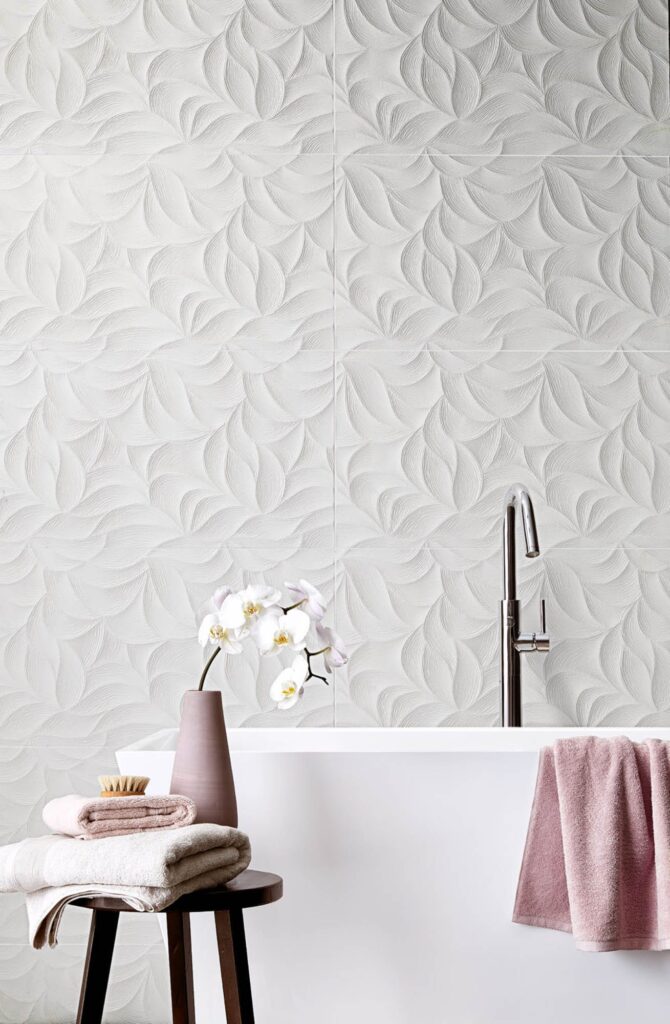 Over the years, the tiles, too, have upgraded themselves. Not only do they come in different finishes and colors, but they also have 3D textures now. This is the hot new trend of 2023. You can choose from a range of textures and colors.
The 3D textures introduce some intrigue to your bathroom.
Sculptural tiles don't need to be in two-toned colors. The texture is enough, so go for neutral colors. Again this is a good small bathroom tile shower idea. You can choose a lighter color and add 3D shower tiles to add character to the space and open the space up.
If you want a white washroom but also wish to add some interesting elements to it, these 3D sculptural tiles are perfect for it.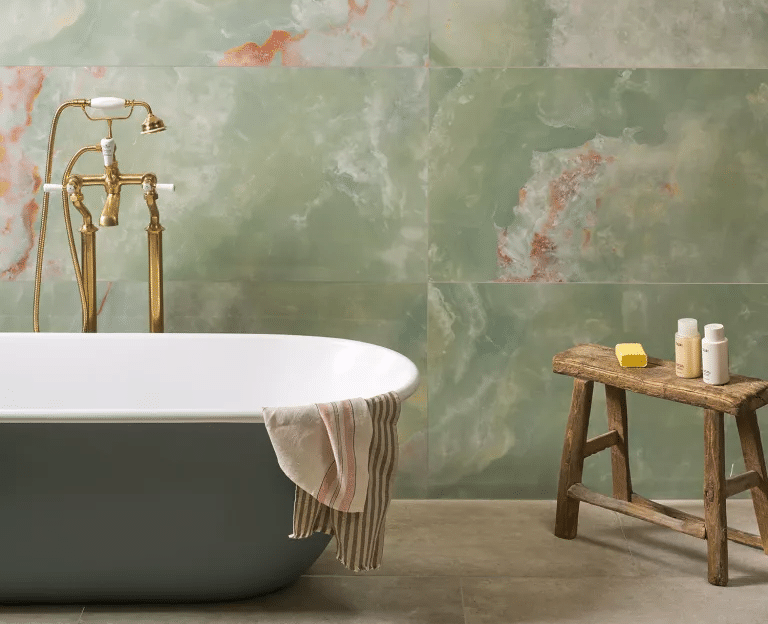 Both pink and green are very soothing choices of colors. They introduce a delicateness to the space. The combination of soothing green with hints of pink in the tiles is a visual treat to behold.
Look at the image above. Don't the tiles look like some abstract painting? The pattern on the tiles adds to them a dynamic quality.
These beautiful tiles will augment the grace of any washroom. Pair these tiles with beautiful gold accent bathroom fittings.
These tiles are a good example of a classic design that meets modern sophistication.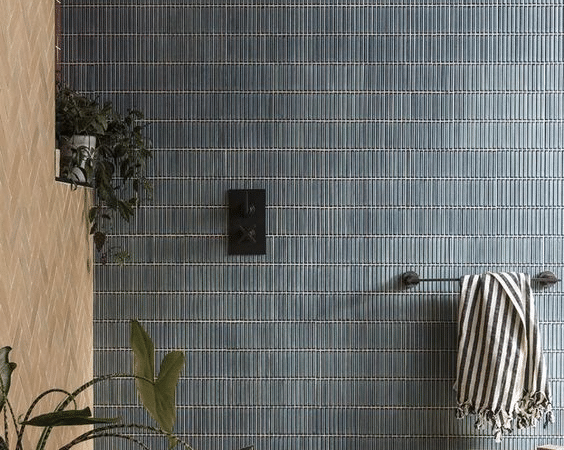 Are you in love with textures for an accent wall? Well, so are we! Which is why we love this beautifully textured wall. This trend in bathroom tiles is called KitKat or finger tiles. This look is created by placing these thin profiles side by side in a neat fashion. What you get is a textured wall that looks elegant and classy.
The subtle color of the tile is perfect for the texture, for it doesn't clash with other patterns. With these tiles, you get a clean look that is not overwhelming.
If you are looking to add depth and texture to your bathroom, these are the ideal choice.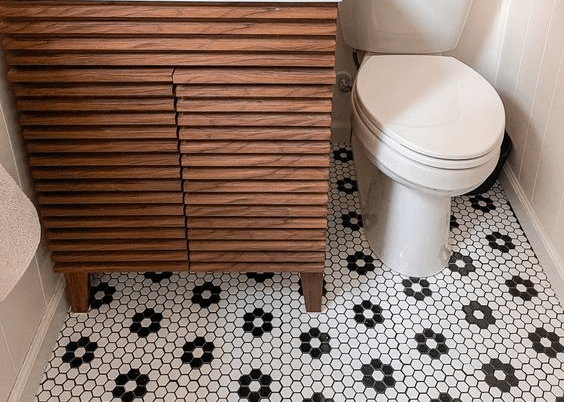 Among the small bathroom tile shower ideas, this might be one of the cutest. For small bathroom spaces, there might not be a lot of space to go for elaborate tiles on the walls. You might want to keep the walls a classic white to keep the space open. In that case, you can experiment with floor tiling.
These small beehive tiles are there to brighten up your mood. The little geometrical black flowers will add an interesting element and may also bring a smile to your face.
Bring out the hexagonal shapes with grey grouting. This adds a little texture to the floor.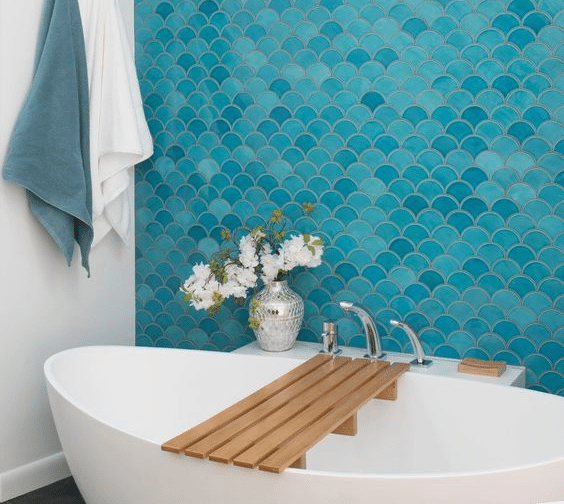 The use of fish scale tiles for bathrooms is not new; they are beautiful, elegant, and have an edge(not literally, because literally, they don't) because of their unique shape.
We love an ocean-themed bathroom. Whether that is done by choosing the colors of the ocean or shapes, it's always a win. These blue fish scale tiles combine both; the shape of the scales and the color are both reminiscent of the ocean. We have to say. All your baths are going to be extra fresh in this washroom.
Use these tiles for an accent wall behind the vanity or the tub. Keep the other walls white.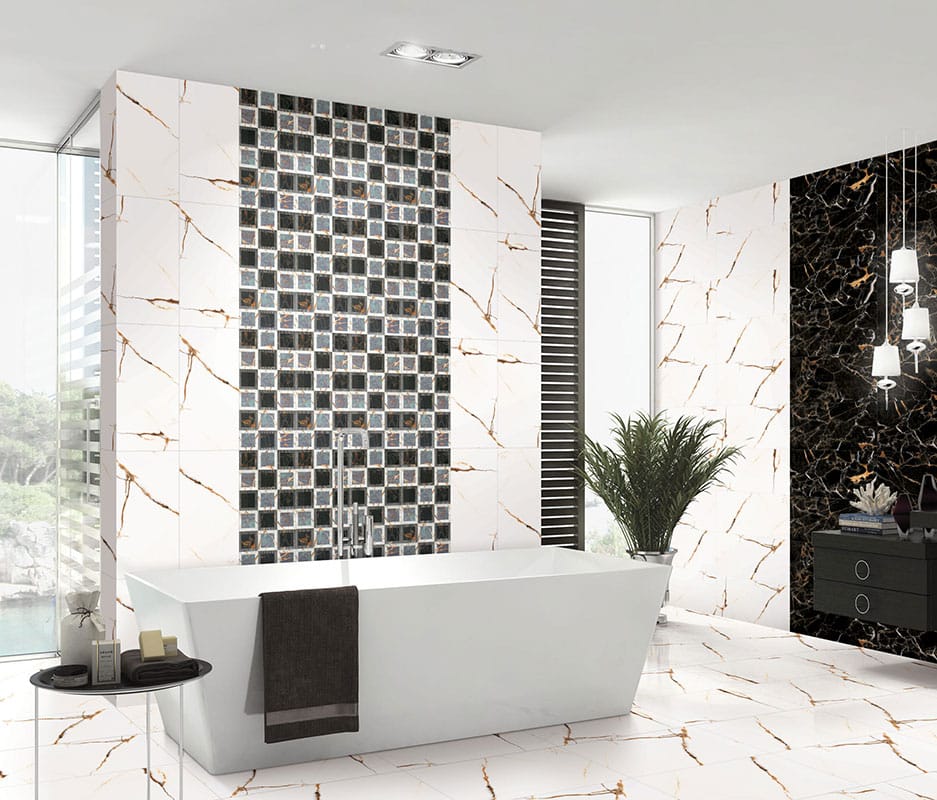 If you are a fan of blue bathrooms, you might want to try a deeper blue color for one of the bathroom walls. Pair this color with blue and white floor tiles and white walls. Trust us. You cannot go wrong with this combination. You can go for a black-and-white theme, too, if that speaks to you more.
Mattes have gained a lot of popularity these few years, but there is a peculiar charm to glazed tiles. And square glazed tiles in this deep blue are just the combination for you to try. It gives your bathroom a sophisticated, neat, and rich feel. So get your hands on these beautiful glazed tiles.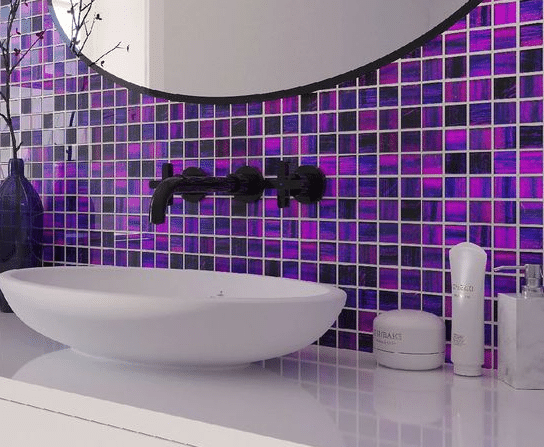 Do you want to go bold and make a statement? We've got your back. Pink and purple are your colors, these are the colors right out of a Barbie movie, and we know it's all the rage in 2023. Look how stunning these small square-glazed tiles look. The pink and purple color is just a head-turner. No one enters this washroom and is not awed to see it.
I'm sure you will collect a lot of compliments from your friends and family.
Go for white grouting with these tiles; it will better bring out the colors of the tiles. We would suggest you keep the rest of the washroom white. This tile accent wall will be the jewel of your bathroom. We mean we cannot take out eyes off of it.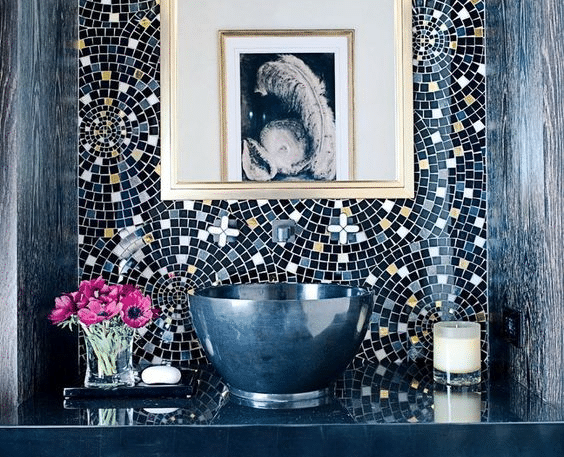 If you want a more elaborate backsplash accent wall, go all out with a mosaic wall pattern like in the image. This is a tough task, and it requires a lot of labor and planning, but the end result is stunning. yOU Guests will leave positively impressed by this accent wall.
Everything works for this wall, the colors, the texture, the intricate pattern, and the lighting. This wall is a stunner and worth all the pains one will go through in making this.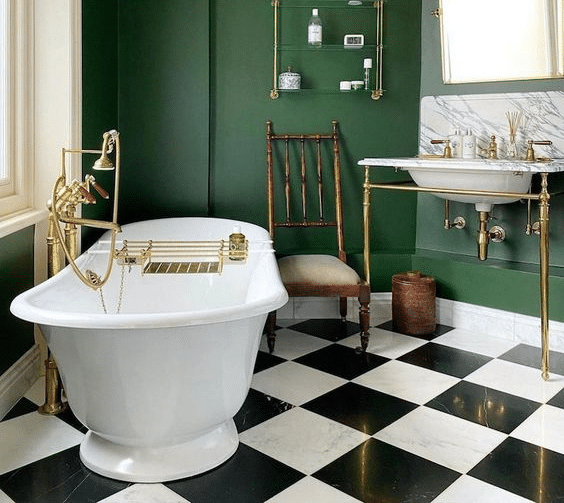 These are some things that are classic, and there is a good reason why they survive the change in styles, times, and tastes. Black and White checkered flooring is one of these classics that still finds its way into the designs of the classiest bathrooms.
Look how regal and impressive this bathroom with large black and white checks looks with the deep green walls. There is a richness to this combination; it oozes elegance and charm.
The gold accent taps and bathroom fixtures are just perfect for this washroom.
There are some things that just always work. Checkered flooring for the washroom is one of them. It is unlikely it will ever go out of fashion.
This bathroom design is a combination of vintage sophistication that meets the bold modern.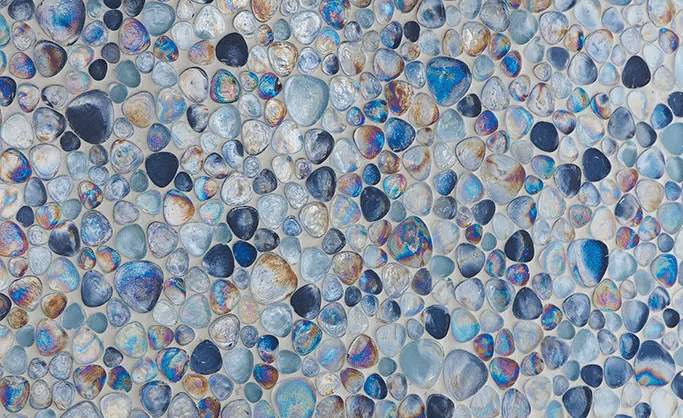 This is no secret that we love water or ocean-themed bathroom. The theme just fits a bathroom space, and it makes for a fresh aesthetic. There is a cheerful energy to an ocean or clear water theme.
Keeping up with the theme we have for you, this gorgeous hammered glass mosaic tile wall will be perfect for an accent wall in your bathroom or powder room.
These glass mosaic tiles arrange abstractly reminds one of the clear waters. Do they not look like the beautiful stone you find at the bed of a clear river or ocean? This is a statement wall that you can flaunt in your master bedroom.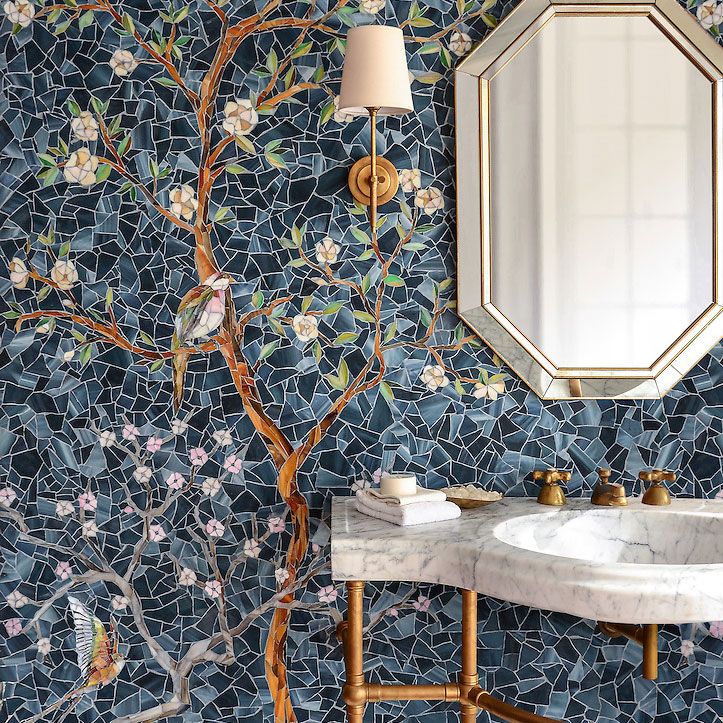 Are you someone that has a soul of an artist that will not let you be happy with the minimalist? Or are you someone that likes intricate designs and old-school mosaic paintings? If you are either of those people or just like pretty things, this mosaic accent wall for the washroom is everything you would ever dream of.
Look how breathtaking the chinoiserie pattern drawn painstakingly in hammered mosaic tiles looks. Let us just say that your guest will take a little more time in the washroom than required to admire the art that this accent wall is. And be aware that this wall is perfectly capable of stealing the thunder of your house. It will be the star.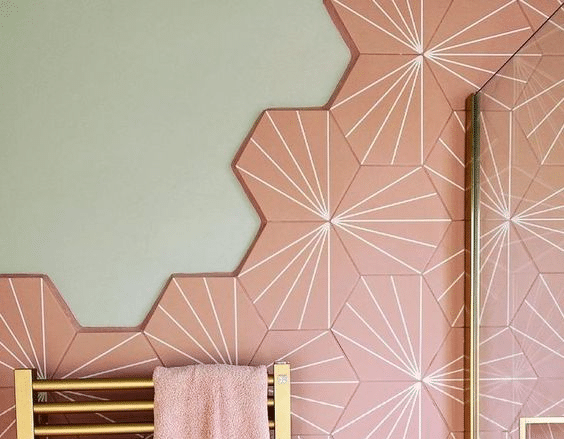 We think pink will be the color of the season. It's all the rage now with the Barbie movie. Pink is a soft color; it has a delicate nature to it and looks beautiful in the washroom. Try a staggered tile layout with the pink lilypad tiles for the washroom.
We like the incomplete tiled wall; it adds an edge to your bathroom. The white lines on the pin tiles look beautiful and add a striking quality to the tiles. These white lines on hexagonal tiles remind one of the dandelions. And who here doesn't love dandelions?
Pair these bathroom tiles with gold accent bathroom fitting. The gold color shines against the soft pink. Enjoy a dreary bath in this pink bathroom.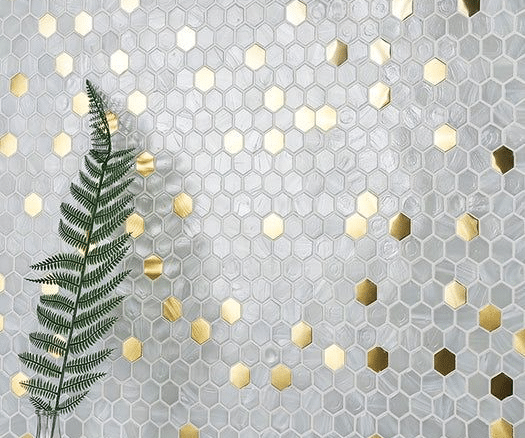 We have explored some design ideas with these hexagonal mosaic tiles. They look beautiful in any bathroom. But, if you enjoy it a little more, you can add small gold accent hexagonal glass tiles randomly between blue-grey-toned hexagonal tiles.
The gold color of the small tiles shines against the blue-grey of the other tiles. It gives a memorable wall for your bathroom. These little specks of gold are like garnish on top of an already beautiful wall, like little twinkling stars at night.
So add a touch of gold to make for an extra special bathroom wall.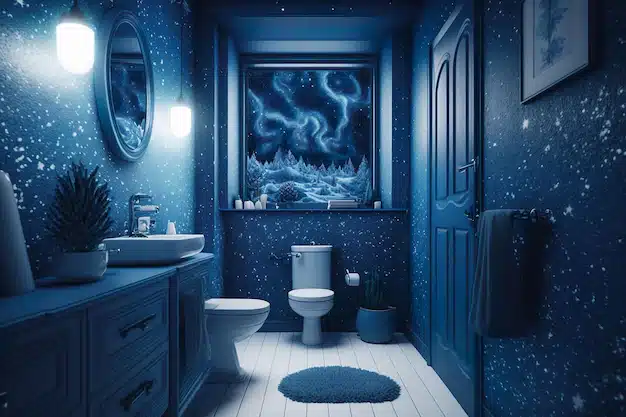 Among the small bathroom tile shower ideas, this is a starry one. Who doesn't love relaxing baths at night? They just hit differently. With night showers, you can take your time to relax. This bathroom is a starry night-themed bathroom that is perfect for those late-night baths.
The different shades of dark blue tiles capture the color of the night. The stars are a fun yet elegant addition to the tiles. They just add a little magical touch to your bathroom.
This is a perfect bathroom for kids and adults. I think the little stars and the color reminds one of a starry night.
Tip; You can use glitter grout if you want to add that extra sparkle to this beautiful bathroom.
It was love at first sight with these blue/sea green porcelain tiled bathrooms. The color itself is something that draws your attention to it for all the right reasons.
The color scheme of the blue and white could not have been any more satisfying. Paired with the dark bathroom tap and shower fitting, this is a dream bathroom for anyone that appreciates bold colors.
To add some transition to the shower area and the bathtub area, you can choose different textures or patterns of tiles of the same color. For example, you can use hexagonal tiles for the shower area and big rectangular ones for the rest of the washroom. Play with textures and shapes, but use the same color.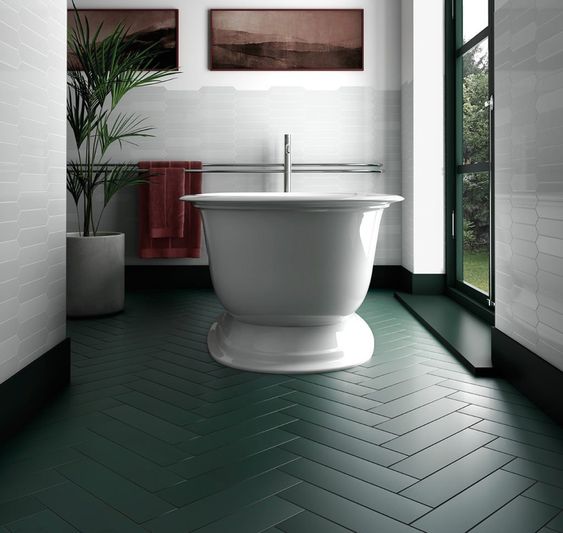 We have looked at a lot of ideas that pay attention to the walls of the washroom. Usually, people will go for an accent wall, and that will be the center of attention. There is nothing wrong with that, but you might want also to consider accent flooring.
Keep your washroom a classic white, and play around with the color of the floor tile. These Veridian green floor tiles make a bold statement and look striking against the white bathroom.
Tip; With a dark floor, pay attention to the grouting. We don't want white or grey grout. We need the grouting to be as invisible as possible.
Conclusion
Bathrooms are the spaces that need your full attention, and there are a lot of design choices you can make for them. Bathroom tiles are one of the most important design decisions.
You can go for the classics, like a white marble tiled bathroom or one with checkered flooring. Or, you may want to have a niche look with metallic and iridescent mosaic tiles. If you like intricate designs, you may want to go for an intricate Chinoiserie Accent Wall. Remember, you can also choose accent flooring. Accent flooring is a good addition to small bathroom tile shower ideas.
We hope you have chosen your favorite tile idea and are ready to give your bathroom a makeover.