Are you a plant lover who loves their balconies to be full of greenery with different plants? But just keeping a lot of planters covers up all the space on the balcony, restricting you from enjoying your morning tea and coffee with a fresh view. Give your plants a next-level makeover with the stunning DIY outdoor plant stands. Outdoor plant stands are a great way to utilize the space efficiently.
Keeping the plants vertically helps you fit in more plants and capture the sun as well. To do so, you can easily make a DIY outdoor plant stand and elevate the complete look of your balcony.
The best advantage of DIY outdoor plant stands is that many things can be recycled from the supplies already available at your home.
How to DIY a Proper Outdoor Plant Stand?
It is very important for the plant to be stable to keep the plant properly on height. If the plant stand is kept on soft ground, make sure to push the legs of the stand into the ground. If the stand is placed on solid ground, make sure to support it with bricks for stability.
Once you have got your plant holder made, it is important to have proper thought about the material of the plant pot. The material of your plant pot will be responsible for the weight you are going to put on the plant holder. Terracotta plant pots are heavier than plastic, so choose the plant stand, keeping this in mind, as tall and heavy planters can smash the stand.
Collection of water can spoil your plant, so it is very important to have proper drainage. If your plant stands, have a solid base (like wood or PVC), and drill plenty of drainage holes. Proper drainage will keep the plant in good health.
When you are planning to DIY your outdoor plant stands and want to keep your plants at some height, just look around. There are plenty of things available around us that can be used with minimal effort.
Have a spare old stool, speakers, and bricks just lying around your house? Before buying any supplies for a DIY plant stand or buying a new one, just look around. There are loads of things available that can be used as plant holders.
Stunning DIY Outdoor Plant Stand Ideas
1. Modify a Wire Frame or Copper Pipe into a Plant Stand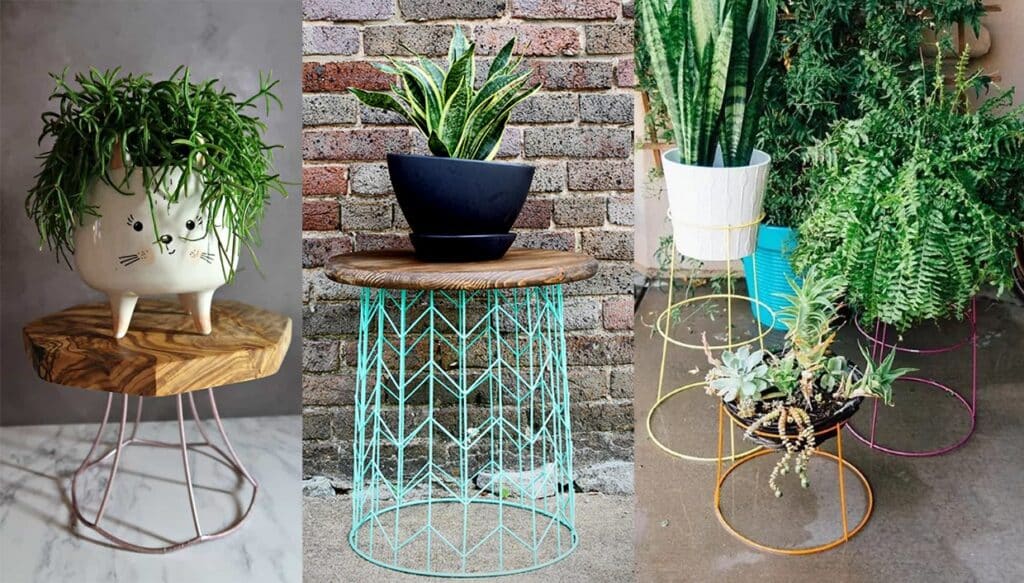 Are you planning to make an easy yet classy outdoor plant stand especially for your small plants? The solution to this is a DIY wire frame or copper wire plant stand. Transforming any wire frame, such as an old waste paper basket or large metal fruit bowl, into a plant stand is a great way to DIY an Outdoor plant stand. This adds some height to the plants for easy maintenance and a stunning look.
2. Slant Plant Ladder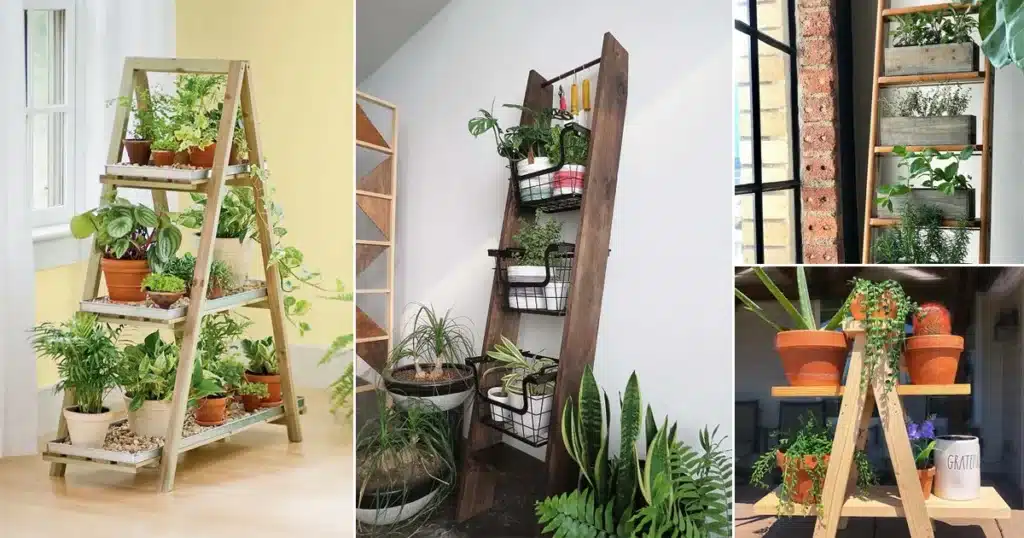 A simple plant ladder is a great way for different levels of planting. To give proper sunlight to all your plants, it is better to have ladder stands. A slant plant ladder makes watering plants easy and is very easy to build. All you need is a small step ladder with some tools and materials. Make sure that the steps aren't too shallow. This way, a simple ladder can be upcycled into a stylish outdoor plant stand.
3. Using a Tree Stump as a Planter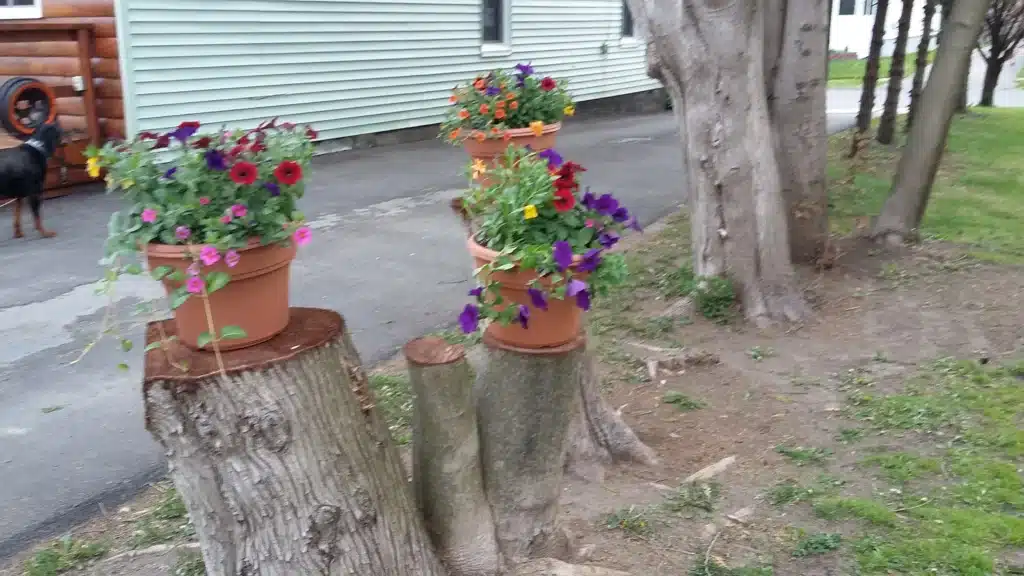 Do you own a house and are looking for a unique plant stand idea? There must be some trees you must have cut, and it is getting difficult to get rid of the stump. Removing the stump is a difficult process, so instead, you can use it in an innovative way as a planter to store plants. You will be shocked to see the results with plants in a tree stump as they look extremely eye-pleasing.
4. A Solid Concrete Plant Stand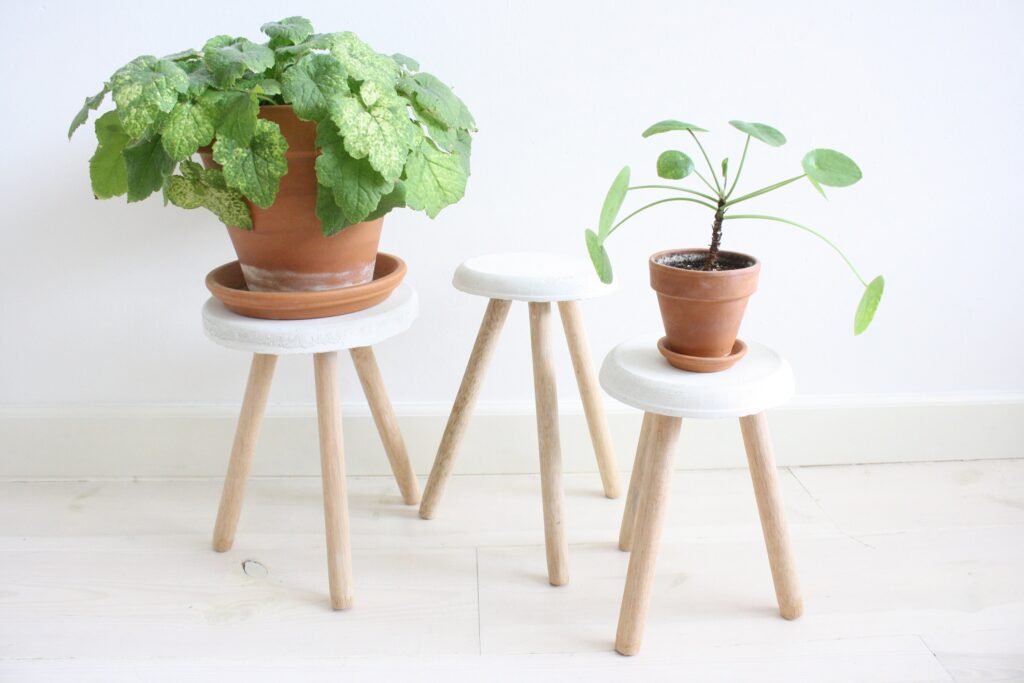 Planning to have an industrial chic look outdoors? Concrete is not the preferred first choice for creative projects, but you will be shocked to see the results. It is a fun material to work with once you get the hang of it. No special or additional tools are needed to build a concrete plant stand. Simply add fast-setting concrete into an oiled bucket that acts as a mold. With this add, add the wooden legs for your stand and let them sit and set.
5. Build an A-Frame Plant Stand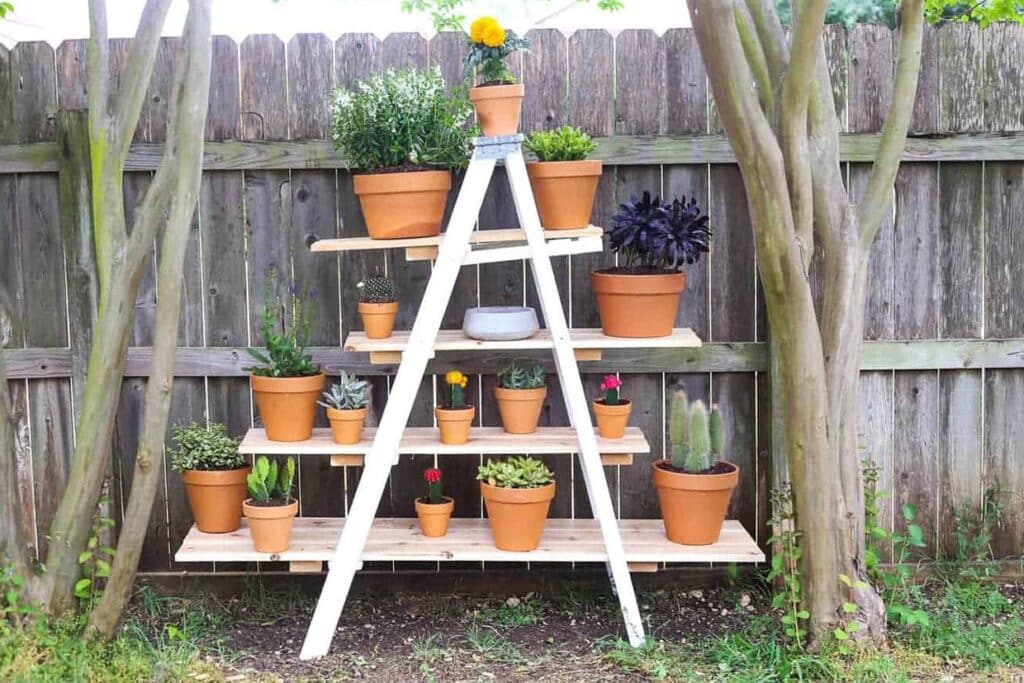 Using a ladder to store plants is a famous trend nowadays. Something different yet efficient for storing a large number of plants, you can DIY an A-shaped plant stand. It is a perfect addition to your garden that has a vast display stand with solid stability on the ground. If you want to build a plant stand against the wall, then you can attach it with a basic bracket to give additional stability.
6. Planters out of Old Tires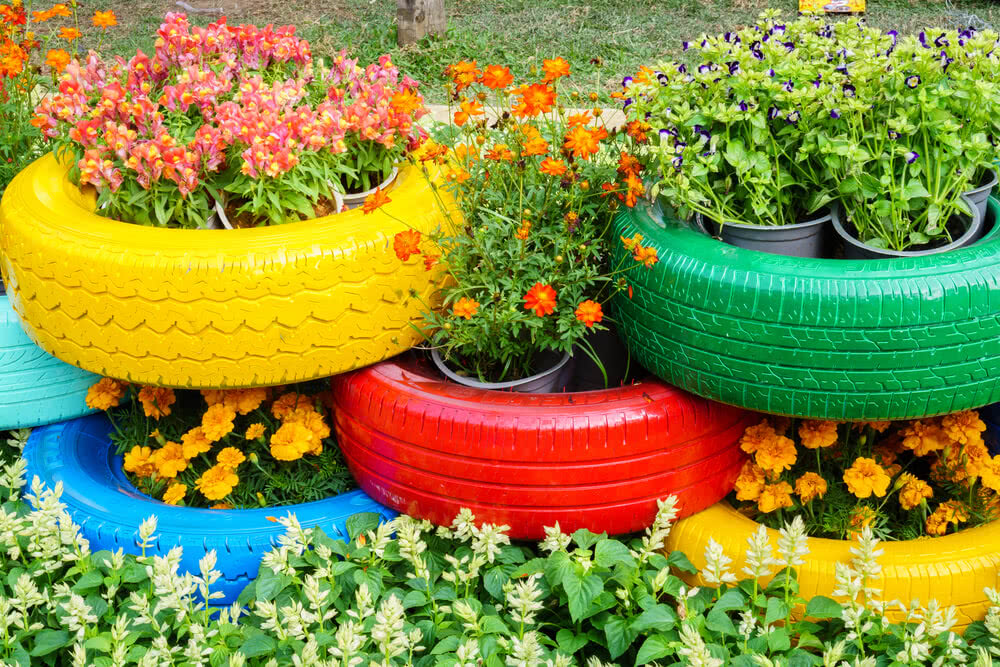 We all have spare tires in our store room which we can't figure out how to use. Do you also have tires resting in your storeroom or garage? If yes, let's get them to some use and design easy DIY planters out of old tires. Just stack the tires on top of each other to give some height to the plants. Just paint them according to your style and the color coordination you want to set for your garden space.
7. Stylish Wooden Plant Stand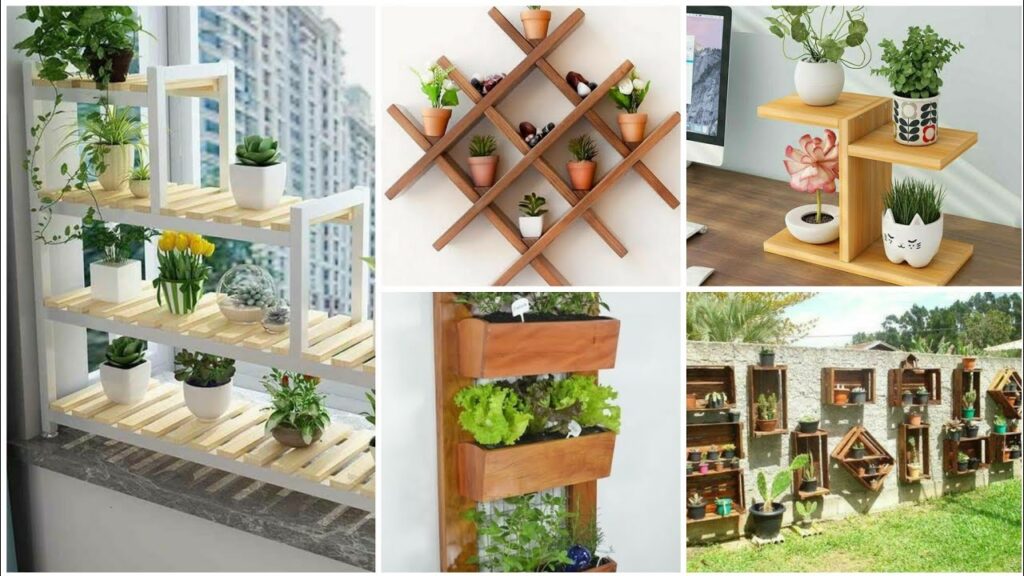 Want something simple yet elegant for a plant stand? Build a DIY wooden plant stand that looks stunning decor piece as well as hold the plant properly. It can be made from scrap wood, and you can paint or varnish the exterior to set the appealing aesthetics.
8. Block Plant Bench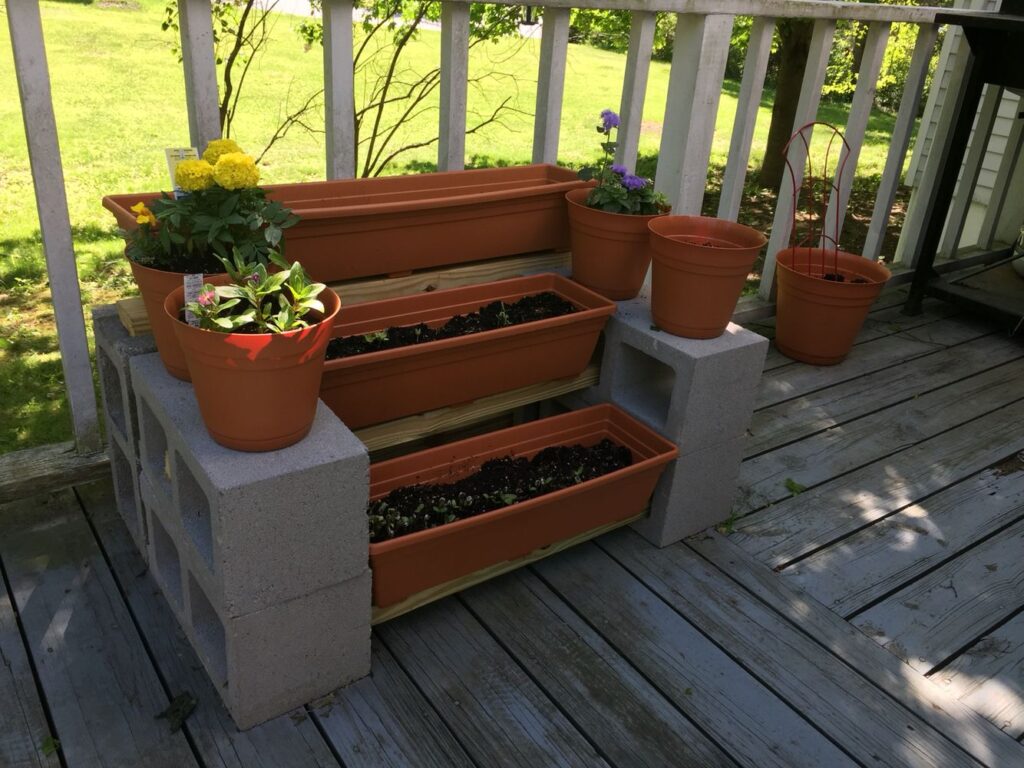 Do you have excess building supplies hanging around? Cinder blocks (also known as breeze blocks) are great building material blocks used for water resistance and strength. You can use some of this with a wood piece to be used as a platform to store planters in a cool way.
9. Garden Boots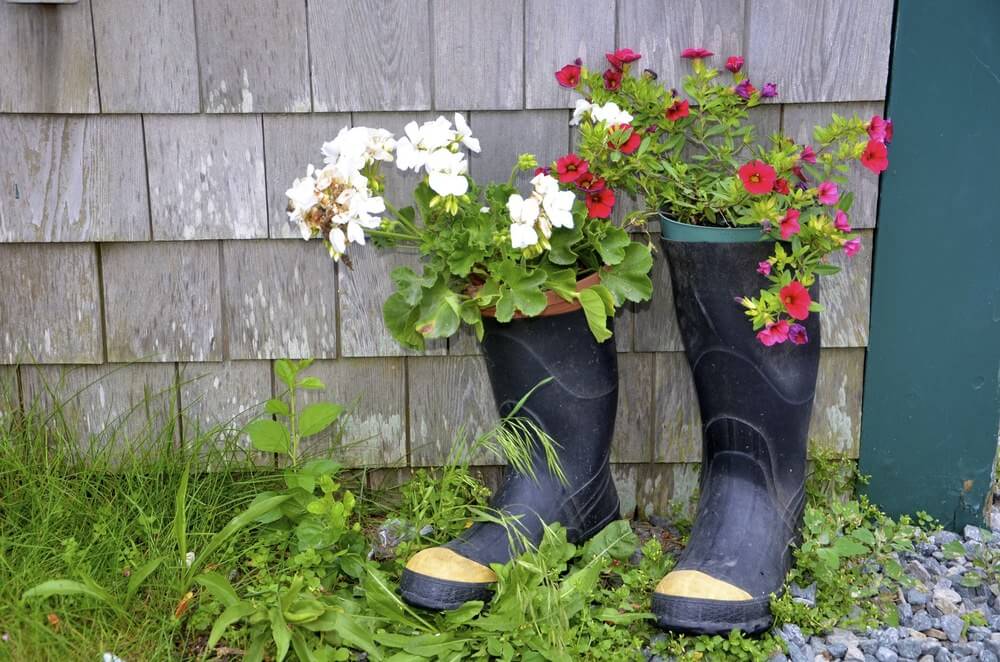 Do you also have hiking or gardening boots in your collection but don't find them of any use now? You can DIY any old pair of footwear as a plant holder. Usually, it is recommended to use large shoes of ankle length with enough width to store plant pots inside. It is a versatile idea as you can relocate these easily without much effort.
10. Rustic Pallet Plant Stand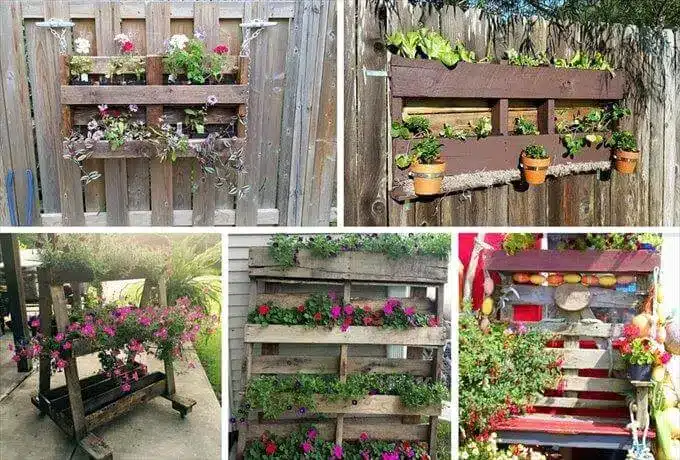 Are you in search of a low-maintenance plant stand that has good aesthetics but is easy to design? Using a wooden pallet, you can DIY the amazing plant stand. Get a simple wooden pallet from the nearest store and find the spot in your garden or balcony where you want to keep your plants. Now, just keep the pallet and start planting flowers and herbs in between the wooden slabs of the pallet.
11. Plant Wall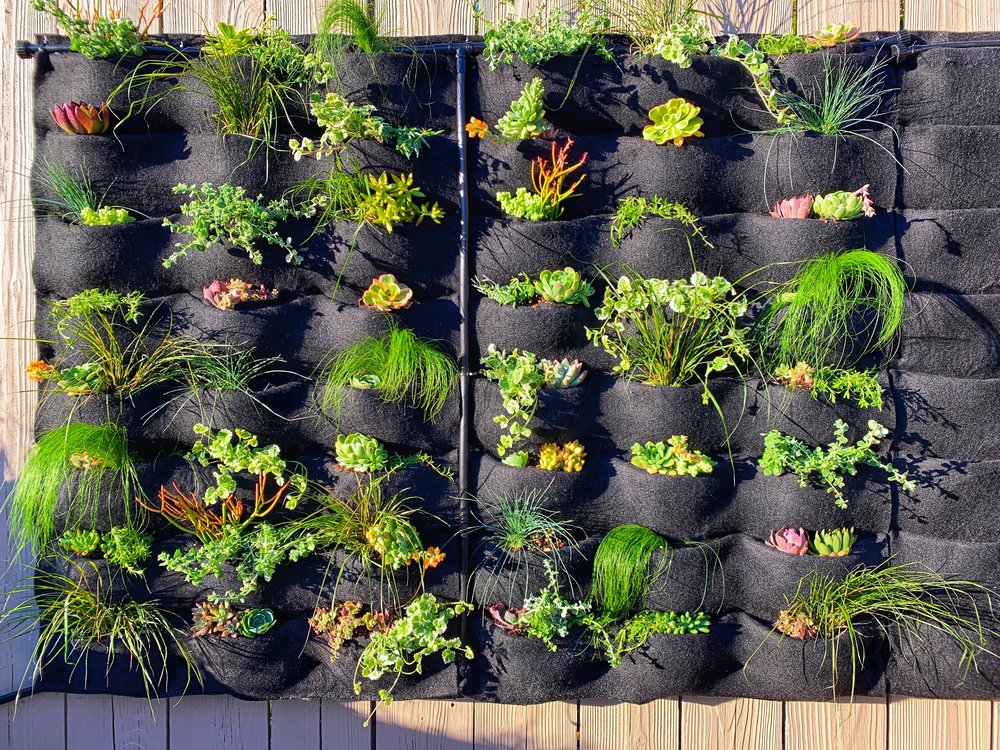 Planning on dedicating a complete wall for plants? This calls for a large-scale DIY where you can convert the complete wall into a plant wall. Get a large frame with rectangular holders for storing plants at different heights. The rectangular plant holders can be of any dimension and positioned unevenly on the frame to give an attractive look.
Once the complete frame is set on the wall, you can keep your plants and flowers according to the color theme you want to set as per your style.
12. Multi-Tiered Plant Stand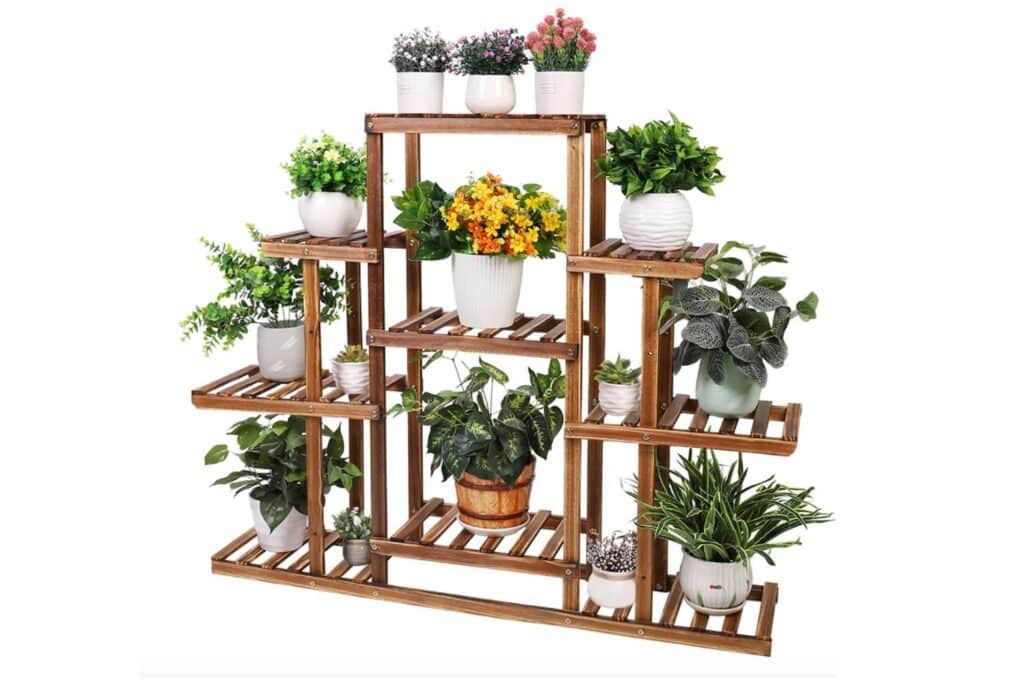 tier plant stand is perfect for it as it adds a great look. Show off your plants without much effort, and all you need is a framing square, a handsaw, tape measure, cedar, and water-resistant glue. So, what are you waiting for? Build this beautiful multi-tier plant stand and flaunt your plants.
13. Rope Stool Plant Stand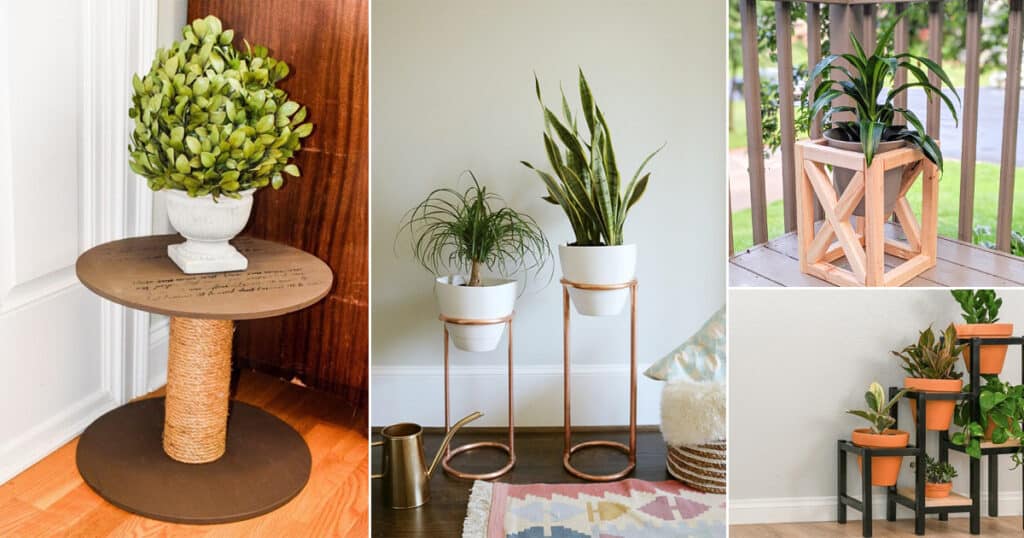 Have you ever thought that you could use an industrial spool as an amazing plant stand?g All you need for this outdoor plant stand is a spool, rope, and paints of your choice. For this DIY amazing plant sand, take a spool and wrap the rope around the base to give a detailed finish. It is very easy to get a spool from any hardware store as they discard the empty spools after using the material. Paint with the color of your choice. Now, enjoy the stunning DIY rope stool plant stand.
14. Hanging Plant Stand with Chalkboard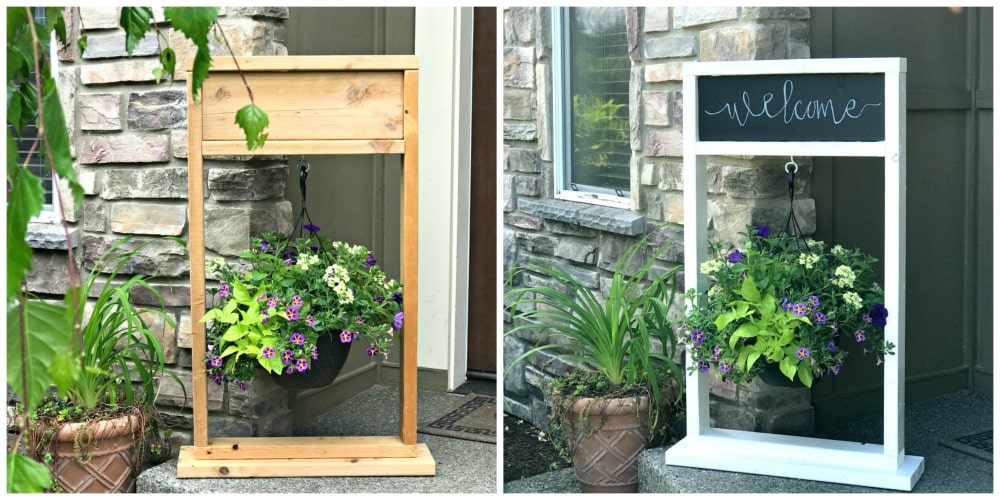 Looking for an innovative way of hanging plants with minimal effort? You must have spare wood in your garage or garden. Build a chalkboard frame where you can write your customized note on top and, with a hook, hang your plant. This stunning DIY project enhances the aesthetics of the space.
15. Covered Outdoor Plant Stand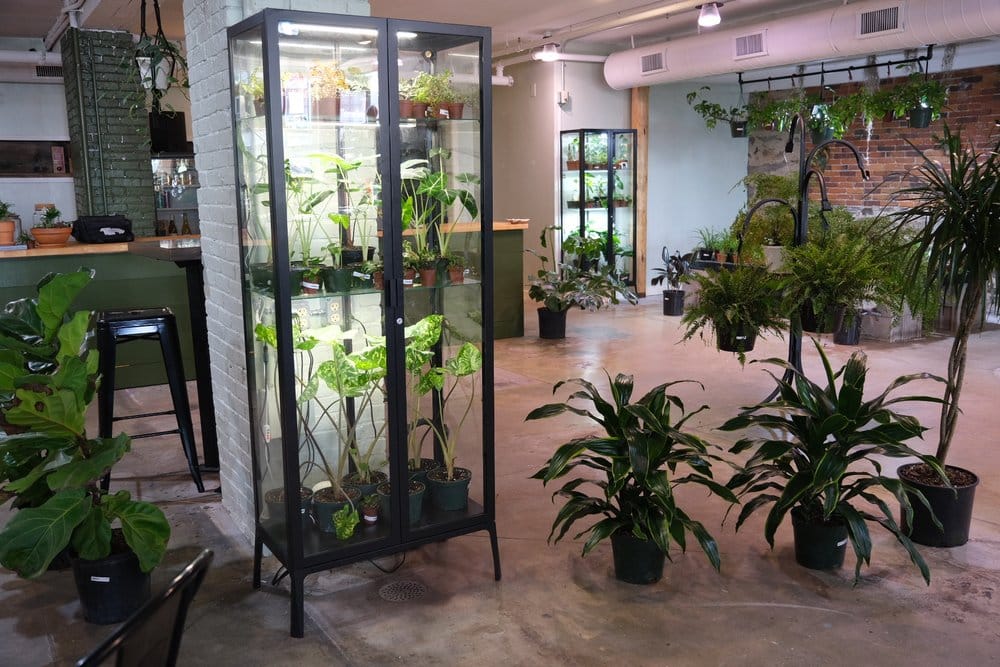 It is very important to keep the plants safe from insects, so it is best to build a net-covered outdoor plant stand. This is a perfect DIY process for stylish and secure enclosures, showcasing the plants without putting them at any risk. The long vertical design of this covered plant stand adds height to the outdoor spaces and draws your attention.
16. Window Plant Stand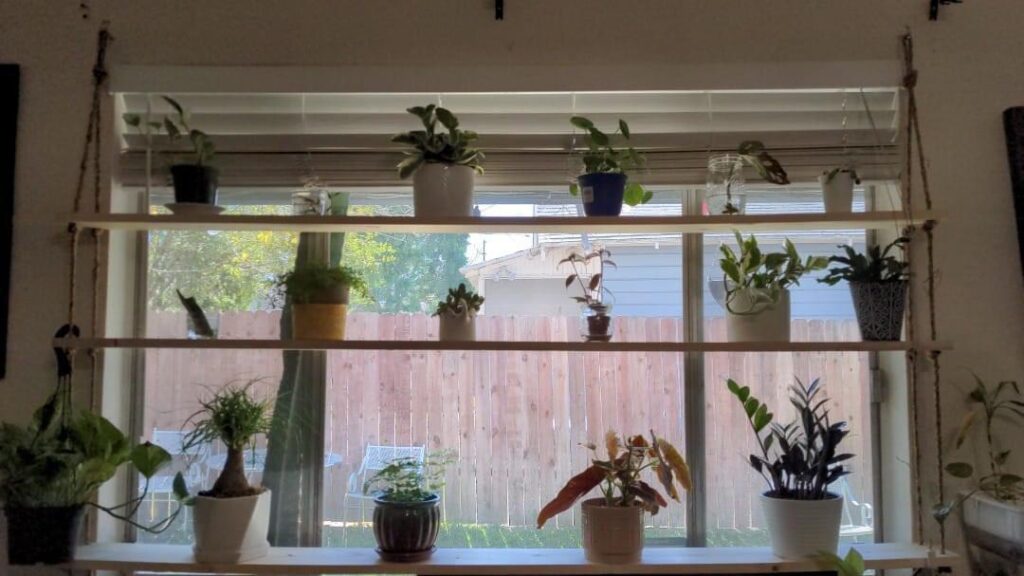 Does your living space have a giant window? Looking out for ways to decorate it with greenery? A window-side plant stand is best for this situation and gives a stunning look to your space. It is a simple DIY project built around the window with a frame covered with support for plants. Paint the frame with colors of your choice. All your plant pots and hanging plants will cover the frame and will beautifully flaunt your home with greenery.
17. Vintage Wagon Plant Stand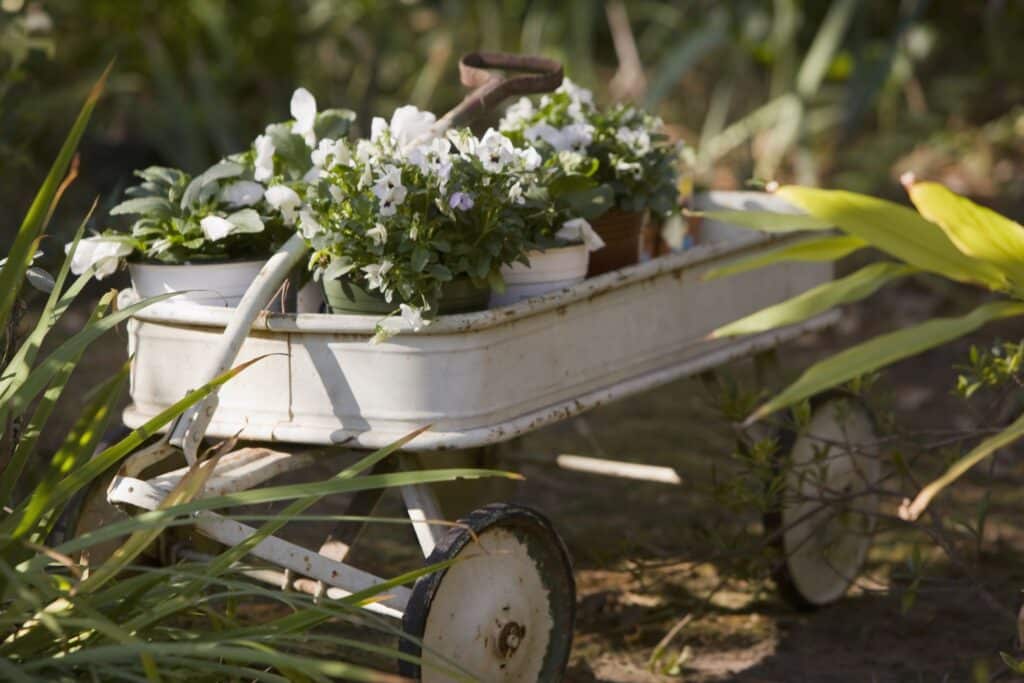 Re-purpose your wagon and use it as a fabulous plant stand. If you are a plant lover or own a garden, then you must have a spare wagon lying around. Even if you don't have an old wagon and you like this unique idea. Then, you can get one from a hardware store or thrift store. The shape and size of a wagon are perfect for storing plants, making them ideal outdoor plant stands.
18. Plant Holder and Bird Feeder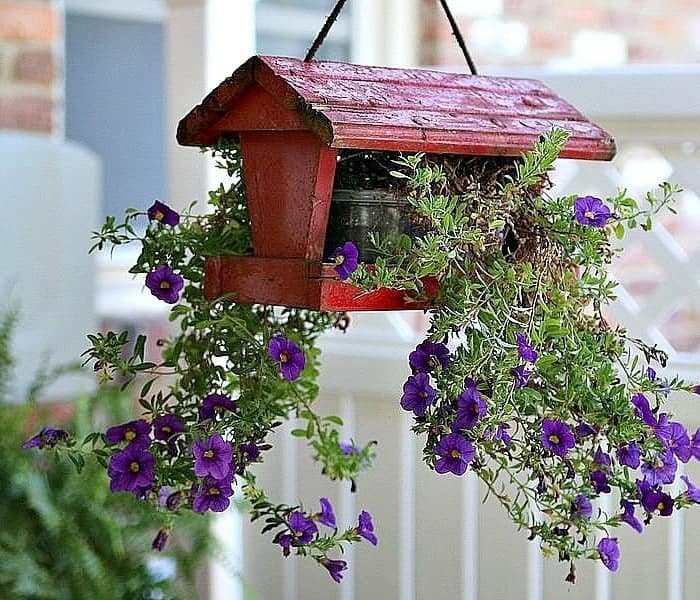 Do you love your plants and birds, nature in common? Add some colorful flowers to your outdoor space and feed the birds at the same time. It is a very easy DIY project that is unique and gives your feathered friends a cool place to hang out and snack by building this bird feeder and plant atrium. If you have kids at home, then this project is a fun activity to do while spending time with them.
19. Gabion Plant Stand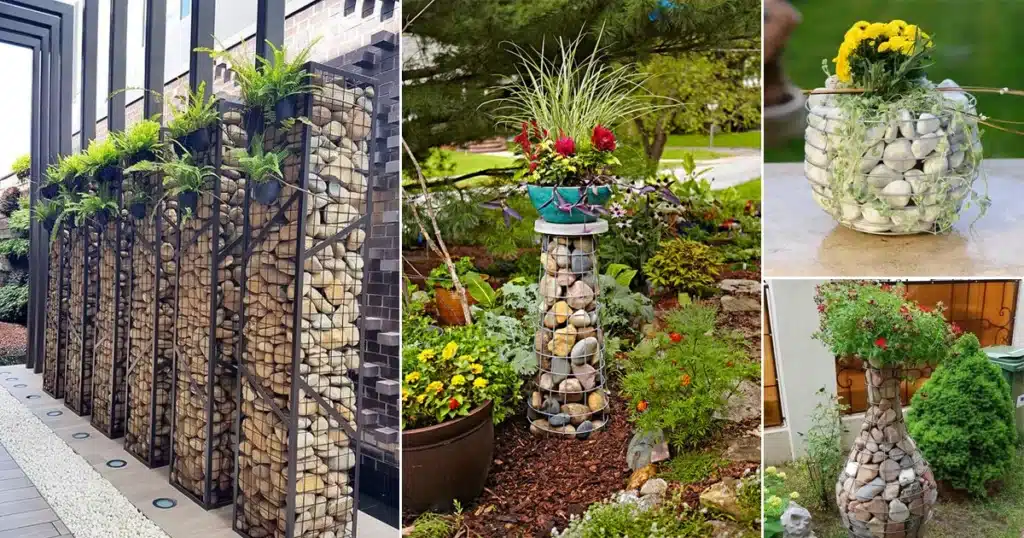 Are you a craft person who loves to impress people with unique ideas and aesthetics? If yes, then the Gabion plant standis an ideal outdoor plant stand with almost no skill set required. Stack three 4-ft tall, heavy gauge plant cages together and tie them with 16 gauge stainless steel wire. Cut the anchor legs and fill all the space with colorful fieldstones. Once it is filled, put a paver on top of it, and that's it. Your stunning outdoor plant stand is ready to upgrade the look of your space.
20. Wooden Trellis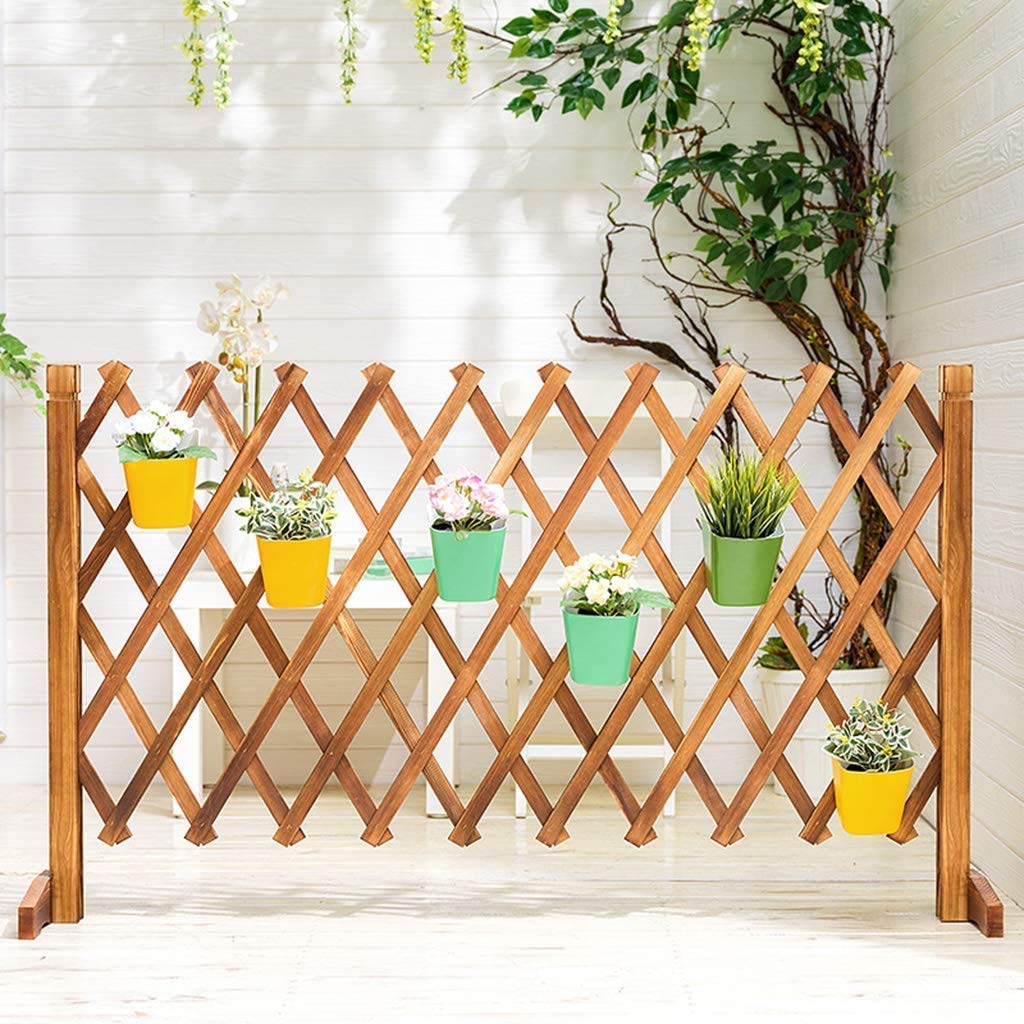 Trellises are common in gardening and are usually preferred for plants that climb as they grow, such as clematis, ivy, tomatoes, etc. But trellises can be repurposed as a stand for hanging plants. The wooden trellis can be painted if you have a set theme for your garden or to add a bright, cheerful touch to the garden. Otherwise, you can leave it as it is to give it a natural raw wood look. The DIY wooden trellis is a very low-maintenance project. All you need is some hooks to attach plants to the trellis.
Overview of DIY Outdoor Plant Stands
Incorporating a stunning outdoor plant stand is a great way to create more space for growing and adding new plants to your collection. DIY projects are unique, easy, and stunning additions to your garden or outdoor space. With all the discussed wonderful DIY plant stand ideas, you will get your perfect match whether you have a large garden space or a small patio.
This plant will create more space for your plants with whatever setup you have. Which one of these DIY plant stand ideas catches your eye that you are excited to try? We would love to hear them in the comments below.