Fishing is one of those activities that many look forward to during weekends and holidays. It's a fun way to spend time together with families and friends. And if you don't want your damaged or lost fishing rods to take the fun out of your favorite activity, you need to own a fishing rod holder ASAP.
Whether you are fishing or carrying and storing your fishing rod, a fishing rod holder is of great use. But owing to the expensive nature of fishing rod holders, many don't invest in them, leaving their rods to be unorganized and prone to getting misplaced and even broken. A fishing rod holder is of great importance and use, and the inability to purchase a costly fishing rod holder shouldn't keep you away from using it at all.
So we came up with excellent fishing rod holder DIY plans. We have selected a range of 16 plus DIY fishing rod holders that will ensure you never run out of holders for your fishing rods and enjoy your favorite activity without any hassle.
Here's our list of DIY fishing rod holder plans for 2023.
1. Wood Fishing Rod Holder Plan for Beginners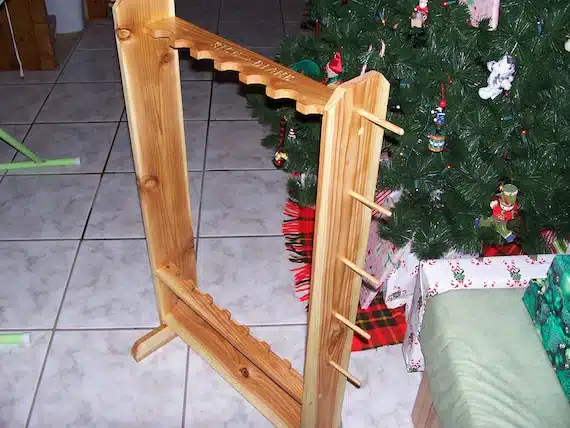 Beginners, here's a fishing rod holder DIY plan for you. Simple, quick, and easy. This wood holder lasts long and adds an attractive touch to your living space.
2. Horizontal Fishing Rod Holder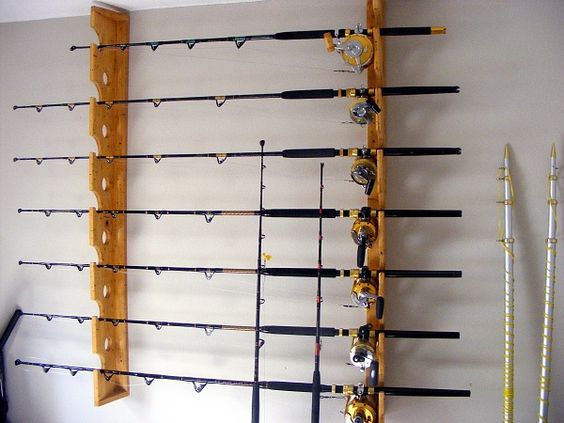 If you are looking for a space-saving holder, this one should serve the purpose just right. Plus, it looks classy too. Attach it to a wall and store your fishing rods hassle-freely.
3. Swim Noodle Fishing Rod Holder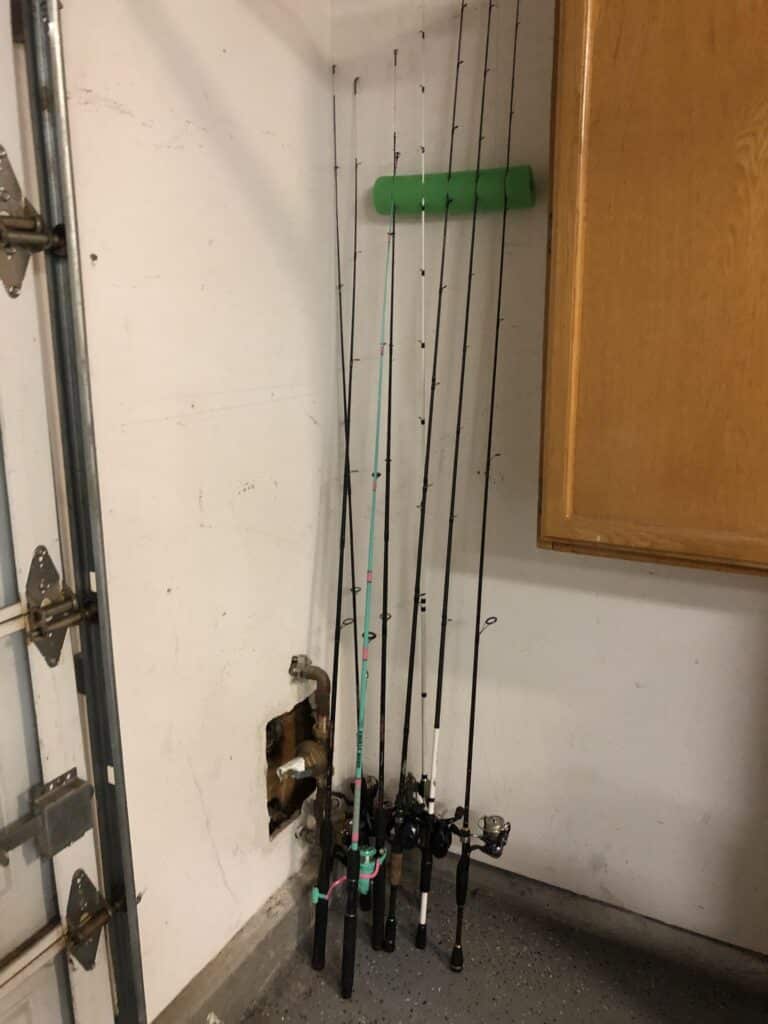 A simpler DIY fishing rod holder plan, this one comes together in less time and is quite easy to maintain. Try this one if you don't have enough time for more elaborate holders.
4. Curved Butt Rod Holder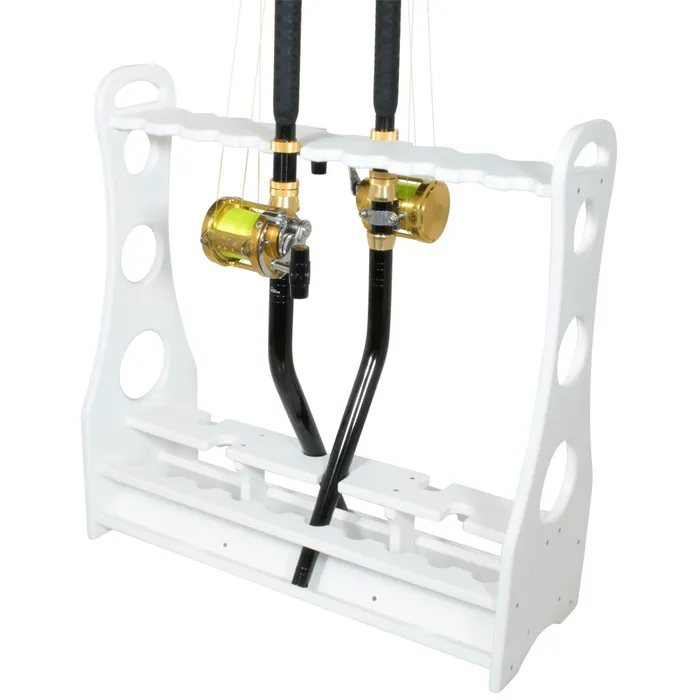 This unique rod holder stores fishing rods with curved ends and also fishing rods with straight ends. It is stylish and lets you store your variety of rods in one place.
5. Parallel Wooden Fishing Rod Holders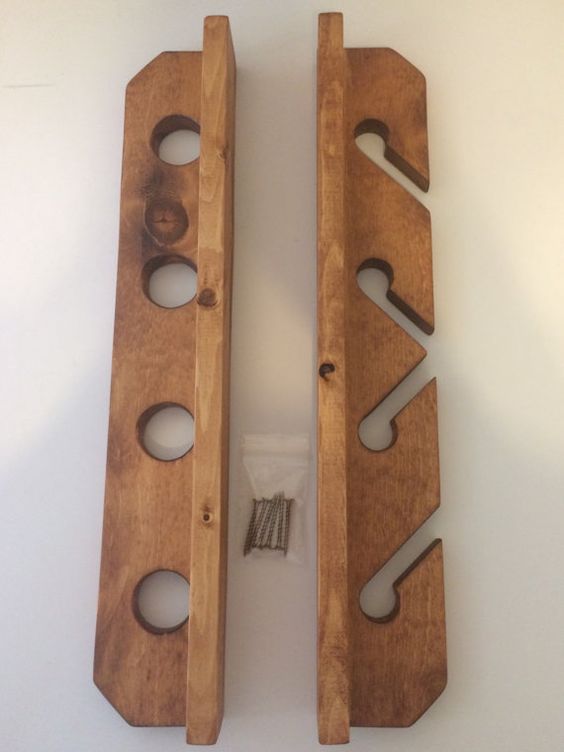 These wooden wall-mounted fishing rod holders are very stylish and practical. They can hold a number of fishing rods without taking up too much space on your wall.
6. Fish Shaped Standing Fishing Rod Holder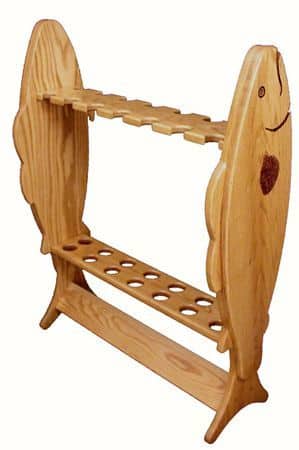 If you consider yourself an artist, here's something you will love to create. This fish-shaped fishing rod holder DIY planis beautiful, practical, and something you would want to showcase.
7. Ladder Style Rod Rack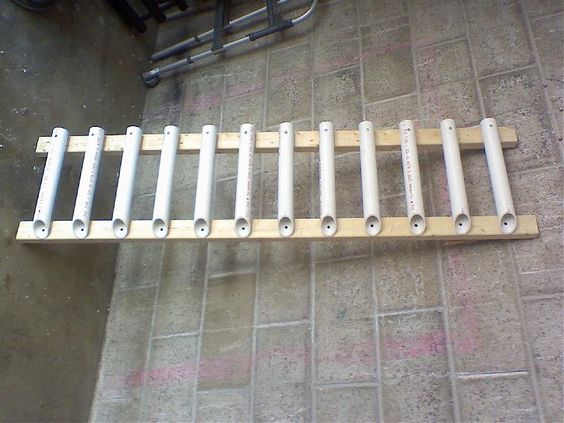 If you have a garage or a place where you can keep your rods without moving them, try this fishing rod holder plan. This ladder-style holder is stylish and offers ease of convenience to hold all your fishing rods smartly.
8. Ceiling Mounted Fishing Rod Holder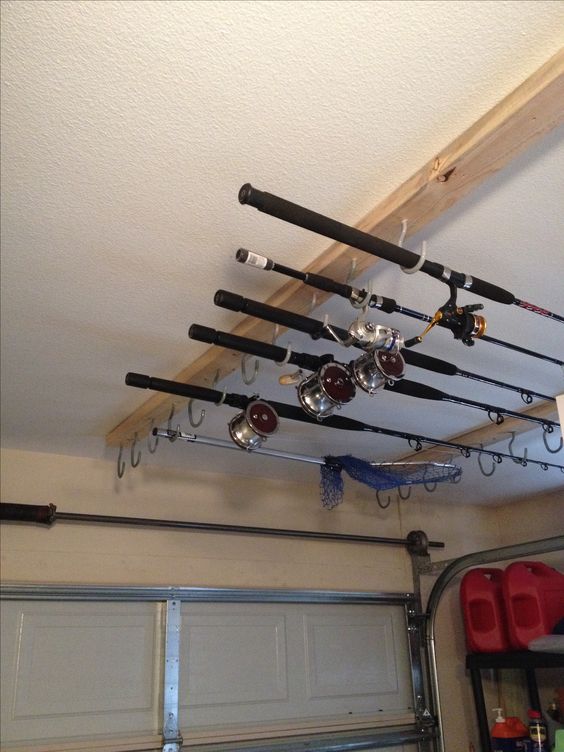 This is the best way to keep your fishing rods out of the way! Put wooden planks with hooks on the ceiling to store your fishing rods in them conveniently.
9. Door Frame Fishing Rod Rack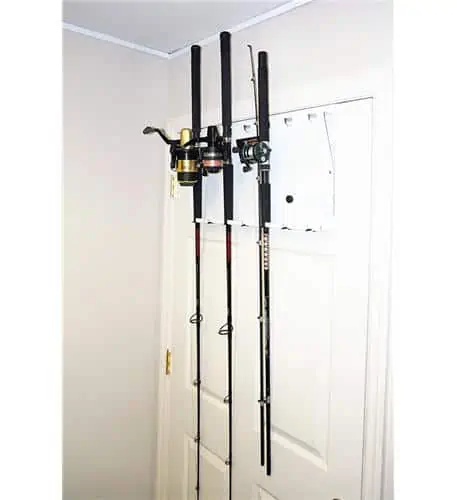 Similar to ceiling mounted fishing rod rack, this door-frame fishing rod rack allows you to store your fishing rods without them coming in your way. Just put the hook behind the doors and hang your rods in them.
10. Spinning Round Fishing Rod Rack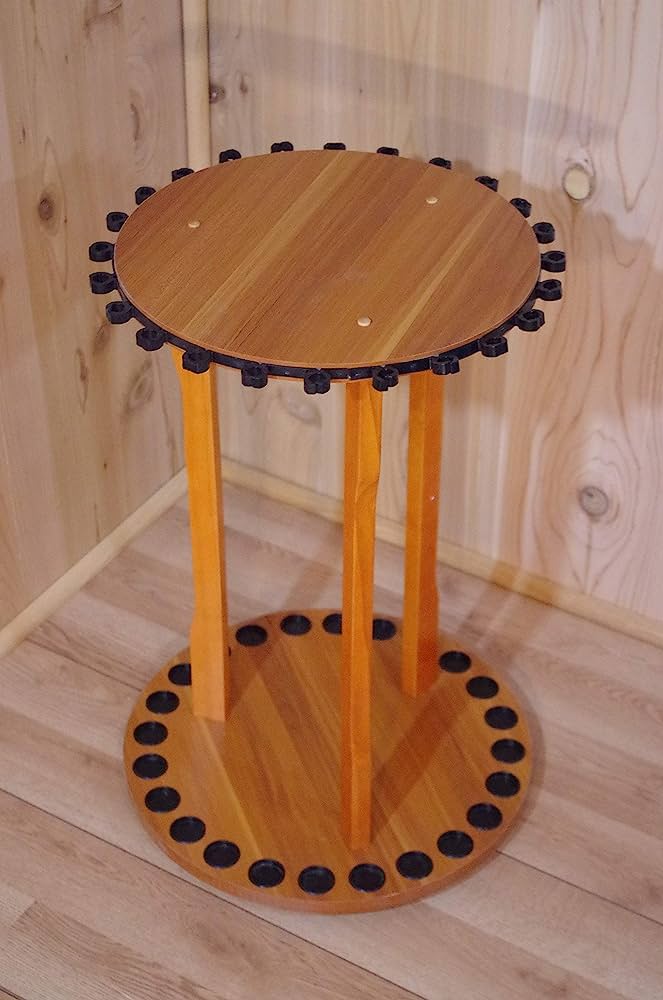 Resembling a table, this spinning fishing rod holder DIYrack is eye-catching and quite convenient for storing your rods. It's a spinning rack which means you can store and take out your fishing rods quite easily.
11. PVC Modular Fishing Rod Holder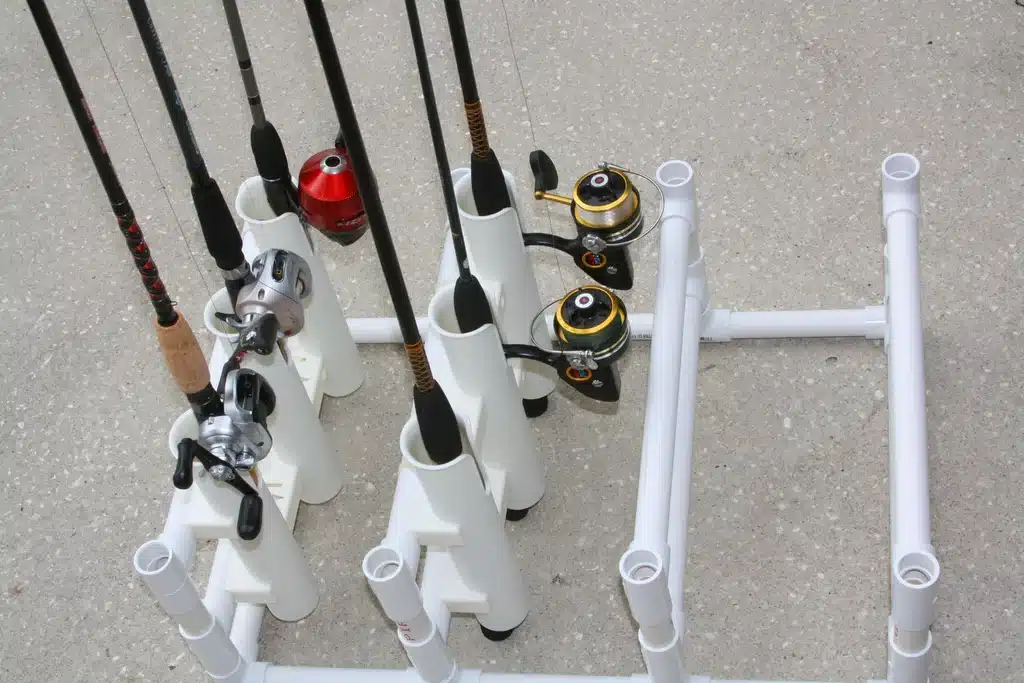 For storing multiple fishing rods in a convenient way, you need to build this PVC modular fishing rod holder. It looks smart and is highly practical.
12. Fly Fishing Rod, Wall Rack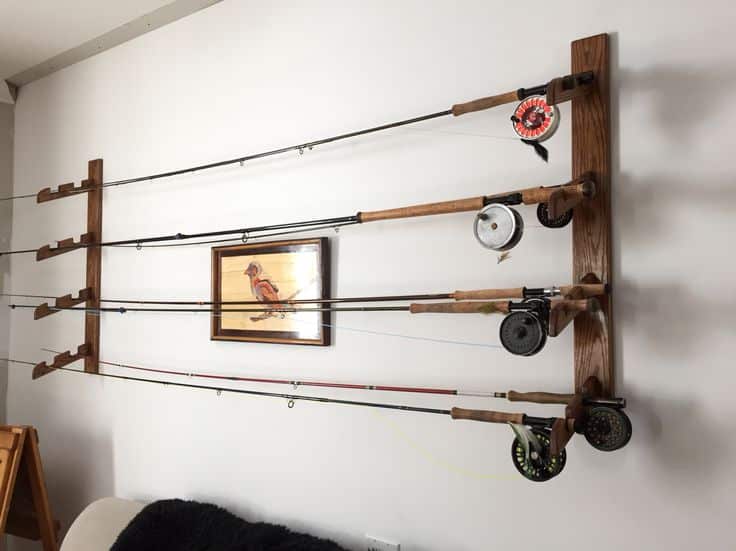 If you are looking to make your walls look extra spectacular while storing your fishing rods, try this rod holder. This rod holder resembles a musical instrument and looks very stylish on your wall.
13. Loop Hold Flexible Fishing Rod Rack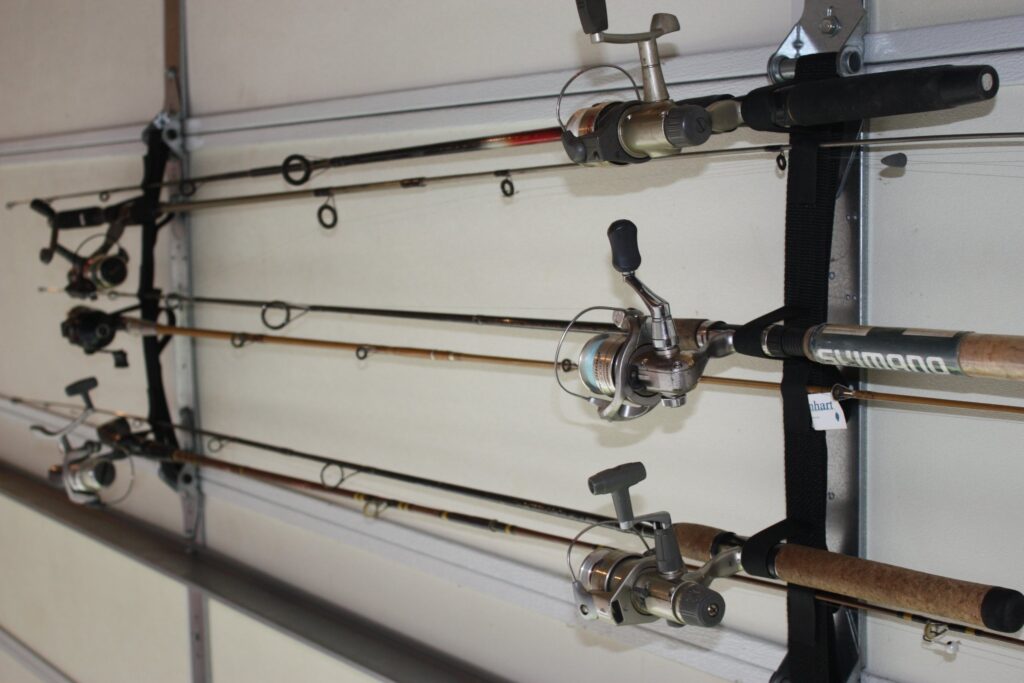 Flexibility is key when storing fishing rods for maximum protection. The loop holds a flexible fishing rod rack that will ensure your fishing rods stay in and come out comfortably.
14. Tackle Rack Fishing Rod Holder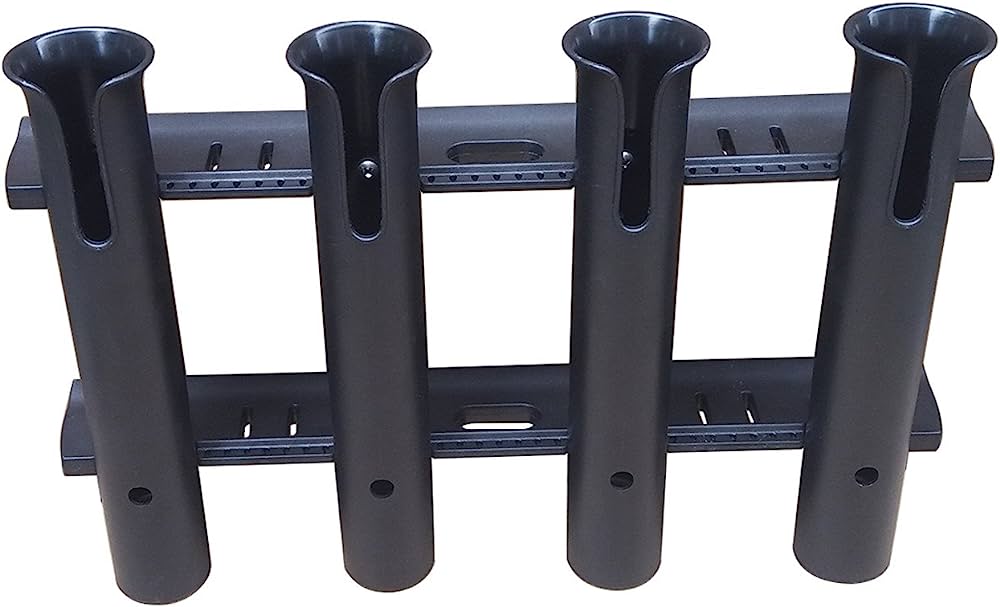 If you want to build a rod holder that can keep all your fishing tools along with your fishing rods, then this tackle rack fishing rod holder is perfect. This one will hold all your fishing tools seamlessly.
15. Bank Fishing Rod Holder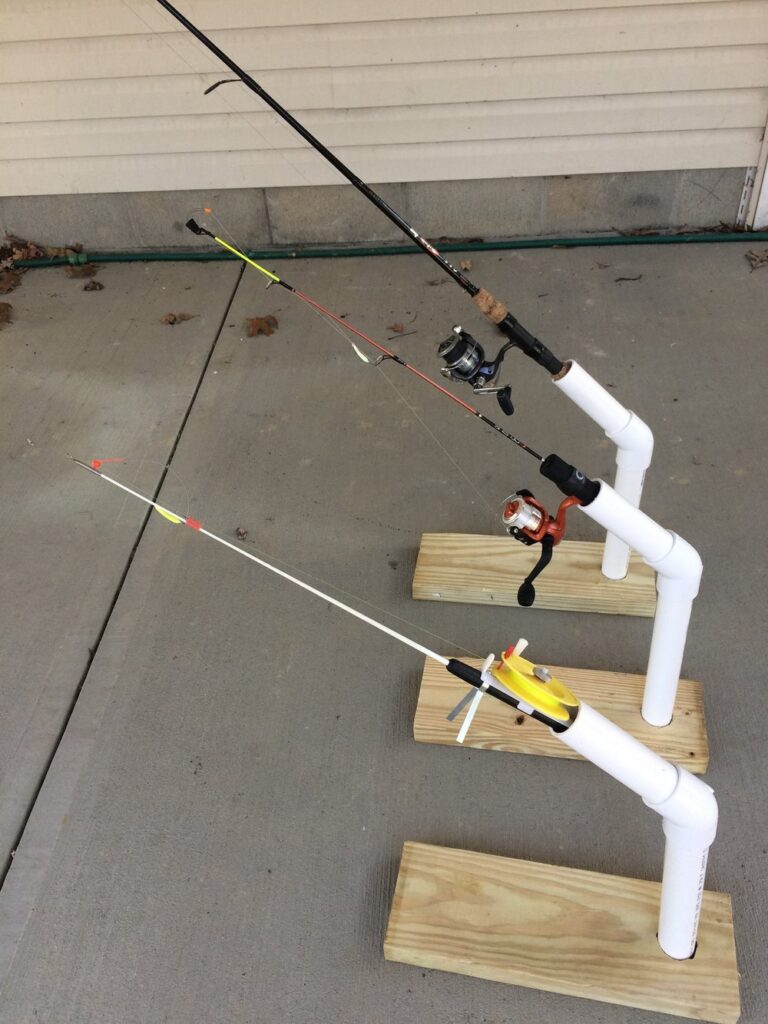 You also need rod holders during fishing to give more comfort to your hands and enjoy the activity more. These will come in handy when you are out there fishing.
16. Portable Fishing Rod Holder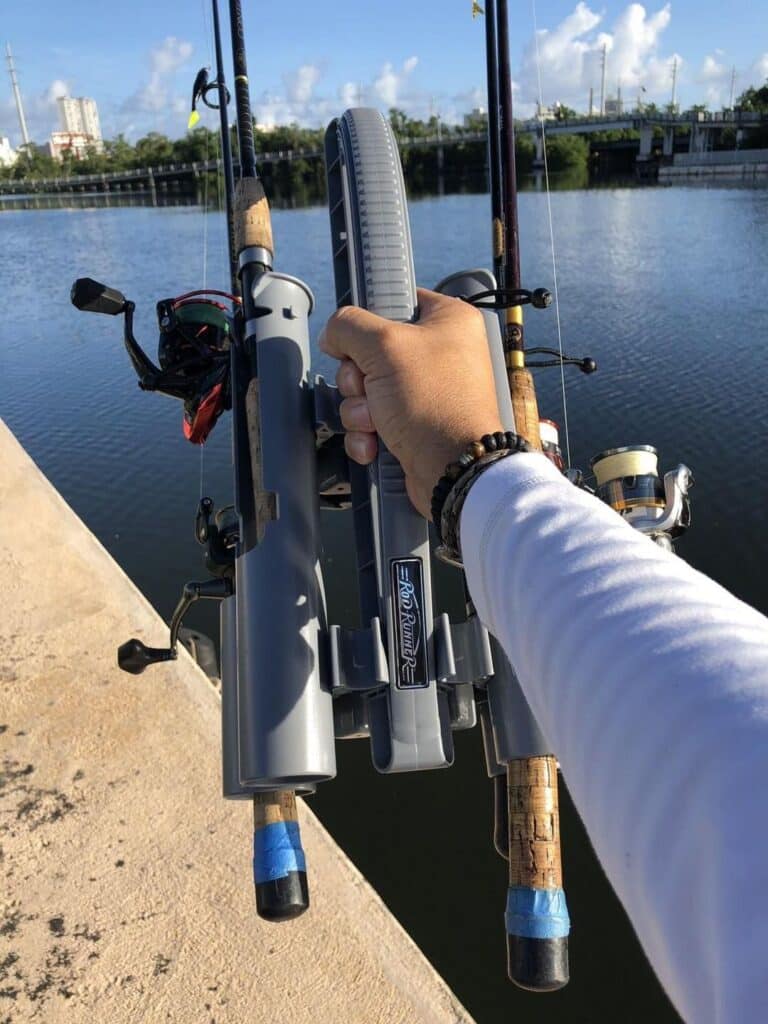 Carrying and storing fishing rods become better with this portable rod holder. This one allows for ease of carrying and storing the rods with its collapsible structure.
17. Overhead Horizontal Fishing Rod Holder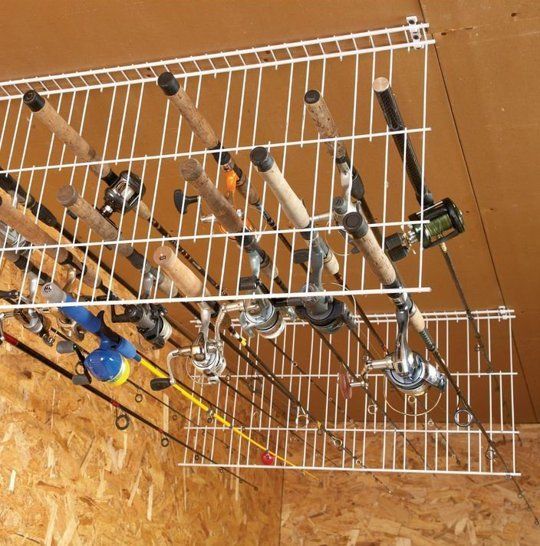 Fishing Rod Holders DIY – How to Put Them Together
There is a standard way of putting together any type of fishing rod holder. We share the method below.
The first thing you need to do is measure the height and breadth of your fishing rods. Based on that, you can easily decide what should be the ideal size and shape of your holder.
Next, you need to cut the DIY pipes and fittings according to the decided measurements of your holder. You need to ensure the cuttings are done smoothly and wiped clean before attaching them to other pieces.
After cutting all the PVC pipes and fittings, it's time to bring them together. You can use PVC cement to attach them firmly. After application, the cement needs to be dried by leaving it for some minutes or as mentioned in the instructions.
After sticking the pieces together, you need to drill holes into them to mount them on a wall. This is essential as it will ensure the holder stays put without moving and getting damaged.
To make the holder your own, paint it in a color of your choice and add designs or stickers. This will ensure you can recognize your holder among other people's holders and also give you a sense of pride and achievement having made it yourself.
Fishing Rod Holders DIY- Benefits and Disadvantages
Here are some of the advantages and disadvantages of DIY fishing rod holders. Let's start with the benefits-
Benefits
DIY fishing rod holders are less costly than readymade ones. This is one of the reasons why many prefer making their own holders instead of buying them because that can burn a hole in their pockets. Plus, one can select the type of DIY fishing rod holders they need based on their budget, which is otherwise not possible when you go to purchase it.
The most work that a DIY fishing rod holder needs is cutting, assembling, and drilling. These are quite easy to do. Even beginners should have no problem making a DIY fishing rod holder without anyone's assistance.
One great advantage of using a fishing rod holder DIY plan is you can customize the holder as per your needs. Add fresh paint of burgundy color or a sticker of your favorite superhero, or paint flowers all over it. There's simply no end to the way you can personalize your DIY holder.
Since most DIY fishing rod holder plans are available in PVC material, they are quite lightweight compared to readymade ones. This means you can carry them to the fishing bank with much ease and effortlessness.
We all love space-saving equipment, and these fishing rod holders DIY plans are designed to help you make compact tools for your fishing rods. Because you are making it from scratch, you have the liberty to tweak and adjust the dimensions of the holder according to the size of your fishing rod and the space available to you.
Disadvantages
PVC may be lightweight and easy to cut and mold, but it can prove to be problematic during the attaching and assembling stage owing to its flimsy nature. The material is not that strong and thus needs a lot of careful holding. It also doesn't stand on the ground properly, and so needs to be attached to a wall for security.
Doing It Yourself is never a two-minute job. You need to give a lot of your energy and time to build the perfect holder that is as per your requirements. So make sure to take out enough time when starting on a fishing rod holder DIY.
The edges of the DIY holder are sharp and can cause injuries to children who don't understand about staying away from dangerous objects. So it is advisable to keep your holder in a corner out of reach of kids or mount it on a wall.
How to Take Care of Your Completed DIY Fishing Rod Holder
After you have given the finishing touches to your holder, it is now ready to be used. But regular usage will undoubtedly make it susceptible to damage or, if you are not careful, even breakage. You definitely won't want this fate to fall upon the tool that you have created after so much hard work.
Here are some handy tips for the care and maintenance of your DIY fishing rod holder.
If you let moisture settle on your DIY holder, it will slowly degrade its quality and make it more prone to damage. It's advisable to keep the holder in a place where there is no accumulation of moisture, like away from the bathroom, kitchen, and areas where water naturally gets sprayed on the ground.
If you wish to keep using your holder for a long time in its top condition and without causing any accidents, it is best to keep checking on its fittings on a regular basis. Check for any loose parts or screws and fix them immediately.
Dust, water, or other dirt particles are common on a fishing rod holder after usage. You have to make sure you clean the holder with a soft cloth or soap and water if it's too dirty. If you leave the dirt particles sticking to the holder and store it, there is a high chance the holder will start to rust and get damaged.
It is important to keep your holder glued to a place so as to avoid it getting damaged with constant movements. Mounting it on a wall is one way of keeping it in place. If you are having a problem with mounting it, you can put a sealant around the holes and secure them to a corner. If this also doesn't work, you can try putting a felt strip between the rod holder and the screw. This will ensure your holder stays firmly in one place.
Wrapping It Up
There is something absolutely joyous and proud-worthy in creating something on your own. Plus, the low cost of DIY-ing makes it a worthwhile effort. As we saw, fishing rod holders DIY are great options for budget-friendly fishing rod holding, carrying, and storing solutions. Though some of the fishing rod holders' DIY plans are time-consuming, the process is largely easy and uncomplicated. You just need to follow the right steps with a lot of patience, and you will see the desired results. In case you get stuck anywhere in your fishing rod holder's DIY process, you can refer to this guide for tips on putting together the fishing rod holder.
You always have the option to select the type of DIY holder based on the time you can give it, your budget, and the type of holder you want to create. If you want to create simple holders, you can choose PVC. If you want to create more stylish and sturdy holders, go for wood.
We hope you find some inspiration from the above list of DIY fishing rod holder plans and create your kind of holder with ease.