Whether you're a new guinea pig owner or thinking about getting them as pets, it is important to offer them a clean and safe living environment. A Guinea pig cage can offer hospitable and secure living space to your furry friend. But they can be very expensive if you buy them from the market, and you would not get the cage as per your exact requirements.
So why not save your precious money and build your own diy cage for guinea pigs? You can customize the guinea pig cages to fit any space and use them both inside and outside. When you build the cage yourself, you show your affection and care toward your pets.
The best thing is that you can build the guinea pig cages with only a few supplies and minimal effort, and you'll be astounded to see the final results.
So let's take a look at the 10 easy ideas to build comfortable and visually-appealing guinea pig cages.
Innovative Ideas to Create DIY Cage for Guinea Pigs
We have enlisted 10 ways to create a DIY cage for guinea pigs on a budget with minimal effort.
1. Multi-Pet Guinea Pig Cage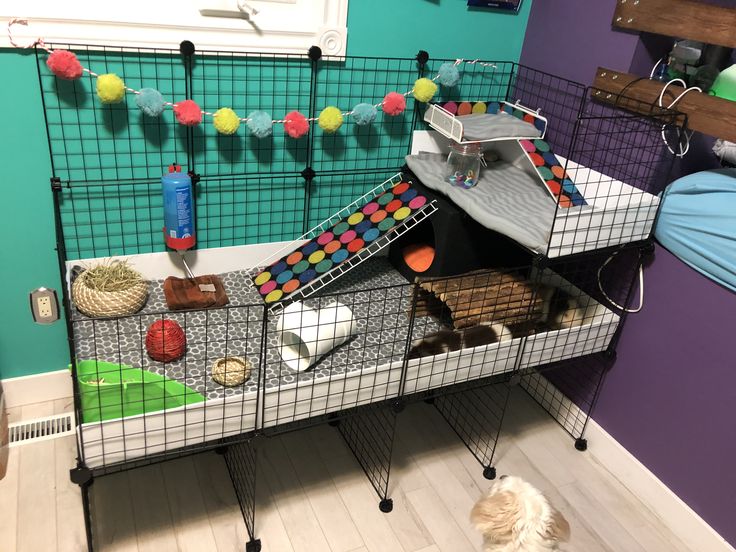 If you have multiple guinea pigs at your home, you can build a multi-pet guinea pig cage. This is a simple project wherein you'll need a razor knife, zip ties, corrugated board, playpen, scissors, sharpie, scotch tape, and roulette.
You can use the corrugated paper board or an old cat litter tray to create the base of the cage. If you want the cage to hold two guinea pigs, its minimum dimensions should be 20×32 inches or 50×80 cm.
Get a rectangular box that has at least 6″ tall sides. Wrap it into the playpen panels depending on the size of the cage you want to make.
Use plastic cable zip ties to tie the panels together without leaving any empty spaces. Don't leave any sharp corners else your guinea pig might get injured while running inside the cage.
Separate the cage into two different areas so that your guinea pig can rest and play.
This DIY cage will provide plenty of space for your guinea pigs to play and run around. You can also adjust the size of the cage and make it bigger as per the needs of your pet. You can check out detailed instructions for this project here.
2. PVC Pipe Cage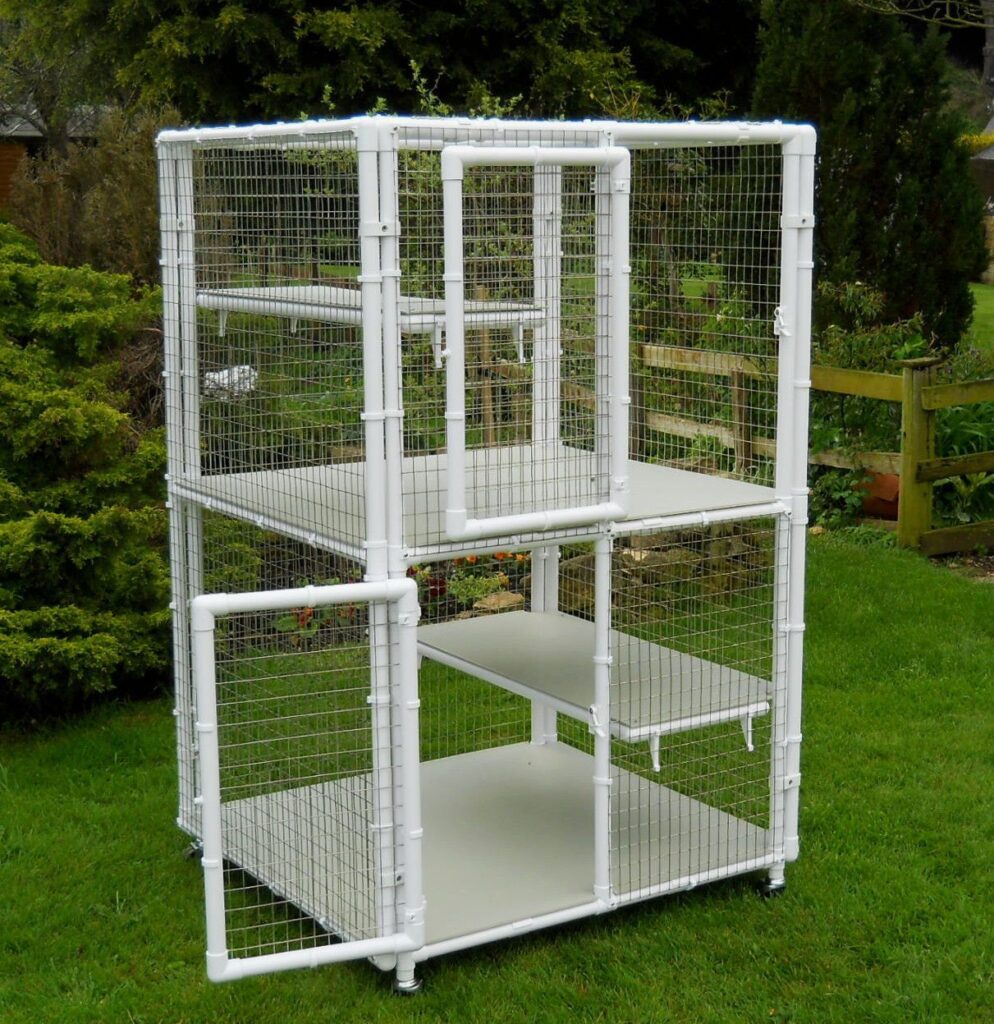 If you want to build a sturdy and durable home for your guinea pig, you won't find a better choice than the PVC Pipe Cage. You can modify the shape and size of the cage as per your needs.
You can construct the cage using 3-foot wide black plastic hardware cloth and 2-foot wide green vinyl-coated hardware cloth.
Use a plastic pebble finish strand board on one side for the bottom and shelves.
Apply PVC adhesive on the bottom and top horizontal door pieces' elbow fittings to keep the door from racking. You don't need to glue the vertical door pieces.
Use PVC adhesive on the pipe and door fittings. Dry fit the door and latch it properly before gluing.
The cage can sit on the platform or on the floor, but the platform design will make it easy to move for cleaning.
3. Plastic DIY Bin Cage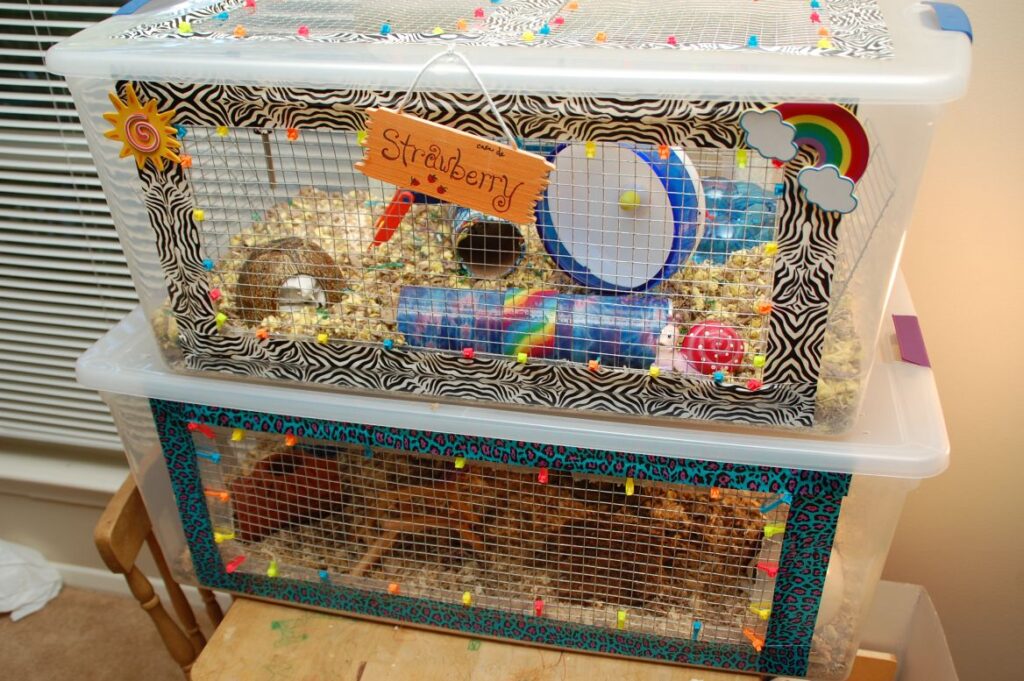 Give your guinea pig a happy and comfortable space by building the Hammy Happenings Plastic DIY Bin Cage. The beauty of this project is that you can customize it as you want, making it ultra-luxurious or simple.
For this project, you'll have to cut a large rectangular hole into a plastic bin and cover it with mesh.
Find a clear, sturdy bin with a snapping lid from Walmart or your local store. Mark the edges to have an idea of where you want your cage bars to go.
Your window should be smaller than your mesh because you'll need a half-inch of plastic to secure your mesh.
Sand down the plastic edges from where sharp pieces are jutting out. This will keep your furry friend from poking itself and give a cleaner finish.
If you want to give some space for your guinea pig to travel through, construct two or more plastic bin cages and use tubing to connect them.
You can also decorate the cage or leave it plain if you don't want to complicate the process. Check out the detailed process here.
4. DIY Guinea Pig Dollhouse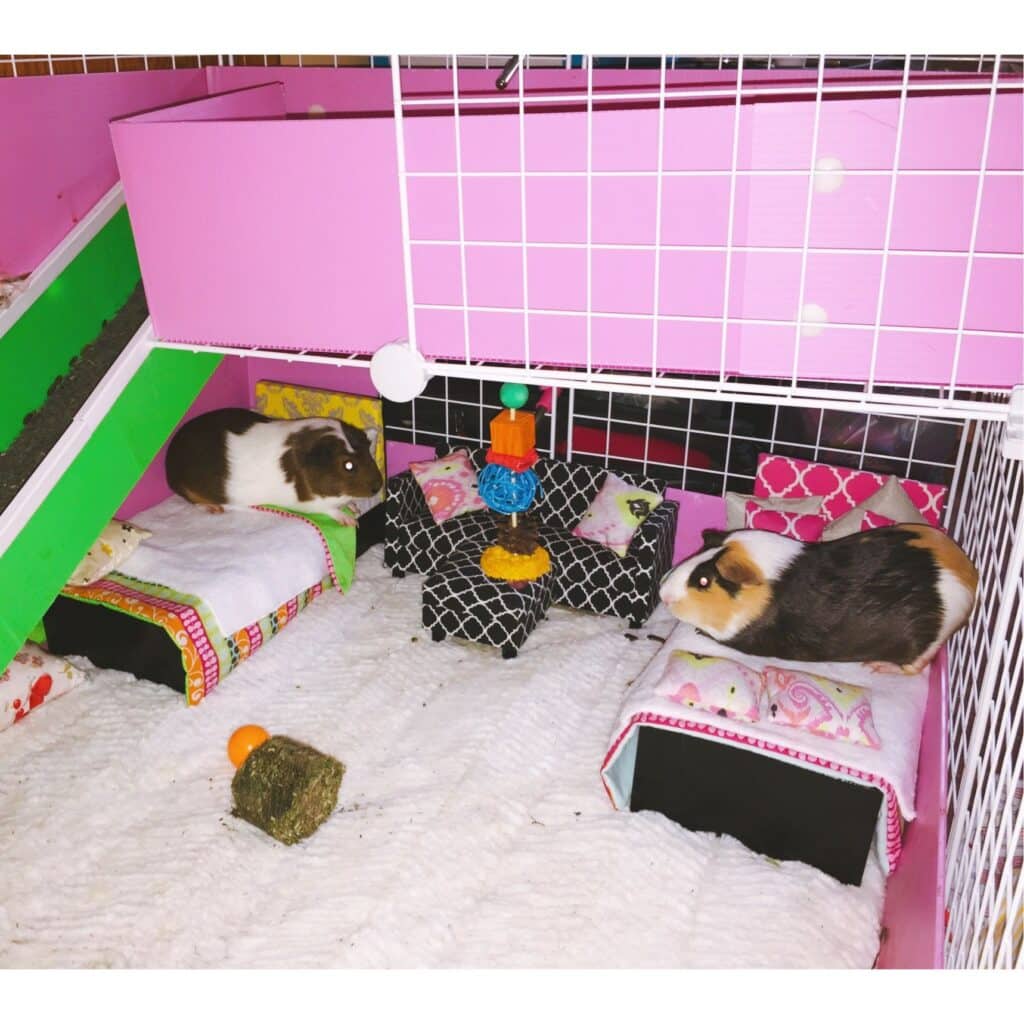 Do you have a dollhouse that your daughter no longer uses? If yes, you can repurpose it into a guinea pig cage wherein your pet will love roaming around and relaxing.
Buy basic lawn and garden plastic fencing and spray paint it with your favorite color. Cut it and attach it inside your dollhouse with the help of hot glue.
Add height with the help of a wood baseboard.
Secure open windows with plastic netting to ensure that your pet doesn't run away.
Use the garden and lawn netting to cover the opening of the dollhouse.
Carefully cut doors to get into the dollhouse cage so you can take care of your pet.
Drill a hole so that you can attach a water bottle.
You can also spray paint the doll house cage to match it with your home's interior. For detailed instructions, you can follow this guide.
5. Outdoor DIY Guinea Pig House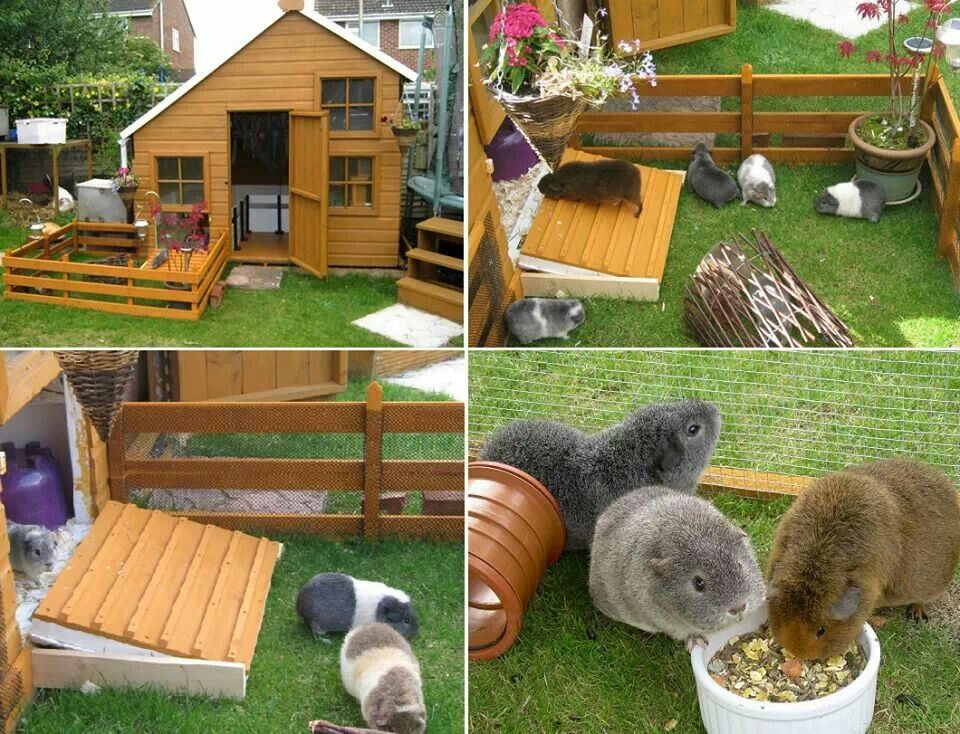 This is a brilliant project wherein you get to learn how to build a massively elevated diy cage for guinea pigs. The plan includes cages, ramps, awnings, and accessible spaces beneath for your pet to move freely.
You'll need wood to create the structure and bottom of the cage and fabric for the awning.
While creating the hutch, ensure that one side is higher than the other.
Use a 1×6 board to connect the sides and use another board in the front.
Cut some plywood to create the roof of the cage.
Prime and paint the hutch's exterior to give it an appealing look.
Cut a hole in the bottom to add a ramp to the bottom level.
Include a window for ventilation and mount a thermometer to monitor the temperature.
After the completion of this project, you can place the cage outdoors and allow your guinea pig to nibble on the grass.
6. Extended DIY Hutch Home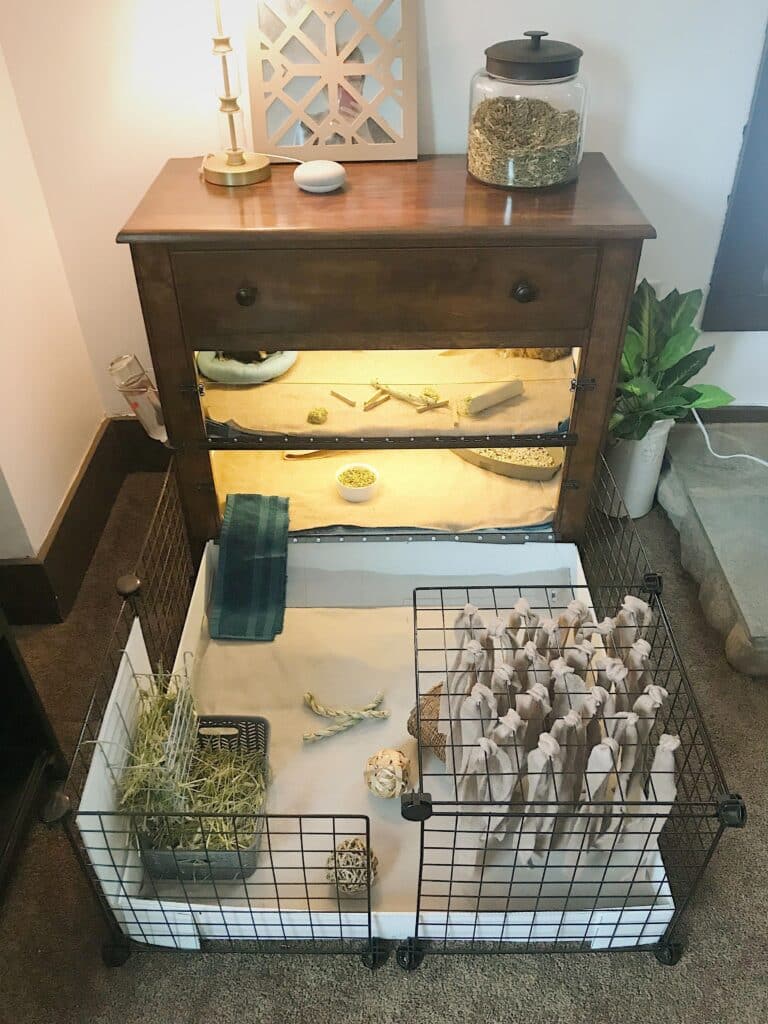 Want a cage having the exact dimension you want? If yes, an extended DIY hutch home can be your ideal choice, as it will give your guinea pig plenty of space to move around and play. You'll need power tools to complete this project, but it is not at all difficult.
Before you start constructing the cage, analyze what shape and how many stories you want.
Measure and decide how big the hutch will be. Draw up a design for your extension/hutch to get an idea of how you want the final product to look.
Cut the wood according to the dimensions you have decided.
Assemble the wooden pieces to create a frame. Sand all the sharp edges else your guinea pig might hurt itself.
Take the pieces to the area of your new hutch and assemble them. Attach to your existing cage and ensure there are no gaps.
You can add a variety of props or decorative items to the cage to enhance its look.
7. Beginner-Friendly Guinea Pig Cage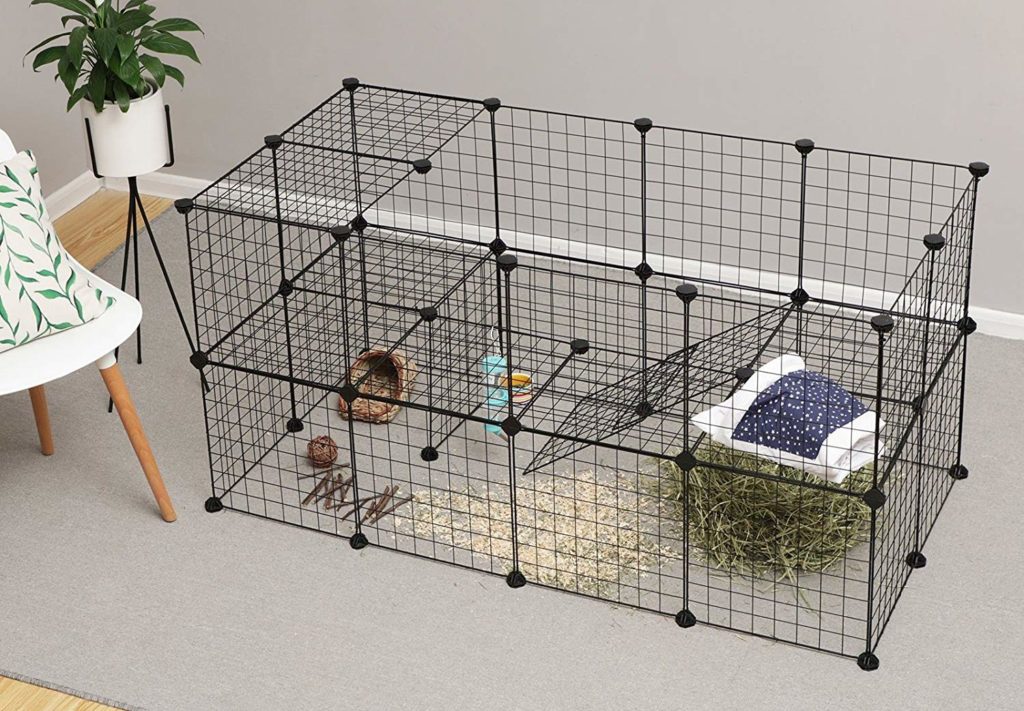 Even if you're a beginner, you can easily build this guinea pig cage since there is no flooring. You can take the cage outside during the summer and inside during the winter.
To build this cage, you will have to figure out how big it will be. If you want to go with the smallest size, 2 x 3 cubes can be the best choice.
Decide the height of the sides and base of the cage. Cut the coroplast according to the dimensions you have decided for the cage.
Once you have cut the coroplast, assemble the base. Fold the edges of the coroplast so that it bends comfortably in one direction.
Connect the grids on the bottom, top, and center, and combine the coroplast with the cube squares.
Once you assemble the cage's outer perimeter with your cube grid square sides, your masterpiece is ready.
You don't need special tools or woodworking knowledge to create this cage. With coroplast sheets, zip ties, and grid cube squares, you can create a DIY cage for guinea pigs in no time.
8. DIY Guinea Pig Penthouse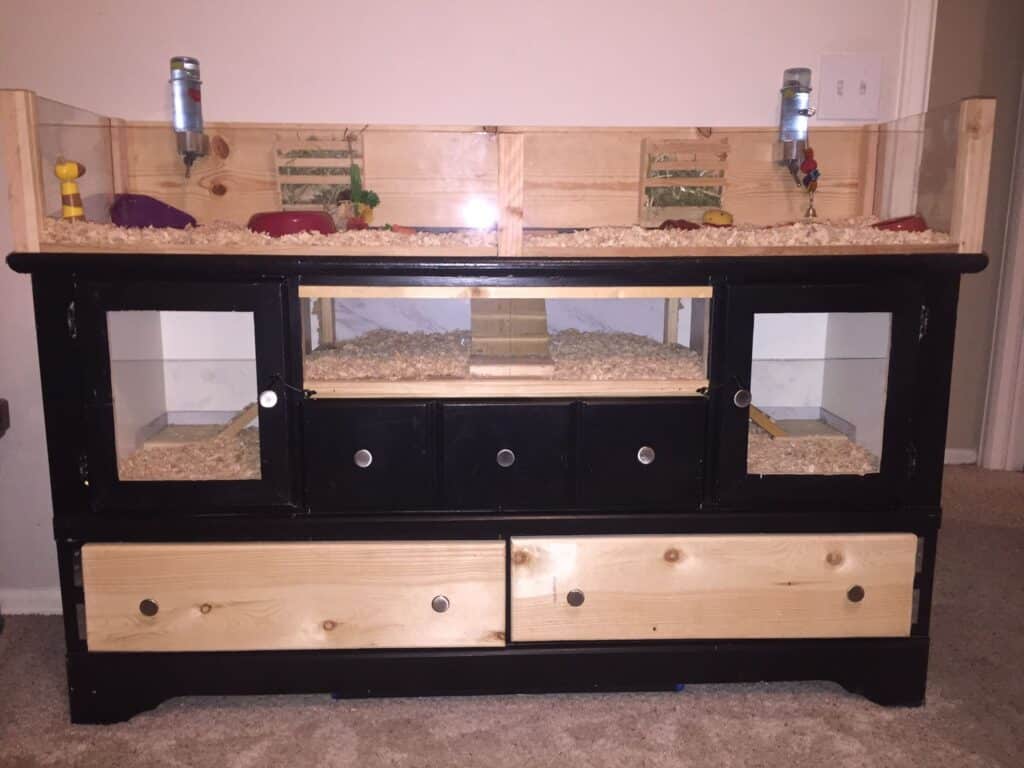 Do you want to create a guinea pig cage that looks different from the ones offered in the market? DIY Guinea Pig Penthouse can be the ideal choice for people who want to create one of a kind cage for their pet.
Get all materials required for the project and clean the work area.
Based on the wood available, make basic dimensional drawings. Make the cuts on the wood according to the drawing.
Layout center locations for the windows and ensure that you position them high so that your guinea pig doesn't climb out. Create a storage area beneath the cage using planks.
Sand all edges and remove dust and grime. Assemble everything as per the desired results.
Leave a small gap along the door's top portion to make it work like a handle to open the doors.
The best thing about this project is the storage area beneath the cage, wherein you can keep your pet's supplies.
9. Cheap and Easy DIY Outdoor Run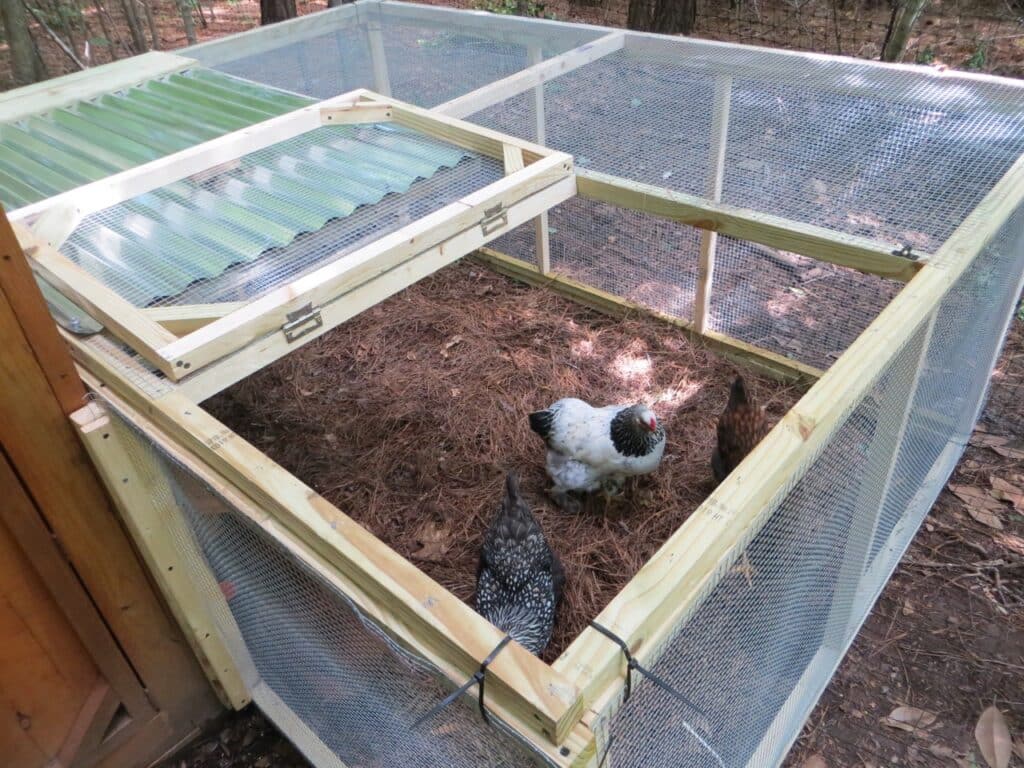 If you want to build a diy cage for guinea pigs within a budget, you can go for this easy outdoor run. The cage doesn't have any complicated elements, just four walls covered in wire netting.
The size of the outdoor run will depend on the length of the wood and the netting you have. No hard and fast measurements are needed in this project.
For the sides of the run, create a rectangular frame.
Lay a part of the wood on the floor and lay the netting on it in such a way that when you chop the netting, it is around a half inch from the wood's right end.
Assemble the sides using the long wooden screws.
Fix the netting to the frame using your staple gun.
Assemble the ends and sides of the outdoor run and fix the sections together using nuts, coach bolts, and self-tapper eyes.
There is no flooring or roof in this outdoor run project, but you can add them if you want. Place the outdoor run on lush green grass and see your guinea pig grazing and playing.
10. Open Concept Hammock Guinea Pig Cage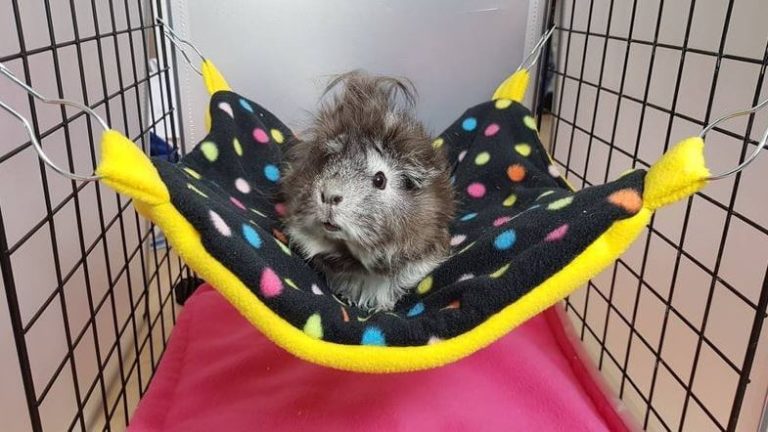 Have you ever thought that you could convert your hammock into your guinea pig's bed? Add some greenery to your guinea pig's enclosure to give it a natural-inspired feel. Ensure that you only add non-toxic plants that do not harm the animals.
Choose a hammock that can easily fit into the corner of your pet's cage. You can easily make it with the choice of your favorite fabric.
You can make the hammock with or without decorative hangers, depending on your skill and preference.
Add some plants inside the cage to invoke the beauty of nature.
If there are more than one guinea pigs, you can incorporate as many hammocks as you want inside the cage.
The hammock will act as a comfortable bed for your guinea pig, and the greenery will make people appreciate your lovely creation.
Conclusion
If you have a guinea pig at your home, you would want them to be comfortable and safe, and their living environment plays a big role in keeping them happy and relaxed. Finding the right cage for your guinea pig can be a challenging task. You may not get the perfect size, style, or type of cage, and some of them may be beyond your budget.
But with the DIY cage for guinea pigs ideas, you can create a cozy living space for your furry friends where they will love to relax and move around. The best thing is that you can customize the cage and even decorate it to give it a unique look.
You don't need to have any woodworking experience to undertake these projects, and the final results will astound you.
Frequently Asked Questions
Why is a DIY Cage for Guinea Pigs Better than Pet Store-Bought Cages?
A diy cage for guinea pigs gives you the flexibility to customize it as per your preference. It is also more affordable than the cage you buy at a pet store. With a DIY cage, you implement endless design possibilities, such as you can create L-shaped cages, multi-level cages, cages with cube stands, or cages with tops.
Can You Create a DIY Cage for Guinea Pigs if You're a Beginner?
Yes, you can build a diy cage for guinea pigs even if you're a beginner, as most of these projects don't require woodworking skills and are easy to execute. You just need to follow the basic instructions and need the required supplies to complete most of these projects.