Do you know that a fresh coat of paint can give your home a new look? But with so many paint colors to choose from, finding the right paint can be a challenging task. Blue-gray paint colors are in vogue these days and can refresh the look of your home. From the bathroom to the living room and accent walls, blue-gray paint colors look good everywhere.
There are various shades of blue-gray paint colors, such as Krypton Sherwin Williams, Sherwin Williams Uncertain Gray, and Sherwin Williams North Star, that you can select to give a relaxing feel to your spaces.
Choose the airier, lighter shades to brighten up dim bathrooms and hallways, and go for the pigmented shades to add some drama to your spaces. But while choosing any of these paint shades, keep in mind the lighting condition and design aesthetics of your room.
Before painting the entire room, sample the blue-green paint shade on a wall to check if it's the right fit for your space.
What is a Blue Gray Paint Color?
A blue-gray paint color falls somewhere between gray and blue. The gray hue tones down the brightness of the blue, making it more soothing and calm. A color classifies as blue-gray if it has a paint base that has blue with gray undertones. It can also have strong blue undertones with a gray base color.
Why is the Blue Gray Paint Color so Popular?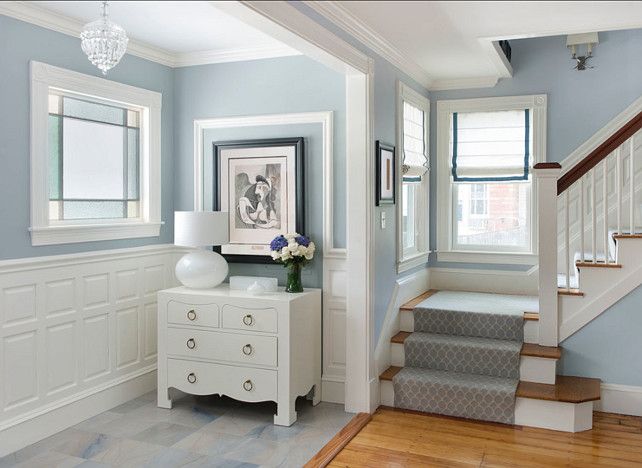 Blue-gray paint color is so popular because it aligns well with any design style and gives a fresh appearance to the room. Many interior designers have started using this color due to the unusual tone that makes it stand out from the other common colors.
Blue-gray paint colors are available in both cool, warm, and neutral hues, so you can choose the color that matches your design vision and your room's aesthetic. The best thing about these colors is that they don't look washed out, even in rooms that receive lots of natural light. Due to their relaxing and soothing feel, blue-gray paint colors especially look good in bedrooms and living rooms.
You can choose Krypton Sherwin Williams, Sherwin Williams Uncertain Gray, Sherwin Williams North Star, and many other blue-gray shades as per your preference.
The Best Blue Gray Paint Colors to Give Your Home a Dreamy Look
If you need inspiration for your next paint job, take a look at these top 6 gray paint colors that are the favorite of designers and homeowners.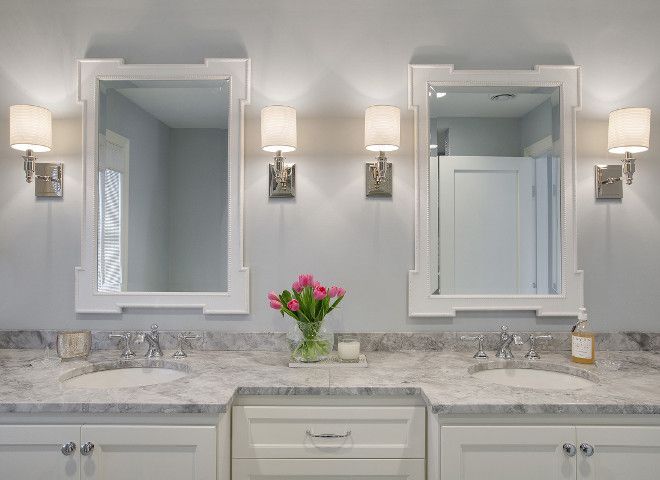 Sherwin Williams North Star is a highly sought-after blue-gray paint shade that can give a coastal feel to your room. It is Sherwin Williams's lightest shade with pale gray undertones. This paint color goes well with a variety of decor styles and furniture and can help make a great first impression. Since there are no green undertones in this color, it can make a room look more inviting, brighter, and larger. Even if abundant natural light comes into your room, this shade won't look washed out. It can also be used to add some depth and vibrancy to dimly lit spaces like hallways and bathrooms.
Sherwin Williams North Star also works wonderfully as a ceiling color. Put up some samples of this color on one side of the wall to see how it looks in both evening and natural daytime light.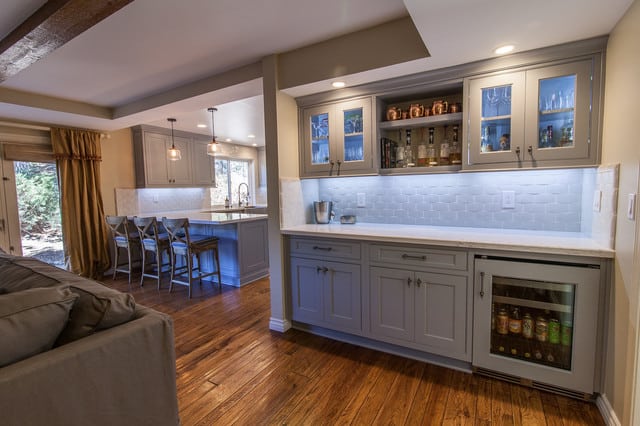 If you're looking for a blue-green paint color that perfectly complements wooden floors and furniture, you can try out Sherwin Williams Morning Fog. The best thing about this shade is that it enhances the wood's beauty rather than clashing with it. This medium gray with blue undertones shade especially looks good in the bedroom.
It is a classic tone that evokes both the sky and the sea and creates a soothing retreat for the eyes. If you're using this color in your bedroom, keep the other elements simple to create a seaside-inspired look. Opt for accessories and furniture in natural materials like wood, rattan, and linen to give a stunning look to your room.
This color also pairs well with deeper blues and grays. So you can incorporate the magic of all three colors in your room with gray blankets, deep blue curtains, and Farrow & Ball Skimming Stone color on the wall.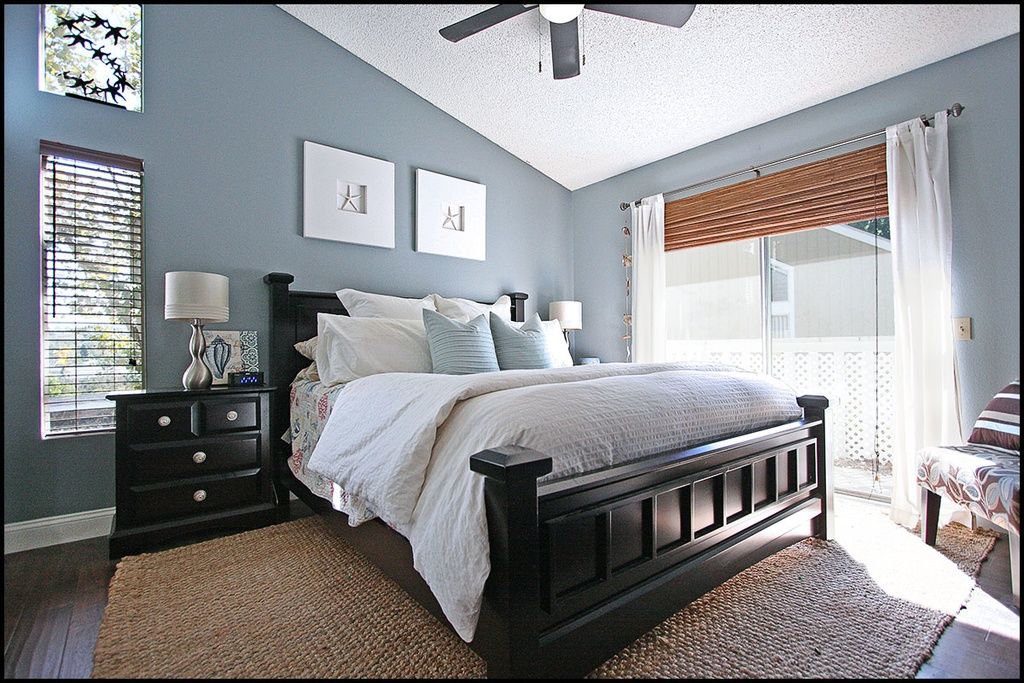 Are you looking for a dark blue-green paint color that looks good in spaces with optimum natural light? Sherwin Williams Storm Cloud can be one of the best choices for well-lit spaces. It glows in the sun and makes your room feel airy and light. You can liven up the Sherwin Williams Storm Cloud walls by placing a large checkerboard rug and bright, playful furniture in your room. This color can seem to be a bit bold at first, but with the right combination of decor and accessories, it will turn your room into a heavenly space.
But Sherwin Williams Storm Cloud can be tricky to use in a few spaces because, in a certain light, it seems to have a purple undertone. If you have a dark room, don't opt for this color, as it will make the space look more gloomy. But if you want to tone down the natural light coming inside your room, you won't find a better color than the Sherwin-Williams Storm Cloud.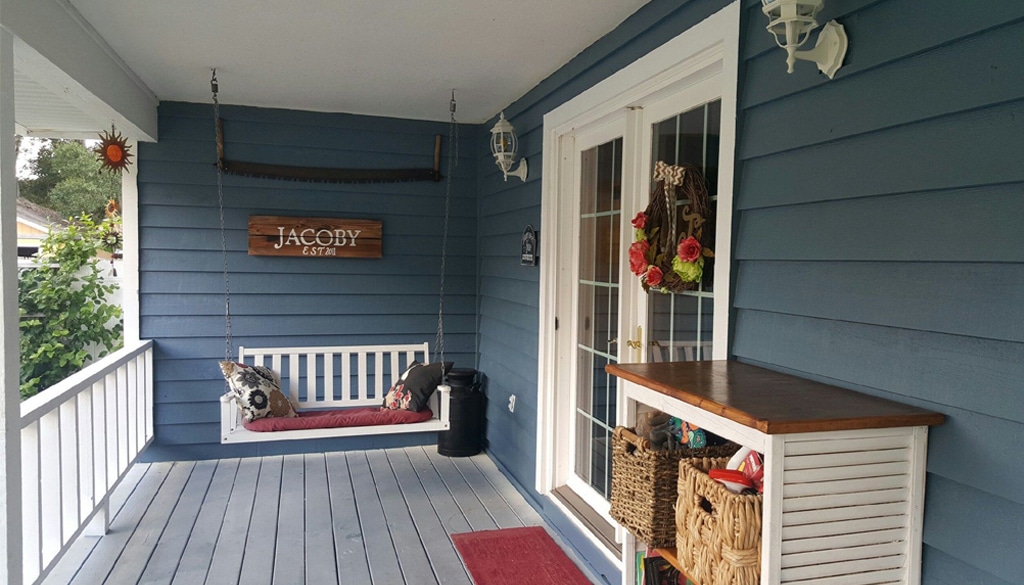 The list of the best dark blue grain paint colors won't be complete without Sherwin Williams Smoky Blue. It is a versatile color that looks good in a wide range of spaces. Whether you want a blue-gray accent wall or a dark gray paint for a bedroom, Sherwin Williams Smoky Blue can be the perfect choice. This soft, deep gray-blue color falls between blue and gray, so you can use it as a neutral. It looks beautiful with rich black accents and bright white trim.
This neutral paint color is energizing yet comforting, making it perfect for use in large rooms and gathering spaces. You can also pair this shade with natural elements having warm undertones, like wood furniture or shelving.
This paint color will allow you to showcase lavish textures and furniture, which are often overlooked if you opt for a vibrant paint color. Also, unlike vibrant hues, it will never go out of fashion.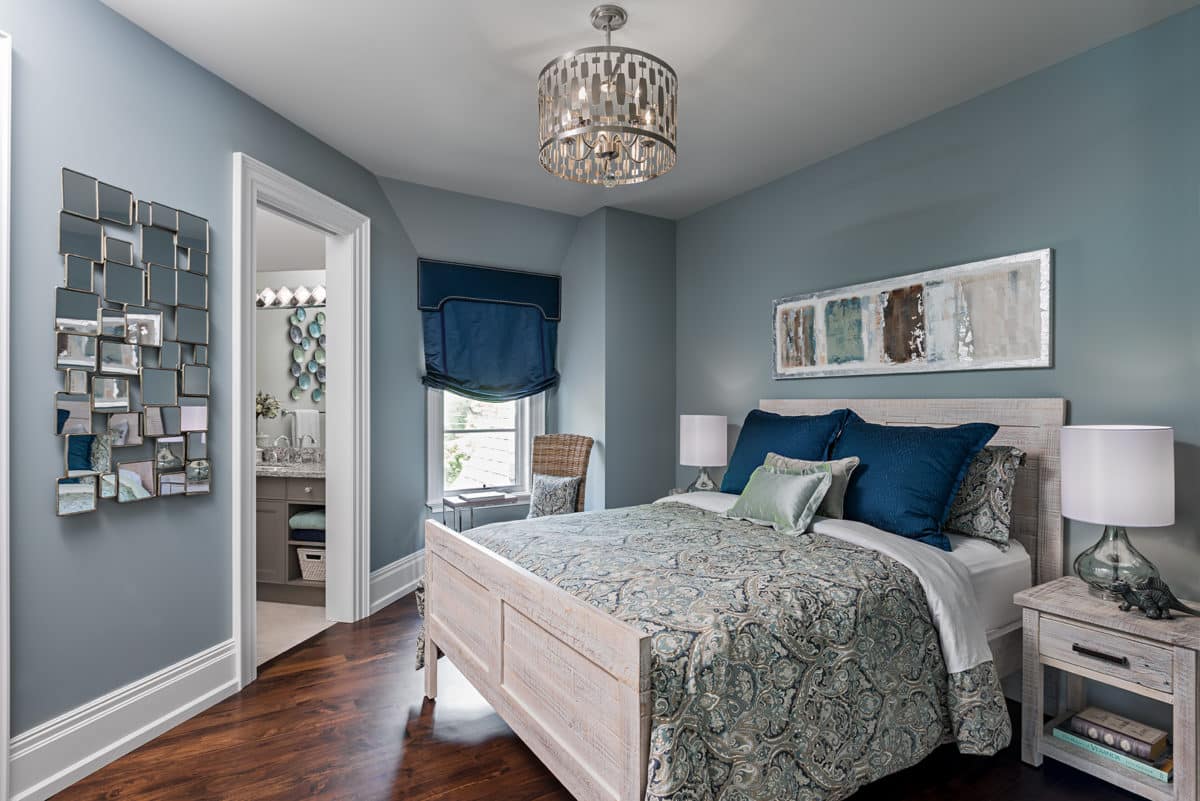 If you want a beachy vibe at your home, you can never go wrong with the Benjamin Moore Mount Saint Anne 1565. It is a medium-toned soft blue with a hint of passive green and gray. Since this shade is inspired by the sand, sea, and sky, with the help of this color, you can turn your home into a beach house or a vacation home. It is the perfect choice for your bedroom as it creates a soothing and restful ambiance. By painting the walls in this shade, you can make your room feel larger. If you don't want to use it on the entire wall, you can also use it on an accent wall for a pop of color.
But remember, this color changes its shade with the lighting. In the morning, when natural light enters the room, this color will look very pale, and during the sunset, it will look warm and soothing.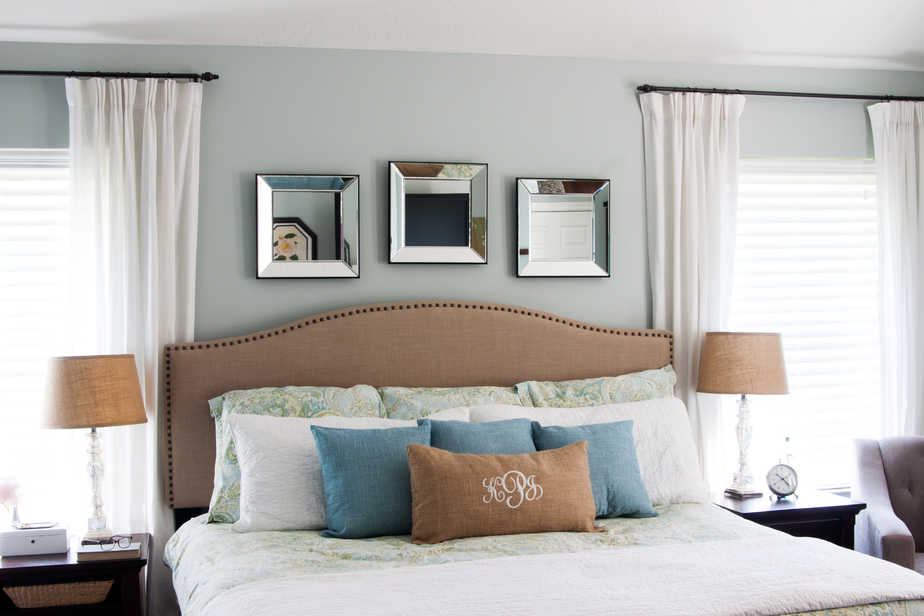 Sherwin Williams Silver Strand is a neutral light blue-gray paint color that can be used to update the outside of your house and refresh the inside of your home. Since it works nicely on both the exterior and the interior, you can use it to spruce up your home's look instantly. It also goes well with shades like Illusive Green, soft white, or lovely greens. This cool-toned light gray has traces of blue, so it can be a good choice for people who do not want a strong bluish hue on their walls. This color can also be used to balance spaces that are too deep-toned or earthy.
So if you have an overly warm space filled with wood flooring or cabinets, you can use Sherwin Williams Silver Strand shade to soften the look of your room.
You can also use Sherwin Williams Silver Strand shade in your bathroom to turn it into a spa-like retreat. Sample this paint shade before painting your entire room, as it can appear darker depending on the lighting of the room.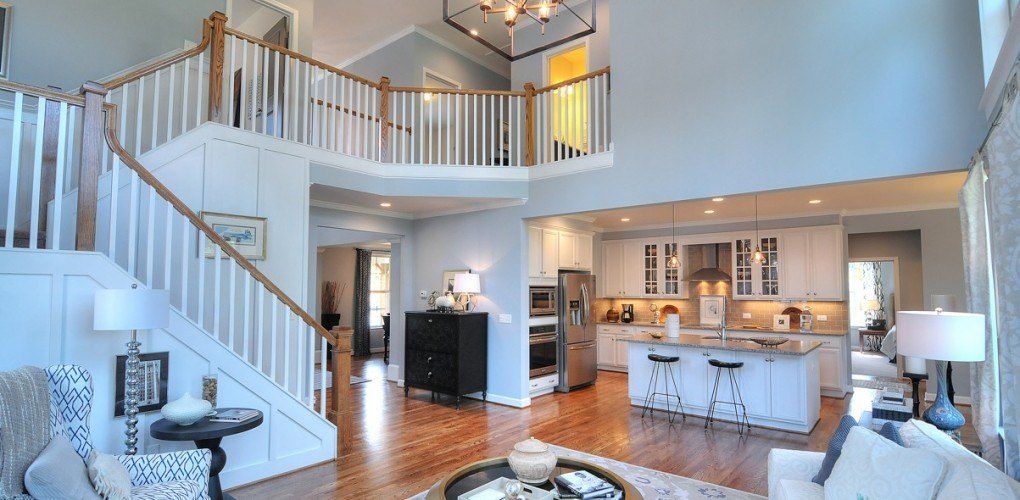 For those homeowners who want their homes to exude a soothing and calming vibe, Krypton Sherwin Williams can be the go-to choice. It has strong gray undertones and pairs well with polished nickel and brass, making it easy to use on cabinetry and door hardware.
You can apply this shade on all the walls or create an accent using this paint finish. You can also paint one of the walls along with the moldings and door and apply a complementary wallpaper on the opposite side of the wall.
Krypton Sherwin Williams is a subtle blue paint shade looks good with all decor styles and can make your home a bit more restful. You can use white accents and furniture to soften the look and feel of your room.
Places Where You Can Use Blue Gray Paint Colors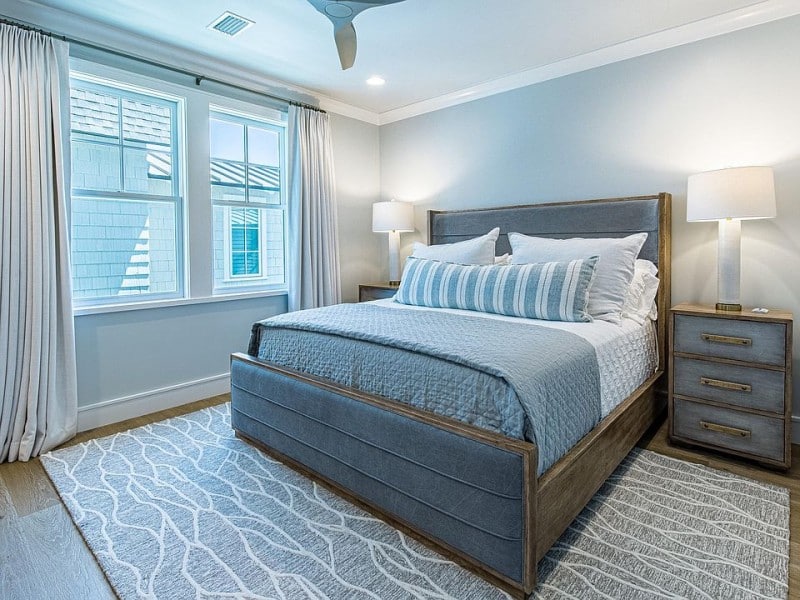 You can use blue-gray paint colors in different areas of your room to add a pop of interest. Since it is neutral, it goes well with all kinds of decor and aesthetics. Whether you have a living room, bedroom, bathroom, or dining room, you can use blue-gray paints everywhere. There are also a few shades of blue-gray paint colors like Krypton Sherwin Williams and Sherwin Williams Silver Strand that you can even use on your home's exterior.
North-facing rooms have a bluer and cooler light, so you should use warmer blue-gray paint colors to balance the look. You can also use this color to paint kitchen or bathroom cabinets and a piece of furniture in a light gray or white room.
Conclusion
Whether you're painting your entire house or refreshing the look of your bedroom or living room, neutral light blue-gray paint colors can liven up your spaces. From subtle to dramatic and moody to dark, there are many shades of neutral light blue-gray paint colors that you can use to amplify the look and feel of your home.
You can create a beach-themed ambiance with the Benjamin Moore Mount Saint Anne 1565 and give your home a luxe appeal with the Krypton Sherwin Williams paint color. You can also check out the blue-gray paint colors mentioned above if you're facing difficulty in finding the right paint color for your home.
With the help of these colors, you can give your home the ambiance and aesthetic that you desire.
Frequently Asked Questions
What Should You Keep in Mind While Choosing the Blue-Gray Paint Colors?
Keep in mind the decor, lighting, furniture, and style of your room while choosing the blue-gray paint colors. Sample the paint color you have chosen on one portion of the wall and see how it looks in the morning with natural light and in the evening with artificial light.
Which is the Perfect Blue Gray Paint Color for Your Bathroom?
While choosing the perfect blue-gray paint color for your bathroom, select a shade that has more blue than gray. Krypton Sherwin Williams and Sherwin Williams Silver Strand can be the perfect blue-gray paint colors for your bathroom.