Do you have an awkward space over your bed? Does that awkward space twitch you for some exciting home décor? Well, congratulations, this calls out for your creativity and imagination to decorate bed awkward space.
The space over your bed is generally the focal point of the entire room; thus, it deserves special decoration to light up the surroundings. Moreover, the awkward empty space over your bed can ruin its overall vibe with an unfinished feeling. If you, too, are looking for some amazing ideas, you are at the right place.
Luckily, there are many ways by which you can personalize the awkward space over your bed. Let us explore the top 13 ideas to decorate overbed awkward spaces in the most inspiring and attractive way possible. Renovate the space over your bed with personalization to ace the art of winning hearts with your creativity.
Best Ideas to Decorate Over Bed Awkward Space
1. Use Tiles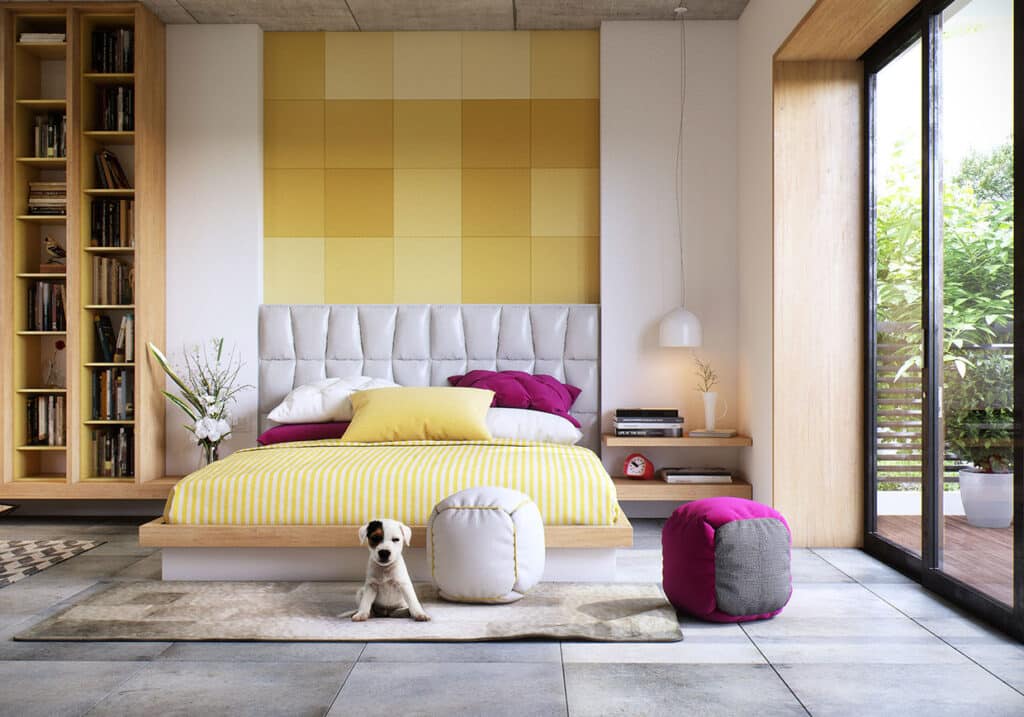 One of the simplest yet most amazing ways to decorate over awkward bed space is to use different tiles. Having a tile wall should not be limited to just your kitchen or bathroom; rather, it can be a great idea for the bedroom as well. Personalizing the tiles can be more appealing as it truly reflects your personality.
The stunning-looking tiles make an instant impact to enhance the beauty of your bedroom. Moreover, it attracts all eyes directly to the focal areas of your bedroom. Generally, the textured tiles make an interesting choice to decorate the available space; however, the ceramic tiles would also do justice to the need.
Quick Tip: it is recommended to use large tiles over your bed as using small tiles can make the entire space look crowded and complicated.
2. Hanging a Map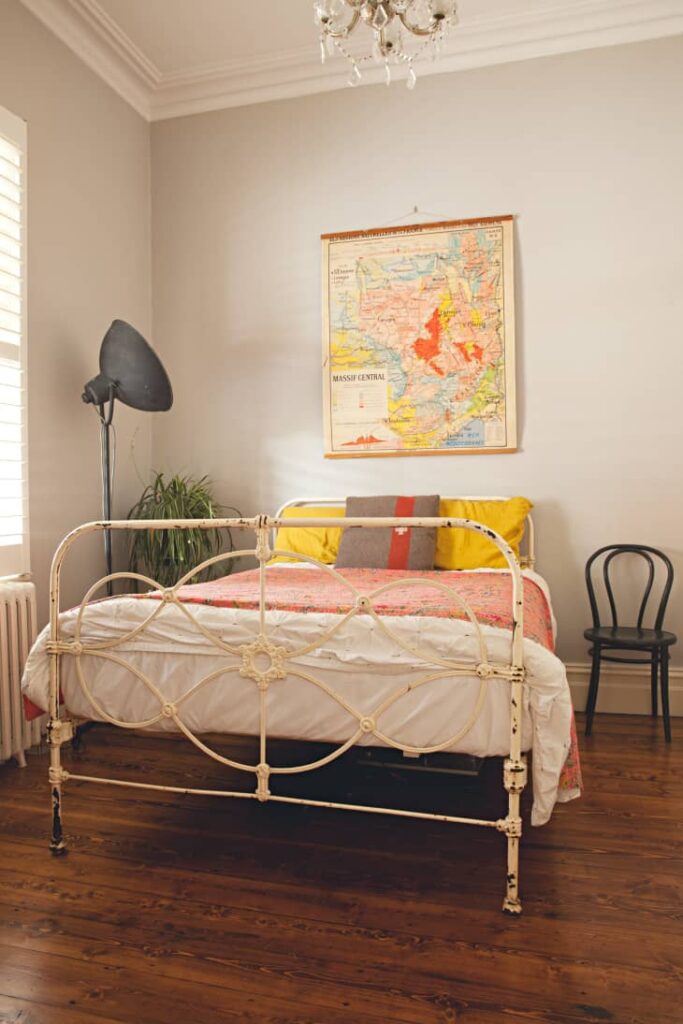 If you are an adventurous person who loves traveling to different places, hanging a map over your bed would be the perfect choice. You can either hang the map as it is or can get it framed to enhance its beauty and style. This minimalistic idea works wonders not just to reflect your adventurous personality but also to upgrade the vibe of your space.
Most people generally hang the map of their favorite region or somewhere that has a beautiful memory associated with it. Not just is this idea interesting, but affordable as well.
Quick Tip: avoid using too many maps over your bed as it might confuse the visitors; rather, use a single large map. You can also use different accessories to mark the places you have or want to visit with your loved ones.
3. Use Different Frames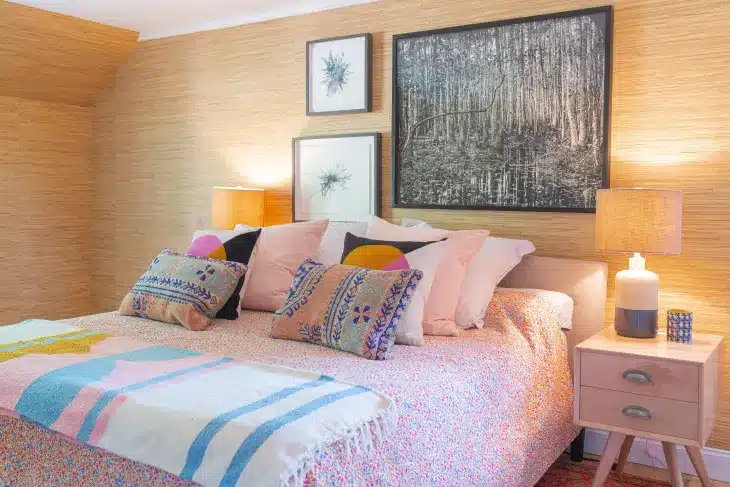 If you don't want to be uniform like everyone else, try playing and experimenting with different shapes. Using different sizes and shapes of frames is one appealing idea to decorate over bed awkward empty spaces. Interestingly, you can be as creative and innovative with these frames to grab all the eyes.
Generally, using one large frame with 2 smaller ones makes the most interesting choice. However, you can put as many frames as you want without crowding the available space. Remember to leave some space, as too many frames can confuse everyone around.
Quick Tip: it would be more appealing if you could use these different frames for storytelling some of your thoughts or favorite experiences. Simply convey your ideas to others using these frames; it will also be helpful to connect with others.
4. Use Statement Artwork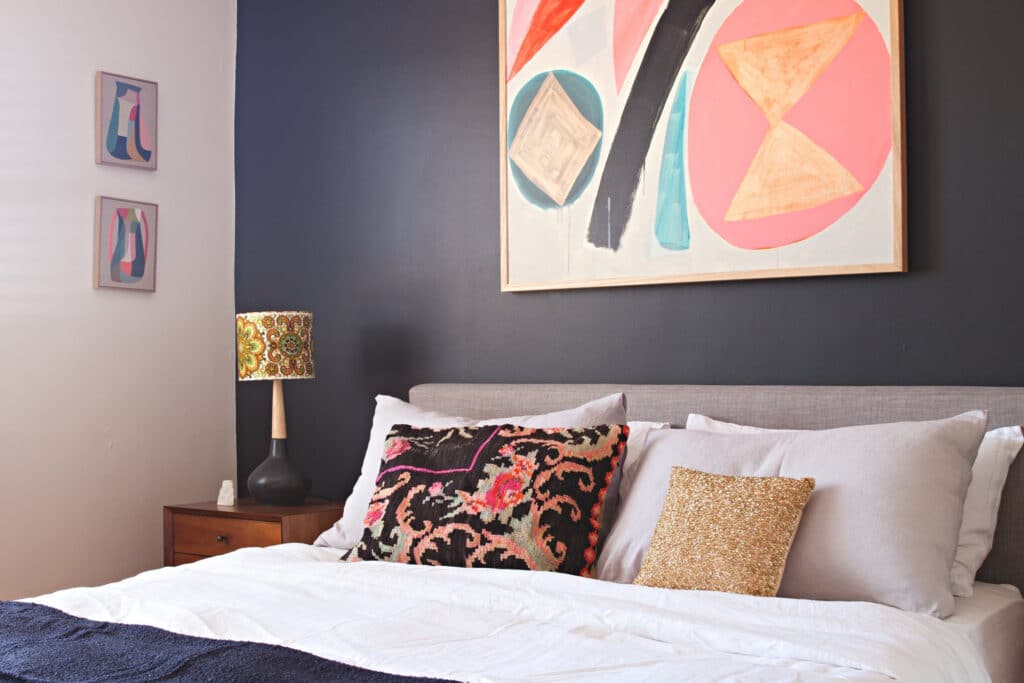 Using artwork never goes out of style. Whether it is your living room, kitchen, or even that awkward space in the bedroom, using interesting and appealing artwork is certainly magical. These statement artworks can either be a painting or some eye-catchy photograph according to your liking.
It might also be overwhelming to use bold colors and patterns to enlighten the space by enhancing the overall vibe. These artworks not just cover the awkward space but also creates a focal point to connect with the rest of the world.
Quick Tip: bold and colorful artwork works brilliantly, especially with neutral-colored walls. For instance, you can use bold artwork on a white wall to make it attractive without complicating the whole vibe.
5. Using Wallpaper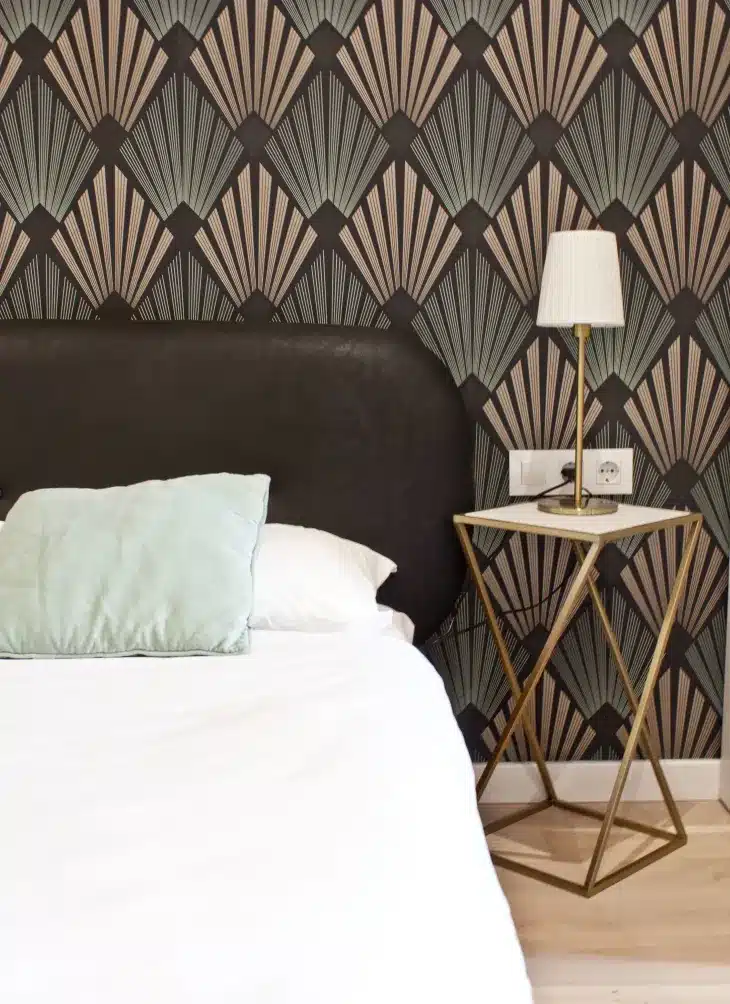 If you don't want to exaggerate the décor yet want to decorate over bed awkward empty space, you can simply rely on using an interesting wallpaper. Yes, all it takes is a single beautiful wallpaper to decorate those empty spaces bothering you over your bed.
Fortunately, you can find many interesting and appealing wallpapers to choose from that reflect your liking. Most importantly, using wallpaper over your bed is a hassle-free, uncomplicated, and affordable way of decoration. If you are doing this for the first time, it will be really easy to use the wallpaper without any external help.
Quick Tip: using a single pattern wallpaper would make an attractive choice to grab all the compliments. However, if you find beauty in experimenting with patterns, you can use different wallpapers on your bedroom wall over your bed.
6. Get Some Storage Shelves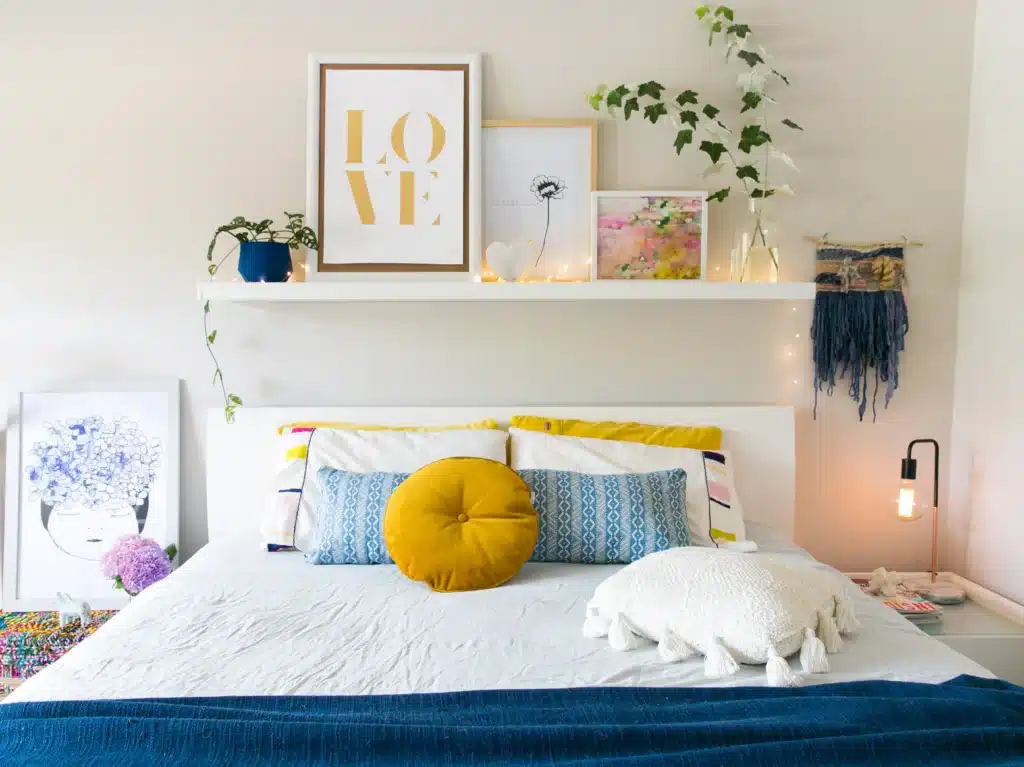 Wouldn't it be a great idea to make practical use of the space over your bed? If you are still wondering how to use the available space practically, try using storage shelves over the bed. Yes, those awkward spaces can be turned into beautiful and amazing storage units.
Use the shelves to hold your favorite books, accessories, and other home decor items. Not just the storage units are beautiful, but they also add depth to your space. If you are designing your room from scratch, you can have a dedicated niche for storage space.
Quick Tip: to ensure that the storage units or shelves stand distinguished, use contrasting colors. This will help their beauty and practical use to pop instantly. You can also use some lights to enhance the attraction of the storage shelves.
7. Decorate with Photo Gallery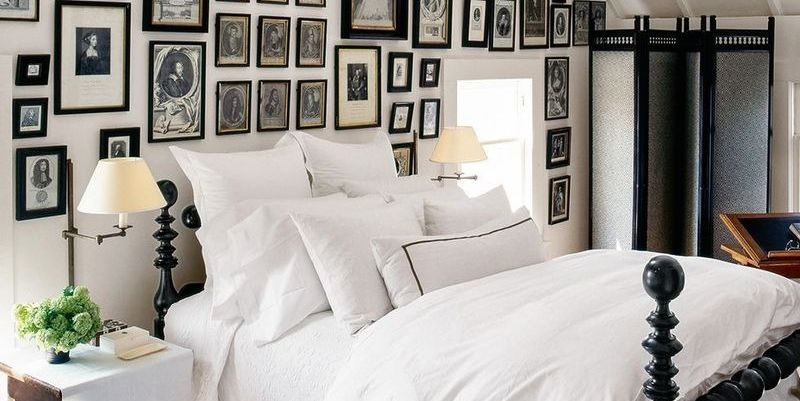 To decorate over bed space with your very own photo gallery will always work in your favor. What can be more interesting than decorating the available space with your lovely and beautiful pictures? You can display as many pictures as you want to make your gallery fascinating for others.
You can experiment with the arrangement of the gallery photos to make a lasting impression on the guests and visitors. Try using some vintage frames for the gallery to make it more appealing for visitors. Most importantly, you can make this space just like your reflection of a happy decor.
Quick Tip: it would make an interesting idea to display your pictures in frames of different sizes and shapes. It will certainly give an appealing dimension to your bedroom gallery, making it an instant attraction.
8. Use a Round Mirror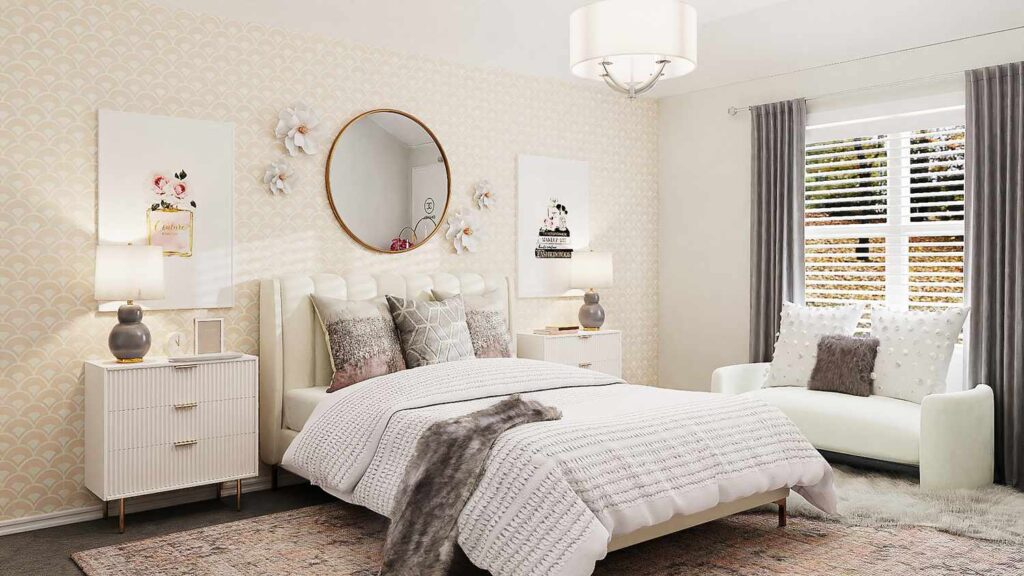 Who said mirrors are only meant for the adjacent walls of your bedroom? Wouldn't it be an interesting idea for decoration to use a round mirror to give a new dimension to the available awkward spaces in your bedroom? Well, certainly it would be!
If you like minimalistic decoration in your bedroom, you can just use a round mirror over your bed surrounded by some flowers. This simple decor idea attracts a fresh vibe and positivity to your room without any complicated hassles. This also makes sense for people who are more connected with nature. Use any flowers of your choice that instantly pops on a neutral-colored wall.
Quick Tip: it is recommended to rely on minimal decoration with flowers and mirrors for the best outlook. Using too many accessories will confuse the overall vibe of the place and will shift the focus from the focal area.
9. Group Some Decorative Plates
Yes, you read that right; decorative plates in your bedroom. Gone are the days when you have to be monotonous and obvious with the use of certain things. If you are still using plates in your kitchen, it is time to think differently.
The whole idea of using decorative plates to decorate over bed spaces in your bedroom is a game changer. You can arrange the plates symmetrically or asymmetrically to bring more attraction to the whole décor. Moreover, you can also use colorful plates along with white ones to instantly enhance the beauty of the space over the bed.
Quick Tip: if you have a light-colored wall, using colorful decorative plates will make a great choice. On the other hand, if you have a textured or colorful wall, using simple white plates will be enough.
10. Add Textured Wall Basket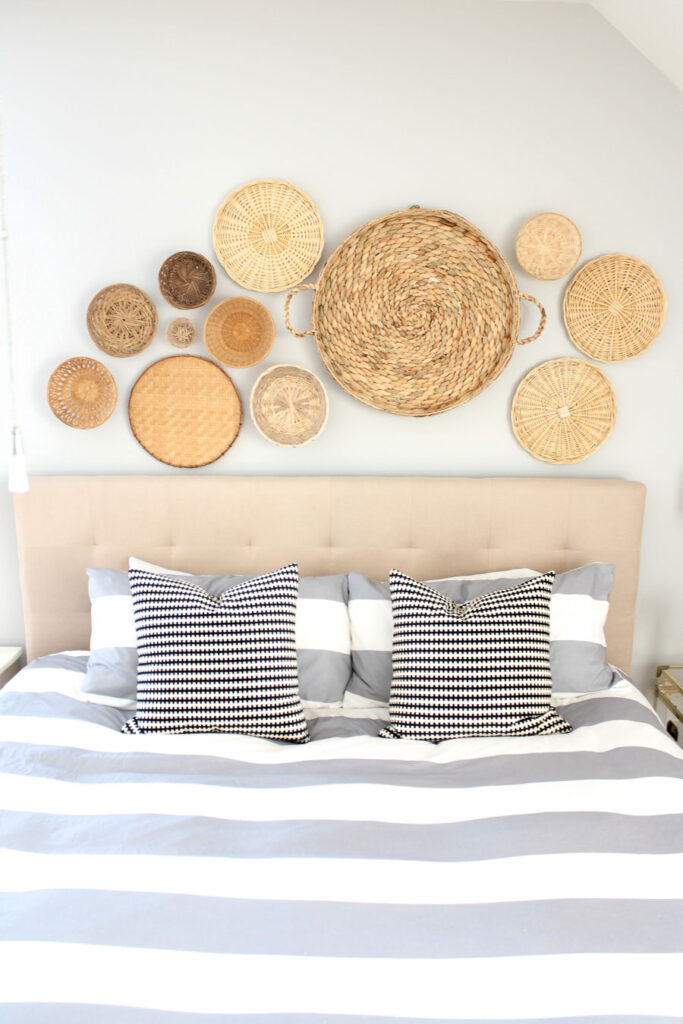 Don't want to have too many decorative items in your bedroom? Don't worry; you can decorate the awkward empty spaces over your bed with just a single item. Yes, you read that right, and it is none other than an interesting textured wall basket.
Using just a single wall basket for decorating your space is a simplistic yet appealing way to make a lasting impression. Moreover, it demands no additional efforts to enhance the overall beauty of the place; just the wall basket is enough. Fortunately, there are different designs, shapes, and sizes of wall baskets available to make your preferable choice.
Quick Tip: it would be more impactful to use just a single big wall basket. However, if you cannot find a single interesting wall basket, you can try different wall baskets to create a unique décor arrangement. Make sure to avoid crowding the space.
11. Using Plant Pots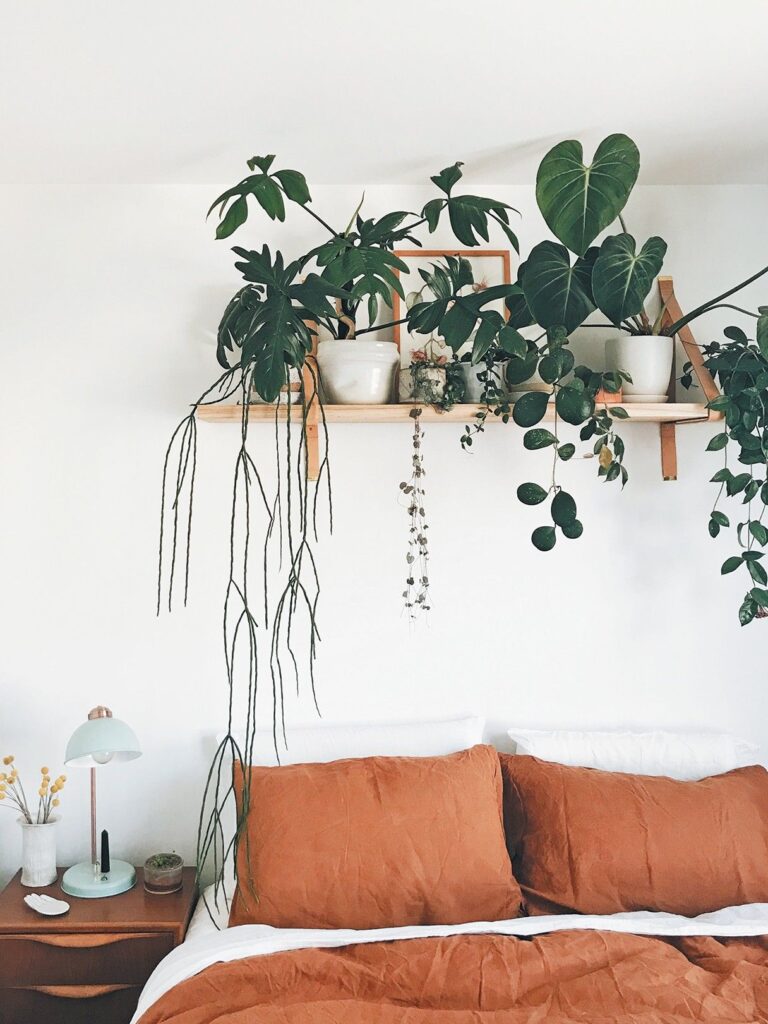 Are you one of those nature lovers who want plants everywhere? Well, if yes, your wish is granted in the best possible way. You can use indoor plants and small plant pots to decorate over bed awkward spaces.
Nothing can be compared with the magic of plants to bring positivity and freshness to the available space. It is absolutely possible to witness the same freshness in your bedroom by using the plant pots over your bed space. You can either use a single big plant pot or can combine different small plant pots depending upon the available space.
Quick Tip: it is suggested to use those plants which require minimal care and maintenance, especially when you are busy outside for the maximum time.
12. Decorate with Lights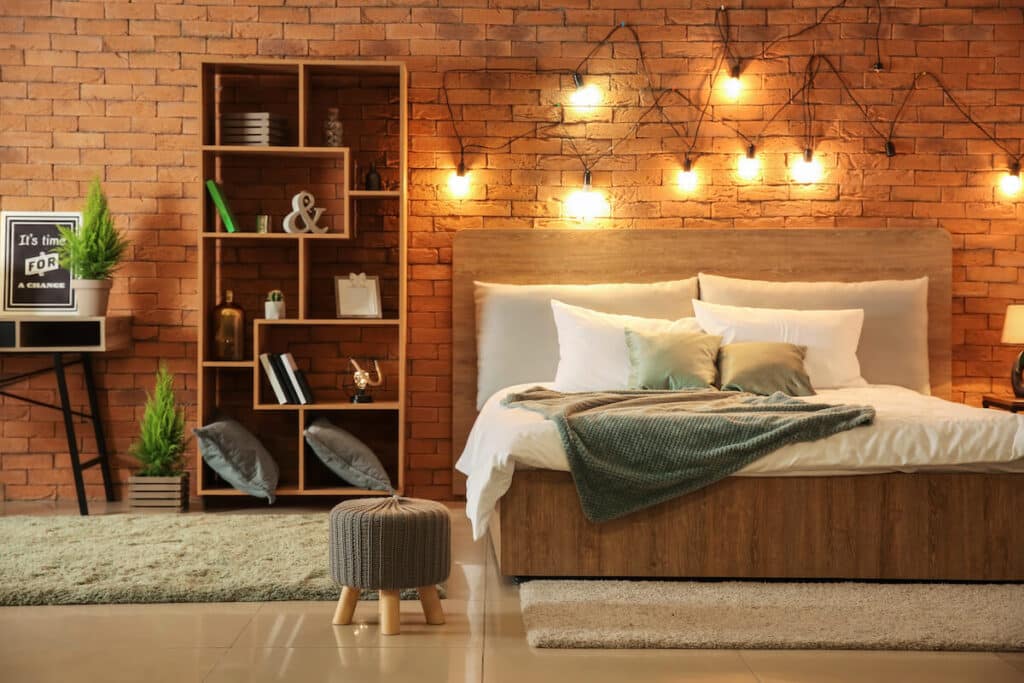 The most favorite and modern way of decorating the awkward spaces over the bed is by using magnificently beautiful lights. Yes, who can deny falling in love with the charming beauty and attraction of lights? The most charming idea is to just use minimal lights without using any other accessories alone.
No matter if you have small awkward spaces or bigger ones, lights can spread their magic within no time. Using lights can be a statement decor idea to attract all eyes and hearts instantly. Additionally, planning the proper lighting in your room can make it look brighter, more attractive, and more spacious without any extra effort.
Quick Tip: you can experiment with the arrangement and number of lights depending on your current mood and personality. If you are an easy-going person, use minimal lights, while if you are an outgoing person, use as many lights as you like; the more, the merrier.
13. Use Something Unique Like You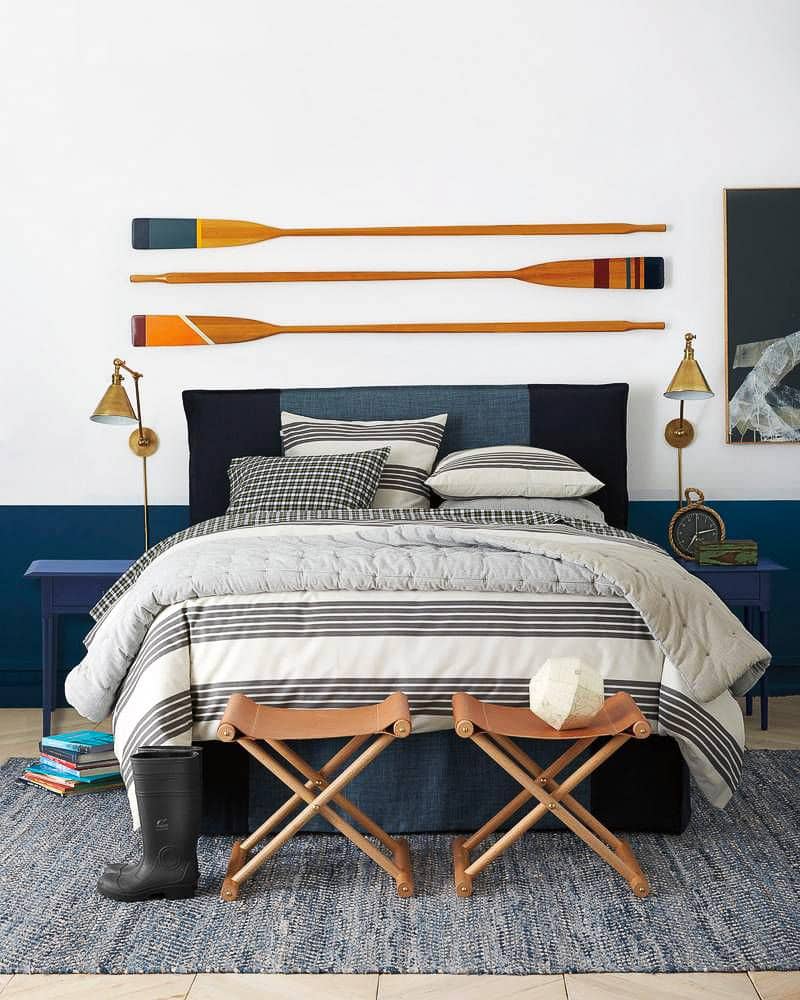 Last but not least, you can just completely be You when it comes to "decorate over bed" awkward spaces. There are so many unique elements with which you can relate, like something unique that presents your personality, mindset, thoughts, likings, preferences, etc.
If you love some adventurous sport, you can use elements that connect with that. After all, it is your space; what can be better than being You for its decor? You can also use some of the vintage finds that take you back on memory lane.
Quick Tip: it can either be a single item or a collection of different items. You just have to be unique to your own self while turning the awkward spaces into something beautiful and interesting.
Do's and Don'ts to Decorate Over Bed Awkward Space –
If you want your decorative designs for awkward spaces over the bed to look much more appealing and significant, it is important to consider the dos and don'ts. This will also make it easy and convenient to decorate over bed spaces most charmingly and affordably.
Do's
Do prioritize decorating the space according to your needs.
Do include even the smallest element to add significance to the décor style
Do consider decent experiments with the arrangement of the décor ideas to welcome a fresh change.
Do play with contrasting colors to attract towards the enhanced beauty of the place instantly.
Do use bold and vibrant patterns, especially for large, awkward spaces. It will instantly hide those spaces with its charming beauty.
Don'ts
Don't push all the other accessories and furniture for a particular design idea.
Don't crowd the available space with too many elements. This will ruin the overall vibe by distracting the eyes from the beauty.
Don't underestimate the power and magic of natural lighting. Don't block the path of natural light in your room.
Don't be too experimenting, especially in small available spaces.
Don't be too obvious with your choices. The monotonous styling ideas are not so happening.
Don't mix or add too many elements just for the sake of covering the awkward spaces.
Final Thoughts
Awkward spaces over the bed can be really annoying when not dealt with with the proper decorative ideas. It is possible to embrace the beauty of these awkward spots by using any of the above-mentioned ideas to decorate overbed empty spaces. Let us transform those dull and boring awkward spaces over the bed into something most fantastic and fascinating.
These awkward spaces are an excellent opportunity to showcase your creative and innovative style. Let us know in the comment section which of the ideas to decorate over bed awkward space is your favorite.
Also, if you have some other interesting décor ideas, please make sure to share them as well.
Frequently Asked Questions
How to Simplify Decorating the Awkward Spaces Over the Bed?
It may appear challenging and confusing to decorate over bed awkward spaces; however, it is quite simple. Just get an idea of the available space along with your most liked and preferred decorative style to make the most of the available space. You just need to portray your unique style for those empty spaces.
Is It Affordable to Decorate the Awkward Empty Spaces Over the Bed?
Yes, there are many affordable decorative ideas available that can be used to enhance the beauty of your place. For example – you can use decorative lights, paintings, wall art, etc., to turn the awkward emptiness into the most amazing focal attraction of your room. If you are a creative artist, you can create your own decorative elements as well.
How to Decorate Awkward Spaces Minimalistic?
Minimalistic styling is never out of fashion, be it any décor style or type. However, to ace the minimalist décor styling for the awkward space, ensure to focus on the practical use of the available space. Be thoughtful in using clean and clear design patterns to avoid any confusion.