Black can make anything look perfect. But are they suitable for painting interior doors? Let's find out! When it comes to painting interior doors, the choice of color is an important criterion to be taken care of. The color that you choose determines how the door is going to look overall and whether it will add to the beauty of the room.
Black doors can dominate a neutrally colored room with their presence. Having said that, they also add beauty to a room where black shades are already present.
Black interior doors come with a range of benefits, such as ease of handling and hiding defects. Gone are the days when designers used to rely heavily on white and light-shaded doors. Now it is seen that a lot of people prefers black doors due to the kind of drama they bring to a home along with their stunning visual effects.
In this article, let us explore how a black interior door adds to the beauty of your home as well as other benefits it brings!
Why Black Interior Doors?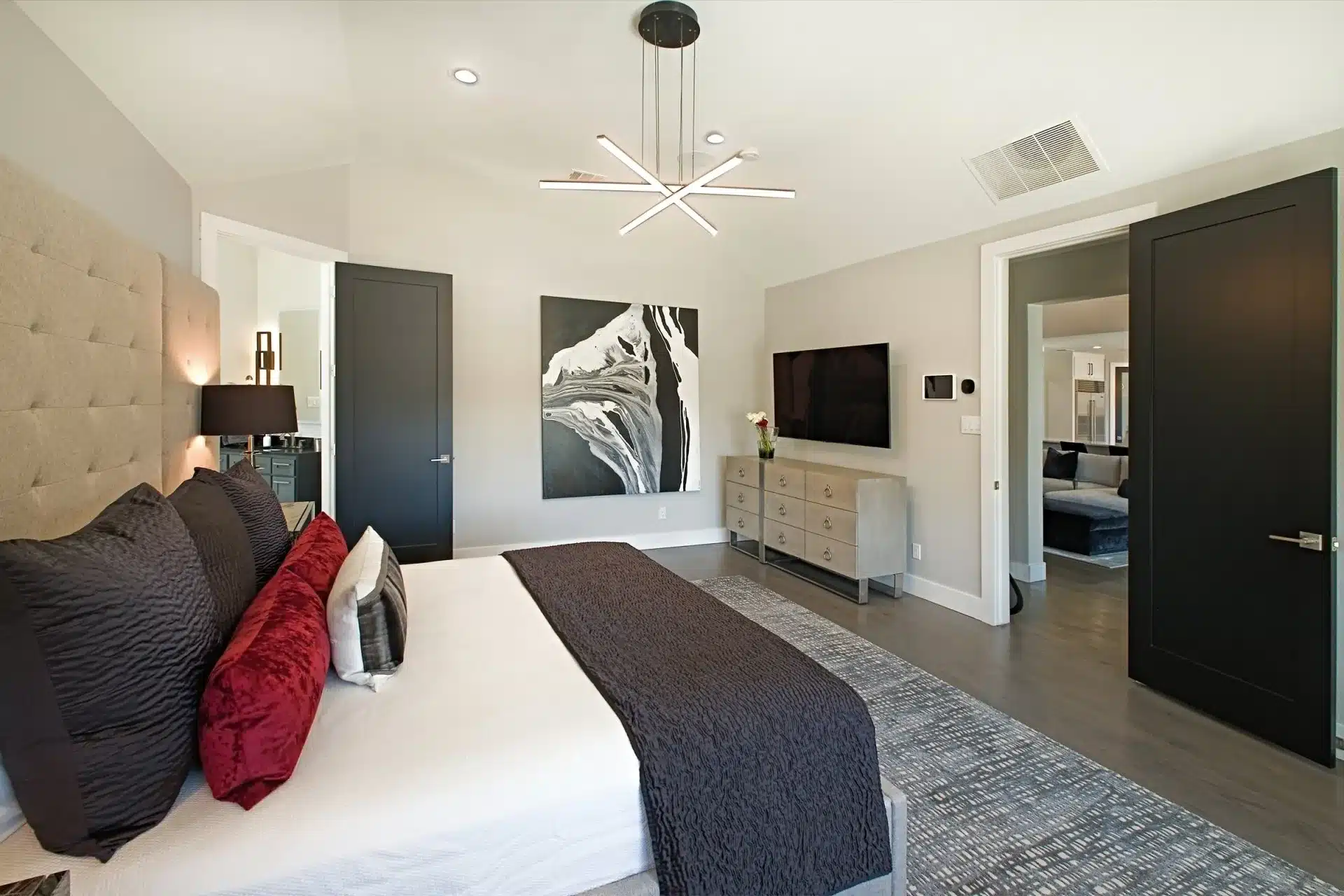 Black color schemes are becoming a trend in modern home designs. For a long time, the interior doors of houses used to have white paint. But a lot of people and designers across the globe are breaking out of this norm and switching to black paint on doors. The reason for this sudden popularity is the wide range of benefits it offers. While white doors brought a certain warmth to the room with their presence, the risks of dirt and visible scratches were high. Because of this, while refurbishing houses, people started to switch to black doors. This helped them hide any kind of visible issue on the door, avoiding the need to replace the entire door as a whole.
Doors are the first thing that greets a guest when they are at your place. It is said that the color of the door can affect how a person feels when they enter a home. Black doors can be helpful while planning the interiors of the home, and vice versa. You can create a sophisticated look inside your room by adding more dark colors and having a black door.
Below are a few reasons why considering painting your doors black can turn out to be one of the wisest and best interior design decisions.
Reasons to Paint Interior Doors Black
1. Blends with All Colours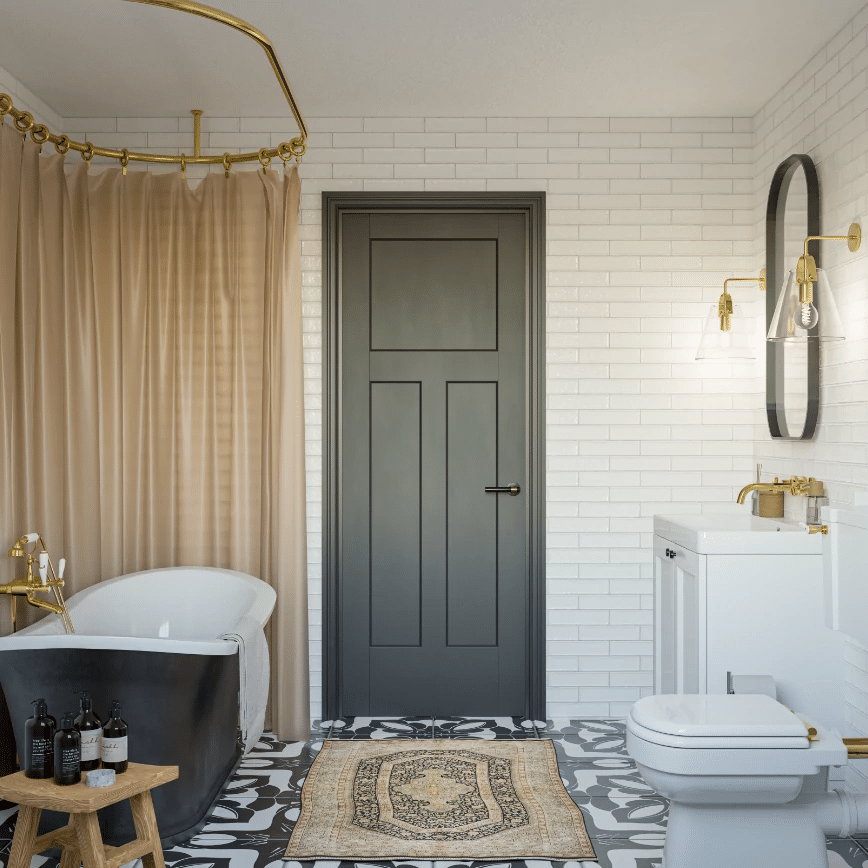 Black, grey, white, and Brown are considered the four basic neutral shades. Out of these, black is considered the strongest. Because of this same reason, there are no hues present in black. This makes it a great choice of color for painting interior doors. No matter what colors you have used in your home elsewhere, the door will seamlessly blend with the decor.
Black colors can easily match perfectly with all kinds of shades, patterns, and even furniture. If you have colorful, pompous shades in your home, a black door will easily add depth to the decor with its presence. If your home has an abundance of lighter colors to make modern decor, the black door can act as that focal point, which acts as a statement of style!
2. Keeping it Clean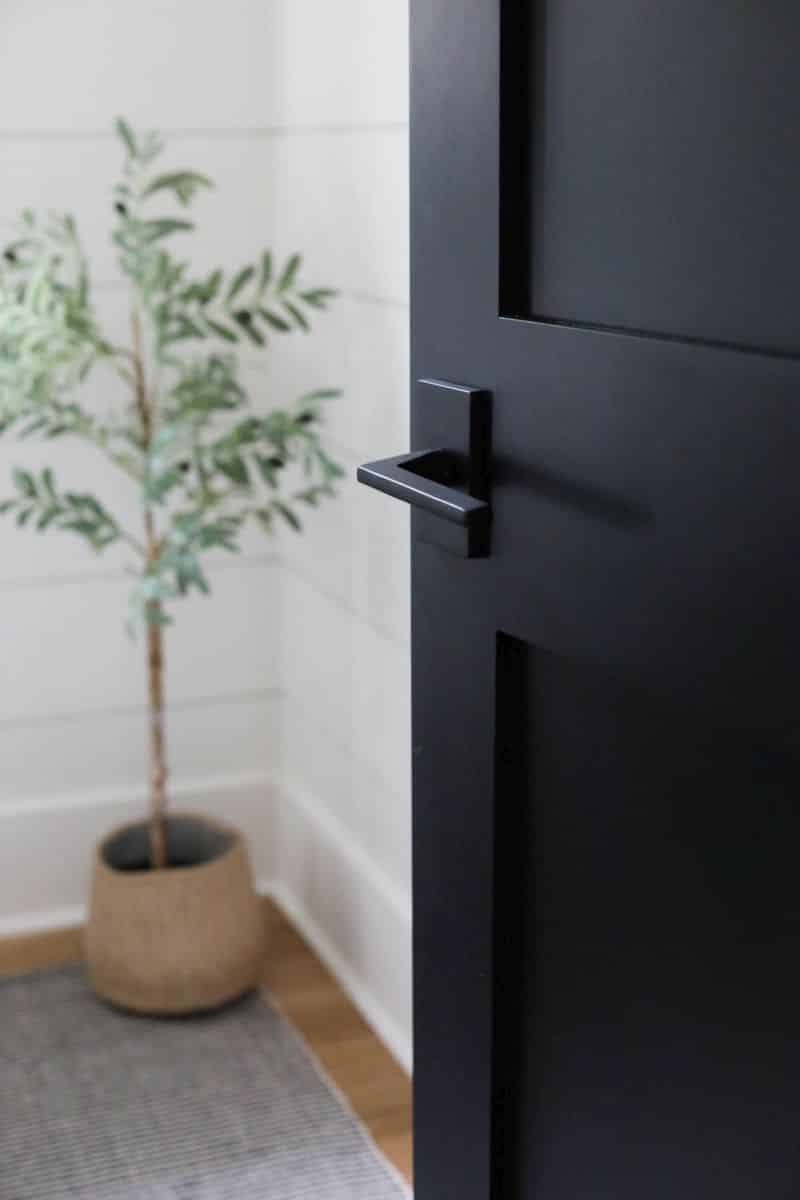 One of the major drawbacks of going with lighter shades when painting interior doors is that they are easily prone to visible dirt and scratches. It is normal for the doors to get stains, shoe prints, dust, and scuffs. Though most of these can be completely removed, some leave a permanent mark. If you have black interior doors, unusual marks that could give your door an odd look can be hidden out of sight to a great extent.
Because of this natural camouflage property of black, a lot of designers opt for black shades for painting interior doors.
3. Go with the Trend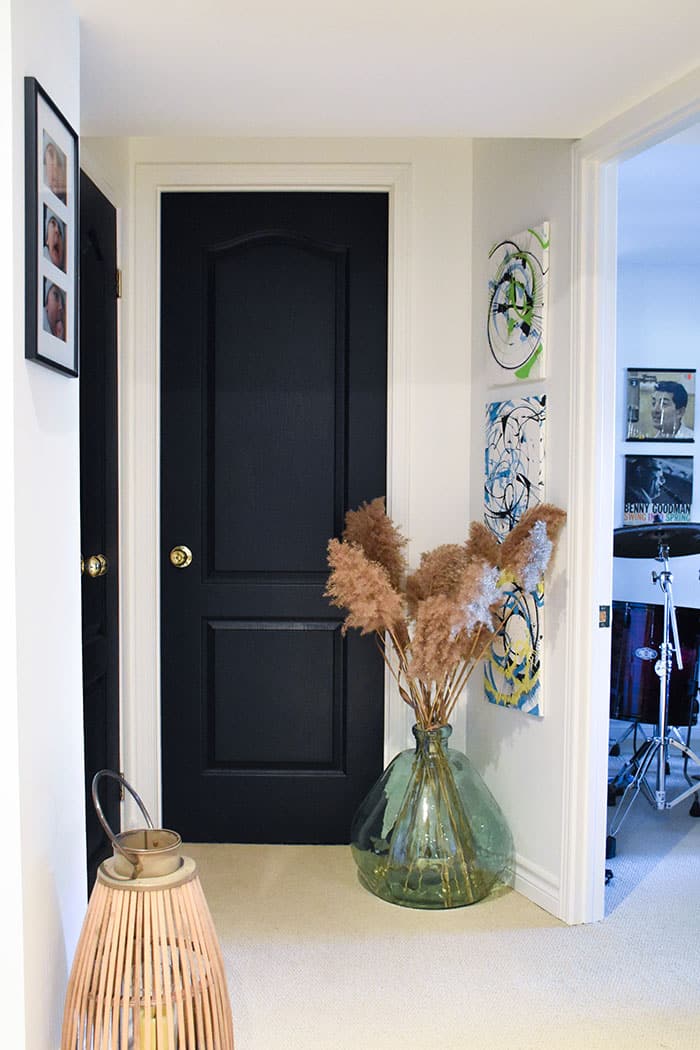 Gone are the days when people always chose lighter, warmer shades to paint their modern home interiors. The trend has now changed to people opting for bold and stunning shades for the interiors of their homes to make a style statement. Black is considered a color of class when used well. We are seeing a tremendous shift towards choosing lighter colors, even for darker rooms.
The presence of all-black or dark-shaded walls in a darkly lit room is becoming a trend. One of the main reasons for such a demand for black interiors is the elegant, rich, and bold vibe it adds to the room.
4. Accentuates Handles and Knobs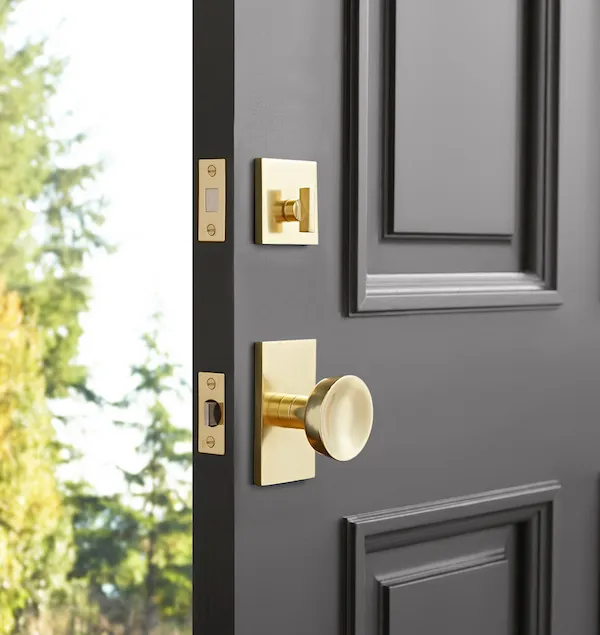 One of the biggest perks of going with a black color to paint interior doors is that it can accentuate your door handles and knobs in the best possible way. If you are refurbishing your home and are thinking of getting some new hardware, you don't have to worry about how it will look on a black door.
Be it copper, nickel, steel, gold, brass, or chrome, the dark black shade will definitely show off your stylish handles and doorknobs on doors. One of our suggestions will be to go with Gold hardware on doors. Black will feature gold parts on them in a very classic yet stylish way!
5. A Touch of Illusion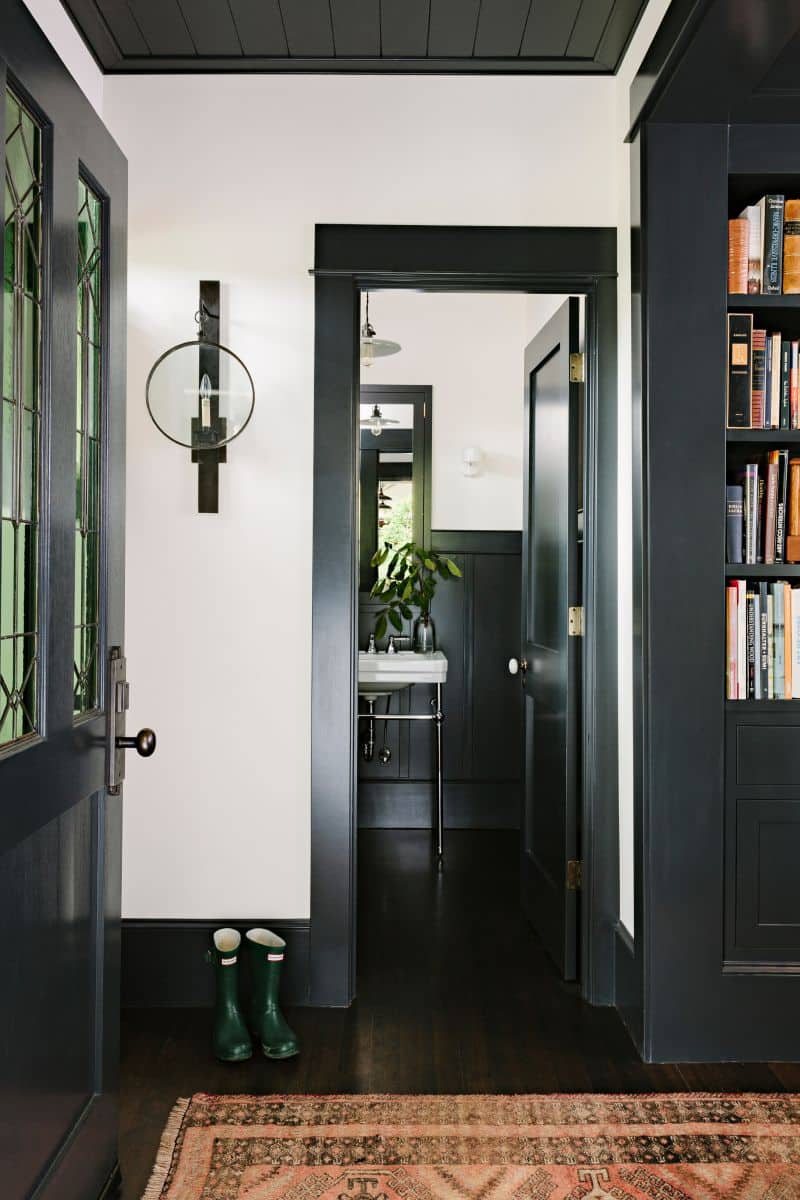 Black shades are popular for adding a touch of illusion to interiors. If you want to give your home a captivating feel with a deceptive yet stunning vision, painting interior doors black will be a great option to consider. Because of the black color, the doors will look longer, and even in small rooms, the ceilings will appear as if they are higher than they actually are.
6. A Timeless Choice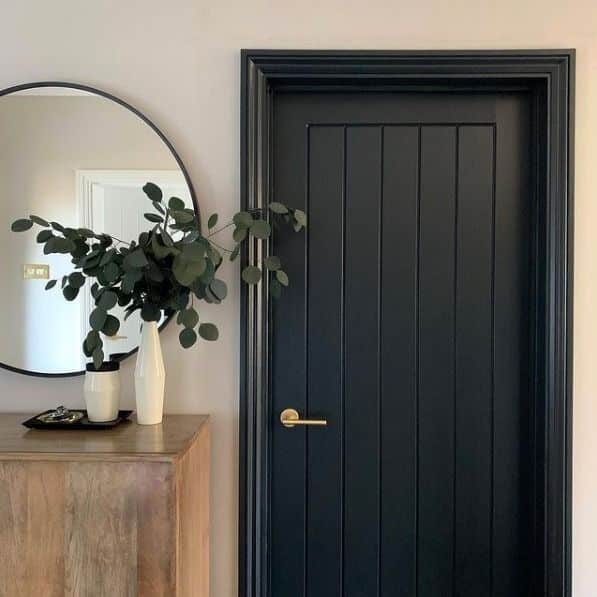 One of the reasons designers opt for black when it comes to interior styles is because of the timeless style the color presents. There are colors and decor items that can go out of style gradually when it comes to interior colors. But black paint will never be a part of that list. No matter what changes you bring about in your decor and furniture, those black interior doors will stay the same, continuing to make your place look stunning and bold in a classy way.
7. Invokes Curiosity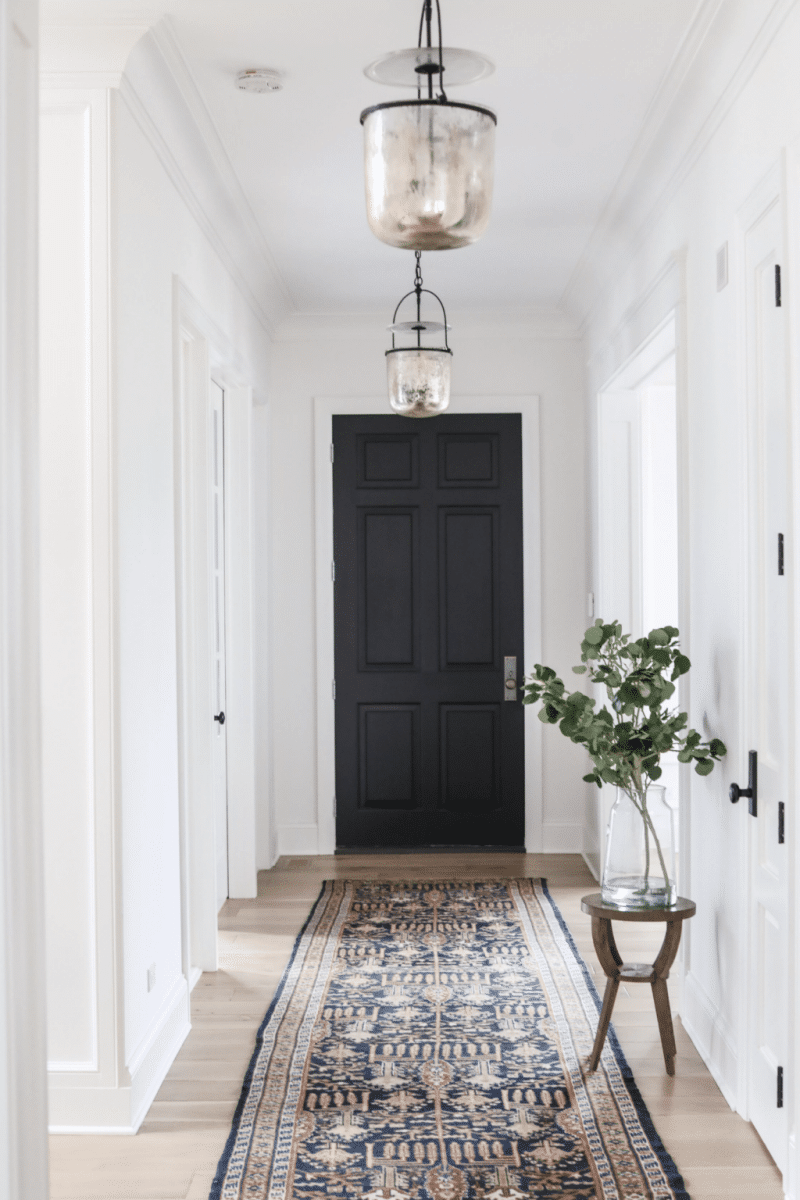 The beauty of black shades lies in their trait of invoking an element of curiosity in people. Doors are mostly used as entry and exit points. When a door is painted black, a natural curiosity to know what is behind the door will be created. To create such bold entrances and make use of this psychological trait, black doors are vastly preferred.
8. Black Adds Contrast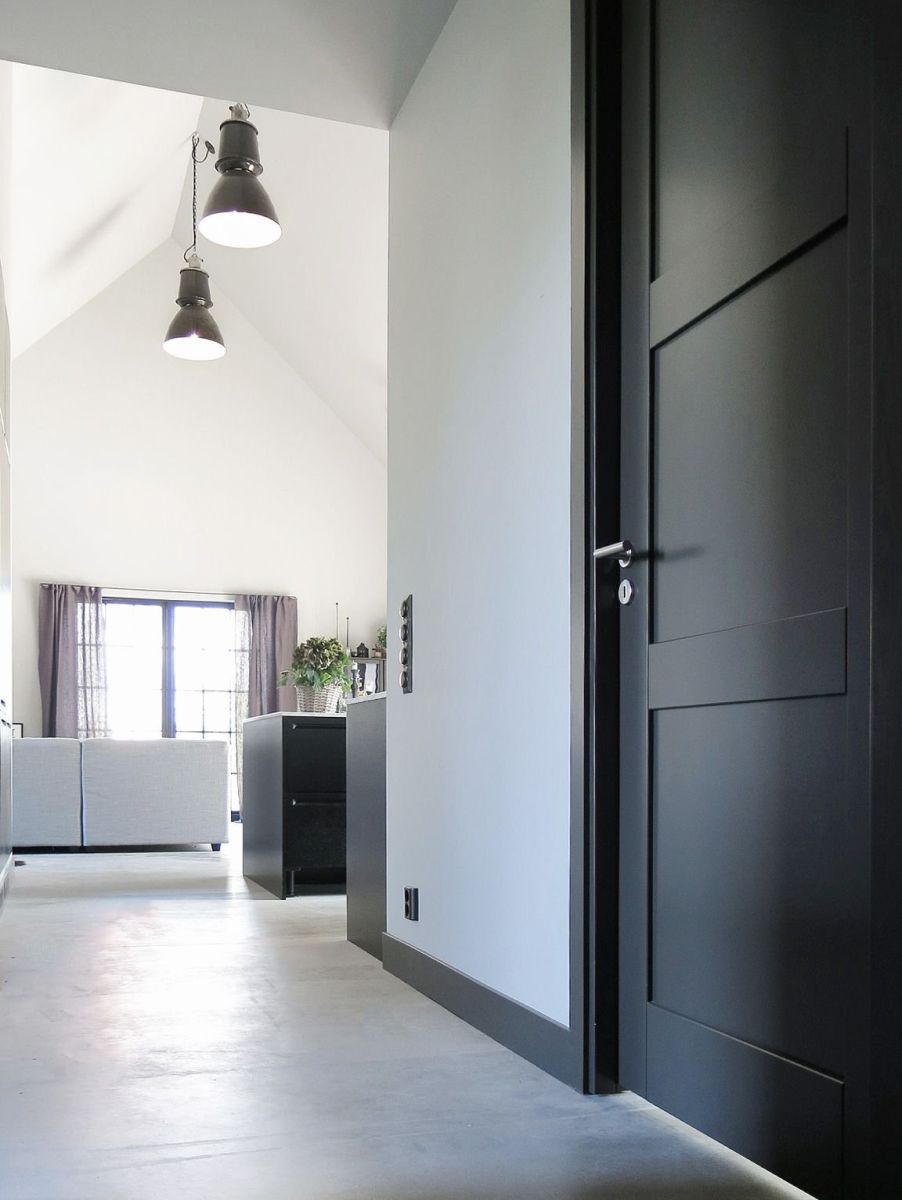 Before choosing just the right color for your interior doors, take a quick look around. Make a mental note of the kinds of textiles used in your room. If your room has a lot of cushions, carpets, and soft curtains, a black shade will be a perfect choice for painting interior doors. The presence of black will add contrast to all kinds of soft textiles used in a room. Rather than going with lighter shades for the door, which will give the room a toned-down look overall, go with a black color to make a great display point.
9. Acts as a Focal Point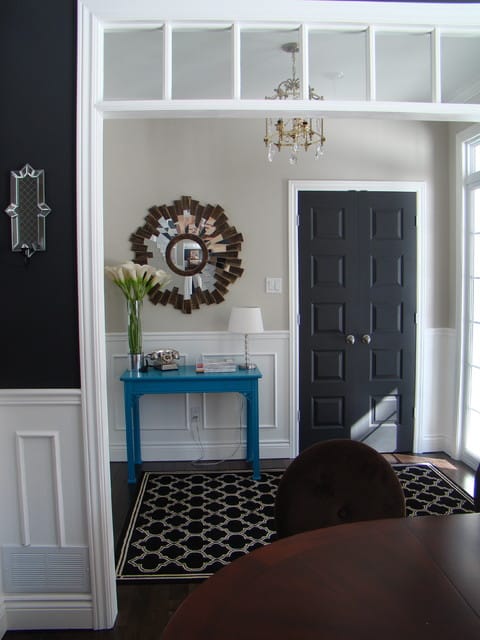 Black is all about being dramatic and bold. You don't have to bake your head thinking about how to give your room a rich look. Painting your interior doors black will do the job. Such a door can easily give off a rich vibe and turn out to be a focal point. The kind of finishing you choose to give your door adds up to its final look. A matte-finish black door will also add that missing touch of drama to the door. But matte-finish surfaces expose hand prints on them. Hence, it is suggested to go with a semi-gloss finish to bring out the best in interior doors.
10. Black Calms the Mood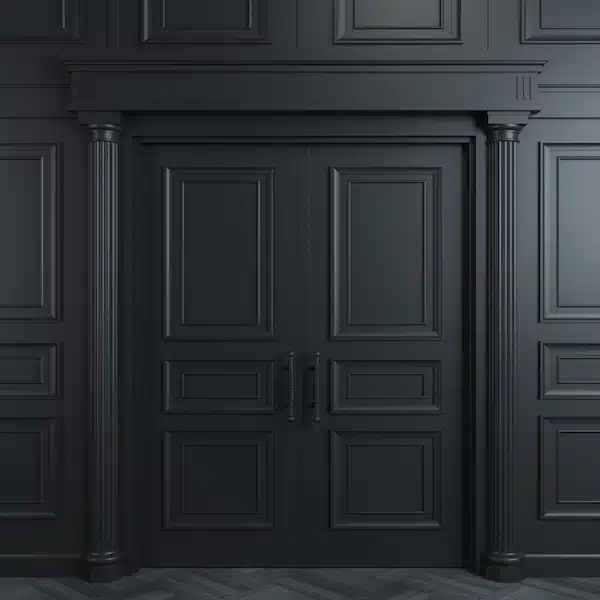 At a particular time, when it comes to designing bedrooms and other comfort spaces in a home, we have seen designers suggest all-white decor or similar light undertones. But not anymore, as black is the new show stealer. Even the cozy corners of a home are now dominated by black shades. This is solely because black can offer a much-needed calming effect with its presence.
The use of darker shades inside a bedroom will easily ignite your sleep and invoke the feel of nighttime when you seek relaxation.
11. Black Conceals the Defects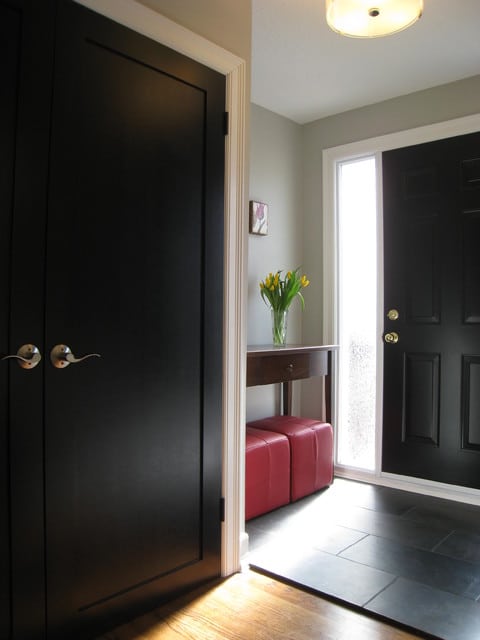 Other than making a visual statement, the black color will be of great help to those who are refurbishing their place. It is highly possible for a door to get dents and scratches. Hence, when it comes to redoing the place, it is a headache to work on the defects on the door before repainting them. The quick and easy solution to this issue will be to paint the doors black.
Not only will it look the best, but it will also easily cover all the defective portions of a door in a perfect manner.
12. Matches with Black Accents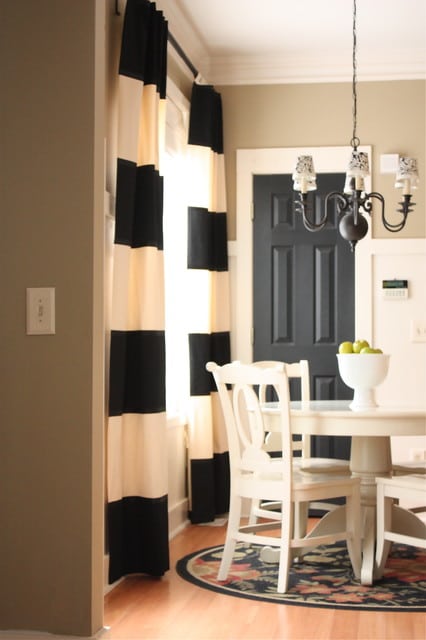 While painting interior doors black, scan the room for the presence of black shades elsewhere. If you already have black curtains or black window frames, black doors can easily match them, giving a cohesive feel to the room. Repeating blacks like this in the room will really make the space attractive and escalate the visual value of the room to a higher level.
13. Black Creates the best frame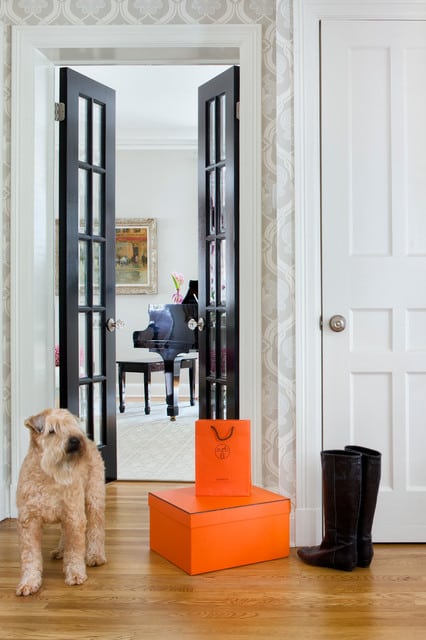 If you have French doors in your home, you can consider painting the frames black. Whenever you have something on the backdrop to focus on, a visual trait in the foreground can be used to promote your focus in the right direction. This can be easily done with the help of black frames. No matter where the door opens, just like framed photographs look beautiful, creating framed views in a house will add to the visual beauty.
14. Matches with Dark Floors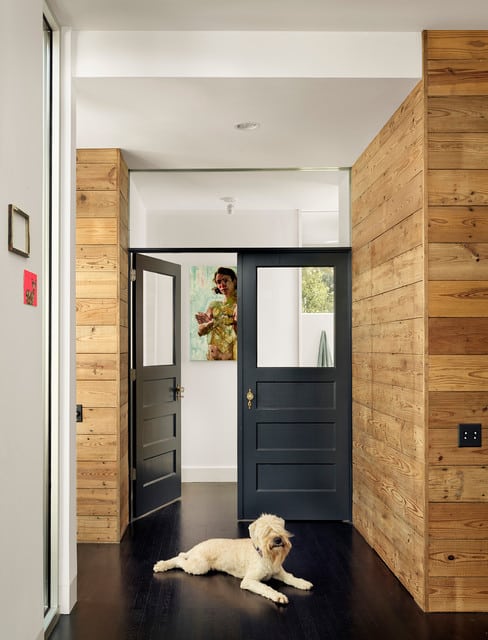 White interior doors work well and are fine with dark floors, but black doors can make an exceptional impact. While painting interior doors in a room with a black floor, choosing a different color will break the color pattern. Painting the door black will simply act like an extension of the black floor visually. This will create a dramatic and sultry feel in the home. Also, such a design will indirectly portray that something special lies behind this door. An indication like that can be used while entering the private areas of your home to make a statement.
Final Word
In conclusion, when it comes to painting interior doors, black offers a wide range of benefits. They add to the aesthetic beauty of the room as well as offer the much-needed touch of drama. However, the decision to paint your interior doors black should be taken only after considering the existing decor of your room.
You must visualize how the presence of a black door can benefit the rest of the interior. To double-check the outcome before applications, paint sheets can be used.
Once you are satisfied with the results, you can proceed with painting. We hope this article was helpful for you to know about all the traits the color black brings to a space and how it could beautify your entry and exit points.
Frequently Asked Questions
Is It Good to Have Black Interior Doors?
Painting interior doors black can add depth to a room and make it look bigger. If you are using white or cream colors for the walls and ceiling, the presence of a black door can make the room look taller as well.
Should I Paint Interior Doors with a Matte or Gloss Finish?
Check the availability of natural light in your room. If the availability of light is limited, you can go with a gloss finish. Black doors with a gloss finish will reflect more light and are easier to clean. Between gloss and matte finishes, semi-gloss finishes are recommended as they hide defects well.