Dutch doors have started gaining popularity because of the number of ways they can be used. These doors first saw their use in early New England. But now centuries have passed, and they are used all over the world.
For one, their aesthetic appeal takes you to a simpler time. They are also extremely practical and will help control how much of the external world you want inside your house.
But interior Dutch doors are a bit different from external ones. Sure, the mechanism and the steps to making one are the same. But their purpose is different, and in the end, the execution differs too. The internal doors need not be as sturdy and enduring as the external ones.
And here are some Dutch door DIYs that are perfectly safe and useful for the interior of your house.
1. Turn a Hollow-Cored Door Interesting
Most often than not, exterior back doors are converted into Dutch doors to keep the house airy. But in certain DIYs, theInterior Dutch doors are used to keep an eye on the little children. It allows the adults to work in peace and still be with their children. And the room that benefitted the most was the laundry room. This the owner could fold the fluffy towels without the children's mischievous hands on them.
This project turns an old boring hollow core door and turns it into a DIY interior Dutch door. It is so simple that almost anyone can attempt it without breaking a sweat. All you would need are supplies like table saws and Dutch door hardware. The existing door of the room will have to be taken off the hinges and cut in two, so prepare well. Also, if you are short of time as well as funds, make sure you do not cut off the existing knobs.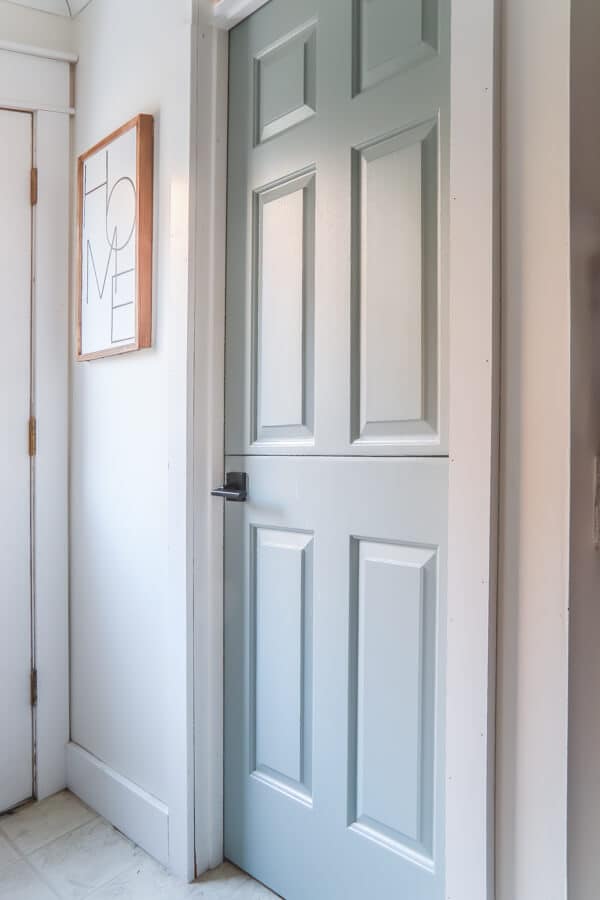 If a front door is to be converted into a Dutch door, too much care goes into the details. But an interior door is not visible to outsiders often and is just usually used by the family. So you can scrimp on the costly details and use hardware that's inexpensive yet sturdy.
2. Perfectly Measured Door for the Kids' Room
The nursery or your child's room is the ideal location for interior Dutch doors if you are looking for a project. Keeping the top half open will make the room look bigger and keep the kids calm. It will also keep the toddlers from getting out on their own. And as they grow up, it can also work as a regular door.
To make a Dutch door for your kid's room, you need a lot of supplies. You will also need to take the door off its hinges so that the room will be out of commission for a while. Dutch doors and regular doors have different measurements within the same frame, so you will have to plan carefully. The door frame will have to be fitted with new hinges to accommodate both halves. A good rule of thumb is to make it 30 inches above the ground.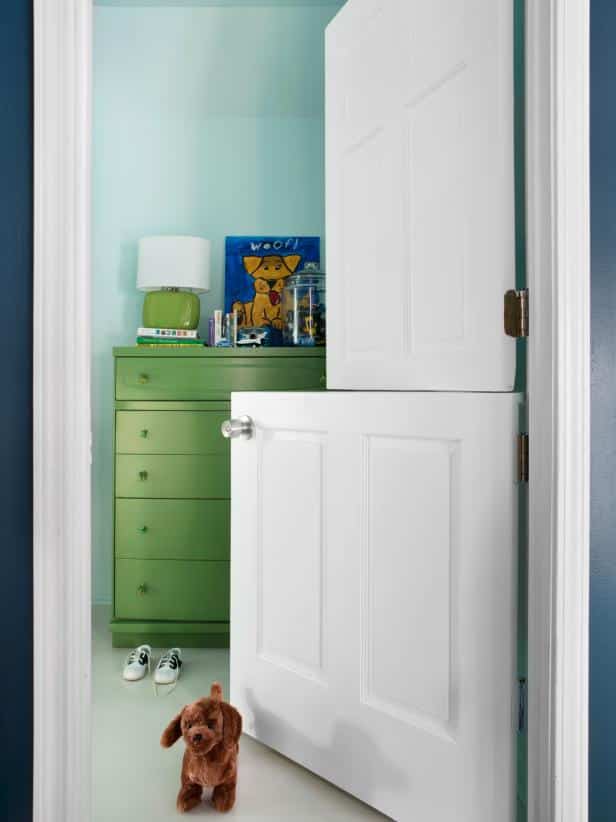 Doors are measured according to the size of the house, but they have a general size. And for Dutch doors, the bottom half is usually about 4 feet above the ground. Just make sure that you do a dry run before screwing the hinges in place so that there is no overlap. You may need to chisel the door or frame a little for a smoother glide.
3. New Door from Scratch
Apart from converting your old door into a Dutch door, you can also build one to suit your needs. Conventional doors are thick and sturdy, which will need to be taken apart and cut up, sanded, and even chiseled. Too much work goes into it, but if you use another door, you can have the freedom to go back. And as far as interior Dutch doors are considered, you can get a fairly inexpensive hollow one.
In this DIY Dutch door project, we see that the owner decided against cutting up an original door for convenience. The new door also needs 4 hinges at different locations than the old ones. There is also the placement of the knob in a regular door, which you should mark in the new door. Otherwise, you will have to change the locks on the frame as well.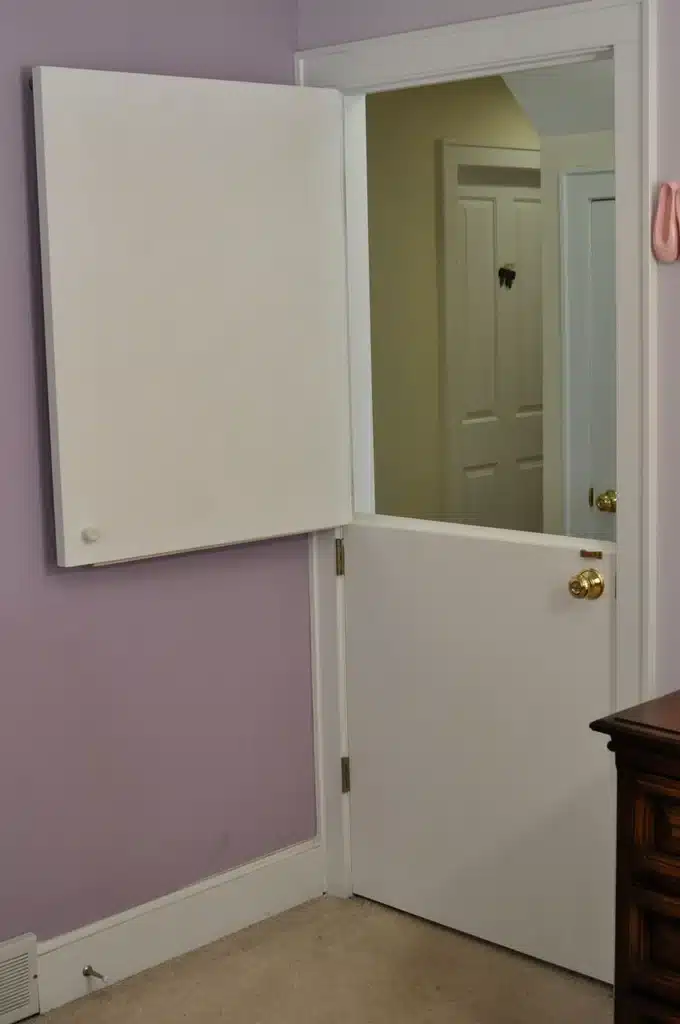 This project also focuses on the need for the top and bottom parts of the door to remain symmetrical. The top should also not swing off in the opposite direction, so a trim was added. As a child's door, the owner made sure that the knob installed from the previous door was locked from the outside. After assembly and a paint job, an ordinary door became a charming Dutch door that would last them years.
4. Kitchen Half Dutch Door
A kitchen can become a stifling place when you are cooking lots of dishes. It can also become a lonely place when you are missing out on the fun in the living room. But when you have little kiddies running around, an active kitchen is not a safe place. So the nearest alternative is to get some interior Dutch doors to make a compromise.
In this DIY Half-Dutch door on a budget, the owner has achieved the best of both worlds with such a design. The open-concept kitchen that embraces nature cannot be found in old homes. But a half door makes up for it. A locally sourced wooden door instead of generic doors also helped reduce the budget considerably.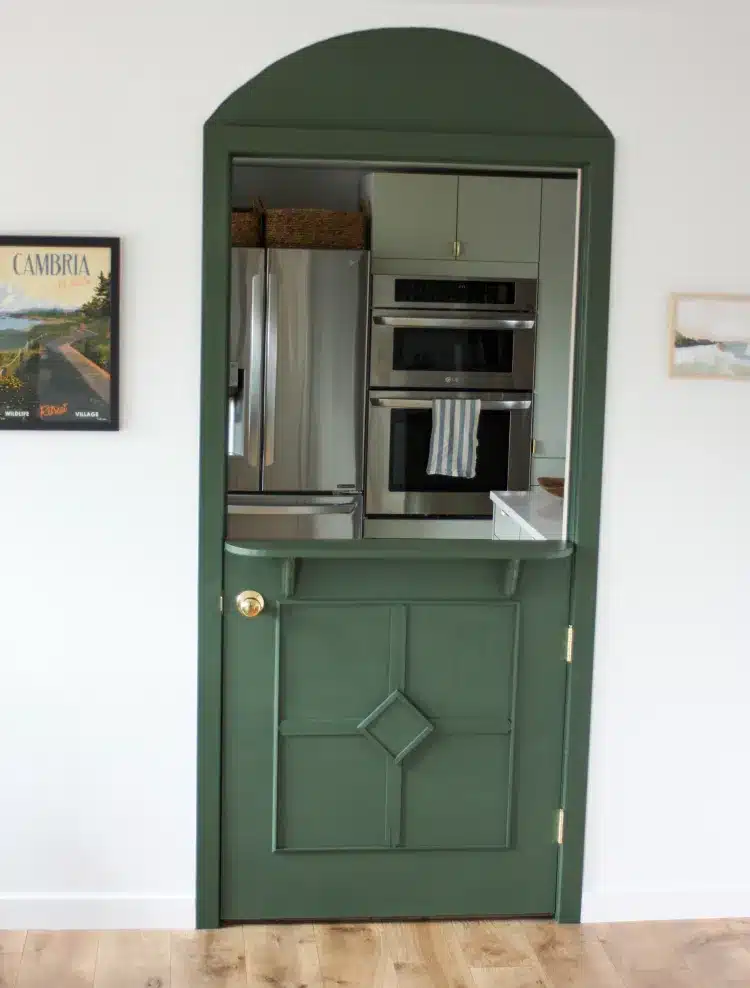 This DIY also changes the measurements of the usual Dutch doors to suit their needs. Instead of 4 feet, the owner cut 40 inches from the ground to avoid going over the door knob. This project is also unique as it features a small shelf over the lower half. The length of the shelf is 36 inches, and the width is a stable 6 inches to support anything. You can also take this as an inspiration for full Dutch doors, as even they can support shelves easily.
5. A Barn Door for Your Office
Working from home has its perks, but it has its disadvantages as well. For one, you always have to be available for both your family memes as well as bosses at the same time. And to handle both at once, you need a space that is quiet as well as reachable. And here is where interior Dutch doors become invaluable. You can open the top half to see what everyone's doing around while keeping the kids out of your workspace.
Instead of buying a Dutch door, try a DIY on a regular door to have satisfactory results. You can scour your neighborhood to find old wooden doors you like. Then with a little hard work, like measuring and cutting, your new Dutch door would be ready. To give it a new look, sand down the surface and paint it whatever color you want.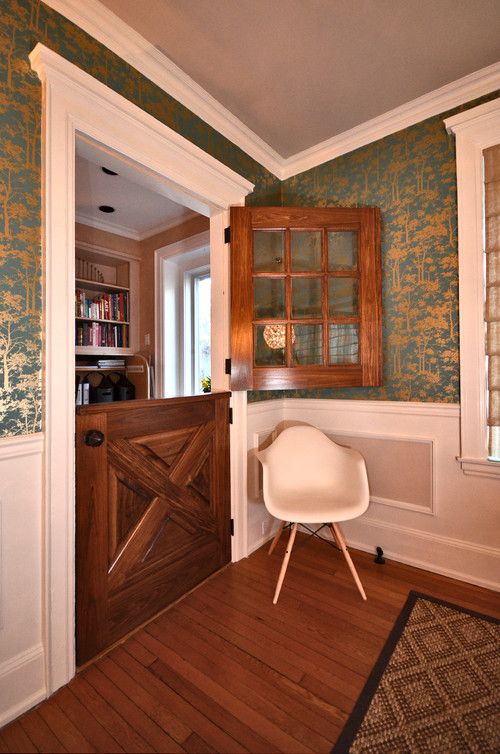 Barn doors are known for their characteristic crisscross design of wood on wood, and you can replicate that with planks. Make sure to pick out a sturdy wooden door with a finish that you can strip off. The underlying grain, when stained brown, will look beautiful with a grounded space full of rich colors. The glass lattice on the top half also gives the entire frame a dignified look.
6. Dutch Pantry Door
Another great location for you to install a Dutch door would be the pantry. It would allow you to reach in and get whatever you want while cooking. At the same time, you can keep the lower half closed off to keep everything safe. As far as interior Dutch doors go, this space is truly a unique one that is sure to make your house sparkle.
You do not need a lot of planning to convert your pantry door into a Dutch one. A simple DIY that splits the door into two equal parts would be enough. This way, you take stock of the snacks from anywhere in the kitchen. You can also add a shelf in the middle so that you can put your goodies someplace while browsing. This shelf would also work as an extra space to cool pies while cooking.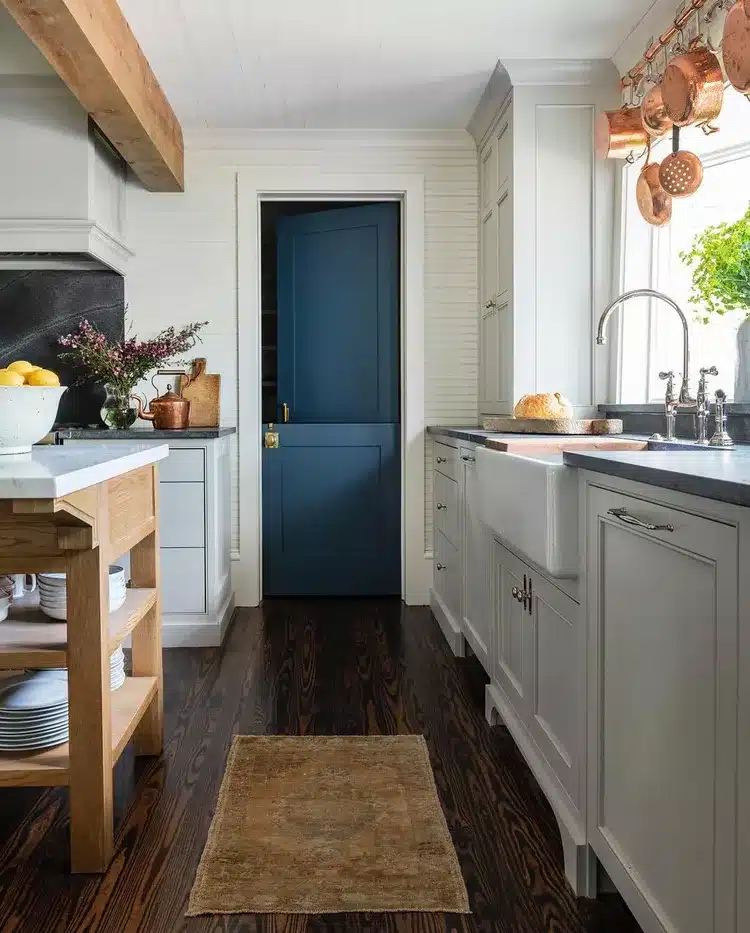 Your Dutch pantry doo will have to have a lock on the outside and the lower half. The swings of the door will depend on how large your pantry is. For a small space, in-swinging doors are impractical. But if the top half swings out instead, it would resemble a cupboard that can easily be accessed. Make sure to use an interesting color for the door to set it apart.
7. Duo-Chromatic Interior Dutch Doors
When it comes to using doors to make a statement, dutch doors are the way to go. As an entryway, they stand apart and give a house character. But they can be used to create a statement indoors as well. And if your rooms start looking bland for lack of color, get colorful doors. This way, the door would feel like an entry to another world.
This DIY of creating bi-colored Dutch doors is quite easy. The method is the same as splitting a door in two and fitting it to the frame. Just remember to mark the locks and hinges on both sides while attaching. The knobs can also be a way of distinguishing the two different sides of the door. Interior Dutch doors do not need to focus on stability and can, therefore, just be all about the decor.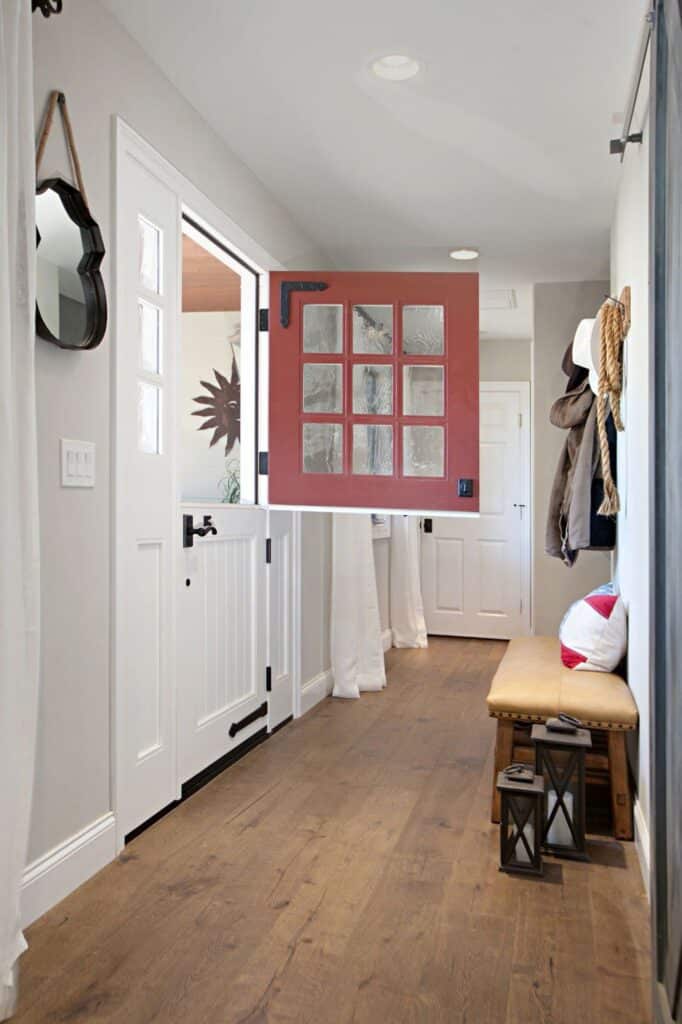 The bi-colored doors bring a pop of color that has hitherto been only seen in exterior doors. You can use them to match the decor of each room. The sides can also have a touch of rustic or modern elements to set them apart. Each room will have a color consistency that does not end at the door. And this way, you'll bring boldness into a minimalistic house.
8. Dutch Instead of Conventional Doors
If you have a broken door that just doesn't function anymore, don't be in a hurry to get a new one. Find out where the problem lies, and then determine if there is any way to salvage the wood. Wooden doors are precious and can be repurposed into almost anything. So if your door's only problem lies in the hinges, take them off and add new ones with a little DIY.
With the help of easy DIY interior Dutch doors, now you can turn any door into a multi-purpose one. Whether be it for a children's playroom or the dining room, any door can be substituted with this. And if you happen to have an old wooden door lying about, a project like this is a must. It will help you add an element of surprise to a regular room.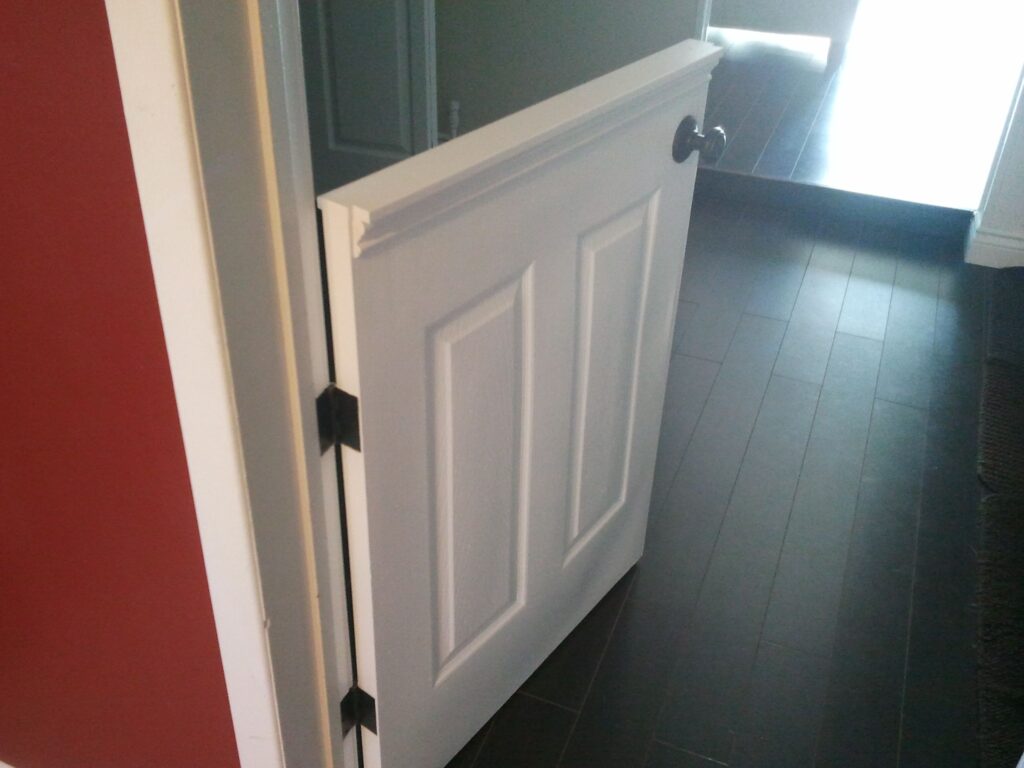 In the case of DIY projects, the owner's needs are kept in mind while creating. If the dining room is a formal space of yours, you might not want your pets to have free reign over it. Instead, create a baby gate of sorts with a Dutch door that will keep the pets out without excluding them.
9. Charming Farmhouse Dutch Door to The Attic
Easy farmhouse Dutch doors are not just for the exterior of a cute house. You can also install them in a room as a step into the decor. And the best thing is they can be made in just a few easy steps. With a couple of pine boards and an unfinished door, you can arm your attic with a simple yet unique entrance. This works well when you have a study or playroom tucked away.
While cutting your preexisting door, make sure to mark the ledge carefully. Interior Dutch doors have to have a little space between the two halves so that a latch can be attached. You will also have to get a lock on both halves so that it's secure. You will also have to fill out the holes in the old door to make it look seamless.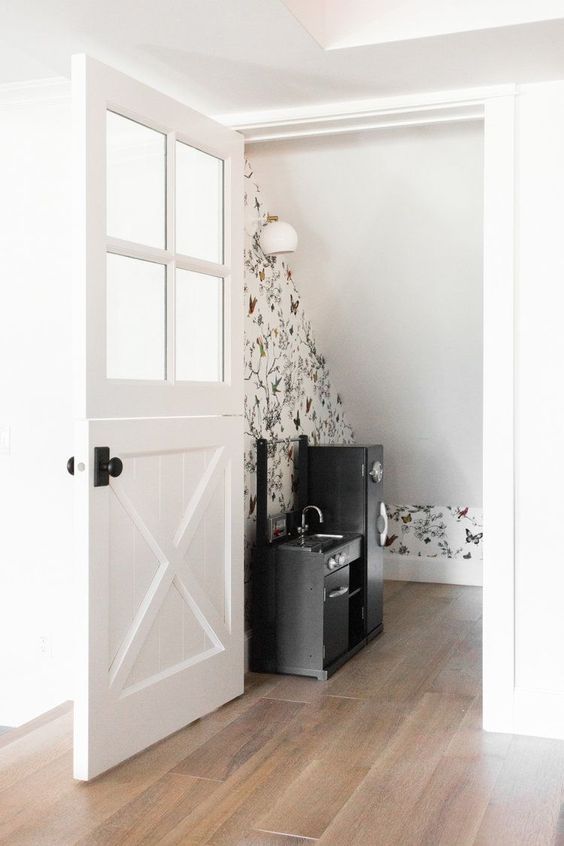 In DIY Dutch door projects, we often see that the top half of the door has a glass lattice. And while indoors, they do not provide many practical benefits. They look amazing aesthetically. The glass accent adds charm and character to an interior door and makes it the focal point. The framed glasses will also allow you to see through without opening the door.
Final Thoughts
Dutch doors are a fine addition to any house, be it inside or out. Its charm, which resembles a rustic barn life, has become widely popular due to the farmhouse decor. Yet the practical aspect cannot be denied. They require far more hardware pieces than conventional doors but are incomparable.
We see that Dutch doors are a pricey affair. But you can easily install one in your house if you know the DIYs. You can choose a simple way of adding this by getting a normal door and sawing it into two before installing.
Or you can also take apart an existing door and turn it into one. But whichever DIY you choose, you are sure to have self-made interior Dutch doors you can be proud of.
And do not forget to let us know all about your favorite project in the comments!
Frequently Asked Questions
Are Dutch Doors Expensive?
Conventional doors are far more common and inexpensive than Dutch doors. And apart from availability, the price of Dutch doors also depends on the hardware they need. You are sure to pay extra, from extra hinges and knobs to locks and even weathertight seals. Thus instead of going to manufacturers who are sure to make you pay a couple of hundred dollars, try a DIY.
Are Dutch Doors Practical?
Interior Dutch doors are a great idea for people with little children or pets who don't want them to get underfoot. This way, you can keep an eye on them without letting them run around. It works like a baby gate that you won't have to uninstall as the kids grow up. And exterior Dutch doors are amazing at letting a breeze or sunlight in.
How Many Parts Does a Dutch Door Have?
A Dutch door is a single door that has been split in two. It works as a single door when the latch between the two halves is secured. But you can also open the top half and air out the room while keeping the lower half secure. This allows for diverse use of the entryway.