Do you know that black trim can transform your home's decor entirely? While finishing touches like trim may seem a minor architectural addition, they can have a huge impact on your home's appearance. Black trim is often used to highlight door frames, frame wall art, and create an accent wall. It can add an attractive statement to your room and cover gaps, joints, and other imperfections. Black trims come in various styles and can suit both traditional and modern homes.
Popular trims like crown molding and baseboards are featured in many architectural designs. You can also opt for statement-making black trim like picture rails, chair rails, and molding that imitates built-in frames on the walls. White walls with black trim are one of the most classic combinations that can give an extraordinary feel to your house.
Whether you're painting your existing trim or installing new trim work, black can be one of the best choices to update the look of your home.
Black Trim Interior Ideas to Add a Wow Factor to Your Home
Let's take a look at the gorgeous black trim interior ideas that can make your home stand out.
1. Black Framed Door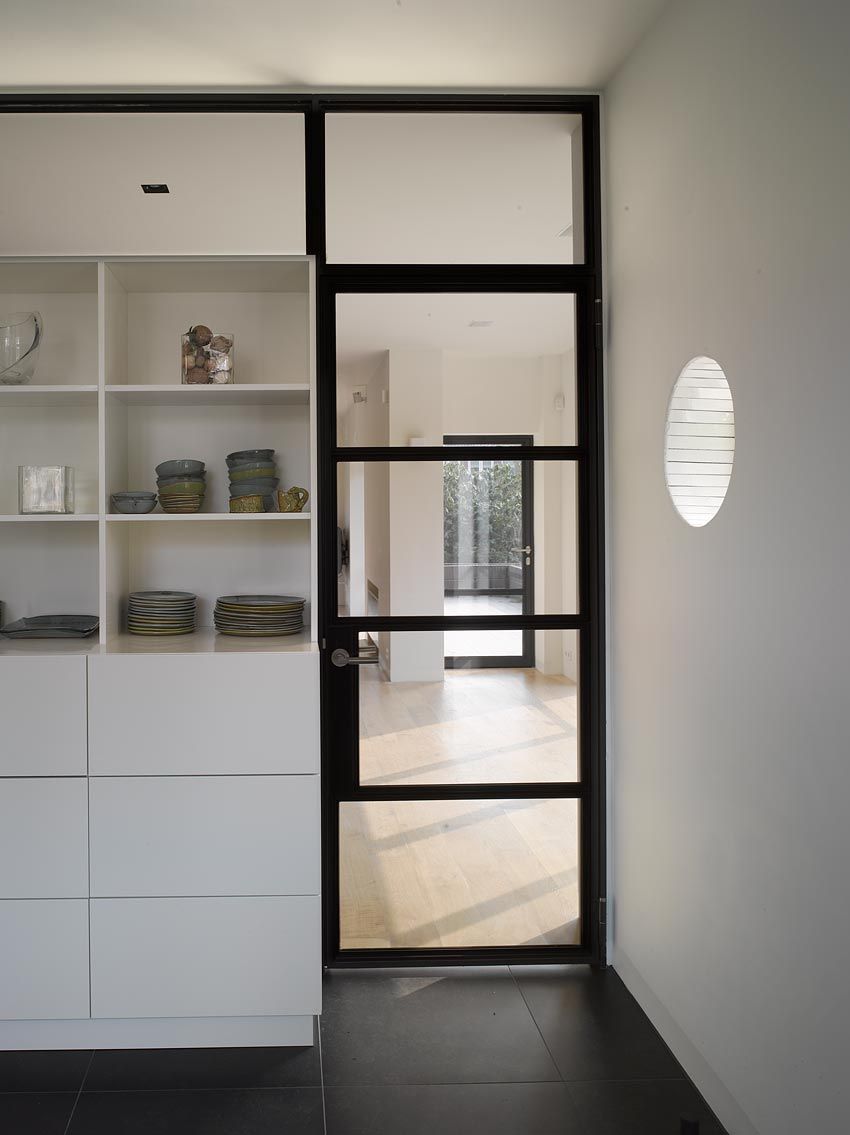 Black framed doors can be one of the best ways to add visual interest to your home. The bold combination of glass with black frames creates a stylish look. Black-framed doors work well alongside a maximalist, bold design scheme and in neutral spaces. They also complement various architectural styles ranging from traditional and contemporary houses to farmhouse-style homes and apartments. You can pair the black aluminum-framed doors with beautiful lighting fixtures and a modern vanity for an industrial look.
Take the black-framed shower doors all the way to the ceiling to make a smaller space look bigger. If your living room doesn't receive enough natural light, you can opt for a glass door with a black frame to make your space bright and welcoming.
2. Black Ceiling and White Wall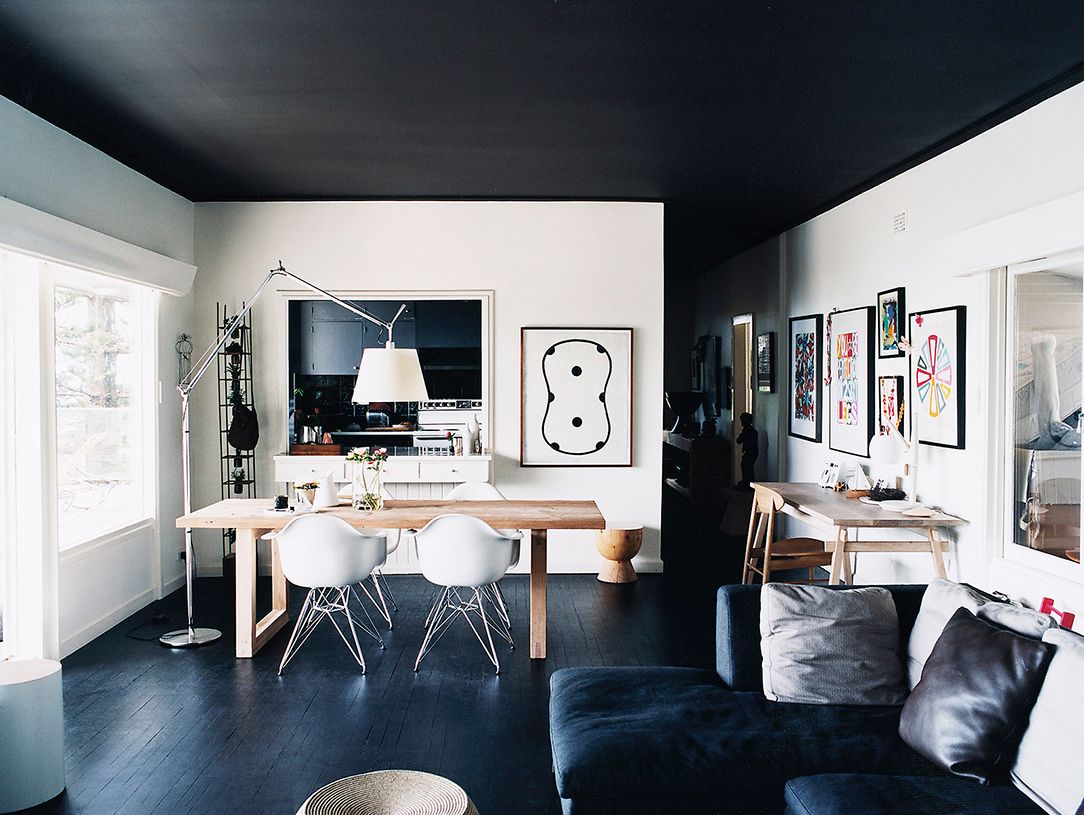 White walls with black trim can elevate your home's style and create a zen-like vibe. But many people think that a black ceiling can give their room a gloomy appearance and hence go for common colors like white or light blue. But remember, if you don't experiment and incorporate new trends, your home will lose its appeal over time. If you fear the kind of look created by a black ceiling, you can use lots of light wood tones to offset the dark paint of the ceiling and brighten the space.
White walls can be the best way to add some vibrancy to your room and tone down the dark look created by the black ceiling. You can also add a pendant light or a grand chandelier to increase the height of your ceiling.
3. Black Interior Window Trim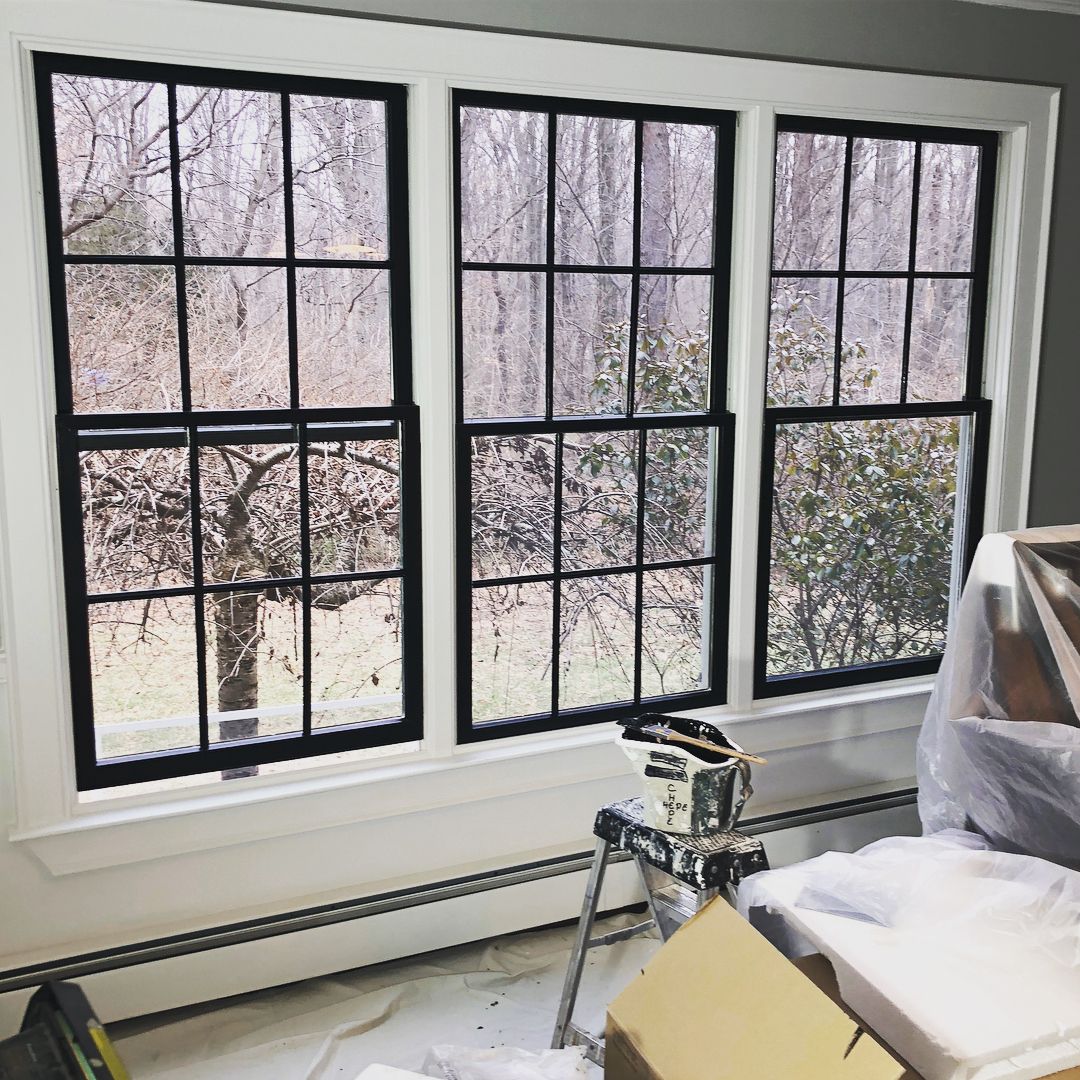 Do you know that black interior window trim can change the entire look of your home? Black trim can make the window the focal point of your room. Many times windows with light trims get lost in a space, but with the black trim, your window can become the best architectural feature of your home. Painting trim black is also a wonderful way to give a finished look to your windows, eliminating the need for expensive window treatments. This trick works well in rooms where adding a shade or curtain might not be suitable. Black interior window trim especially looks good with white walls, creating a contrast in your room. For the ultimate contrast, apply a coat of subtle white paint on the walls and go for a high gloss black finish on the window trim.
4. Create an Accent Wall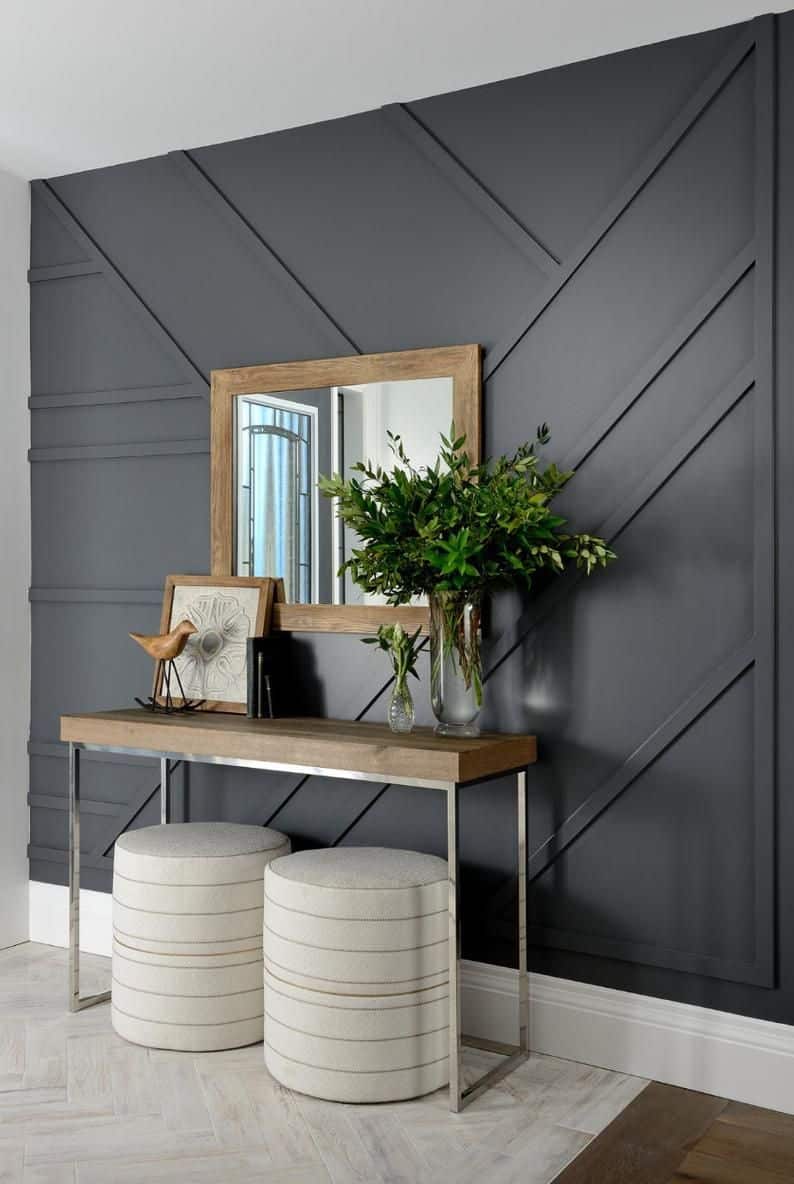 Accent walls are a great way to add character, texture, and color to any room. Wall trimming can make a huge difference to your room's appearance. For an eye-catchy and subtle look, you can accent just one wall with black trimming. This is an inexpensive and easy way to create a unique pop of design and brighten up your space. You can also turn a black wall into a wall of art with the help of a black accent wall.
The trick is to contrast black accent walls with lighter colors for contrast and balance. You can also go for white and black wall trimming to add a designer feel to your room. Install black frames around your mirrors, pictures, or artwork to create a sense of order.
5. Mantel Moldings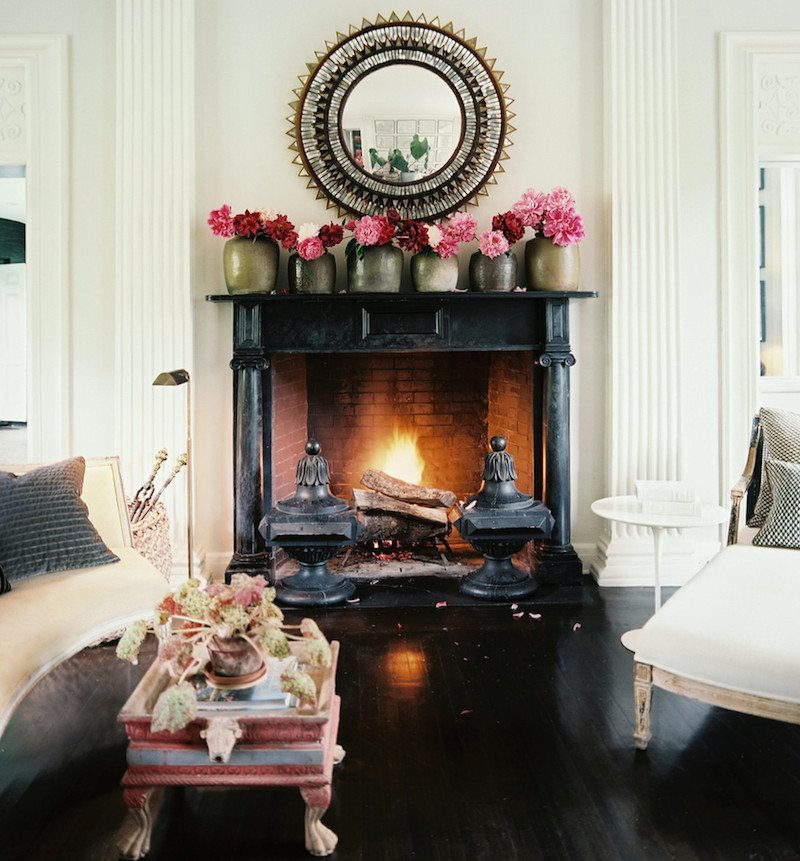 Mantels frame a fireplace and serve as a decorative element to uplift the look and feel of your room. Most mantels are surrounded by trim or molding to enhance the room's décor. Black mantel moldings can change the look of your outdated or boring fireplace. You can top up the mantle with a flat display shelf to showcase your favorite accessories. Extend the black mantel molding all the way to the ceiling or as high as the display shelf to make your space look appealing. 
Black crown molding can create a modern and sleek mantle in your contemporary space. If you want to keep everything feeling balanced and consistent, ensure that the baseboards and the fireplace's crown molding are in the same palette as the rest of the room.
6. Black Furniture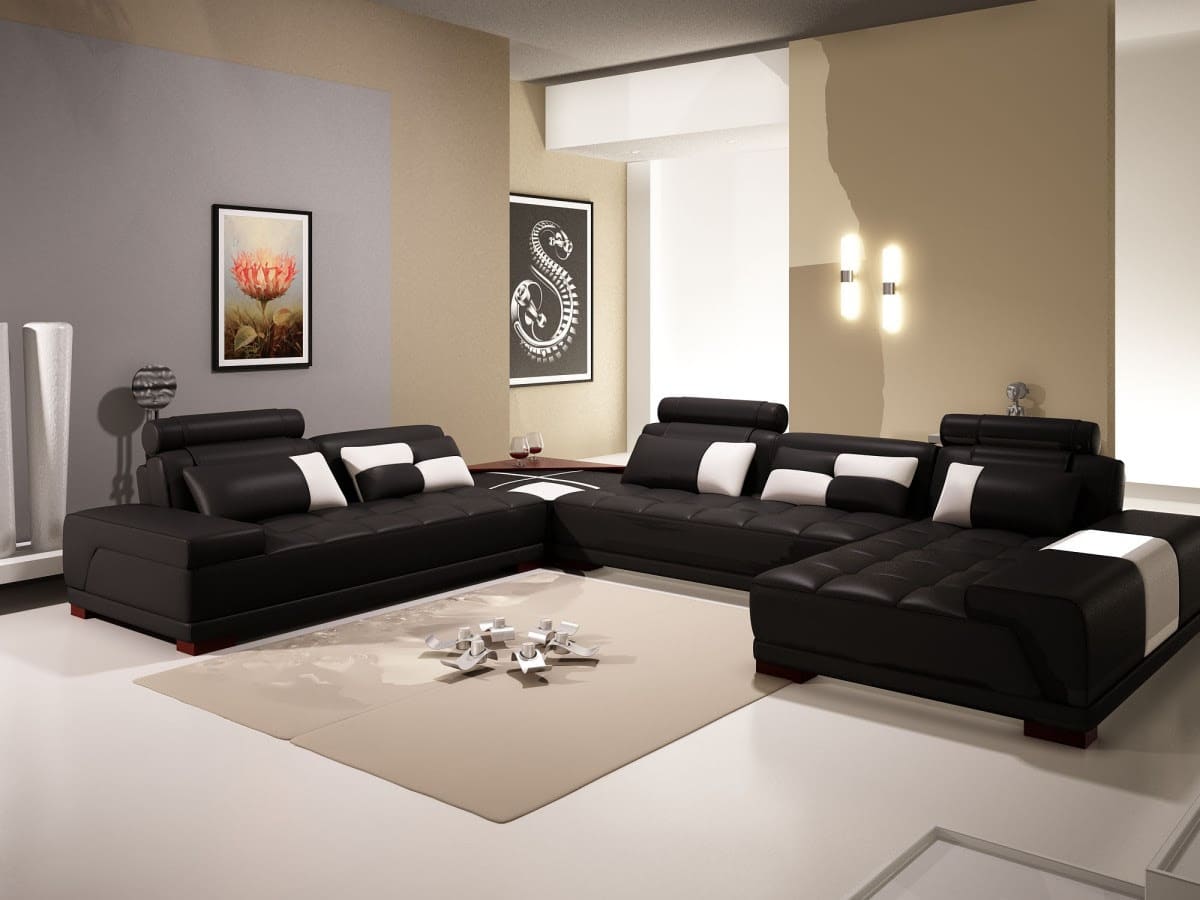 Are you looking for an interesting way to introduce black trim in your room? Then why not dress up your living room, bedroom or study room with black furniture? You can opt for a solid black sectional for a classic look, an edgy black bar stool for the cosmopolitan look and a shimmering black chaise for a colonial vibe. Show off your favorite accessories and prized collection of books with a subtle black bookshelf.
Buy only a single piece of black furniture to see how it looks in your room. If you love the look, add a black accent piece to every room, and this way, every area of your house will look carefully curated and tied together. If you want to fit black furniture into your nature-inspired home, opt for distressed wood furniture with a black finish.
7. Black Wallpaper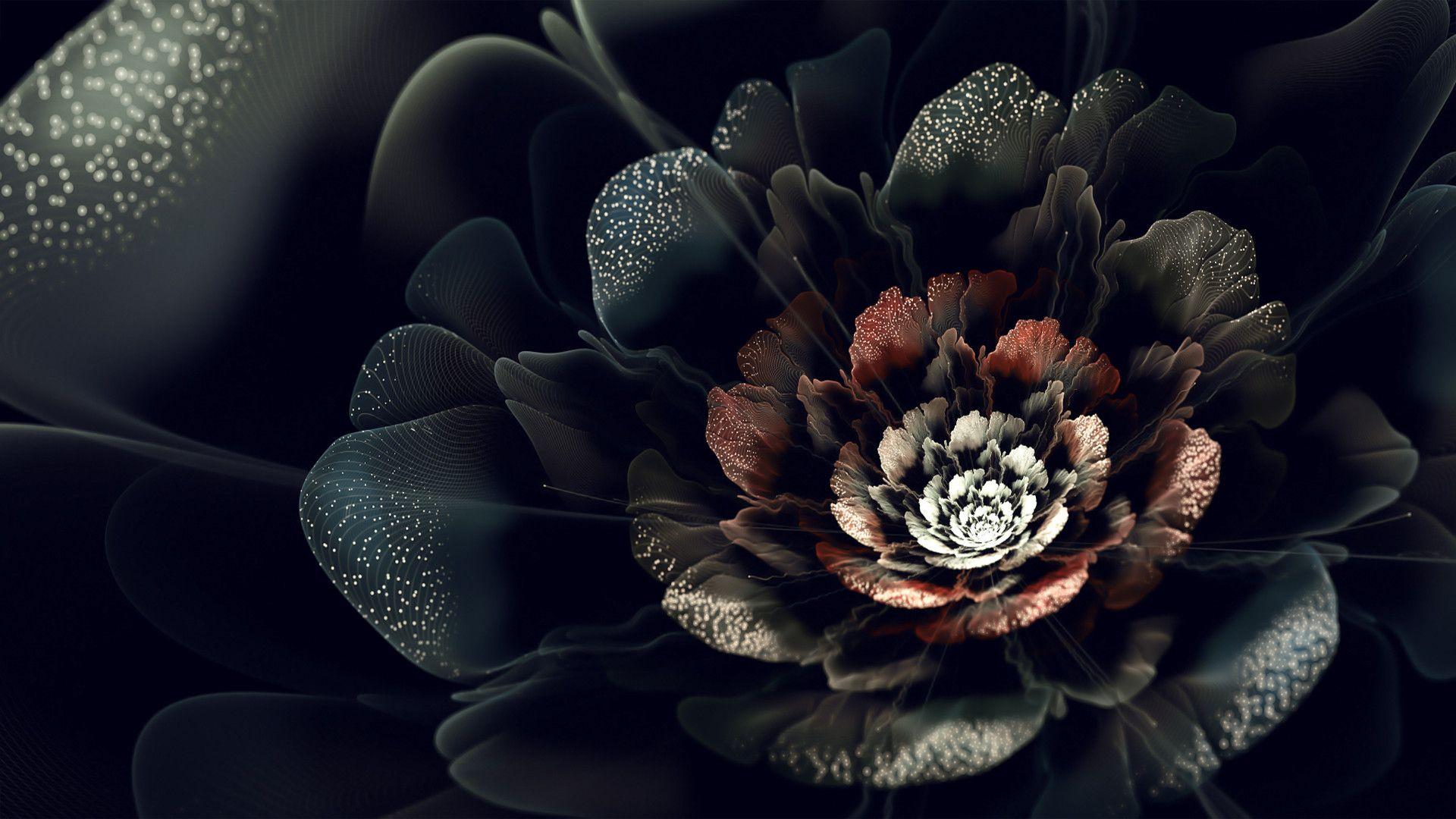 Paint is not the only way to jazz up the walls of your home and elevate your space. Black wallpaper can add sophistication, texture and pattern to your room that's hard to achieve with paint. But opt for black wallpaper, considering the color of your window trim, baseboards, and crown moldings. If you're applying black wallpapers on the walls, ensure that the furniture and decoration are light, else your room will look very depressing. Choose black wallpapers with glossy inserts because they reflect light and don't look very gloomy. You can also tone down the look of your room by incorporating shiny and glossy elements, bright accents, and greenery.
Decorate bedrooms and living rooms with black wallpapers having floral patterns, and use black wallpaper with geometric patterns to make your room visually taller.
8. Black Trimmed Windows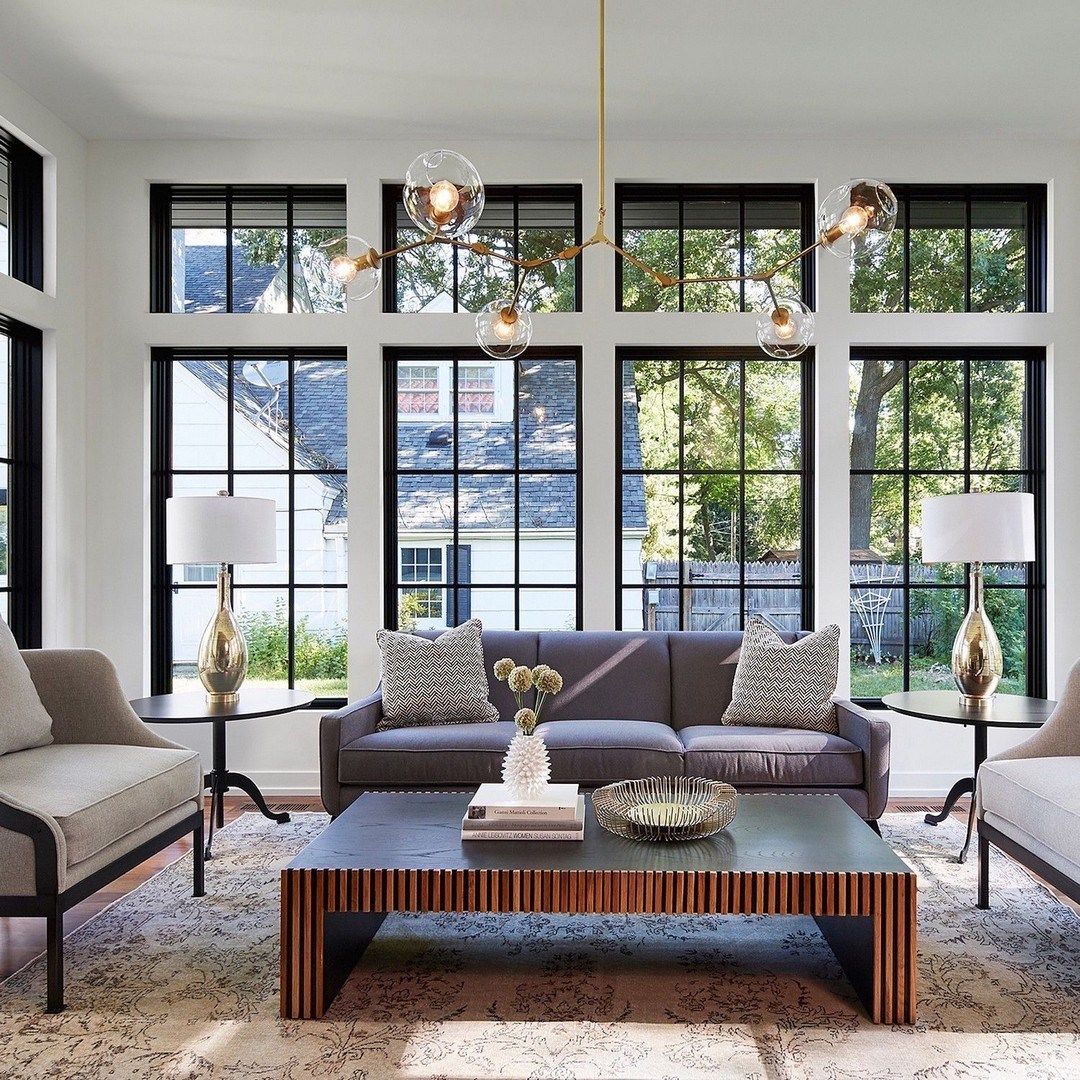 Are you looking for innovative ways to modernize your room and give it a regal feel? Go bold with black fiberglass windows that are in vogue these days because of the one-of-a-kind look they give to your room. Black-trimmed windows especially look good in rooms having white walls because of the unique contrast they create. If you're someone who likes the concept of white walls with black trim, black-trimmed windows can add a unique character to your white-walled room.
If you don't like filling your room with too much furniture, artwork, or decor, then black-trimmed windows can be the perfect choice for you. Another advantage of black-trimmed windows is that dark colors on windows drag the attention away from your home's unattractive areas.
9. Stair Brackets and Stringers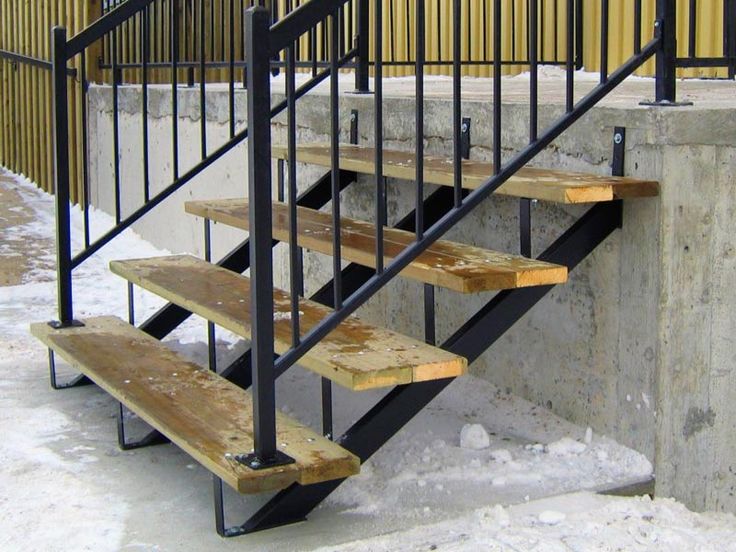 Turn your bland and unappealing staircase into an elegant eye-catcher with the help of black stair brackets and stringers. No matter the design or style of your staircase, you can add black trim to it and make it the focal point of your room. In a boxed or closed staircase with walls on one side, you can add black stair stringers to give your staircase a new look. You can finish the bottom and top of each stringer with decorative molding or leave it unfinished for an elegant look.
On open staircases, add black stair brackets to lend a unique style to your space. While black stringers will enhance the aesthetic appeal of your home, they will also provide structural support to older staircases.
10. Half Wall Trimming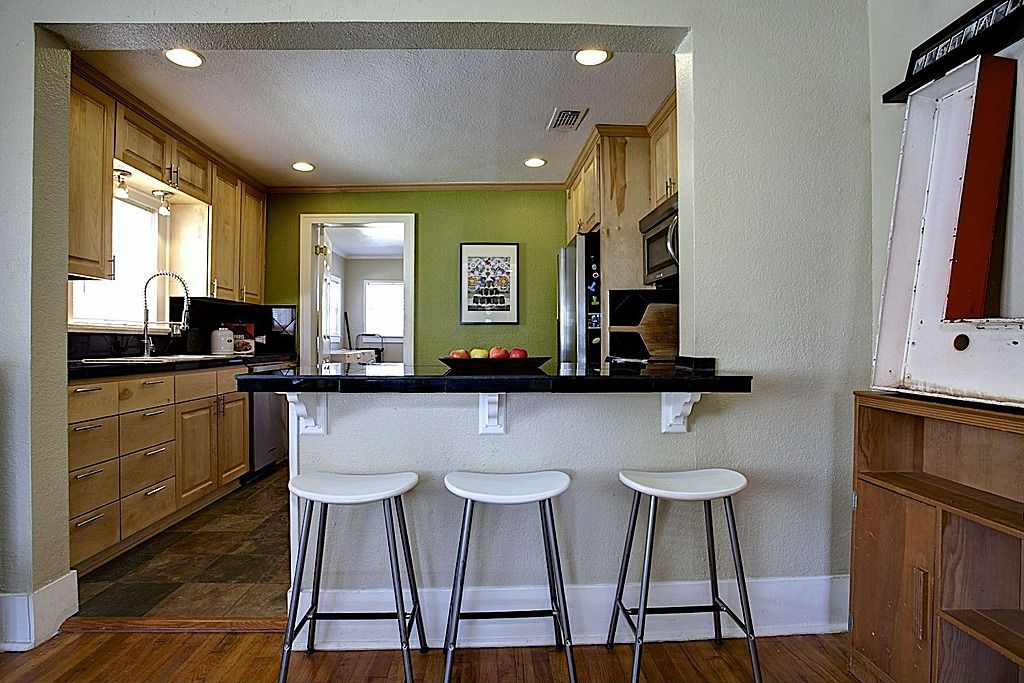 Half-wall trimming creates an elegant barrier between different spaces in your home. Building a half wall between the dining room and kitchen can be the best way to create a distinction between both spaces. It will also serve as a serving area or breakfast bar; if you build cabinets around it, you can store dishware. You can use the black half-wall trim for accents like crown molding that draw attention and give an expansive look to your room.
You can also add shelves in your black half-wall and use them to display your antique collection or art pieces. Since the half wall is mostly at a lower height than the shelves, pick items that are durable and won't break easily if they fall. You can also add beautiful railing posts above the black half-wall to create the illusion of a full wall.
11. Black Marble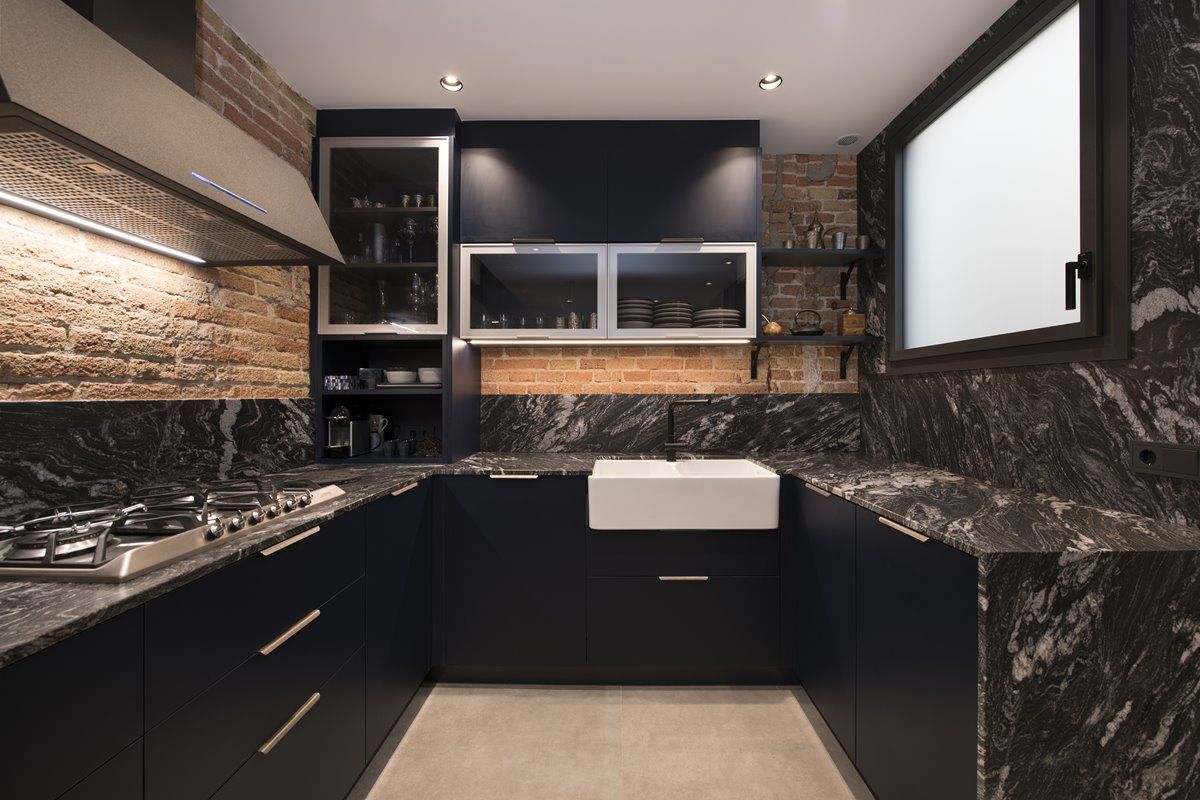 Black marble can give a luxurious feel to your room and can be used as an accent or on the entire wall or floor. You can incorporate marble into even the smallest of details, such as a lamp or mirror, or as an entire entryway flooring or on the bathroom wall. To glam up the appearance of your bathroom, you can clad your shower space with black marble. Black marble can also be used to clad fireplaces, and you can also incorporate black marble stools, side tables, and lamps to give your space a high-end feel. In the kitchen, you can use black marble on the countertop, or you can go for a black marble backsplash. While choosing the black marble, keep in mind its finish, pattern, and your room's overall decor.
Conclusion
Trim can help define your room's style and add architectural character to your walls. You can use black trims to highlight points of architectural interest and set the character and tone of your room. Black trim can be incorporated in various ways in your home's interior, such as black-trimmed windows, black wallpaper, white walls with black trim, and stair brackets and stringers. If you're looking for more creative ways to use black trim in your home and enhance its aesthetic value, you can check out the ideas mentioned above.
Even though trim is a small element of your home, with its careful selection, you can elevate your space and make it attention-worthy.
Frequently Asked Questions
Why Should You Use Black Trim in Your Home's Interior?
Black trim gives a dramatic and appealing look to your home. It hides joints, imperfections, and gaps and enhances the aesthetic value of your home. With the help of black trim, you can make even ordinary spaces stand out.
Why Should You Go for White Walls with Black Trim?
White walls with black trim are one of the best ways to style your home. The black trim adds sophistication and elegance, while the white walls brighten the room and make it look more open and airy.