Is your staircase wall a space waiting to be explored? Are you looking for staircase decor ideas that will make your space come alive?
A staircase is an integral part of the interior that needs special attention. Regular use of stairs makes that place the most used area in the house. Using the right kind of decor can make it the center of attraction. The elements on the stairs have to align with the house's theme. A staircase decor that does not match the rest of the house will seem out of place.
This article shares multiple staircase decor ideas to help you enhance the beauty of your stairs. Each design uses a unique approach and adds beauty to the empty walls. If you are curious to explore multiple such ideas, this article will help you.
Read ahead and understand how different elements beautify the walls on the staircase.
Inspiring Staircase Decor Ideas for Every Home Style
1. Use a Wallpaper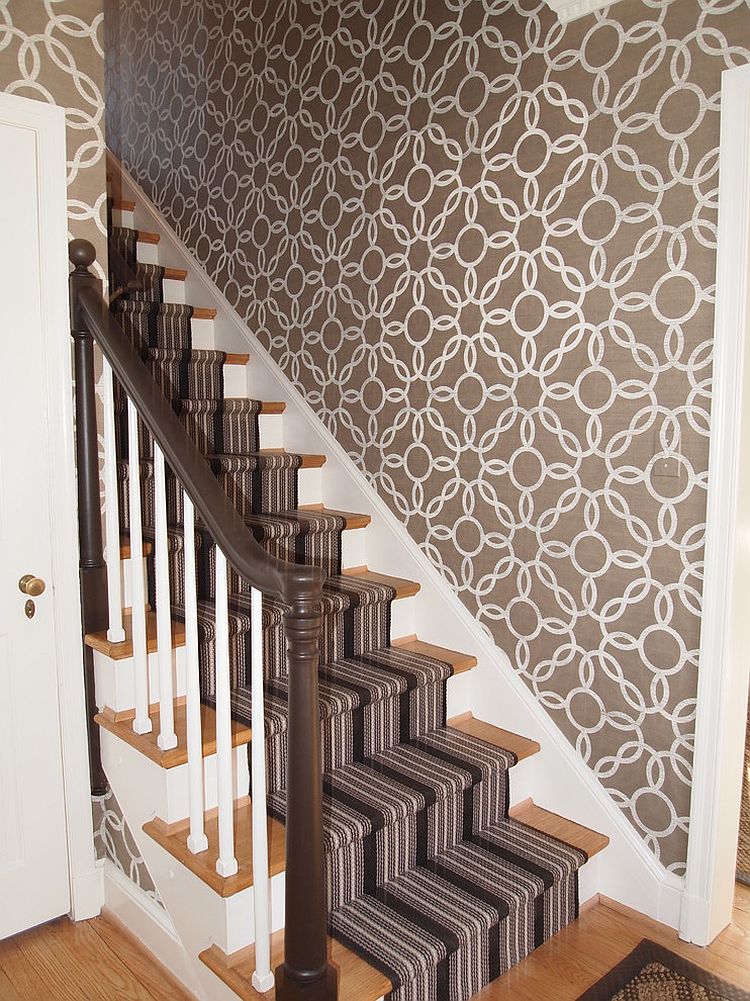 One of the simplest staircase decor ideas for your wall is to have wallpaper. This option is implementable in the least time with minimal effort. It will instantly convert the wall into a colorful space with intricate designs. Select a pattern that represents your personality or collective values of the home. In case you wish to have new designs every few months, wallpapers are easy to change.
Some patterns for your staircase wallpapers include floral, modern herringbone, simple hexagons, and rustic wood grain. Applying wallpaper is as easy as putting on a temporary tattoo. First, clean the surface and let it dry before you place the wallpaper. Once the surface is ready, peel the layer off and stick it to the wall. They come with adhesive that assists the wallpaper to stick to your wall.
2. Keep Your Loved Ones Nearby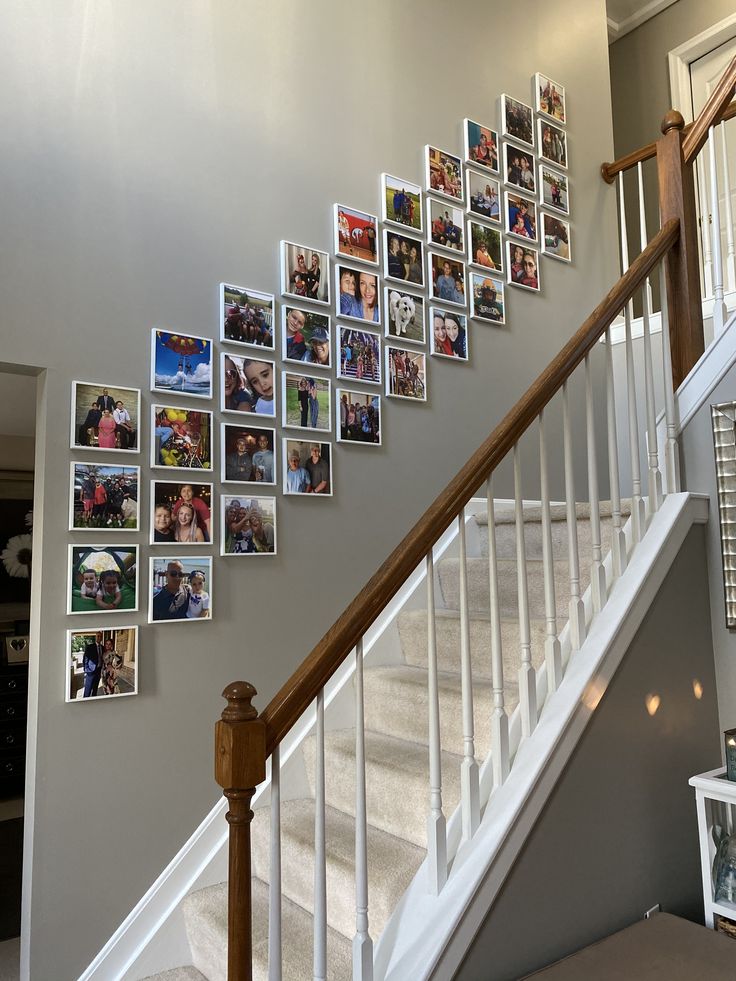 When you personalize your staircase decor ideas, they add loving energy to the space. This option invites you to add an essence of your relationships, love, and connections to your staircase wall. There are a lot of memories that we create with our loved ones. Occasions like birthdays, anniversaries, retirement, weddings, and picnics are some of the regular celebrations.
Collect the most valuable memories of the family and display them on the staircase wall. Use photo frames of different sizes to share the picture creatively. You can also experiment with the shape and get a heart-shaped frame that connects with the theme of the decor. This decor will always remind you of the most joyful times you spent with your family. It gives you a chance to cherish those moments every day as you walk up and down the stairs.
3. Showcase Your Antique Collection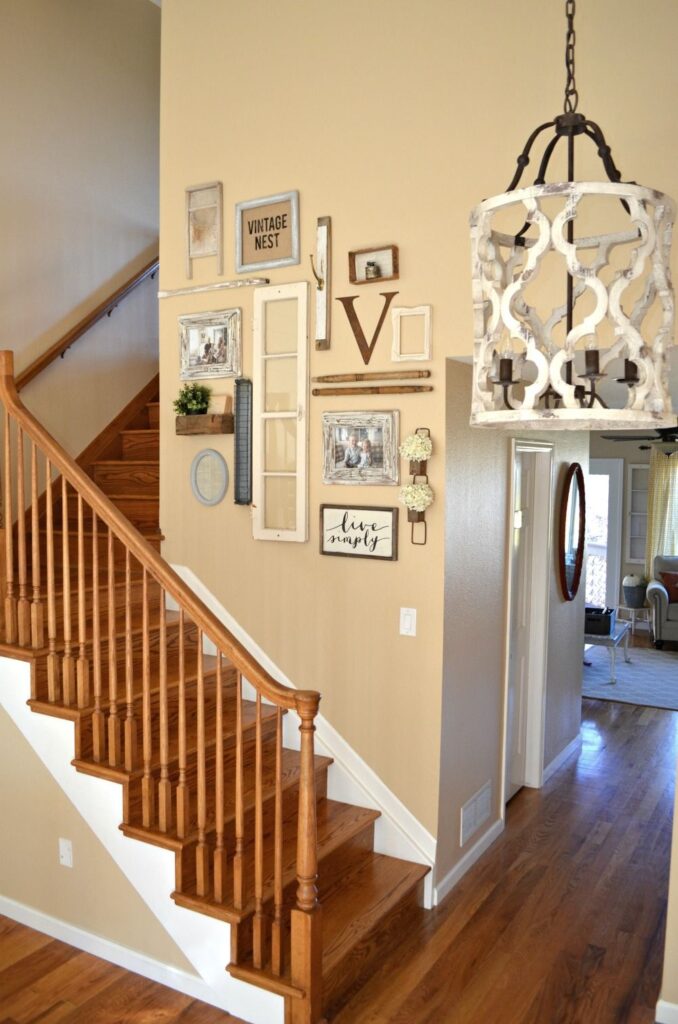 Are you an antiquarian who loves to collect antiques from different places? Don't let that special collection sit idle in your wardrobe. Let the special collection be a part of your staircase decor. You can hang them on the wall in any aesthetically appealing order. Antiques bring rustic energy to the space and create a vintage feel.
If you are fond of antiques and don't have a collection, you can buy them online. You can explore a wall clock, a decorative wall-mounted hook, an iron pig-mounted wall hook, or an old window or door. Select the antiques depending on your interest and the theme of the interior design.
4. Paint Your Wall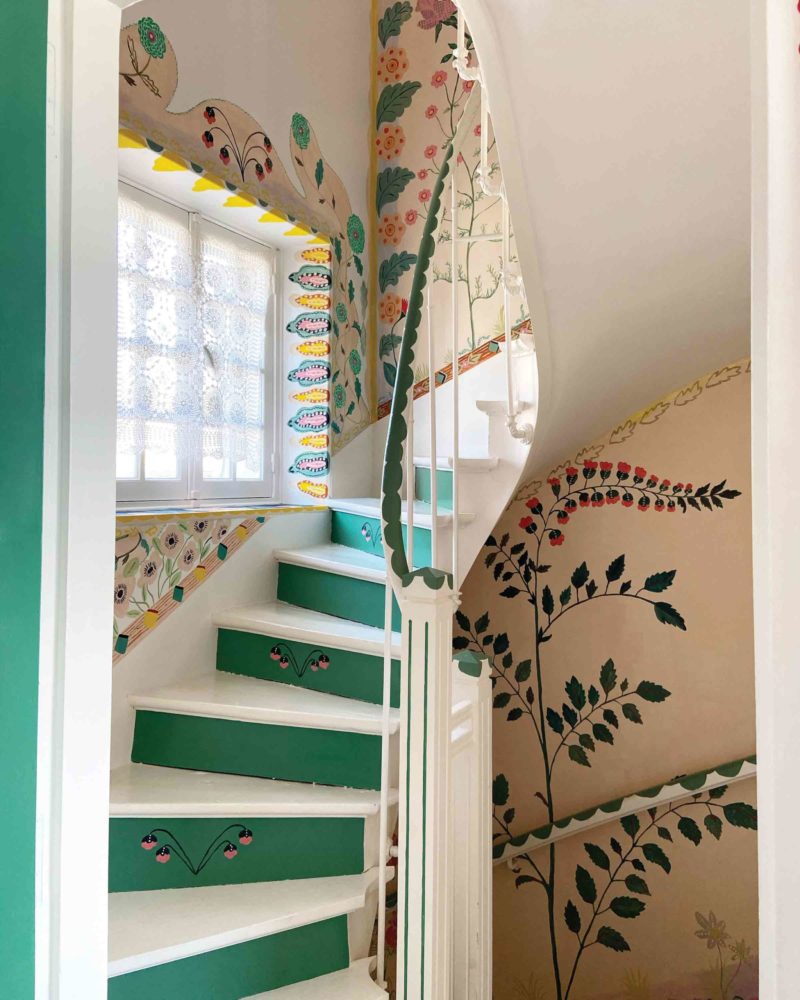 Do you have a design or artwork on your mind that will enhance the beauty of the staircase wall? Then, it's time to pick up the brushes and bring out your imagination on the wall. Paint your wall with acrylic paint and create the design you want on your wall. Such staircase decor ideas give you the freedom to give your wall the makeover you want.
You can use a roller to paint larger surfaces, backgrounds and brushes to create intricate details. If you are not an artist, begin with a simple design that is easier to draw. The joy of having your painting on the staircase wall will fill you with joy and satisfaction every time you pass through it.
5. Use it as a Storage Space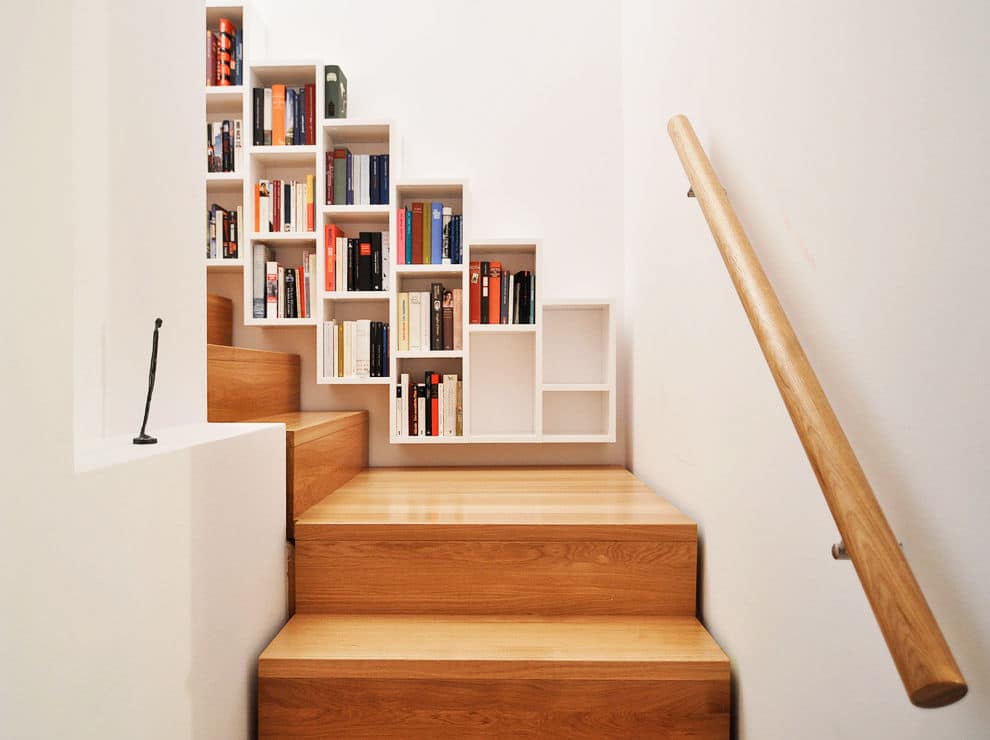 The corner in your staircase space remains empty. As you climb up the stairs, you do not need that much space to move. How about using that space to store your accessories, books, or other utility items? This corner is perfect for creating a small cabinet with multiple shelves.
This will help you utilize the space well and also create an interesting look in that corner. You can store magazines, home footwear, books, keys, and many other small accessories that you use daily. Keeping it open or close is a choice you have to make. The above picture has open storage that allows the guests to see what you store.
6. Create Texture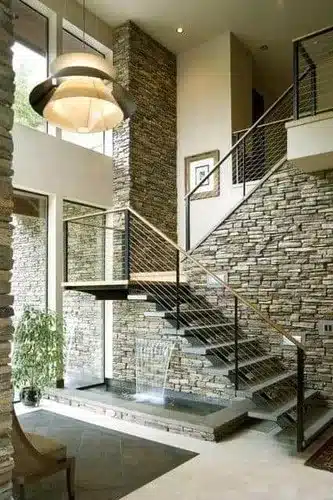 Staircase decor ideas not only focus on how the wall looks but also on how the wall feels. This specific idea is to create a unique texture that differentiates your staircase wall from the rest of the house. To create a texture, you can use a 3D wallpaper that brings out the unique feel, install panels, or use bricks and stones. The above design uses stones to create a rough and rustic texture.
Some of the texture ideas you can explore for your staircase wall are a 3D wall diamond design and a textured wall panel in maple trunk.
7. Hang a Piece of Art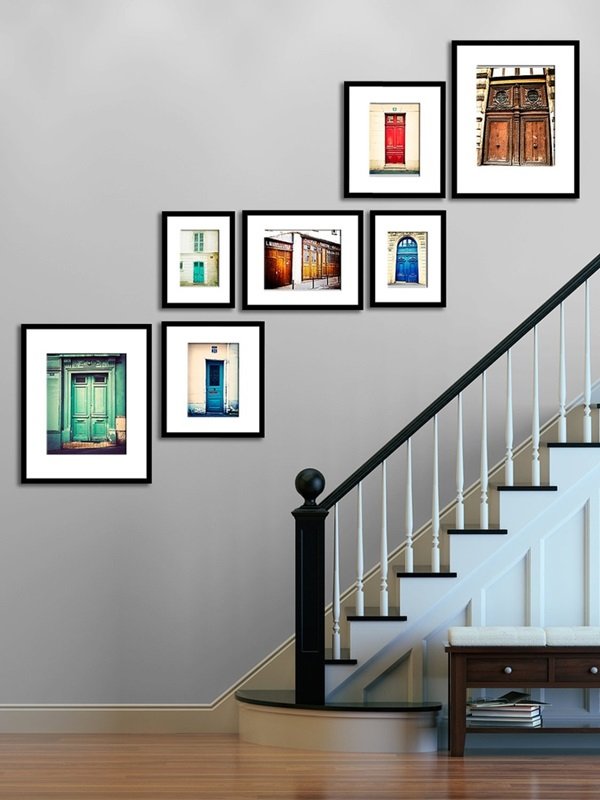 Are you a creative soul who loves to be surrounded by works of art? Then you will fall in love with this idea. If you don't have the time to paint the staircase wall yourself, adorn it with a collection of unique paintings. Display your love for artistic themes through this space in your home.
The best thing about hanging paintings is that you can change the space whenever you like. Some of the painting ideas for your staircase wall include a geometric pattern, aurora scenery, a modern city skyline, boho wall art, and flower painting. Select the one that matches your interior, and let your staircase wall shine.
8. Use Mirrors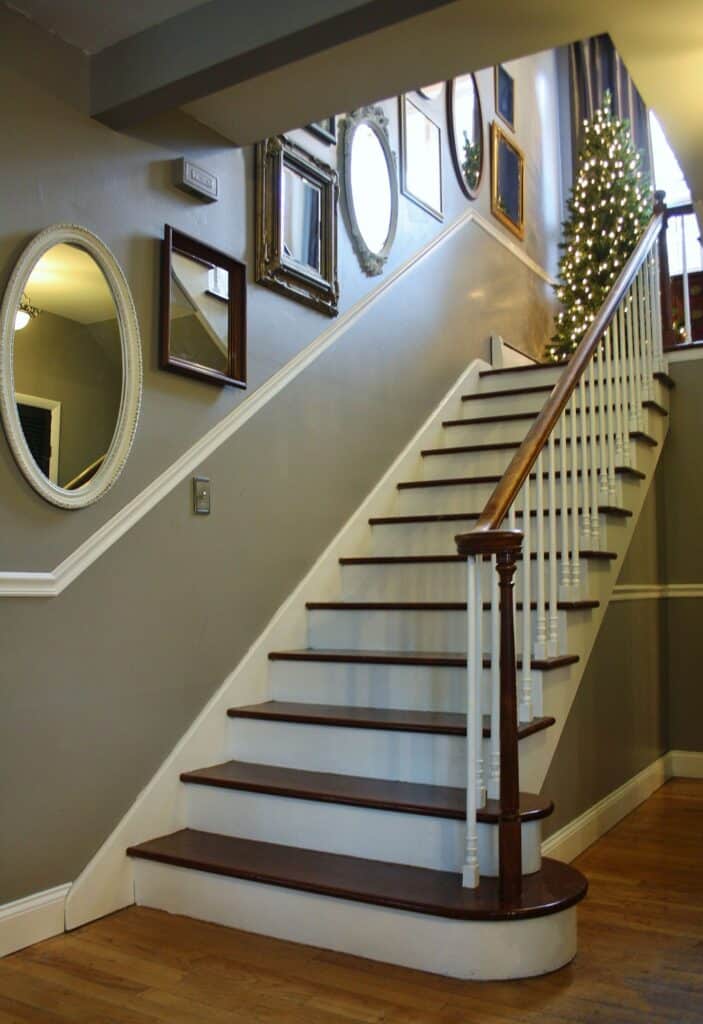 Do you like seeing yourself as you move around the house? Then, having mirrors on your staircase walls is the best idea. Beyond the joy of observing yourself, mirrors are a great reflector and can change the energy of the space. They shine throughout the day and give a sharp look to your staircase decor.
Different shapes of mirrors create a different feel and add a unique sense of style. Some of those shapes include hexagons, round, arched lengths, rectangles, and asymmetrical. You can select the mirrors for your staircase decor depending on the interior and your interest.
9. Create a Window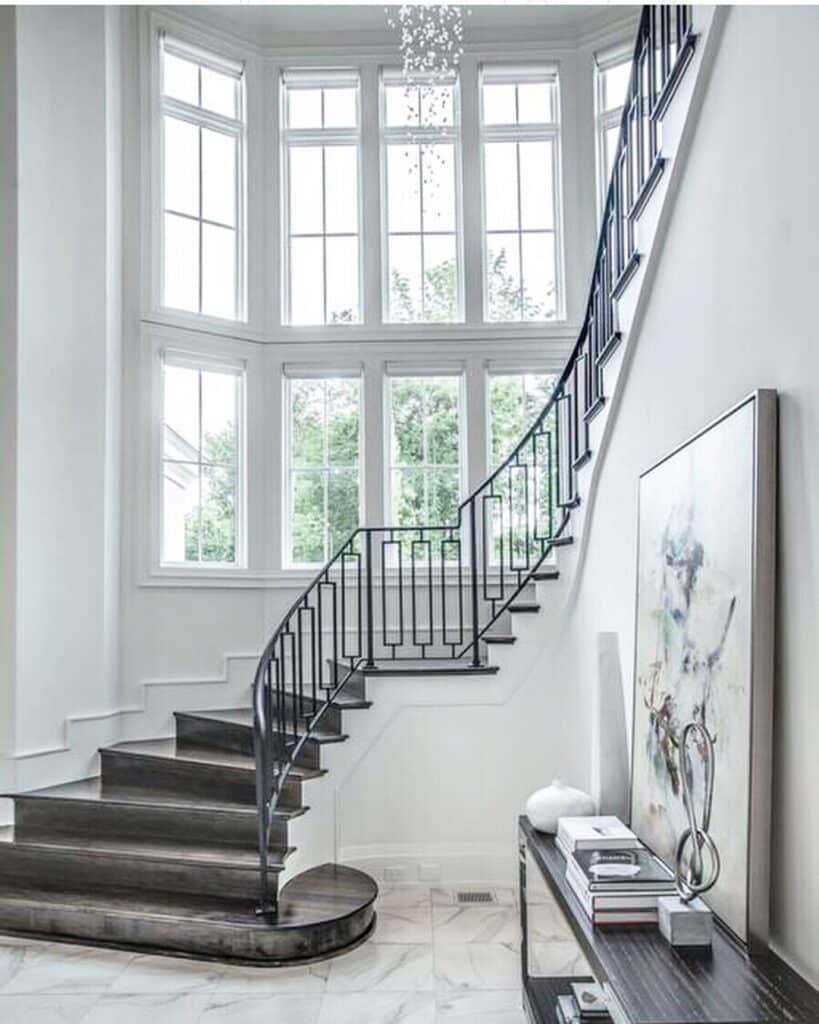 If you want a direct view of nature as you climb the stairs, this is the best idea for staircase decor. Creating a window instead of a wall near the staircase allows the natural light to flow in. It allows you to enjoy rain, sun, and any kind of weather as you move through your house.
Such staircase decor ideas are suitable for nature lovers who integrate the indoors and outdoors through interior design. Such windows give you a chance to pause for a moment and enjoy the environment around you. Select a window frame depending on the size of the wall and theme.
10. The Plate Decor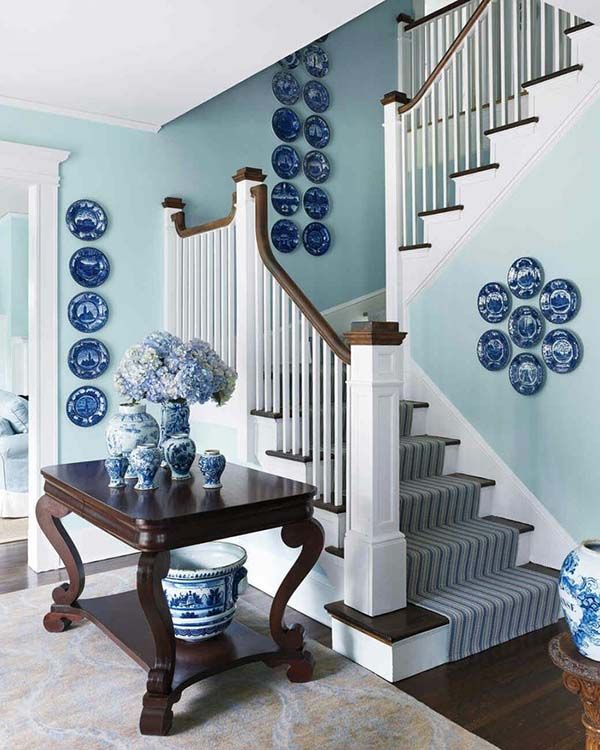 Give your bare walls the most aesthetic decor through creative plates. Who said plates are only used for eating? This new decor idea breaks the stereotypes and uses beautiful plates to enhance the beauty of your staircase walls. Every decor plate has a different theme with unique designs.
There are Turkish decorative plates, metal plates with carving, leaf decor, boho theme, and much more. There are many more options, colors, and patterns in different sizes of plates. To hang the plates, you must attach the plate hangers on the surface and place your selected plate.
11. Add in a Book Storage Space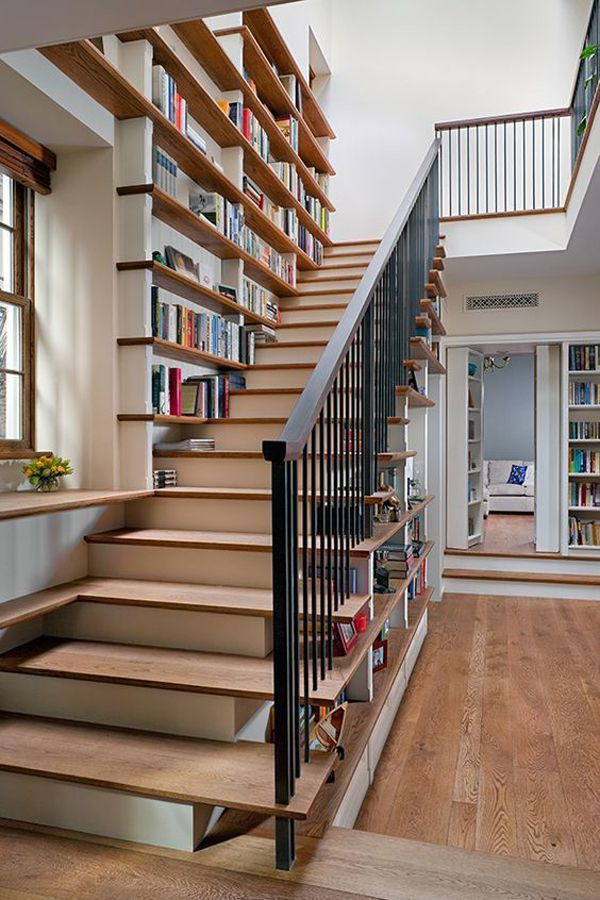 Are you a bibliophile who loves being surrounded by books? Adopt staircase decor ideas that support your love for books. Create additional storage in the staircase, especially to store your favorite books. This way, you will have all the books right in front of your eyes as you move through the house.
You can also create a small area in the corner to sit and read the book whenever you like. When this space has a small window, it will be the perfect corner to enjoy your monsoon while sipping your cup of coffee and reading your favorite book.
12. Share Your Travel Memory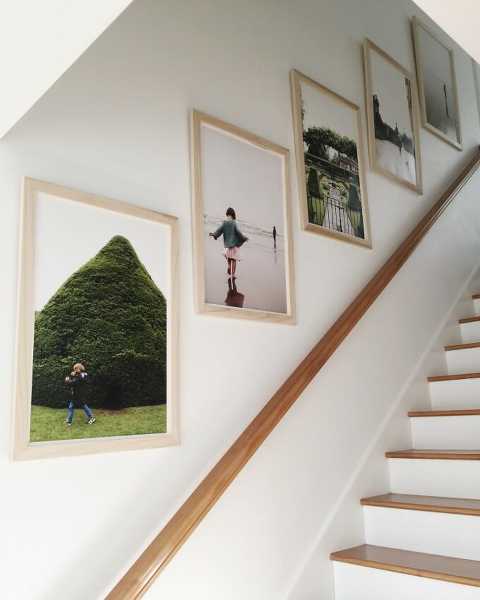 If you and your family are fond of traveling, showcase your memories. Every vacation has a memory and special moments attached to it. Whether it's your solo trip or a family outing, every trip has that special moment that you can never forget.
What are those special moments in your life? Collect them and find the pictures. Frame those pictures and hang them on your staircase walls. You can also use postcards with written messages to display your most memorable moments of the trips. Get as creative as you can and display collages that merge multiple moments.
13. Plant Your Staircase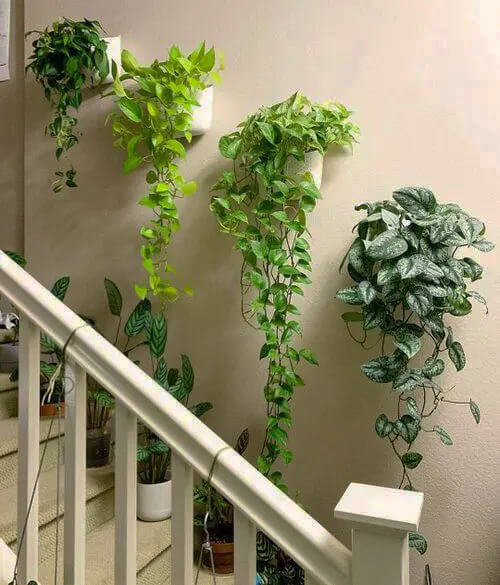 Staircase decor ideas that bring nature inside the home are the best ones. You will not be able to resist this one for all nature lovers! Adorn the staircase wall with multiple hanging planters. Grow indoor plants in those planters that can survive in that specific environment. Ensure the planters do not dirty the stairs with water and sand.
Ge durable planters that can hang for a longer time. You can add some small pots on the corner to enhance the greenery on your staircase. The hanging planters will release the excess water on these small pots, keeping the place clean and dry.
14. Get Creative with Words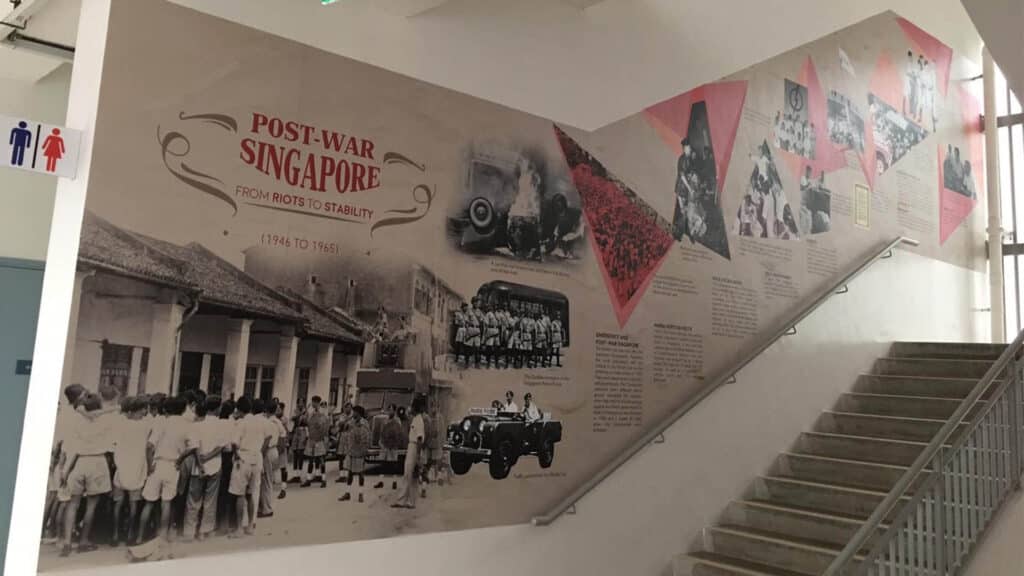 Are you someone who loves to have written messages all around you? Not only do they add specific energy to the space, but also motivate and inspire you. What else could be the best thing than having an interior that leaves you with enthusiasm and inspiration? Such staircase decor ideas are best for individuals who love to read messages.
This decor idea uses motivational posters, quotes in frames, and inspirational wall art with words. Instead of hanging a frame or poster, one can also write the quote on the wall with the help of acrylic colors. Write messages that are meaningful to you.
15. Create a Pattern
Create a specific pattern on your wall with the help of colors or wallpaper. The specific pattern can either be a combination of colors or different shapes. If you are fond of nature, a pattern with flowers, leaves, and butterflies might be interesting for you. However, if you love colorful decor, a rainbow pattern will be your first choice. You can also go for a mandala artwork on the wall to bring a centered and grounded feeling.
Whenever creating a pattern, you will have to use colors. It will rarely happen that you find a wallpaper that meets all your needs. If you wish, take help from a professional artist to create wall art patterns as per your need.
16. Out-of-The-Box Decor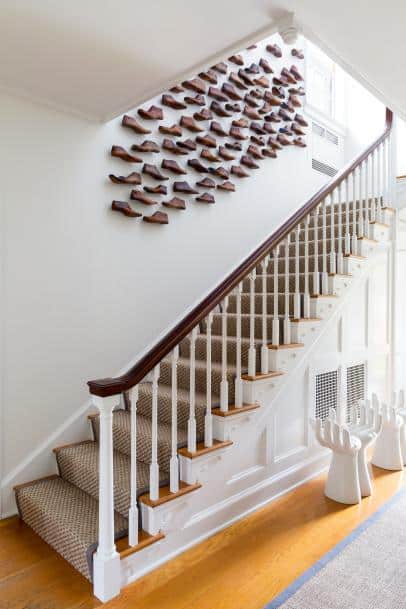 Some people want their decor to be the best of the rest. To get a unique theme for your staircase wall, one needs to have an idea that very few can comprehend. One such example is hanging shoes in a unique pattern. The idea seems stupid initially, but the results are impressive.
Think of something you have never seen before as a part of the decor and include that in your staircase wall. Take the help of your interior design and create out-of-the-box decor in your space.
17. Paneling for a Classic Look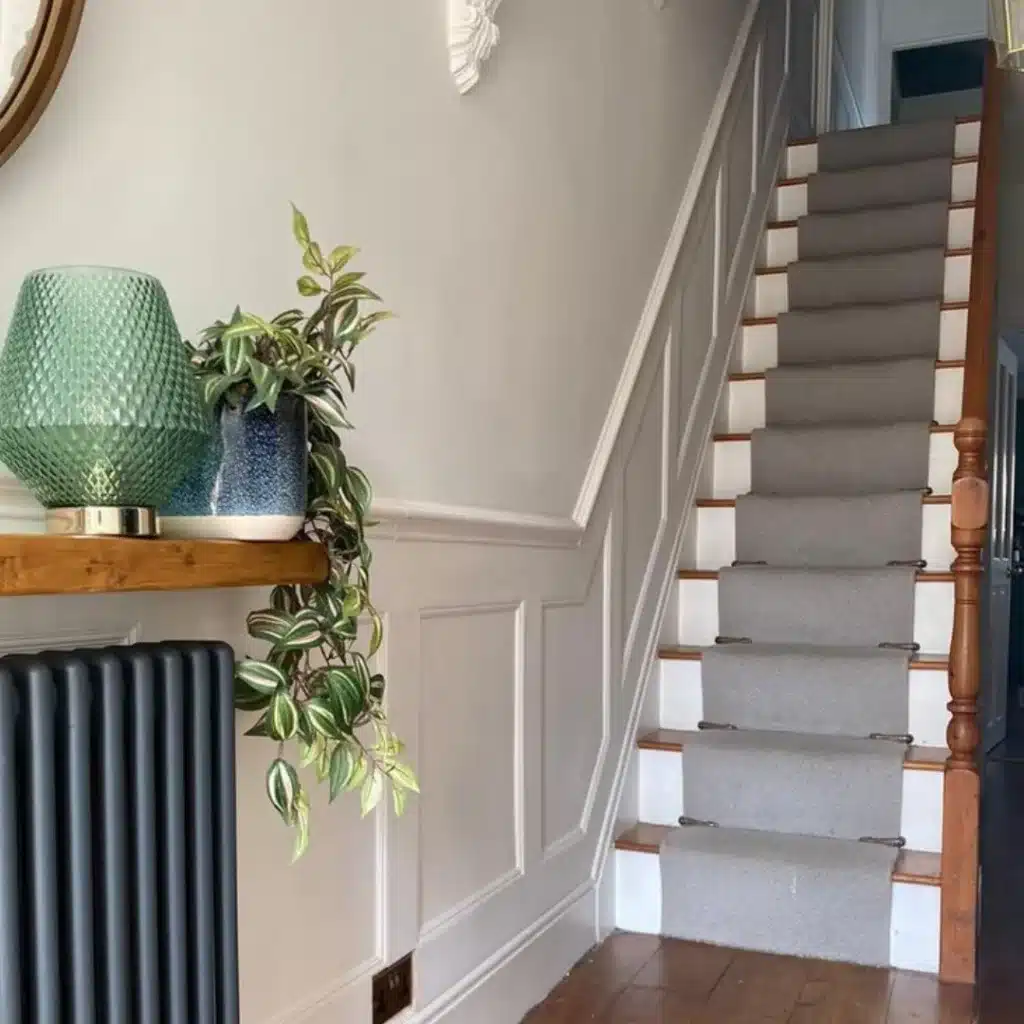 Instead of adding any kind of paintings or antiques, you can create a paneling running upwards on the staircase wall. It is one of the simplest decorations to add sophistication and creativity to the empty staircase wall. Along with enhancing the view of the wall, it protects the surface from any scratches.
Paneling will create a welcoming space on the stairs that invite your guests. The designs in paneling are different, and you can select the one that matches the space of your wall. The height for paneling on the stairs and your hallway should be similar for synchronicity in the theme.
18. Play with the Lights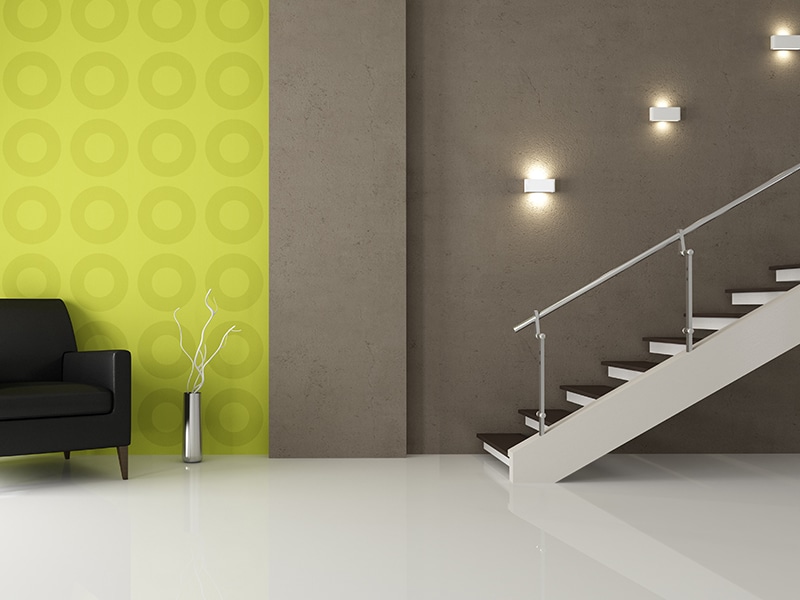 Lights play a huge role in highlighting the crucial features of your interior. When unique designer lights are installed on the staircase walls, they create a bright decor. The different sizes of lights in various shades will bring warmth to that corner.
You can install lights on the walls and every step to enhance the beauty through lights. Wall sconces, LED panels, cascading style lights, night lights and many others are useful in decorating this space. The presence of lights will make your staircase shine at night. Use a soft glow to create a warm and inviting atmosphere.
19. Mix It All Up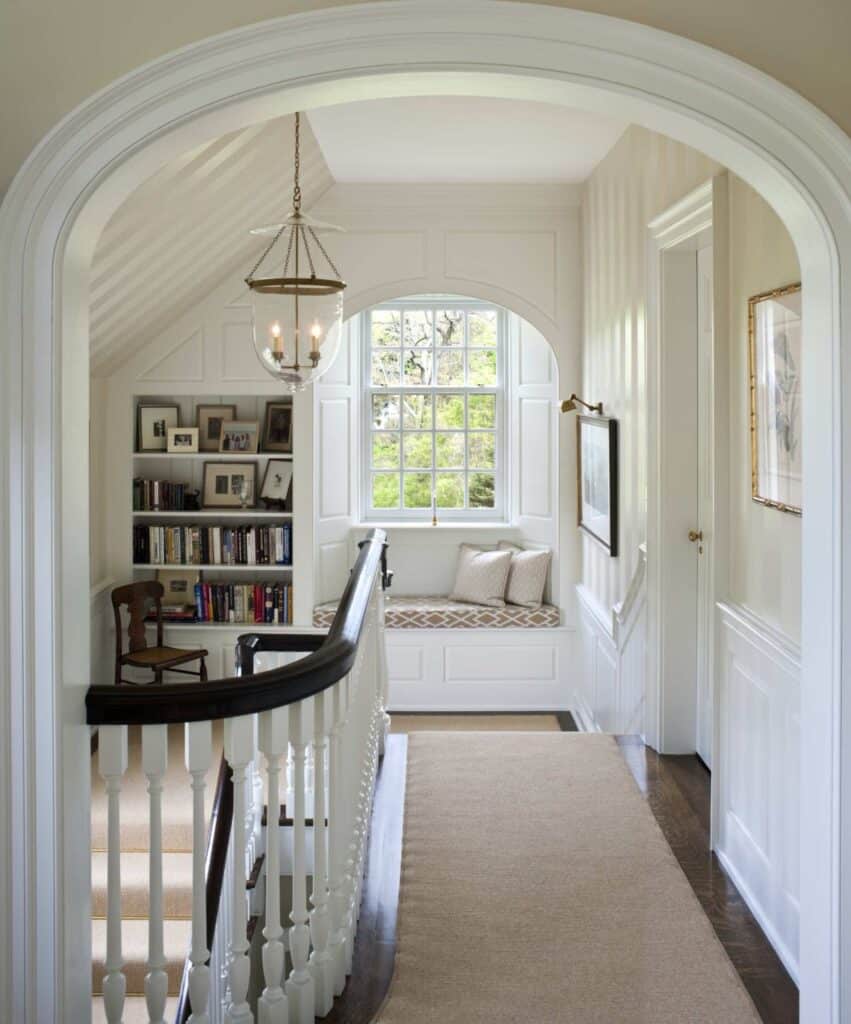 This alternative asks you to make your staircase corner a combination of staircase decor ideas. Create a storage corner to hold your books and make a small piece to sit right next to it. You can also add a painting, light, and a small window to enjoy nature. It is the perfect setting to enjoy your late-night reading and conversations.
It is best if your staircase space allows you to create a mindful corner. Such spaces in your house can be the best for meditation, journaling, and spending time alone.
20. Keep it Simple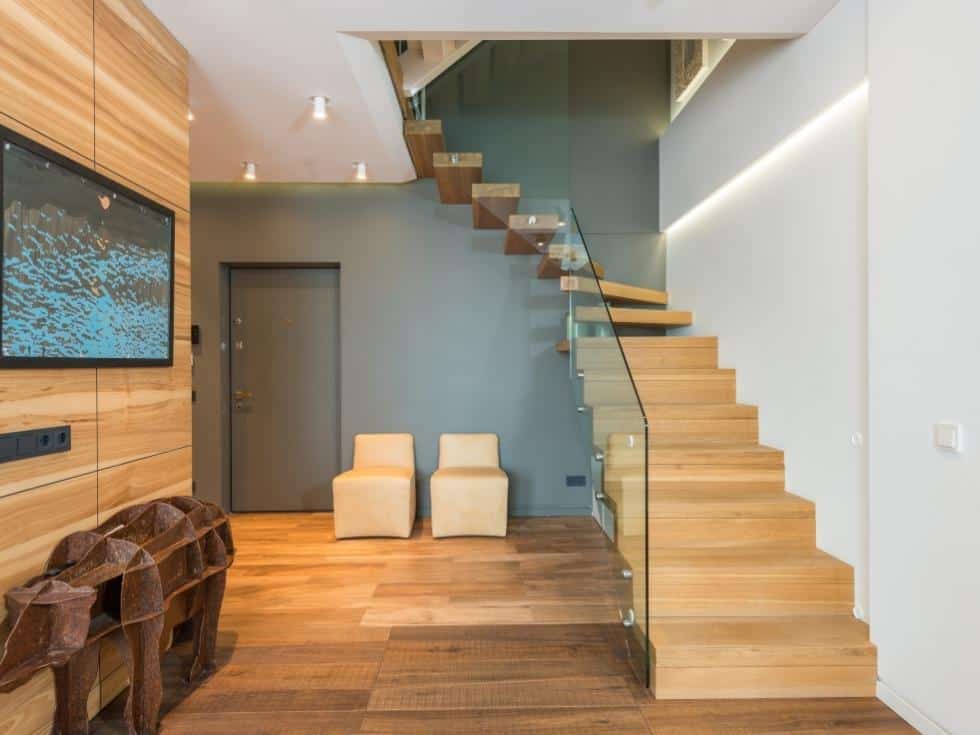 The last and simplest option is to let your wall be the way it is. It is not always necessary to have a decor on your staircase wall. A minimal space might look the best with a simple white wall and wooden stairs.
The decor is not a compulsion but an inspiration that comes from within. If you are yet to get that inspiration, it's better to let your wall be the way it is. It will save you time and energy thinking about a new idea for decor as well!
Are You Ready to Decorate Your Staircase Wall?
The above list extensively shares unique suggestions to decorate your staircase. The staircase decor ideas you can implement will depend on the space you have and the materials you would like to use. There are a lot of DIY alternatives to implement for the staircase decor. There is no limit to the creativity you can exhibit when you create an interior design for the stairs.
Let your stairs be the beauty of the whole house. Convert it into a space you can enjoy daily as you walk up and down the stairs. Add visual interest to your living space and give your stairs the attention they deserve.
Shuffle through the creative ideas in this article and select the best one.