Looking for the most prevalent paint colors for walls inside the house? Come along to discover the 20 best color ideas that will not only skyrocket your home's price but also enhances its aura.
Accent walls for each room are an incredible option, but they cost extra, and if you want to change the color, you have to spend a considerable amount. This is why people prefer only one color for the interior and exterior. A single color, especially a light tone, would work as a blank canvas that brings decoration items together.
Whether you are going to sell or rent your house or want to give it a touch of elegance, keep reading to find one of the trendiest neutral colors from the curated list of the 20 best colors trusted by decor professionals.
Most of these are neutral colors, but some bright colors are for those who want bursting energy that consistently uplifts their mood.
There is seldom a home that does not have a touch of modest Gray in the modern era. The gray color is appreciated for its smooth finish and calming atmosphere that it creates. Another reason people choose a Gray color for the interior of the home is that it works well with many decor styles.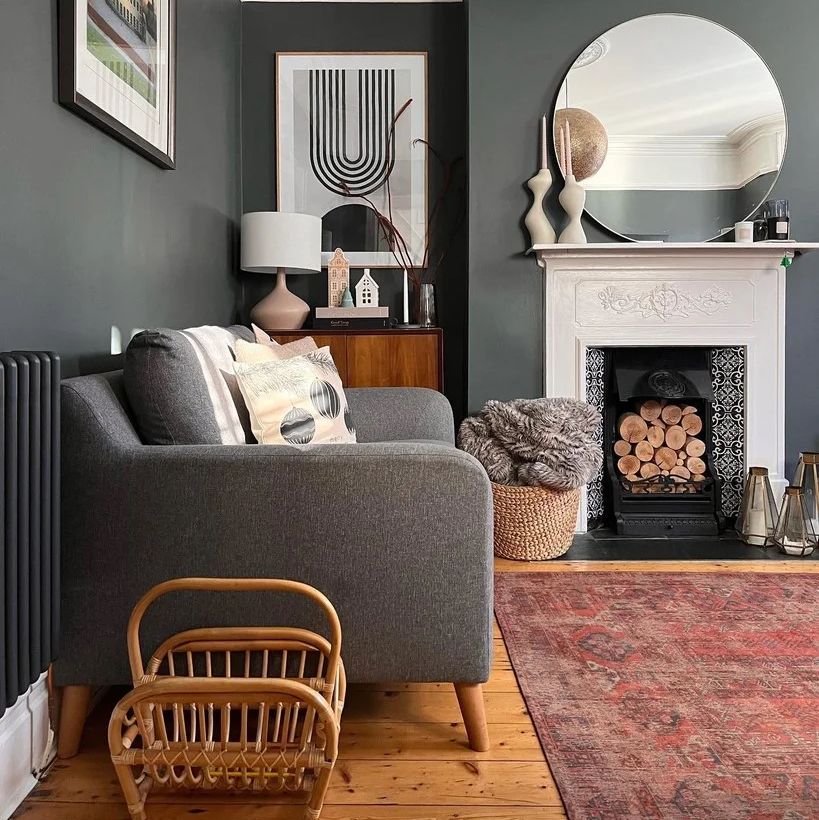 You can trust gray, a neutral color, to give a sophisticated statement to your bedroom. This is one of the most popular paint choices in 2023. Gray is also a color that can be contrasted with dark-colored windows and doors (mostly found in modern houses). If you find the whole Gray interior doesn't cut, you can choose a dark or bright color for your accent wall in the bedroom, and the other walls will work like a blank canvas, making the accent wall a center of attraction.
Another soft hue, white, is one of the best paint colors for walls inside the house. It is the second-best choice for many reasons. In the old times, people used to paint their homes completely white because it used to keep their houses' temperature a bit lower in summer, and it used to cost less compared to other colors. It is still prevalent because of its timeless elegance.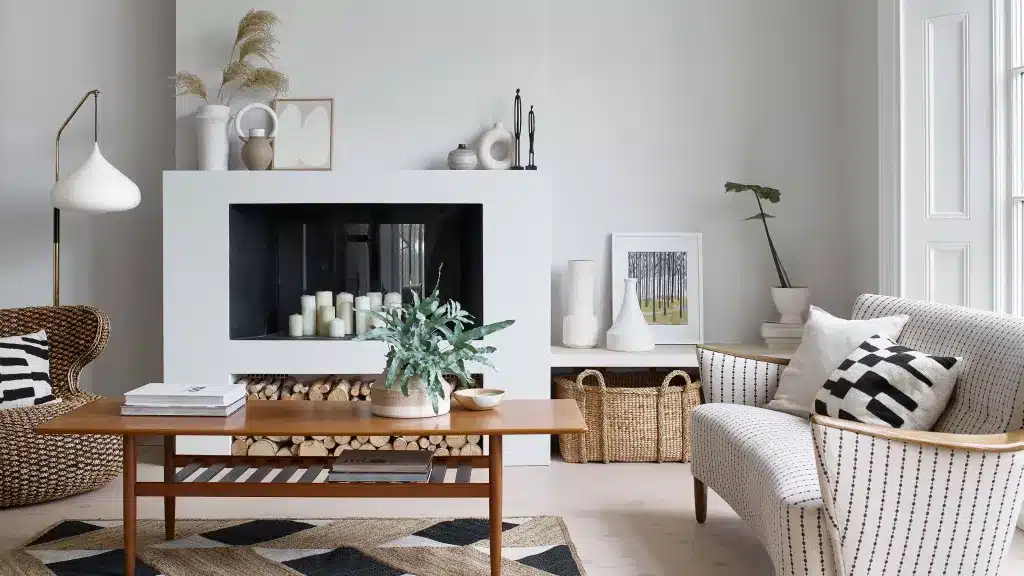 White is a color that has a greater significance whether you are choosing rustic, farmhouse, or modern decor themes. White will offer freshness and a calming vibe to the house.
3. Beige (Prestige Paints)
Beige is a soothing warm color that lifts up your interior's charm and also makes it feel a bit different but modern at the same time. It is a go-to color if you want to sell your house or rent your apartment. Contemporary houses also love warm hues like beige in their bedrooms because it is earthy, timeless, and subtle in appearance.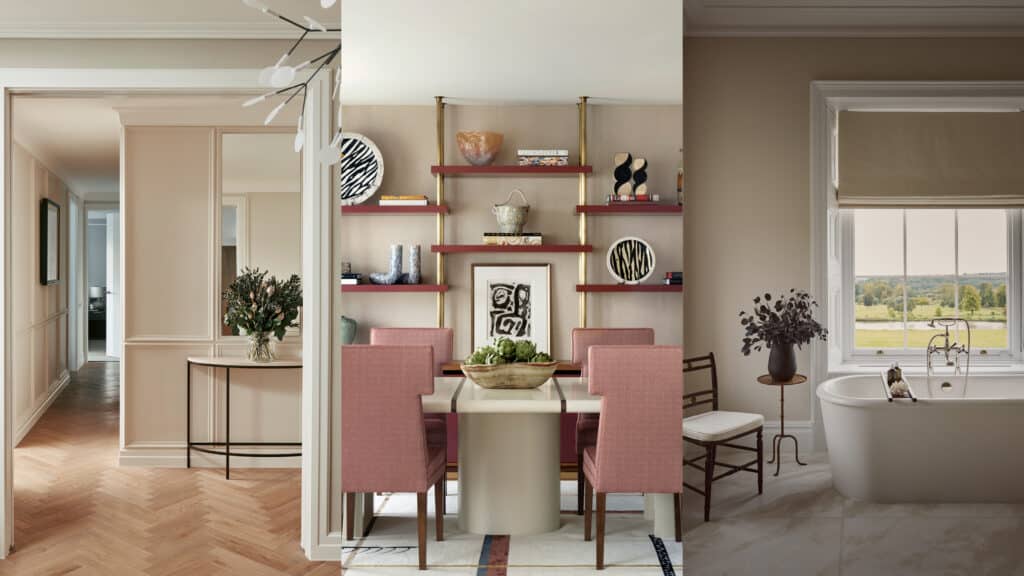 Since it is a neutral color, it does not overpower any other additions to the room. Whether you want to have a purple couch or rustic adornments and yellow throw pillows, this color will just act as a presenter instead of a leader but still keep the background neutral.
4. Blue (Prestige Paints)
Misty blue lies between soft gray and charming blue. It echoes a shiny silvery reflection and provides a curb appeal to the house. Not only does it amplify the exterior of the house, but it is also one of the top choices for coloring apartments' bedrooms.
Furthermore, it has a soothing charm in it that offers you peace of mind and will calm your mind and provide you with a relaxing atmosphere. It does not have any energetic vibe in it, meaning that you can put adornments having vibrant colors. This can also be blended with many styles like traditional and modern.
Tan is often confused with beige, but they have some differences. First, let us understand why they seem the same. Both of these colors are warm and light. Both of these have a neutral tone and make the space look tidy. Moreover, they do not create an imbalance between the space's other elements, like decoration and furnishing.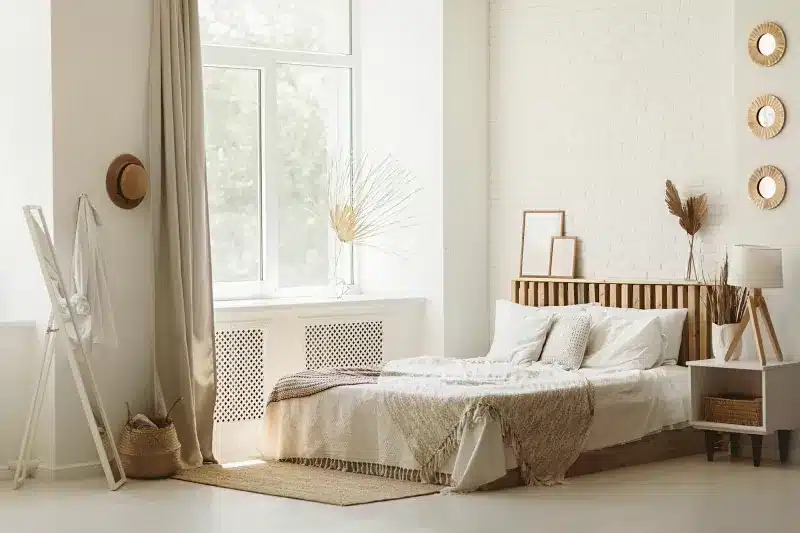 However, there are some dissimilarities that we are going to explore now. Tan is closer to brown and gold. And if you put a gray tone on the side, you will notice that tan has more yellow in it. On the other hand, beige is closer to gray's warmer tones. It seems more muddy, and it feels slightly close to pink. Both can be decorated with dull-toned furnishing and soft-colored decor items.
Sage green is a dull but unique color that leaves a lasting impact on the viewer. It is a soft color that is most used in living rooms of modern houses. However, you can prefer painting your entire interior with sage green to create a tranquil and reassuring environment.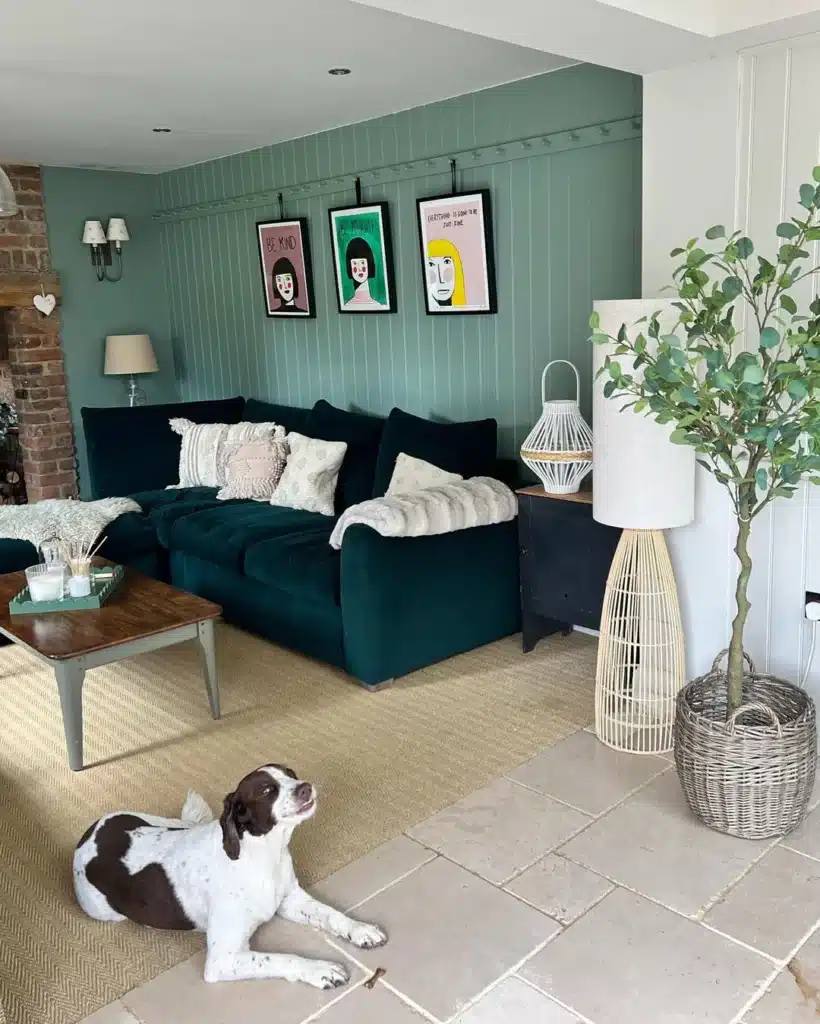 It is a must-have color in the living room for those who want to give a serene aura to their home. It is one of the trendiest shades of the year and provides a perfect backdrop for your adornments and other elements like curtains and chandeliers. It has a soft but unique tone that keeps you from feeling you are in a boring place.
7. Soft Cream (Prestige Paints)
If you want a cozy and inviting living room, a muted cream color can be your ideal selection. The fact that the living room is the place you spend most of the time in your home, painting it cream would offer you a tranquil place to relax. A room with cream walls will make it more cozy and inviting.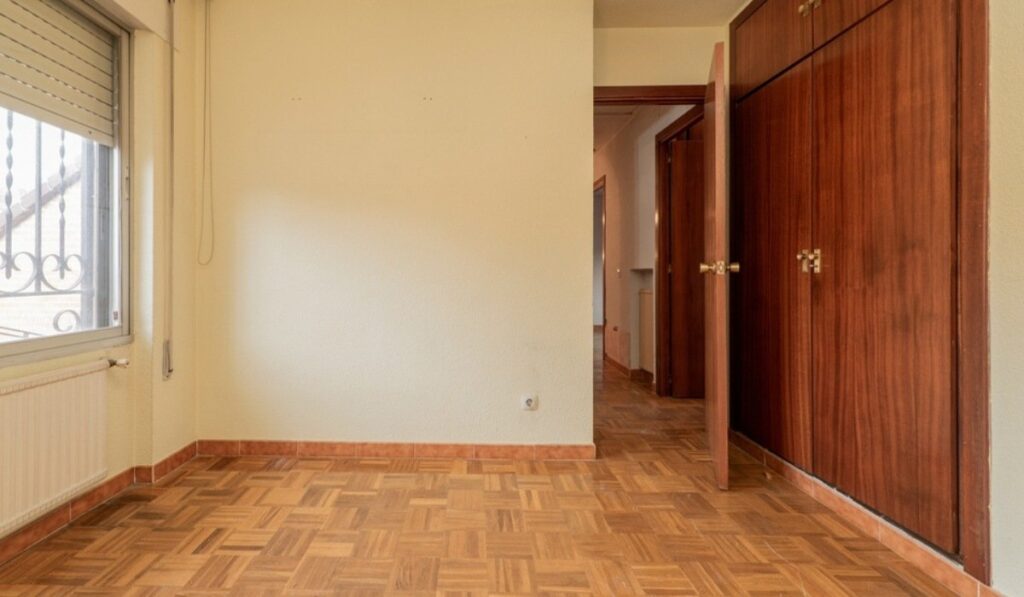 The cream color is also warm, which means that it reflects light in the room and maintains a serene vibe. If you have a large window in your room, cream-painted walls will enhance the presence of natural light. It is primarily used in boho Decor. Overall, the cream color provides a space with timeless elegance.
Yellow is a fantastic choice for a more inviting place and is best if you want to warm up your cool room. It brings the room an earthy vibe and can be contrasted with white or complimented by yellow adornments, fabrics, and furnishings.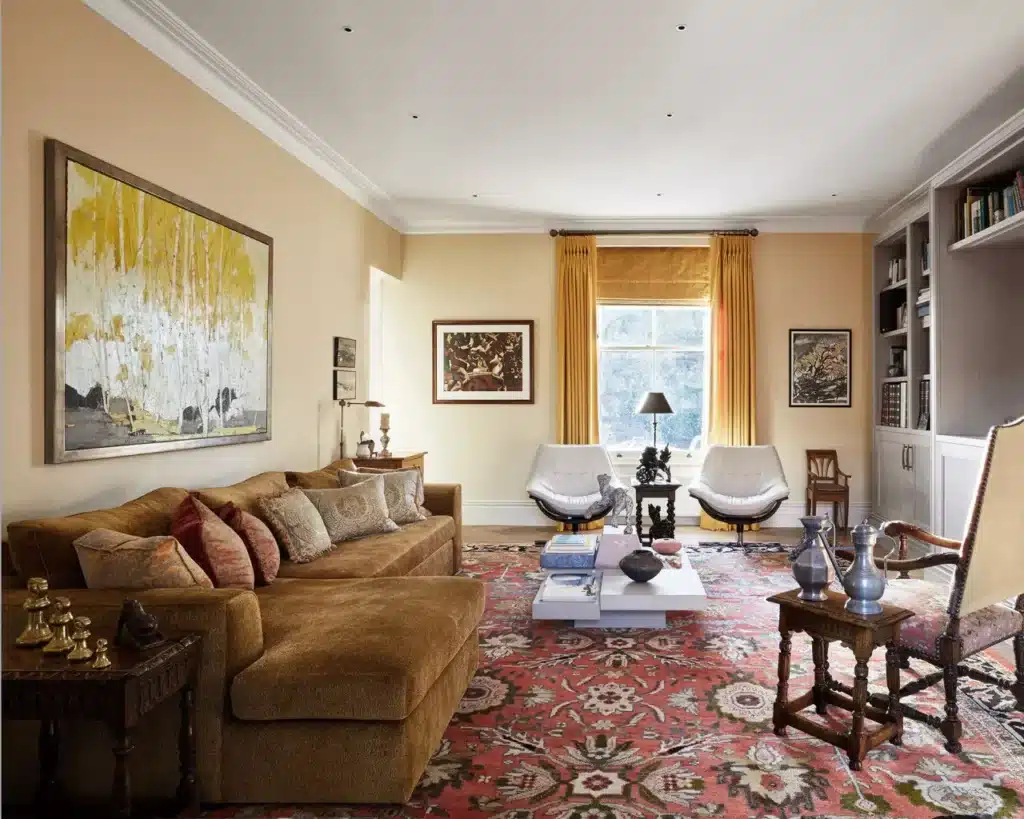 Yellow walls are perfect for creating contrast, and It is one of the most preferred contemporary shades. If you want a bold and bright space, sunflower yellow is an awesome choice. It brings a vibrant vibe with it and can be garnished white couch, fireplace mental clock, and rustic rug. No matter if you have a Gray or blue upholstered sofa, you can still paint your walls yellow. It will make the place look more inviting.
Lavender is a color of purity and royalty. It symbolizes cheerfulness and can be complemented by white and Gray colors. It has a rich grace in it that make the room feel more bright and open. Suppose your room has a lot of rustic decorations. In that case, you can definitely go with lavender for walls because if you compare it with antique furniture items like sofa sets or rustic beds, it will make the atmosphere look more luxurious.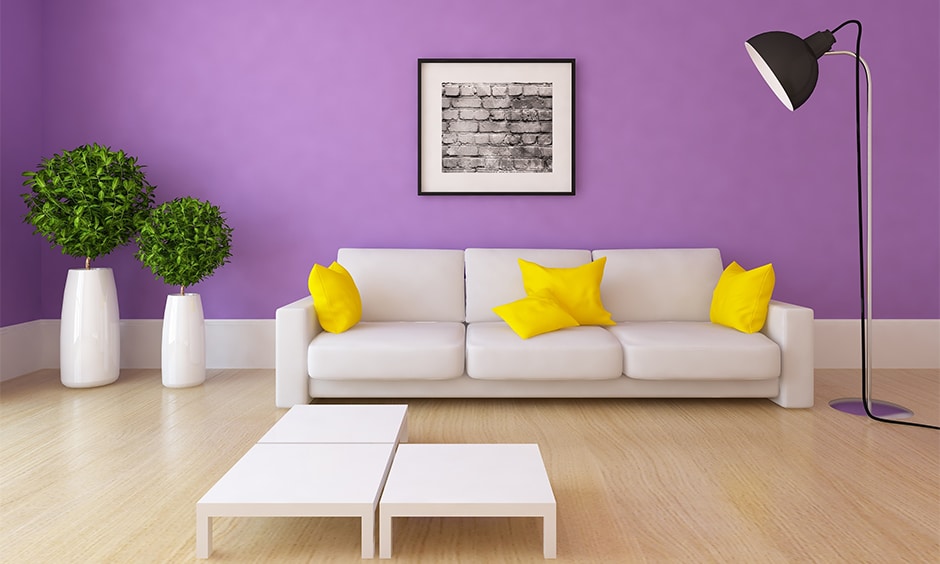 You can also place a standing lamp with a brass or gold finish near the lavender-painted wall. This combination will freshen up your room and amplify the aura.
10. Black (Prestige Paints)
Painting black might be daunting, and it will increase the temperature of the room. However, there are many benefits of painting the interior with black color. First of all, black has versatility in it; most modern homes are white or Beige, but black is also becoming a top choice among homeowners since it feels more cozy and modern.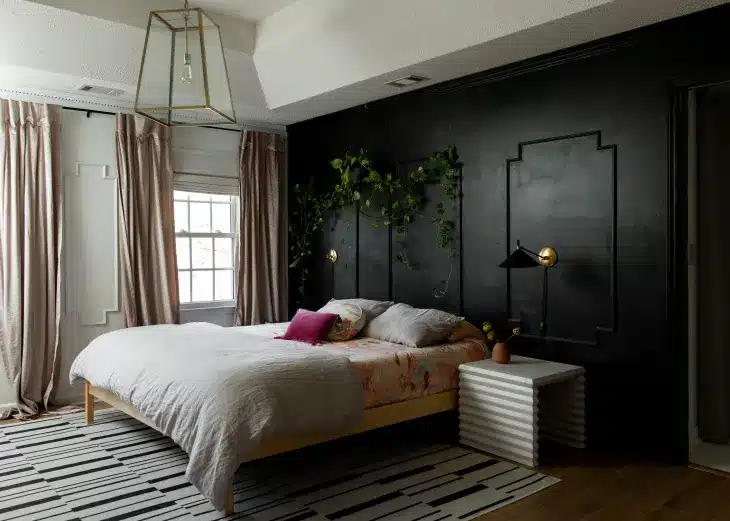 Black is suitable for a large bedroom house instead of a smaller one. If you paint the smaller room black, the corners of your room will not be visible anymore. If you want to paint your bedroom walls black, consider placing a beige or tan L-shaped couch set to make the corners more visible and add a statement.
Another color that is getting all the rage is pink, especially its warmer tones. People go with warmer tones because it adds more vitality to the house. Light pink is one of the most calming pallets. It is true that modern houses have at least one lighter pink accent wall, and some have even experimented with painting their interior as well as exterior pink.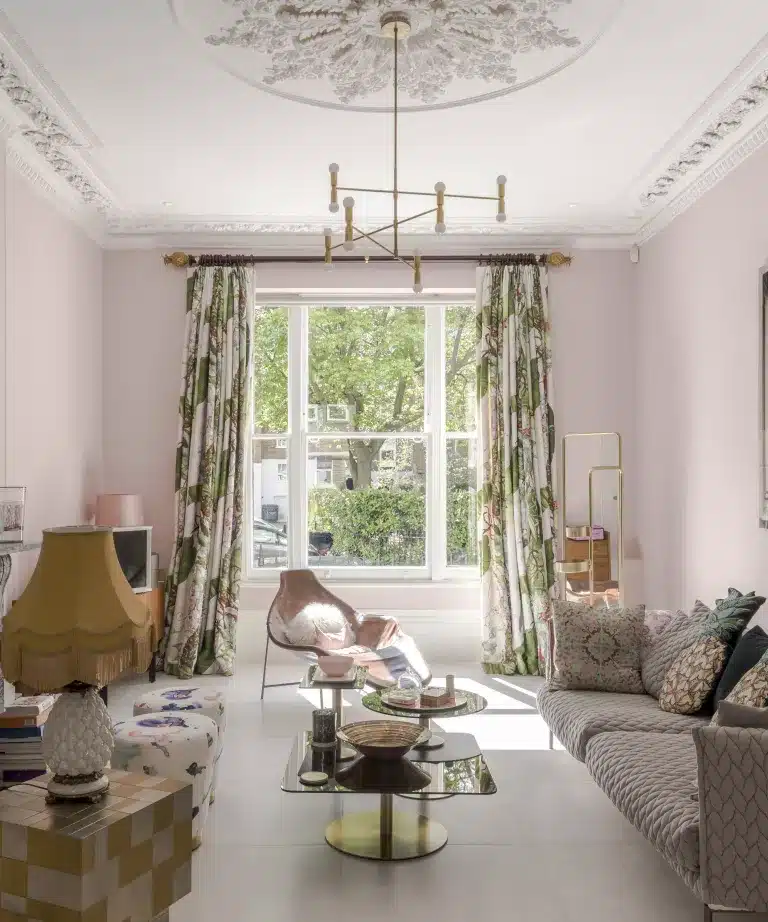 Not only does pink bring a soothing background with it when painted on the wall, but it can also make a big difference when compared with darker elements.
Peach is another neutral color that can add balance and tranquillity to your space. There are a number of choices when you choose peach color, and it can be combined with numerous other color options, one of which is the classic peach and gold combination.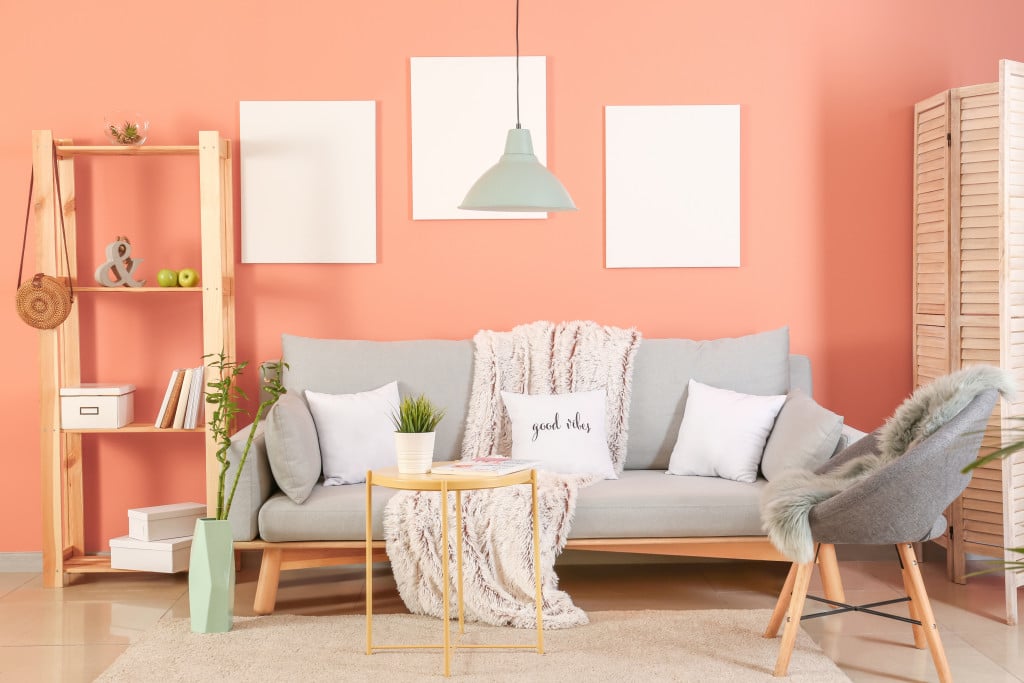 When you have a peach-colored wall in your living room, just place a bit of gold color in the form of decorative elements like a gold-framed portrait or maybe a lamp with a golden stand. The peach and gold bring richness to the room. If you have a gray, blue, or white couch, peach background is just what you are missing to achieve perfection.
13. Coffee (Montage Signature)
Drenching the walls with coffee means you're bringing warmth to your room. The coffee color goes well with cream and gold, so if you have golden and cream buffalo plaid throw pillows, place them on a cream couch to mesmerize your guests.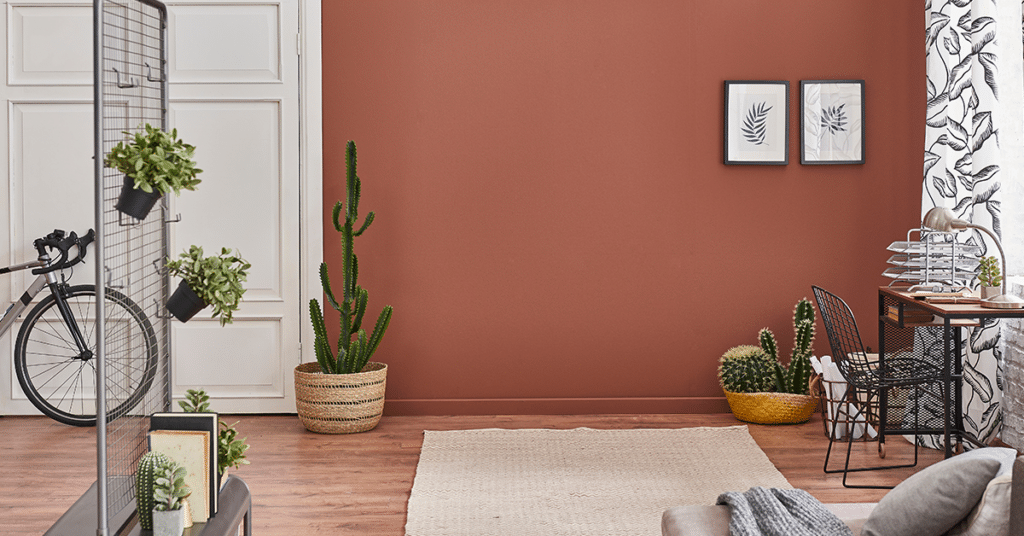 The coffee background will capture your attention immediately and spellbound you with its brilliant shades. Many modern houses have started including coffee color in the form of accent walls as well as other accessories. Coffee color provides a rich texture to your walls. Either it is your living room, dining room, or your kitchen. Not only for the interiors, but it is also widely used for exteriors. This color will definitely capture your mind if you are looking for a pleasant place to relax.
14. Silver (Rust-Oleum)
Silver is also a shade of Gray and a softer tone that can be combined well with black and white. If you want to create a contrast, sea, green, and emerald green or purple would be a suitable color.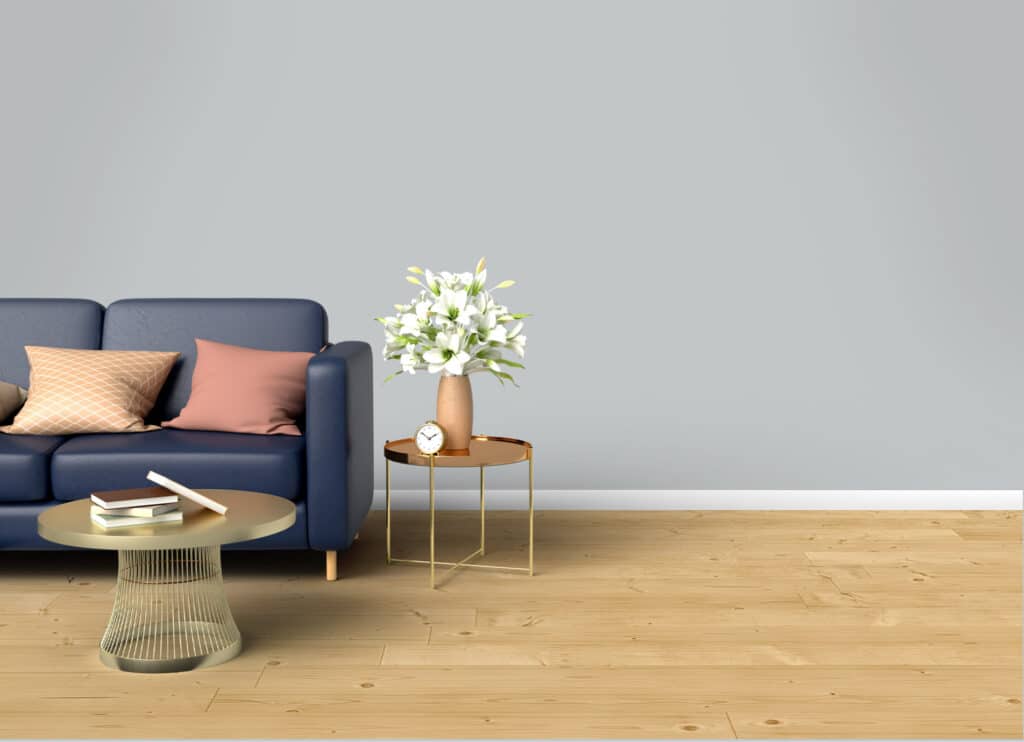 The jewel tones have a contrasting power because silver just becomes a blank canvas, where you put adornments and furnishings having these (green and purple) colors. However, if you choose to keep the place rustic and maintain the classic vibe, you can go with gold, Beige, and tan. Silver has a psychological significance that it eases physical discomfort and provides emotional balance. If you want to have a peaceful background with your favorite purple sofa and a beige rug, then you can go with silver for your living room interior walls.
15. Brown (Soto)
Brown is often overlooked because it is not as trendy as other colors like Gray and navy blue. However, this does not mean that it is not a good choice. It is a wonderful color for family rooms or living rooms. It provides the space with depth and amplifies the mood.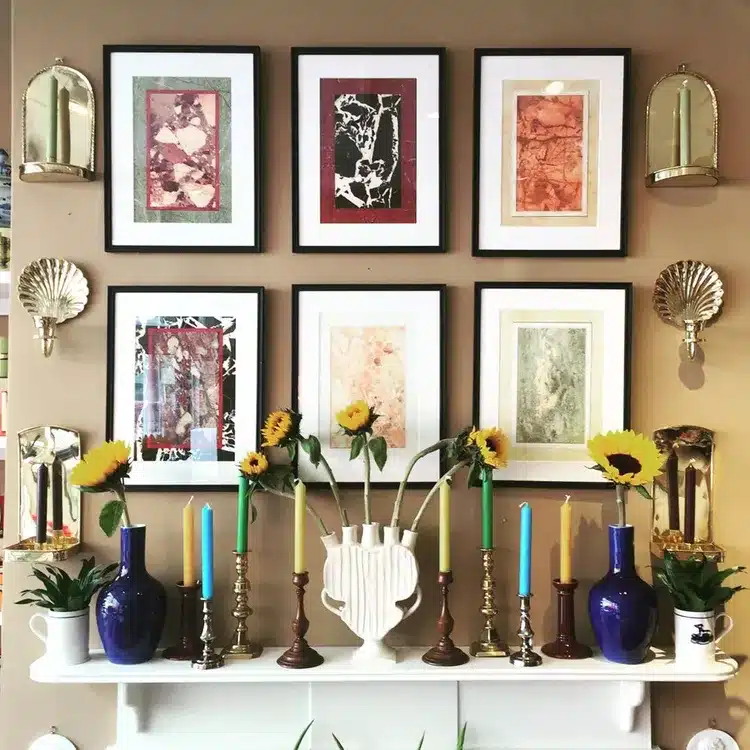 Its sophisticated vibe and captivating qualities make it a go-to choice for painting your home's interior. And when it comes to complimenting it with the other colors, possibilities are endless. If you have a fireplace, you can put blue or soft-toned modern pots with sunflowers in them, or a leather couch can amplify the space even better.
16. Sky Blue (PRESTIGE Paints)
Sky blue is another of the trendiest paint colors for walls inside the house. Sky blue is a soothing color that makes the space look more spacious and is ideal if you are a fan of rustic decor. Its calming shades represent serenity, wisdom, and stability. It is also referred to as a cold color that provides relaxation to your mind.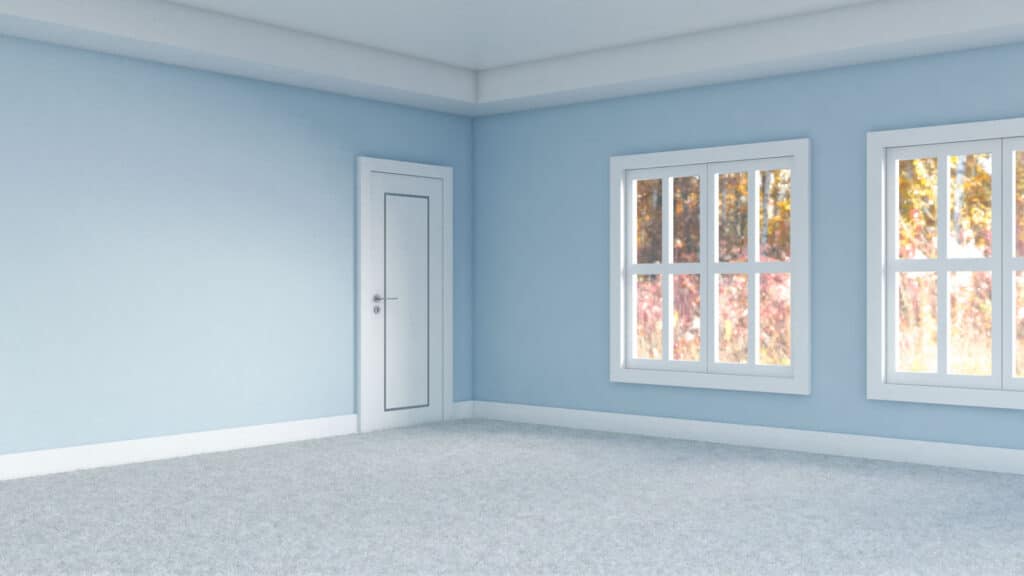 Many contemporary homes use lighter and softer hues like sky blue because they believe it protects them from evil. If you have a working or study table in your living room, then the sky blue color can be an excellent choice since it promotes productivity. It will boost your creativity with its beautiful, soothing shades. It is also one of the most used colors in offices to increase productivity.
17. Orange (Rodda Paint)
Orange is an unusual color that is more used for exterior walls than the interior. However, it is a distinctive color that does not catch everybody's attention. If you love an eye-catching bedroom, it could be an incredible color for you.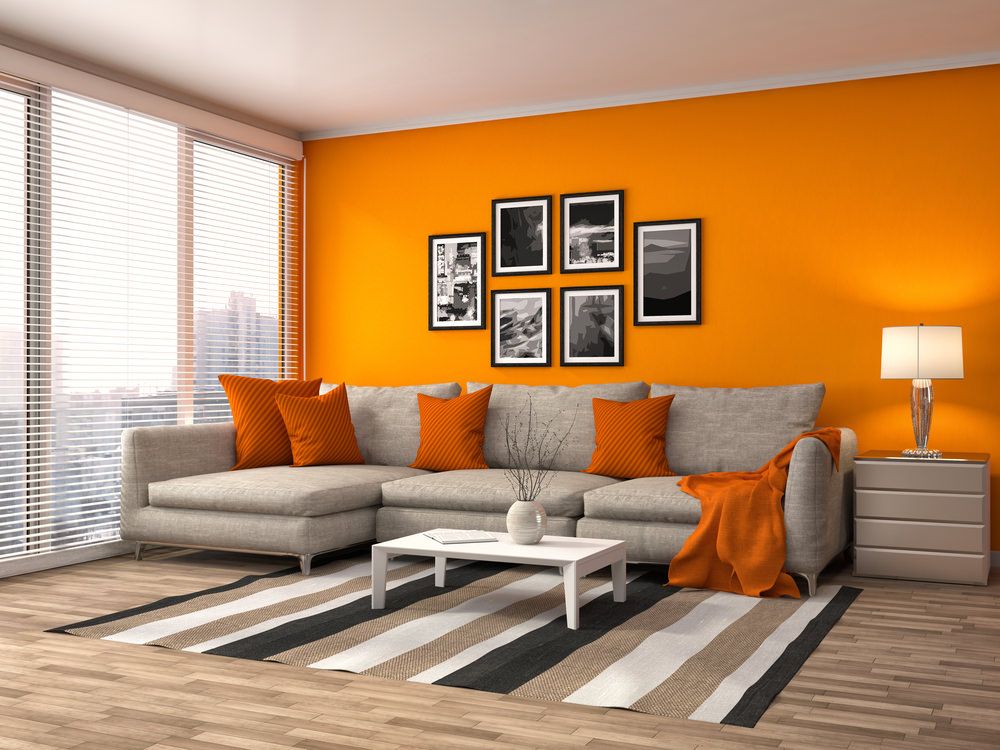 Modern and contemporary houses can look for orange to paint their interior walls, and it would be best if they garnish the room with light-toned furniture like a gray sofa set or white silhouette portraits. You can also prefer placing Mandala art portraits for a positive vibe. Orange is the color that doesn't let your room look aged with its vibrant appearance.
18. Teal (Prestige Paints)
It is a captivating color with rich sophistication; no matter which shade you pick, it guarantees subtle relaxation. You can use it to make a statement in your living room.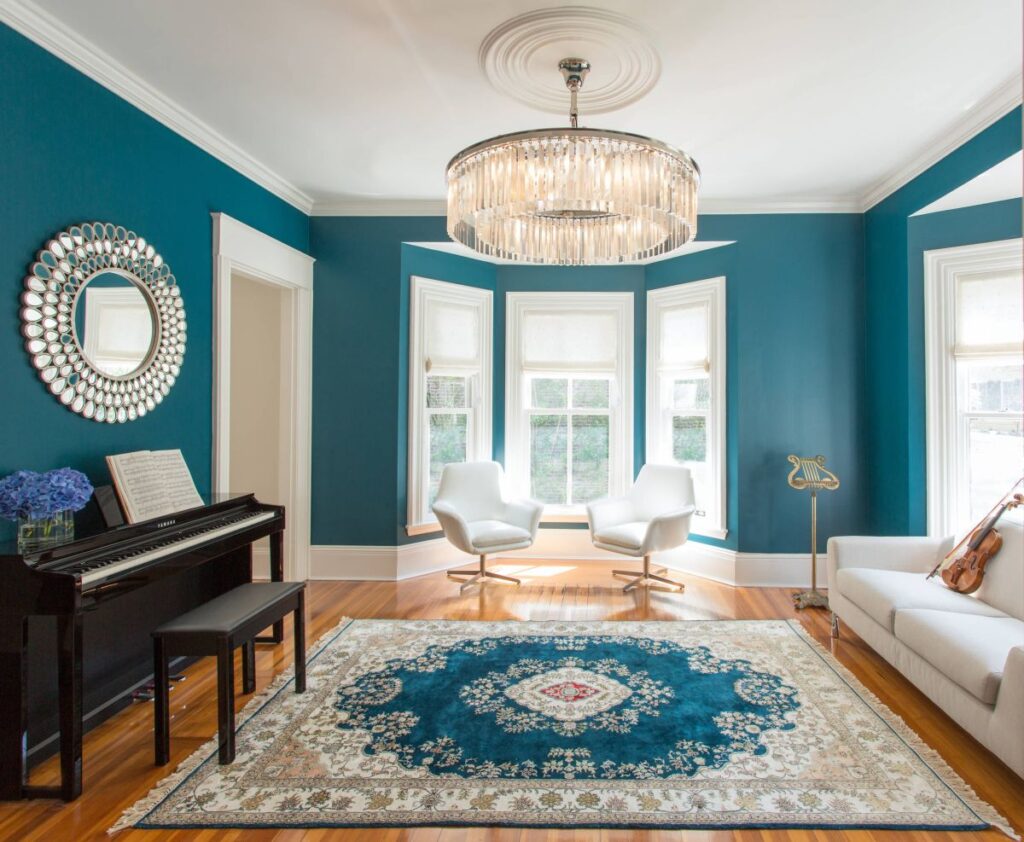 The colors that go well with teal are green and blue. Contemporary colors that are pretty trendy for decoration are Gray, yellow, and brown. Consequently, it would be best if you used a yellow couch or gray accessories to take your teal-colored room to the next level. Since teal is a soft color, you can also prefer it for your walls if you have a white couch. It is a fantastic color that keeps your mind at peace and provides you with attractive positive energy.
19. Russet Red (Prestige Paints)
Sophisticated and soothing, a russet red is a color that takes the room to the next level. It fills the room with equilibrium and transcends you into a space that is so enchanting to the eyes.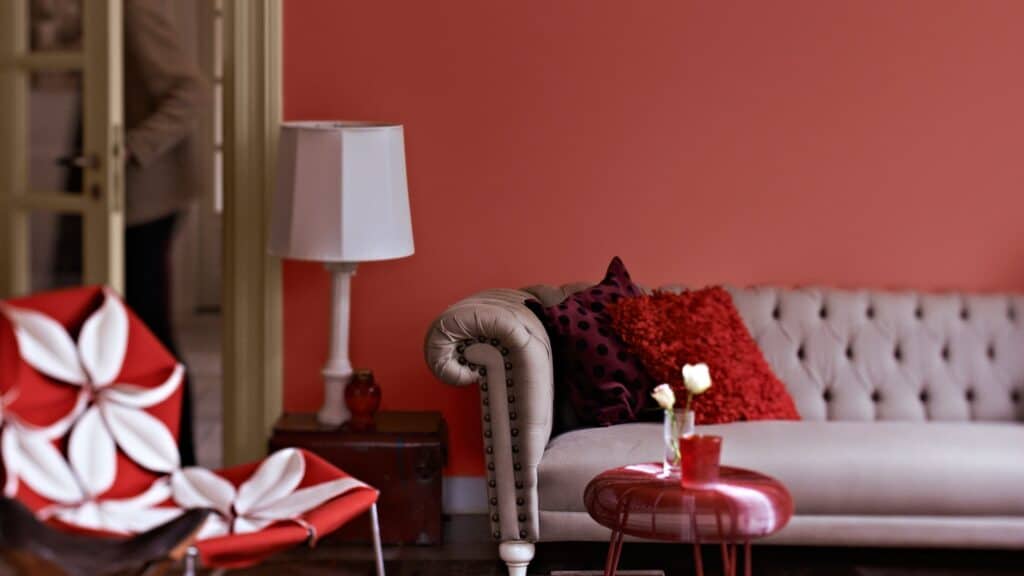 No guest will be able to resist praising this color. Blend it with wooden furniture to enhance the rustic feel. You can also choose a stained leather couch for a more luxurious touch. Since it is a light color, you can use it to paint every room. Either it is your kitchen, living room, or guest room. Your home will become a captivating place that you would never want to leave if you chose Russet Red.
20. Turquoise (Prestige Paints)
Turquoise is one of the most unique paint colors for walls inside the house. If you are a lover of warm colors, you can use a pale shade of turquoise. If you paint your home with turquoise color, it will become a soothing and calming den for relaxation.
One of the best advantages of choosing turquoise for your walls is that it goes just with any color you want. It would be an excellent idea if you choose neutral colors like white or Gray for your furniture upholstery. This blend would bring the maximum level of calmness to your room. However, if you have a blue or green couch sitting on a Beige-colored rug, it would complement the turquoise walls excellently.
Conclusion
In conclusion, we mentioned paint colors for walls inside the house to amplify your room even more. Colors signify your style and will let your guests understand what atmosphere will comfort you. The color combination is also crucial. If you want a calming atmosphere to relax, the color options are almost endless (Beige, gray, sky, and more). However, if you want an energetic place, some colors, like orange and yellow, can be your friends. So, what suits your style? Let us know which color you would choose.
Most of the trendiest colors that are found in modern homes' interiors are light-toned, like beige, white, and gray, but it is not a rule to follow the majority. You can select a bursting shade for your living room if you like.
A personal touch is always better when you are painting your home. We wish you to pick the best color according to your decorations and spruce up your room the way you dream of.