As a small space homemaker, you very well understand the challenges of maximizing the utility of every square foot. Decorating and furnishing small spaces such as stairs could look like a serious problem if you are not aware of these 50 genius small space stairs design.
Ideally, this issue could be overcome with a perfect blend of creativity and cost-effective home decor products.
When it comes to small space staircase design, creativity is the key. Our selection of 50 small space stairs design ideas includes innovative designs that optimize space utilization without compromising on safety or style.
From spiral staircases to floating steps, you'll find a wide range of options that will transform your small space. These designs not only save space but also add a touch of architectural elegance and aesthetics to your home.
Let's quickly hover over the list of these amazing ideas for more space-saving staircases.
Small Space Stairs Design Ideas for Your Home
1. Opt for Corner Spiral Staircases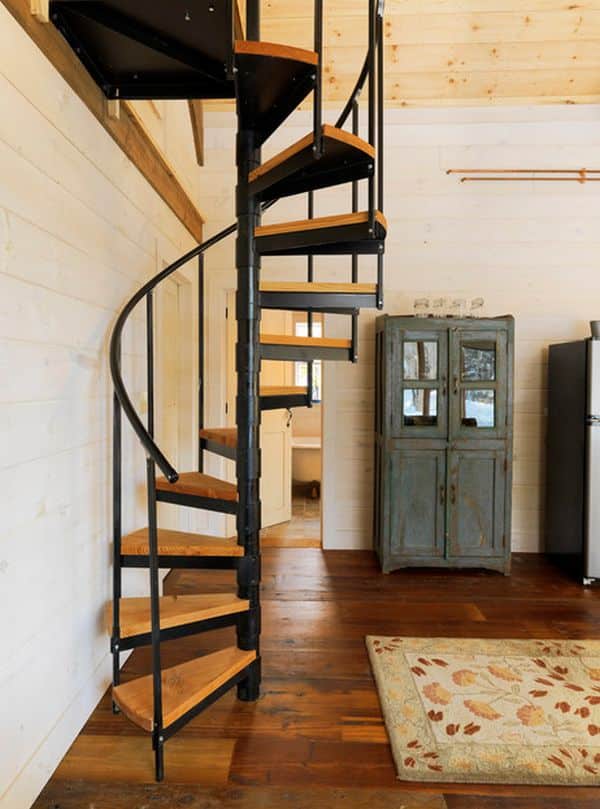 The best and most optimal space-saving option is to go for a corner spiral staircase; this way, you get the combined benefits of practical usage as well as space utility. Corner spiral staircases maximize space and offer a unique architectural element.
2. Foldable Step Staircase at the Rescue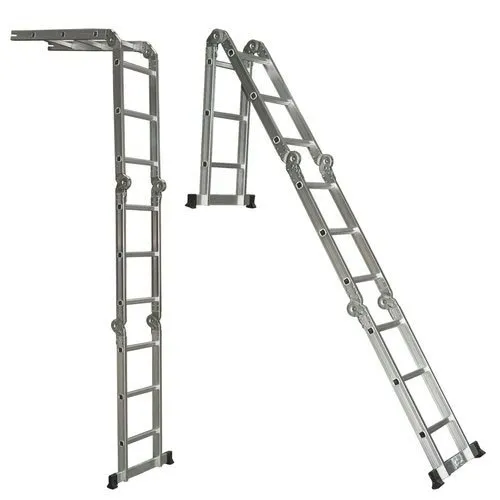 Including a foldable step, staircase can be considered the best utility in terms of conserving space. When not in use, these steps may be folded flat against the wall, and you can quickly free up more room for other purposes.
3. Pull-Out Storage Stairs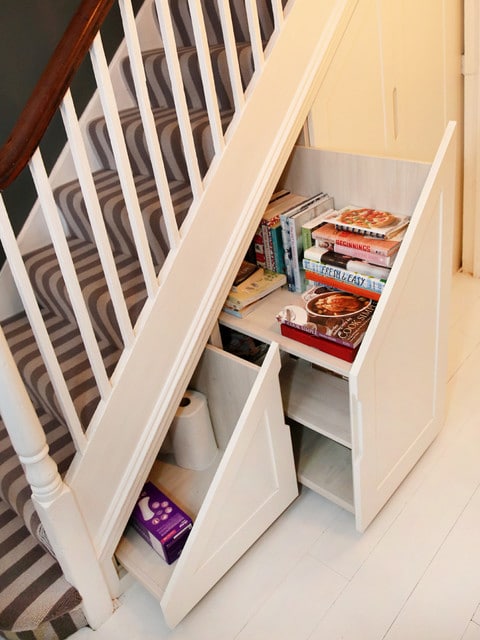 A perfect option for compact house spaces. Pull-out storage stairs make use of the area under each step by adding pull-out storage bins which can be further used to store shoes, bags, or other items.
4. Floating Platform Steps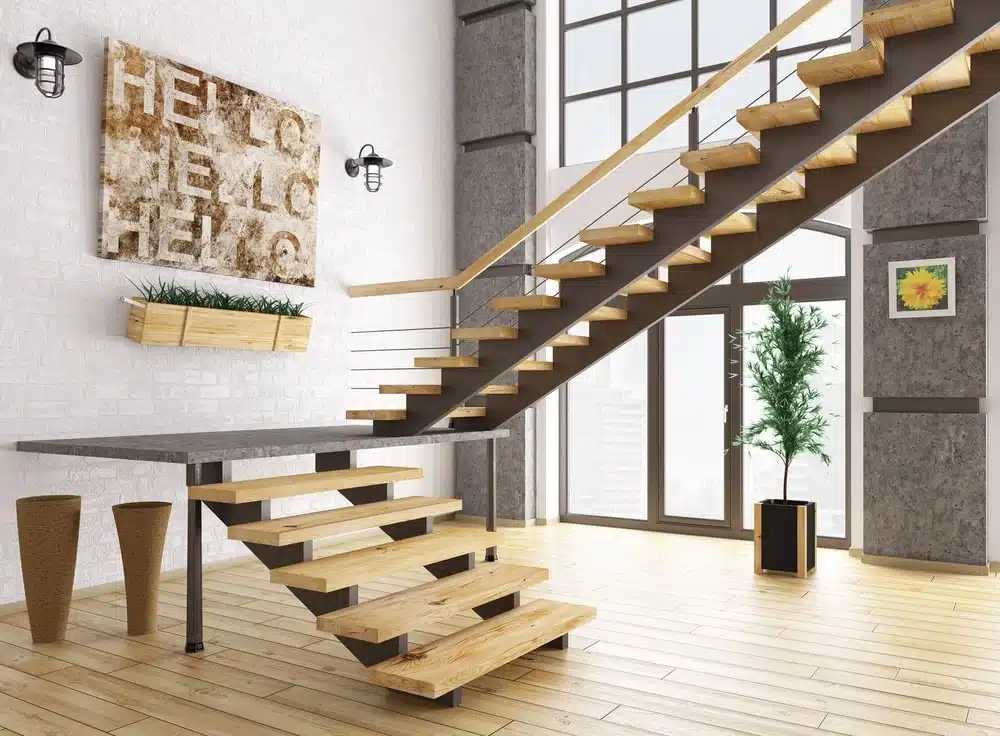 Use floating platform steps to construct a visually appealing stairway. You can create a spacious and soothing look with these floating platform steps.
5. Curved Side Stairway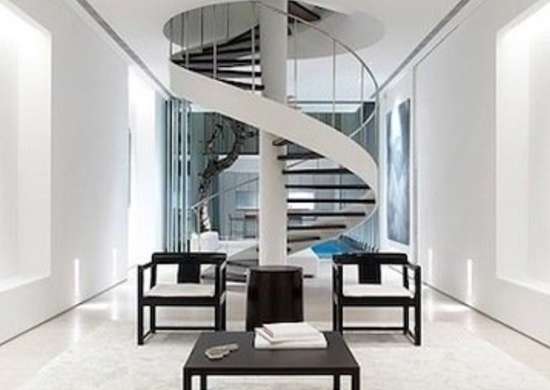 A curved slide stairway is sure to liven up your tiny space and bring a sense of luxury. These stairs create a pleasant way to go up and down levels.
6. Alternating Tread Staircases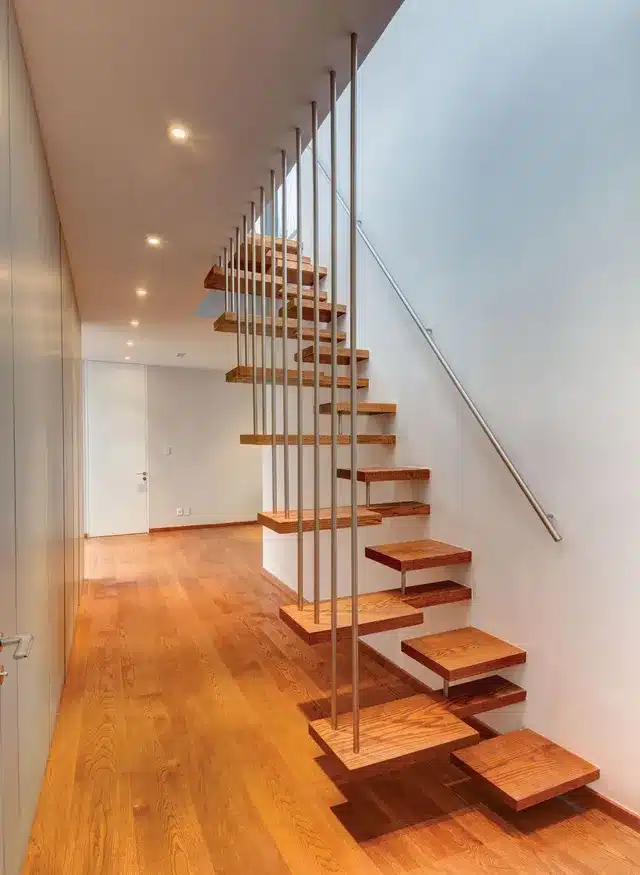 These stair designs are a great choice for tiny places since they take up less floor area thanks to their small size and steep inclination.
7. Cantilevered Steps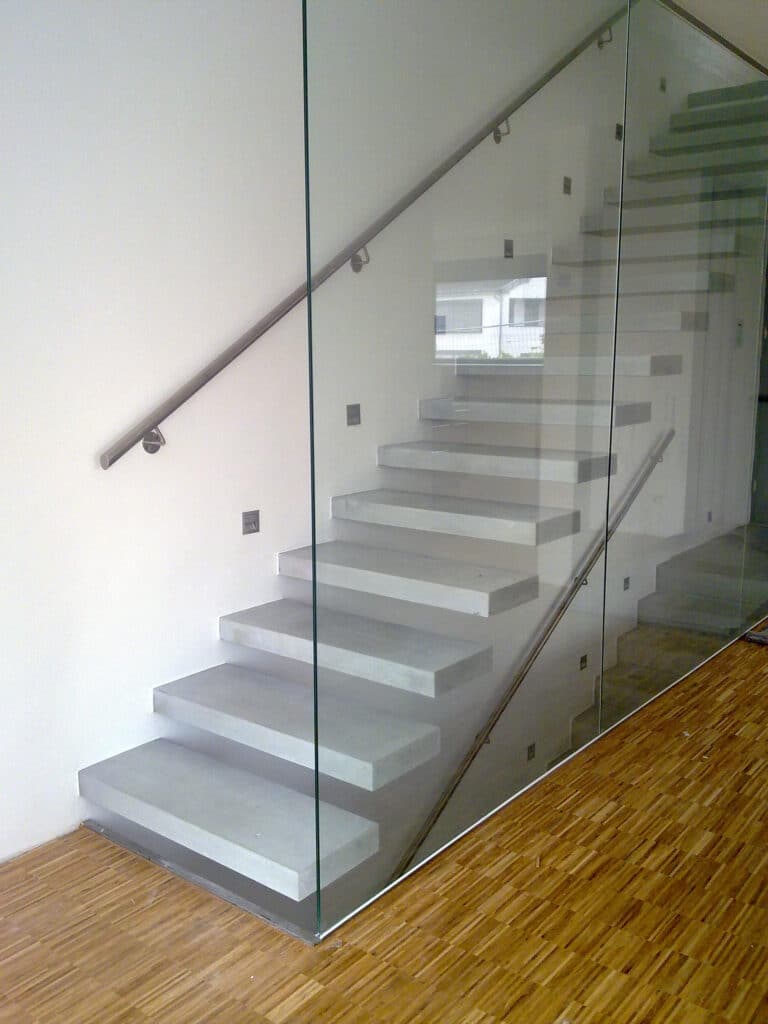 With cantilevered steps, you may create a modern-looking and minimalistic aesthetic. These steps give your little room a sense of luxury by giving the impression that they are floating in midair.
8. Colourful Staircase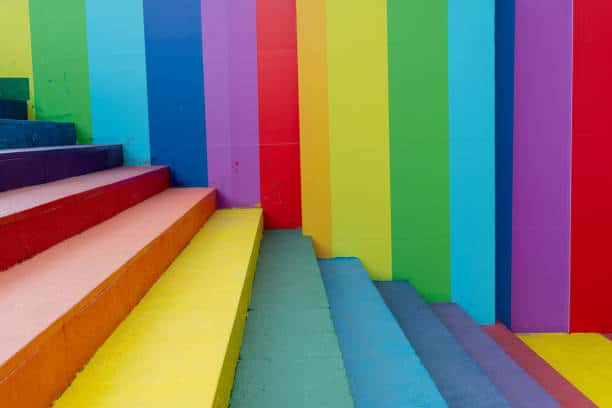 Choosing a colorful staircase design to give your little room flair and life is a clever choice. You can opt for any vibrant colors, plain combinations, or subdued pastels, and they can have a big influence on the room decor as a whole.
9. Mirrored Staircase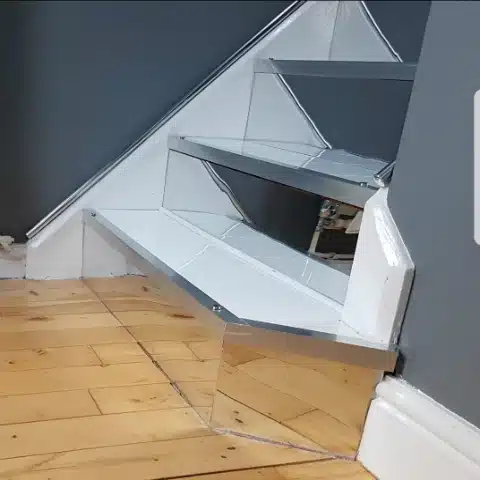 The mirrored staircase provides the appearance of a room filled full of light. Mirrored panels on the risers reflect light, giving the impression that your tiny area is larger.
10. Step Ladder with Loft Steps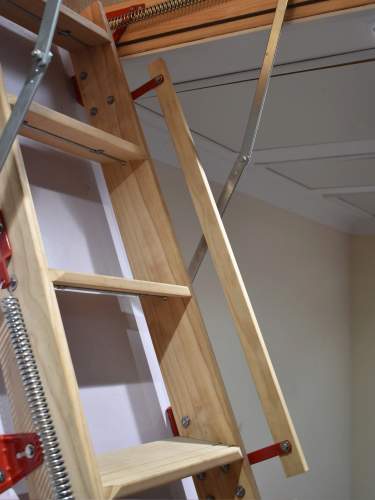 Installing step ladder loft steps is something you should think about if you have a small area. These steps have a folding and compact form for convenient storage and quick access.
11. Straight Stairs with More Space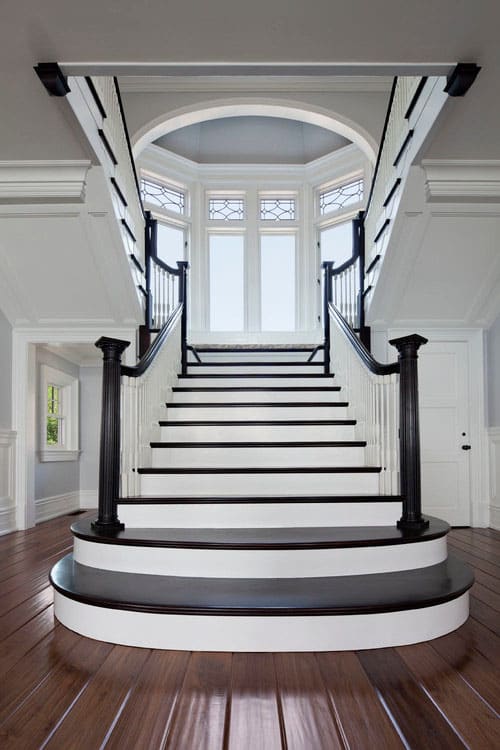 Select a straight staircase that saves space. These stairs are perfect for compact locations where every inch matters because of their thin footprint.
12. Staircases with Integrated Lighting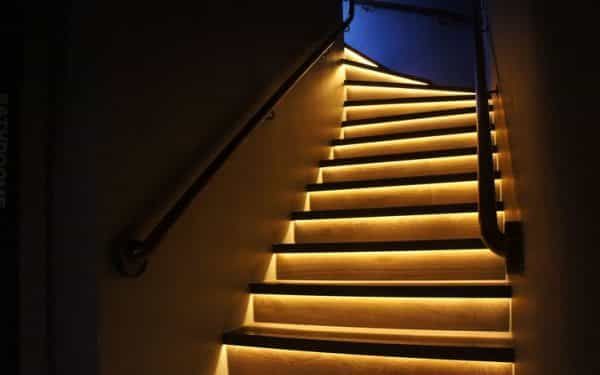 Adding integrated lighting to your staircase is a great idea to illuminate the stairs while conserving space. You can use LED strips or recessed lights down the stairs to create more stunning and useful lighting solutions.
13. Wall-Mounted Staircase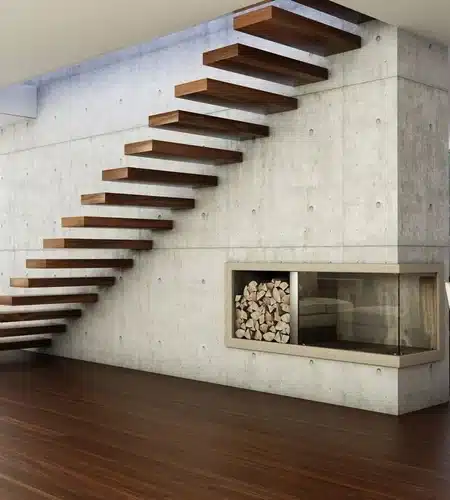 Go for a wall-mounted staircase if you are looking to maximize your available floor space. These stairs have a direct wall attachment, giving them the appearance of floating while saving up a lot of crucial floor space.
14. Glass Floating Stairs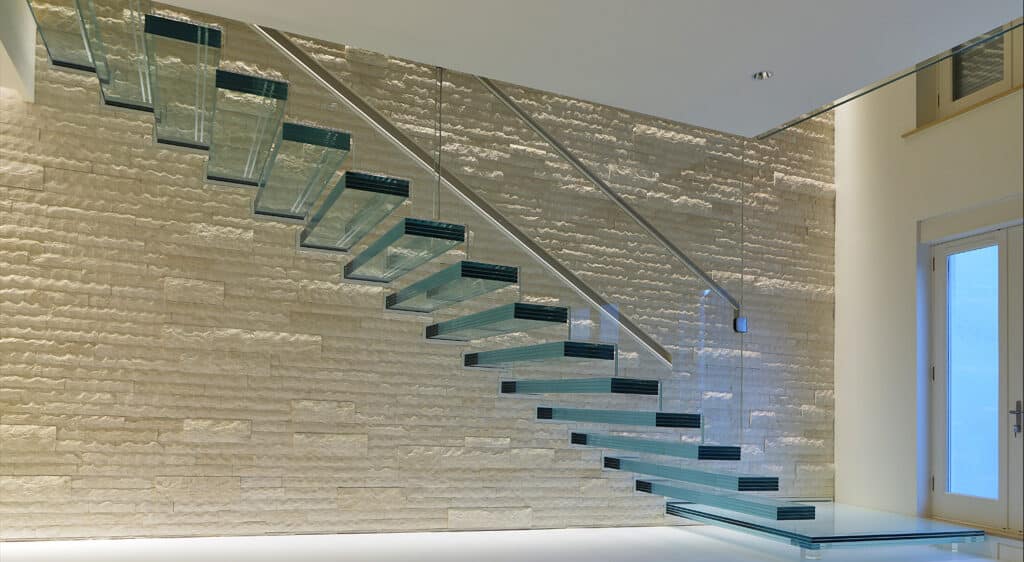 Choose glass floating stairs to create a modern yet sleek look. This sleek and gorgeous staircase design is made possible by the translucent steps and gives a very luxurious vibe to your house interiors.
15. U-Shaped Staircase with Storage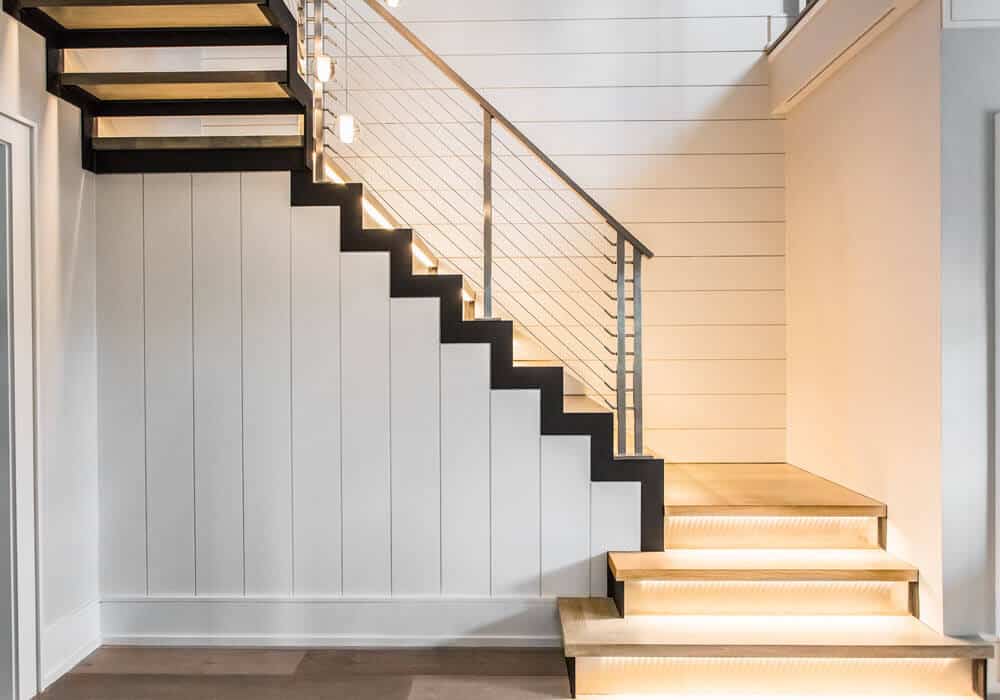 A U-shaped staircase that, too, with a storage option, is a cherry on the top. These staircases can help you make the best use of your available space. U-shaped stairs provide extra storage space while also keeping a tidy and organized appearance. Install drawers or cabinets beneath the steps according to your preference.
16. Vintage Spiral Staircase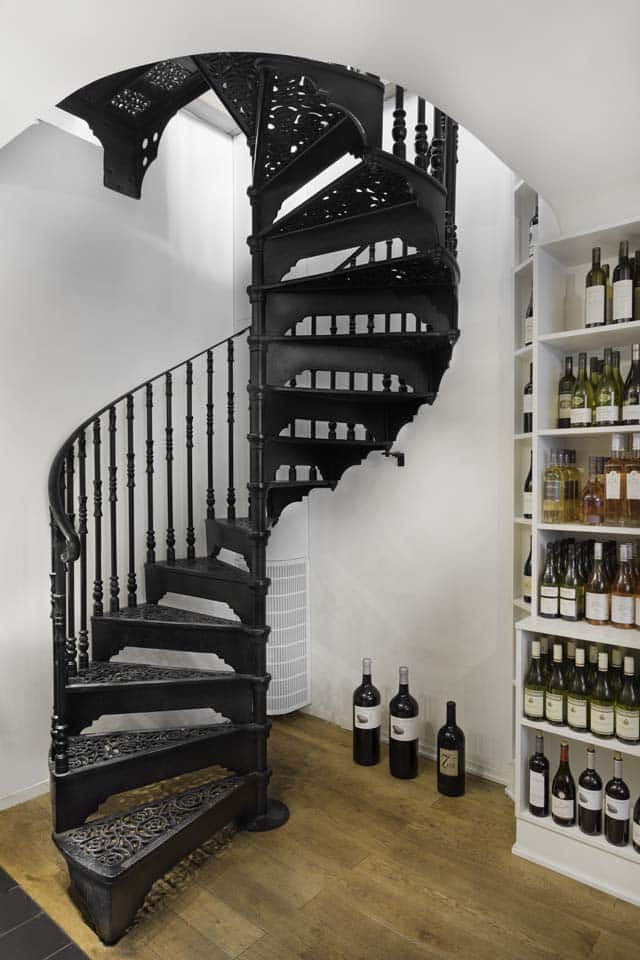 A vintage spiral staircase will give your little area a touch of old-world elegance. These staircases are the center of your decor because of their exclusive detailing and classic craftsmanship. If you are an antique fan, consider a vintage spiral staircase for your house.
17. Foldable Handrail Staircase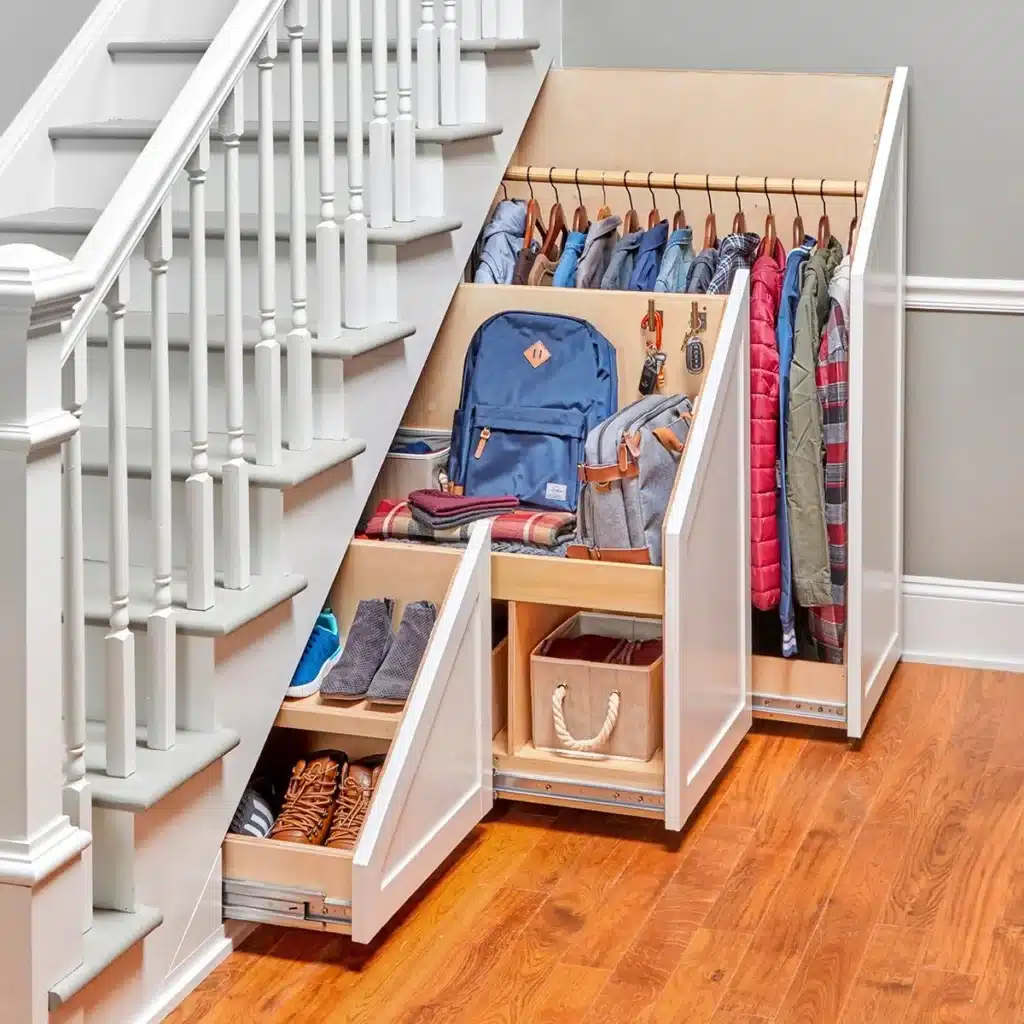 For increased convenience and benefits related to saving space, use a foldable handrail staircase. When you are not using them, you may fold up the handrail against the wall for a more streamlined and small-footprint design.
18. Floating Wooden Stairs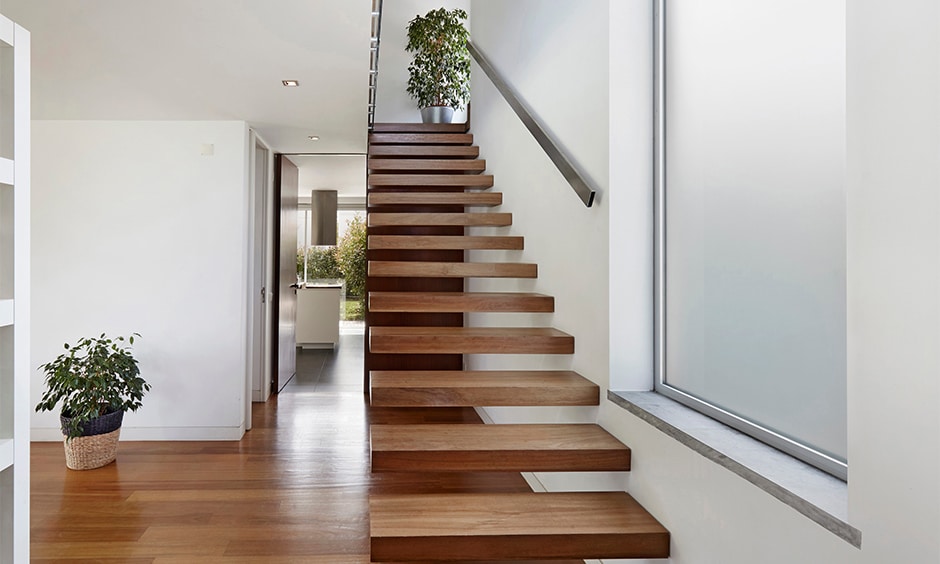 Floating wooden stairs are a great way of creating a cozy and welcoming ambiance in the house. These stairs provide the impression of floating in midair and lend a touch of rustic charm to your compact area.
19. Modular Staircase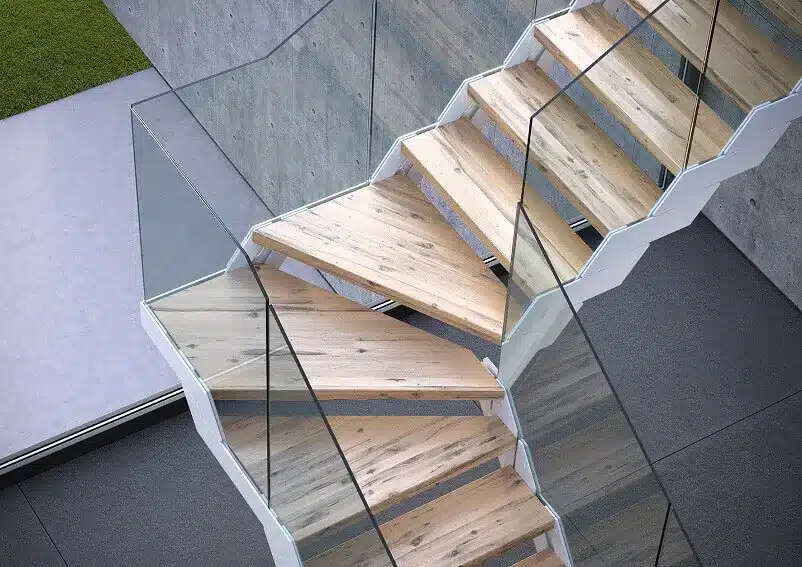 The modern era needs modern decor. Design a customized modular staircase that properly suits your little area with this guide. The versatility of modular staircases in terms of size, form, and material enables you to design a staircase that is customized to your unique requirements. Mix, and match your favorite elements and give birth to totally fresh ideas.
20. Plants in a Space-Saving Staircase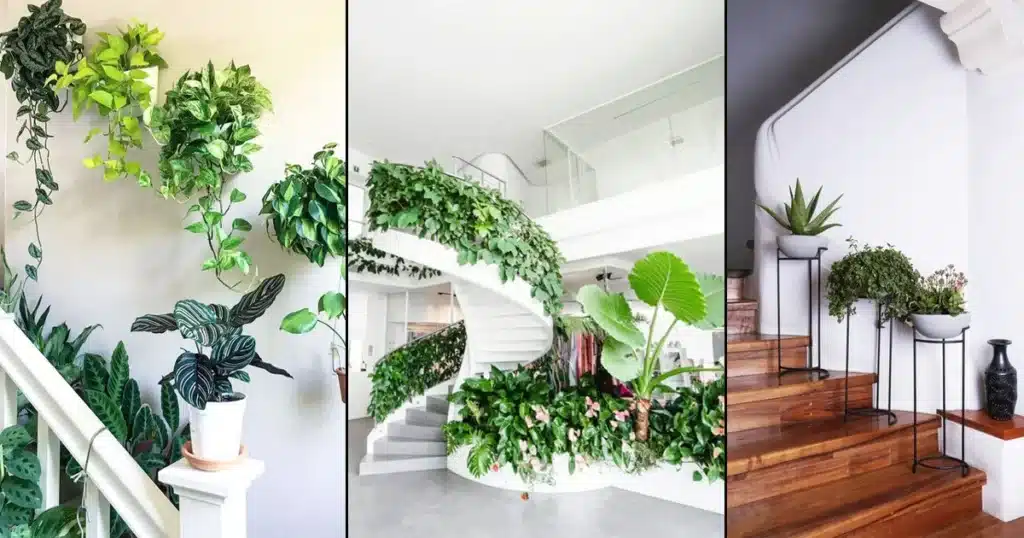 If you are a nature lover, we have the best idea for you here! Include plants in your staircase design to bring nature within your house and closer to you. Make your staircase's surroundings more inviting and refreshing by adding potted plants, hanging gardens, or a living wall.
21. Spiral Staircase with Straight Slide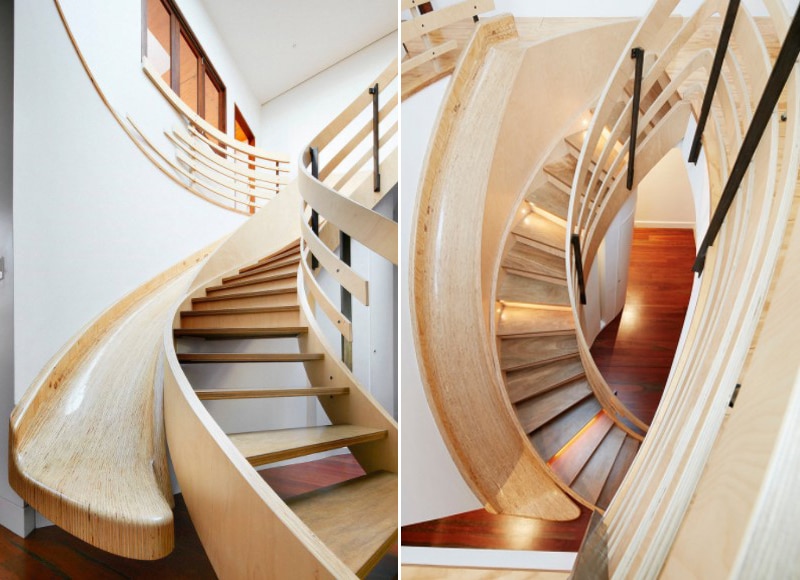 A spiral staircase that features a straight slide can bring some fun and playfulness into your little room. A slide and a conventional staircase are combined in this unusual design to provide a fun way to go up and down levels, plus the unique shape of each element, when combined, looks more modern and exclusive.
22. Steel Stairs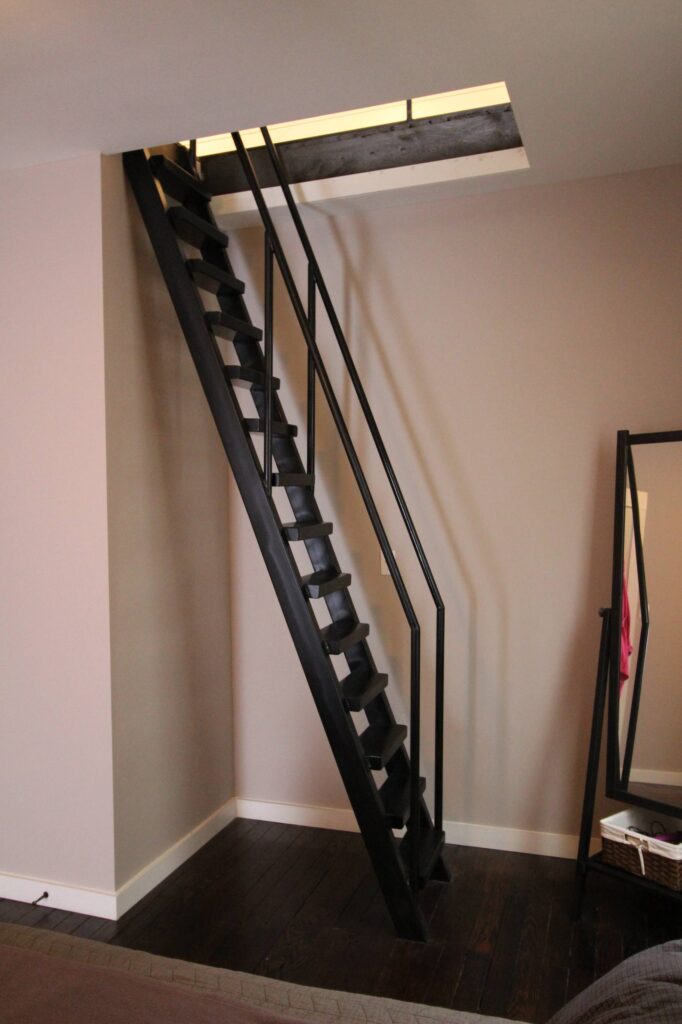 No, not yet outdated! A minimalist steel staircase is a good option if you want a modern, industrial style and are the ones that never go out of fashion! These stairs have simple, clean lines that are ideal for modern and plain settings.
23. Glass Balustrade Staircase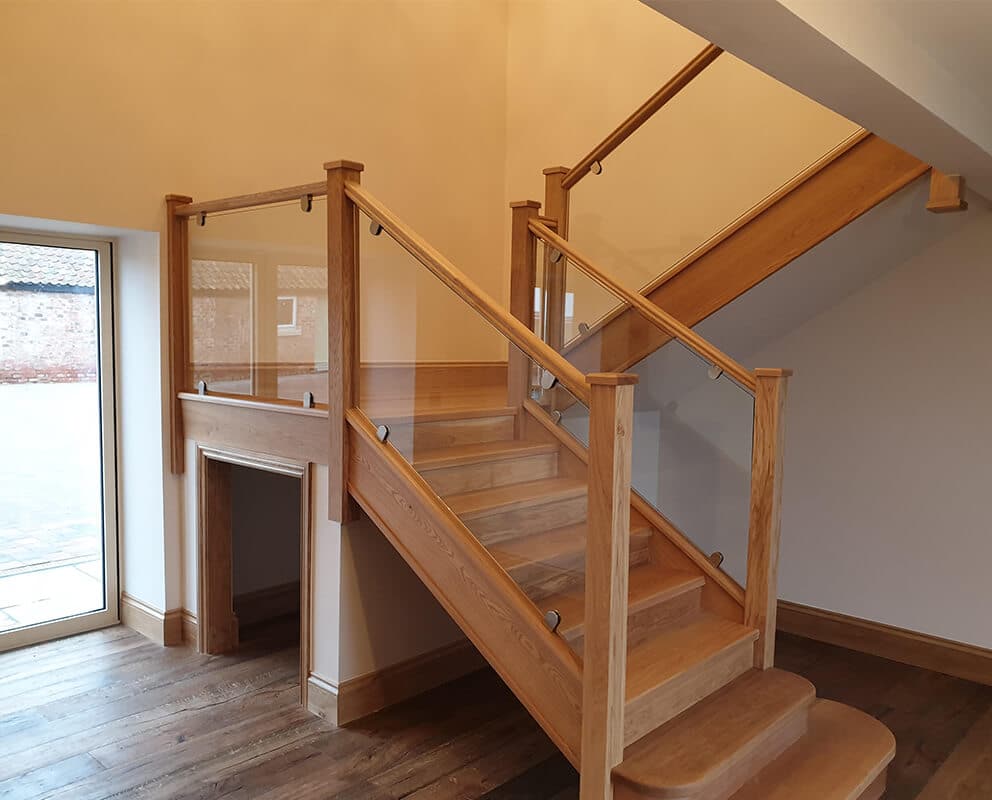 A glass balustrade staircase can help your compact space feel more open. The translucent glass panels offer protection without blocking the view, giving the impression that your area is larger in size.
24. Storage Under a Circular Staircase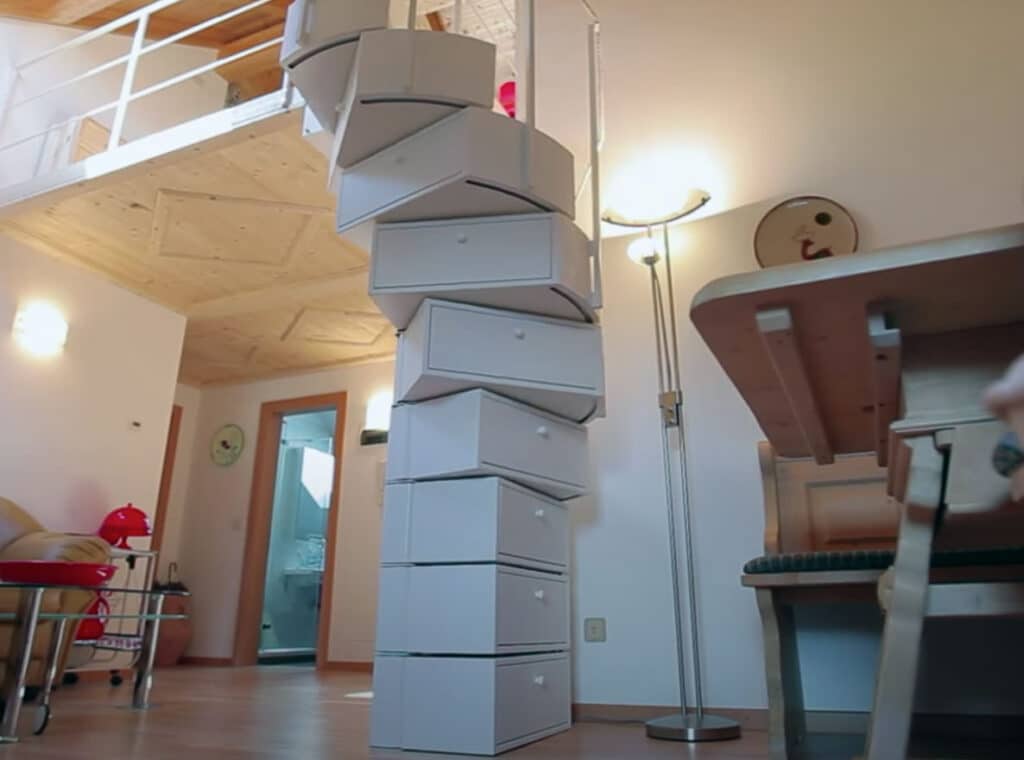 Take advantage of the area under a circular staircase by adding storage choices. Install cabinets or drawers behind each step to add more storage without sacrificing the design.
25. Foldable Bookshelf Stairs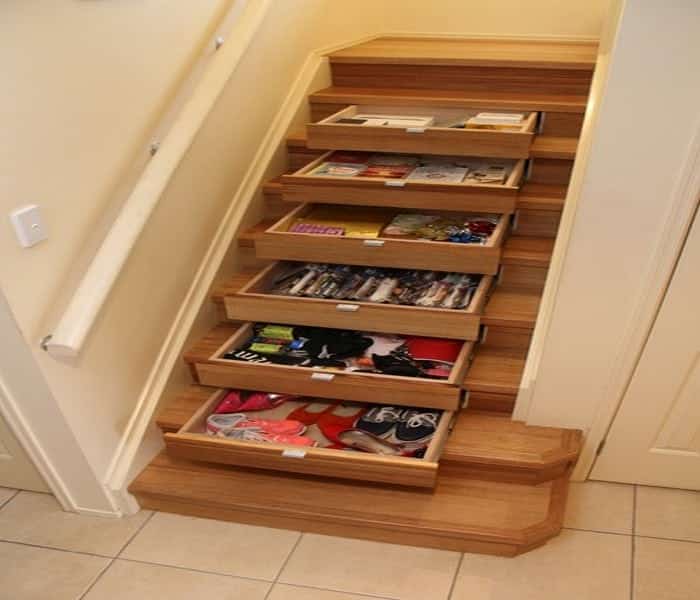 Combine a foldable staircase with the practicality of a bookshelf. When not in use, these steps may be folded up against the bookshelf to provide access to both books and higher places.
Amused, right? Keep reading further for more such mind-blowing and creative small space stairs
design ideas.
26. Foldable Attic Stairs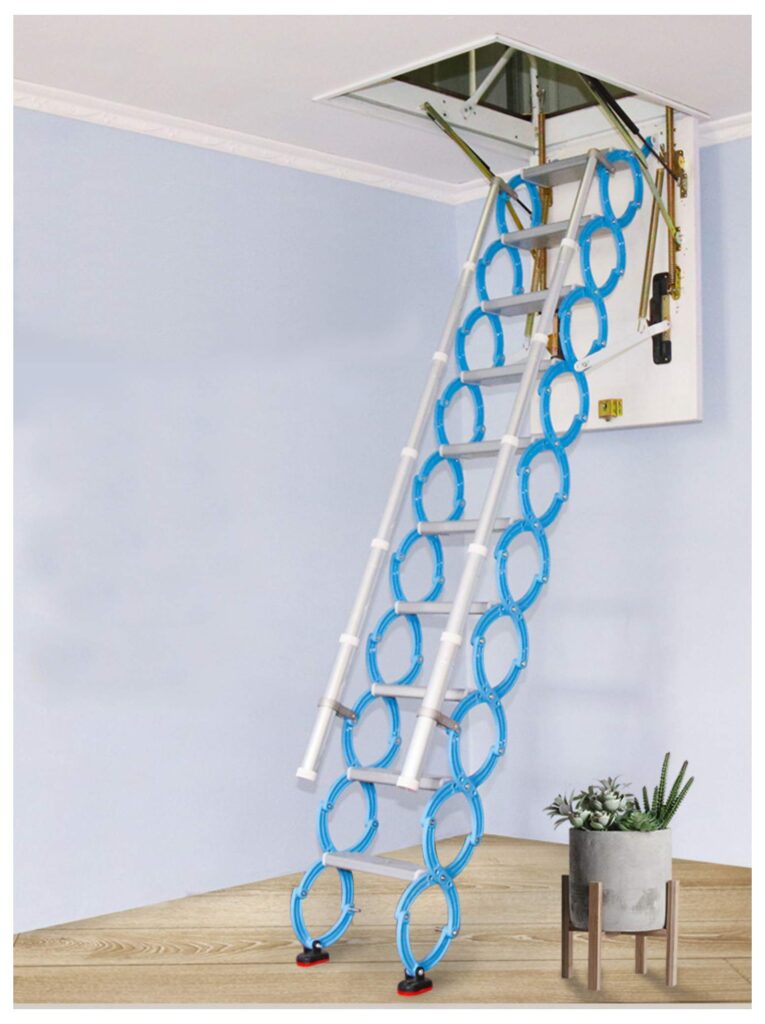 Next in the line, we have foldable attic stairs that are an absolute necessity if you have an attic or loft area. When not in use, these steps can be folded and stored away, giving you quick access to your attic without taking up any important floor space.
27. Glass Staircase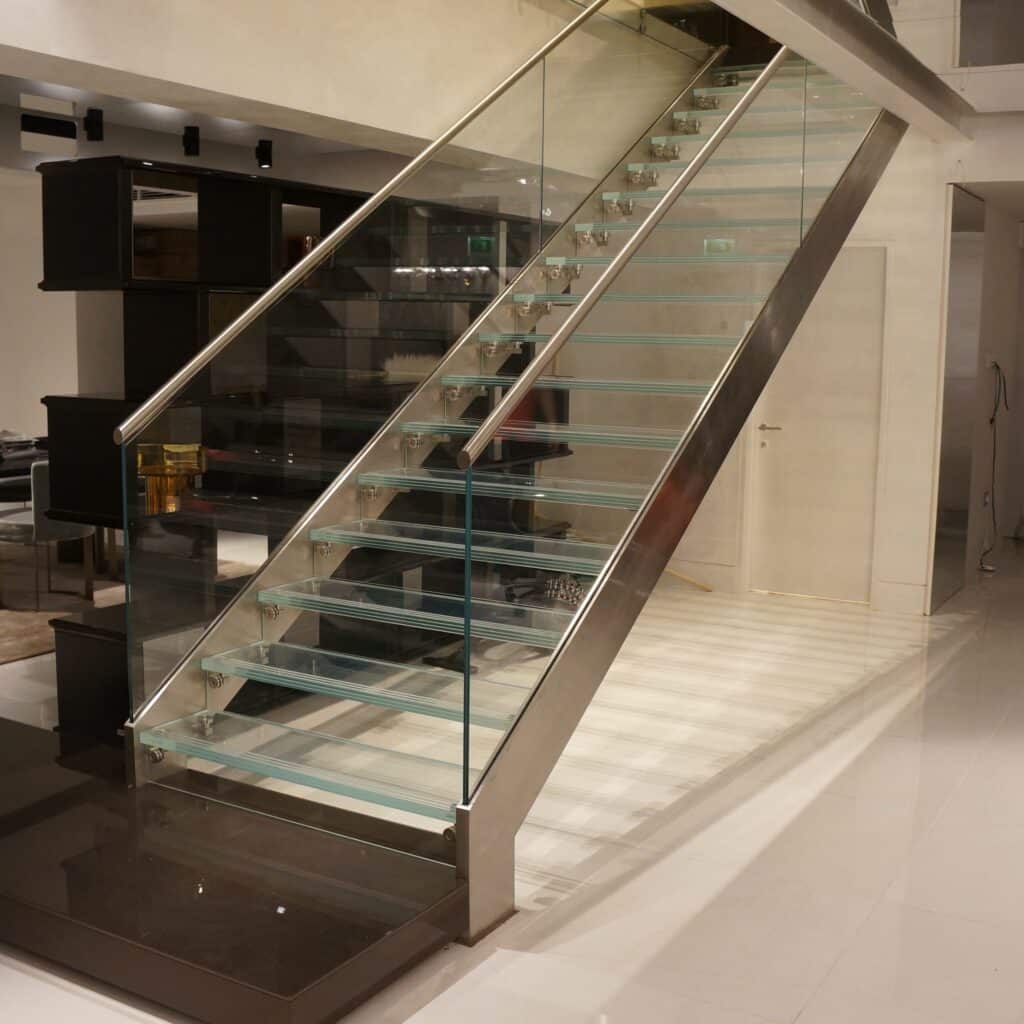 A glass staircase is best for providing the impression of increased space and openness. Glass stairways let light in, giving the impression that the room is bigger and brighter.
28. Bunk Bed + Stairs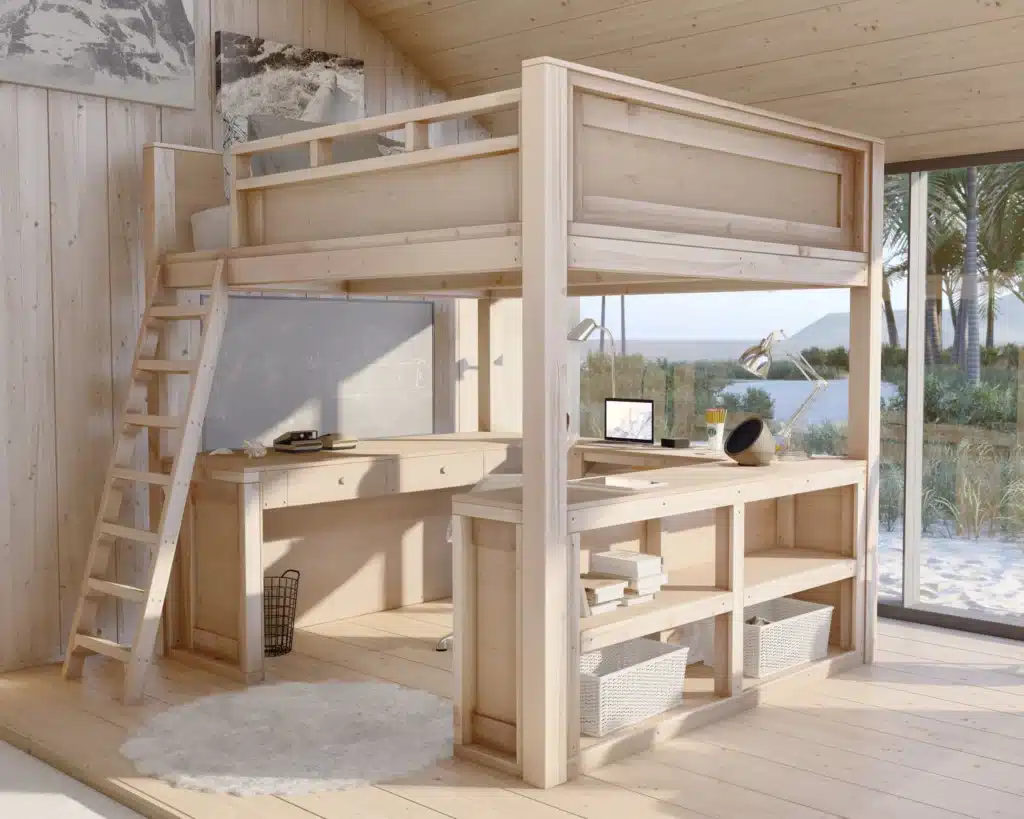 It's definitely way cooler than it sounds! A space-saving bunk bed staircase is something to think about, whether you're creating a kid's room or a compact bedroom. These stairs include built-in drawers or shelves that serve as additional storage in addition to enabling access to the upper bed. Plus, your kids will love this!
29. Compact Spiral Staircase: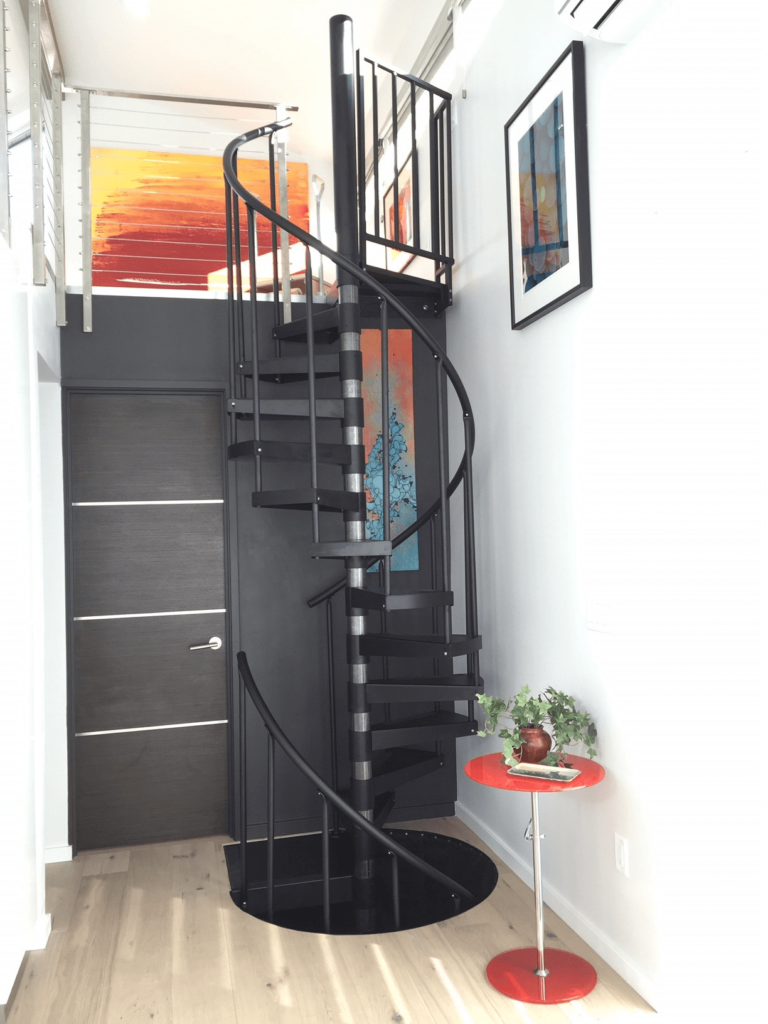 Select a small spiral staircase that will easily fit into confined places. These stairs allow you to conserve valuable floor space while incorporating a fashionable feature into your house because of their smaller width and higher gradient.
30. Stairway with Integrated Table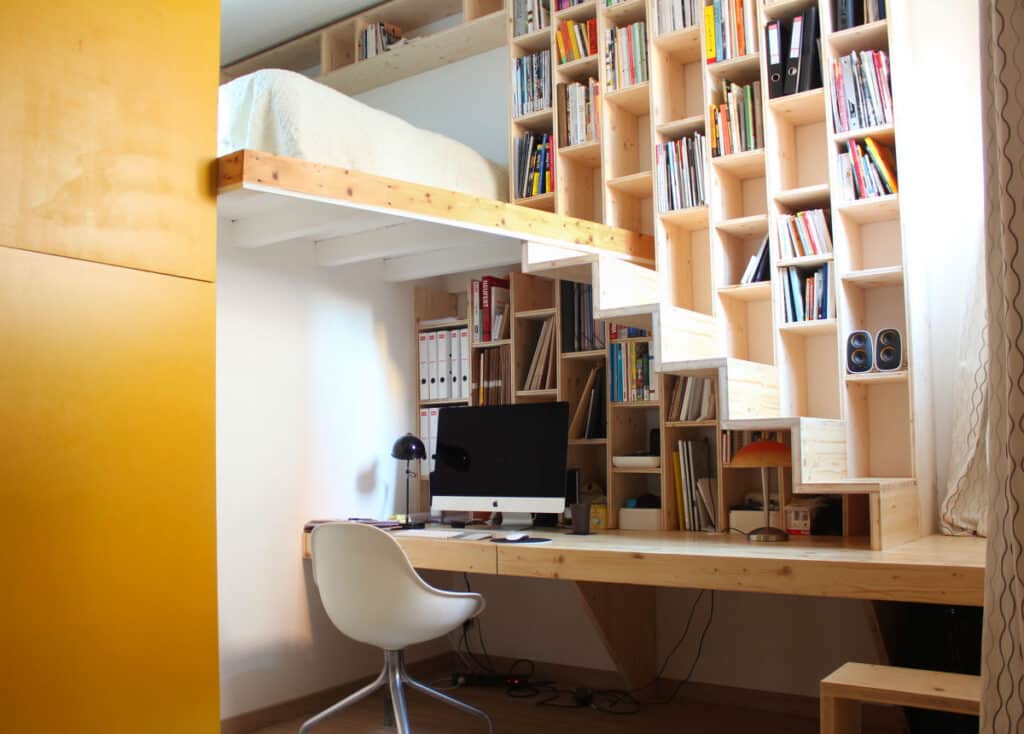 Include a stairway with an integrated table to combine practicality and elegance. Making the most of your limited area, the Selected step serves as an open table for your doing any standing work.
31. Concealed Staircase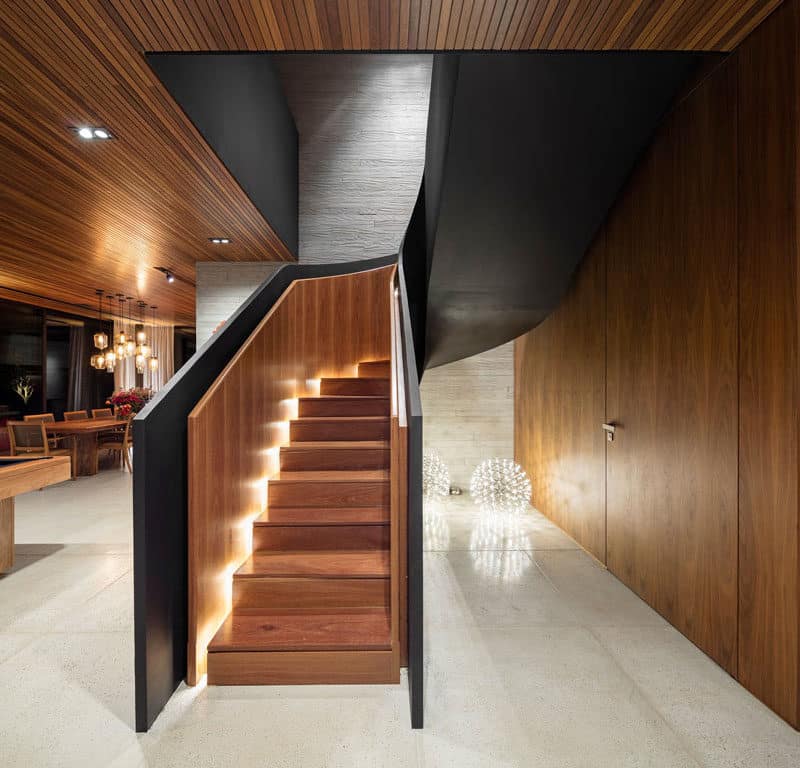 Create a concealed staircase that smoothly integrates into your décor. You may conserve room and preserve a neat, minimalist appearance by hiding the stairs behind a bookcase, paneling, or a wall.
32. Vertical Ladder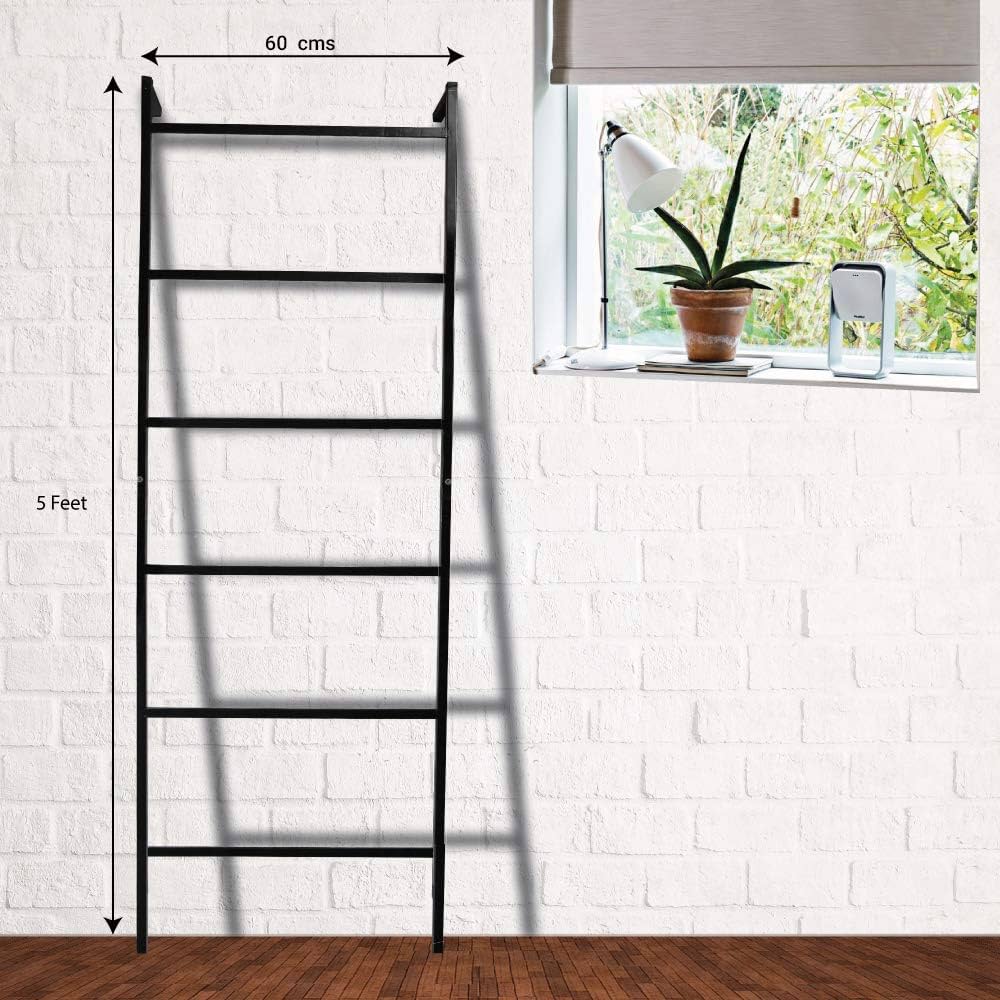 A vertical ladder is a useful and uncomplicated choice if you have a loft. Vertical ladders are compact and offer simple access to high regions.
33. Loft Staircase with Storage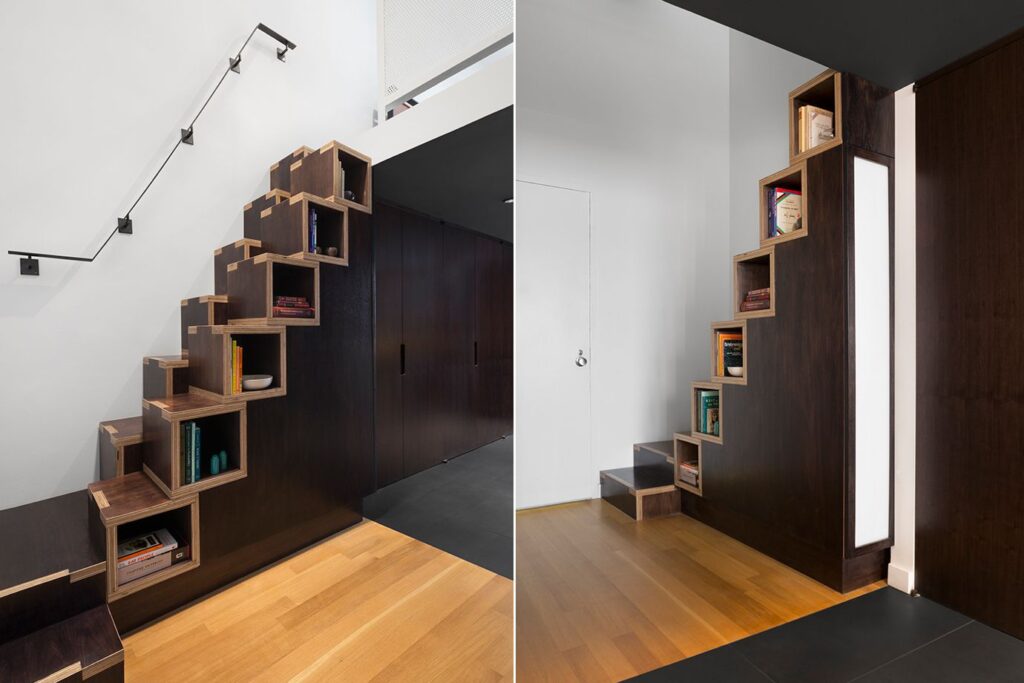 Consider a loft staircase with built-in storage if your home has a loft or other high room. These stairways offer access to the top level and have cupboards or drawers behind each step for practical storage options.
34. Slide-Out Steps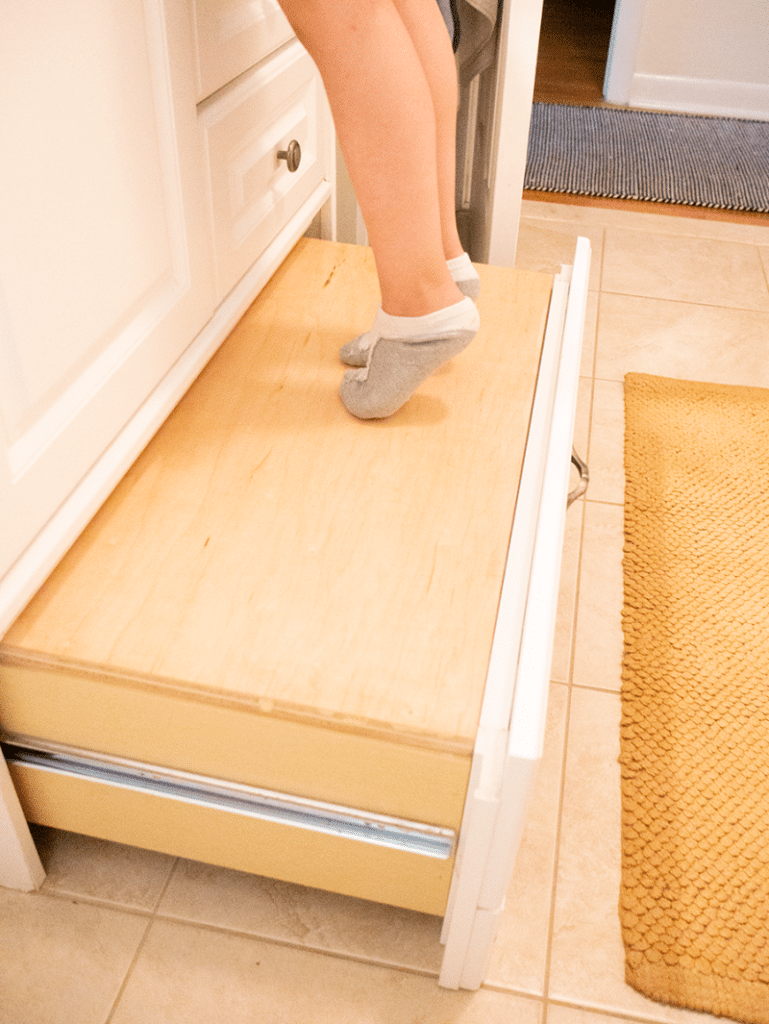 For compact rooms, slide-out steps provide a creative space-saving option. You may regain critical floor space by pushing these stairs back in when not in use and pulling them out as needed.
35. Corner Staircase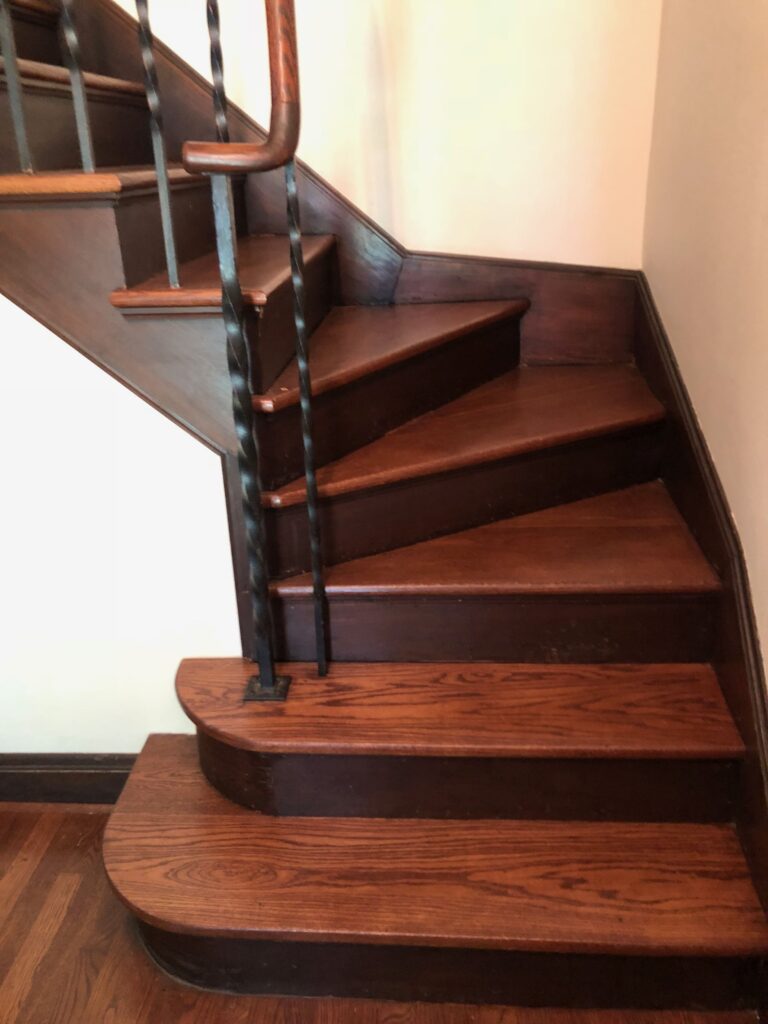 Utilize the corners of your compact area by installing a corner staircase. These staircases curve around a corner, making the most of the space you have while enhancing the aesthetic appeal of your house.
36. Spiral Stairs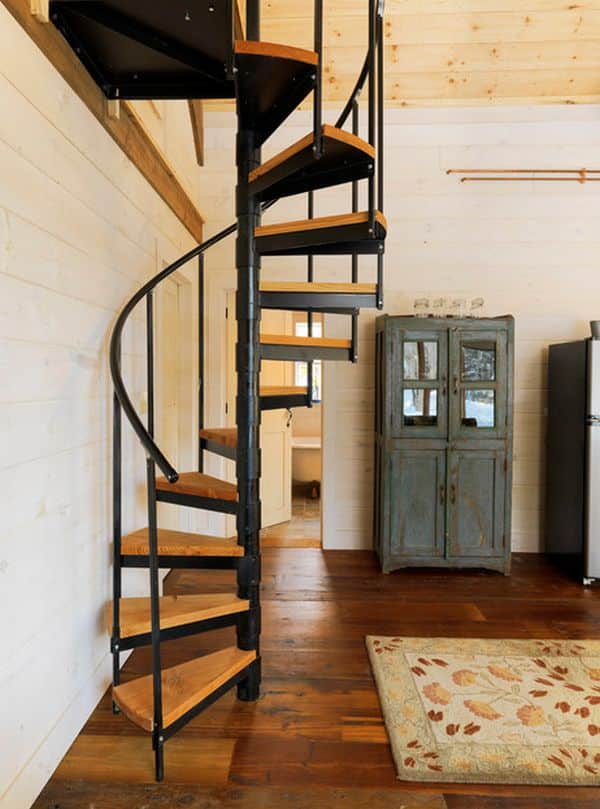 Spiral stairs are a traditional small-space-saving option. Because of their small size and helical form, they can easily squeeze into small spaces. The spiral staircase may be tailored to meet your home design thanks to the variety of materials and finishes available.
37. Floating Stairs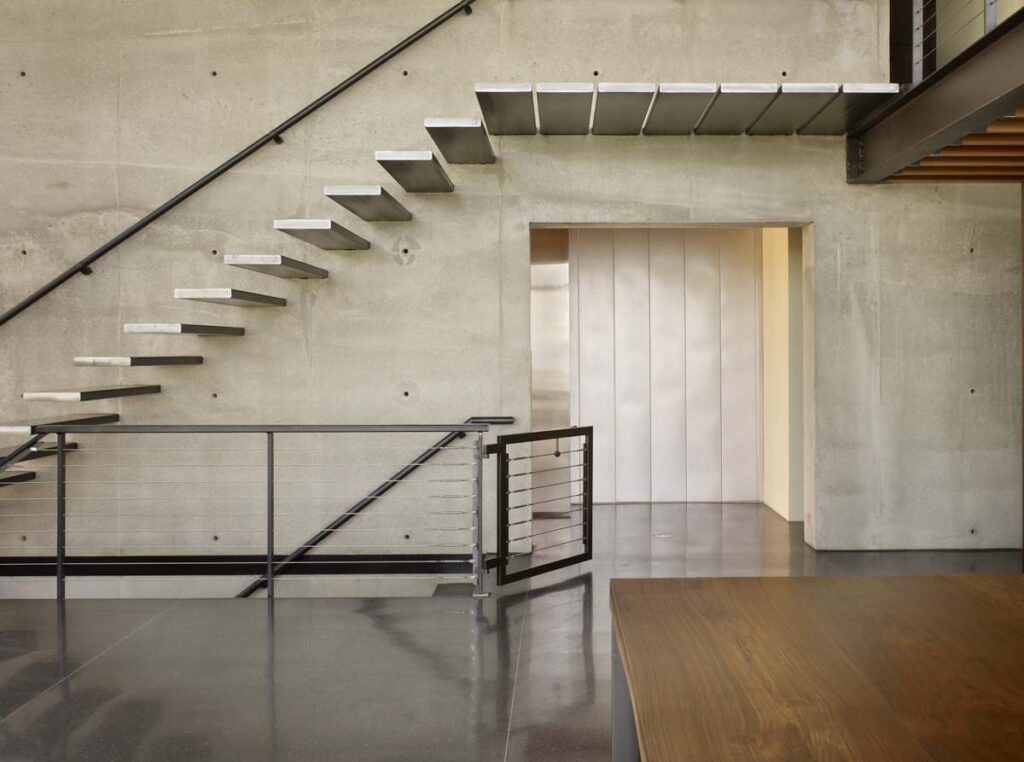 Further, we can use floating stairs to design an eye-catching stairway. These stairs appear to be floating in midair because they are firmly fastened to the wall yet have no apparent supports. In addition to saving space, floating stairs give a room a clean, contemporary feel.
38. Ladder Staircase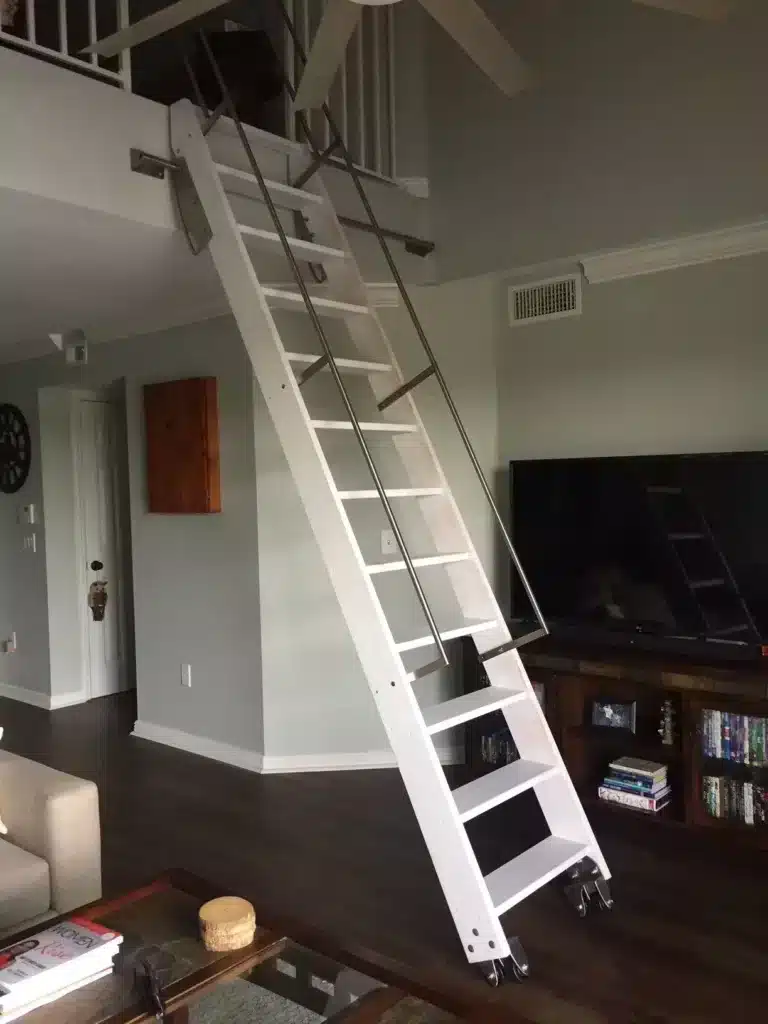 A ladder staircase is a distinctive and useful option for tiny rooms. It provides simple access to higher levels without taking up much room by maintaining the utility of a ladder with the aesthetics of a staircase.
39. Under-Storage Stairs
Storage options should be incorporated to make the most of the area under your stairs. Install cupboards, shelves, or drawers to make the most of the space beneath the stairs. You may maximize space in this way while maintaining the organization of your possessions.
40. Straight Slides with Straight Stairs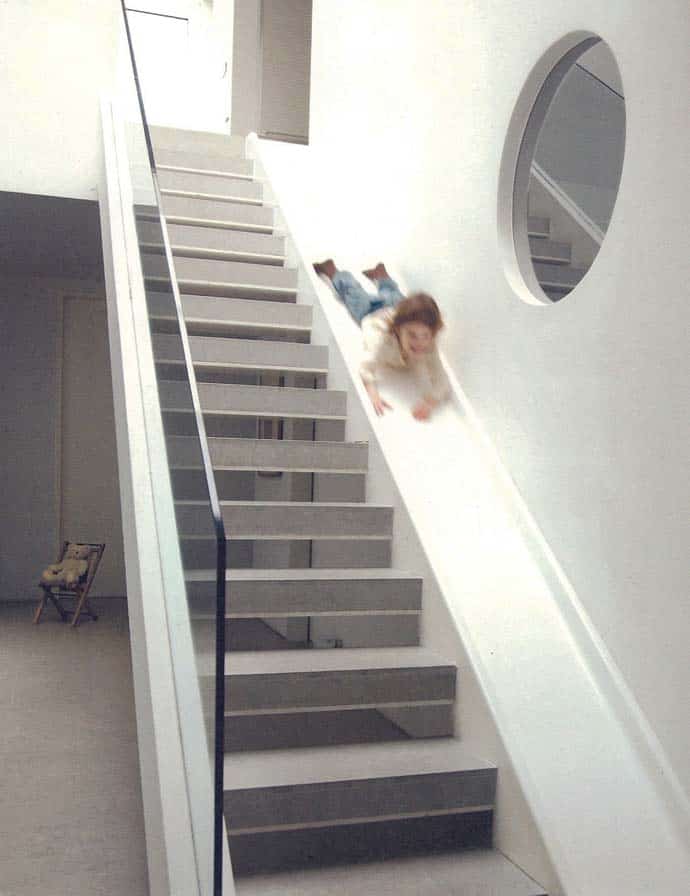 Not a fan of circular slides and circular stairs? Add a straight slide to the side of your straight staircase for a fun and interesting way to go down. This creative solution is ideal for households with kids or those who wish to add a little fun to their setting while also not making them feel dizzy every time they climb down.
41. Foldable Stairs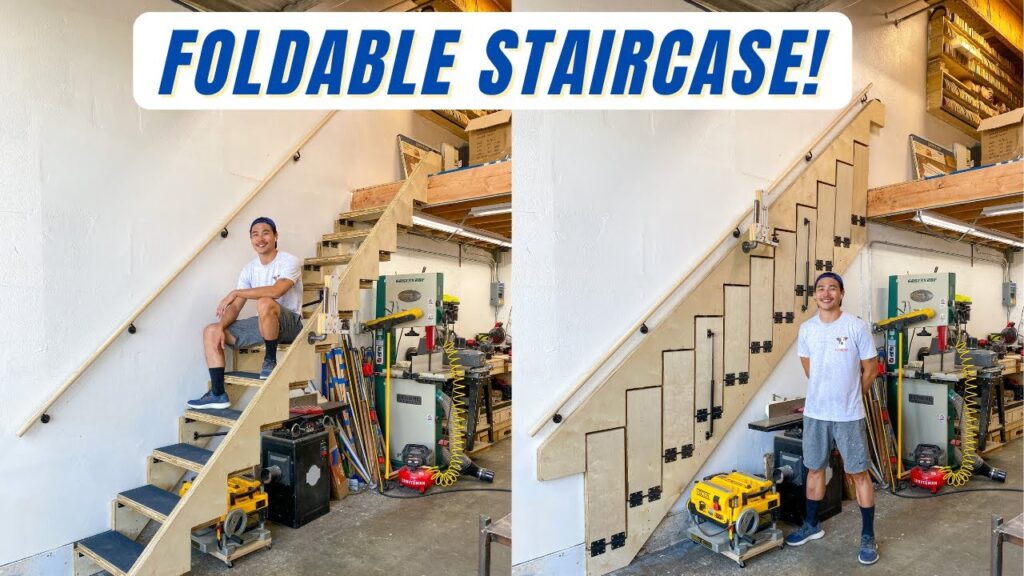 If a room is at a premium, take into account foldable stairs. When not in use, these steps may be folded up and stored, giving your cramped area more room. Accessing loft spaces is made specifically easy with the help of these foldable stairs.
42. Bookshelf Stairs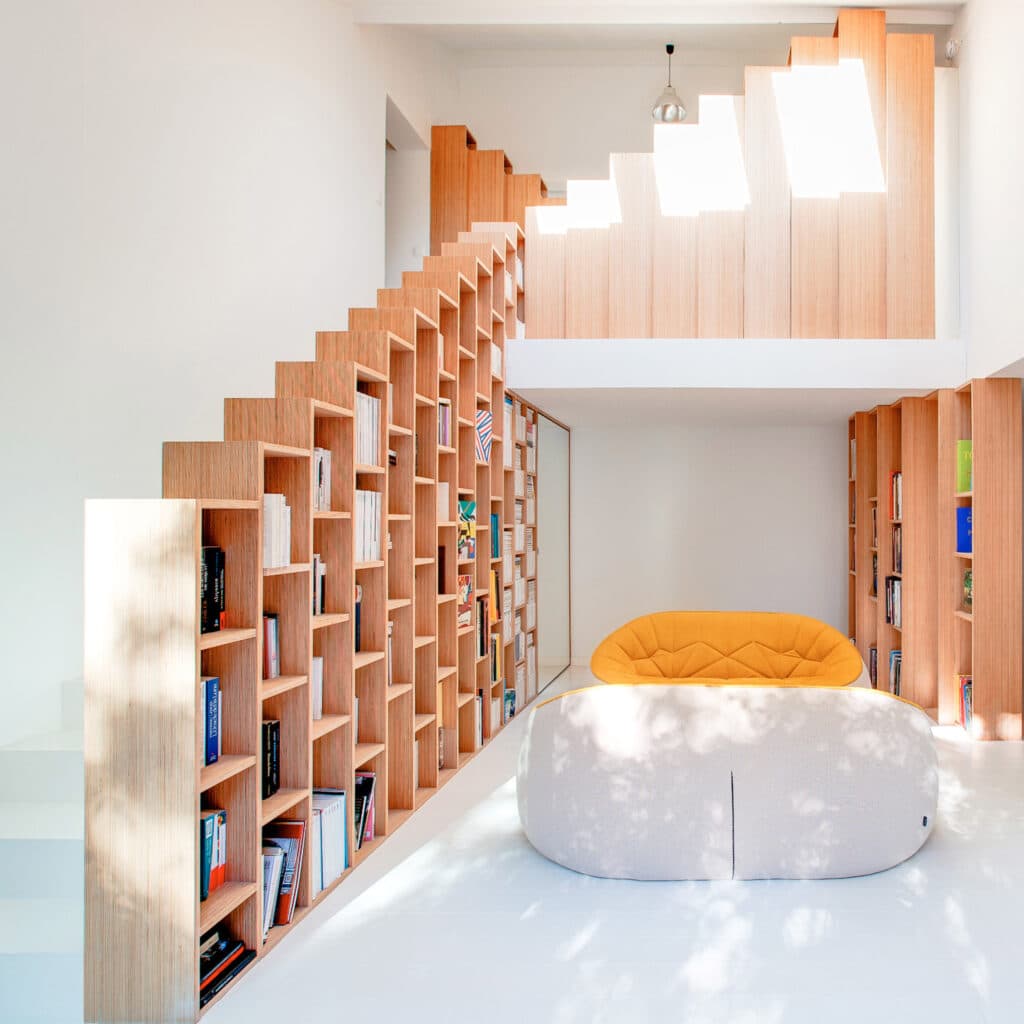 Bookshelf stairs combine elegance and usability. Each step functions as a bookshelf, offering a special place to store your favorite books. Bookshelf stairs not only maximize space but also give your house a personality.
43. Floating Spiral Staircase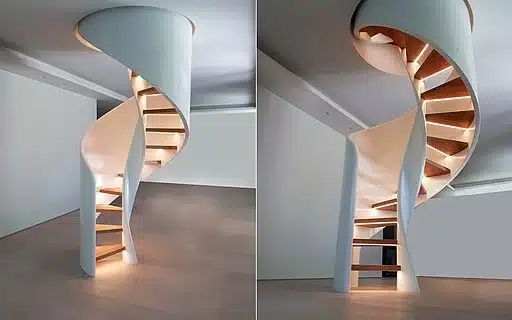 A floating spiral staircase may become the center of attention in a compact area. These beautiful structures include a spiral staircase that appears to float because there are no apparent supports for it. It gives any home a touch of sophistication while maintaining the elegance factor.
44. Pull-Down Attic Steps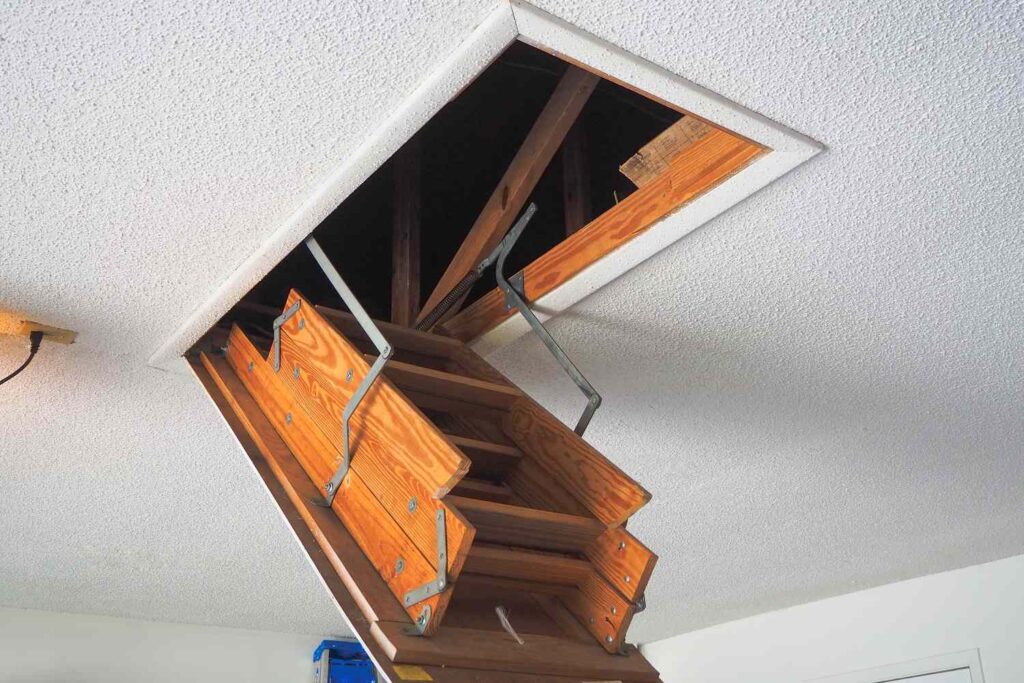 Attic areas are tough to reach, but to make them more accessible and simple, you can install a pull-down attic step that you can easily fold upwards when not in use. These steps may be folded and placed in the ceiling to provide more floor space in your compact living space.
45. Vertical Bookshelf Stairs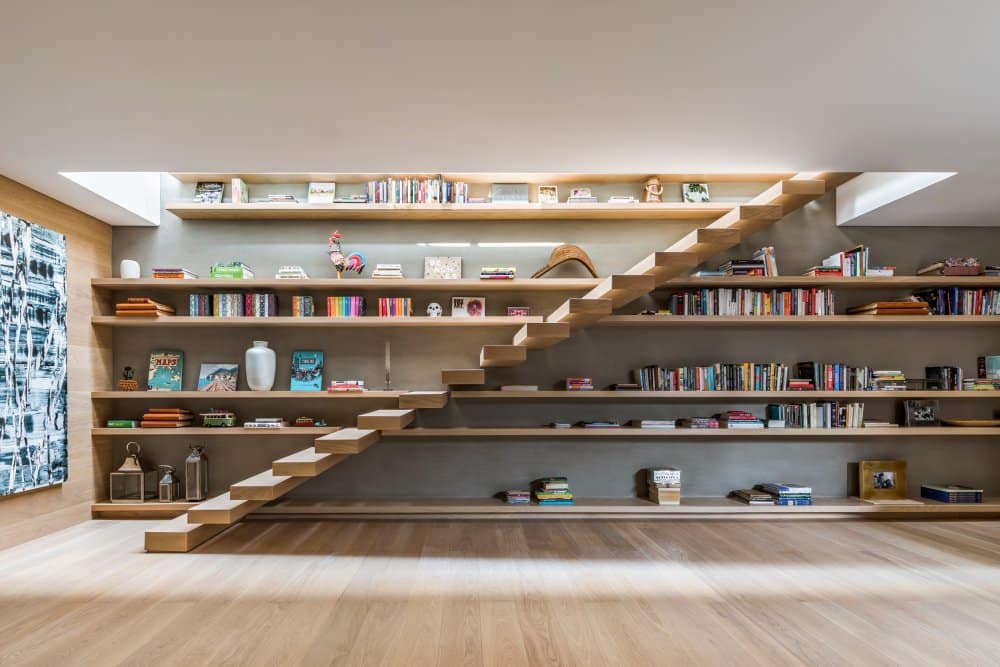 Vertical bookshelf stairs are a unique combination of a bookshelf and a staircase into one. Each step doubles as a bookshelf, giving you space-efficient storage for your preferred books. What's better than that now?
46. Zigzag Staircase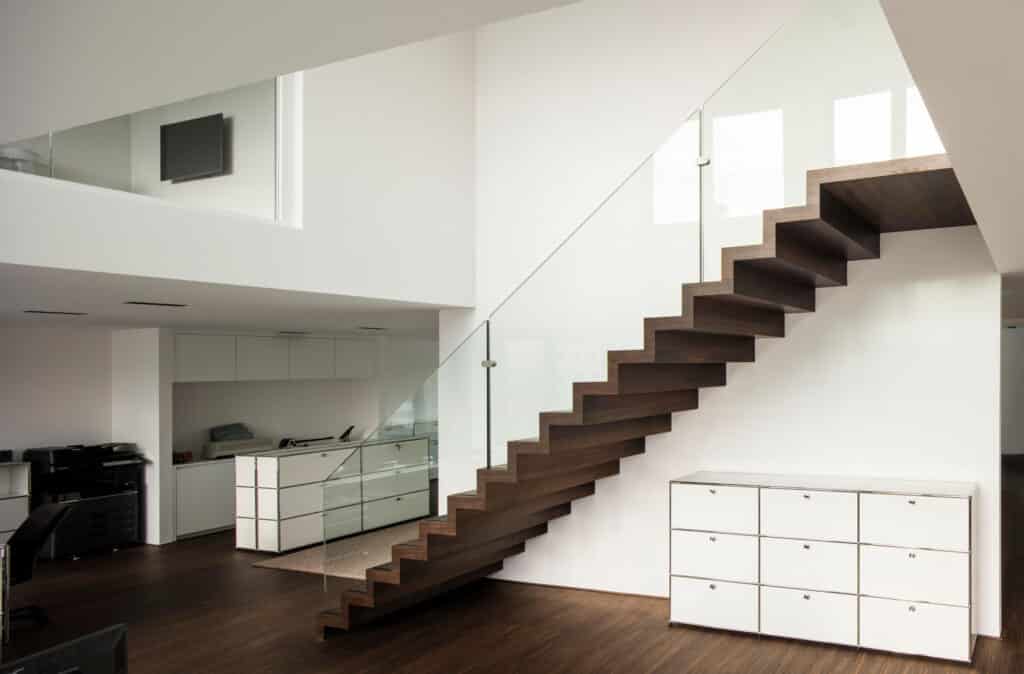 Use a zigzag pattern to construct an eye-catching staircase. Alternating steps that change directions make up zig-zag staircases, which offer aesthetic flair while making good use of available space.
47. Slide-Equipped Circular Stairway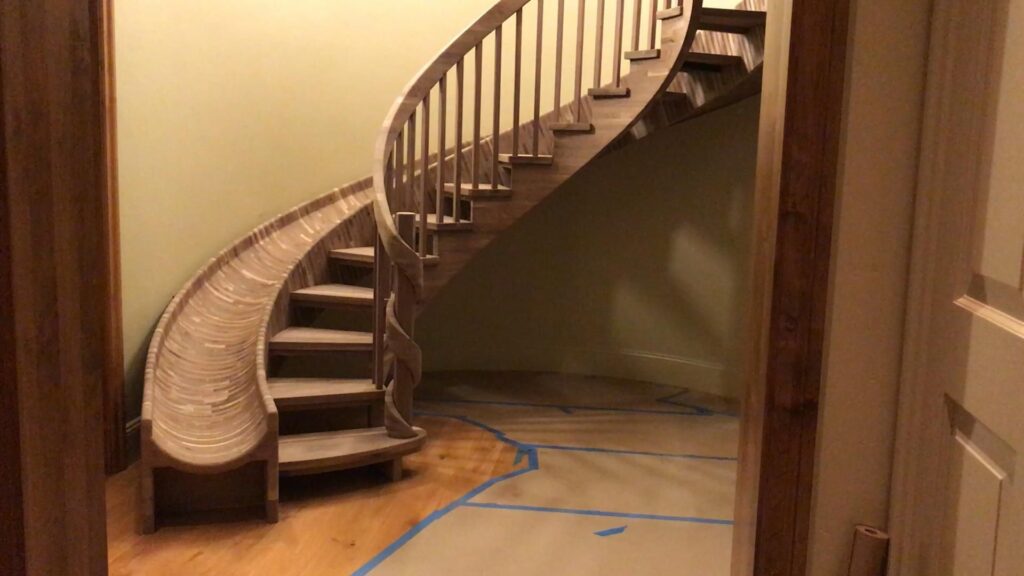 You would be lying if you said you never imagined having a slide installed in your house. A slide-equipped circular stairway will breathe new life and excitement into the tiny areas of your house. This full-of-fun stair style enables you to slide down in seconds while using much less energy in comparison to the regular boring stairs.
48. Convertible Desk Staircase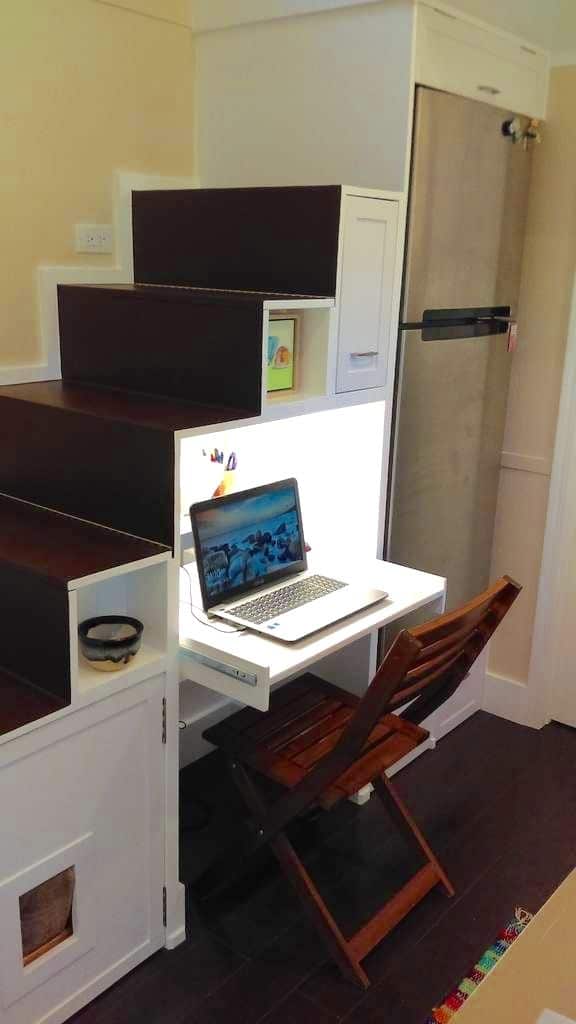 Sounds so cool, right? For a multipurpose space-saving option, you should consider pairing a staircase with a convertible desk. Each step may be used as a desk or office, giving tiny living space options while you work.
49. Sculptural Staircase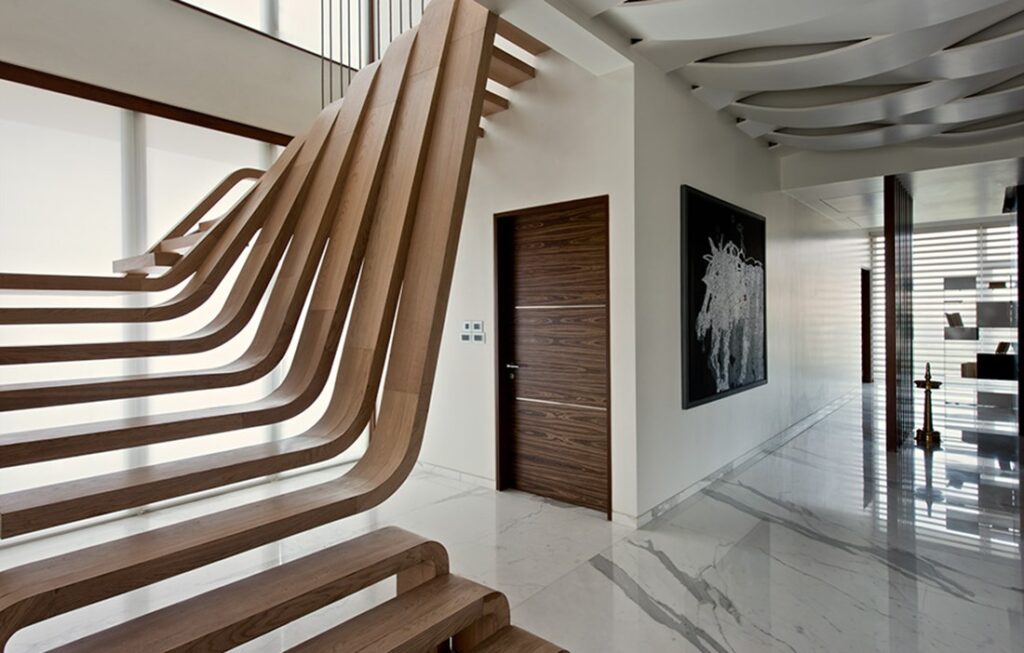 Choose a sculptural staircase that serves as both a stairway and a piece of art. These stairs provide a visually beautiful accent to your little area with their very precise and detailed designs. Elevate the beauty and space of your home with such creative and top of the line staircase design.
50. Foldable Pet Stairs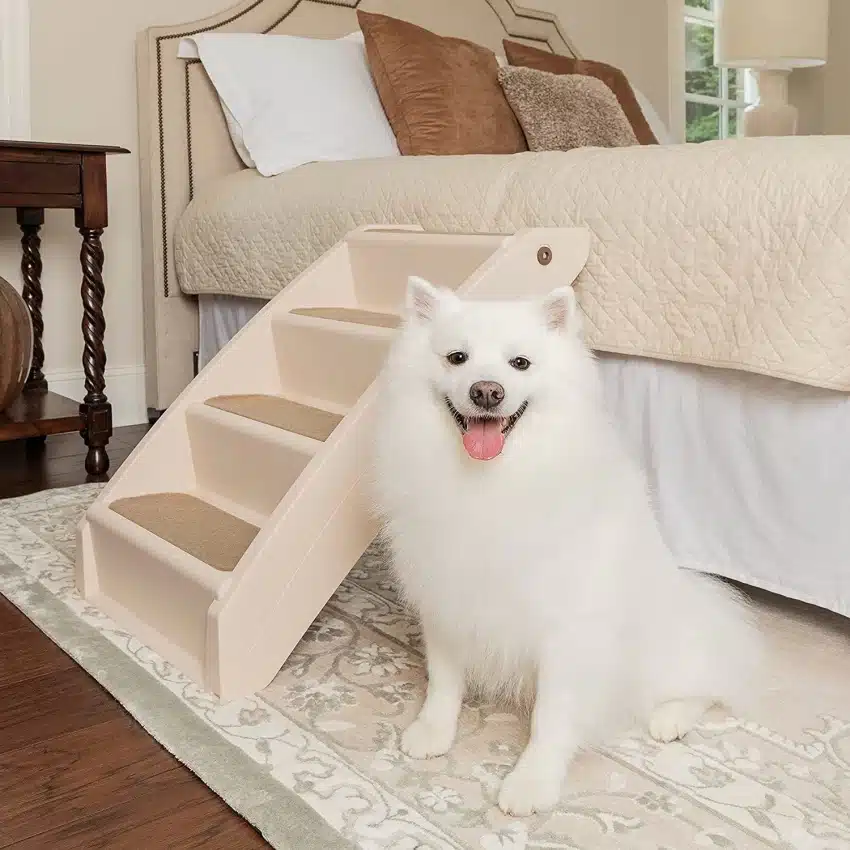 Attention, Pet lovers! Give more space to your pets in your small space by building folding pet steps that can be easily folded and stowed away when not in use. Allow your buddies to easily reach places using these steps while taking up less room in your compact house.
That's All!!
Perhaps, there are several space-saving staircase design options available for compact rooms. You can choose the ideal staircase that meets your needs while maximizing your available space. When making a choice, keep the elements of fashion, utility, and safety in mind.
You now have a list of 50 of the trendiest and most popular stair space design ideas to renovate and transform your limited space into a functional and lovely home, ranging from circular staircases to slide integration and antique designs to classic mirrored stairs.
You may change your little room into a chic and useful retreat with these 50 Small Space Stairs design ideas.
So what's the wait all about? Select the most efficient option from the list or customize it according to your preference and utilize that space you have been longing to do for so long!
Frequently Asked Questions
What are Space-Saving Staircases?
Space-saving staircases are stairs that are designed to take up less space and provide more utility. By utilizing cutting-edge methods, compact constructions, and innovative ideas, space-saving stairs are designs that were built expressly to maximize space utilization in tiny spaces.
Are Stairs that Save Space Safe?
It is possible to create space-saving staircases that adhere to safety regulations. To guarantee correct structural integrity and respect for safety rules, it is very crucial to engage with specialists. Some tasks must be better left to the experts rather than doing it ourselves.
Do Stairs that Save Space Need Any Extra Maintenance?
No. There is no special or extra maintenance required. Similar to ordinary stairs, it is advised to do routine maintenance such as cleaning and monitoring for any symptoms of damage. However, depending on the design and materials selected, particular maintenance needs may change.