Do you know that a built-in fireplace can be the best way to display your favorite accessories and make the space more usable? Built-ins around a fireplace can transform the area by adding style, personality, and the extra space you need in the room. You can create an open display area to showcase your memorabilia or go for closed storage to keep items out of sight.
Fireplace built-ins can be asymmetrical or symmetrical, flushed or recessed based on your design vision. You can also opt for white built-ins with open shelving or go for mantel shelves if you don't have much space to dedicate to storage. But how to find out what type of storage solution will work best for your style goals, budget, and space?
Worry not! We have curated a list of 11 stunning ideas for built-ins around a fireplace to add functionality and style to your space.
Envy-Worthy Ideas for Built-Ins Around a Fireplace
Make your fireplace the focal point of your living room with these 11 stunning built-in ideas. With the help of these ideas, you can add visual interest and usability to your fireplace.
1. Combine Cabinets and Shelves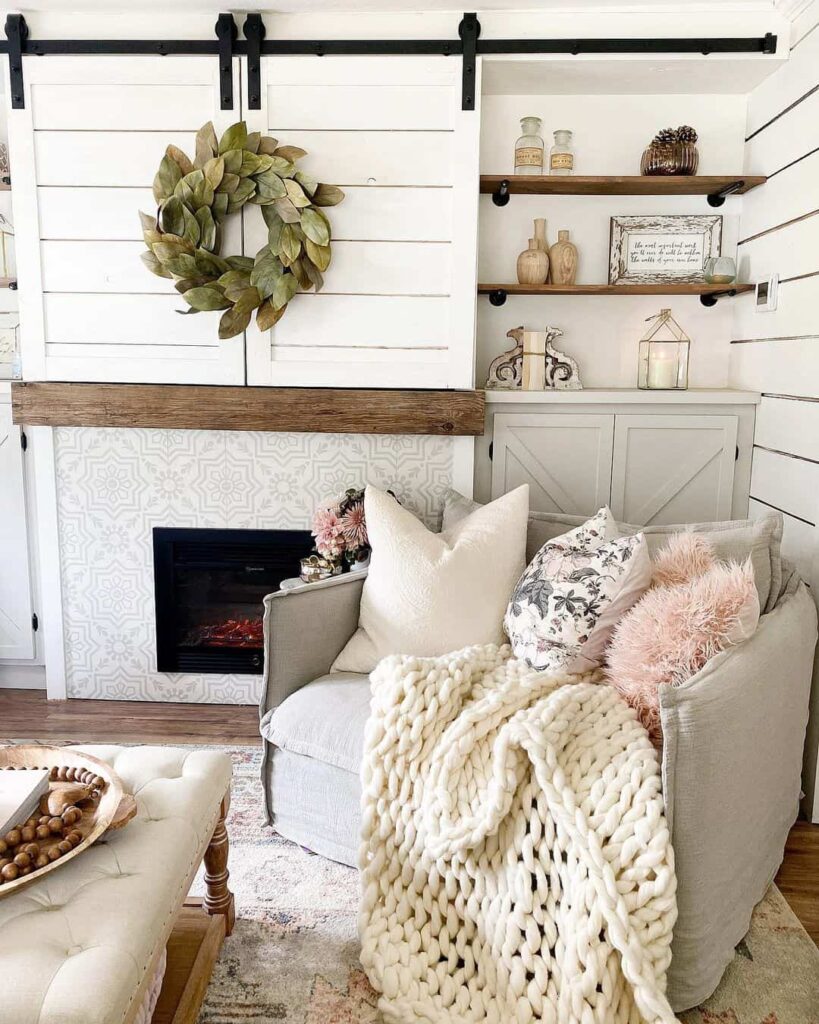 When it comes to fireplace built-ins, most people opt for either cabinets to hide clutter or floating shelves to show off their accessories. But what if we say you can incorporate both and flaunt the items that you want and hide the accessories that you don't need? You can take inspiration from the picture above, wherein a small cabinet and industrial floating shelves have been combined to give a cozy feel to your fireplace. Shelves on the side of the fireplace can be used to showcase colorful accessories.
It will also open up your room and make it seem larger than it is. Place a plush chair or sofa covered with pillows to take the elegance and charm of the room to the next level. Don't overstuff your floating shelf, or else it will look untidy and give a cluttered look to your room.
2. Extend Built-in Shelves to The Ceiling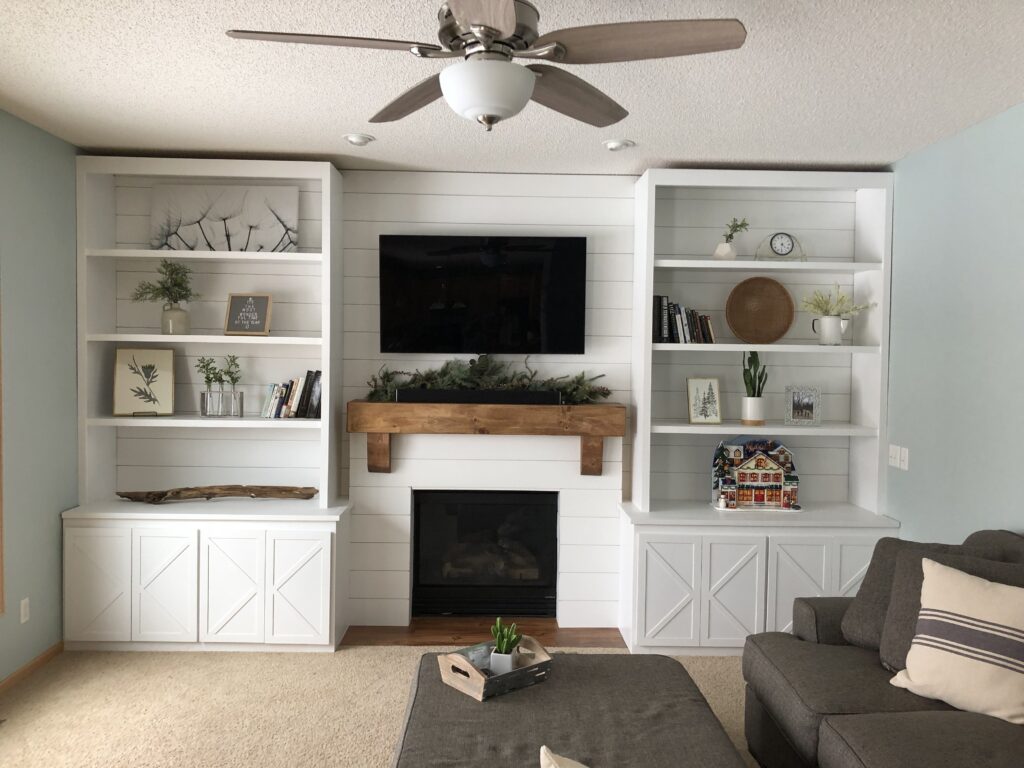 If you want to give your room a taller appearance, extending the built-in shelves around the fireplace to the ceiling can be a good idea. Extended cabinets create a streamlined and bold look and offer more space for storing your decorative pieces. But if your ceiling has any decorative beams, you'll have to get them removed, as they will look awkward against the upper wall cabinets. If you're using fake built-in shelves, add crown molding at the top of the built-in shelves to create an illusion of extended space.
The floor-to-ceiling cabinetry idea can work both in modern living rooms and historical-period homes. But remember not to put daily use items in the top-most cabinet as it won't be easily accessible. The highest shelves should only be designated for seasonal items or accessories that are rarely used.
3. Fake Built-in Shelves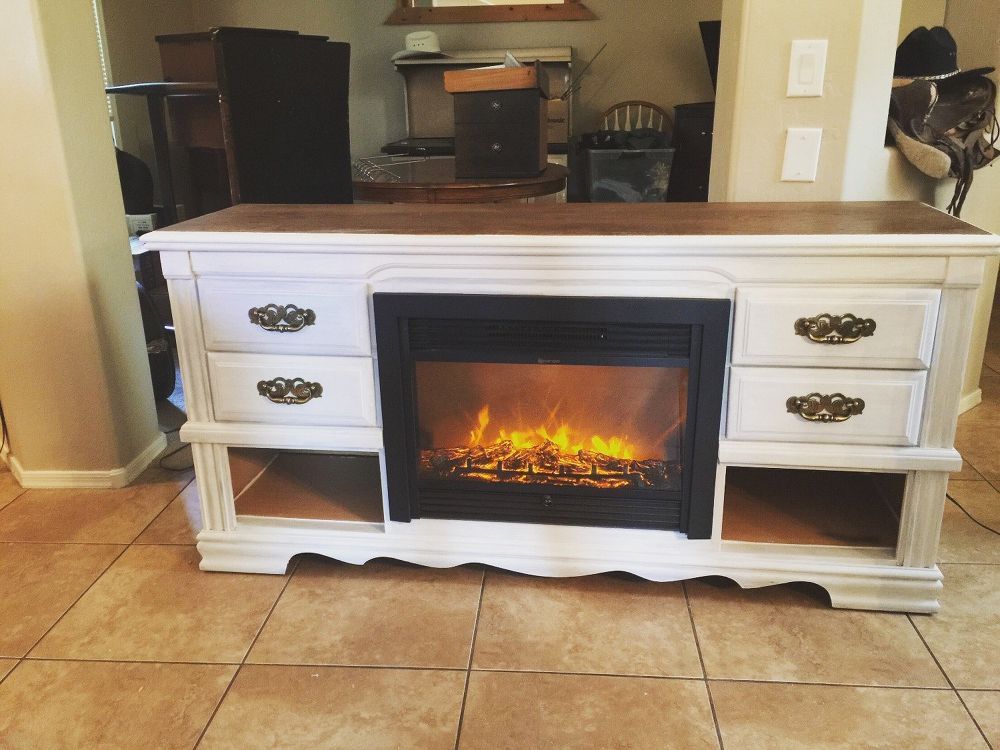 If you don't have pre-existing built-ins, that does not mean you can't have a storage space around your fireplace. You can achieve the built-in storage around the fireplace aesthetic with the help of furniture. Find a dresser or bookcase having the same width as your fireplace's recessed areas to create a one-of-a-kind look.
Check out the above picture, wherein two dressers have been used as built-in units. Both the dressers have been placed on the side of the fireplace. A few drawers have been removed from the left dresser to create a small shelf. You can either go with the same look or use your own creativity to style the furniture that you used as a built-in around the fireplace.
4. Make Your Built-ins Attention Worthy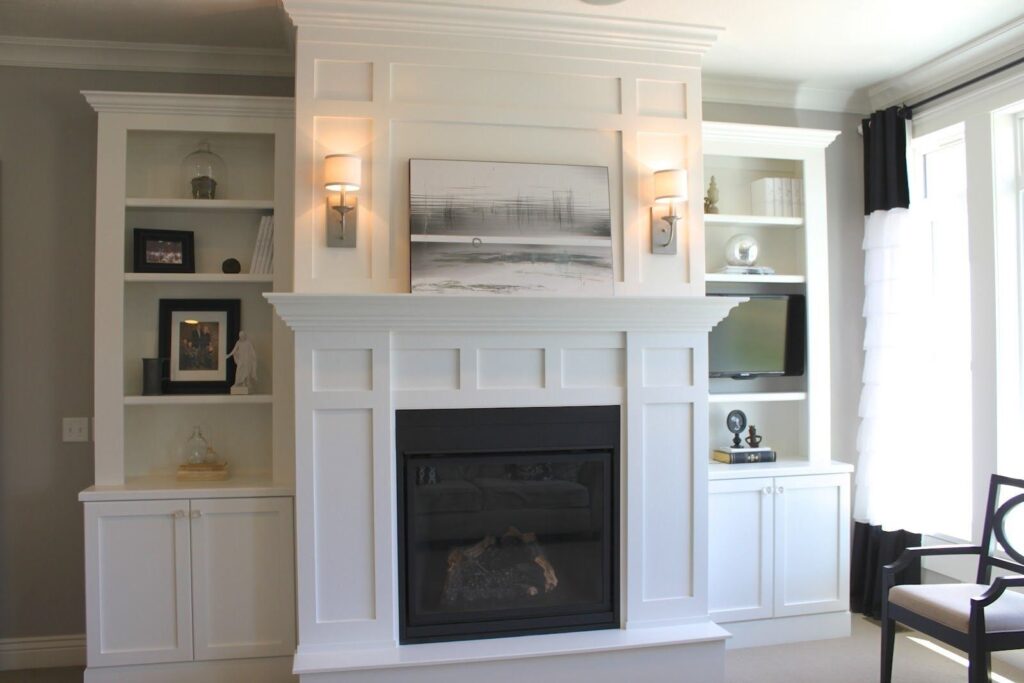 Do you want your built-ins to steal the spotlight and become the center of attraction? If yes, ensure they are well-lit. You can place LED puck lights on each shelf's bottom or hang a lantern on the top. Sconces, string lights, and pot lights can also be used to light up built-ins and ensure they look attention-worthy. If the built-ins do not have proper lighting, they will look dingy and give your room a smaller appearance. Your artwork and decorative items will also appear darkened by the shelf's shadow if proper lighting is not there. Upper lighting is often the best to glam up the look of your built-ins around the fireplace.
To make your built-in shelves look fabulous, you can also paint them in dual-finish. This will make them the showstopper element of your room, and your guests won't stop admiring your prized collection.
5. A Wooden Mantel Shelf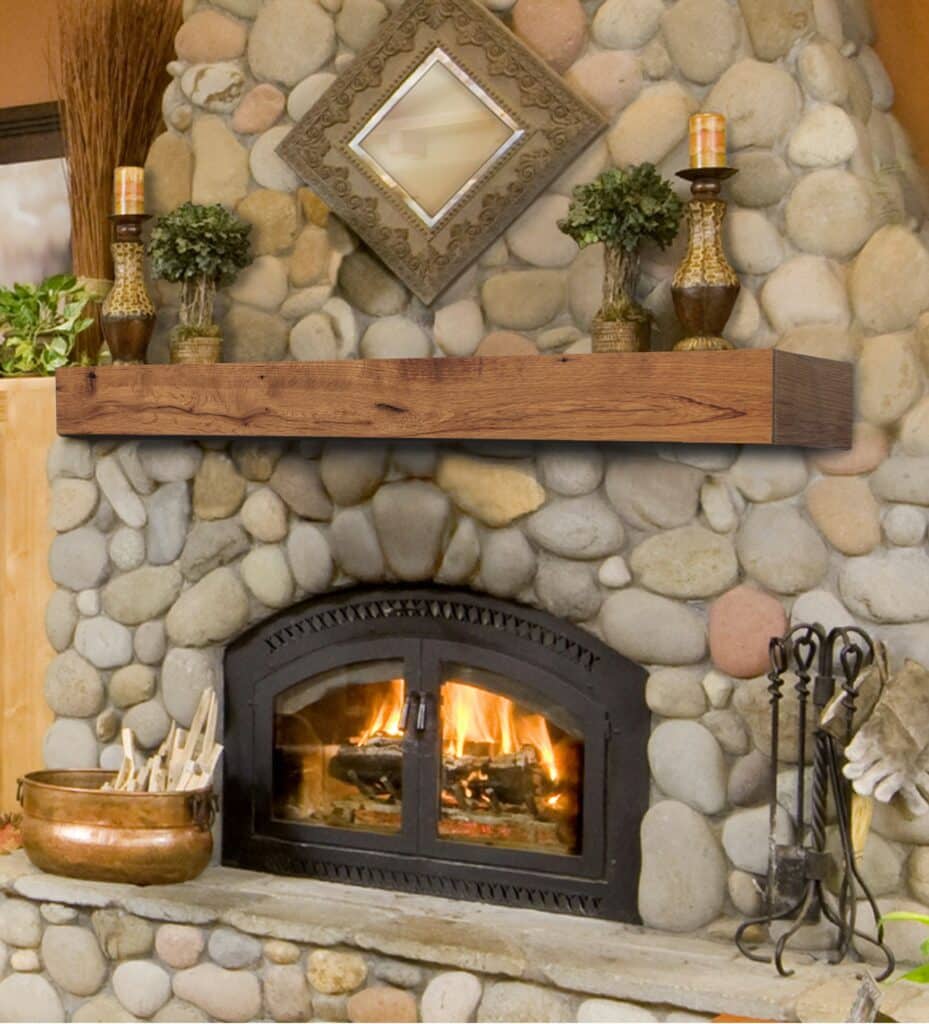 A brilliant way to create storage space above your fireplace is by using a floating wooden shelf as a mantel. A fireplace mantel is the perfect place to showcase your valuable possessions. You can keep your knick-knacks, keepsakes, and awards on the wooden mantle shelf and change them according to the season. Wooden mantel shelves especially look good with painted fireplaces, as they give an earthy, rustic vibe to your room.
When installing a wooden mantel shelf, ensure that it is larger than the fireplace, or else it won't stand out. You can add lights on the mantel or put up different plants to enhance the room's warmth. If the wooden mantle shelf is stylish and has beautiful carving, you can leave it bare rather than accessorizing it.
6. Create a Cozy Reading Nook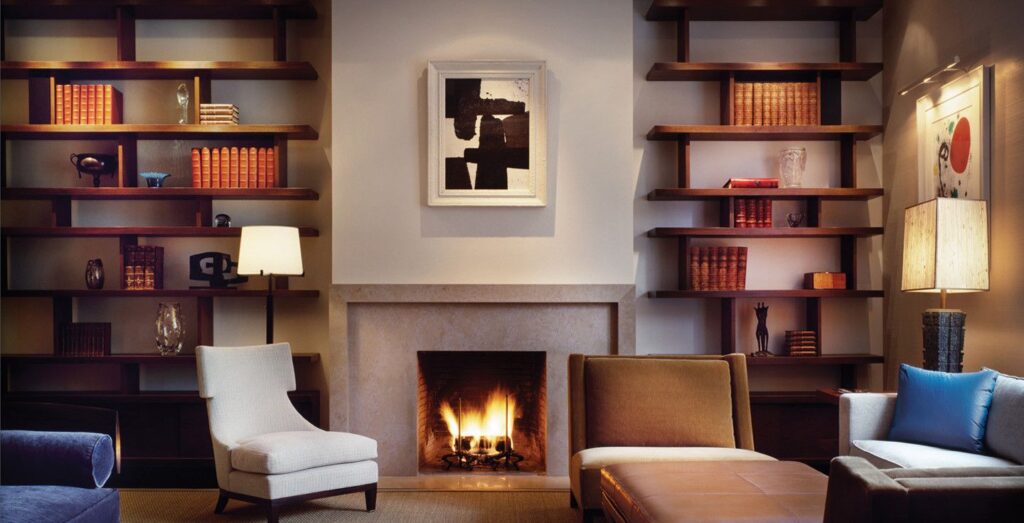 Nothing can replicate the feeling of curling up next to the fireplace while reading your favorite book. You can build custom bookshelves around your fireplace to make your reading time more enjoyable. Consider adding perforated panels or glass doors in the front part of your bookcase to ensure that dust and grime stay off your books.
To create a symmetrical look, you can ensure that the shelves are in the same tone as the vases, fireplace mantel, and wall art. Grab your favorite book and spread out on the fur rug in front of the fireplace.
You can also place an ottoman and vintage chair to create a cozy reading nook beside the fireplace bookshelf. If you don't have enough space, a slipper chair or an armchair can be a good choice. For something cozier, you can place a lounge chair with a footrest or a plush daybed.
7. Don't Make Built-in the Focal Point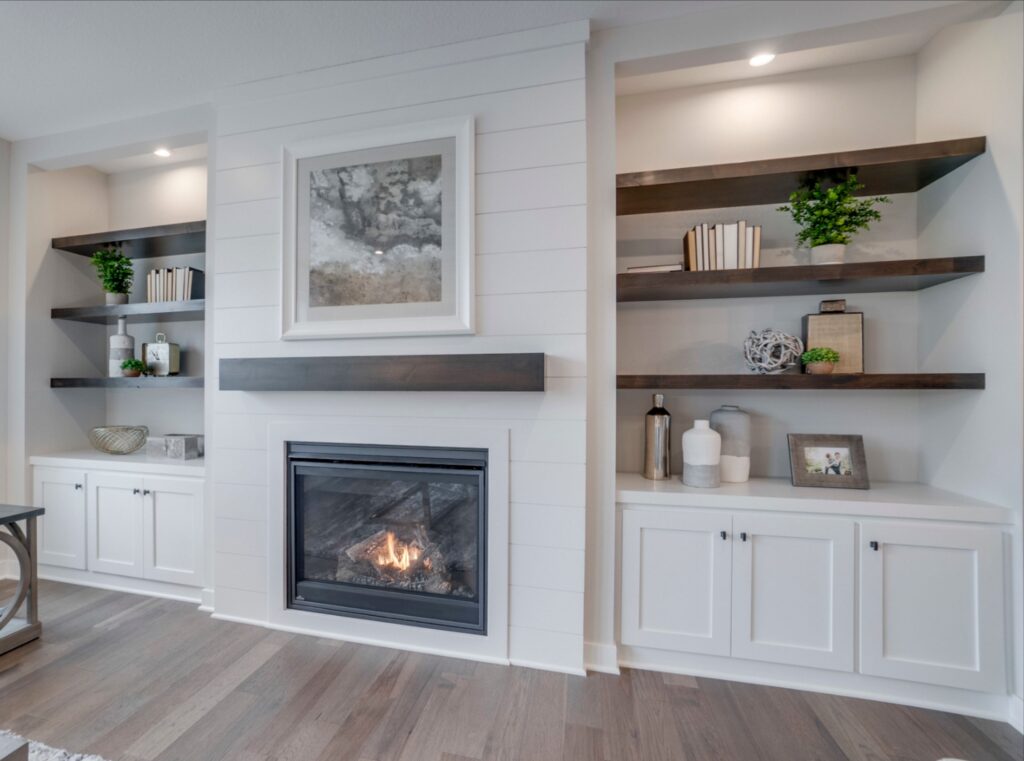 Whether you're adding a built-in cabinet around the fireplace solely for storage or working with an existing built-in, don't put extra effort into making it the focal point. Let it act as a supporting character and allow other elements, like a beautiful painting or the mural, to take center stage. You can go for a minimalist all-white built-in cabinet rather than opting for vibrant built-ins. Neutral tones also work perfectly for people who want their built-in cabinets to align with the overall theme and decor of their room.
But when you're going with this approach, try to introduce at least one element in your room that stands out. If all the elements are subtle and mild, your room will look very boring and bland.
8. Customize Your Own Size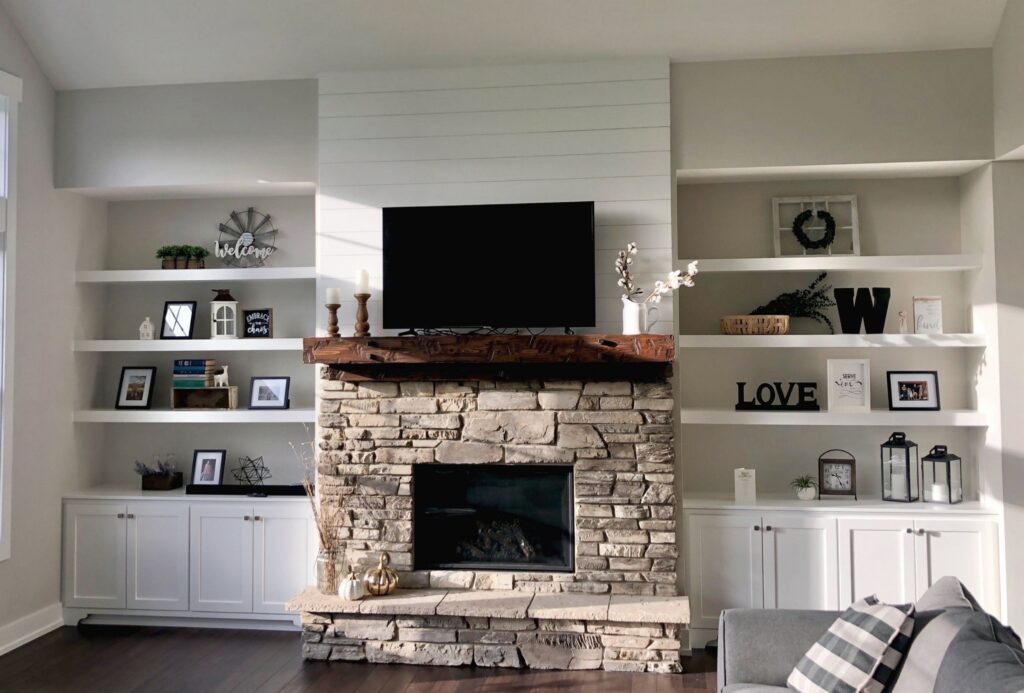 When it comes to a built-in cabinet around the fireplace, it doesn't always need to be a floor-to-ceiling design. You can customize the built-in cabinet in a way that suits your fireplace and your room's dimensions. If your room is very compact, a floor-to-ceiling built-in cabinet will make the space look even more cramped. In small rooms, it's best to install built-in cabinets halfway up the wall, on both sides of the mantel. If you don't need much storage, you can also install built-in cabinets halfway up the wall, on one side of the mantel.
This way, you can maximize the available space without blocking any light. You can go for a floor-to-ceiling built-in cabinet if your room is very large and spacious.
9. Go Bold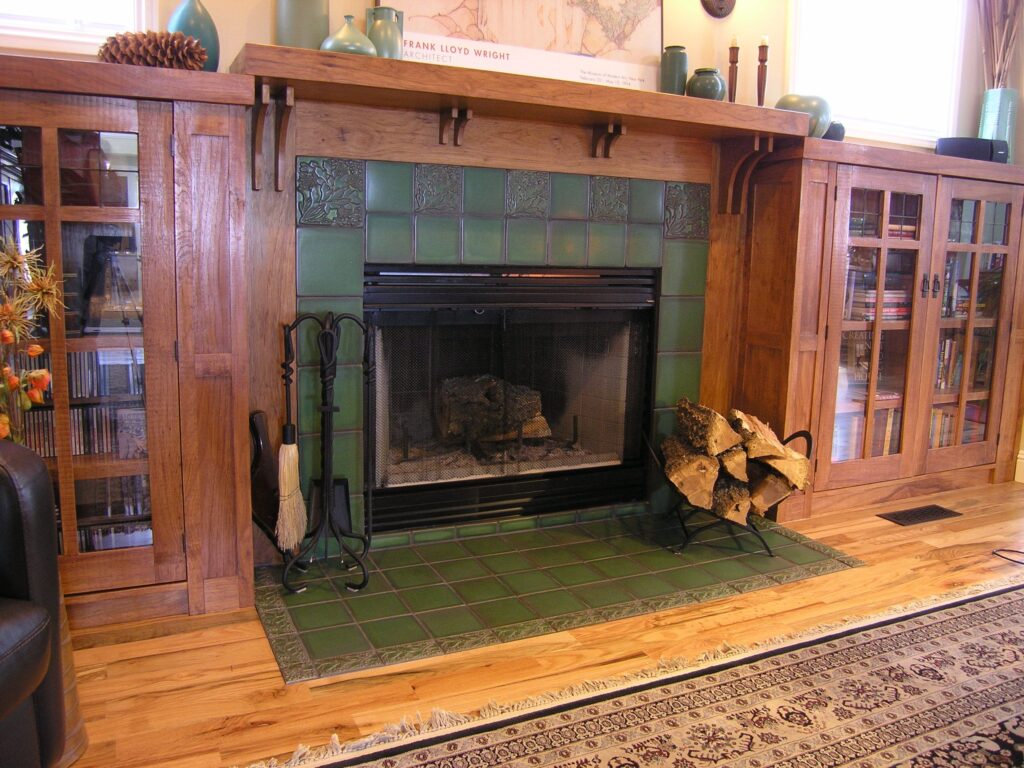 Most people believe that the only way to infuse life into their room is by incorporating bold colors in their curtains, walls, and rugs. But what about the built-ins around the fireplace? Painting your built-in cabinets in a bold or bright color is one of the best ways to bring some life to them. Even if the style of the built-ins around your fireplace is traditional and basic, you can amp up their look with the help of vibrant colors like blue, green, wooden tones, and red.
Bold built-ins especially look good in rooms having white or neutral-colored walls. If you don't want to go very bold, you can even opt for muted shades of bold colors to give a more toned-down look to your room. You can also play safe by painting the back wall of open cabinetry and built-in hutches featuring glass doors with bold colors.
10. Arched Built-ins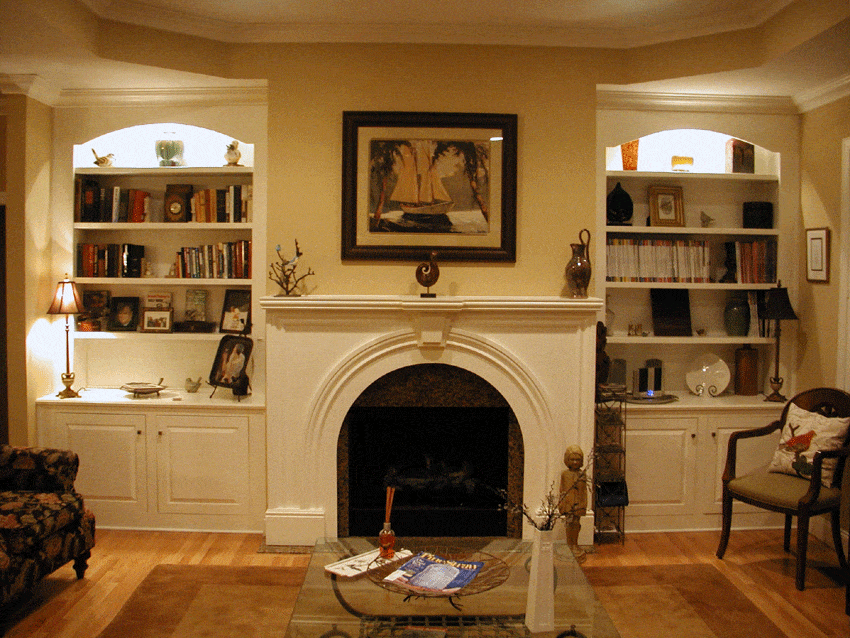 Arched built-ins can add a new character and personality to mundane spaces. If you want the area around the fireplace to stand out, you can't go wrong with arched built-ins. You can install two small arched built-ins in the blank wall around the fireplace to make them the focal point of your room.
While installing the built-ins, ensure that it matches the moldings and other details, or else it will look awkward. The matching color for the mantle, shelving, and lower cabinets will create an inviting feel and make everything look balanced. Display your knick-knacks and favorite accessories and make everyone wonder as they look at your exotic collection.
11. Open Shelves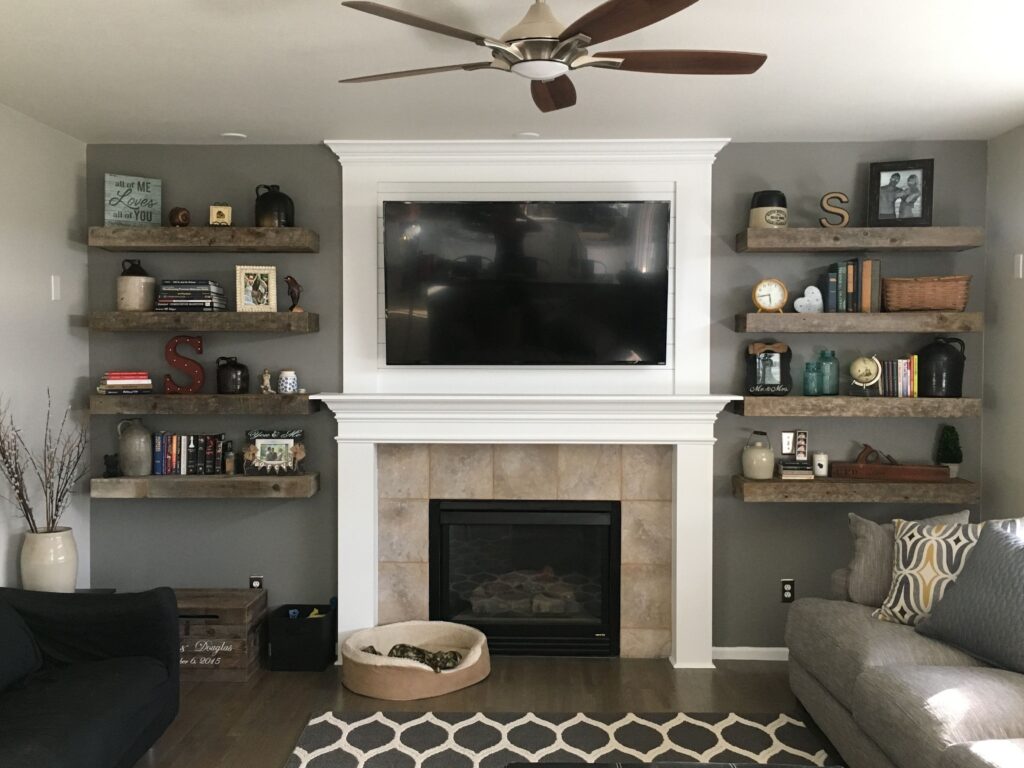 Do you know that shelving style can have a huge impact on the overall look and feel of your room? Open shelves around the fireplace can be one of the best ways to showcase your prized possessions. They especially look good in narrow fireplace nooks where space is very less to go for any other shelf or storage design.
Open shelves beautifully fill in dead spaces and make the fireplace look symmetrical. You can opt for floor-to-ceiling open shelves if there are no windows to your fireplace's side.
Take a look at the above picture, wherein natural timber open shelves contrast nicely with the tiles wrapping the area around the fireplace. For a professional-looking and polished finish, custom-made cabinets can be the right choice.
Conclusion
Whether you live in a luxurious castle or a small cottage, most homes don't have enough storage space. It is, therefore, important to use every nook and cranny of your house wisely. You can give your fireplace a new life by deciding to add custom built-ins. The best thing about built-ins is that you can customize them to fit your specific needs.
If your room is cramped, you can go for small built-ins, and if your room is large, you can opt for huge built-ins. You can also integrate lighting into your built-ins to make them look attractive and focus more attention on the items you display on them.
For enhanced style, you can even experiment with the design and color of the built-ins. If you're facing difficulty in choosing the right built-in fireplace, you can check out the ideas mentioned above. Whether you choose cubbies, shelves, or cabinets, your built-in will add style and functionality to your home.
Frequently Asked Questions
How Can You Make Your Built-Ins Around the Fireplace Attention-Worthy?
You can make your built-ins around the fireplace attention-worthy by installing scones, string lights, and pot lights on the cabinet. Another idea is to paint the built-ins in a dual finish to make them look appealing.
What Should You Keep in Mind While Deciding on The Built-In Around Fireplace Design?
You should keep in mind the dimensions, aesthetics, and decor of your room while deciding on the built-in around fireplace design. Incorporate details and architectural elements already present throughout your home to keep your interior design consistent.