A good sofa is to a living room what breathing is to stay alive. It is the centerpiece of your living room, one that will encourage wonderful family gatherings. A deep couch that prioritizes comfort and that you can lie in and forget about the worries of the day is an essential addition to your home. Needless to say, you should put some effort into making this choice.
We are here to help you with it. This article lists 18 different kinds of sofas. You will have a range of designs, materials, and sizes to choose your best fit. From large sectionals to classic leather sofas, this article has it all. We will take good care of your comfort.
Let's Begin!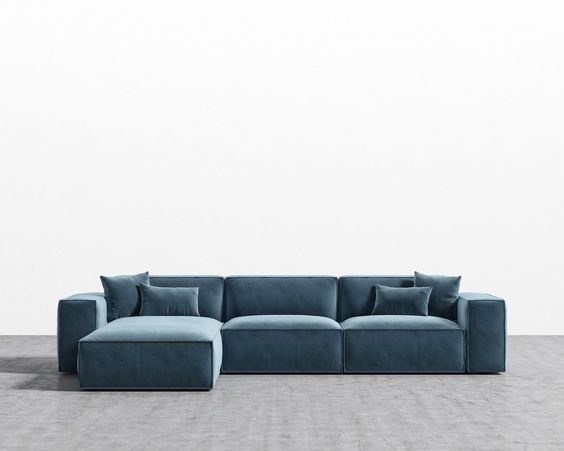 This sectional sofa from Rove Concepts comes in a range of attractive colors. The sectional features ample seating space and is perfect as a deep couch. You can relax on it comfortably, spreading your legs.
It comes with a chaise lounge chair so that you can lie down comfortably with your legs stretched out. Watch Tv, read a book, or grab your essential evening or afternoon nap on this beautiful sectional sofa.
The frame of the sofa is kiln-dried hardwood and features a "high-density foam cushioning" with goose feathers to make it extra cozy.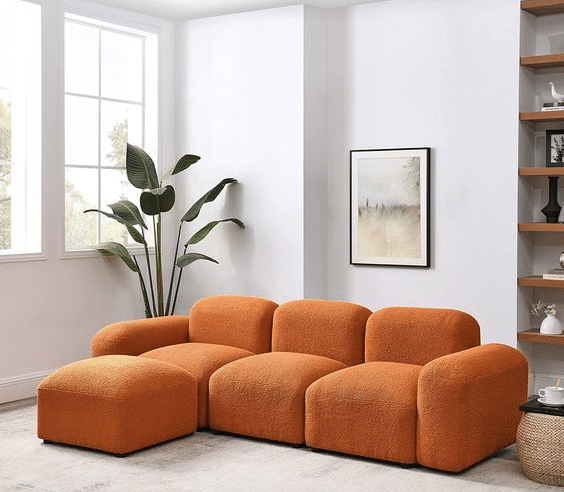 Look at this gorgeous orange-colored sectional sofa, doesn't the image itself scream comfort to you? We hope you, too, look at this sofa and get the childlike urge to jump on it. This sofa comes in this beautiful orange color and has a distinctive design. It will add some fun energy to your living room.
This is a modular sofa so that you can arrange and re-arrange its parts to your liking. It is easy to assemble and provides enough space for comfortable seating.
The sofa is made of a sturdy wooden frame onto which are added comfortable memory foam cushions dressed in sherpa fabric.
The design of the sofa features no sharp edges; it has a niche soft and modern look to it. We love this color; however, if you are not a fan of orange, this sofa is available in other colors too.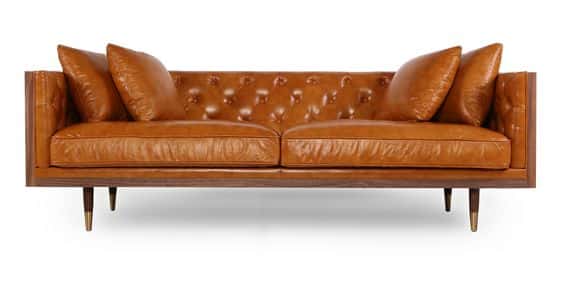 Are you a fan of the classic leather sofas? If yes, then this is the perfect pick for you. Leather sofas carry with them an old-school sophistication and an old-school charm that cannot be duplicated. There is an elegance and quite grandeur to leather couches. This is a deep couch that not only wows with design but also takes care of spacious, comfortable seating.
The frame of the sofa is made of kiln-dried hardwood. And the cushions of the sofa are plush and soft, well suited for long hours of comfortable seating.
We think this sofa will be a very charming addition to the house.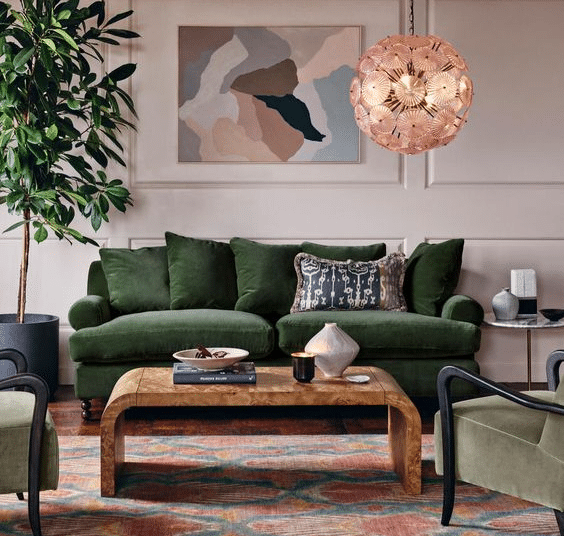 First of all, look at that gorgeous color on that sofa. We think this color is a winner on its own, and they are a perfect match with the cotton velvet fabric.
Secondly, if a deep couch is what you want, this sofa offers you plush and comfortable deep seating that you would love sinking into.
This sofa features a modern interpretation of the Cigar Roll Arm(which is a classic). The seat cushions are feather-wrapped foam that you can dive in. The cushion on the sofa is of the oversized scattered kind that will give your comfort an upgrade.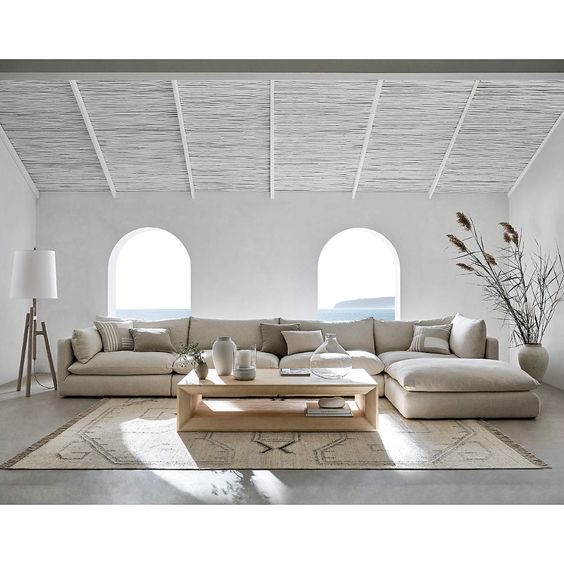 If you have a big family or just like entertaining friends and family members at your house often, this is the sofa for you. When it comes to space, I don't think you can have any complaints. This sectional sofa will fit your family comfortably for an exciting movie night. It features deep seating and a chaise lounge to relax.
The frame of the sofa is made of engineered wood and birch. The cushions are comfortable, and it comes with two throw pillows.
I think it is clear that this is not a small apartment sofa.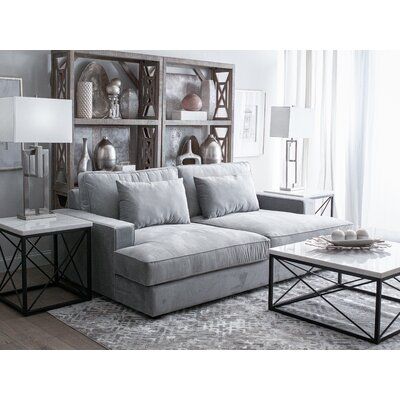 If you are looking for a deep couch for your apartment or your living room, this is the perfect choice for you. This compact deep-seating sofa comes in black, slate, and navy colors. This sofa features one of the deepest seatings on that list.
It looks sharp and sturdy. The sofa comes fully assembled, so if you are not a fan of assembling furniture, you're in luck with this one. It can comfortably seat four people.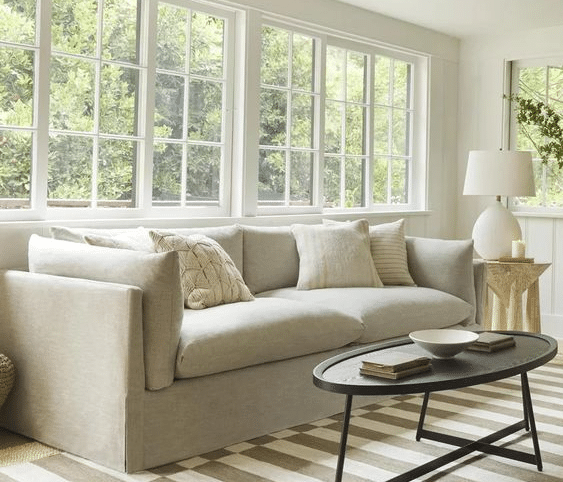 This neat-looking deep-seating sofa is from Lulu and Georgia. The sofa has a clean, sophisticated look and is fairly durable. The cushions of the sofa are nice and plush; you will not have any complaints about it when it comes to comfort.
The seating spaces so that you can grab your afternoon naps on this deep couch. Designed in a minimalist modern fashion, this sofa will fit in any room with any theme. You can add some throw pillow in the neutral color scheme to it and rest away on this luxurious sofa.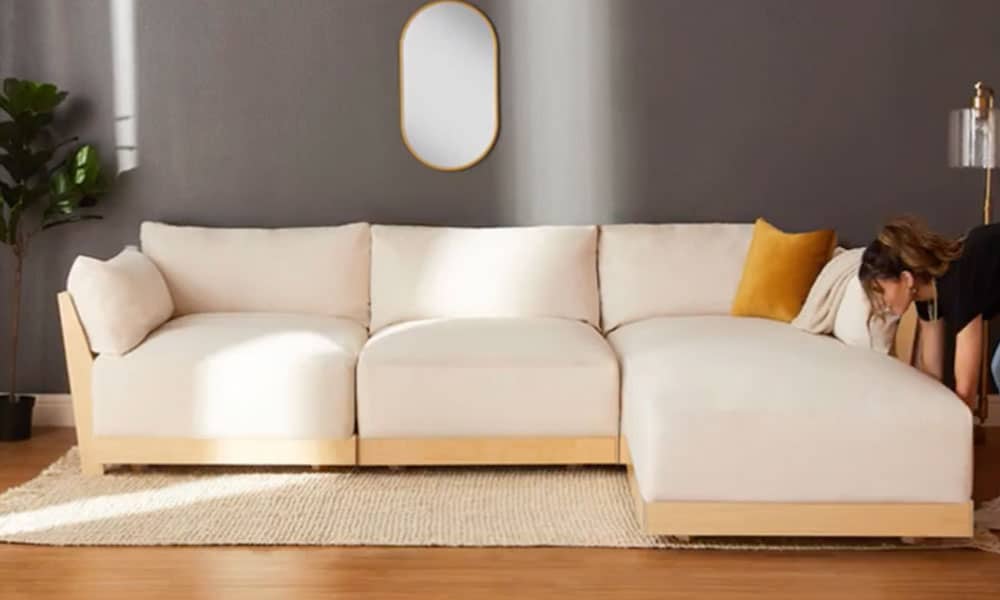 Inside Weather offers this beautiful cloud-like modular sofa that will look stunning in any living room. Besides its plush modern design, this sofa is fully modular. You can move each of the individual pieces of this sofa around to your desire. You want a compact two-seater; you can easily configure it into one. Want a chaise lounge chair on end? The configuration is simple and convenient.
If you want some changes in the sofa, Inside Weather provides services for customization, from frame to upholstery to layout to cushions. They will deliver a fully customized sofa to you.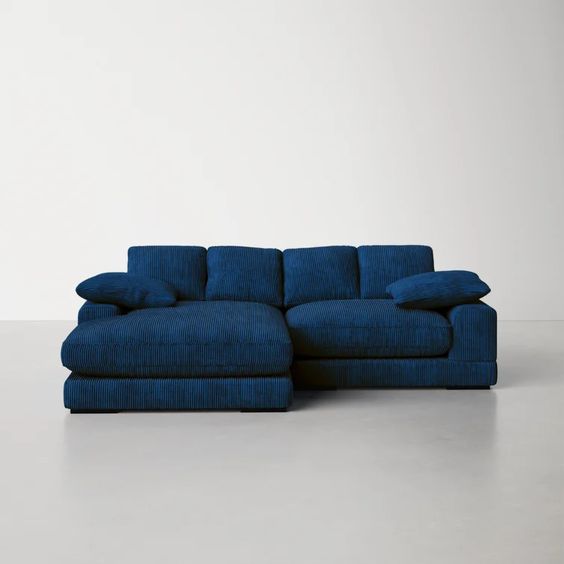 We know that living in homes with kids requires sturdy furniture. You might not want to take a chance on a cloud white sofa; in that case, this Chaise Sectional is a great choice for you. This is a low-lying sofa and perfect for that sink-in feeling.
You can reverse the orientation of the chaise lounge at the end of the sofa. The cushions are plushier and are covered in resilient fabric that can withstand wear and tear. This beautiful sectional comes in four gorgeous colors and with two throw pillows.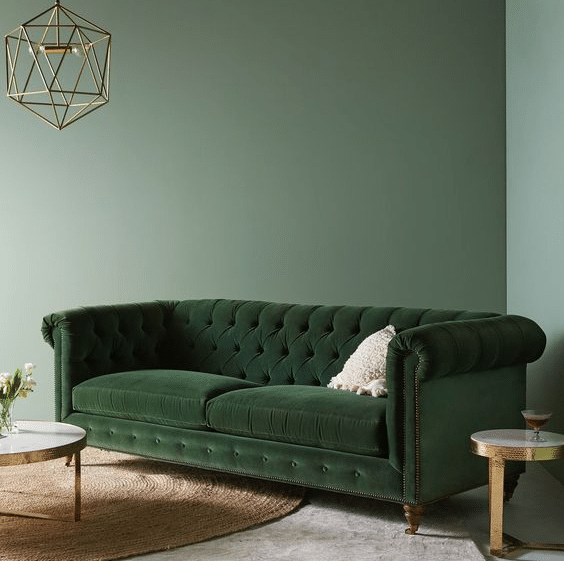 When it comes to chic, modern, and trendy home decor, Anthropologie never disappoints. To us, this is one of the best sofas they have to offer. Firstly the design of the sofa is elegant and shows off certain craftsmanship. This sofa has a charming, graceful look to it. In your living room, this sofa will turn a few eyes. The deep emerald green color sets it apart and oozes regality.
The sofa is dressed in a rich performance wool fabric which adds a soft coziness to it. It has deep seating, which we think is one of the most essential qualities of a comfortable sofa.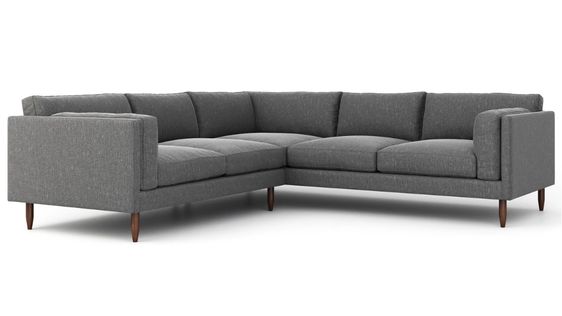 True to its name, this sectional sofa is designed in a modern, sleek design. The frame of the sofa is thin and neat; over it is fat plush seating cushions to make your time in this sofa a comfortable one.
One of the advantages of buying sofas from Benchmade Modern is that they can customize the sofas for you; they will customize everything from seat depth, pillow cushioning, fabric, and frame measurements. So, you don't need to worry if the sofa will fit your living space. You can always count on them to deliver good quality sofas.
This sofa is on the expensive side, but what you get is a quality product that looks great, and there is a lifetime warranty! Not a bad deal at all.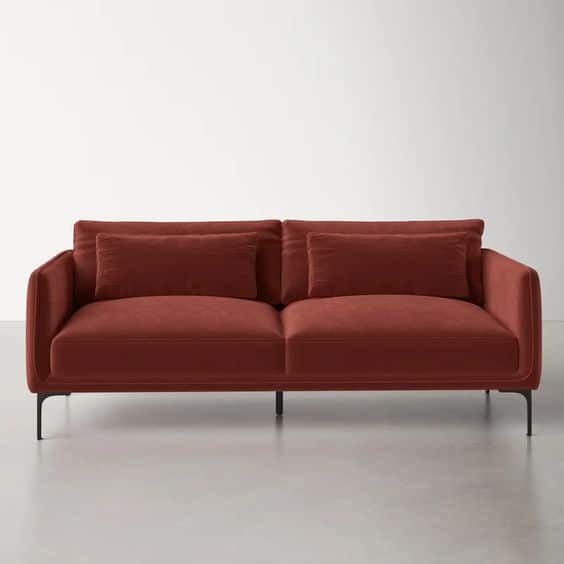 If you want a showstopper in your living room, then this beautiful sofa with engineered wood and a solid wood frame is the one for you. This sofa will add a bold mid-century look to your living room.
It flaunts an impressive modern, clean-lined design with sleek square arms along with tapered bracket feet. It is dressed in a cotton blend fabric. And I Don't think you will have any complaints about the color.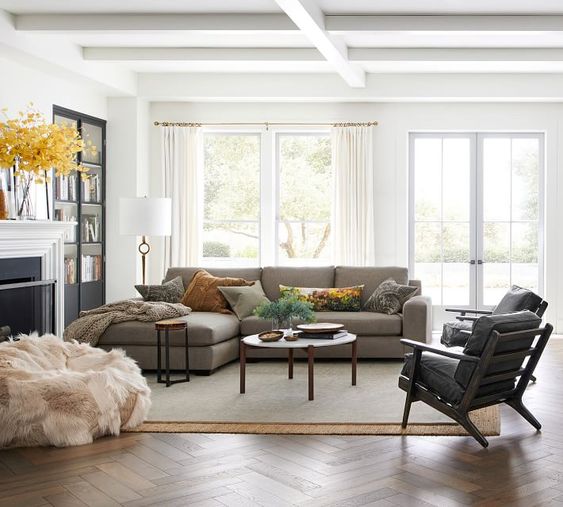 "We Love Pottery Barn!" apologies, Phoebe, But this wide sectional from pottery barn is one we cannot pass on. This Big Sur Square Sofa from Pottery Barn is perfect for a family to lounge around.
The sofa features deep seating and a double chaise to help you stretch out your day's fatigue.
Packed in performance fabric, this sofa is as aesthetically pleasing as it is functionally comfortable.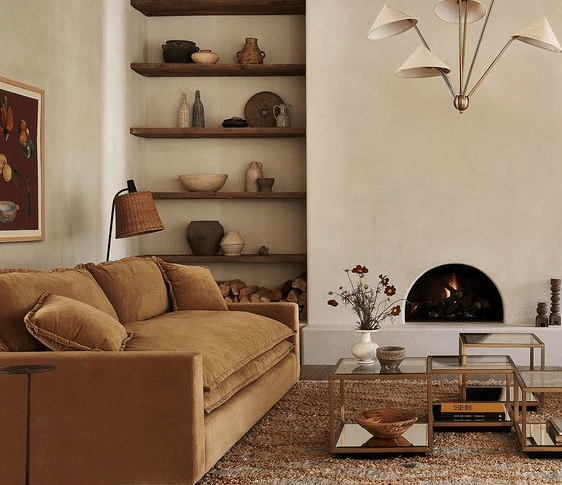 This Meriwether sofa from Anthropologie is perfect for a sink-in feel. Even at first glance, you can tell this sofa screams comfort. You can just disappear into it in the evening and emerge after a good nap.
The double cushions are perfect for your comfort; the loose cushions are stuffed in a feather bend. This sofa is dressed in a performance velvet fabric that gives it a soft, rich feel.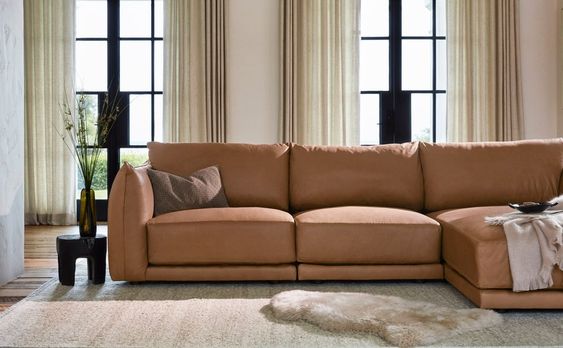 There is always an advantage to modular sofas; you can reconfigure them to suit your space and your needs. This Jones modular offers a modern design and sink in comfort. A perfect deep couch to relax in, the Jones Modular comes in performance textured linen and is handcrafted.
This sofa is customizable and comes with a lifetime warranty.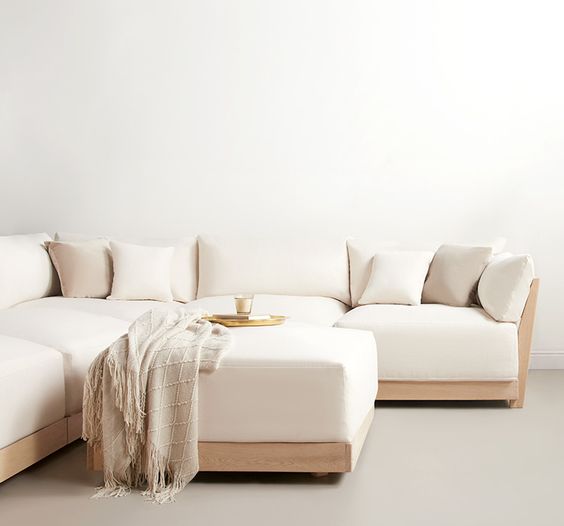 We have another recommendation from Inside Wether; this big six-seater sectional comes with an ottoman. It is perfect for a big family. The construction is modern, and it is fully modular so that you can arrange it according to your needs.
This sectional is easy to clean with removable and washable covers. The upholstery is brindled woven and in 100% polyester. Inside weather upholds it as a fully sustainable sofa.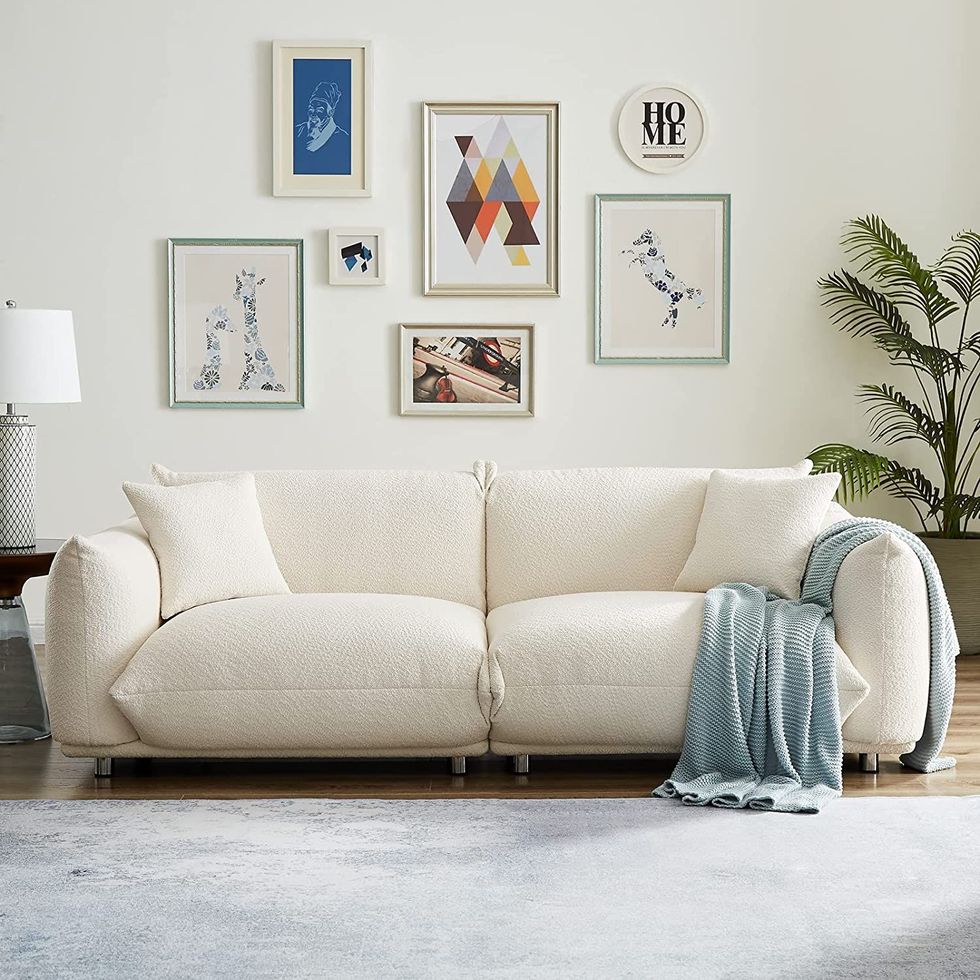 This delightful sofa from Fukeen Pet House makes one want to melt into it after a hard work day. The Sofa features a modern design with a comfortable armrest and a wood and metal frame.
The cushions are stuffed in high-density foam, and the upholstery is a soft lamb wool that would be delicate on the skin. This low-lying sofa is the perfect blend of comfort and modern design.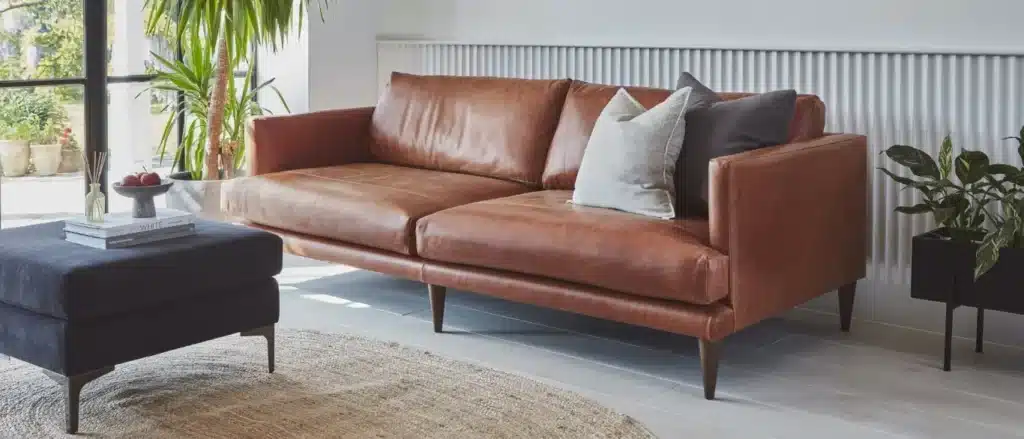 This large Middleton leather sofa will be a classy addition to any living room. The design of the sofa is neat, with clean edges. This sofa gives you ample seating safely, perfect as a deep couch.
This sofa is handcrafted, and that is visible in the care taken in its design. This will be a lasting piece of furniture in your house.
Conclusion
When it comes to choosing sofas, there are so many options available in the market one can get a kind of choice paralysis. I hope this article helped you choose the best deep couch for your living room. With sofas, comfort is the priority, and it is the one thing you should not compromise on. We have made sure that all the recommendations above are truly comfortable.
Choose your favorite design and see which of these sofas speak to you and will enhance the grace of your home. From leather to linen blend to velvet, you have a range of fabrics to choose from. I hope you have already made your choice and are ready to uplift your living room.
Happy Shopping!