Are you looking for some interesting and creative bathroom towel decor ideas for your home or hotel? Displaying towels in unique ways has always been a good impression maker. Almost all good hotels across the world do this creative welcome using towels whenever guests arrive. We have all seen in movies and in reality, how honeymoon suites are decorated by placing two towels that form a heart shape and mimic two swans on the bed under romantic light. Just like that, displaying towels in a neat and unique way can instantly bring a smile to someone's face.
When it comes to bathroom towel decor, it is not just about creating attractive shapes using towels. Towels can be used as a decorative property in your bathroom by being stored in productive yet unique mediums. From simple bars to wooden ladders, there are plenty of ways to store and display bathroom towels. You can also easily make a statement by merely folding your towel in a unique manner or storing different colors of the towel together after rolling them.
In this article, we will be checking out various interesting towel decor ideas for bathrooms. Scroll down to explore!
The Best Bathroom Towel Decor Ideas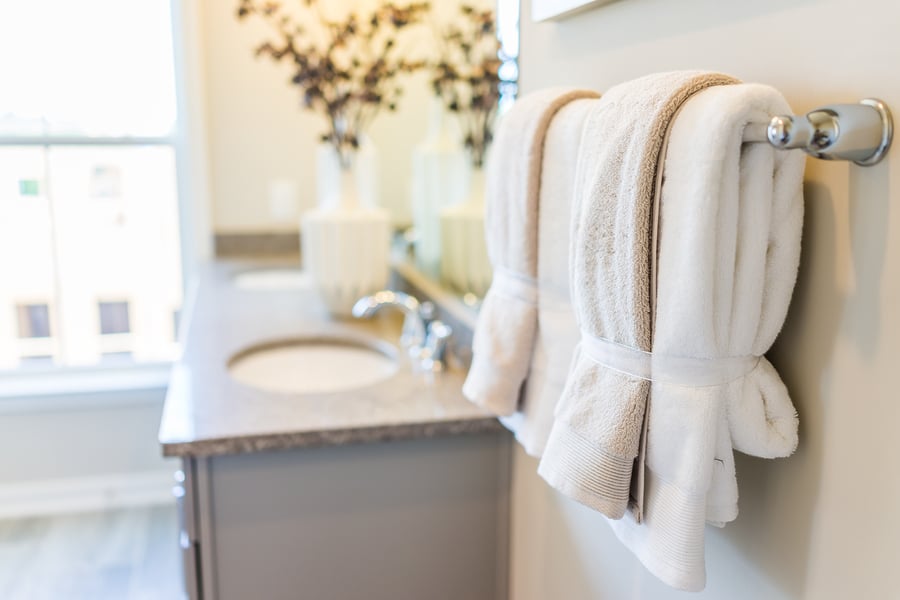 Designers put a lot of thought into bathroom decor ideas always to bring out something creative and impressive. A strong impression of style can be easily created with the simple presentation of towels in the bathroom. You don't have to go on a great splurge for the same. A towel made of attractive fabric can catch all the attention, even if it is hung on a simple steel bar in a corner.
People not only like clean toilets and fresh toiletries in a bathroom but would also be impressed to have neat towels displayed in a productive manner.
The first two things you should consider before exploring towel decor ideas are comfort and convenience. No matter how attractive and unique you try to place the towels inside a bathroom, if they are not easily accessible and useful for a person, all your efforts are meaningless.
A person should be able to access towels in a bathroom when in need easily. Hence, avoid placing towels at tougher heights or inside cabinets that are difficult to access. The best way to keep towels in a bathroom is in plain sight.
One should know where to look when in need of a towel. Also, avoid putting tight knots on a towel, which might make it inconvenient for someone to use it easily.
Below are some of the best, most creative, and most productive towel decor ideas for bathrooms.
1. Towel Rings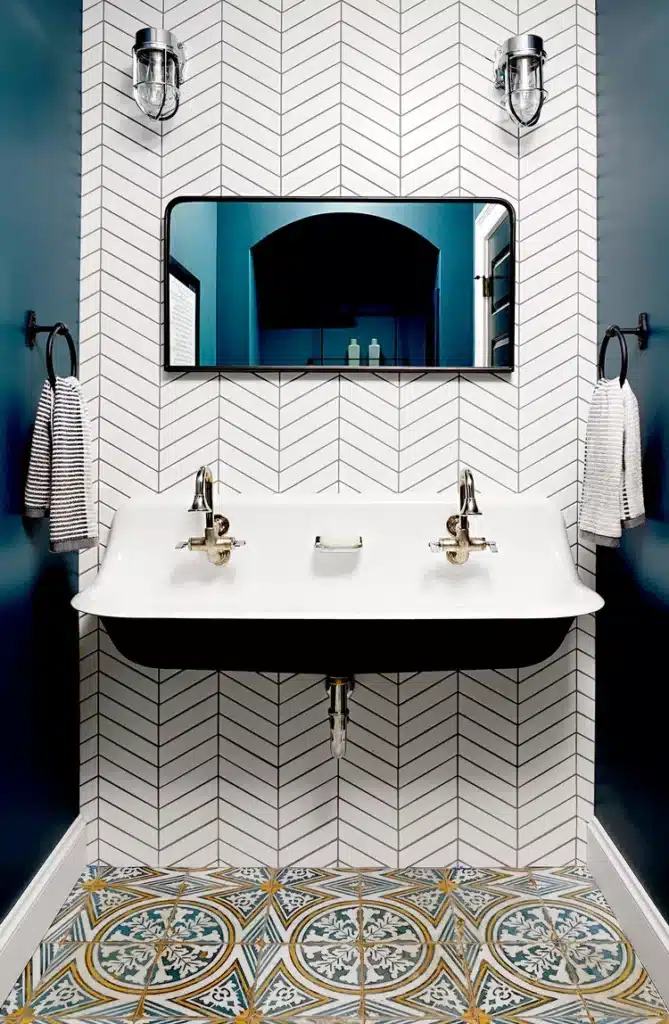 When talking about classy bathroom towel decor ideas, towel rings are worth considering. If your bathroom is small, this is one of the best ways to place your towels neatly. Attach wall-mounted rings close to the sink and let your towels hang on these rings. Such a setup allows neat placement of towels and discourages decluttering.
Also, if you have a collection of attractive designer towels, this is your chance to show them off! The only thing that you should keep in mind is that damp towels may take longer to fry when hung in such a setup.
2. Basket Shelves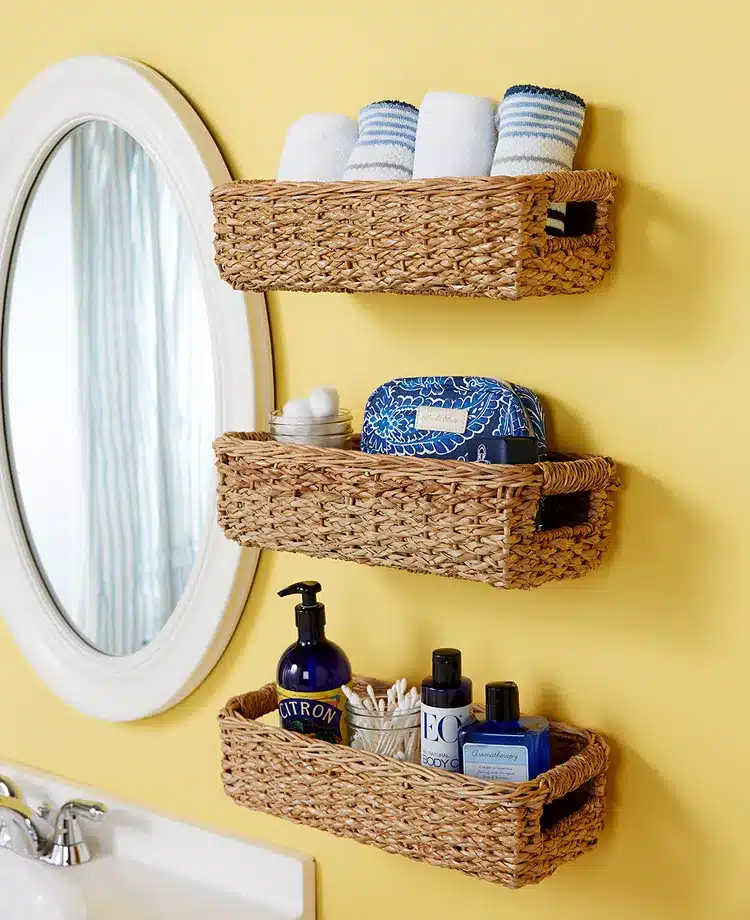 For all the DIY enthusiasts out there, here is an interesting towel decor idea for your home. It is well known how useful floating shelves are in a bathroom or alongside a sink to place necessary things. Let us switch to creative mode and replace these floating shelves with wicker baskets! This unique style boasts creativity and class alike.
While you can make full use of the shape of wicker baskets to place towels in them, you can also make use of this storage idea to keep other things such as lotions, soap, etc. too!
3. Shelf Storage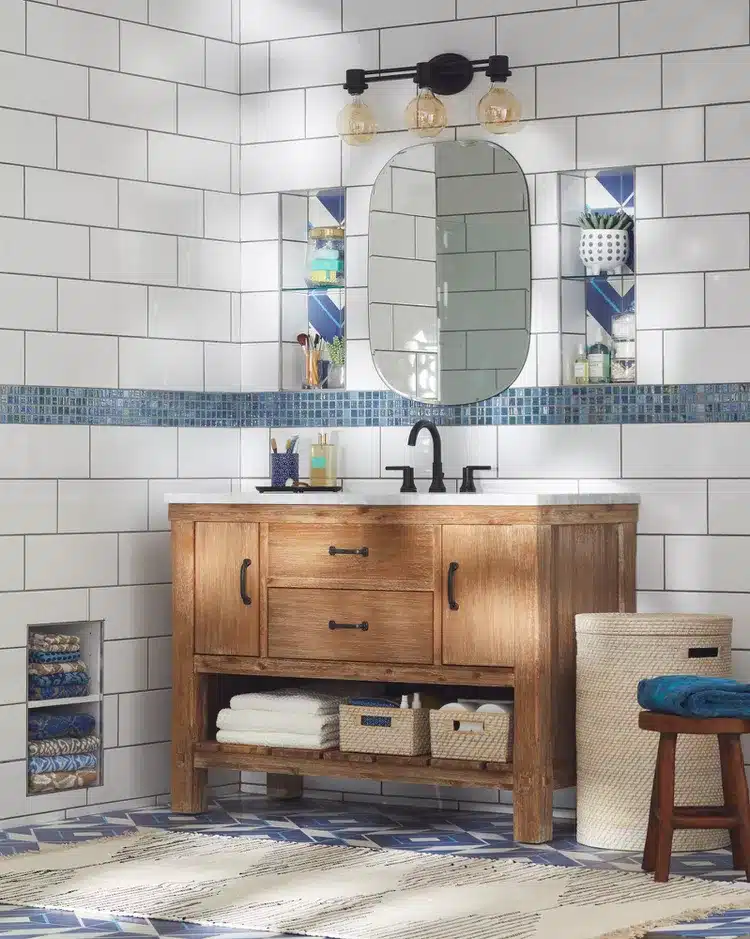 If you have a large bathroom, it is suggested that you set up a vanity countertop near mirrors for a rich look. At the same time, you can make use of the shelves on the countertop to store towels. Again, rather than simply stacking up towels inside the open storage space of the shelf, add a unique storage space of your own.
Taking inspiration from the previous towel decor idea, you can place baskets of contrasting colours to store towels on the vanity countertops to make a style statement! You can even take the liberty to label the parts of your shelf to easily identify items.
4. Tower Storage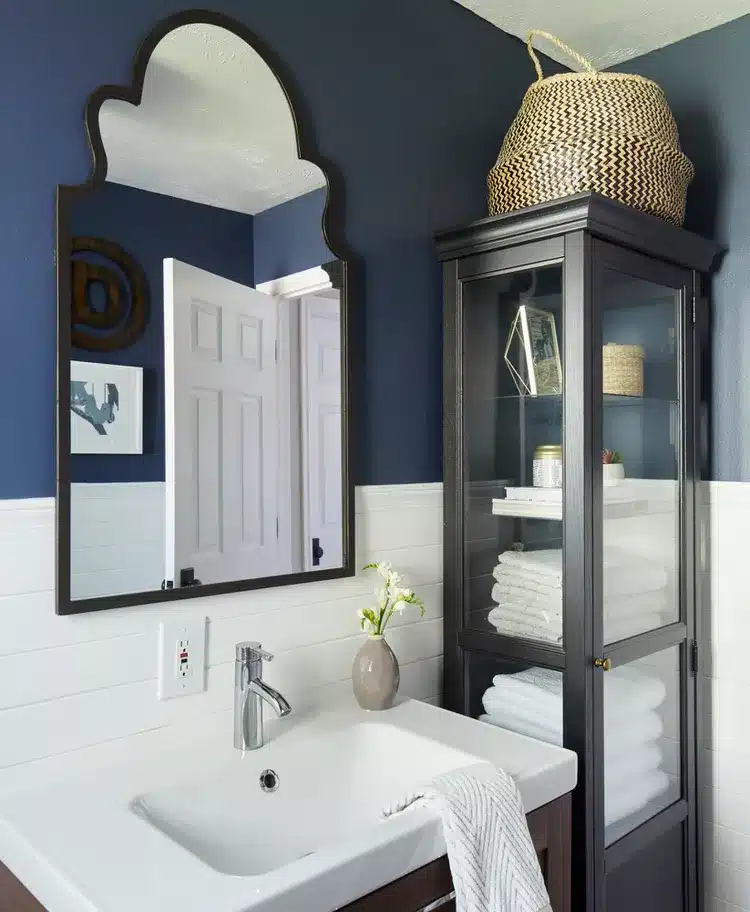 The use of furniture inside the bathroom will give an industrial touch to the room. A slender tower of storage made of wood and glass windows is best to store towels and also display them. Such a storage medium can be placed in one corner of the bathroom. Being an enclosed medium, the shelf will keep the towels safe from moisture.
You can also use the rest of the space inside the shelf for storing other necessary things. Make sure not to place towels only on the higher rack, as it might be difficult to reach them.
5. Bundled Display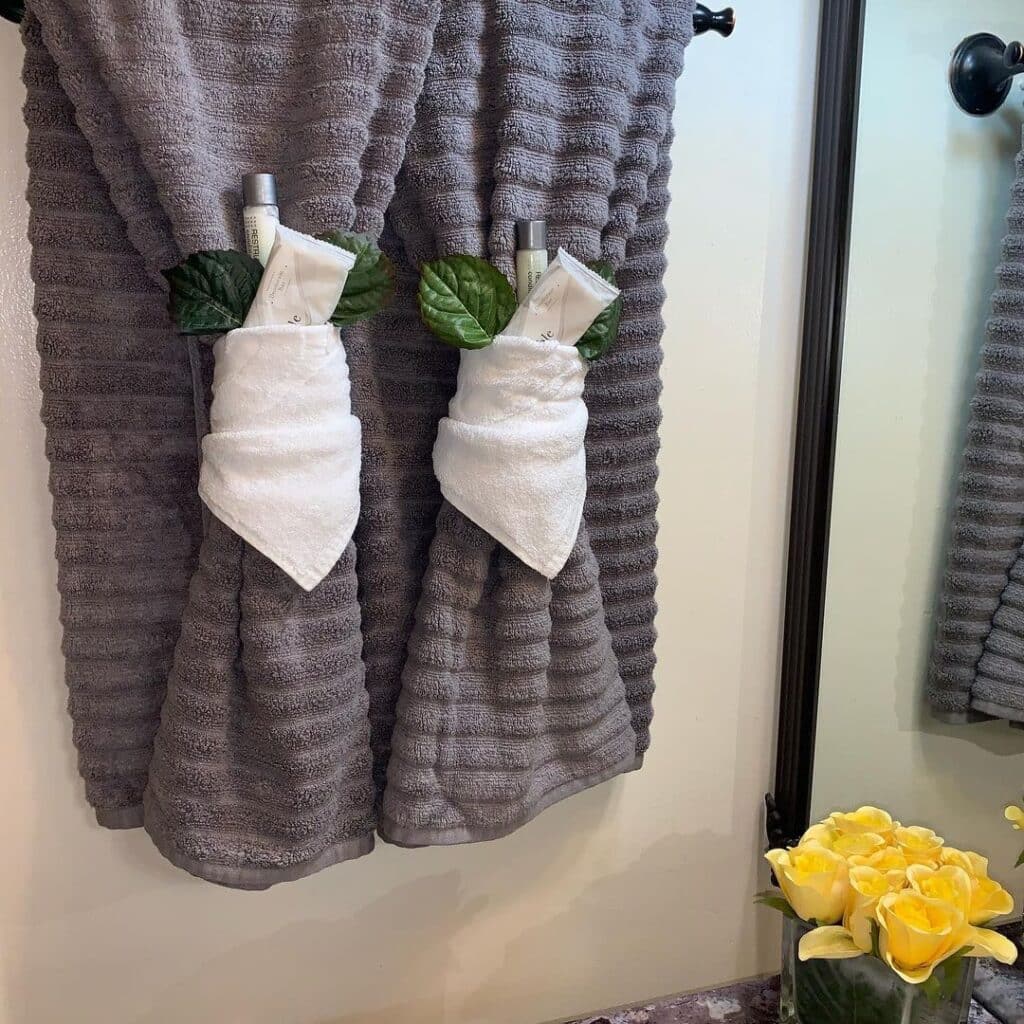 While visiting some hotels, the arrangements of towels in the bathrooms might have made you go, "Aww!" You can implement such a creative bathroom towel decor idea at your place too. You can bundle up your bathroom towels and tie them up in a unique way using a hand towel. This will create a pretty attractive display of towels in the bathroom.
At the same time, you can make use of this as a clever storage medium. Storing small soap bottles and soaps at the tied part can make a unique statement of style and creativity.
6. Corner Bar Shelf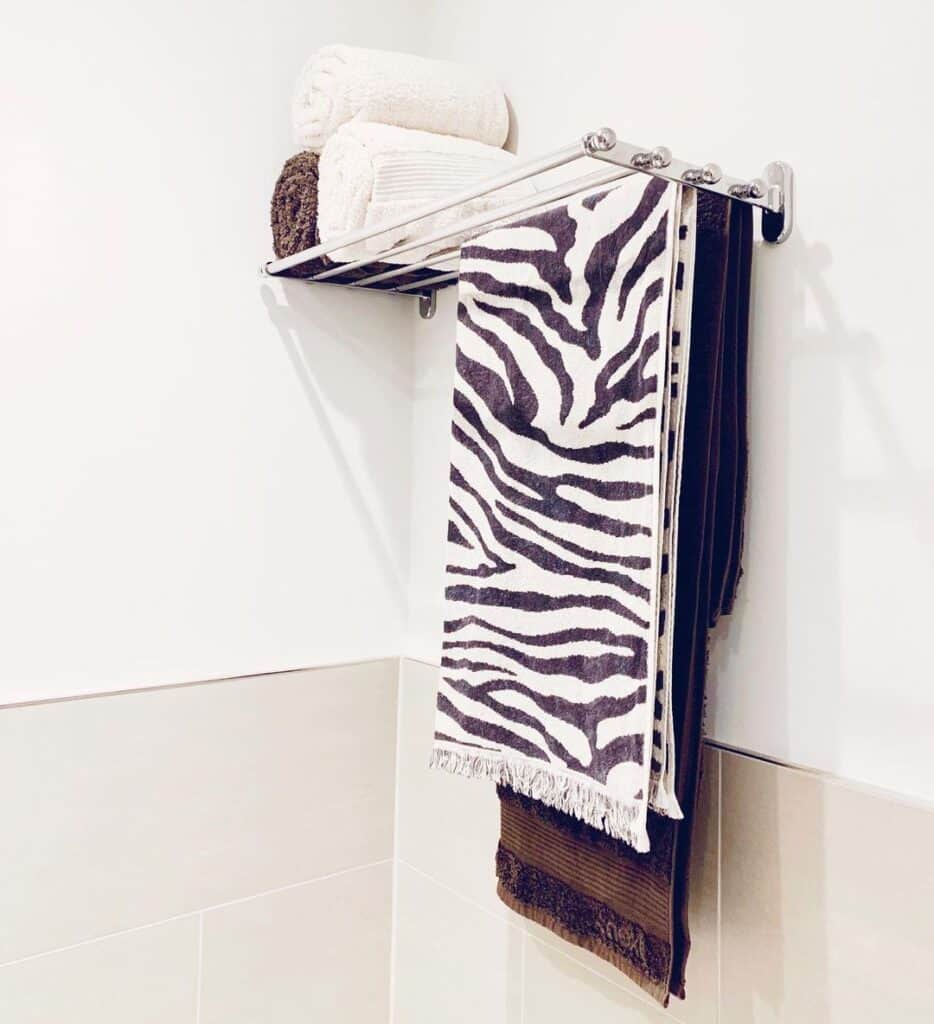 If there is ample space in your bathroom, try freeing up your corner for bathroom towel decor. Install a stainless steel corner shelf here for storage. Rather than going with a conventional style of storage medium, such as a floating shelf, you can try installing a bar shelf. Here, you can conveniently hang your towels and use them as a storage space to keep them.
This is a great way to use the free corner spaces of your bathroom in a productive manner. Although, make sure to keep this shelf away from the shower to keep the towels dry.
7. Kangaroo's Pouch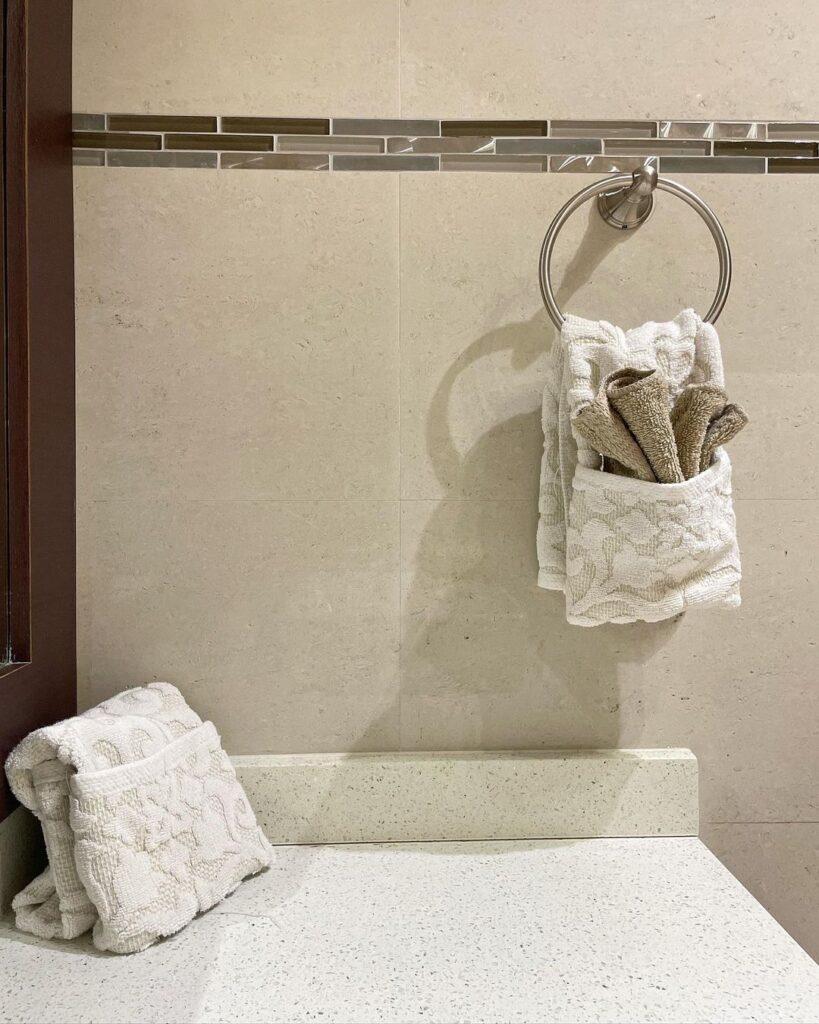 Even though there are hundreds of ways to store and display towels in your bathroom, giving them a touch of creativity always makes the entire room look fresh. This idea, as the name suggests, is all about displaying towels that mimic a kangaroo's pouch! Creating towels with small pockets attached to them makes for a creative bathroom towel decor idea.
You can use this pocket to store another smaller towel. If the smaller towel has a contrasting shade compared to the bigger one, enough drama is added to the bathroom's decor!
8. Ladder Storage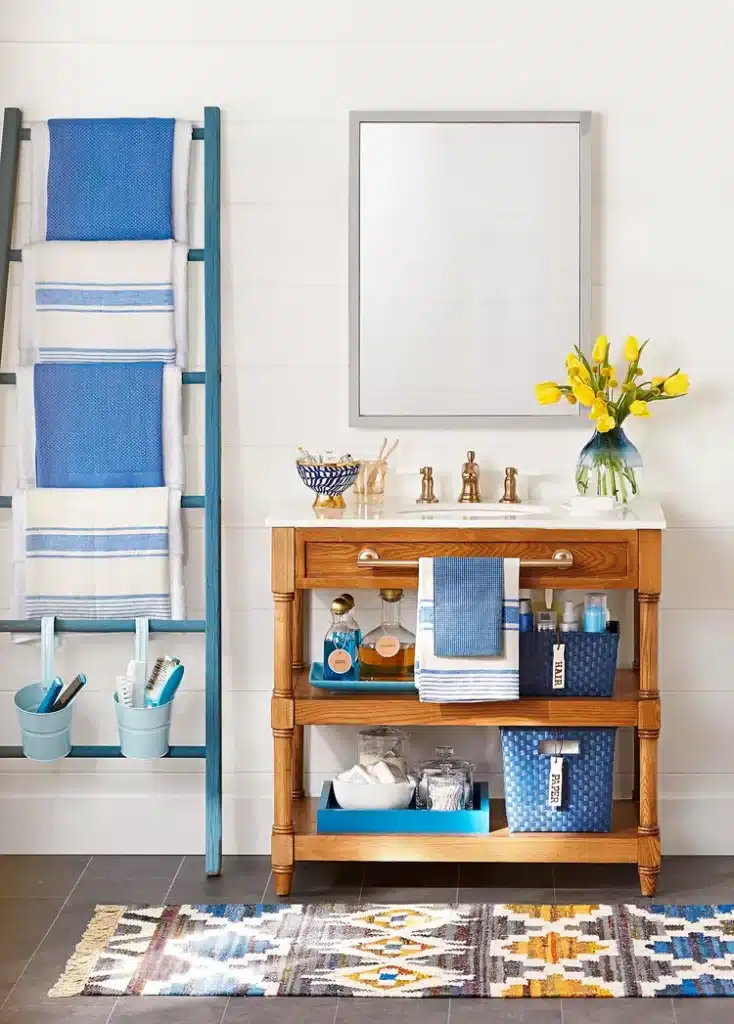 The use of a minimum amount of properties to make a storage statement is a new style. Here is a bathroom towel decor idea you will absolutely love to try, especially if you have farmhouse-style decor. Lean a ladder on one of your bathroom walls and paint it to create a stunning display. That's it! You have great storage space for your towels now!
Hang the towels on the ladder steps, and you can add multiple colours of towels to add to the beauty of the space.
9. Layered Storage
Deciding how to display towels is as important as where they are kept inside a bathroom. Here is a compact, neat, and productive way of displaying multiple towels. With a steel bar attached to the wall, you can layer up and hang towels of different sizes on top of each other. First, you can hang the bath towel on the bar.
On top of it, you can place the face cloth and then the hand towel. This layered placement of towels creates a neat and organised storage space in your bathroom.
10. Towel Animals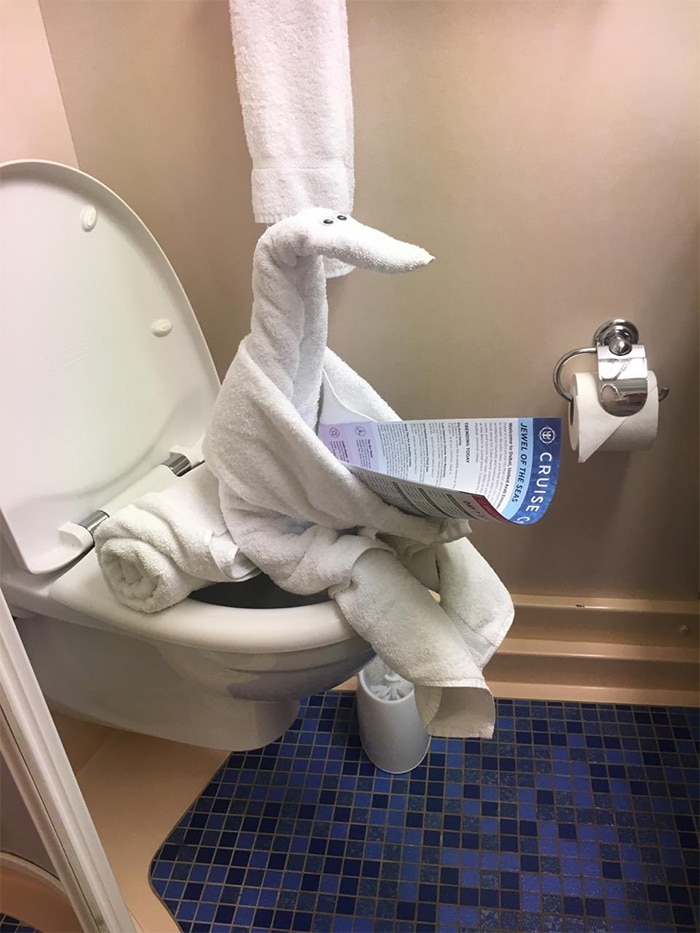 The most common and creative bathroom towel decor idea is to create animal shapes out of a towel and display them. This practice of towel display is followed by a lot of hotels across the globe. You can explore your levels of creativity by folding and placing a towel in your bathroom that mimics the shape of an animal.
Such a display of towels will instantly bring a smile to a person's face, which is an excellent way to make a positive impression.
11. Stacked Storage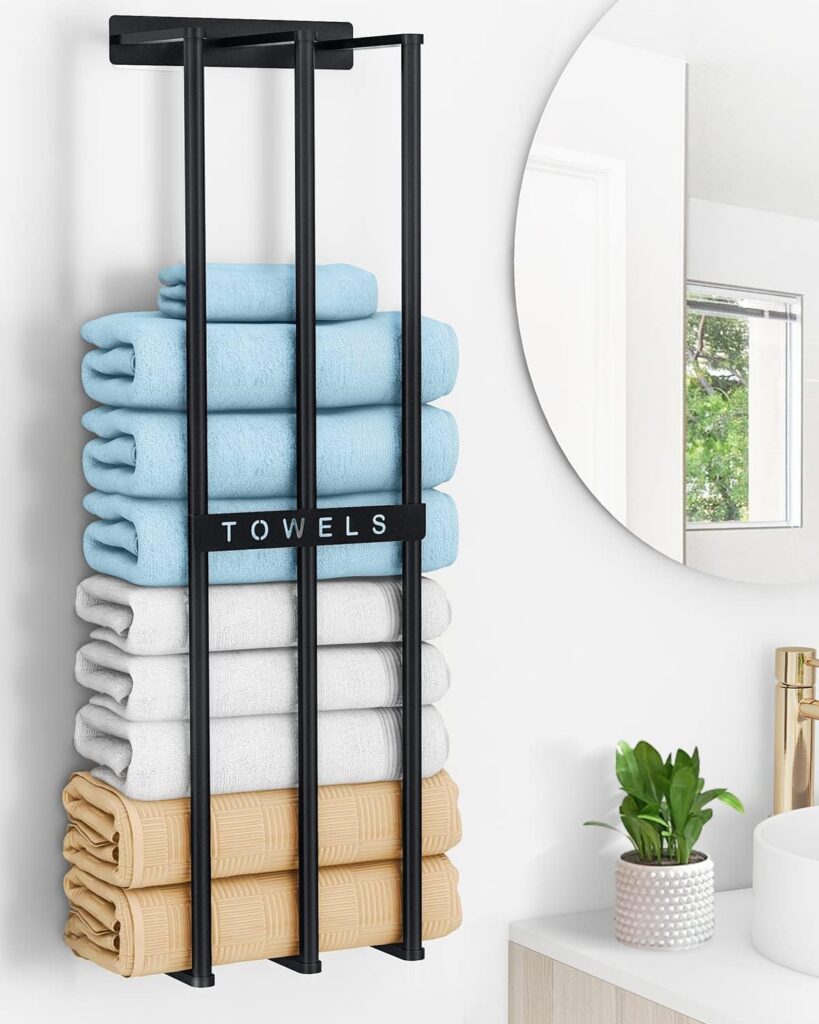 Here is a nice way to display seasonal or everyday-use towels. Stack the towels on top of each other, creating a single tower rack. Attaching suitable and funny labels will be an add-on to this neat and organised display of towels. The above-shown example can be used for honeymoon suits and, if tweaked a bit, also for Christmas. Add your verbal creativity to make the storage look suitable for various occasions. Avoid placing wet or damp towels in such a setup, as it might make the dry towels in the stack wet and unusable.
12. Personalised Towels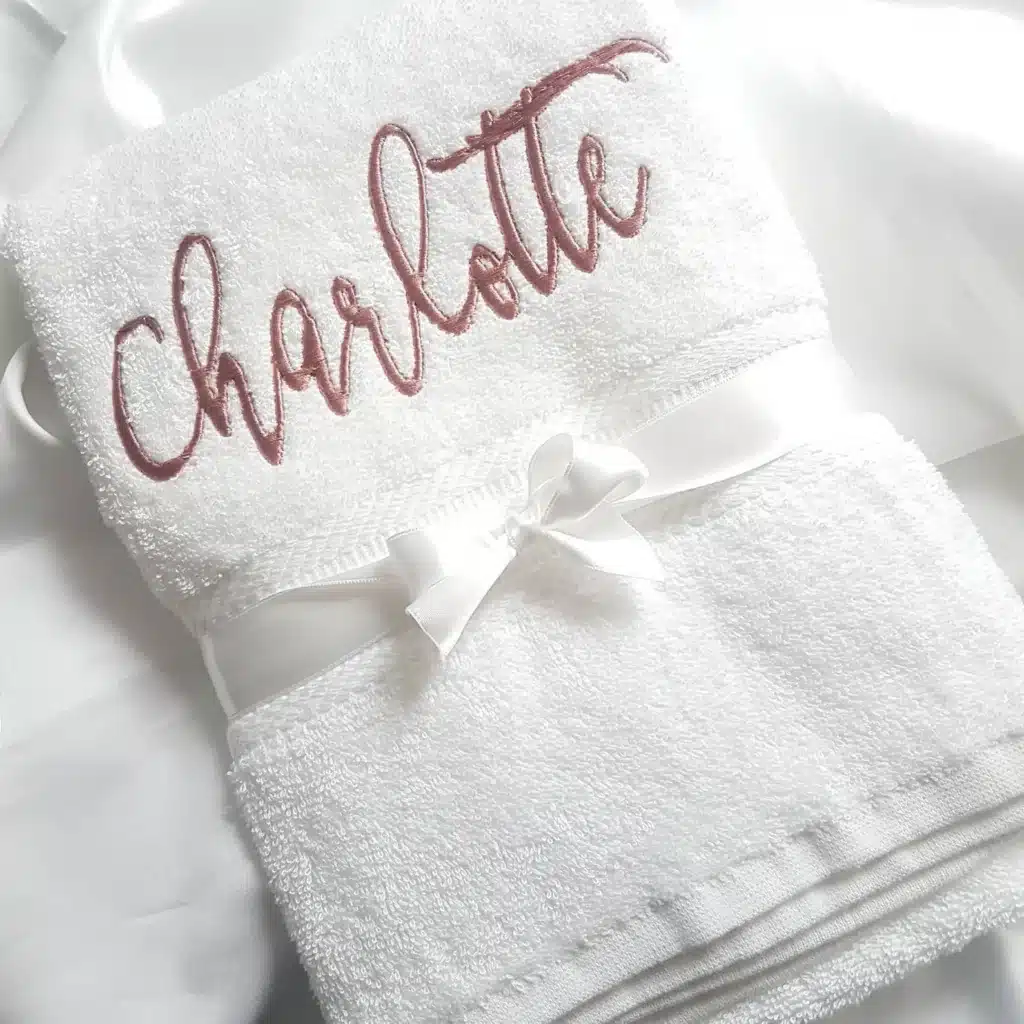 Letting a user own a pretty towel will always keep your hospitality etched in their hearts. Personalised towels are the way to do this. You can easily imprint the names of people on a towel in an attractive manner. This will not only impress the person using it, but they can also take the towel home with them. This bathroom towel decor idea is adapted by many luxury hotels and can make a statement of its own. A small tip to make a cute impression in such a setup: Add tiny doodles near names on the towel to make the people smile!
13. Industrial-Style Storage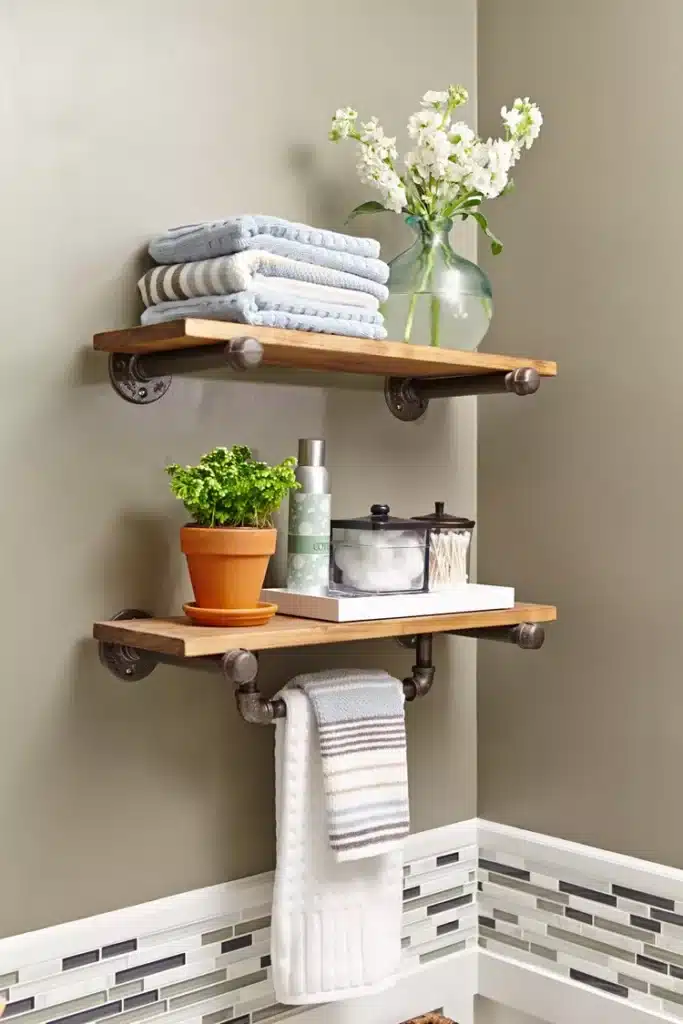 The use of floating shelves is common in bathrooms. If this style of storage is tweaked a bit, it can be used for conveniently storing towels. Attaching wood boards to the walls as floating shelves to store things is a productive bathroom storage idea. You can attach iron pipes beneath these shelves to hang and display your towels. Such a bathroom towel decor idea explores better space management in smaller bathrooms and allows organised storage of towels.
14. Below Sink Storage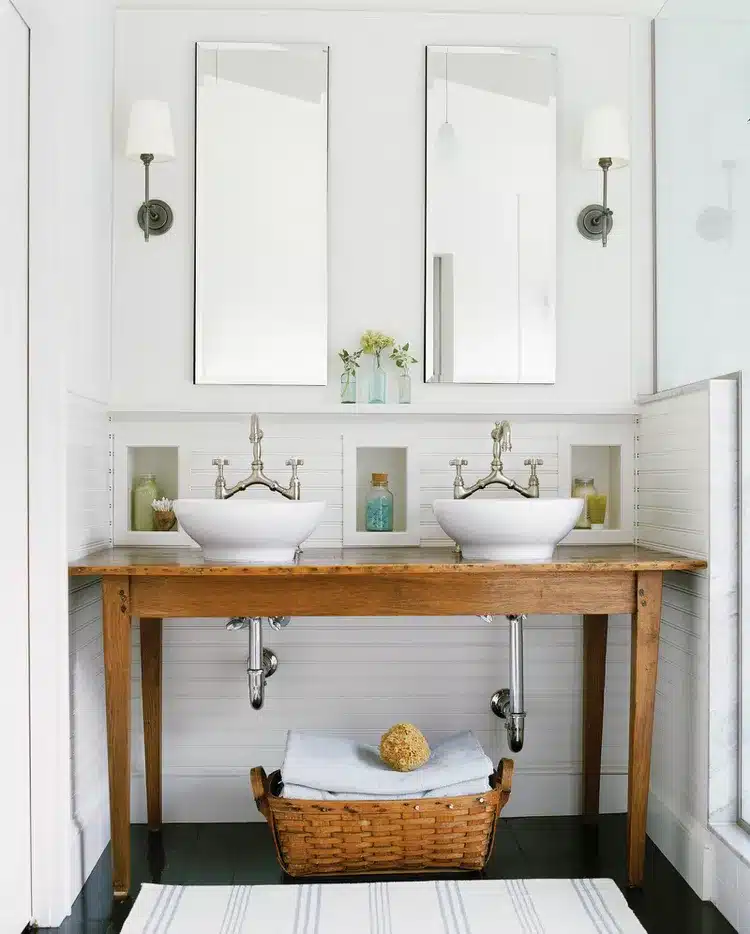 Not everyone will be a fan of creating holes in their bathroom walls to attach fixtures to store towels. For them, the below-sink storage is a good alternate bathroom towel decor idea. You can easily set up a storage space below your sink(s) and use this for storing things. To make it more unique, you can place a basket here and use it to store towels. By stacking up towels like this in a basket, the setup will give off a homey feel and let your towels stay neatly folded.
15. Vintage Bar Cart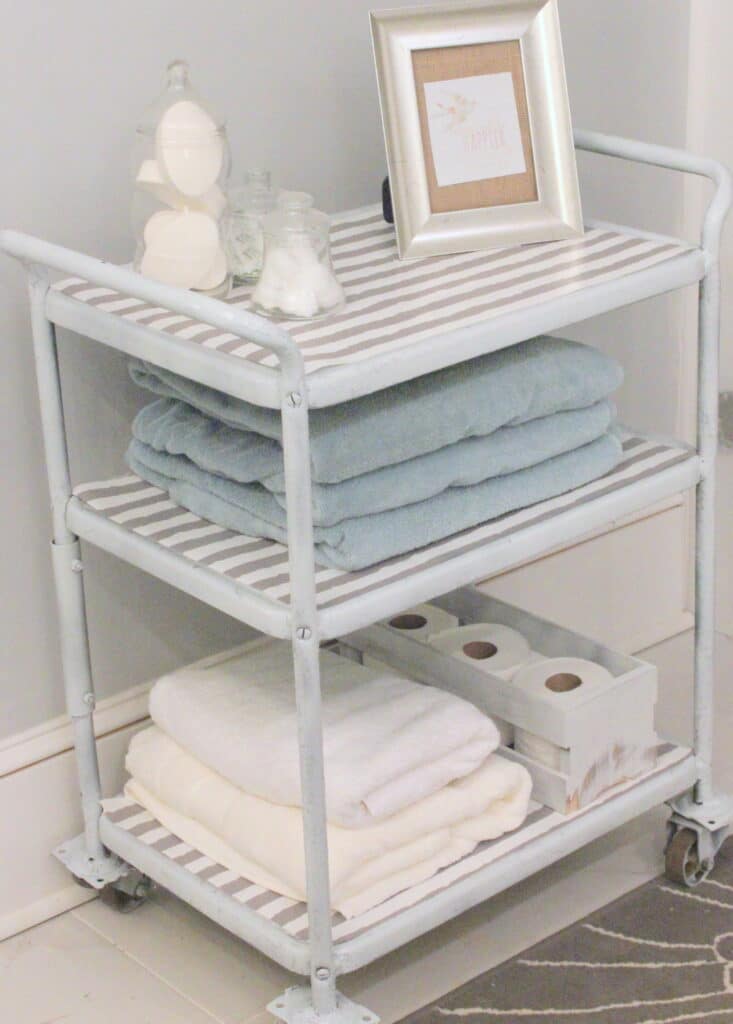 The thought of having a bar cart inside a bathroom might create some frowns. That is exactly why this idea is special. Using an old bar cart as a creative bathroom towel decor idea will win a lot of hearts, for sure. Not only is it unique, but it is also very productive. In other words, 'Towel on Wheels'. If you have a white, bright bathroom decor, then having a DIY vintage bar cart can add to the beauty of the room and can also be used to store towels neatly.
16. Coatrack for Storage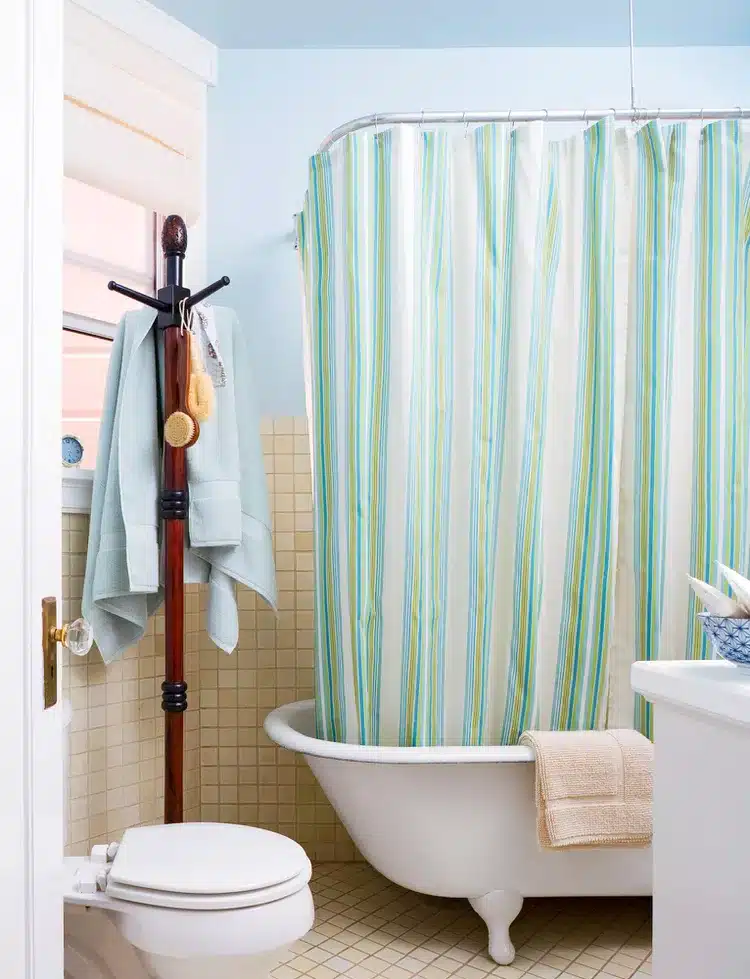 There is literally no limit to the number of ways you can experiment with bathroom towel decor ideas in your home. Here is another creative addition to it. Rather than modifying your bathroom interior, adding non-conventional items to the bathroom for storage purposes is the new trend. You can bring an old coat rack into your bathroom to store towels. Placing the coat rack in a corner will make it a focal point. You can also make use of this coat rack to dry damp bath towels.
17. Pull-Out Holders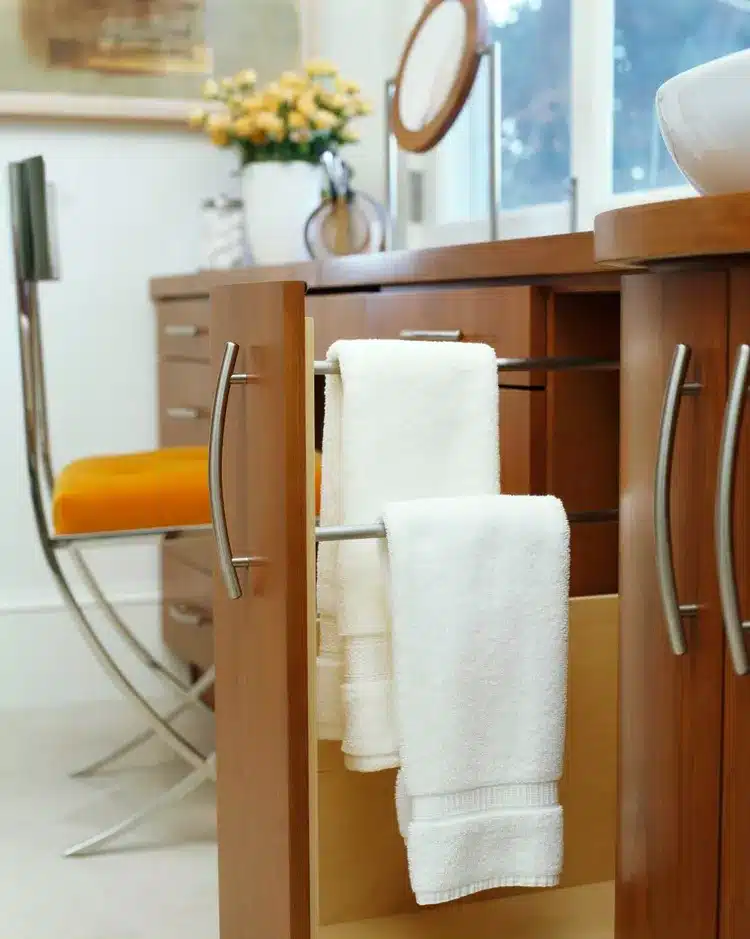 Some people may not like displaying towels in the open inside the bathroom. This bathroom towel decor idea is optimal for such people. You can install pull-out holders inside cabins and other similar places. These pull-out holders are stainless steel bars that can be used to hang and store bath towels. Whenever you need a towel, you can just open a cabinet, pull out the bar, and access the towels from the space. Such an arrangement will easily keep the towels dry without getting wet.
18. Chair as Storage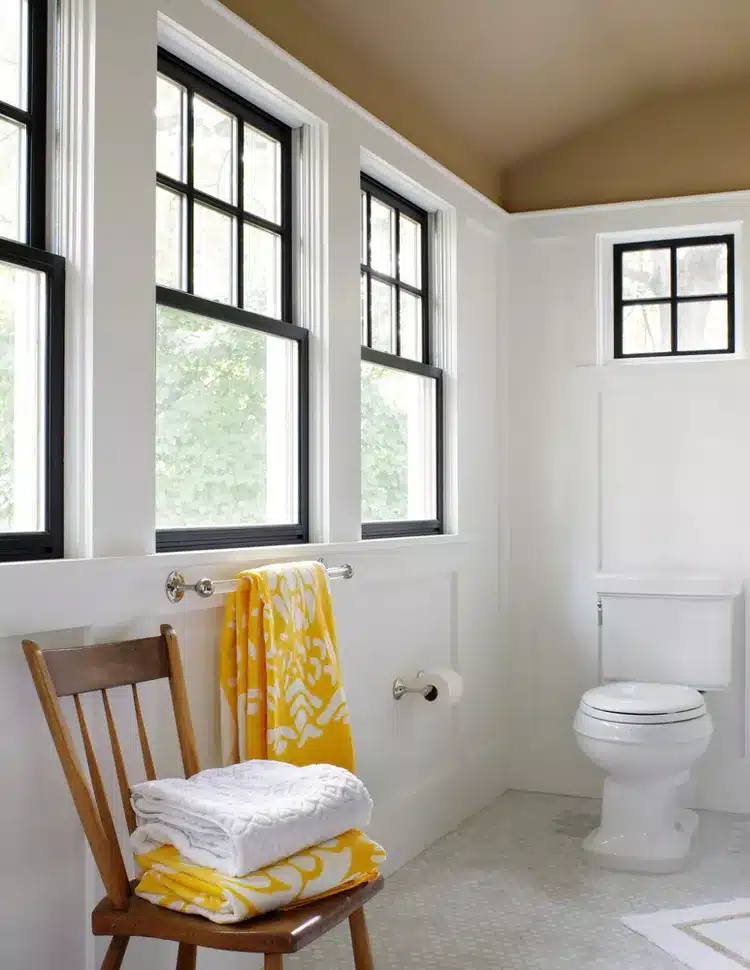 This is a unique bathroom towel decor idea for those who want a simple yet unique towel storage option. Nothing can get more simple than placing an industrial wooden chair inside the bathroom for storing towels. As simple and new as this might look, it definitely serves its purpose, as expected. Towels can be folded and stacked on top of one another to make things look neat. It has to be made sure that not more than three towels are stacked on the chair to avoid the towels falling down.
19. Rolled Towel Display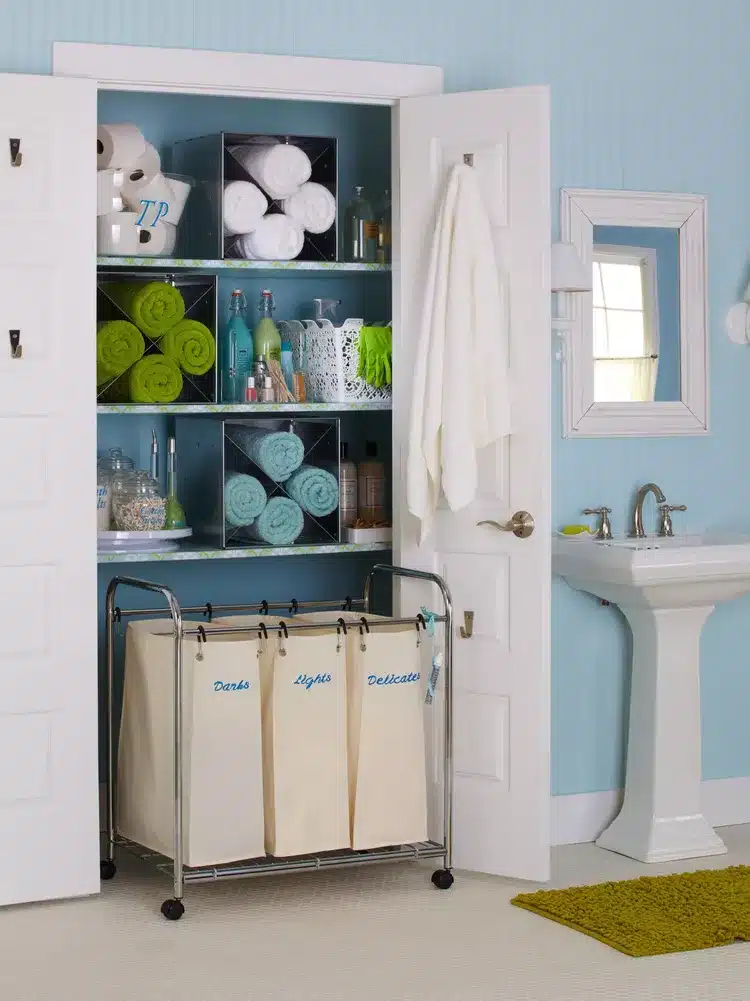 Rather than folding the towels neatly and placing them inside a shelf or on a floating shelf, you can think of different and productive ways of storing towels. Roll a towel into a round and place it inside a rack or a suitable storage container. There are two benefits to storing towels this way. It took less space to accommodate a towel, and it is a great bathroom towel decor idea.
Rolled-up towels have a more unique look than folded ones. If you are keeping towels of different colors together, make sure that they are completely dry. Otherwise, there is a possible risk of colors mixing up and making all the towels unusable.
20. Hidden Storage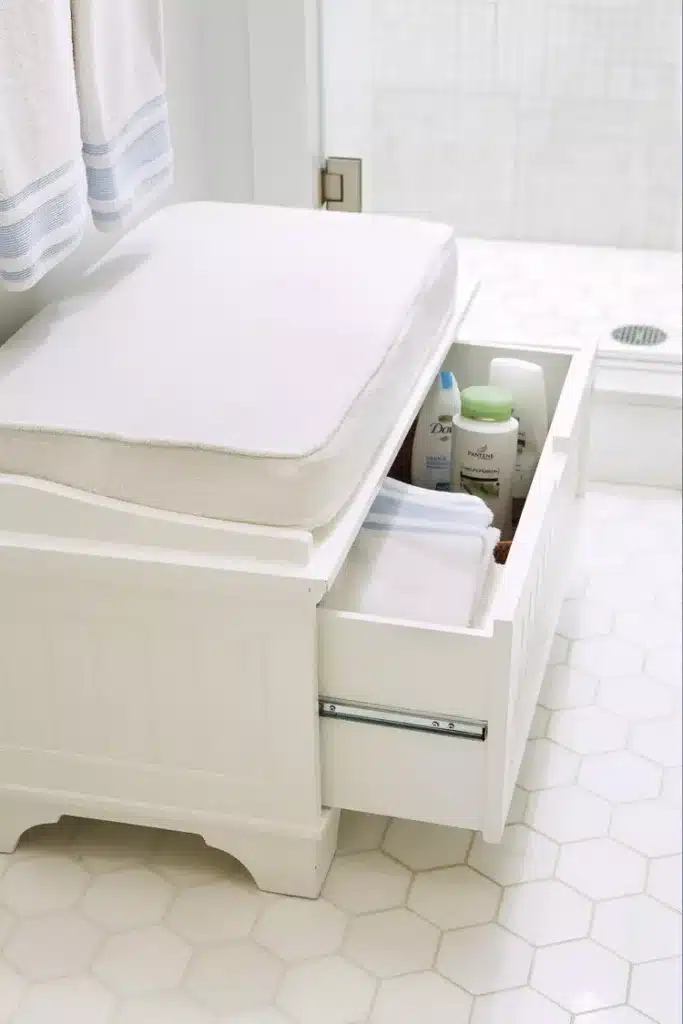 Installing hidden storage spaces can be a great idea for those who want to create a minimal bathroom towel decor that stays hidden from plain sight. If you have a vanity, table, or bench in your bathroom, you can easily make use of this furniture to create a hidden storage space. This can be done by adding drawers beneath such furniture to store towels.
For better access, you can always label and categorize your towels. Storing towels in this manner can easily keep them out of sight and provide the required protection from moisture. Make sure to make this storage space an evident find because it is not good to leave a person high and dry while in need of a towel!
21. Multiple Storage Options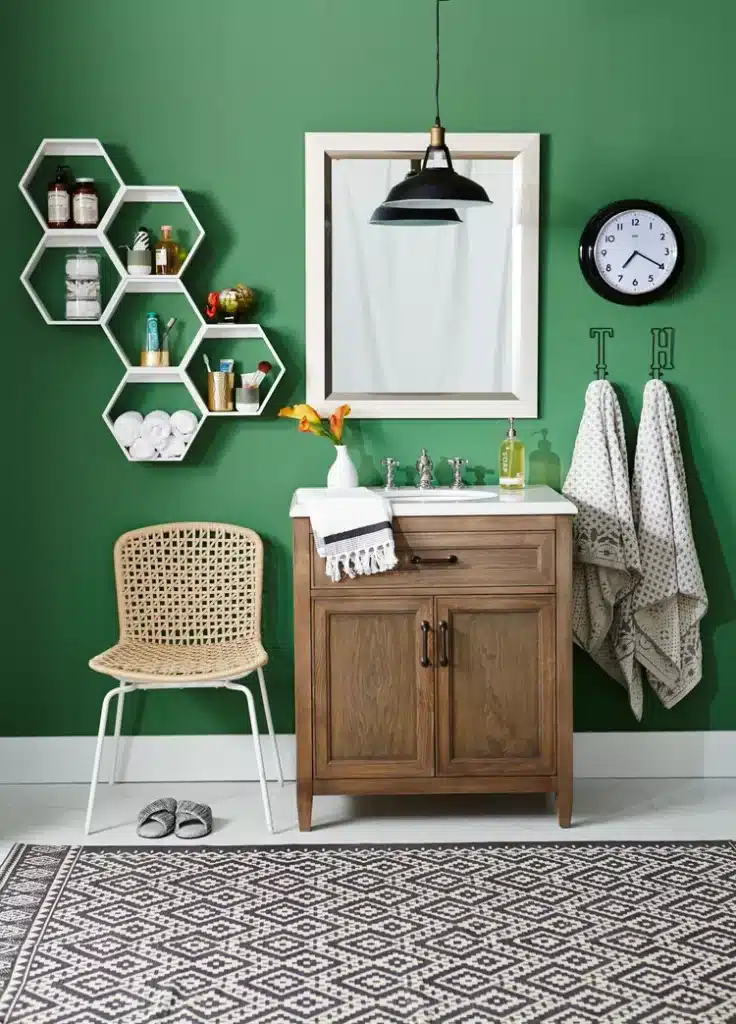 Rather than sticking with one single bathroom towel decor idea, you can try multiple types when you have ample space in the bathroom. In this example, you can see how steel bars are attached to the walls, which are used to hang hand towels. At the same time, a creative hexagonal shelf can be seen on the wall.
Towels are rolled neatly and placed on the shelves. Such a storage option can also act as a display in the bathroom. If you have a wider space, you can try attaching more hooks or small floating shelves without overpopulating the area.
Final Word
Trying out unique and creative bathroom towel decor ideas will easily create a positive first impression on people. The number of ways you can display and store towels in a bathroom has no limits.
From exhibiting various patterns and clothing materials on towels to storing them by folding or hanging them in a decorative way, it enhances the bathroom's overall look. Rather than spending a lot of bucks to experiment with bathroom towel decor, finding a creative way to display them using whatever is available in your place is always suggested.
You can use wooden ladders, farmhouse chairs, steel rods, old shelves, and more to create interesting towel decor ideas. The best way to start DIYing anything in your home is to let your imagination flow.
We hope our article about various towel decor ideas for a bathroom helped you learn about a couple of interesting options you can try out.
Always keep your towels and storage space hygienic to avoid any health-related issues.
Frequently Asked Questions
Which is Better: Hanging Towels on a Rack or a Hook?
While hanging damp towels on a rack will dry easily due to the larger spreading space. But it is easy to hang them on a hook when it comes to connection. But a towel will dry slowly on a hook due to its multiple folds.
How Many Towels Should an Individual Have?
An individual can have at least three towels. Each of these towels can be placed in different places and used for different purposes, such as bathing, face, and hand towels. It is important not to mix up towels with someone else's to ensure hygiene.