Choosing the right furniture to adorn your rooms is hard, especially if you have a large family. The pieces will have to be sturdy and remain intact for a long time. And for a family with pets, that might become problematic. For we may love the furry critters to death, but they can cause havoc.
When you are surfing for the best couches for dogs, you would want something sturdy. The romping and their nails can cause quite some damage as well, so the upholstery becomes important. As sofas and couches are too expensive to buy every few years, you would want a piece that will survive.
And in this article, we discuss some couches that are sure to remain intact despite the scratches and the slobbery.
If you are looking for a couch that will fit right into your living room despite your decor, this is it. The Room & Board Metro Sofa is not just a beautiful piece of furniture. It's also the best choice for pet owners. The heaviness of the frame will ensure that enthusiastic big dogs do not overturn it easily.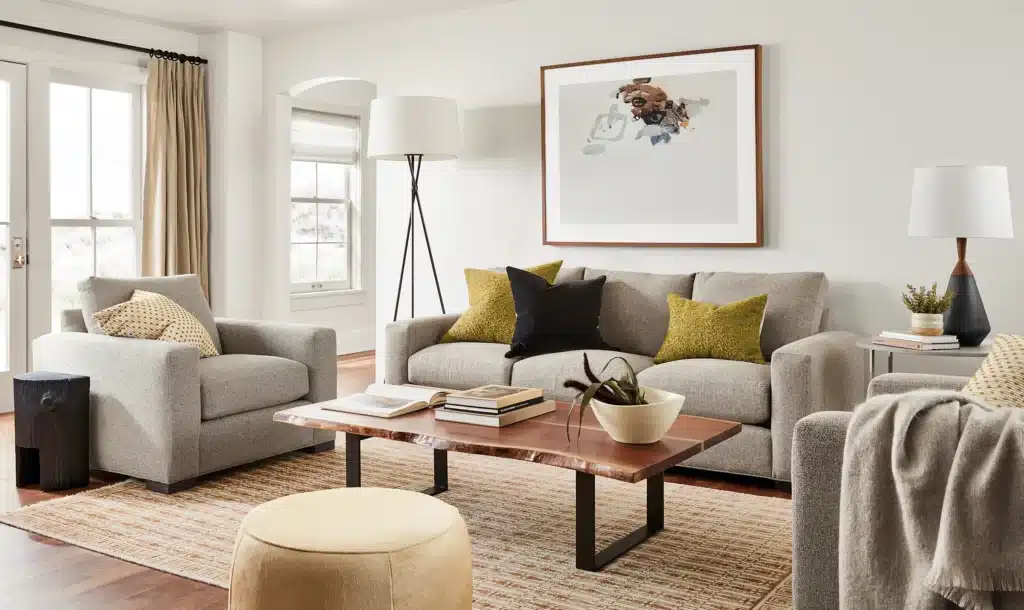 This couch is also a great choice for those looking for a comfortable place to launch after a long day. The cushions are supportive but have a cloud-like softness that feels amazing on tired limbs. And with 200 upholstery options, you are sure to find the right color for your room.
For an elegant couch that displays stateliness yet meshes well with pets, you can buy the Apt2B Soto Sofa. It is one of the best couches for dogs, as the upholstery is reversible as well as removable. There are also as many as 87 fabric options, all of which are hypoallergenic and durable. The most popular choices include plush velvet, darker smoke, and charcoal fabrics.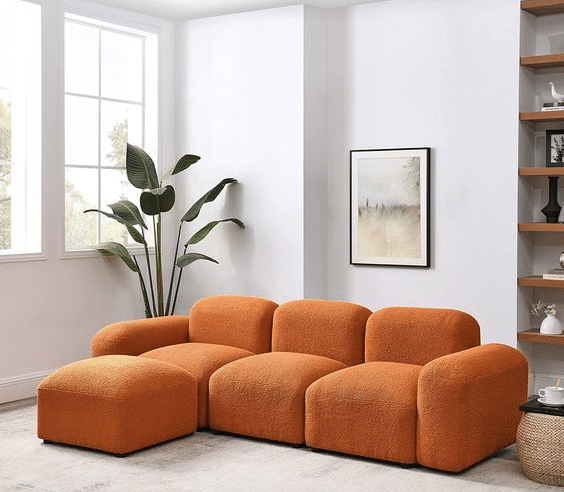 This sofa is well-loved by active families because the material can be spot cleaned easily. The 22-inch deep seat with foam cushions provides immense back support. The formal outlook, with its 5.5-inch arm width, is also ideal while entertaining guests.
In the list of best couches for dogs falls this sectional sofa which is just about animal-proof. It is perfect for those who are in search of a big, solid, yet chic piece of furniture. The Modular Bondi 3-Seater Sofa is known for its stellar reviews by families who have tried and tested its strength.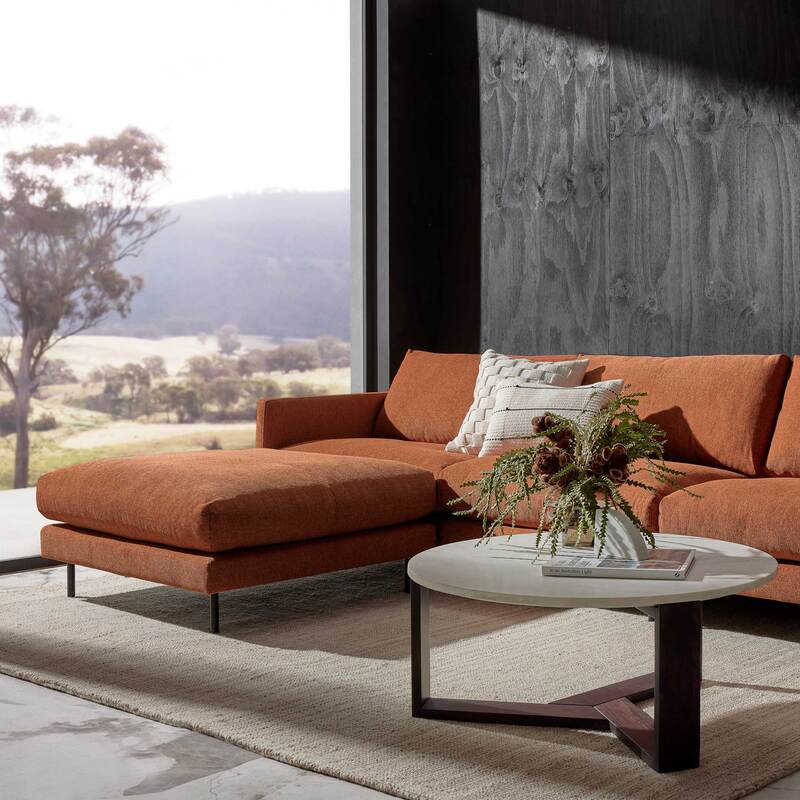 What sets this sectional apart is the fact that each seat block and pillow are covered with water-resistant nylon. You can easily remove most stains from the surface. And the covers can be removed for a quick wash as well. The sofa is attractive, customizable, and is sure to survive even the most rambunctious dogs.
If you are looking for a unique piece of furniture that is relatively new, you can opt for this brand. The Burrow Slope Nomad Sofa Sectional is made especially after the huge success of the Nomad sofa. The chaise lounge style will allow you to relax for the maximum. And with it, you will never have to worry about damage due to zealous pets.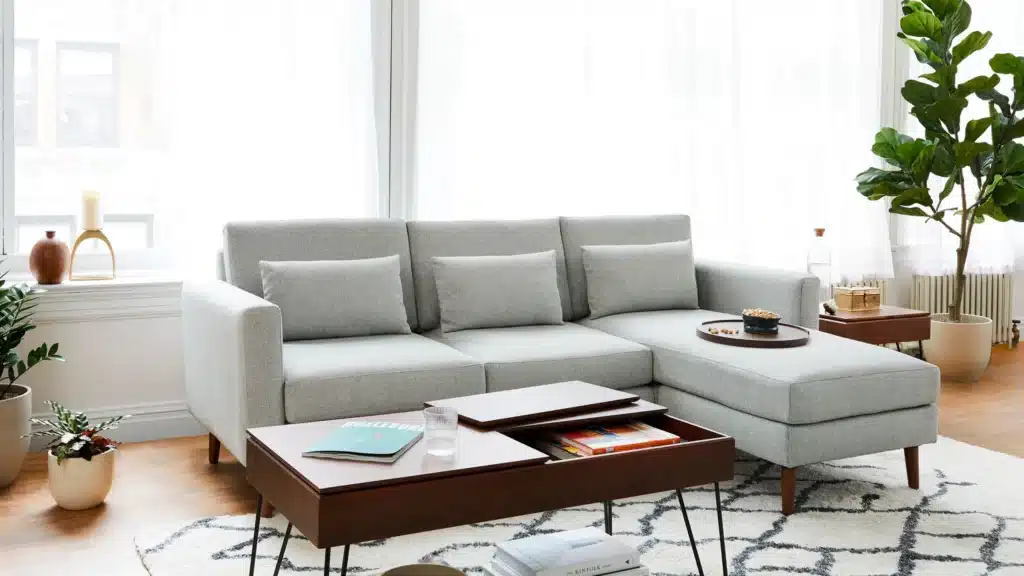 This sectional is diverse and reversible so that you can put it on either side of the sofa. The upholstery is made from tight olefin fiber, making it naturally stain and scratch-free. The piece is technologically unparalleled, as it is equipped with a built-in USB charger.
Considering the performances of sofas throughout the decades, it cannot be denied that craftsmanship has come a long way. Nowadays, when you buy a good sofa, you can be sure that it will last you a good long while. And Interior Define's Sloan 3-Seat Sofa is no exception. The piece is one of the best couches for dogs that you will find.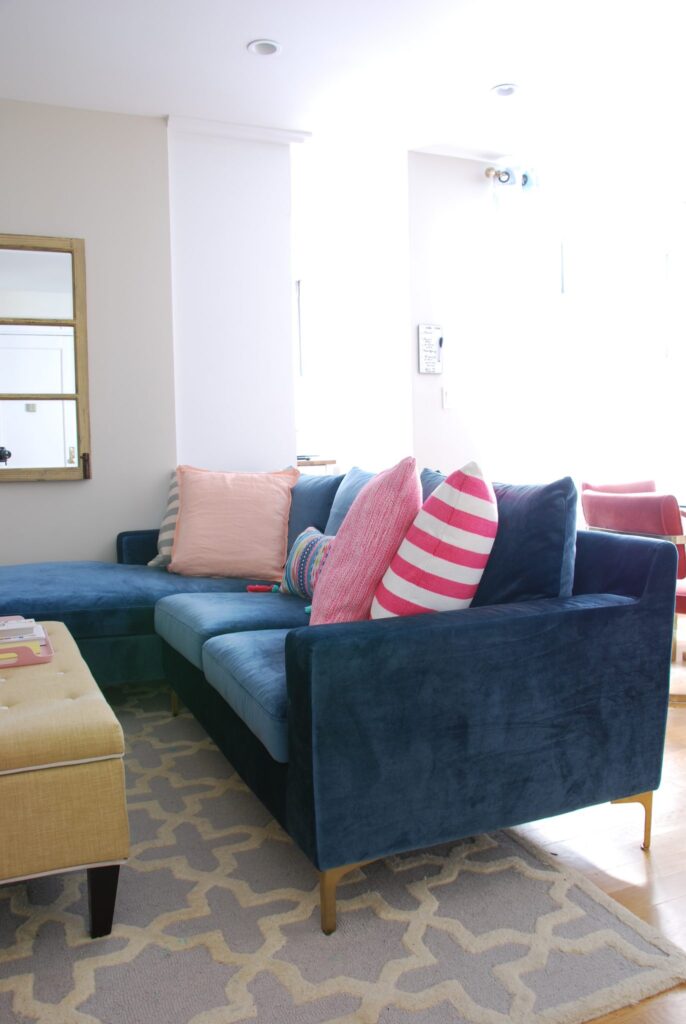 This sofa is one of the nicest and sleekest models out there. And it will not just survive the rampage of your pets and children, it will look good doing it. With customizable configurations that include 115 fabrics, along with 18 leg styles, you are sure to find your dream sofa.
When you are choosing a couch to snuggle with your pets after a day's work, you'd want it to be sturdy. So, if you were to get Joybird's new Lewis Section, you would have the softest place to crash. The lounge-style furniture gives you plenty of space to stretch out and spend movie nights at home. And on the plus size, its causal cool vibe will suit any living room.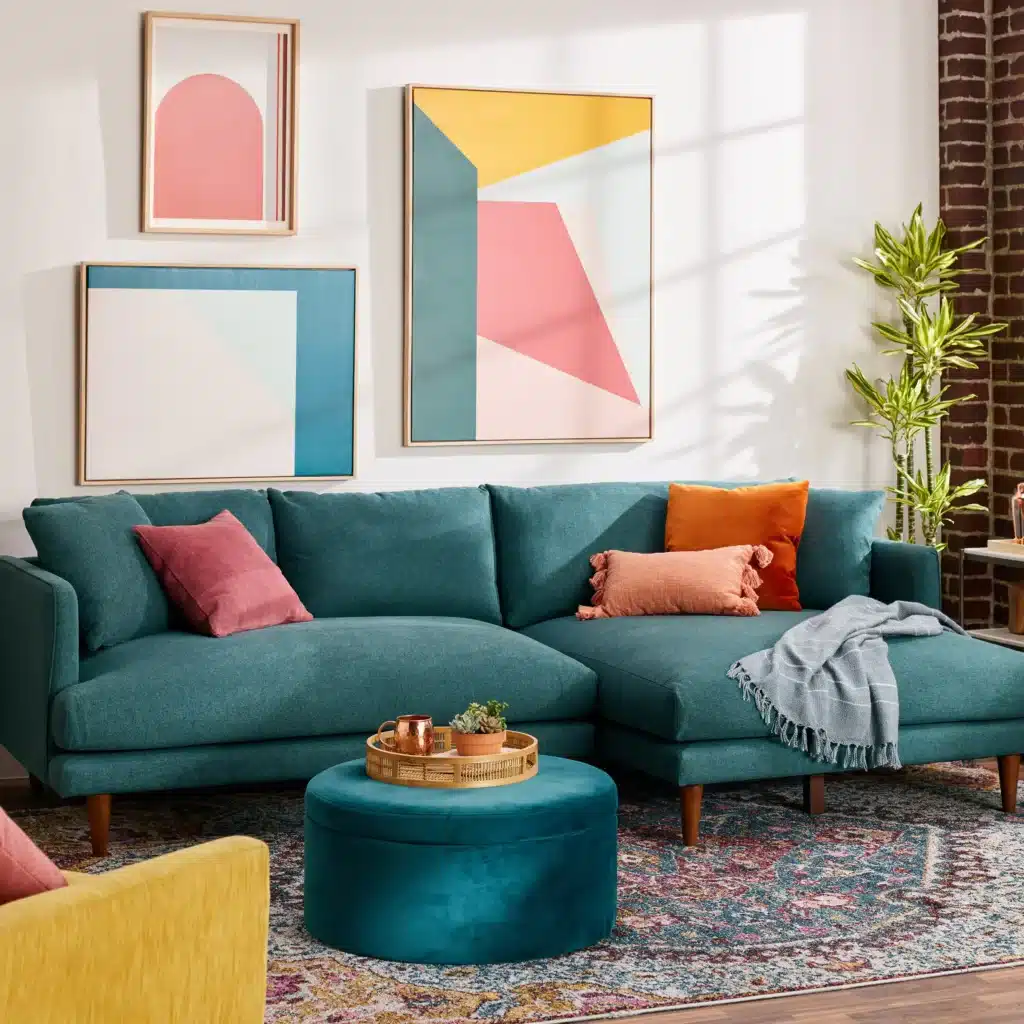 This sectional is perfect for homes with pets as the solid hardwood frame allows plenty of romps. You can easily customize it with your choice of fabrics and hues to suit the room's color scheme.
Among the best couches for dogs, the Allform 3-Seat Sofa with Chaise leaves a mark for its coziness. Whichever factor you consider before buying pet-friendly furniture, this couch is sure to match, not to mention its size, as it will allow you plenty of room to curl up with the big fuzzies.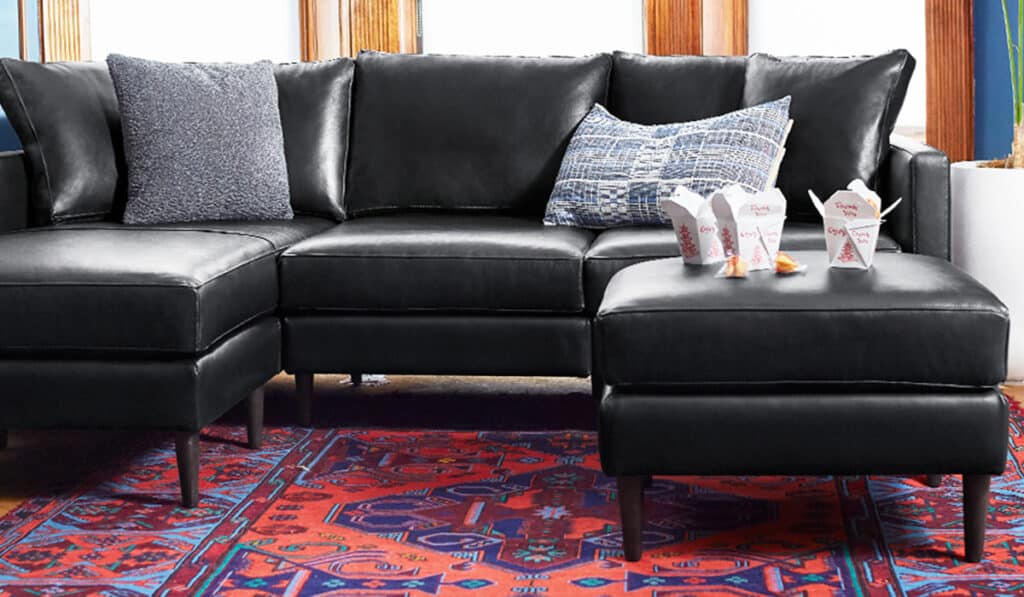 If you do not have enough space, its modular designs also allow you to have it in a smaller size. And no matter the size of your room, getting this sofa in its leather form is sure to pay off. The wooden frame gives it durability, along with the sturdy hardwood legs.
If you are looking for a small but sturdy sofa, the Castlery Adams Loveseat is the one for you. This compact yet stylish design is also great for all your pets and their claws. As it is small in size, it might fit people with smaller dogs or cats.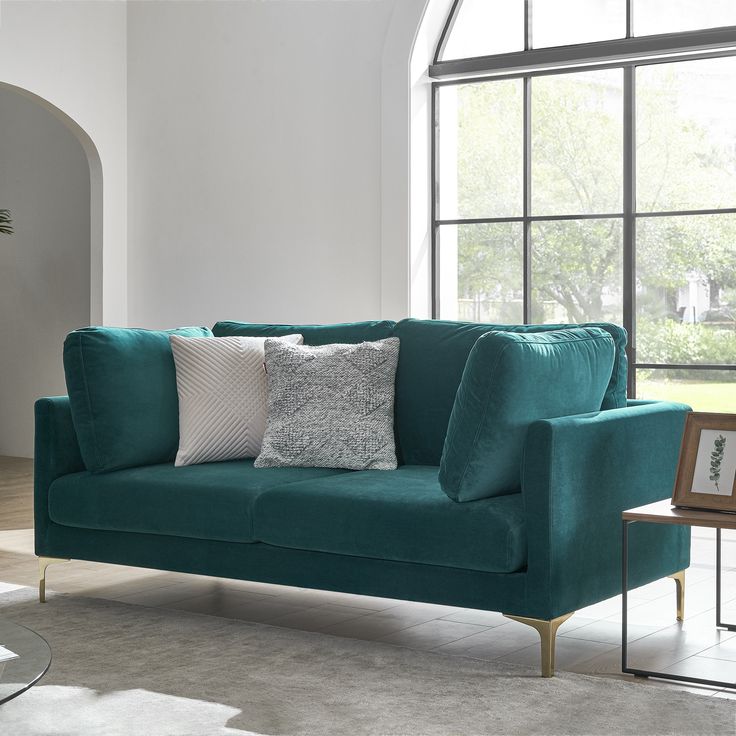 And if you do not have too much living space available, this is the ideal option for you. The Adams Loveseat may be small, but it is well-loved because of its durability. The metal legs, along with the wooden frame, ensure us that it will stand the ravages of your pets.
Sofas are an expensive purchase that you will retain for a long time. And the piece you choose should be stylish as well as comfortable. However, for the DHP Cooper Reversible Sectional Sofa, you do not sacrifice style for comfort or even price. The upholstery, which is available in many forms, exudes an elegant and luxurious vibe.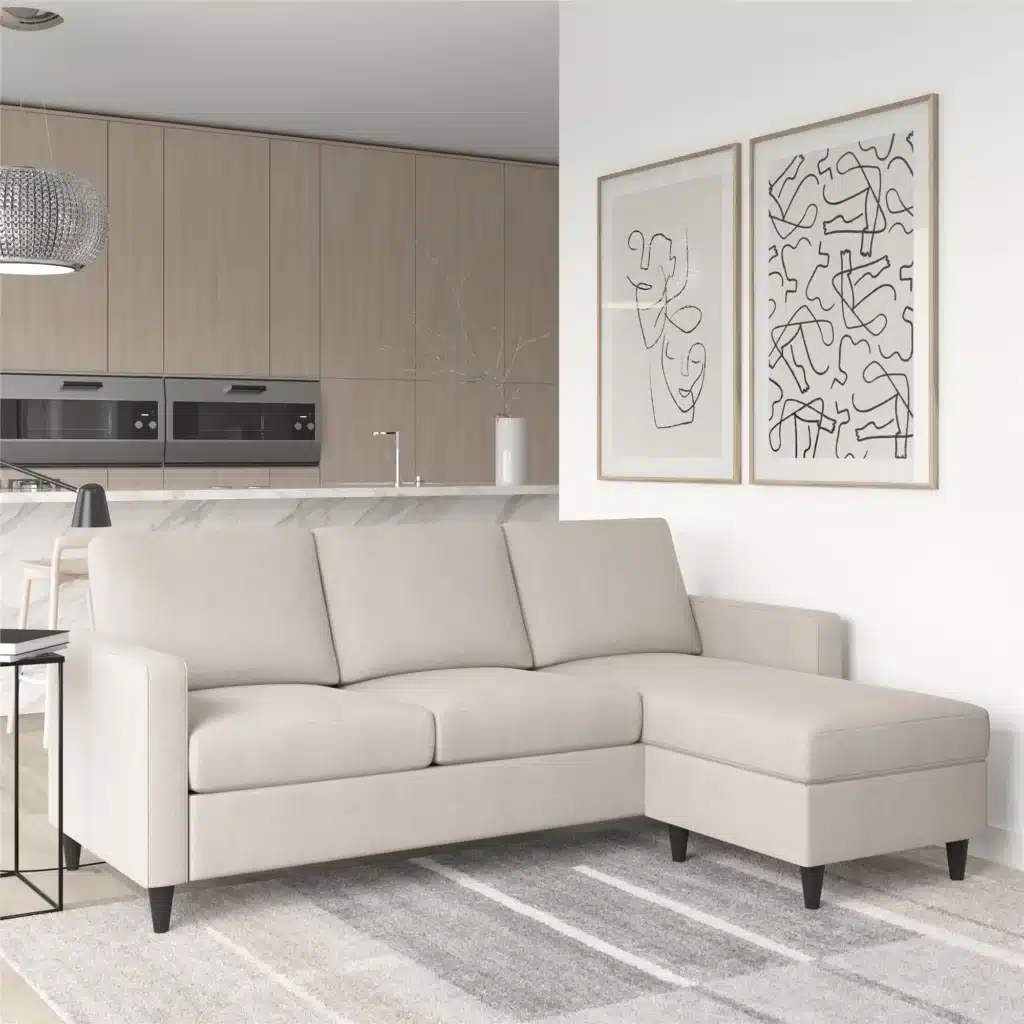 Yet at the same time, you can be sure that this is one of the best couches for dogs available. The frame is a sturdy one that remains intact despite active pets and playful toddlers. On the other hand, the soft cushions ensure all-round comfort.
A couch can be sleek and modern or over-the-top ornate, depending on your chosen aesthetic. But for a more chic look with clean lines, you can opt for the Ikea Kivik Sofa. It will offer more than enough space for you and all your furry friends together. And on that note, you can easily clean it up as well.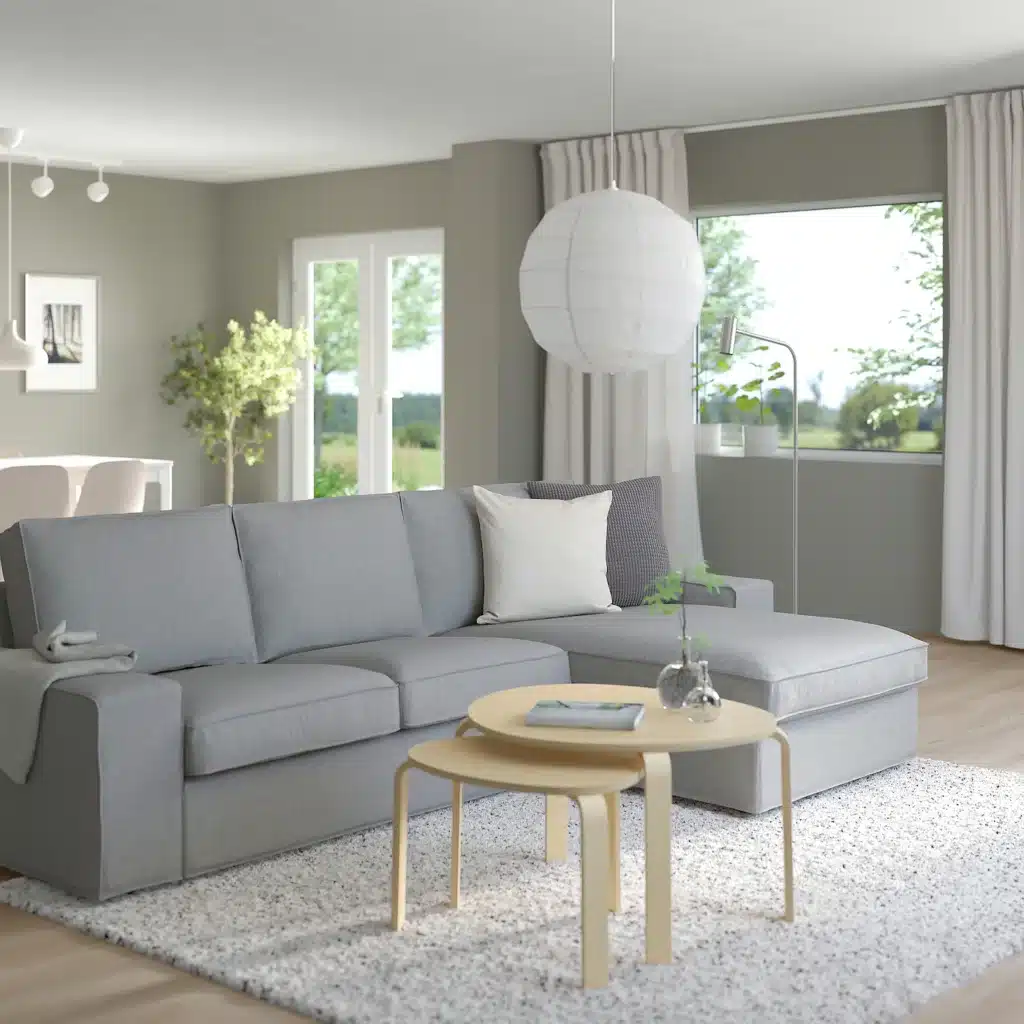 The structure is solid, made of fiberboards, plywood, and solid wood, and will not budge under pressure. The medium-firm cushions also have a sink-in softness that feels great but will need fluffing often. But overall it's a great choice for its cleanliness.
The Burrard Bella Sofa is a one-of-a-kind leather piece that will blow your mind. The sleek look along with the strong lines creates a statement all by itself. And the sumptuous yet super-durable fabric makes it one of the best couches for dogs. The short arms also accentuate its sophisticated look.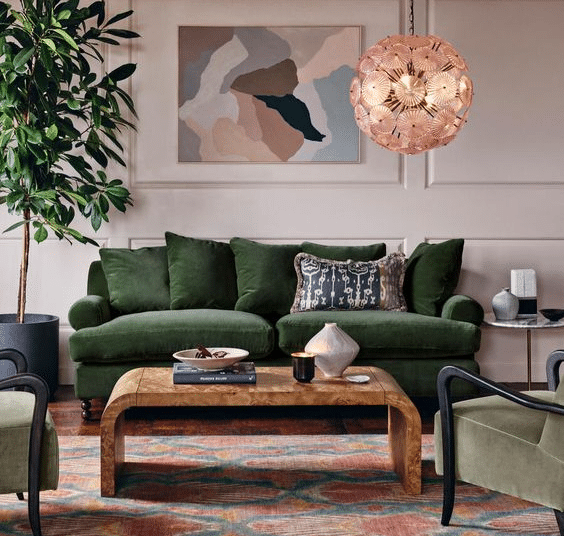 The details that go into the making of the couch are truly astonishing. From double-stitched seams to hand-folded corners, the quality of the product is undeniable. The wooden legs also offer stability against heavier pets.
Sofas can be extremely pricey when you try to get a durable one. But among the pet-friendly options available on the internet, the Ikea Uppland Sofa is a steal for its price. But even though it will not cost you thousands, the product is durable and sophisticated.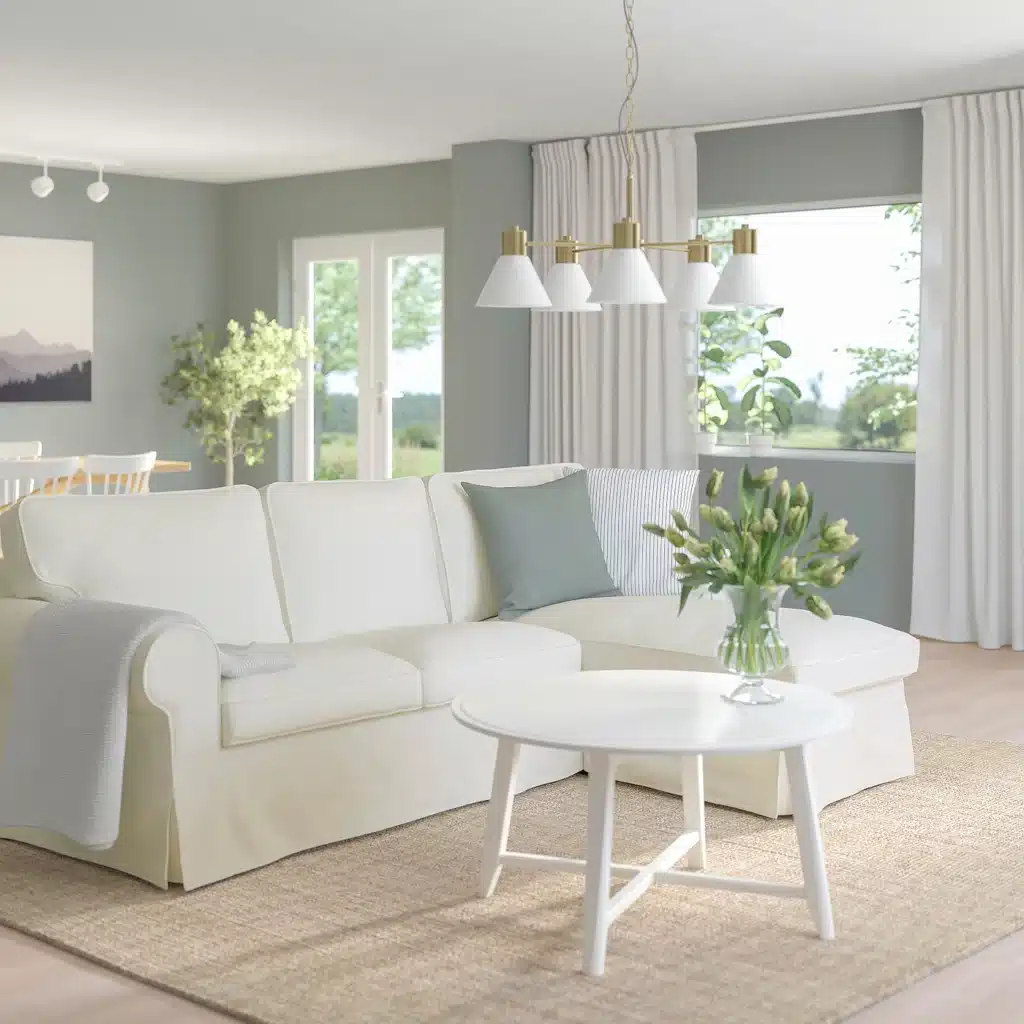 Another point in favor of this furniture is the ease with which it can be cleaned. The covers can be thrown into the machine for a quick wash. And its sturdy design also provides great back support.
The Taverly Leather Sofa is a classic that accompanies designer styles in a unique combination. The graceful material makes it one of the best couches for dogs, as its style makes humans favor it. The rich earthly tone of the leather goes well with most decors and can be easily wiped down for a fresh look.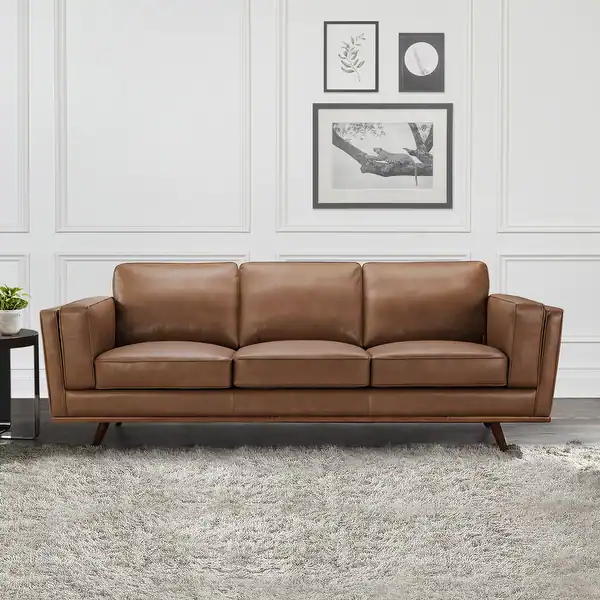 The frame of this couch has a walnut brown wood trim that makes it sturdy and beautiful at the same time. The foam cushions, along with the seats, ensure durability and will last for years.
A classic cognac couch that you can easily maintain despite your pets is the Rivet Aiden Midcentury Modern Sofa Couch. The brand also offers lots of options to choose from, be it the style or the upholstery. You are sure to find your favorite among the loveseats and sectionals of different colors.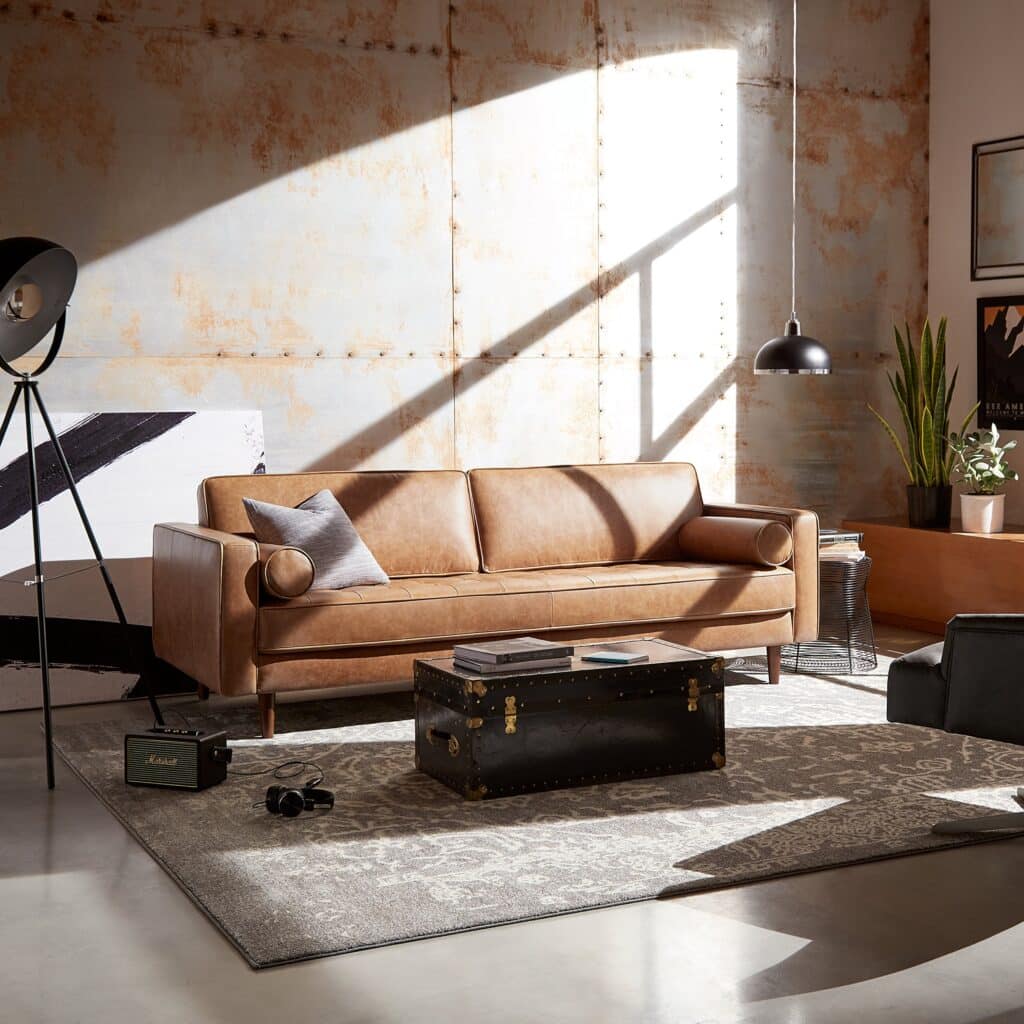 The sofa's appeal, apart from the midcentury elegance, lies in its durability. It is considered to be one of the best couches for dogs because of its solid hardwood frame and tapered wood legs. And even in the messiest of times, it can easily be cleaned with a soft, dry cloth.
Wrapping Up!
Choosing couches that will suit your aesthetics as well as survive your pet's claws can be difficult. But nowadays, there are plenty of sofas available that will last you years without a tear. And with the upholstery, it will look amazing in your living room as you cuddle up with the critters.
And among the best couches for dogs, you can have the most trendy ones as well. So whether you choose the Allform 3-Seat Sofa with Chaise in leather or Joybird Lewis Sectional, you will not get it wrong. Just get a solid frame so they don't cave in! And if you want more tips on which furniture is the best for your home, shoot your question in the comments below.
Frequently Asked Questions
What Fabric Sofa is Best for Pets?
If you have some pets in the house that love jumping over furniture, you need a durable sofa. And for that, the ideal material is microfiber. The fabric needs to be able to deal with scratching, shedding as well as the occasional potty mishap. The synthetic material will also last you a long time and can be cleaned easily.
What Color Furniture is Best For Dogs?
Sturdy and durable fabrics like leather and microfiber offer a lot of options in upholstery due to their versatility. You can easily find colors that suit your decor theme. But remember, if you have pets, the color will need to be chosen carefully. So you will have to get light colored sofa if you have a white Maltese or a Golden Retriever. Similarly, with a black labrador, you can get a dark blue couch.
How to Choose Pet-Friendly Furniture?
Many aspects will need to be considered while buying a sofa for an active family that includes pets. The best couches for dogs are sturdy, so the material will also have to be durable. The fabric, too, needs forethought, as materials like velvet attract pet hair. This will make the fur stick to your clothes as well.