Is your living room still empty and has no accommodation for guests? Do you want a space that can be used for both lounging and sitting while watching television? Are you still hesitant to purchase a sofa because your living room is small? Well, don't worry; a small sectional is there for your rescue. Google defines sectionals as "a sofa made in sections that can be used separately as chairs."
A small chaise sectional is a type of furniture that provides an option for sitting as well as lounging without taking up much space in your living room. It also comes with various storage compartments which can be used to store blankets and other accessories. It is also best for parties and family gatherings where you can sit and relax with your family and friends and have deep conversations.
It also comes in various designs, which you can select according to the decor as well as your personal preferences.
What are the Factors that You Should Consider Before Purchasing a Sectional?
A sectional is an important piece of furniture in a house. Purchasing any furniture is an important decision as it'll be used for the next decade. So before purchasing a sectional, there are many factors that you need to consider. Let's check them out.
Size: A sectional works as a wild card for people who have small living rooms. So before selecting one, make sure that you have decided on which side of the room you want to keep that furniture. Then measure that place accurately, which gives you a proper idea of the size of the sectional. The dimensions of a sectional, which includes its length, depth, and height, match properly with the available space in the room.
Configuration: There are sectionals that come with various configurations like U-shaped, L-shapes, chaise lounges, etc. So you need to be clear about the configuration you want in your room.
Functions: The best part about a sectional compared to a sofa is that it comes with various functions. If you are someone who hosts parties frequently, then make sure to purchase a sectional with sufficient seating capacity. There are even sectionals with compartments, built-in storage, and reclining seats.
Comfort: Even though a sectional comes with the element of comfort, use it by lying and sitting on it. Make sure the amount of cushions available is enough for you, and check if the sectional is comfortable enough for you.
Material and Upholstery: Material and upholstery equally play an important role from person to person. There are many types of materials: fabric leather, faux leather, etc., and it comes with various factors like durability, ease of maintenance, stain resistance, etc.
Designs and Styles: There are many types of designs and styles of sectionals available either online or in the market. This gives the customer a vast number of options to select the perfect sectional that can match the decor of the living room. So make sure to purchase the sectional which matches the decor of the room.
Budget: Lastly but the most important factor is budget. Decide and plan your budget before purchasing a sectional, as it comes in various price ranges. With a fixed budget, also consider the quality, durability, designs, etc., of the sectional.
Best Small Sectional Sofas for Your Home
There are different types of small sectionals available in the market. So now we'll be discussing the best 9+ small sectionals of 2023. Let's get started!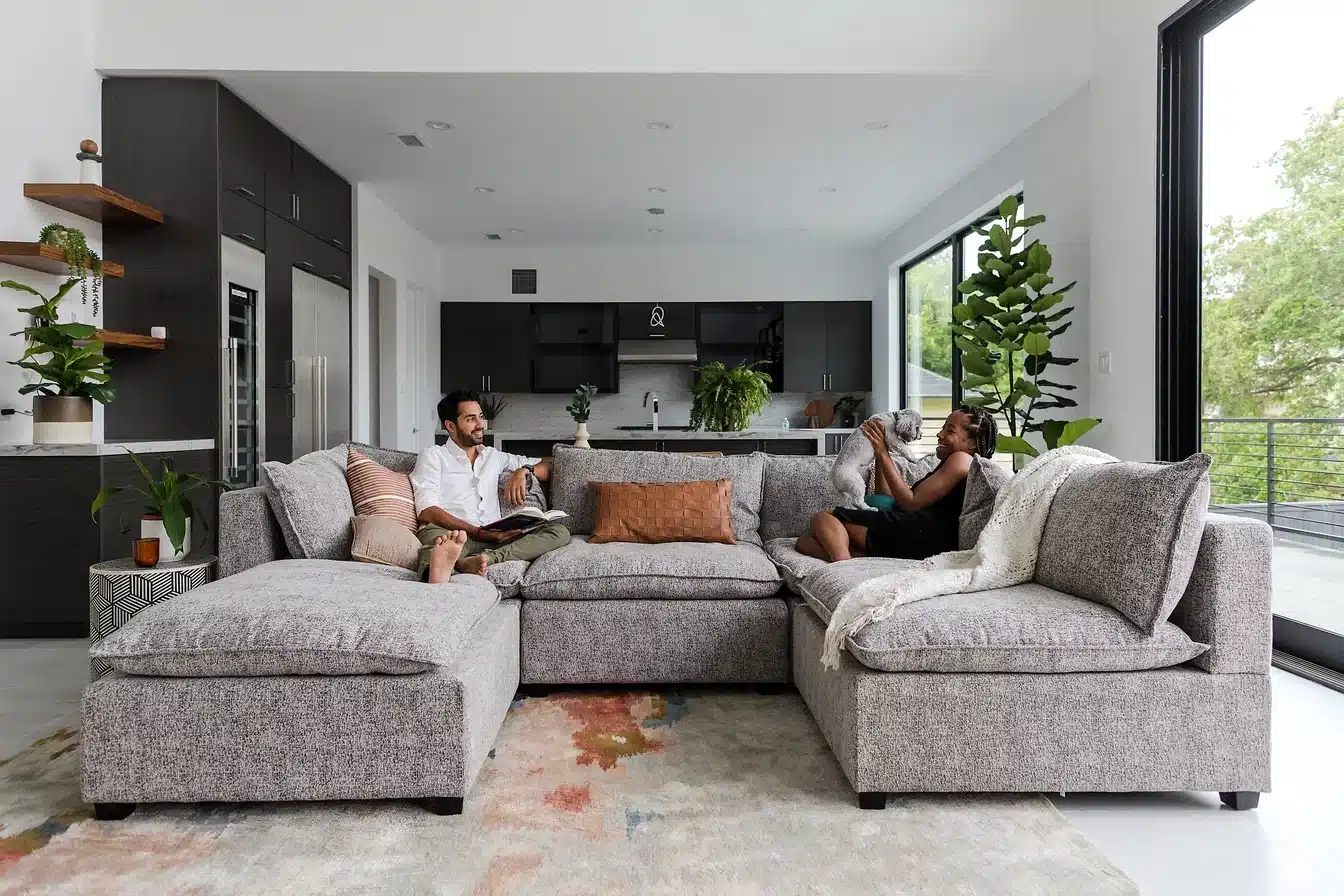 This small sectional is a type of modular sofa that is a combination of modern style, exceptional comfort, and highly customizable design. It is one of the most popular choices of sectionals as it offers several benefits. Firstly, it can be easily shipped to your house as it'll fit in a box. It has different configurations, like the L-shaped sectional. The Kove Sectional also gives the freedom to customize according to the customer's needs and room decor. Lastly, Albany Park offers quick shopping and will deliver the product within a month to your doorstep.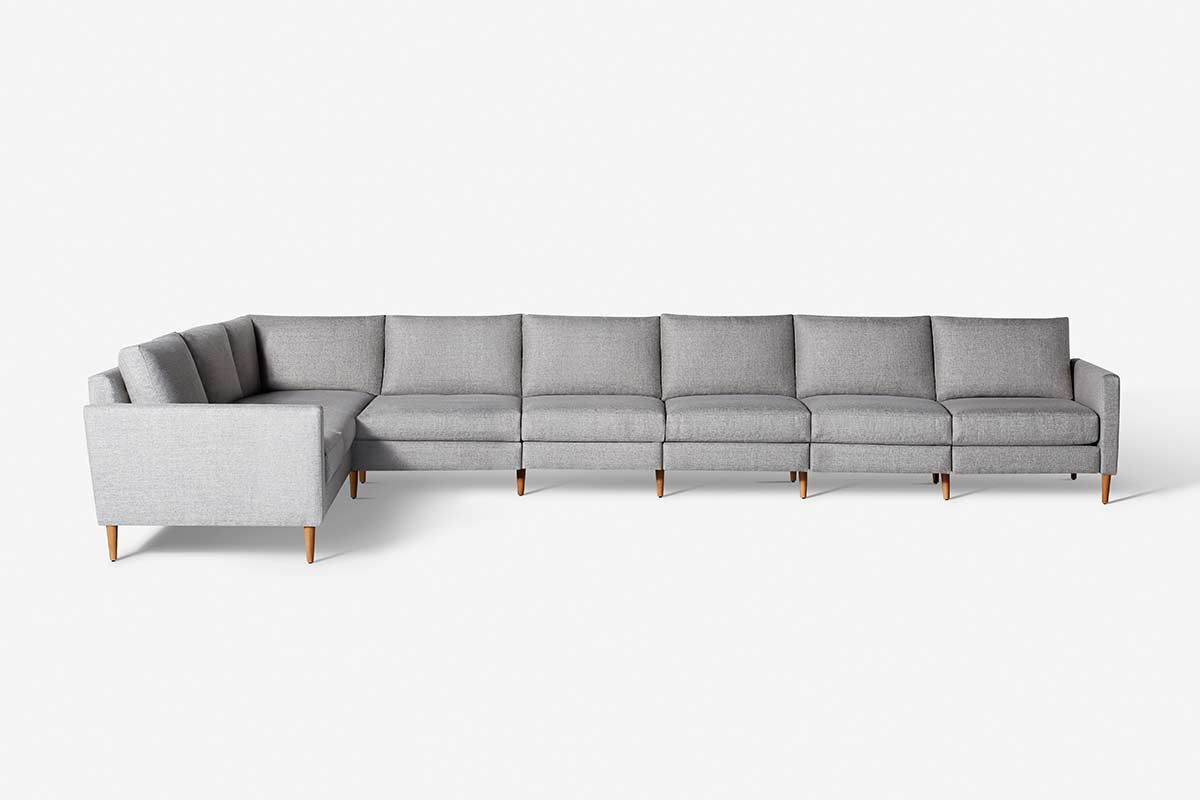 This is a modular sofa that offers customization offers, and its main function is to fit into different living spaces. It also allows you to configure your sofa according to your preferences and the layout of the room. You can even select the number of seats you want as well as additional components like chaise lounges, etc. Allform corner sectional provides ample space for you to sit with your family and is equally comfortable. Lastly, it is constructed with high-quality materials making it highly durable and long-lasting.

The Apt2B Melrose Reversible Sectional is a stylish and versatile seating option for your living room. It has special features like wide-track arms, wooden block legs, and oversized cushions. They also provide ample customizable options like leg finish, fabric color, etc. This gives you the freedom to explore your creativity around sectionals.
There are a variety of configurations available, like 2-piece and 3-piece. Lastly, it has a reversible feature that provides flexibility in positioning the chaise.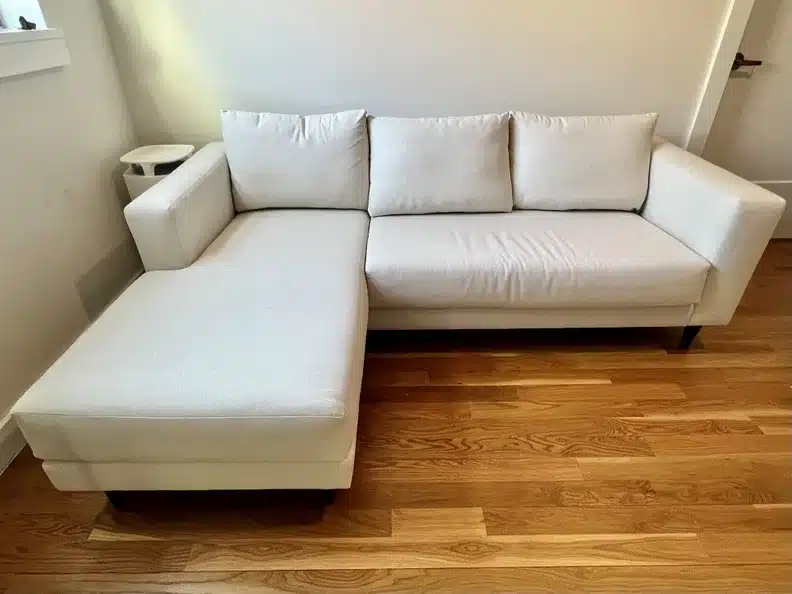 If you are a consumer of environmentally friendly products, then this sectional will be perfect for you. The company Sabai is a sustainable furniture brand which means they manufacture products that are sustainable for the environment. This sectional is available in a variety of colors and materials, like recycled velvet and upcycled poly. They even use non-toxic materials such as FSC-certified wood, recycled and upcycled fibers, and US-certified foam.
It is also very easy to maintain and set up as it is delivered very conveniently in multiple boxes.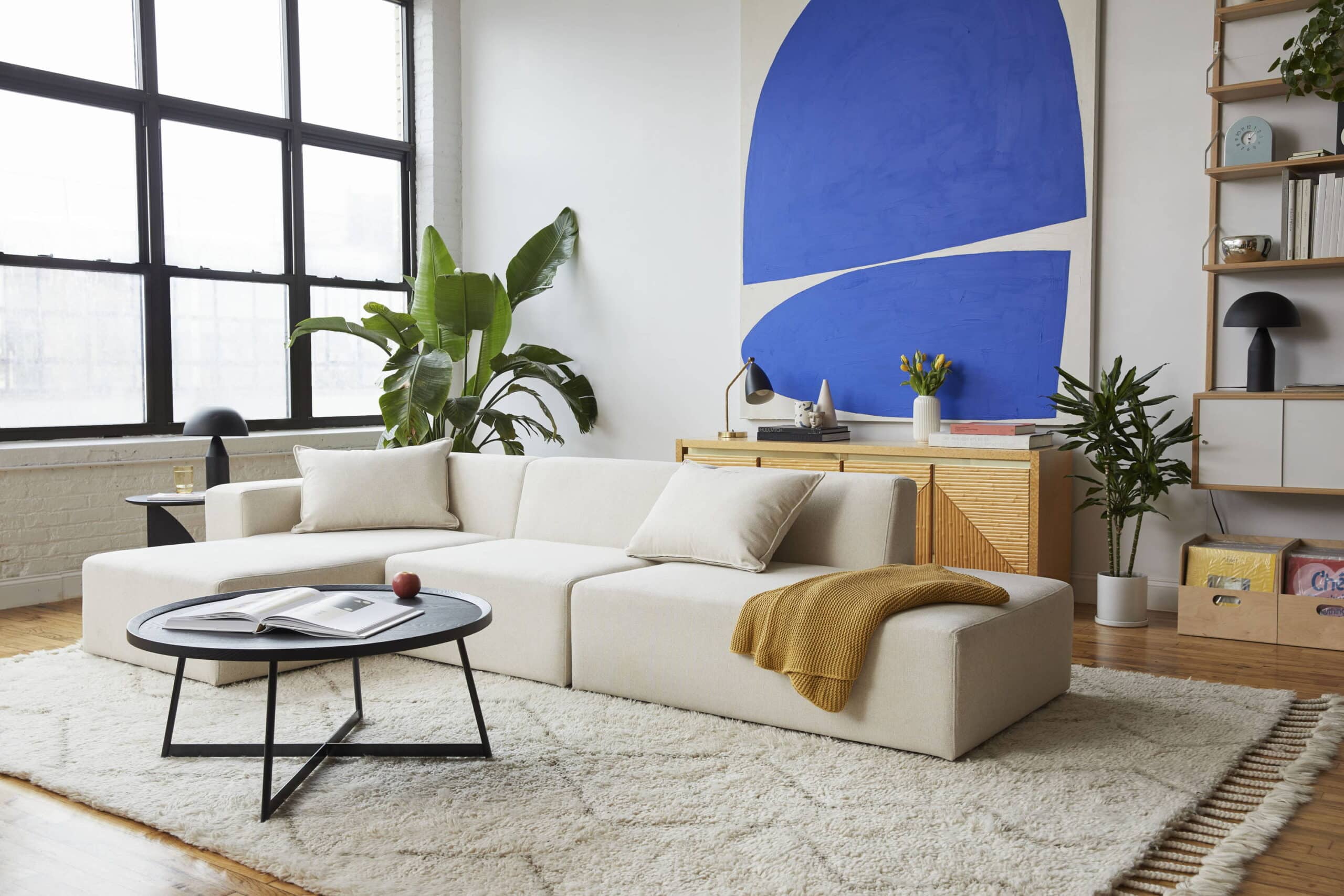 Another eco-friendly product is offered by the company Floyd. It is known for its minimalist design, which makes it perfect for people who believe in living a simple life. It is also available in a variety of fabrics and colors, and it provides different options to its customers so that they can pick the perfect one according to their decor. As I mentioned earlier, this sectional is eco-friendly as the company focuses on quality and sustainability.
With the high quality of materials, it is highly durable and long-lasting.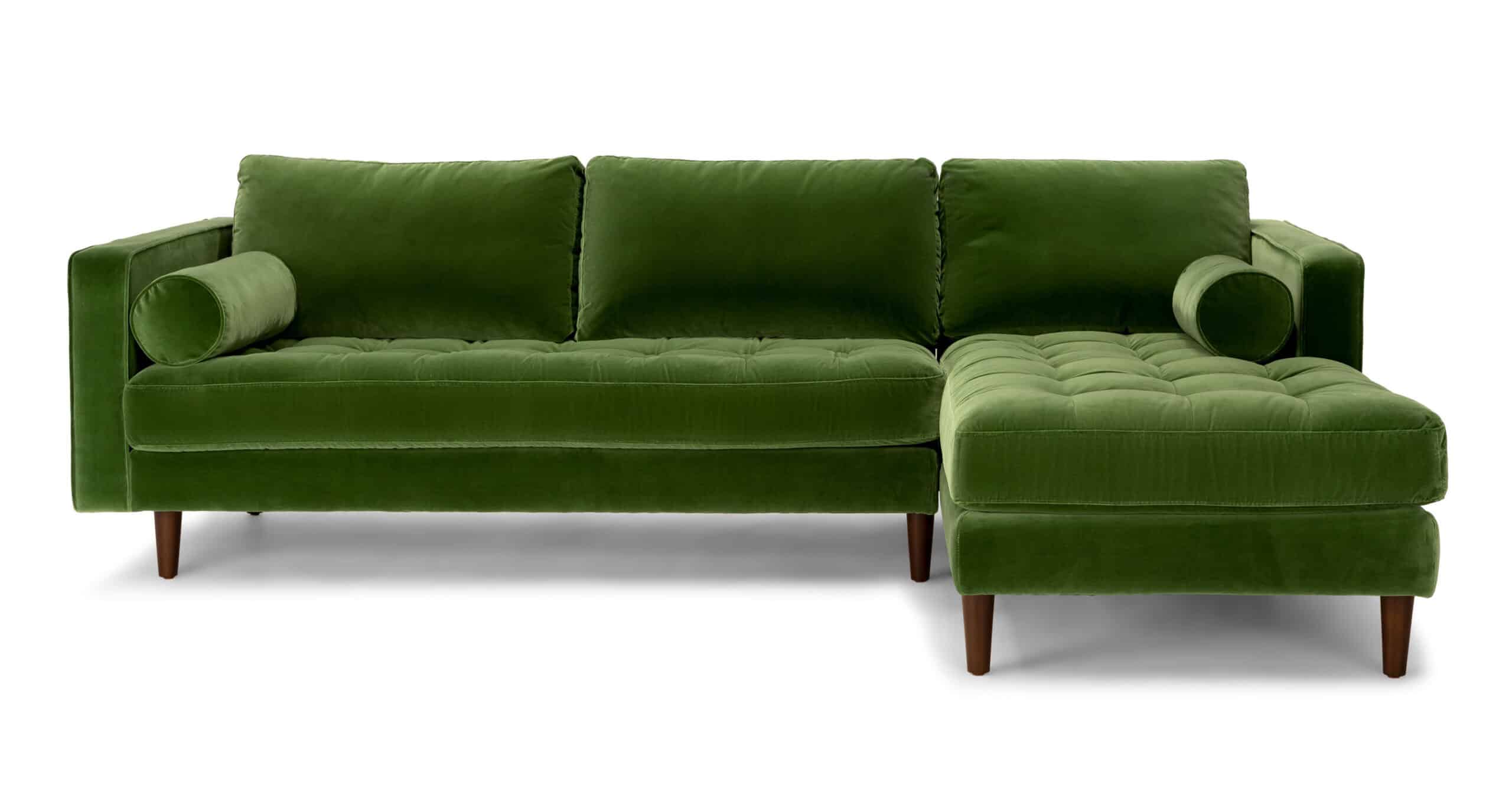 This sectional is one of the most popular ones on the list and is known for its stylish design and comfortable seating experience. It also has different configurations like left-facing, right facing, etc. The customers even get the option to select the material of the sectional such as weather, velvet, fabric, etc. It has tufted bench seats and clean lines, which provide a sophisticated vibe to the room. It is very easy to assemble and will be delivered to you in multiple boxes.
Lastly, the high-quality materials used to make this sectional make it more durable and long-lasting.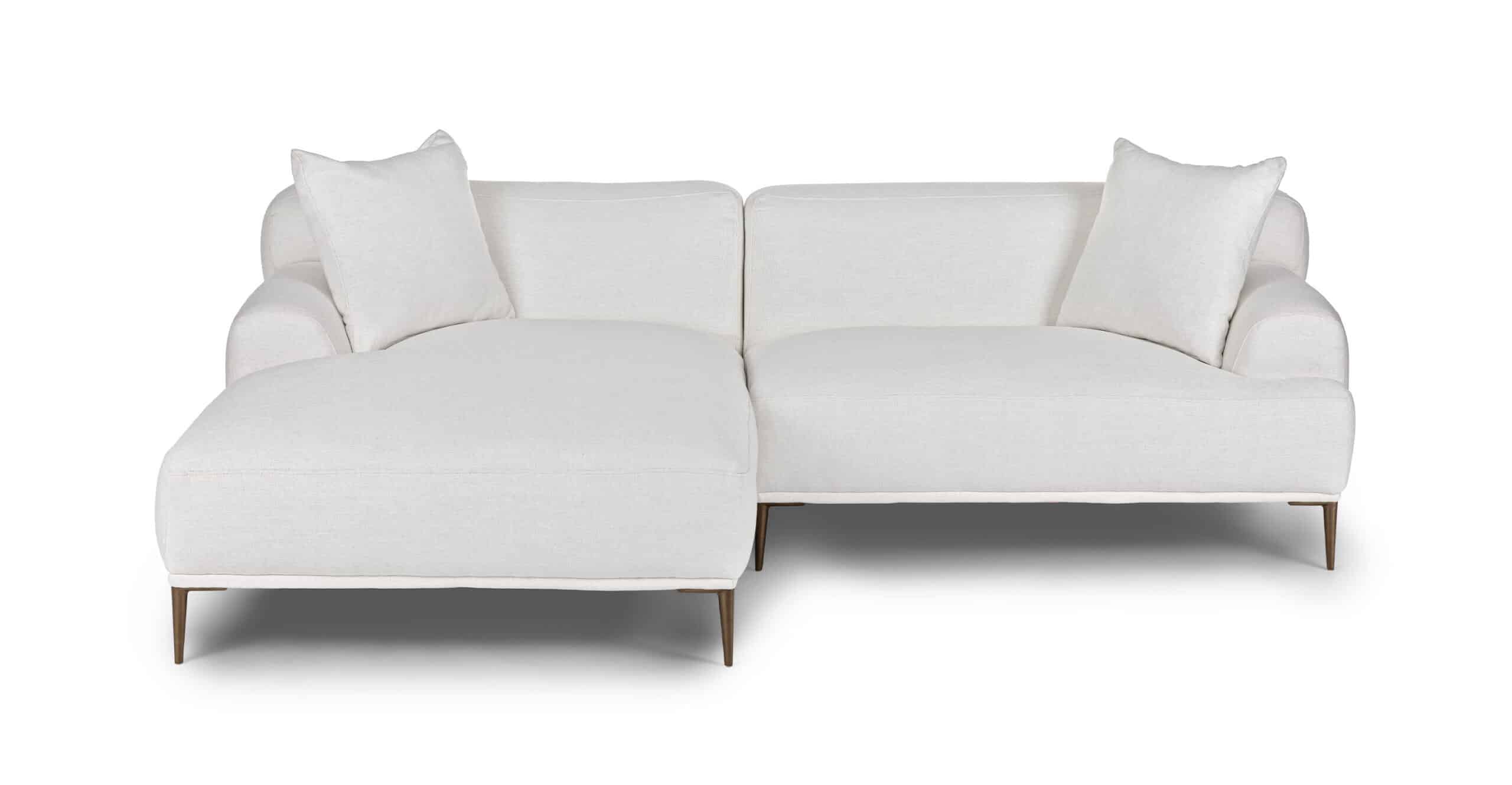 This sectional is another stylish and comfortable sofa that is specially made for relaxing. So, after a long hectic day at work, you can easily lie on the sofa while watching your favorite show on the television. The material is made of soft cotton and linen-blend fabric and has a composite wood frame. The seat is padded with back cushions which makes the seating experience even more comfortable. It is available in a variety of colors like Navy, Quartz White, and Charcoal.
It is very easy to assemble and can be purchased at a very affordable price.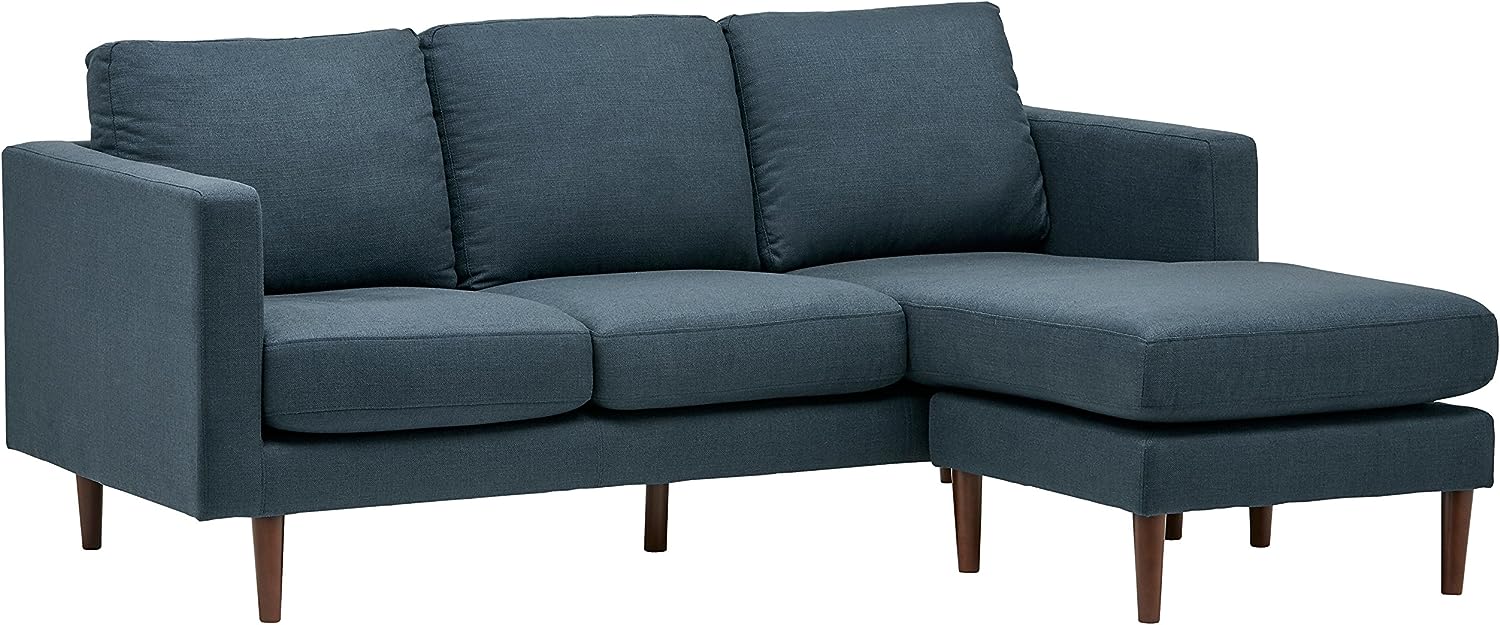 This is Another simple and minimalist sectional sofa. It features simple lines and square armrests with tall tapered legs. It comes in a variety of designs as well as colors like linen, denim blue, heritage green, etc. The maintenance of this sectional is very easy as it can be wiped clean with a soft and dry cloth.
It is very easy to assemble and can even be a DIY project. It is great for people who have small living rooms and need to fill the required space.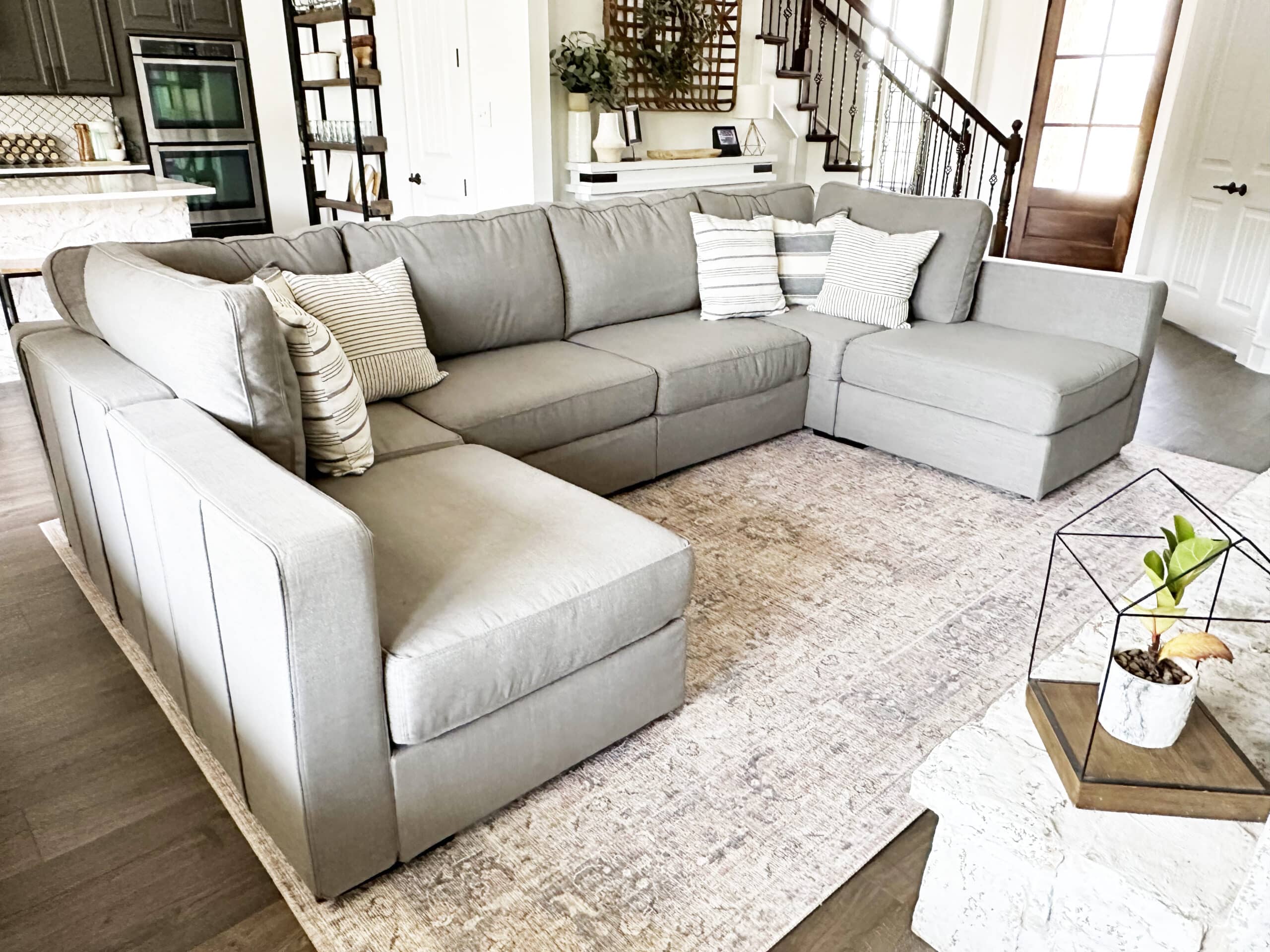 Lovesac sectional is another sofa with a modular design which means it consists of individual seats which can be arranged and rearranged according to your needs. Its seats are even expandable as you can add more modules or seats according to your needs. This makes it perfect for family gatherings and parties; You can even make different configurations from this sectional.
It comes with a backrest as well as an armrest which provides the best comfortable experience to the customer. It is also very versatile as its design allows it to adapt to the decor of the room.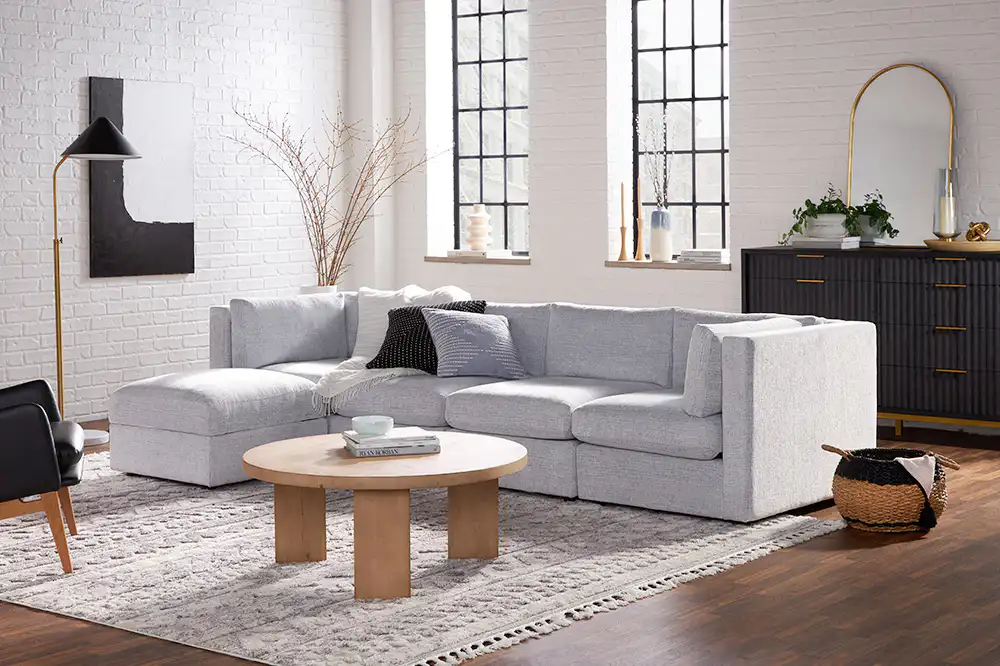 This sectional is built with a high-quality material, i.e., top-grain leather, which makes it highly durable. It has loose cushions making it customizable for the consumers according to their requirements. It comes in a variety of colors and finishes and can be used for both formal and casual settings. It works well in a living room as well as a home office.
Reviews say that it is a stylish and comfortable sectional and is highly recommended.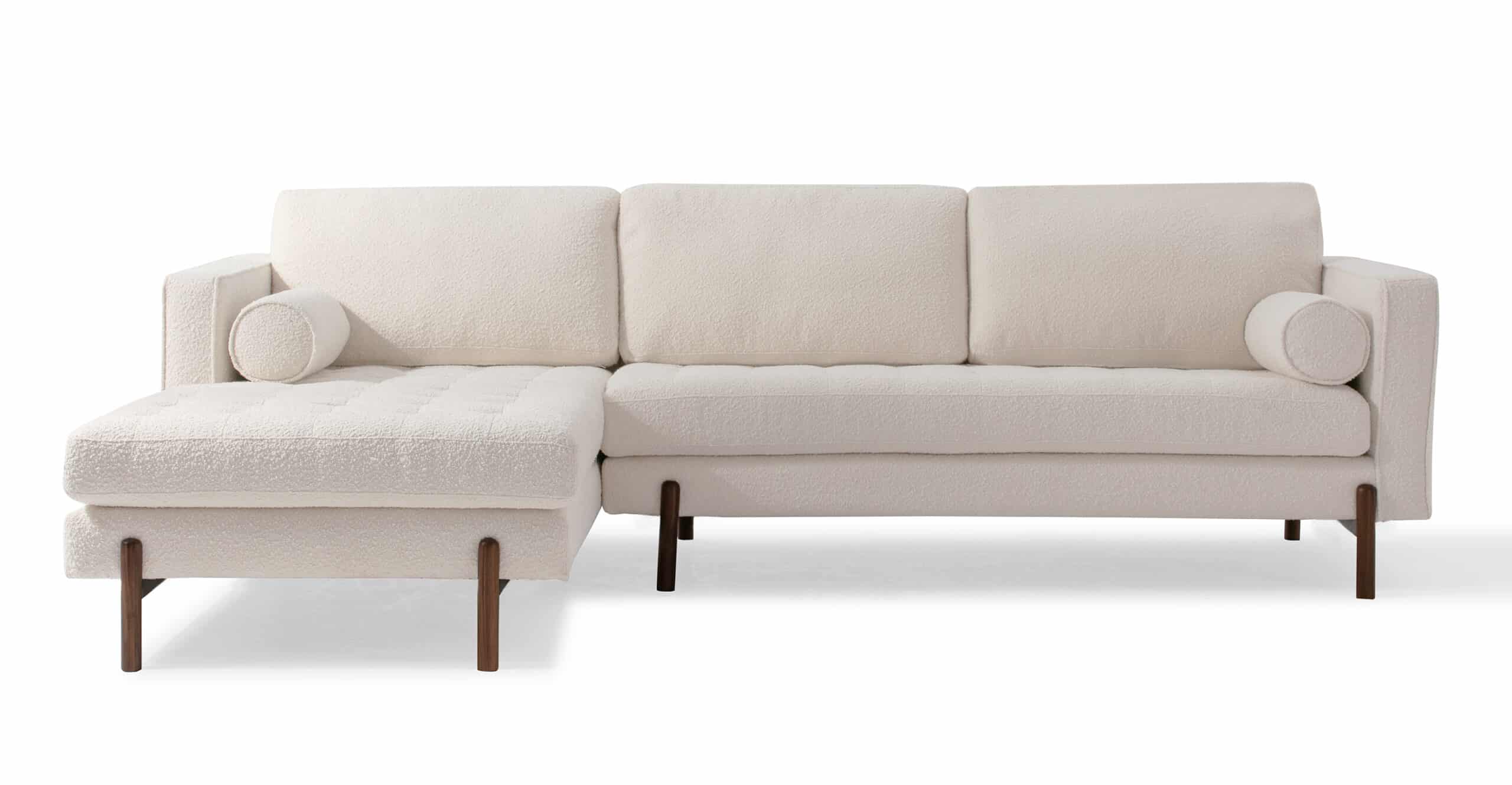 Another crowd favorite is the Dwell Studio Willow Sectional which is versatile furniture as it goes well with any decor. It also gives various configuration options to the consumers to rearrange it according to their needs. The seating experience is top-notch, with soft and supportive foam back cushions.
The cushions are easy to remove, which makes the maintenance simple. It is made of durable and fade-resistant fabric, which makes it more durable and long-lasting. The frame of this sectional is sturdy enough to withstand up to 800 pounds of weight.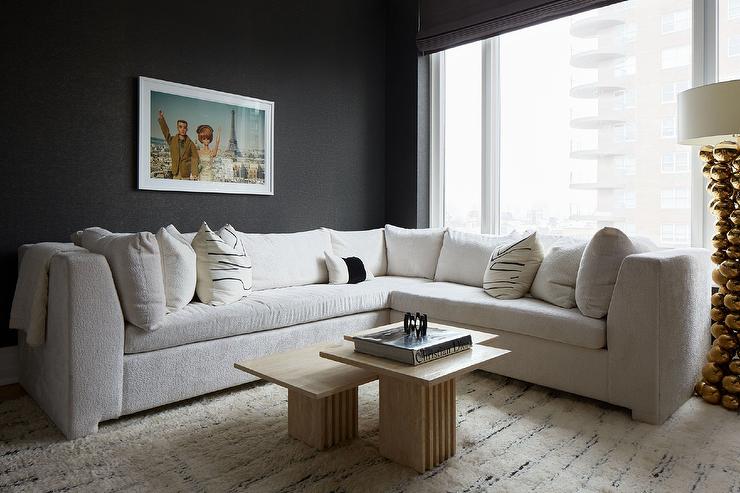 If you like hosting parties and family gatherings, then this sectional is the one for you. It has a plush, oversized seat and back cushions, which makes it spacious enough for groups to sit together. With its sturdy frame, it can hold up to 800 pounds.
The material used is linen-blend fabric which makes it perfect for daily use. This makes it highly durable and long-lasting and is very easy to maintain with its stain-resistant features. It is very versatile as it can be rearranged and arranged according to your needs.
World Market is a retailer which provides a variety of products like furniture, home decor, etc. Their sectionals are designed to provide a spacious and comfortable experience to their customers. They provide plush cushions, padded armrests, and ergonomic support to make it more comfortable. They have different configurations, L-shaped and U-shaped, which increases its efficiency in small as well as large living rooms. Mostly their sectionals, especially modular sectionals, are made of individual pieces, which makes it easy for the customers to change the configuration by rearranging them.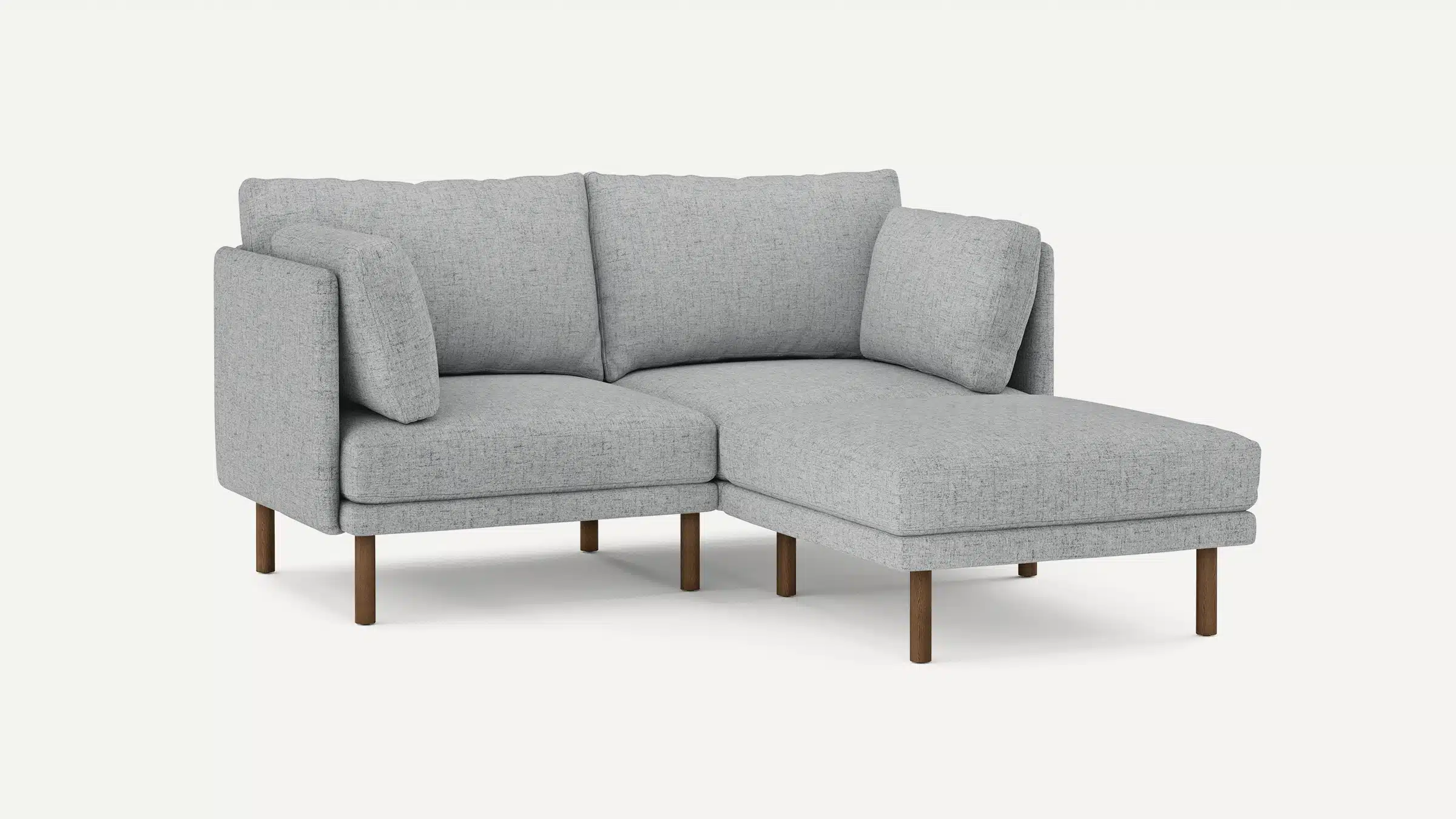 This sectional is a compact and stylish seating option that has a two-seat sofa and a chaise configuration. It can easily go with your decor in the living room with its versatile features. It is specially designed to accommodate various styles and to adapt to the environment. The material is made of high-quality premium polyester fabric. It is also stain-resistant, making it very easy to maintain and easy to clean. It also has deep seats and plush cushions, which means that the seating experience will be very comfortable. It's great for you after a long tiring day.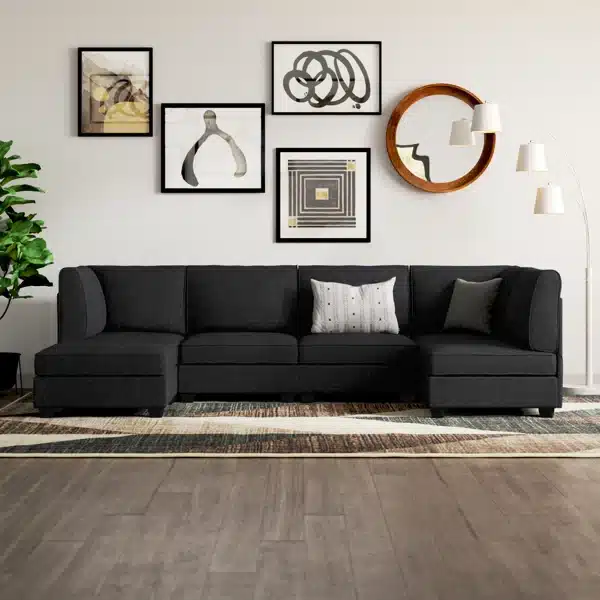 The last sectional on this list is the Wayfair Loom Sectional. It is a very stylish and versatile piece of furniture that can gel in any home. The comfort level is at its peak with this sectional, with both seat and back cushions made of supportive foam. It is also very easy to maintain and clean with its removable cushions. So, if you have pets and children in your house, you don't have to worry about it getting dirty.
With the high-quality materials used to manufacture this sectional, it is highly durable and long-lasting. It comes at a very affordable price and will be perfect for the ones who don't want to spend much on sectionals.
Conclusion
As I've mentioned before, sectionals play as a lifesaver for the ones who have small living rooms. Slowly everyone is shifting from sofas to sectionals because it offers way more features as well as come in a variety of designs and configurations. Be it a U-shaped or a L-shaped configuration.
It also offers enough space to sit as well as a lounge, making it great after a long hectic day at work. It is also great for family gatherings, housewarming parties and even works well in an office environment. There are many types and designs of sectionals available in the market, but after thorough research, the above 9+ are the best sectionals for you.
Do research properly before purchasing one.