Grays are the palette of modern decor. Gray colors, from charcoal gray to a lighter shade of gray, have gained a lot of popularity. There is a good reason for that, grays appear neat and chic and are a great choice for any home decor.
If you are thinking of painting your home in a dark gray color but are confused about which shade of gray is for you? Well, we can help you with that. This article lists the 8 best Sherwin Williams dark gray colors that will help you pick your best pick. You will learn about whether the color is cool or warm, what undertones it has, and where best to use it.
The article will also equip you with some tips which will help you make an informed choice. Let us not waste more time and quickly get to the colors.
Things to Keep in Mind Before Choosing a Dark Gray Color
We cannot stress enough that dark gray colors are not meant for smaller spaces. A compact room, when painted dark gray, will appear dark and even more small.
If, however, you have a big room and you want to fill up that space, dark gray color is a great choice for it. Remember, the warm-toned dark gray will help the room appear relatively smaller than the cool-toned ones.
Dark gray colors are not meant for a dark and dingy room. You need a well-lighted room for this color. Dark grays will make a dark room read even darker. Remember, lighting affects the way the color will appear and which undertones will show. This is the reason we have stressed about using the samples first to determine if a shade of gray works for you.
When it comes to painting the interiors with dark gray paint, it is important to see if it fits the theme of your home. We know that the gray color palette is a versatile one, but you can't just put it anywhere, or it will clash with other colors.
Remember, gray colors do have a wide range of undertones. These undertones can come out more prominently when put against certain colors. It can also clash with it. When choosing the grays, always do a swatch test before committing to it.
Lighting too plays an important role in determining how the grays will appear; test the color in your home before buying it.
Darker grays are great for exteriors, accent walls, or for your study. But, there is always a risk that they might make the space appear a bit gloomy. That is certainly not what we want. To avoid that, you can pair the dark grays with a lighter, brighter color palette.
If you want to paint all the walls in a dark gray color, add contrasting trims to give it structure. All dark walls can make for a moody interior, and if you want to embrace it, go for it. Make a statement out of it.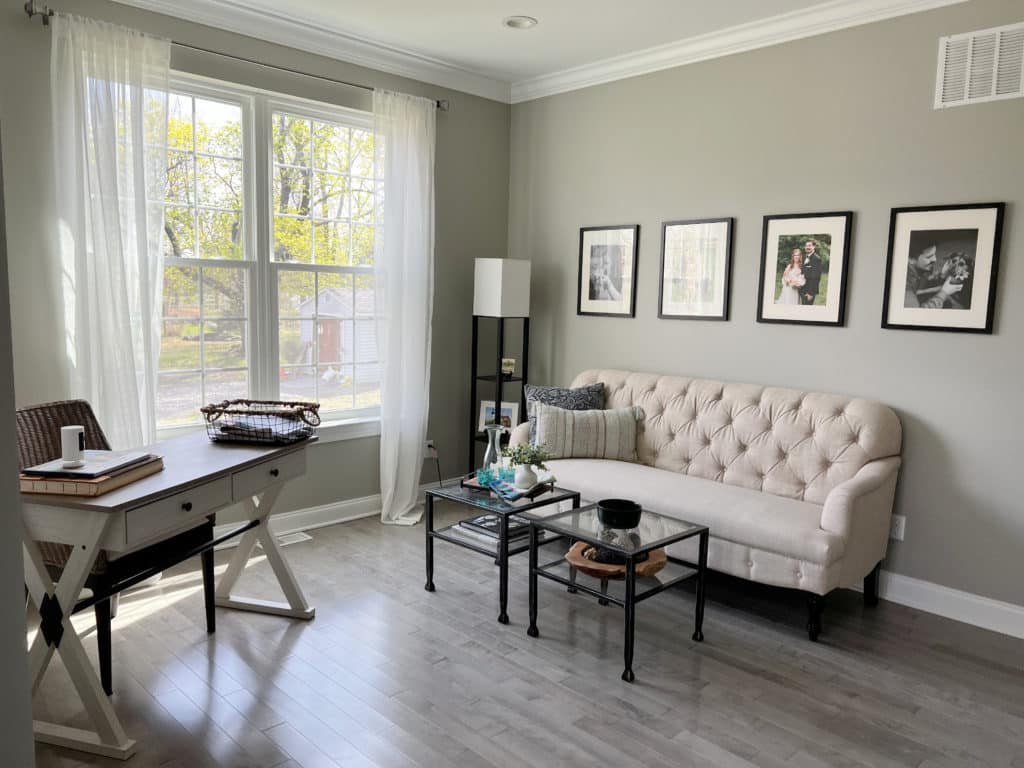 This is one of the top choices for gray colors from the Sherwin-Williams Collection. It has an LRV OF 48. LRV is the Light Reflective Value; the higher the LRV value, the more light it reflects. Hence the lighter or brighter the color, the lower the value, the less light it reflects and hence the darker the color. With a 48 LRV, this is not a light-toned gray. However, do not mistake this gray for being too dark. This gray falls somewhere in the middle. You can easily use this in your home, on your walls. This color is great for an accent wall too.
If we are talking about color undertones, mindful gray doesn't have much noticeable of an undertone. This shade has a gray undertone. There is just the slightest hint of green and blue undertone, but those are barely noticeable.
Mindful gray is categorized as a warm color. However, it has just the right amount of cool undertone to balance out the warmth, so it doesn't appear overtly warm. You will notice its warm undertone once you place it beside a cool-toned gray.
No matter what color you choose, lighting can alter the way it appears, so before you select a color, test a small sample in your home and see if it works.
Mindful gray is a very versatile color, and you can use it in your rooms, kitchen, living room, or on the exteriors of your house.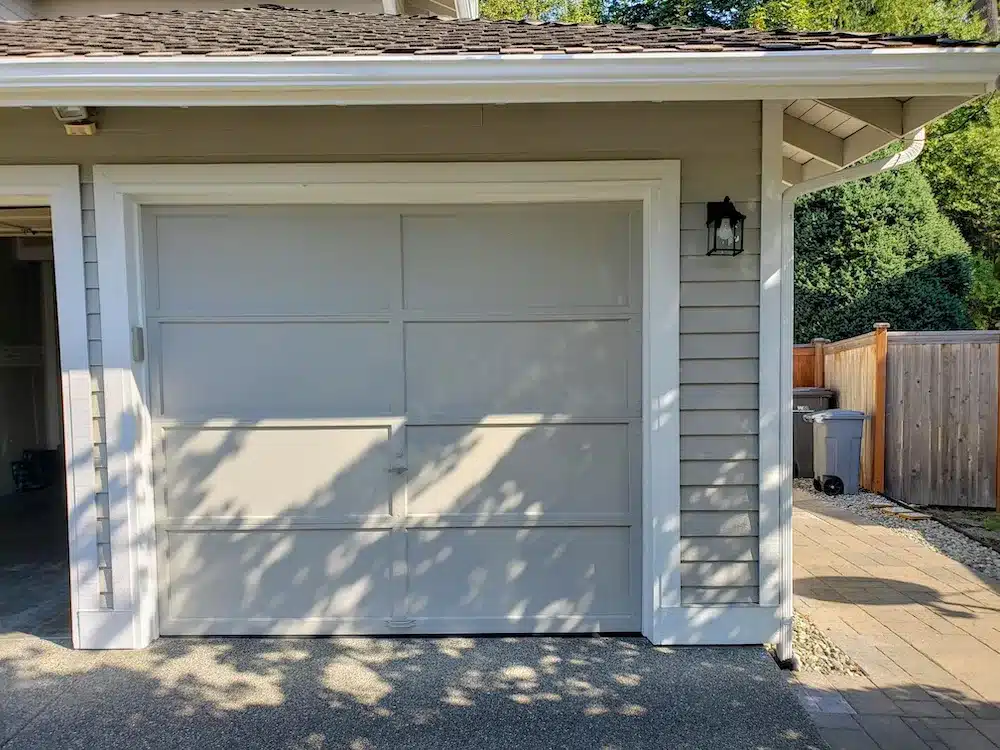 If you are a fan of natural grays, Dorian gray is just the right color for you. While this is not a light gray color, it is not too dark. According to us, this is just enough dark gray for your interiors. With an LRV of 39, this color is darker than Mindful gray, and this, too, is a warm-toned gray. This gray had a yellow hue. Do not freak out! This doesn't mean that what you will get is a yellow-gray color.
When it comes to the undertone, this color has a purple undertone. This undertone will only be visible under some kinds of lighting. But in good lighting or daylight, you will just see a neutral gray. So you don't have to worry about a dominant purple undertone showing.
Remember first to sample the paint in your home. As we mentioned before, lighting makes a huge difference.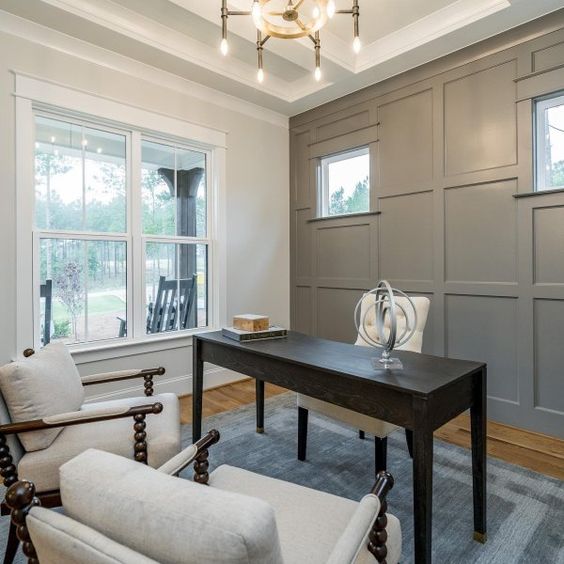 Till now, we have looked at grays that, although they are dark, are still medium-grade dark. Now we are tipping the scale towards more prominent dark grays. And Dovetail is certainly a great recommendation for a dark gray color. With a slight blue undertone, the dovetail is a charcoal gray color. Against white trims, this color will pop in contrast, which is why it is a great combination.
This color has an LRV of 26, which is pretty low in the range. This means this is a darker color that reflects less light. Dovetail, again belongs to the yellow hue family of colors.
A dark gray, this color has a masculinity to it, with some added softness.
This color exhibits a gray undertone; there is a hint of a brown undertone to it, which categorizes it as a warm color.
Of course, the color looks different in different kinds of lighting, so it is a good idea to patch-test it before you begin painting.
You choose to paint this color in different sheens, like glossy or flat. Both of these will look distinctive.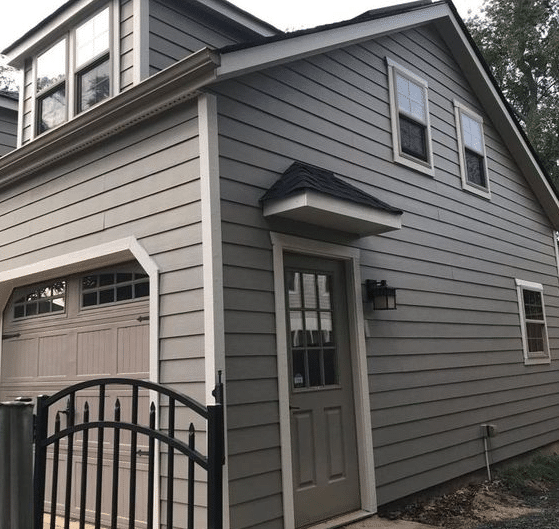 We love this gray for your living room or your bedroom. This particular shade is again a warm gray color. With an LRV of 32, this gray belongs to the medium depth range. In fact, it stands right in the middle of it. This is not the brightest color, but you were looking for grays. We're assuming brightness was not your preference.
As beautiful as this color is, we wouldn't call it a true gray. You see, pave stone carries a warmth, and it has a hint of green undertone that can show in some lighting.
This color is best paired with Sherwin Williams, Pure White, or Benjamin Moore Oxford White.
Because this is a dark-ish color, I would suggest you paint it in a well-lit room and not one that receives poor lighting. This is a good color for the exteriors too. Just be careful of the green undertone. We suggest you mix the exterior with brick or stone walls.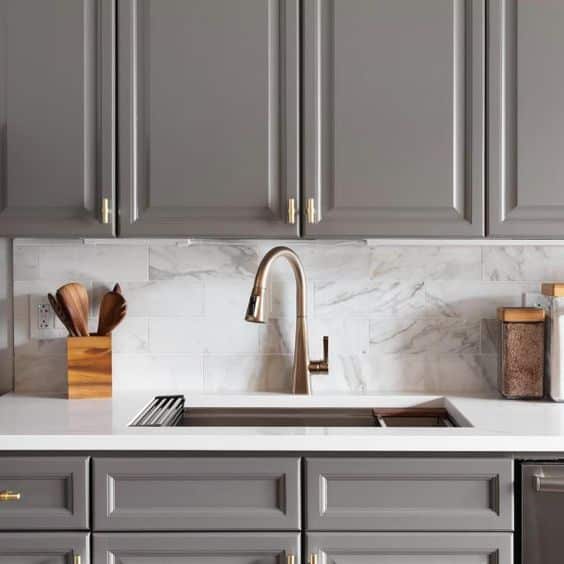 If you want an undeniably dark gray, well, gauntlet gray is your color. For some reason, this gray even sounds like a dark gray. It appears like it has a black undertone because of its dark appearance, but it actually has a more brown taupe undertone.
It has an LVR of around 17(a little more than that), which is this color is fairly dark. This color comes in the medium-dark range.
Gauntlet gray is ideal for home exteriors and kitchen cabinets and as an accent wall color.
When it comes to undertones, this gray has a violet(muted) undertone. There is just the barest hint of a green undertone, but it's hardly noticeable. A good color to use with this gray is pure white.
This is beautiful paint for exteriors, but it can be tricky to coordinate with other colors. No need to panic. You just need to use a sample and check if it goes with the colors and lighting in your house.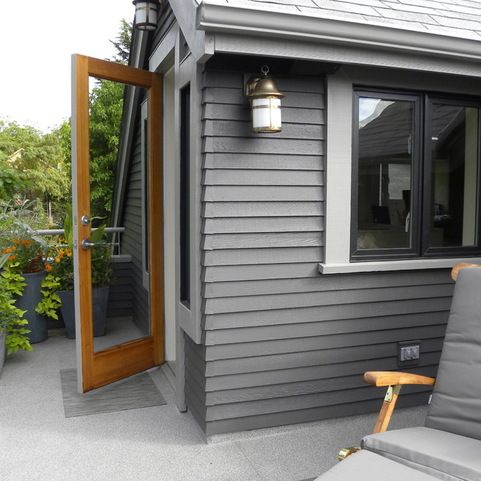 If you have still not secretly outgrown the gothic phase, or if you are into a dark, brooding vibe, Grizzle gray is the color for you. This dark charcoal gray is a great choice for house exteriors or as an accent color.
A significantly dark-toned color, it has an LRV of 13. Now with that low LRV value, you might think this color will appear black. Rest assured. This color carries a cool green undertone that prevents it from appearing black. You will have a bold gray color for yourself.
This color pairs well with neutral bright colors. They pop against it, and the light colors add more relative depth to the gray.
Tip; You can paint an accent wall in this color. Use that accent wall as a gallery wall to showcase your photographs or the art you have collected.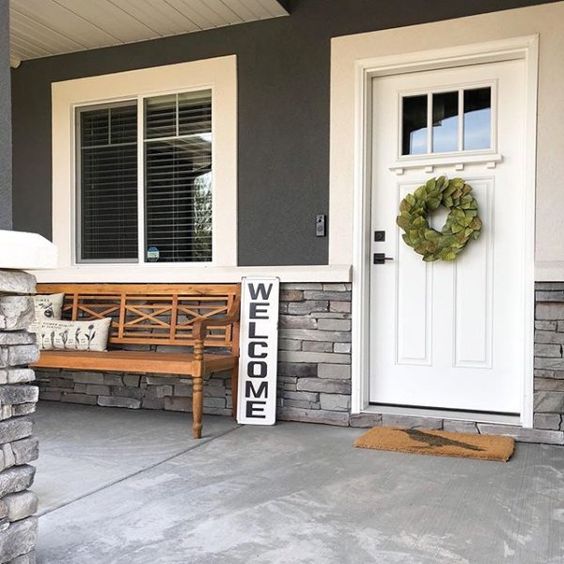 If you are looking for a versatile dark gray color that goes well on cabinets, will work on the house exteriors, or will make a great choice for an accent wall, Web gray is your color.
Web gray is a dark gray color that provides impressive depth.
This is a truly cool color, which exhibits a bold blue undertone. There is a suggestion of a green undertone, but it's not as dominant.
We have discussed above how lighting can affect the tones of color and make it appear warm or cold. Regardless of the lighting, this gray will always appear cool-toned. It has a LRV of 13. Needless to say, this is a dark color.
It is recommended that you avoid using this color in spaces that receive less lighting. This is a dark color, and in a badly lit room, it can appear too dark and compact.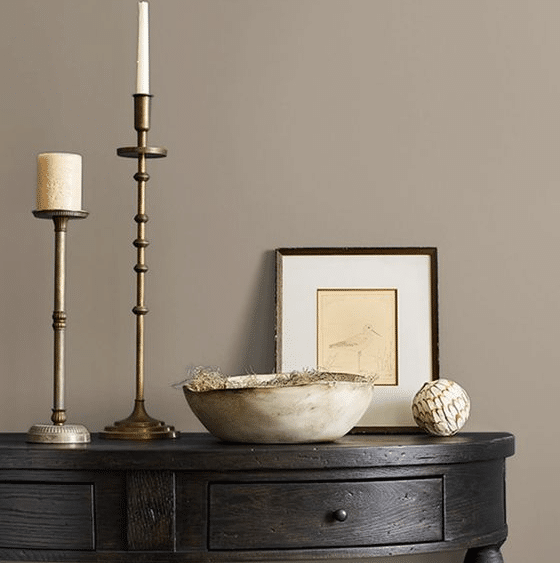 There is some discussion among people on whether to call it more of a greige color or gray. To lay rest to the debate, keystone gray is indeed a gray color. This is one of the perfect neutrals; the gray is in balance with the warm undertone.
This is another one of the warm gray colors. It makes a space feel a little soft(relative to blue-toned grays) and welcoming. One advantage of this color is that it is quite a versatile color and works well in many spaces, and goes well with many colors.
It has an LRV of 29, which makes it fall in the middle of the medium range. It is an excellent choice of color for your bathrooms.
This color exhibits minimal undertones of violet and green. They are barely visible, so you don't need to stress too much about them.
This is a great interior paint and works fairly well as an exterior paint. However, given that it is a warm gray color, in some bright lighting, the warmth will be prominent. If that is not what you want, stick to painting the interiors with this paint.
Why Choose Grays for Your Space?
Brighter colors can uplift a space, but dark grays add depth to a place. Dark gray is a bold choice. They showcase bold intentionality. They also work to enhance other light colors in contrast.
One of the raisin grays is so popular for home decor because grays are very versatile colors. They can go well with most colors and can function as a good color choice for most homes. It is a color that doesn't clash with most colors and is compatible with most other colors and decor.
Bright colors are a great addition to any home, but they can be distracting color palettes. grays, however, add gravity and calmness to the space. This is one reason why you encounter them in studies and libraries.
One of the reasons that grays are becoming the favorite color of modern decor is because they highlight texture. If you have a textured wall, matte cabinets, or a lacquer finish cupboard, the gray color will help bring out that texture. It will focus the eyes on itself. This is the reason a dark gray is such a great choice for an accent wall or paneled house exterior.
Conclusion
Sherwin William's collection provides us with some beautiful dark gray colors for interiors and exteriors. You can choose from a range of gray, from charcoal gray to greige-gray shades. There are the neutral grays, the warm grays, and the cool-toned grays. What we are saying is, if you want to use dark gray paint in your house, trust us, there is a shade there for you.
Keep in mind that when choosing a dark gray, you need to take notice of the size of the room, the undertone of the color you have selected, and the lighting. It is always recommended first to test a few sample colors because colors can appear different in different lighting, no matter how much information you have about them or how they look online or in the store.  Choose your favorite from the list above and get to painting!