Are you thinking of getting a new siding for a mobile home?
Whether you are replacing your old siding or installing a new one, it will enhance the value of your mobile home. Installing new siding for a mobile home will beautify the exterior and protect your house. Many factors are considered before deciding on the siding for a mobile home. Along with giving you the freedom of location, mobile homes give you the liberty to change your exteriors whenever you wish.
This article is for you if you want to change the siding of your mobile home. Explore the benefits of new siding and understand the process of selecting the right siding. Read ahead to learn the different types of siding that protect your home.
Understand the pros and cons of each material to decide the best one for your mobile home.
Benefits of Having a Home Siding
Manufactured homes get an attractive look and better resale value after having a home siding. Once you get a siding for mobile home, it saves your cost on bills and enhances the valuation of the structure. It is one of the best investments you can make. Along with giving instant benefits, it also reaps returns in the future. Let us understand some benefits of having siding in a mobile home.
1. Increased Energy Efficiency
The first and foremost benefit is a reduction in heating and cooling costs. Having a siding enhances the energy efficiency of your mobile home. The insulating qualities of the sidings make your home energy efficient. They add an R-value to the mobile home and help the interior maintain a constant temperature. R-value is the capacity of an insulating material to resist heat flow.
The heating and cooling system will have to take up less load in maintaining a specific temperature with the support of a siding. Some siding materials have higher insulating qualities compared to others. Select the one that suits your structure and aligns with the atmosphere of the space.
2. Protection from Noise
Home is a space where all of us prefer silence, privacy, and comfort. Having a siding for mobile home helps you in enhancing that silence. It protects you from unwanted noise that might arise in your neighborhood. A mobile home settled amidst the city or a garden will have a lot of disturbing chaos in the background. Having a siding will reduce that noise to a certain extent. Also, when you have multiple mobile homes extremely close to each other, the siding provides a layer that keeps the voices at bay.
3. Wind and Animals
The siding for mobile home gives an extra layer of protection. It keeps the external creatures away from your home and your family safe. Mice, snakes, and other pests will keep a distance from the house. The siding also provides a strong cover to any cracks or damage by providing an additional layer of security. It keeps the moisture away and prevents mold or bacteria from building up.
Extreme weather conditions like wind, heat, or rain will fail to disturb your lifestyle with a strong siding on your mobile home.
4. Curb Appeal
Along with giving you a pest-free and safe life, siding for mobile home also enhances the curb appeal. Irrespective of the age of your mobile home, replacing the siding can give it a new look. It is the best way to bring newness to the old house within a limited budget.
The cost of getting new siding is worth it because of the benefits it gives. At a single cost, you get the protection and also enhance the visual impact of your manufactured home.
Some of the Best Types of Mobile Home Siding
1. Vinyl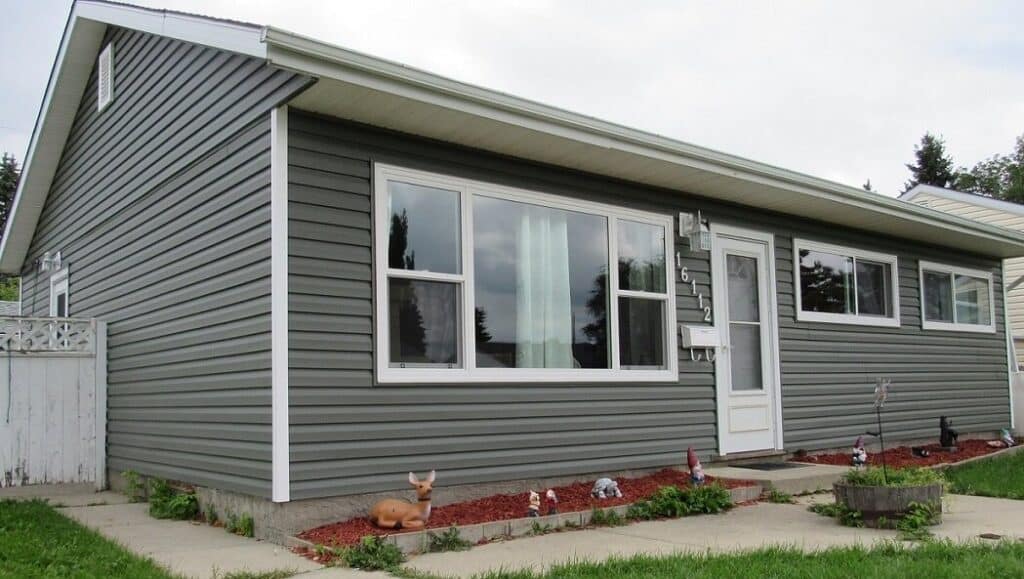 One of the most popular and commonly used home siding materials is Vinyl. This material has more pros than cons compared to other components. It resists dents, hail damage, scratches, and fading. It remains unaffected by rot, fungus, mildew, and wood insects. Vinyl siding is long-lasting, with a warranty of up to 20 years, and has an endless variety of colors.
The lightweight makes it a suitable structure for manufactured and mobile homes.
One of the biggest limitations of a Vinyl structure is that it can melt and wrap in extreme heat. In cold climates, this material can crack and damage your home. To prevent such damage, add awnings and prevent reflective rays on your sidings.
Vinyl siding comes in 350 different colors and unique styles. The vinyl siding comes in various styles like Dutch lap, board & batten, clapboard, log, shake, beaded, and shingle.
2. Wood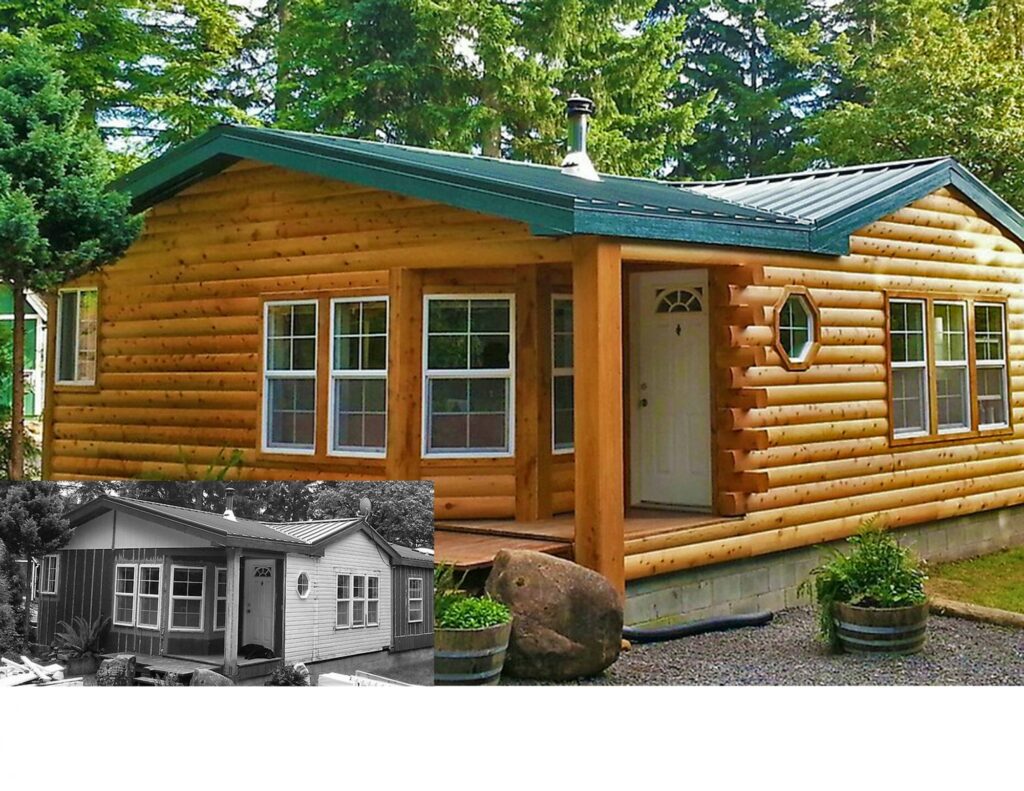 The warmth and aesthetics of having wood siding for a mobile home are incomparable. It is an inexpensive and eco-friendly option for siding. The choice of wood you use will determine the characteristics of your siding. Pine, spruce, and fir are cost-effective but have more knots and are not resistant to rots and insects. It can cause havoc in your structure during the rainy season. Excessive moisture in the environment will directly impact your siding and lead to rotting and insects inside your home.
Cedar and redwood have resistance to insects and excessive moisture. However, they are comparatively costlier than the above options. If you choose wood siding for your home, regular maintenance will be necessary to ensure safe living. If you want an energy-efficient minimal home, wood siding is the best for you.
Wood siding comes in different styles, including classic clapboard, rectangular planking, shingles, or shake. The time and labor you will need to build the siding depend upon the type of wood you choose. If you want to reduce further the cost of buying wood, choose a siding made from local wood.
You can check with the shop owner whether the lumber has been harvested sustainably or not! It will give you the satisfaction of using eco-friendly siding for your home.
3. Cedar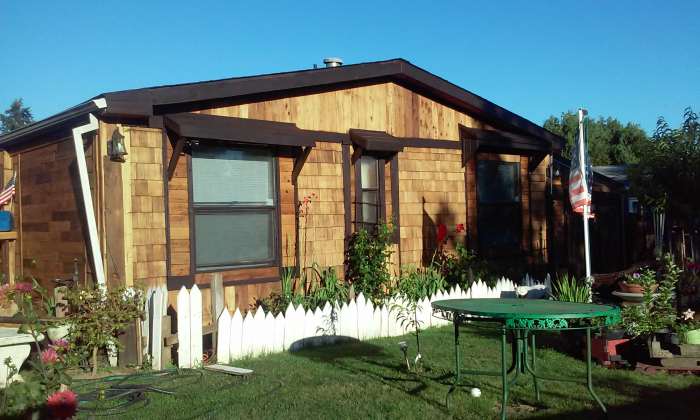 A cedar siding for a mobile home complements any architectural structure. Different kinds of cedar are used for creating the siding structure. It includes easter and western red cedar and yellow cedar. The red cedar is mostly used for siding, and the yellow cedar is used for poles and posts. Cedar siding is a unique way to add texture and uniqueness to your mobile home.
With cedar siding, you do not have to worry about insects in your space. It acts as a natural insect repellant and has strong resistance to decay and moisture. The texture and shade of cedar are naturally beautiful. However, if you wish to add some beauty and a new shade to it, color the exterior of your home after the installation of the siding.
While using cedar sidings, installing a vapor barrier is necessary. It is not as high as fiber cement but can feel heavier when it comes to relocating your home. The cellular structure of cedar works wonderfully for heat retention and cold resistance.
Cedar comes in multiple options a kiln, oven dried, or air-dried. The costliest option is oven-dried cedar which is free from moisture. There is no shrinking and shifting when you use oven-dried cedar siding. Cedar planks are labor intensive and require hours of hard work and help for installation.
4. Faux Stone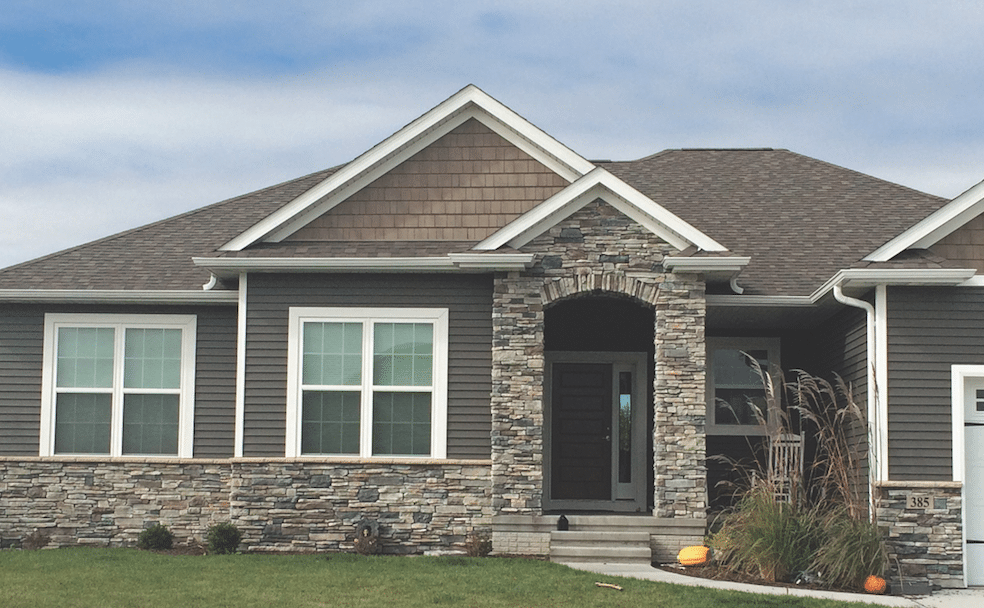 Add faux stone siding if you want your mobile home to look like a permanent structure. The beauty of faux stone siding is that it adds a unique dimension to the structure, making it aesthetically pleasing. This siding is made of polyurethane or a polymer. It is further combined with chemicals like fire retardants and UV inhibitors.
Get faux stone siding from the best brand to avail benefits of resisting rot, insect, fire, and water. They come in various shapes, sizes, trim pieces, and corner pieces. Due to the look it creates after the installation, faux stones are expensive compared to other siding materials. Most homeowners use it as a part of their entrance to give a natural look.
Installation of this siding is easier due to its lightweight paneling system. To enhance the artistic element of your exterior, use different shapes of faux stones and merge them.
An asymmetrical layer formed with unique stone cutting will give your home a rustic look. Consider this the best option if you are willing to spend freely on your mobile home siding.
5. Fiber Cement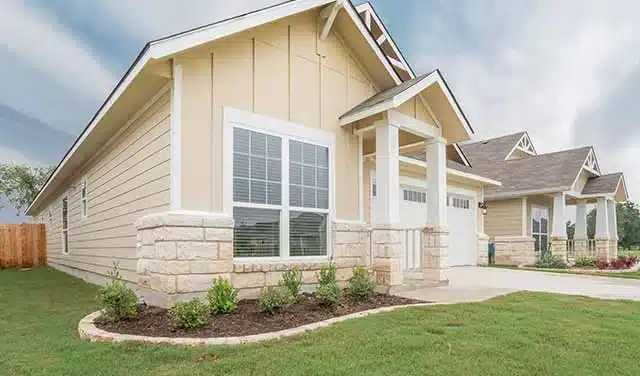 Are you living on the ocean side in your manufactured home? Then, a fiber cement siding for mobile home is the best choice for you. It comes in different sizes, thicknesses, and styles to match your needs. It gives an exterior look similar to vinyl and cedar siding. However, fiber cement siding has a much higher weight compared to other options. It weighs close to 300 pounds per 100 square feet.
The higher weight can be an issue for owners who plan to move their house to a different location in the future. More weight can result in more risk and higher cost of moving. Fiber siding comes with a 50-year warranty for the structure and a 10-15 years warranty against color reduction. The installation uses silica, cement, wood fiber, water, and other ingredients that enhance durability.
The presence of silica is higher in fiber cement, making it highly resistant to fire. It can also withstand high heat in summer. This kind of siding is rot and insect resistant, keeping your house safe for kids. The installation of fiber cement siding can be done vertically or horizontally. If you merge both designs, it will form a unique and artistic exterior for the mobile home.
6. Metal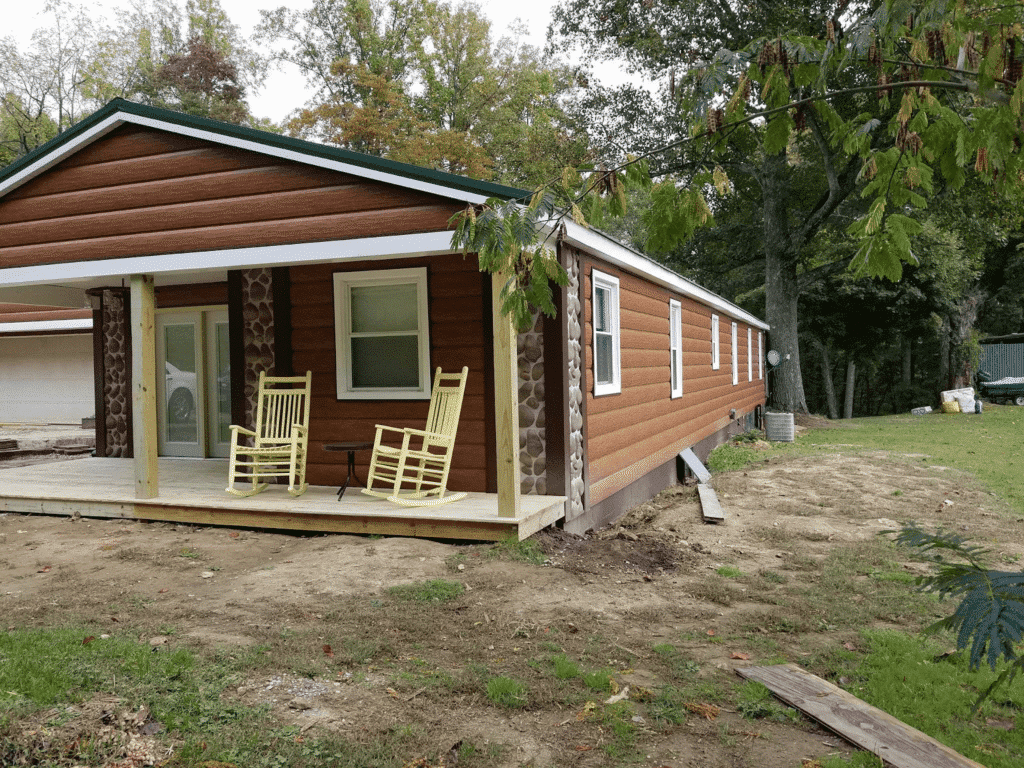 metal sidings for protection. It is lightweight and easy to carry. It makes them the best choice if you plan on moving your house. The metal structure is indestructible and also protects from fire and insects. It won't melt in extreme temperatures but will get a dent in case of any external action.
Metal sidings have an easy installation process and make your home energy efficient. You can also enhance the exterior of your home by installing metal siding and coloring it with your desired shade. After installing a metal siding, you can color it every few years to keep the newness alive.
7. Aluminum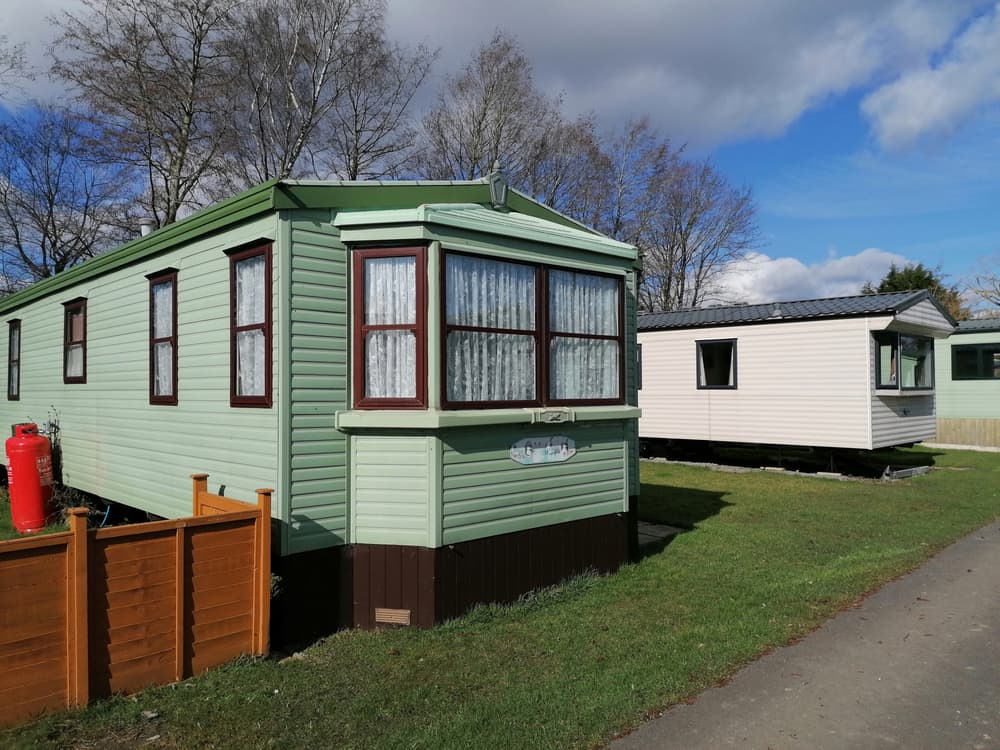 Aluminum siding for mobile home is the most cost-effective and timeless option. The cheapest aluminum siding is 44 gauge and around 0.4" thick. However, this option is less durable as it has less insulating properties. For a more durable option, select a siding with 53 gauge and 0.53" thickness. It will make your home energy efficient and also reduce unnecessary noise.
Aluminium is a suitable siding for your mobile home due to its supportive properties. It's waterproof, resistant to fire, rust, and insects, and has a lighter weight. The aluminum sidings come in the form of large vertical sheets. Those sheets are installed on the mobile home's exterior by cutting them into the appropriate size.
Having dents is one of the aspects you need to be concerned about when you install aluminum sidings. The material of aluminum is such that there will be visible dents on its surface in a few months. The intensity of the damage may vary, but it will arise.
This risk of having a visually unattractive change on the surface stops many house owners from selecting this option. Along with that, aluminum also makes a specific sound when it comes in contact with wind or rain. It is another factor why many mobile homeowners avoid using it as their siding.
How to Choose the Right Siding for Your Mobile Home?
Choose a lightweight material, If you plan to move your mobile home to a new location soon. Having a high-weight siding will cost you more to move the house.
High-precipitation climates require a layer with increased moisture resistance. Siding for a mobile home in such areas should use a material that can resist such weather.
If your only focus is to make the home energy efficient, evaluate the R-value of your siding. A higher R-value means higher insulating power to help your house become energy efficient.
If you live in a fire-prone area or a forest that can have a wildfire, prioritize siding with high fire resistance.
Siding for Mobile Home: Process
After finalizing the material you wish to use for siding the mobile home, it's time for the process. Hiring a professional is an easier option compared to doing it yourself. However, if you feel the urge to get the whole process done with the help of friends or family, that is also fine. Make sure to get the needed equipment and materials needed for the process.
Here are some tips and tricks for fixing the siding for mobile home by yourself.
Clean up the existing wall and prepare it for the siding. You will have to declutter the wall and remove any existing installations or siding on the surface.
Before inserting the new siding, add an extra insulation layer to make your home highly energy efficient.
By installing the corner posts, you can modify the exterior of your mobile home. Before installing the posts, cut a gap between the corner post and the roof. After that, anchor it with the nail.
When replacing the siding, installing or replacing the vapor barrier, sheathing, and backer board is recommended. It will add a little cost but give you a comfortable and safe living experience in your mobile home.
If you want the siding for a mobile home to be uniform, trace a chalk line across the length of your home. It will help you in installing the starter strip and nail the siding.
Once the line is ready, you can install the siding for a mobile home and enjoy an aesthetic exterior.
A New Siding for Mobile Home is an Investment!
Siding for a mobile home is a great addition to enhance aesthetics and safety. Make your home an energy-efficient structure and enhance the valuation of your mobile home. Understanding how your manufactured home works is a great way to select a suitable siding for your mobile home. After installing a mobile home, minor damages can easily be repaired with the help of household tools or kits. A house siding lasts from 10 to 40 years, depending on the material used.
Ask for professional help to understand the crucial factors of installing a siding in your mobile home. Make sure that you add the necessary layers between the wall and the siding to safeguard your home.
So, are you ready to upgrade your mobile home with a new look through siding?