As you are here, we believe you are looking for the best wood filler brands on the market. For DIYers, carpenters, masons, etc., wood fillers are an inevitable requirement. Whenever a screw hole, dent, or crack is noticed in the wooden surface, wood filler is used to close it up. Most of the time, people don't put too much thought into buying a wood filler to get their things done. But blindly going for a random brand of wood filler may not actually always deliver the desired results.
Most woodworkers are used to buying the brand of wood filler that is available at their local store or the cheapest one available online.
In this article, we are going to see the 6 best brands of wood filler available online and in markets for your use.
Wood Fillers and Their Usage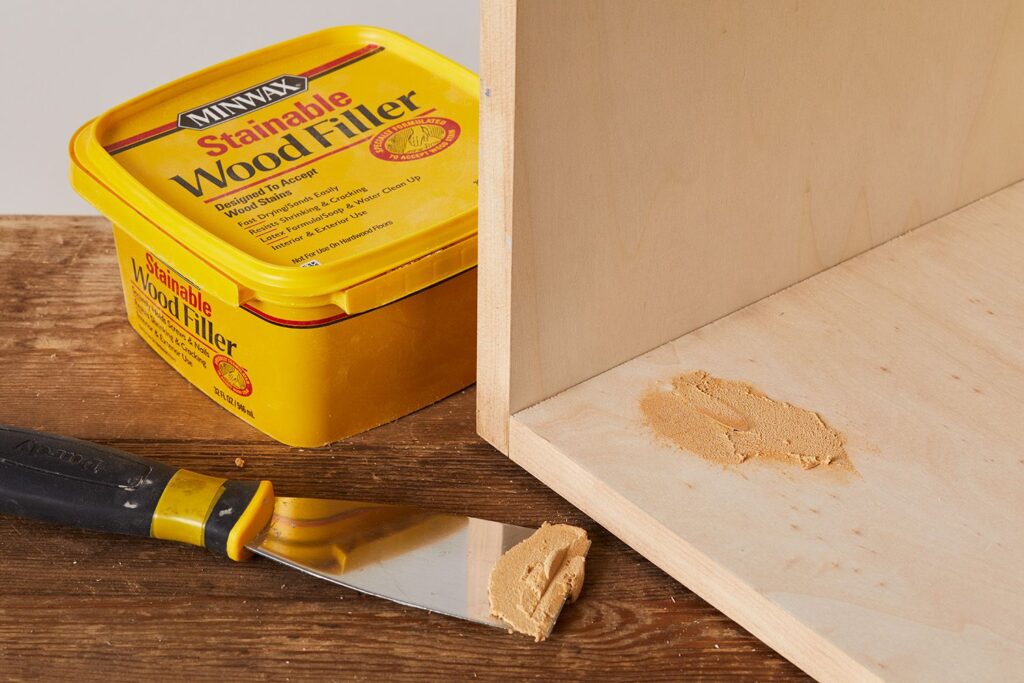 It is normal for wooden surfaces to get cracks, holes, or divots due to the wear of the wood. Even when doing a DIY project, there might come a time when you need to fill up a crack or space in the wood. In such situations, a wood filler is used. But before exploring the best wood fillers available on the market, it is very important to know how to use them. If you are unaware of the right way to use wood fillers, there is no point in learning about the best wood fillers.
To start with, you should first know the types of wood fillers available on the market.
Water-based wood fillers are made up of a mix of wood, gypsum, fiber, and cellulose. For situations that require thinner fillers, water-based wood fillers are optimal. These fillers are easy to dilute by adding water, and after application, they dry in around 15 minutes.
Solvent-based wood fillers have epoxy or vinyl as their major components. The amount of volatile organic compounds, aka NOC, is high in solvent-based fillers, and hence they emit more odor than water-based fillers. What makes solvent-based wood fillers expensive and popular is that they are more resistant to adverse weather conditions and are best suited for exterior woodwork.
Wood fillers are not recommended for closing large gaps in wood. It is best to treat small cracks and holes instead. The best way to use a wood filler is to take a small amount from the container and then use it to fill up the gap neatly.
Make sure to wear gloves while applying the wood filler, or better yet, use a putty knife to get the task done.
Choosing the Right Wood Filler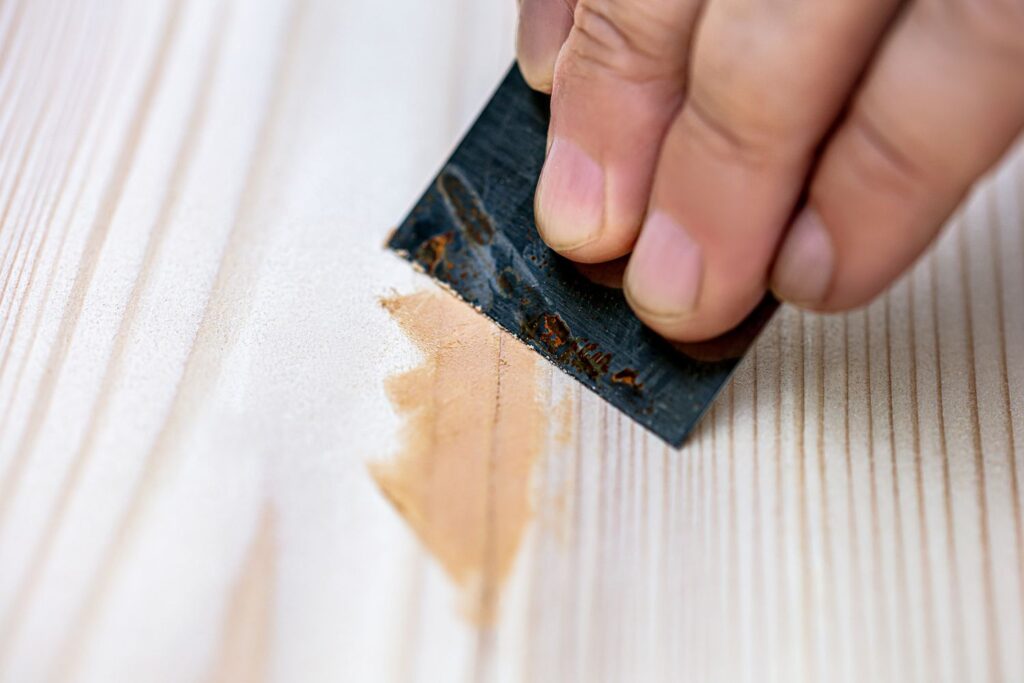 There are certain things to consider before choosing a wood filler. We are listing out the major criteria you should know before shopping for a good wood filler.
Usage: Most good wood fillers can be used for multiple purposes. There are wood fillers that are suitable only for enclosing small cracks, divots, or holes on all kinds of wooden surfaces. In comparison, there are certain brands of wood fillers that help in treating big and small pores on grainy wooden surfaces. The latter is used to make the wooden surface smooth.
Consistency: You can find both thick and thin wood fillers on the market. The thicker a wood filler is, the more suitable it is to treat bigger voids. The thick nature of the wood filler won't work as expected with small pores in the wood. Thin wood fillers are apt for treating small holes and cracks while working on wooden surfaces. Hence, it is important to buy the right wood filler according to its nature before working on wood.
Time To Dry: Different kinds of wood fillers will take different timespans to dry completely after application. Even though a wood filler's drying time will usually be indicated on its package, it is recommended to leave the wooden surfaces to dry for at least a couple of hours. You can proceed with the sanding process only after this. Sanding a wooden surface without letting the wood filler dry completely may adversely affect the surface.
Color: It is recommended to get a white or wood-colored filler for your work if you have no plans of staining the wooden surface. The application of random wood fillers without considering their colors can produce odd-looking stains after the filler is dried. Hence, it is either recommended to stain the surface later or to use a wood filler that matches the color of the wooden surface to fill pores and holes.
Popular Wood Fillers for You
To ease your confusion regarding which is the optimal wood filler that can match your requirements, we have listed out the 6 best wood filler brands based on their usage and reviews.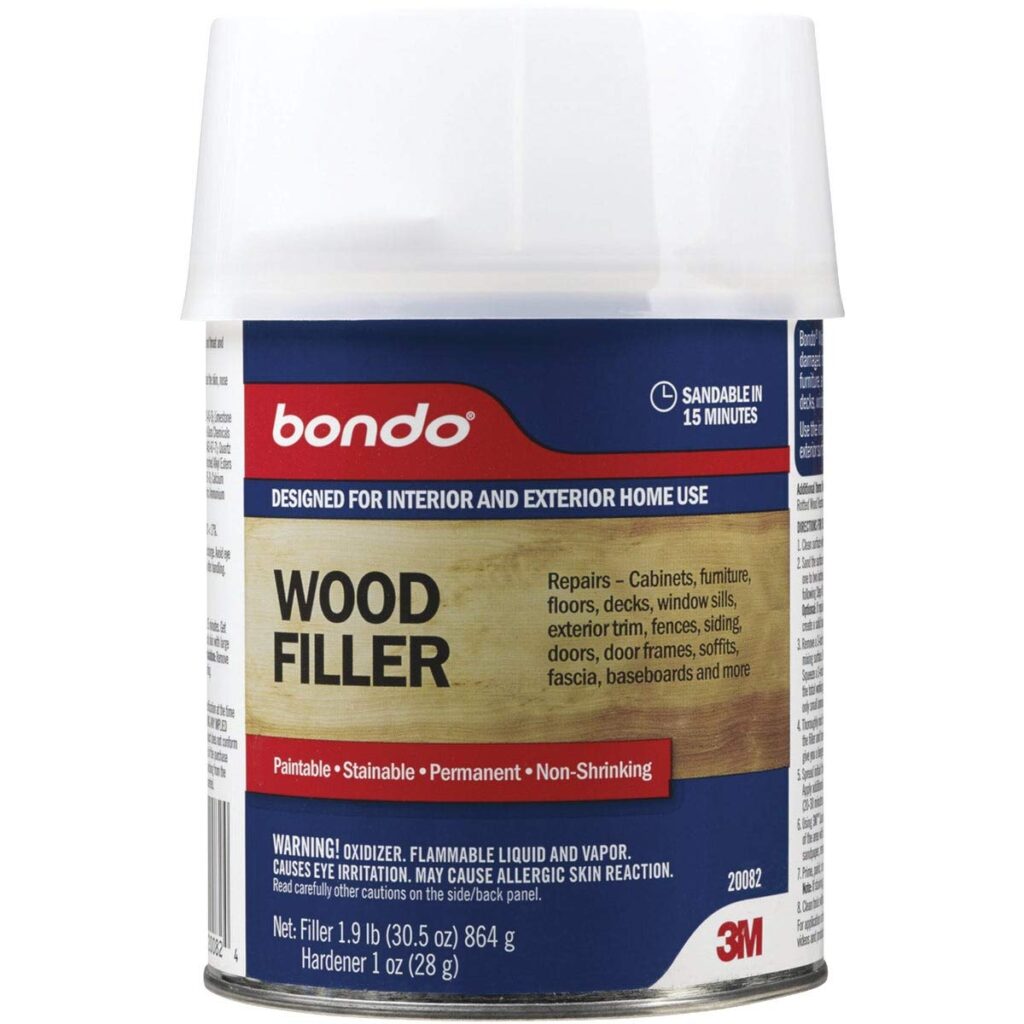 Bondo wood filler hardens very quickly after its application and is not suitable for small holes or cracks in the wood. While getting this wood filler from the market, you might notice the instruction that says the filler is suitable for indoor and outdoor usage alike. But we beg to differ. Bondo wood filler emits a very strong and unbearable smell, which makes it impossible to use indoors. The wood filler has a very thick structure, and hence it is very hard to apply to surfaces without frequent mixing.
Sanding the surface can be quite a task if this filler is applied improperly, as it quickly forms a hard layer on the wooden surface. Bondo wood filler takes around 15–30 minutes to dry completely and is available in a tan shade.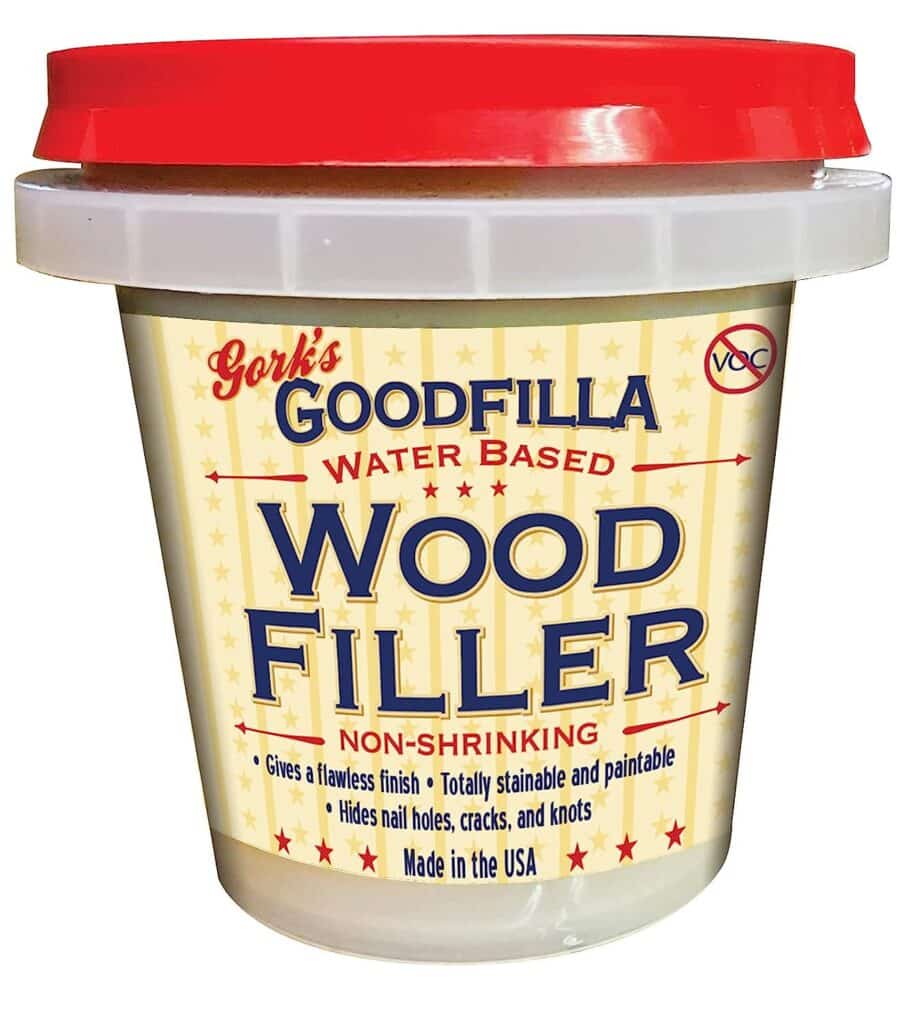 If you are searching for a wood filler on Amazon.com, you will definitely come across this one. Godfilla wood filler is ranked as one of the top wood fillers on Amazon. The reason for its popularity is that, unlike bondo wood filler, this one has a very tacky texture and is best for filling grains and shallow holes. This wood filler is available in white, which is popular among woodworkers. If you want to get a color that matches your wood surface, you can go with the alternate options provided by Godfilla.
This wood filler is good to use indoors and spreads very smoothly around the surface when applied. The drying time for Godfilla wood filler is around 15 minutes. While scrolling through user reviews, the only con noted was that it is quite expensive considering the small package it is packed in.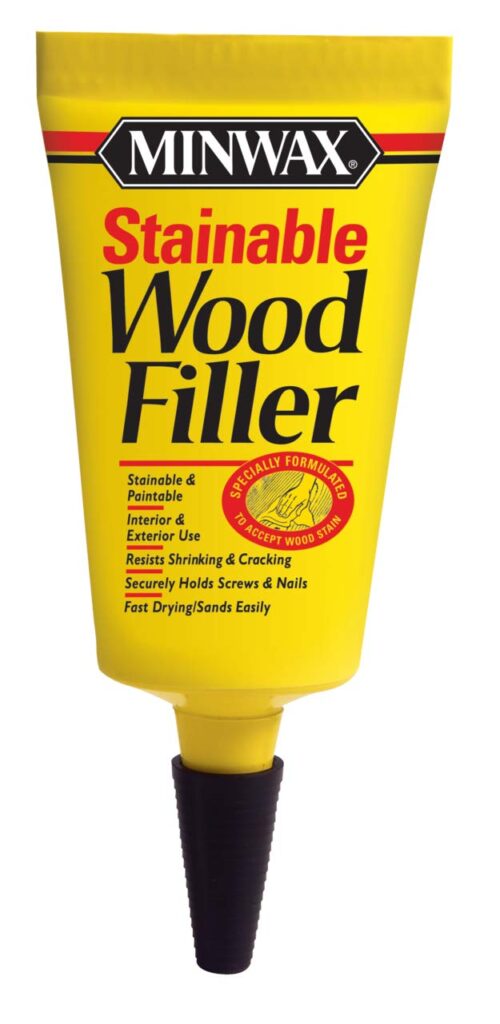 As implied earlier, the best wood fillers are the versatile ones, and Minwax Stainable Wood Filler will definitely make it to the top in that category. With real wood fiber added to its wax-like mixture, this wood filler gives a very strong and durable layer once it is dried. The sustainable wood filler by Minwax is a water-based wood filler and is suitable for both indoor and outdoor applications.
With its consistently dry nature, wood filler is perfect for filling bigger holes and cracks easily. The only con we could gather from user reviews about this wood filler is that its grainy structure is not suitable for filling small holes and patches.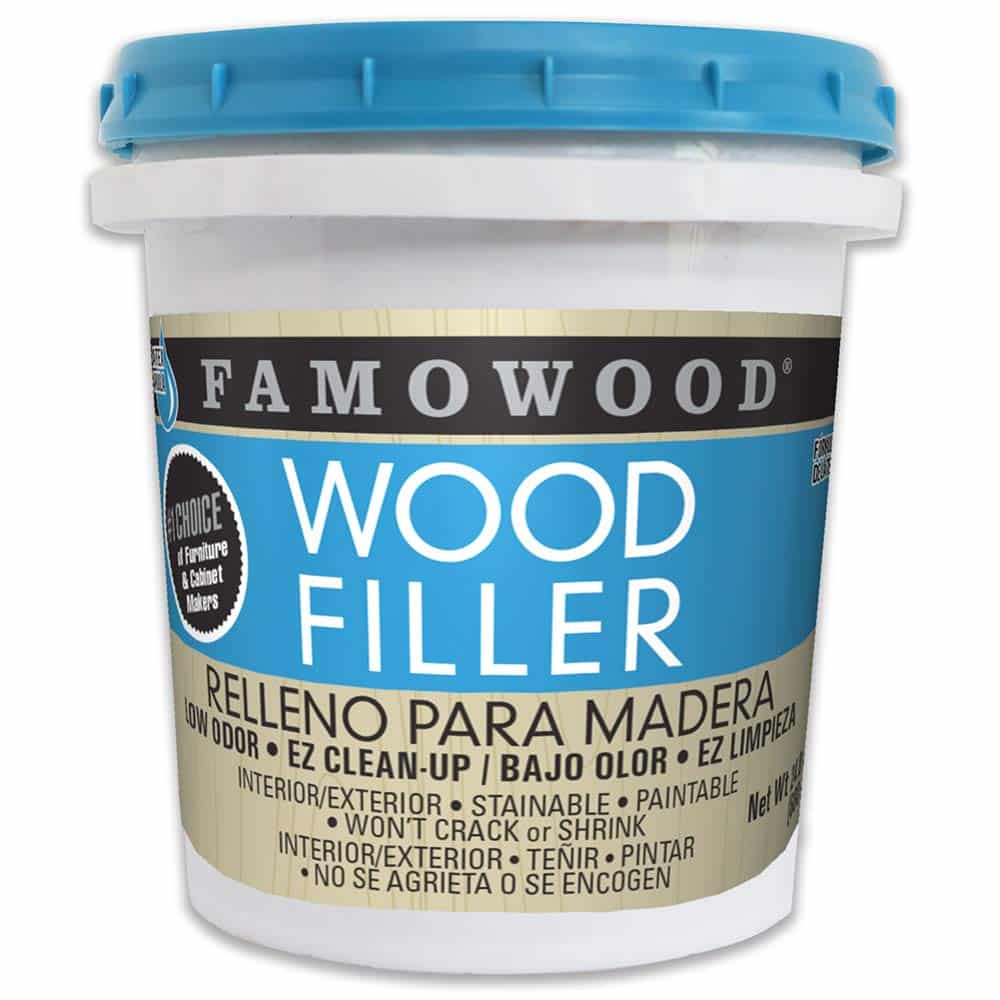 For those who are looking for a one-stop solution in the category of wood fillers, Famowood Lates Wood Filler will be a great choice to consider buying. This wood filler is made up of a mixture of latex and real wood and is very versatile in nature. You can easily use this wood filler to fill up large voids and small gaps on different wood surfaces.
You don't have to worry while sanding, as Famowood wood filler stays fine even after sanding or sawing. You might wonder at the extremely thick nature of this wood filler, but once it is taken out for application, you can see how smoothly it is spread on the surfaces. The drying time of this wood filler is approximately 15 minutes.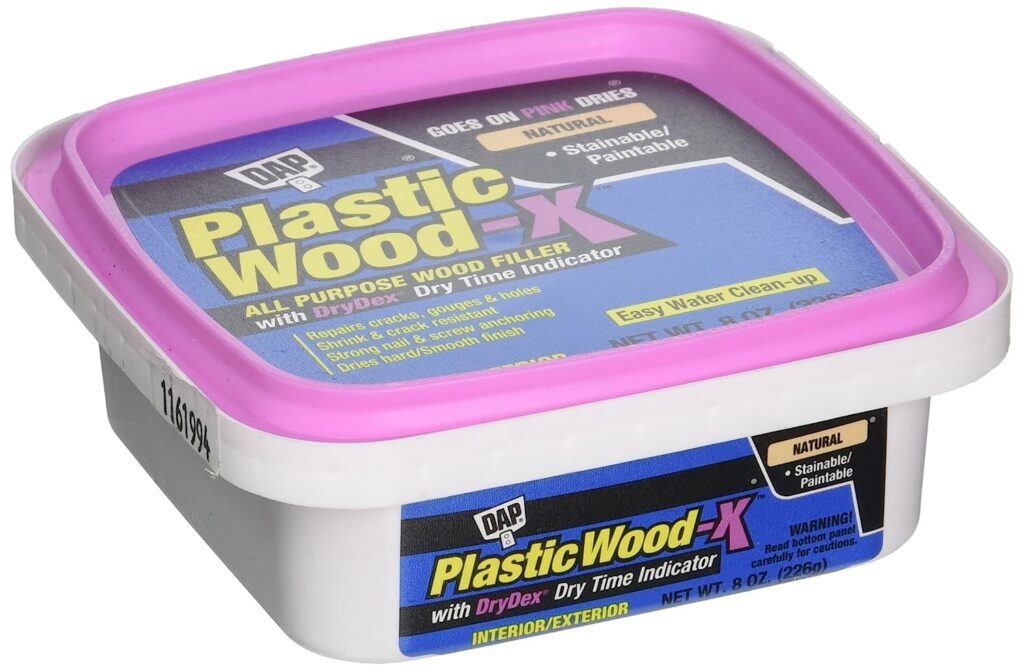 DAP Plastic Wood-X will probably be one of the easiest-to-apply wood fillers you might find online. This wood filler generally has a very hard mixture and is a solvent-based product. Woodworkers who often work on filling smaller holes mostly prefer DAP Plastic Wood-X. One of the peculiar traits of this wood filler is that it has a color-shifting nature. During application, you can see that the filler turns a pink shade, but after drying, it will reflect a tan color.
This color-changing nature will let you know once the filling is dried up, and the drying time of DAP Plastic Wood-X is generally around an hour. Though on the container, it is indicated that this wood filler is suitable for external applications, it won't deliver the desired results when applied to larger surfaces.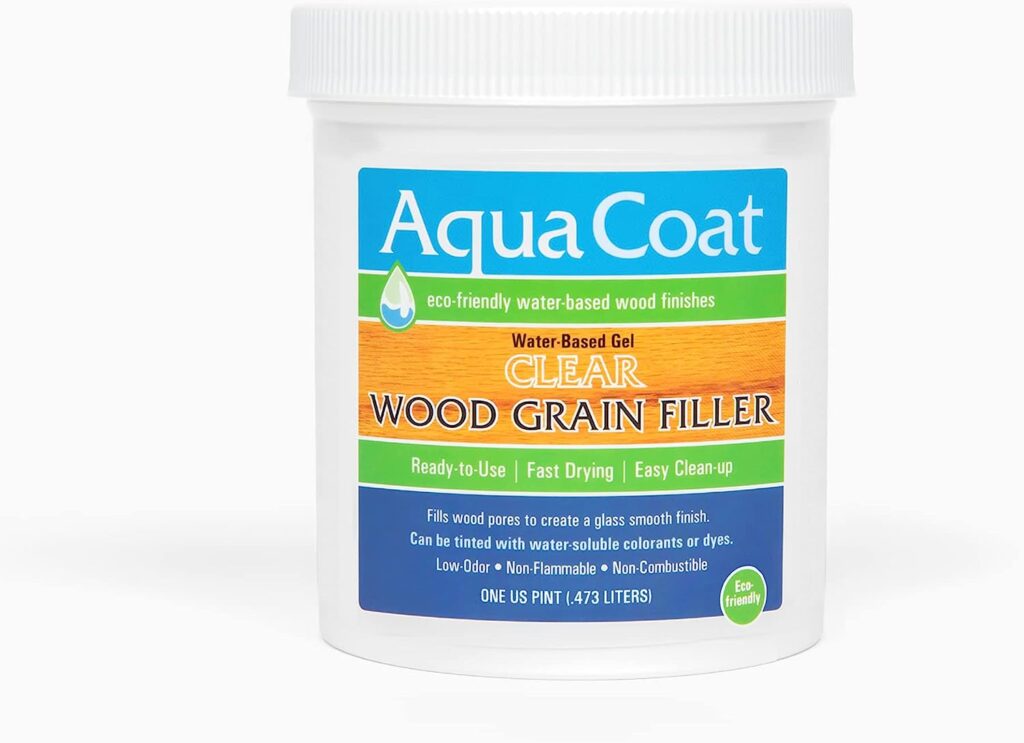 There might be situations where a thick layer of wood filling is not necessary. If you are looking for a light, easy-to-apply wood filler, you can go for Aqua Coat. This wood grain filler has a milky white color, and once you start to apply it, you can see it turn out transparent and light. It is a water-based wood filler and is best used to close small pores on wooden surfaces. Aquacoat wood filler is considered an eco-friendly wood filler and is very easy to apply.
On application, you can notice that the filling acts like a glass-like coating on the wooden surface as it dries out. Once it dries out, due to its light nature, you can easily clean the surface up without any hustle. The only con of this wood filler is that it is not suitable for external applications.
Final Word
Each of the wood fillers listed in this article belongs to different brands and is made of different compositions. It is mandatory for you to know about the kind of wooden surface you are going to work on and whether it is indoor or outdoor work. The color of the wood is also to be considered when picking the right wood stain for the job. Depending on the conditions and the size of the cracks or pores that require filling, the nature of the perfect wood filling differs.
Make sure to ensure personal protection and let the wood filler dry completely before sanding for the best results. We hope this article was helpful for you in understanding the best brands of wood fillers out there that suit various needs.