Looking for a comfortable reading chair to curl up in with your favorite books? We are here to help! A cozy reading chair is the dream of any bibliophile! When you have your favorite book in your hands and are looking around for the perfect spot to start reading, there should be a welcoming spot for you in your home.
Reading chairs do exactly that. It is said that reading chairs are as important as a good book. Most reading chairs demand a good investment. Hence, It is very important to pick the right one for your home. In this article, we are going to walk you through a few of the best reading chair suggestions for your home.
Scroll down to explore some of the best reading chairs for getting comfortable with a good book!
Best Reading Chairs to Enjoy with a Good Book
Reading chairs aren't limited to a specific style of household. They are versatile pieces of furniture that can fit into any style of the house. How can you define the perfect reading chair? The answer might vary according to each individual and their reading choices. But we are looking for a range of accent chairs that offer you great comfort.
A reading chair should not only make you feel good while reading a book but also while using your phone or watching television. Finding your seating preferences can give you great clarity on what kind of reading chair you should opt for. For example, imagine reading a book while sitting on a chair with an armrest. If it feels okay, then you should probably get a cozy reading chair with an armrest.
Below are a few of the best reading chair picks that suit a variety of individual requirements, such as style, color, size, etc.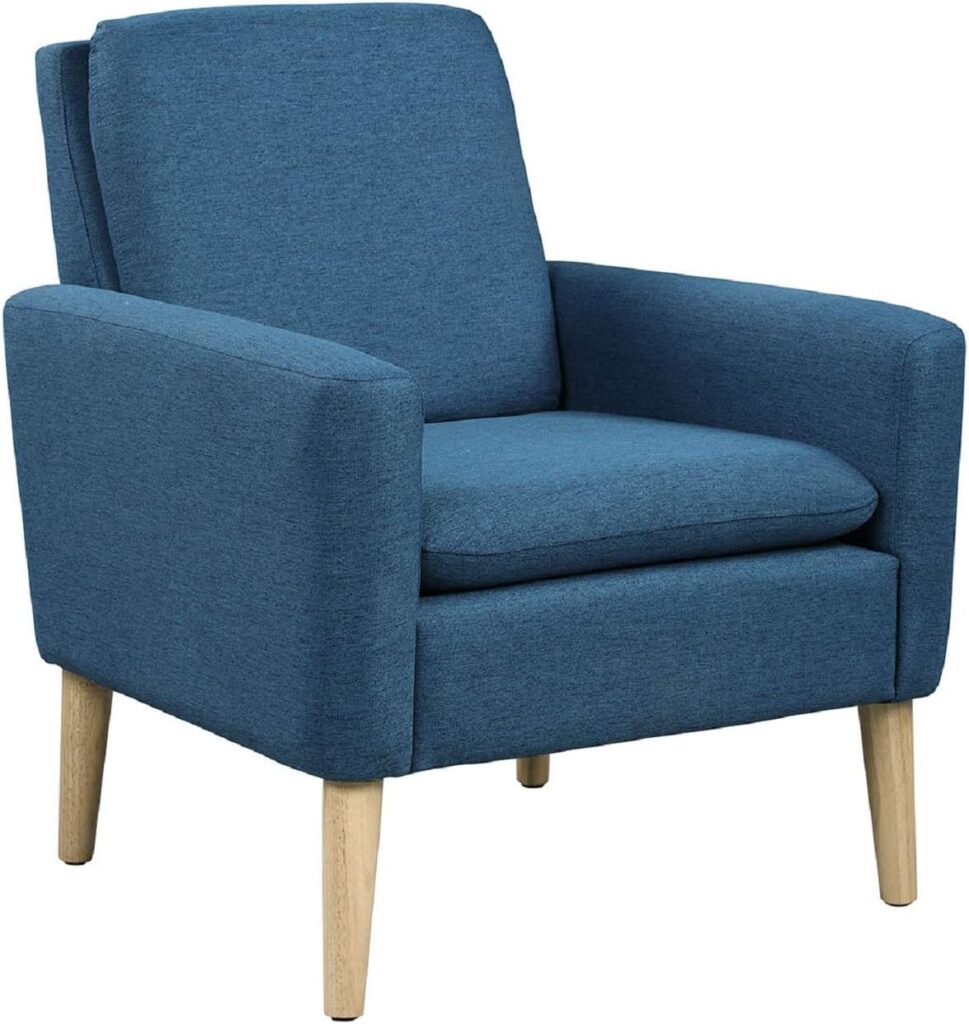 Talking about the coziest and most affordable picks when it comes to the best reading chairs, here is a great pick for you! This modern accent fabric chair comes with an upholstered deep seat and an ergonomically designed back cushion. The chair blends in perfectly with any kind of decor and will be a good choice for your home.
The removable seat cushion not only makes sitting comfortable but also allows easy management and cleaning. Made with high-quality fabric and a wooden frame, the chair ensures durability and sturdiness.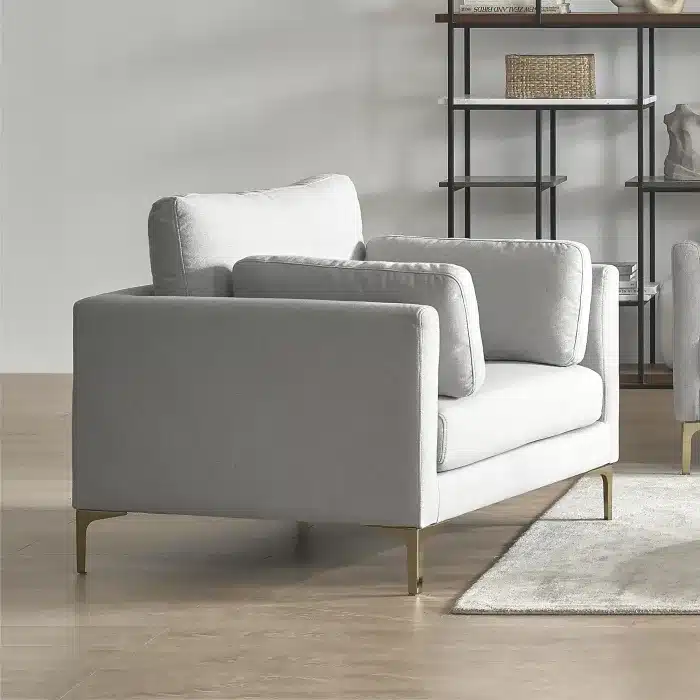 As you hold your favorite book, imagine a chair whispering to you, "Sink into me!". That is exactly what Adams Armchair is about! This large and cozy reading chair delivers incomparable comfort with its foam-filled, pocket-spring-filled seat. The chair comes with a customizable leg frame, which is an additional perk.
The base frame of the chair is made of LVL and Plywood. If you can keep aside the pillows that come with the chair, it can be a perfect snuggle spot for couples! Made of 100% polyester, this reading chair boasts comfort loudly.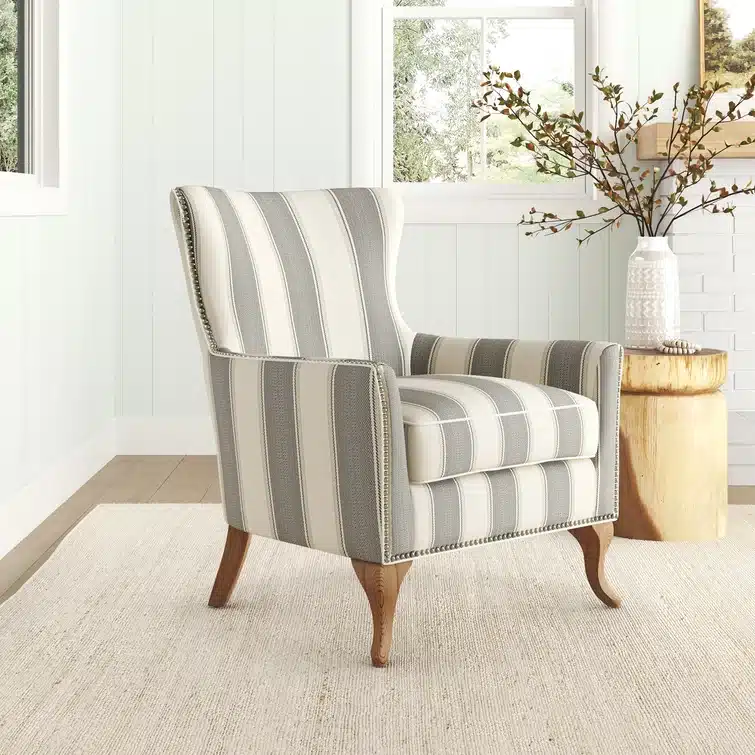 If you are living in a farmhouse-style home, this could be one of the best reading chairs to consider buying. The Angie Upholstered Armchair comes with a striped pattern and a curved silhouette. The chair is made of polyester, and the cushions are filled with foam and springs for a comfy sitting experience.
The curved wooden legs and rivets increase the visual beauty of this chair. Keeping in mind to stick with a contemporary style, the designers have not compromised on quality and durability, making it a great reading chair for people to consider.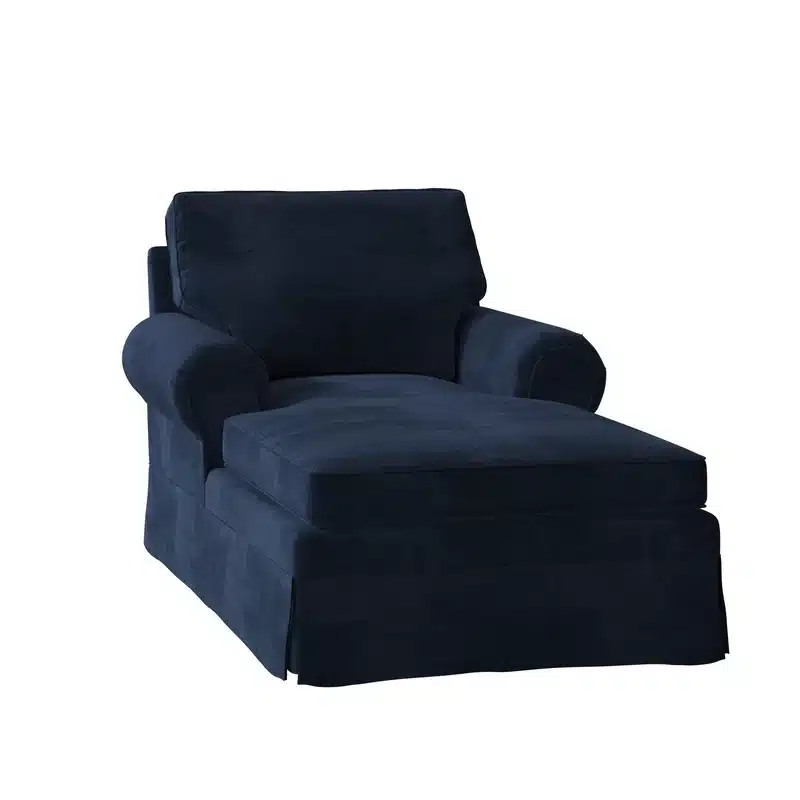 For people who own a modern home, quite a bit of thought has to be put into selecting a reading chair. The key is to keep the comfort of the chair a major criterion without compromising on style. The Upholstered Chaise Lounge by Birch Lane satisfies all of your requirements in one go! The chair is manufactured using a strong wooden frame, and the cushions provide the utmost comfort with sinuous springs.
The best part about this chair is that it is not limited to reading purposes. If you are tired, you can spread out and crash on the chair to snooze like a baby!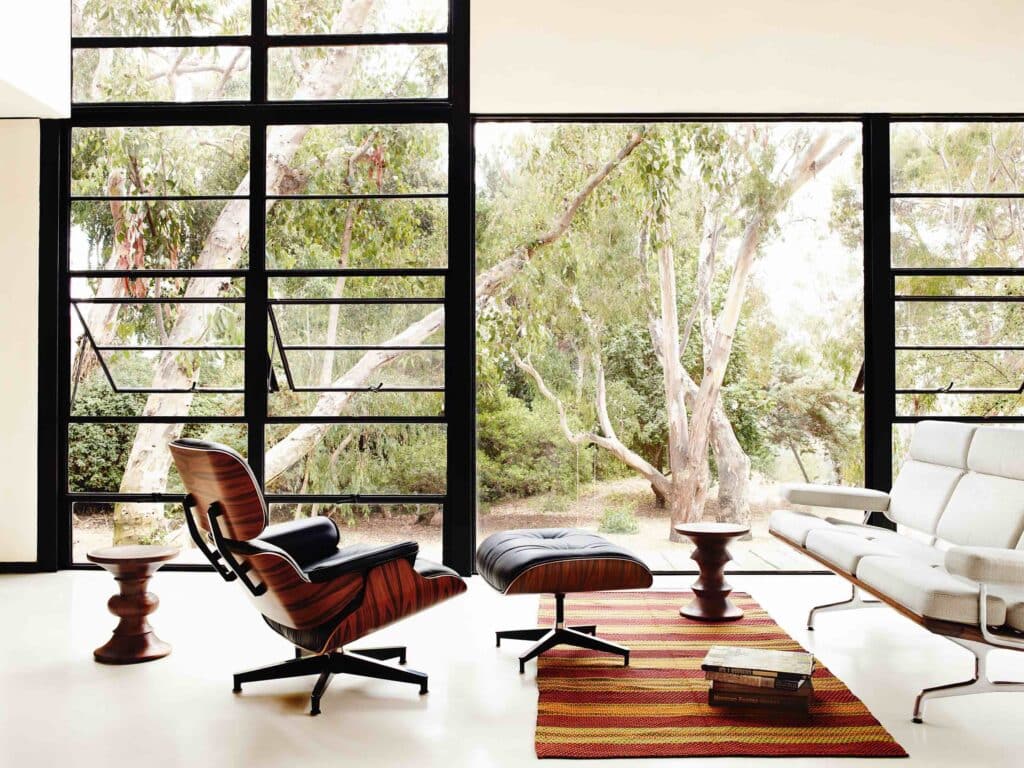 If you are a fan of mid-century modern interiors, then this reading chair is your pick. The Eames lounge chair is considered one of the best reading chairs, and to point it out, it is more than just a reading chair. Since its launch in the 19th century until now, this chair has ruled the markets like a timeless classic.
The chair comes with an ottoman that provides an additional edge for the comfort you seek while reading a good book. To suit a variety of home decor, the lounge chair is available in all black and all-white shades.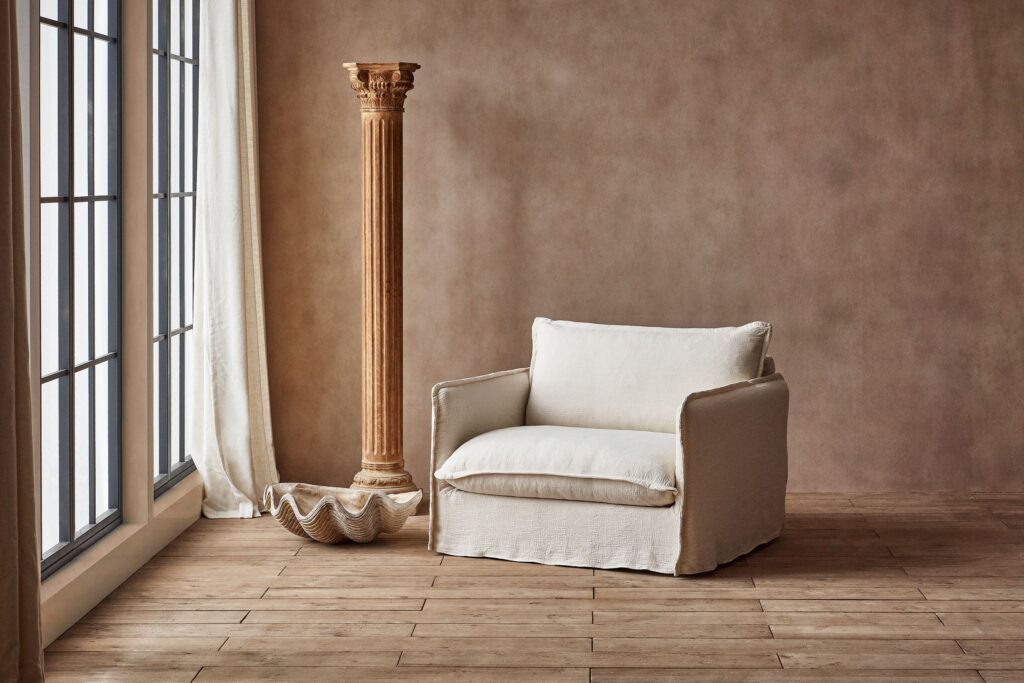 Imagine that you are the proud owner of the Neva Sixpenny Chair. You will be sinking into the chair, holding your favorite book, and the chair will hug you back with all its softness and warmth. Sounds dreamy? The Neva Chair by Sixpenny is all about experiencing maximum comfort with a minimalistic style. What makes the Neva Chair one of the best reading chairs is the wide variety of ways you can customize it to fit your requirements.
You can choose from over 30 shades of colors and fabrics to make the chair look as you like. Each cushion of the chair includes five layers of foaming to provide the best comfort while sitting.
Your choice of foam will be added to the top and bottom layers of the cushion if needed. This chair ensures quality and durability, making it the best splurge!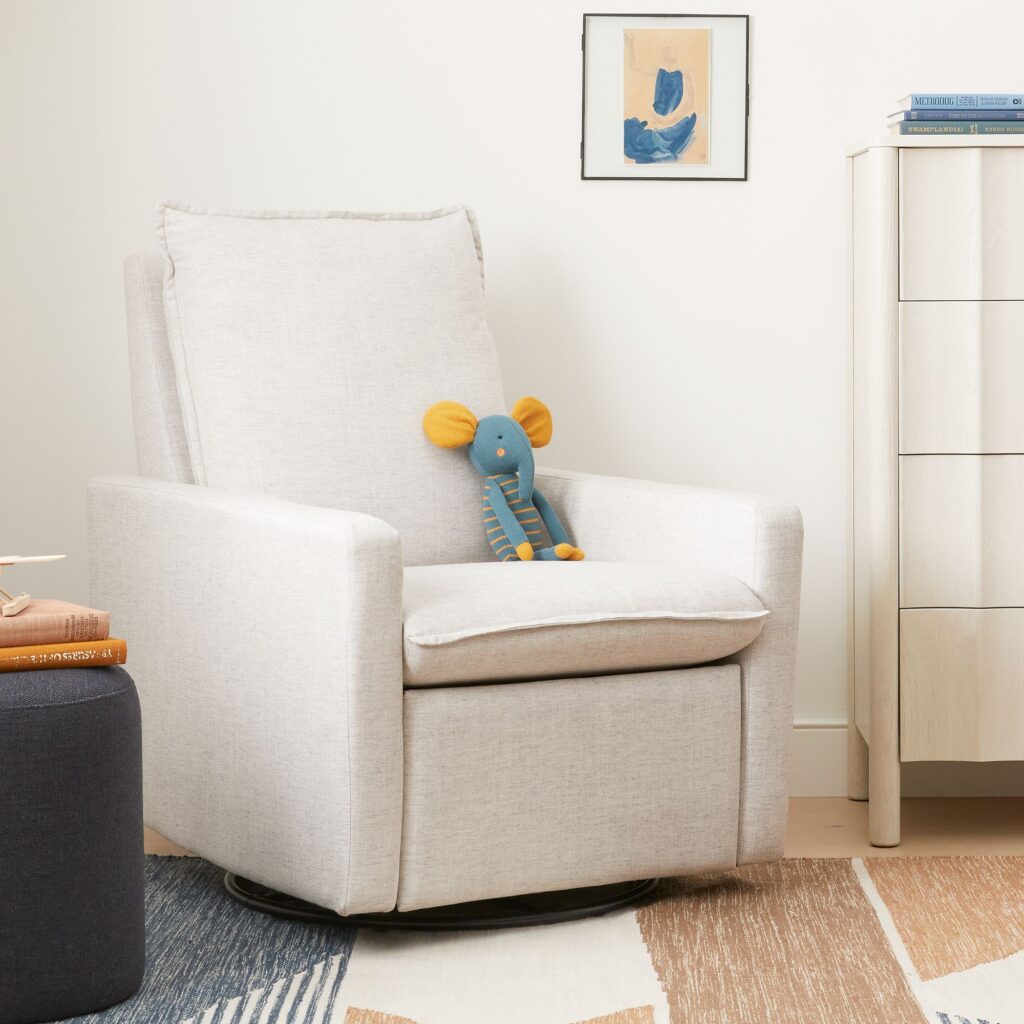 Recliners provide the extra stretch and comfort you crave while reading a book. This manual and power swivel recliner by West Elm is a good pick if you are looking for a customizable recliner. You can pick your desired color, fabric, and configuration while making the purchase. You can choose between a manual recliner and a power recliner as per your budget and needs. The chair comes with loose foam seat cushions and polyester padding.
The recliner can also glide and swivel as per your needs, and a matching ottoman is also available if you like stretching out your legs while reading.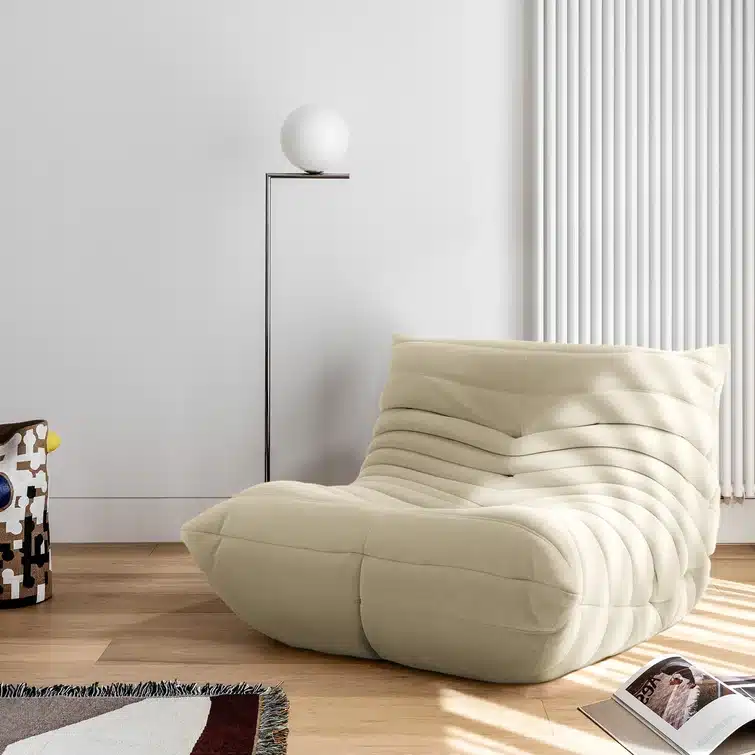 This cute and perfect armless chair is a befitting addition to your living room for reading purposes. The ergonomically curved design of the chair makes it a great and comfortable support for your back. There are no wood or metal frames used while constructing this comfy beanbag. The chair is made only of multiple-density foams, delivering a really soft and lofty feel. You can use this chair in your living room, reading room, and even your kid's bedroom.
This multipurpose armless lounger will be worth every penny you spend, and there is a reason why it has become an Instagram sensation too!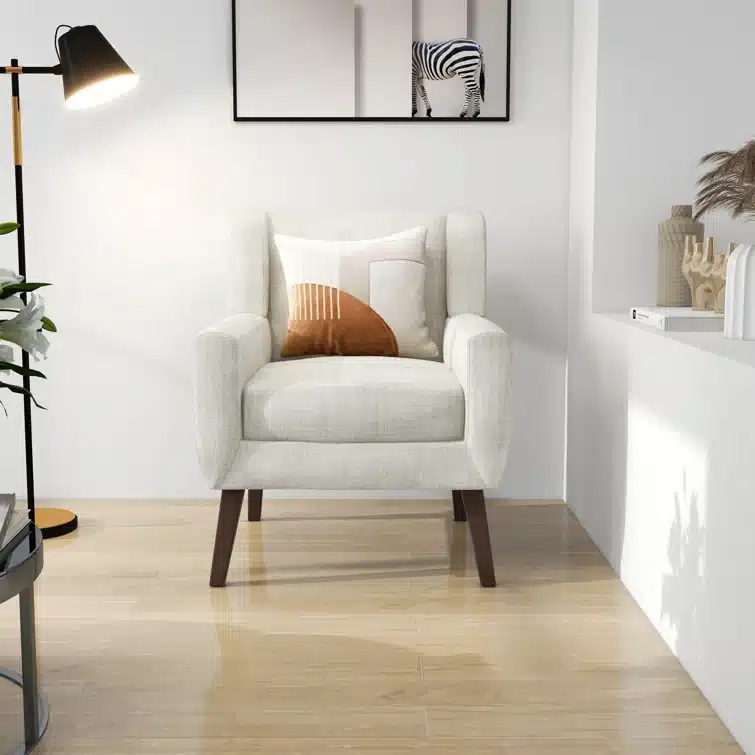 If you don't have much room in your home but still need a reading chair, you should consider this pick. The Jacqueze Upholstered Armchair by Corrigan Studio is made to fit your reading needs in small spaces. Around 2 feet wide, this armchair comes with high-density foam to provide maximum comfort. The linen foam-padded cushions are immune to easy discolorations and can look new even after years. The arms are made of solid wood to provide you with the best comfort.
This armchair is suitable to stay and read in for hours without having even a slight discomfort due to its style. The long wooden legs add to the beauty of the chair, making it a stylish addition to your furniture.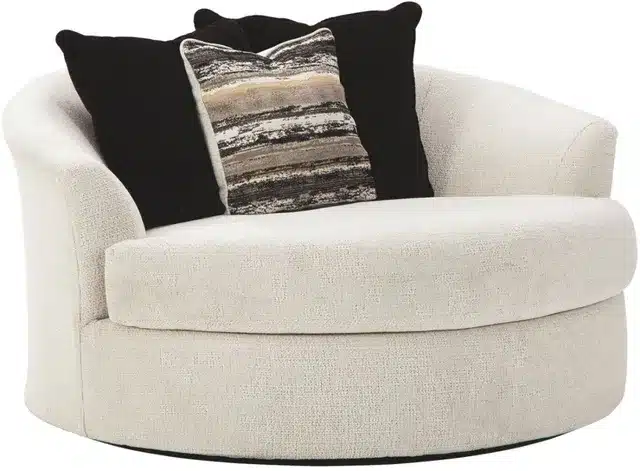 Oversized chairs are one of the favorite choices among readers. To sit and read for hours without minding the style of your chair and experiencing a great level of comfort is indeed a blessing. The Cambri oversized chair by Ashley Furniture is made of chenille, a fabric that is considered the best when it comes to furniture.
Keeping your comfort in mind, the designers made this chair with a 360-degree swivel option. The chair is large enough to fit two people at a time. However, the oversized chair comes only in light shades.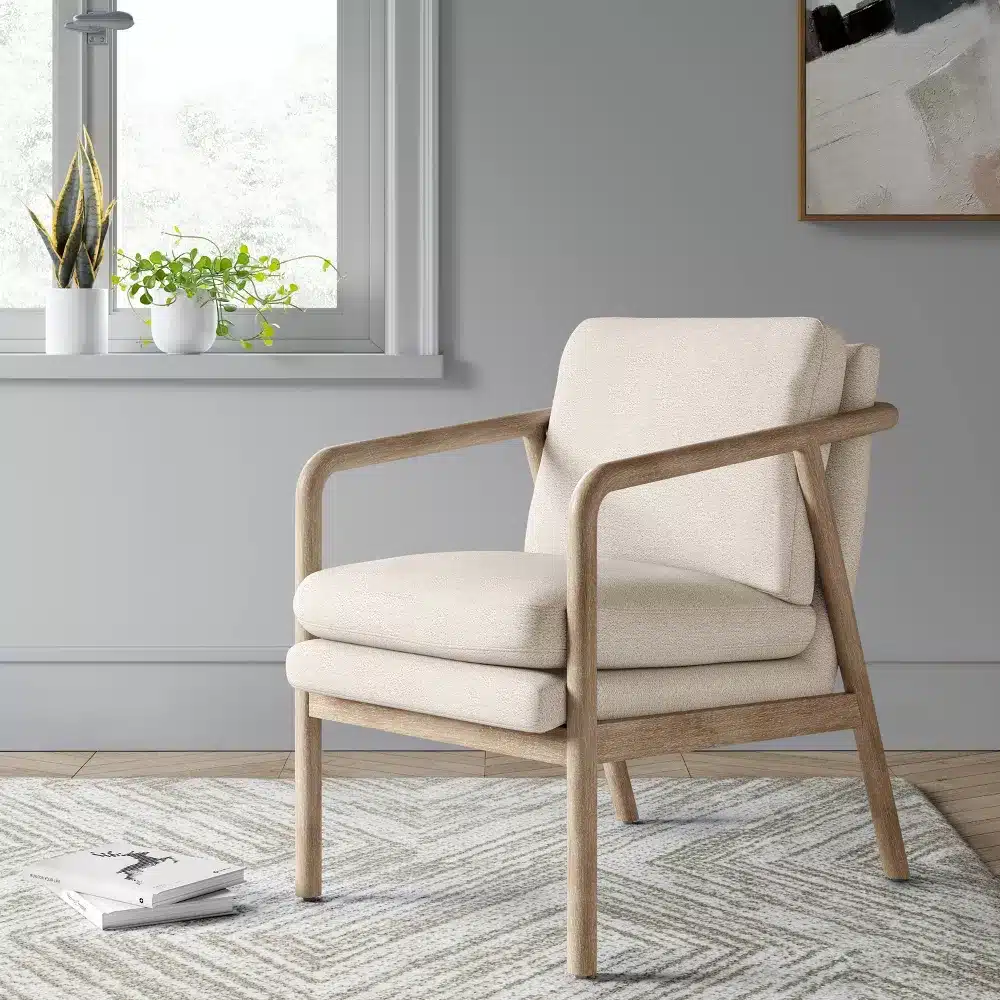 This wooden armchair is a great option for someone who is looking for a modern and minimalist reading chair. The sleek and stylish design makes it an attractive spot in the room, and the double-padded cushions let you sit and sink in with utmost comfort. The cushions are placed against an open, strong wood frame, giving the chair a contemporary look.
The chair has a 20-inch seat width and is perfect for people living in apartments. The wooden logos come with safety padding to avoid scratches. The chair looks compact and is perfect for a grown adult to fit in comfortably.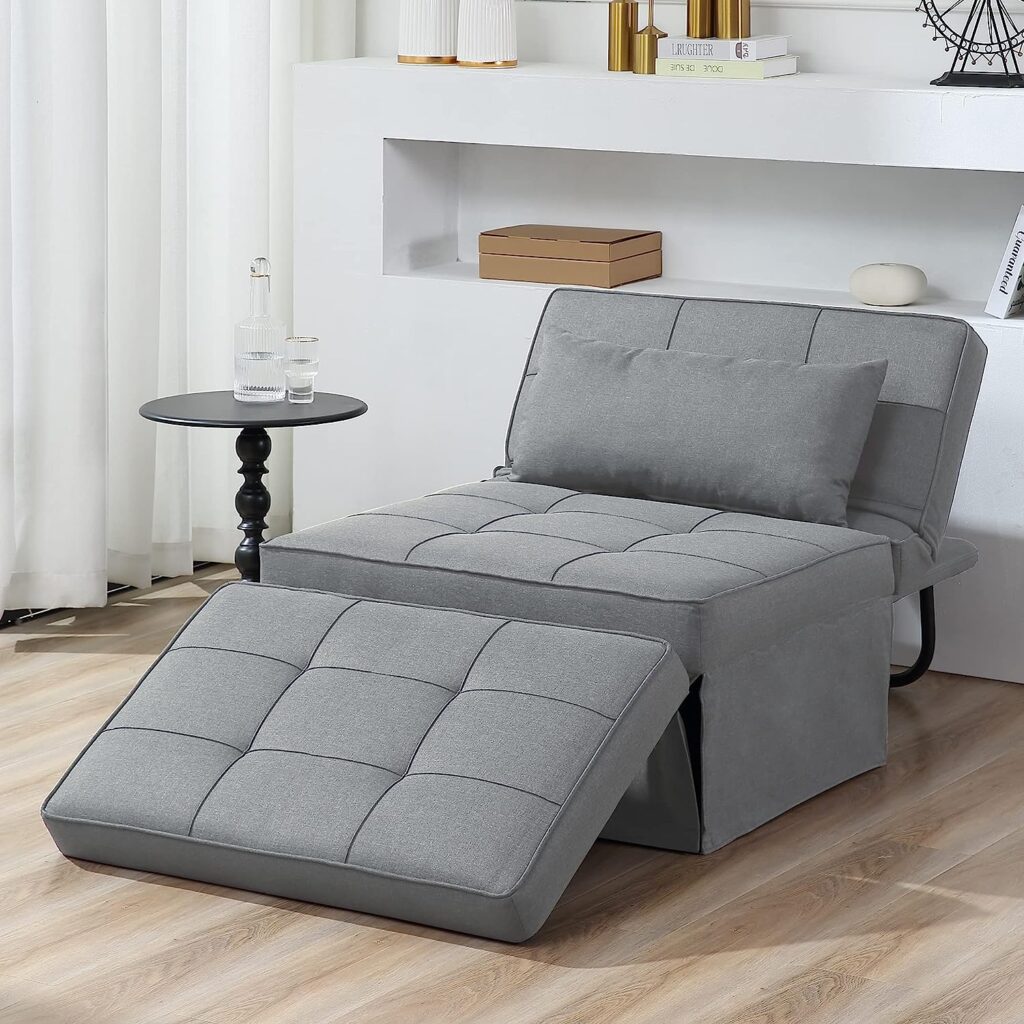 The best way to pick furniture is to go with the ones that can fit your multiple needs. You can use this convertible 4-in-1 chair as a sofa, an ottoman, and a bed. When it comes to the reading chair, you can adjust the recliner to 75 degrees and get cozy with your favorite book. The perk of having this chair is that you can covert it to look like any piece of furniture you require.
The chair comes in a light grey shade to fit in most decors of houses. Though if you are looking for a vibrant or antique piece of furniture for your home, this might seem like an odd fit.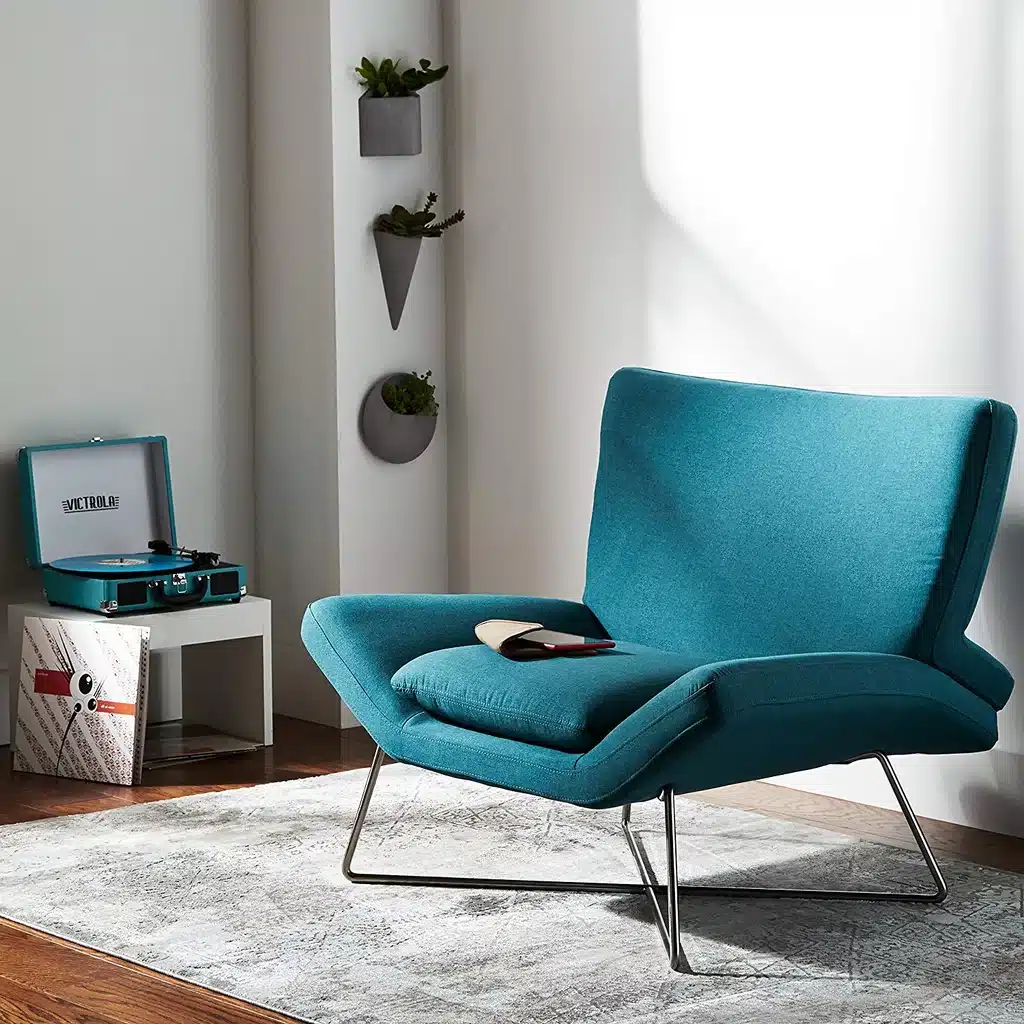 Wide reading chairs favor the best reading experience. This wide accent chair by Rivet is inspired by mid-century furniture and has a unique and stylish look. If you are looking for a furniture item that can steal a lot of glances, this can be a perfect pick. The comfortable cushions are fixed to a plywood frame to ensure sturdiness.
The chair has a trendy stainless steel base to enhance the overall style. And the best part about this product is that it doesn't require assembly after delivery.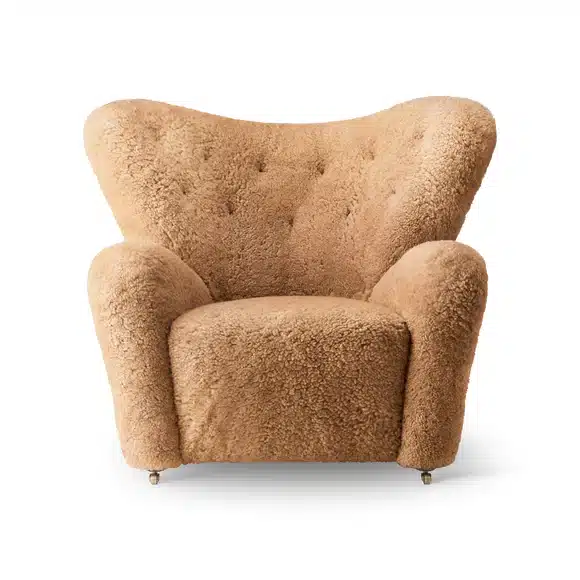 It is amazing how the right chair elevates the entire vibe of a room. This lounge chair, as its name implies, is the best place for a tired man to crash. But not only that, this amazing piece of furniture makes the best reading chair as well. Made of completely natural sheepskin upholstery, the chair boasts an unreal softness that invites you to sit comfortably. In addition to this, the chair has overstuffed, cushy layers of foam that are shaped to look almost like a bear.
Even though the chair comes with an expensive price tag attached to it, all of its reviews depict how the chair is worth every penny. You can grab this posh-looking reading chair in two shades: sheepskin moonlight and Sheepskin Honey.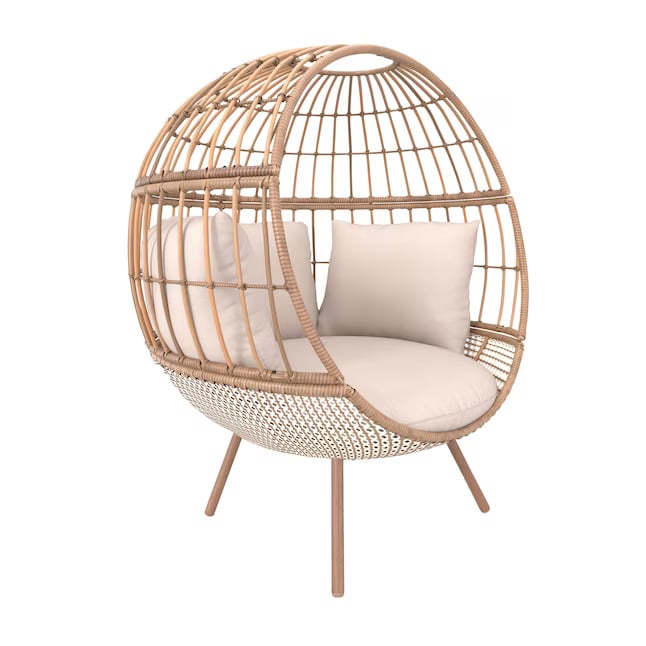 Some people might fancy having a reading chair outdoors to enjoy the views while reading a book. For such people, here is a befitting reading chair: This egg chair follows a hippie-inspired style and can be used both indoors and outdoors. Compared to usual egg chairs, this chair comes with all-around cushion support, delivering extra comfort. The manufacturers have added UV-resistant cushions and rust-resistant steel frames to safeguard the chair while used outdoors.
The chair is available in five colors: turquoise, coral, grey, blue, and cream. In short, this chair is one of the best reading chairs for people who love to get lost in their favorite book while sitting outdoors.
Final Word
Those who like to read know the importance of having a reading chair in the home. No matter what style your home follows, you can always find the perfect reading chair.
We have included reading chairs apt for industrial-style decor as well as classy, royal homes in this list. We hope our suggestions for the best reading chairs helped you make your choice. Consider the look of your room before picking a reading chair of your choice to let the furniture blend in seamlessly.
Always put comfort first when buying a reading chair, as it is what makes your reading experience perfect!
Frequently Asked Questions
What Kind of Chair is Optimal for Reading?
Comfort is what makes a reading chair optimal. Hence, go for a reading chair that has soft, cozy cushions that allow you to sink in. You can also go with leather-surfaced chairs if you want an industrial look. But leather or vegan leather chairs might be harder than normal reading chairs.
What is the Required Height Of a Reading Chair?
The perfect reading chair should have shorter legs. But at the same time, there must be enough room for your legs to stretch if needed. Generally, the height of a reading chair will be around 17 inches.