The right kind of furniture can enhance the look of your home, and quality furniture is not only timeless but also stylish. Furniture is usually an investment, and well-made pieces ensure durability and also timelessness. When investing in furniture to decorate your home, it is better to invest in pieces made of high-quality material that is built to last.
American furniture brands not only ensure that the final product adheres to the stringent standards and safety measures enforced by the US Federal government, but you would also be embracing sustainability by supporting a local business. The carbon footprint of a locally manufactured product is much less than something manufactured and shipped from overseas. What's more, you would be helping the local economy and supporting local artisans and furniture made from local materials.
To help you find the best brands out there, we have compiled a list of American-made furniture brands which focus on impeccable craftsmanship, great pricing, and contemporary design.
If you are looking to invest in a piece of furniture, we suggest you take a look at this compilation of 19 American-made furniture brands to shortlist the ones that you like and suit your needs.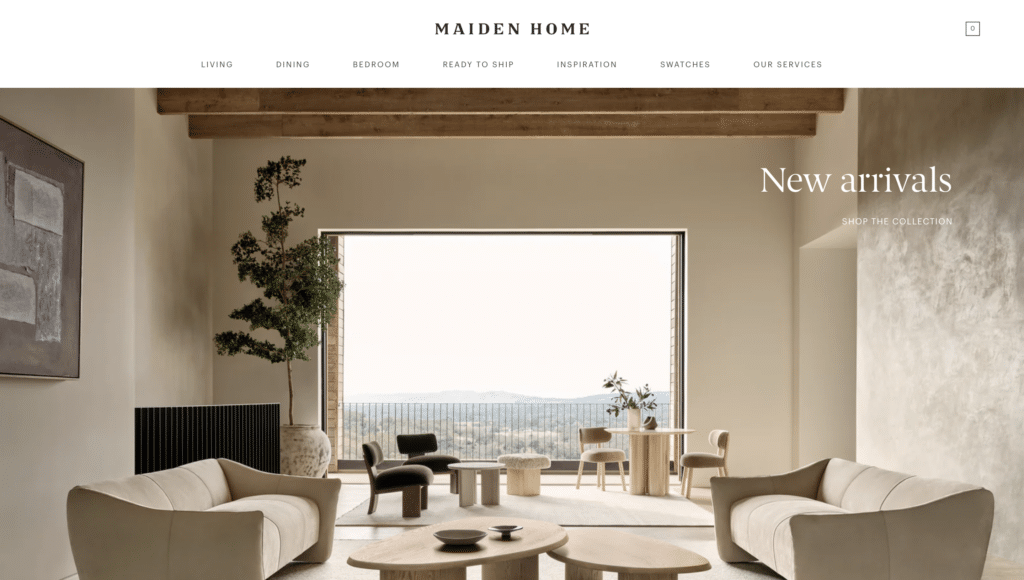 With a mission to provide handcrafted luxury for modern homes, Maiden home furniture is assembled using the heritage techniques of North Carolina furniture artisans. All their furniture is thoughtfully designed in their New York Design office with an emphasis on comfort and detail.
The brand sources its materials from sustainably managed forests across the country as well as from the finest textile mills and tanneries. This ensures that every piece of furniture is a work of art and high grade with an emphasis on comfort and durability.
Each of their pieces is individually hand-crafted, and hence one can expect subtle variations from product to product. The product range is very versatile, with a good mix of earthy, simple designs with clean lines and muted color schemes.
One can choose between custom furniture or ready-to-ship furniture on their online portal. Custom furniture can take between 3-5 weeks from the date of order, and ready-to-ship can be shipped within 2 weeks.
They offer white glove delivery service, which means that a two-person delivery team will deliver, unpack and remove all packaging material from the furniture delivered. They have this service on most products, and you can know these details easily when you place an order on their online portal.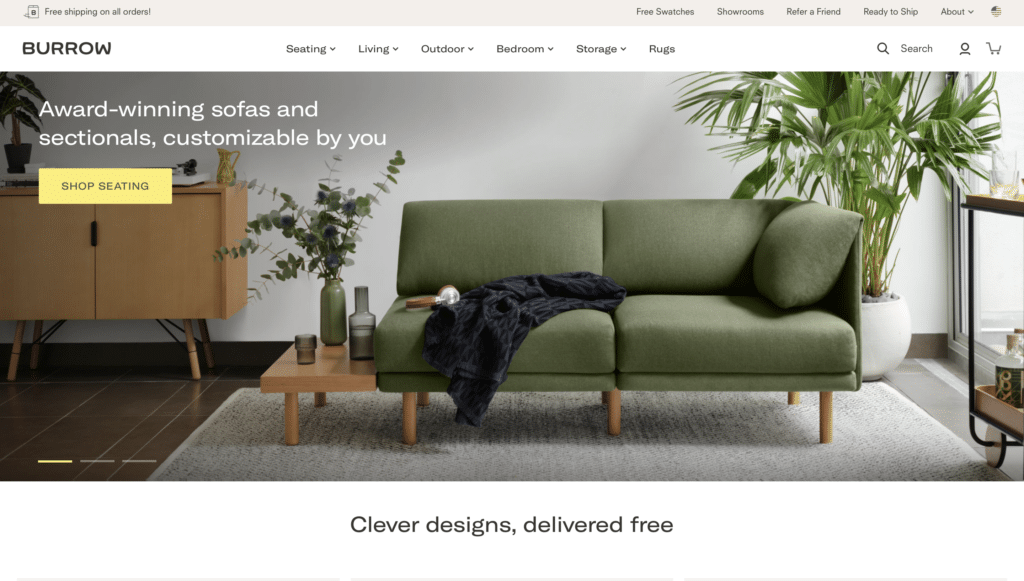 Frustrated with the lack of quality and affordability, Burrows's founders founded this furniture brand to bring design-led modular furniture to the market. The brand focus is forward-thinking, with a keen focus on modular designs. They believe that modularity is the future, and it ensures smooth tool-free assembly that can be done in minutes.
Burrow offers a range of American-made mid-century modern furniture with a strong focus on sustainability. All materials used are locally sourced, and each of their wood suppliers is certified by the Forest Stewardship Council (FSC), the American Tree Farm System (ATFS), and the Sustainable Forestry Initiative (SFI).
Widely popular for their modular sofas, their product range includes a wide variety of seating and sofas, wall shelves, coffee tables, and other tables, and also decor accessories.
Burrow's main focus is on quality rather than quantity, but they do have a shorter warranty on items. The online portal is the easiest way to shop for their products, and they provide easy payment options for those who need them.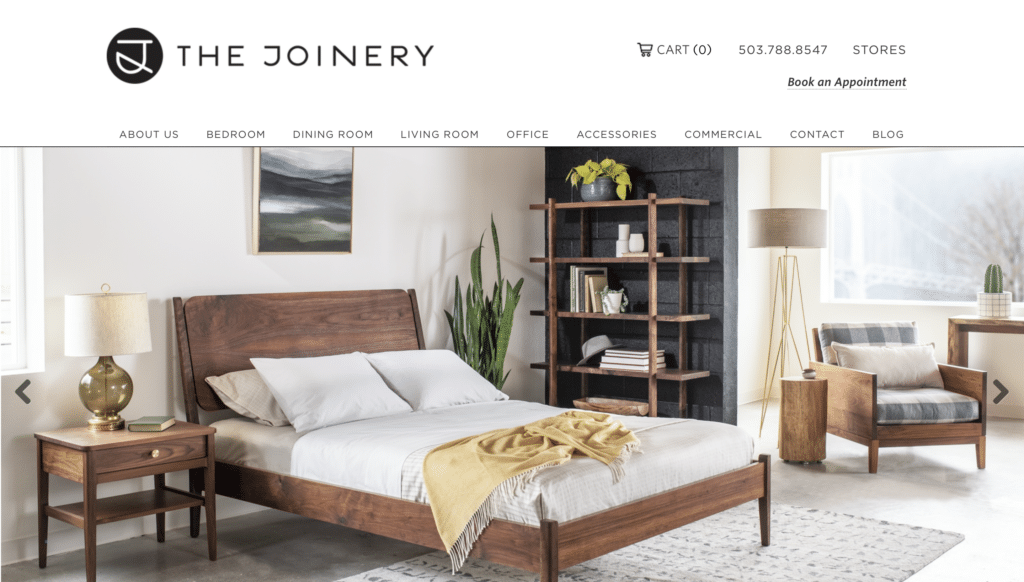 Founded in 1982, Joinery specializes in handcrafted furniture. It began as a one-person refurbishing business based in Portland, Oregon. Their furniture is built from solid hardwood using traditional woodworking techniques, including dovetail, finger, and butterfly joints that enhance the beauty and durability of each piece.
Joinery offers elegant and understated furniture where wood is the main focus and the hero element. They offer a variety of options like nightstands, tables, and multiple living and bedroom furniture. They provide a lifetime warranty on their residential furniture to the original owner of the piece.
With a commitment to sustainable business practices, they recycle or reuse scrap lumber to build their furniture. An in-house design team develops each piece of furniture from scratch, and every piece is built by a single woodworker using traditional practices.
Their current lead times on delivery are about 10-15 weeks, and they provide both white glove delivery service and also curbside delivery via third-party service providers.
An American furniture brand that is modern in its ethos, it was founded by two guys in 2010 who were looking for better quality furniture which was both affordable and also unique. Their mission has always been to sell beautiful furniture that is built to last.
You can expect mid-century modern furniture as well as transitional, glam, industrial, and even Scandinavian-inspired pieces. Based in LA, much of their furniture is made in the company's own factory in downtown LA. Apt2B provides a wide variety of options at very reasonable prices.
They also have a collection of curated imports sourced from across the world. Most of their furniture pieces are eligible for free entryway delivery, which can be upgraded to white glove delivery for a nominal fee.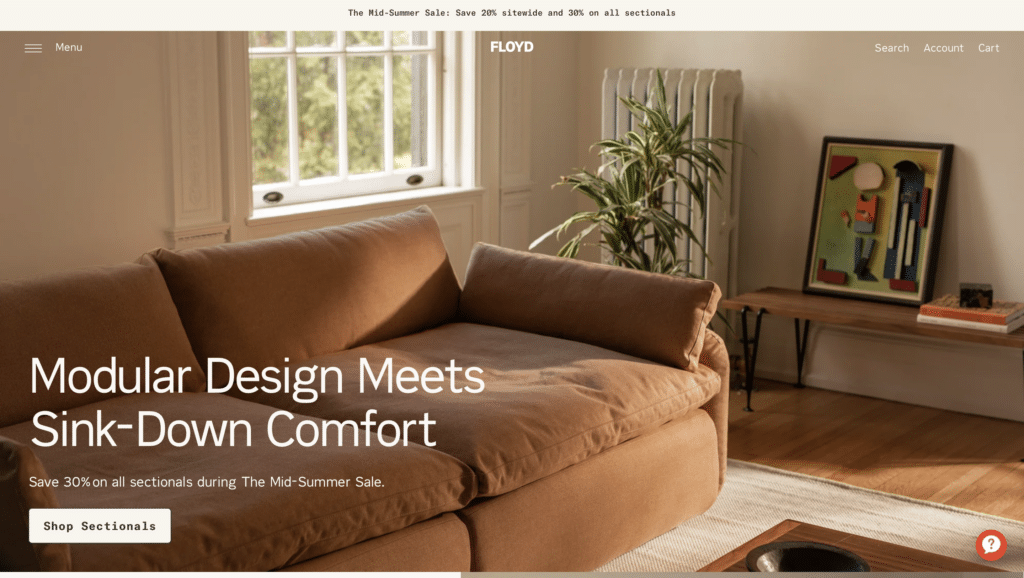 This Detroit-based company was founded in 2013 as a brand specializing in high-quality furniture with an aesthetic that is timeless. Their belief was that furniture should be made for the home, not the landfill. Their products are exclusively designed in Michigan and manufactured by their partners across the globe. They strive to employ environmentally and socially responsible manufacturing practices.
Their ethos is centered around designing thoughtful products, and they expect you to handle the assembly of the product yourself. There are clear instructions for the assembly of each piece of furniture, and one can find most of them on their online portal.
Floyd offers a wide variety of products on their online portal, and it is a great option for anyone seeking quality products with easy assembly. Their range includes sofas, beds, lighting, shelves, soft furnishings, and so on.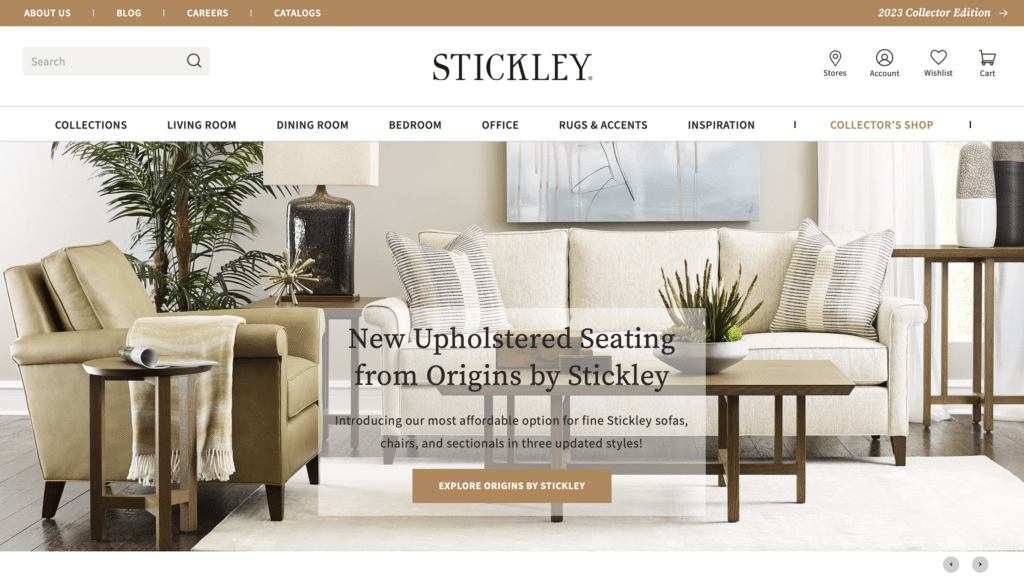 Founded in the 1900s, this is an iconic brand for American-made furniture. The Stickley brand focus is on the integrity and honor of the pieces it makes, and most of its furniture is made of premium hardwood. The majority of their furniture is manufactured in New York and North Carolina, with a stringent focus on quality and craftsmanship.
They offer a wide variety of timeless products across categories and rooms. You might find exquisite classical and traditional pieces in hardwood furniture to shop from. The brand collaborates with sustainable lumber farmers who focus on minimizing waste.
Since most of their furniture is made to last long and withstand the test of time, they offer a lifetime warranty on most of their products. They currently do not offer purchases online though the entire catalog is available for viewing on their portal. You can purchase if you wish to do so from an authorized retailer and make an informed in-store purchase.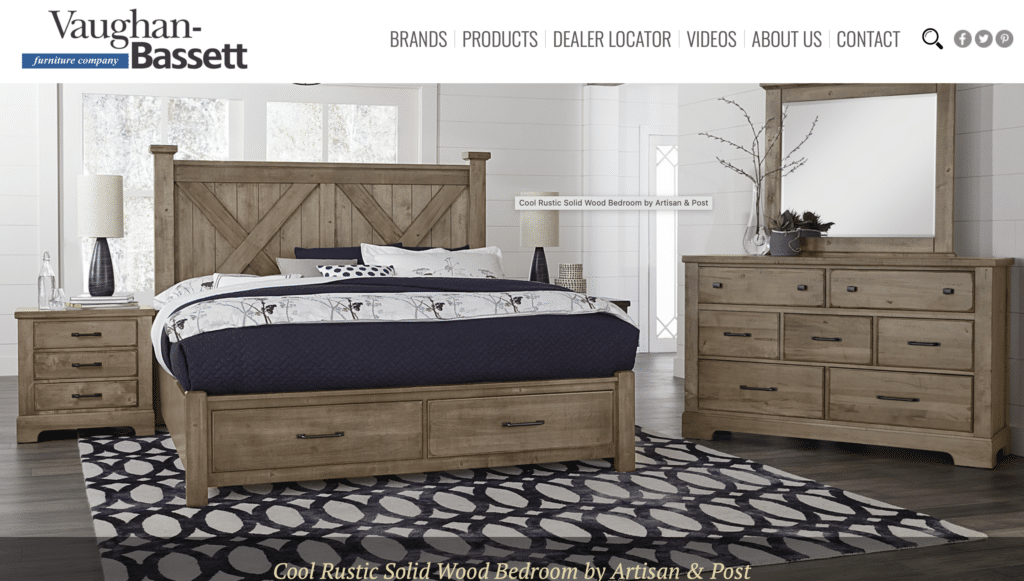 A 100% made-in-America brand, Vaughan Bassett has been around for 100 years or more. Originally founded by two people from Bassett, Virginia, they now have factories in Galax, where they employ more than 500 craftsmen. Most of their furniture is made of solid wood and veneers that are grown and harvested near their plants. Some of the species they use in their furniture are Pine, Oak, Maple, Cherry, Ash, Poplar, Birch, and Beech.
The style of the brand veers towards the traditional and classical, and you can find fine bedroom furniture made with impeccable craftsmanship and detailing. They do not offer online purchases though you can browse their collection on their online portal.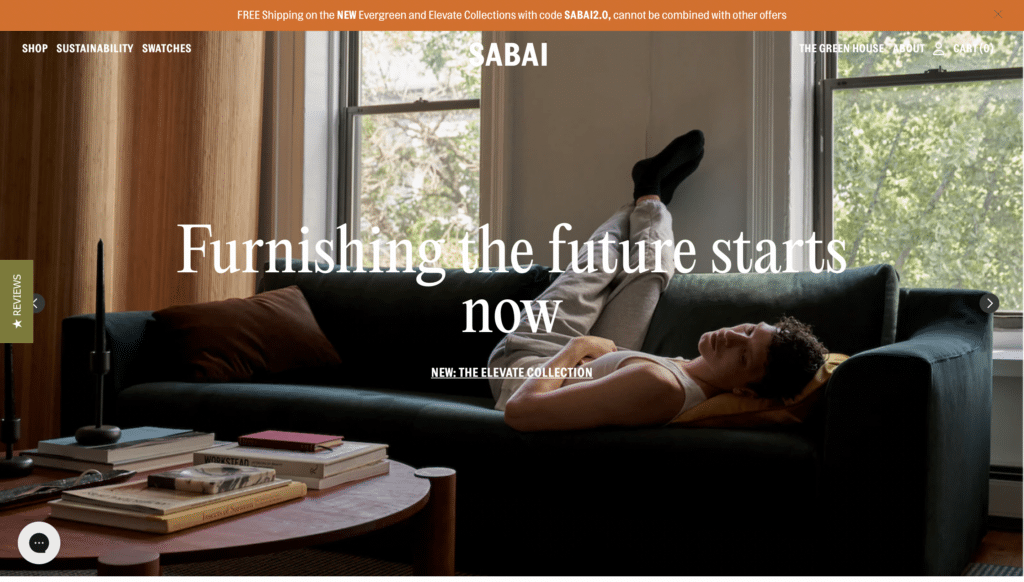 Sabai is a brand exclusively focused on sustainable products, and every piece is made in their family-owned factory in High Point, North Carolina. Launched in 2019, they are attempting to make furniture that is guilt-free and chemical-free. Their goal is to make beautiful furniture at affordable prices. They offer a 'repair don't replace' promise as well as a buyback guarantee on their products.
They have tried to eliminate all plastic in their packaging. The furniture from Sabai will need assembly by yourself though they have tried to keep the assembly easy.
While most of their pieces are classic and modern, they focus on quality more than quantity. They majorly sell online though you can view some of their products at The Canvas by Querencia in Brooklyn, New York.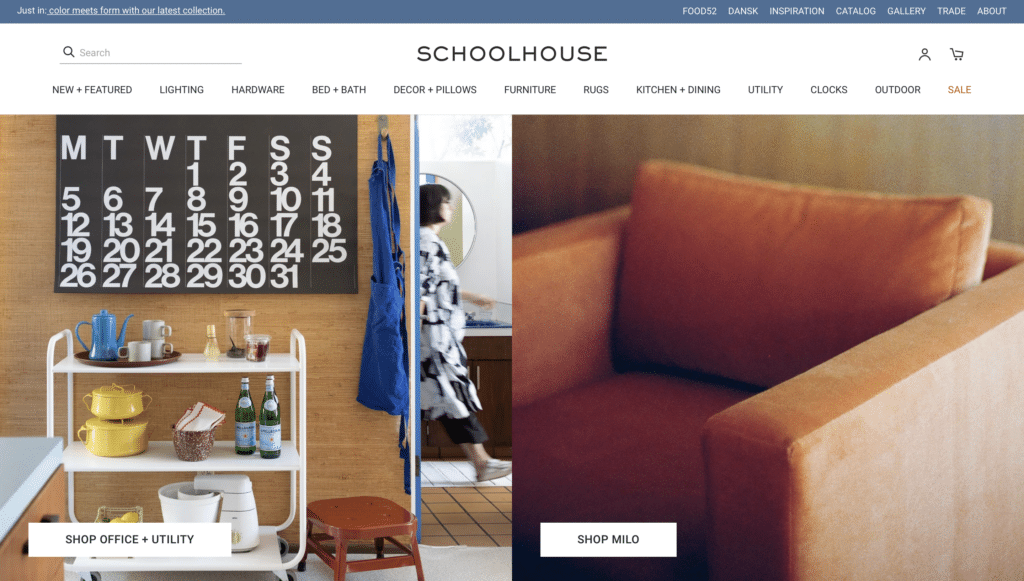 Launched in 2013, their mission is to provide a new generation of heirlooms that inspire people to create unique, meaningful spaces. They are committed to 'the preservation of American manufacturing, thoughtful living, and purposeful design.' All their furniture is designed, assembled, and shipped from their facility in Portland, Oregon.
Originally founded as a lighting brand, Schoolhouse now has a full catalog of well-made furniture with a special emphasis on reimagining the classics. The furniture range has bedroom furniture and some seating furniture and tables. They also have smaller items like soft furnishings, blankets, etc.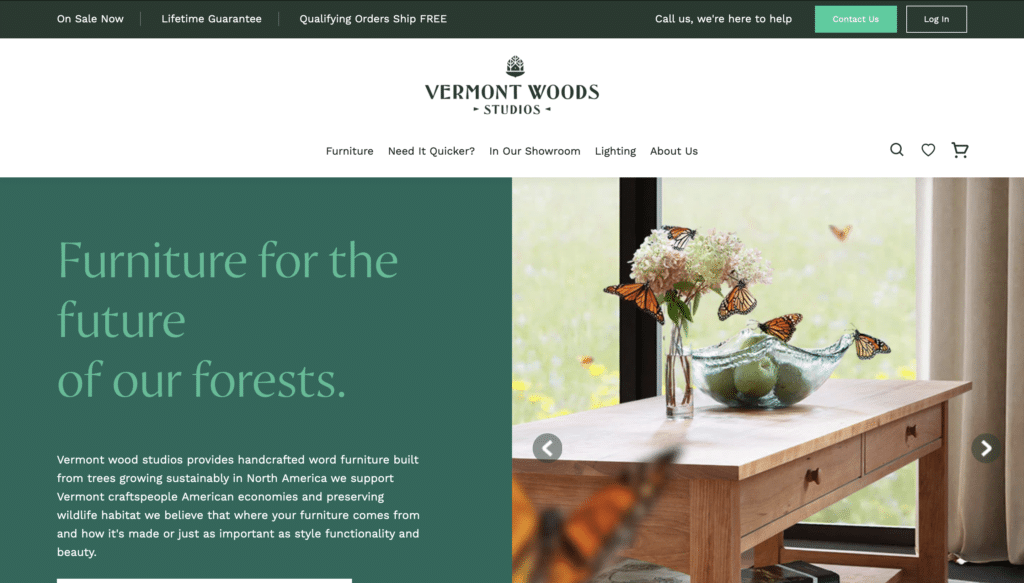 Vermont Woods Studio was started to help save the rainforest where they live in Vermont. Rainforest land is being cleared to make furniture, and it is this that Vermont woods studio wants to combat. They created this company that sells quality wood furniture which is sustainably sourced from natural North American hardwoods. They prioritize the protection of animal habitats and hence use abundant hardwoods like Cherry, Maple, Oak, and walnut.
All their furniture focuses on letting the wood and grain shine, and they are built to fit seamlessly into any decor style. They have a wide range for all living spaces, and some items come in sets that can easily be used to decorate an entire room without having to look for individual pieces. Each piece embodies the essence of impeccable craftsmanship, reflecting the brand's dedication to quality and integrity.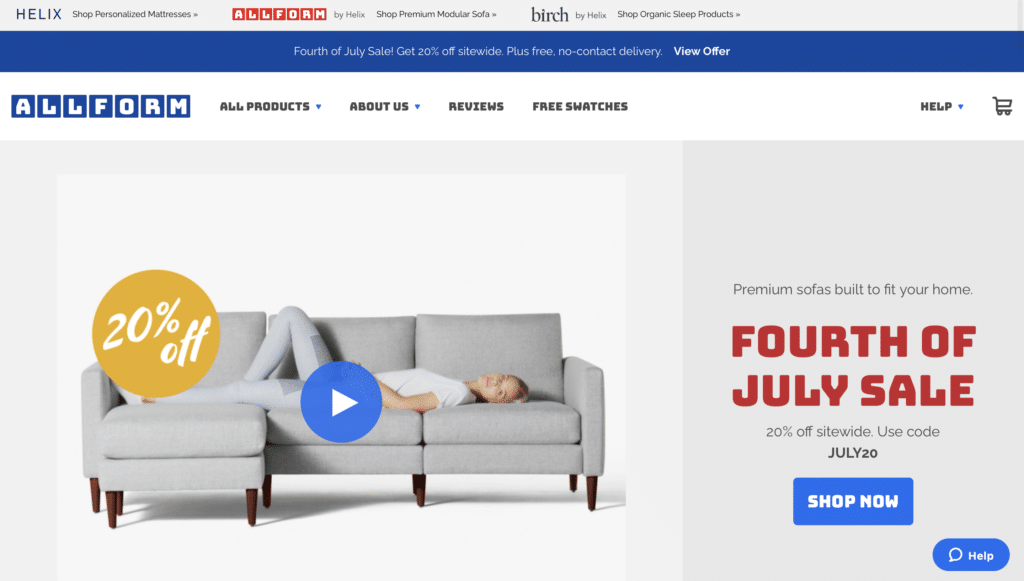 Allform is a brand that focuses mostly on sofas and sectionals. The aesthetic is modern and fuss-free and is made of laminated hardwood sustainably sourced from the Sustainable Forest Initiative and high-quality performance fabrics. Their sofas are simple and timeless and focus on modularity. Mostly veering towards neutrals and soft colors, there are some products on offer that have a pop of color.
They provide a 100-day trial on their products to make sure that what you get is something that you will absolutely love. Their delivery lead times are sometimes longer, and you will have to wait a bit.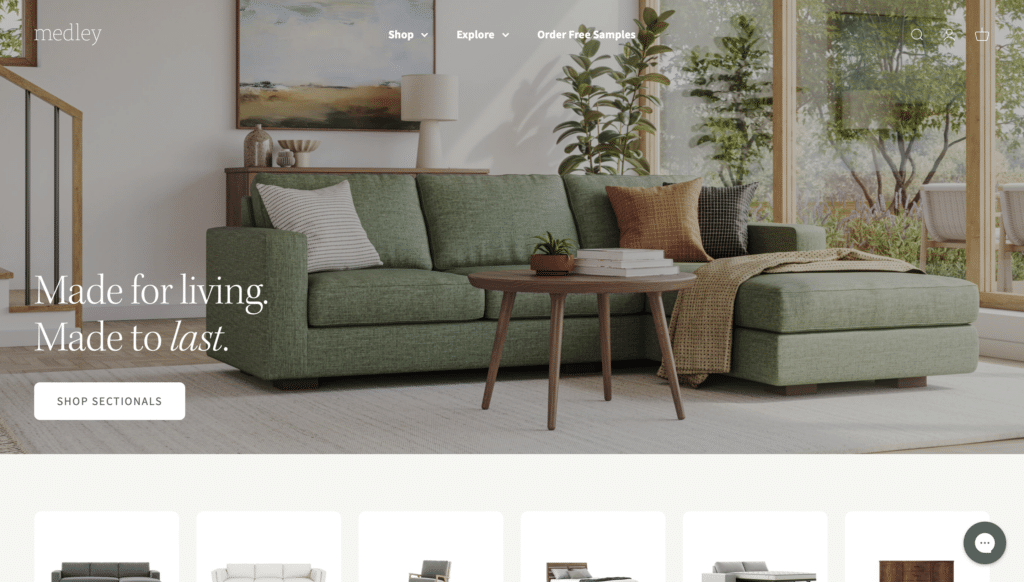 Designed to keep you comfortable, Medley home furniture seeks to offer furniture that is built to last. Founded in 2005, they believe in sustainable well-crafted furniture that won't end up in a landfill. The furniture is well-designed with superior craftsmanship, sleek quality, and variety. They don't have any offline presence but are a direct-to-consumer market brand.
All their furniture is premium and eco-friendly with local manufacturing- all of it is manufactured in Los Angeles, California. The range of furniture includes all living room furniture with lots of customization options. All their products are crafted with eco-friendly materials with a mastery of woodworking and timeless design. They offer a limited-time in-home trial to test the furniture before committing to them.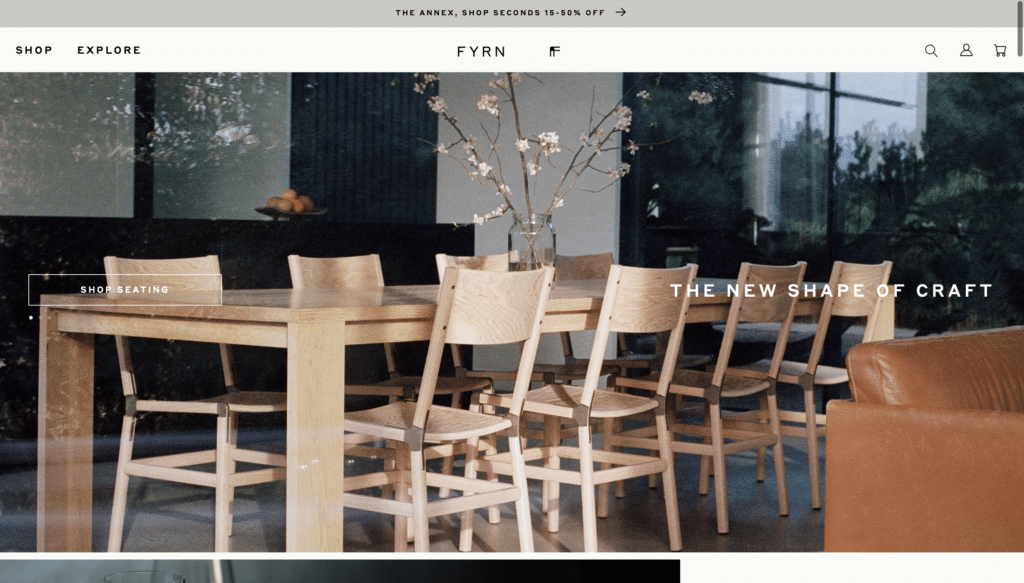 The cofounder of Fyrn, Ros Broughton's family, has been in the furniture business since the 1900s. With their high-end designs, Fyrn aims are making modern heirlooms with impeccable design and craftsmanship. They offer a range of furniture options like dining room chairs, kitchen, and living room pieces. All their furniture is built using their patented Stemn bracket design.
All their products are made using sustainably sourced products, primarily relying on North American hardwoods, anodized steel sourced locally. All the products are shipped as flat lay and can be easily assembled.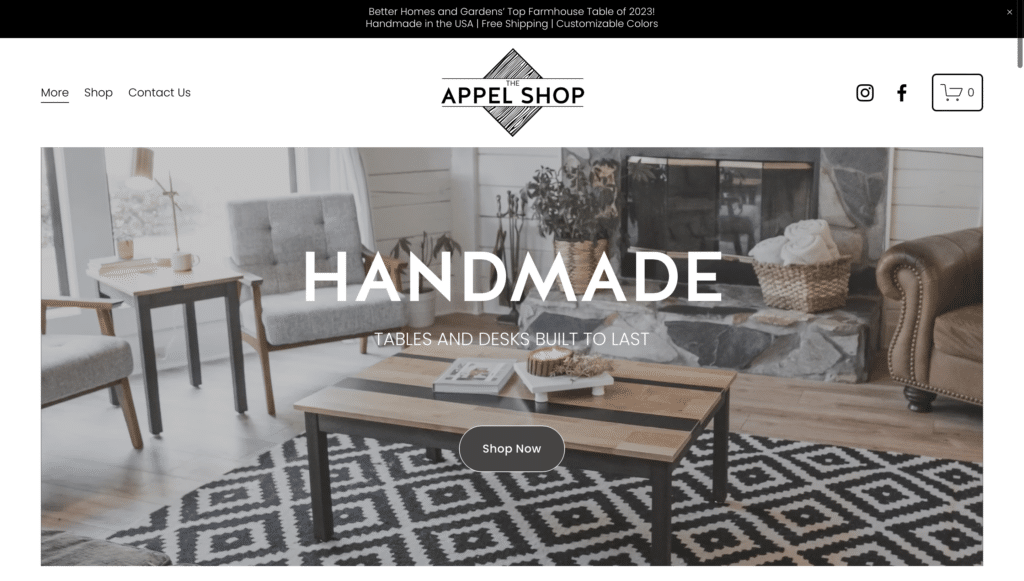 The Appel shop products retail in Monticello, Florida though they ship nationally via their website. Their product range includes tables, dining sets, living room furniture, and desks for home offices. Founded in 2014, their style is primarily farmhouse aesthetics. They use sustainably sourced hardwood in all their furniture.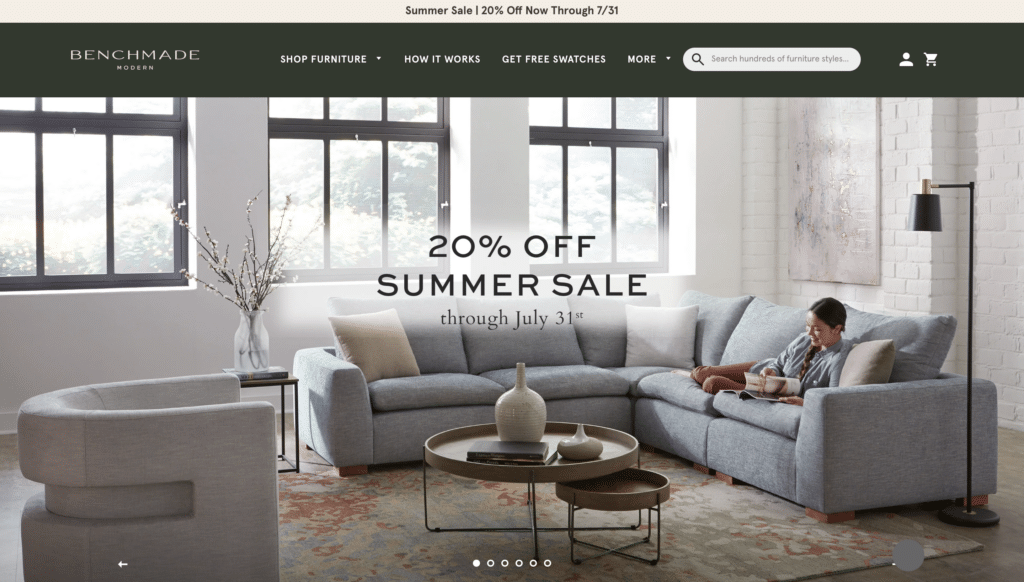 Aimed at creating furniture pieces steeped in luxury, this American-made furniture brand combined modern manufacturing with vintage techniques. All of the BenchMade Modern furniture is made in the US, and everything comes with a lifetime warranty. The product range includes sofas, seating, chairs, rugs, tables, and lighting.
There is a level of customization that you can do to all the products, and there is also a trial for some items. You can choose the style, configuration, size, fabric, and leg color of the product. All their furniture is specially made to order and falls under their flexible, risk-free return policy. Their production times range between 2 to 6 weeks.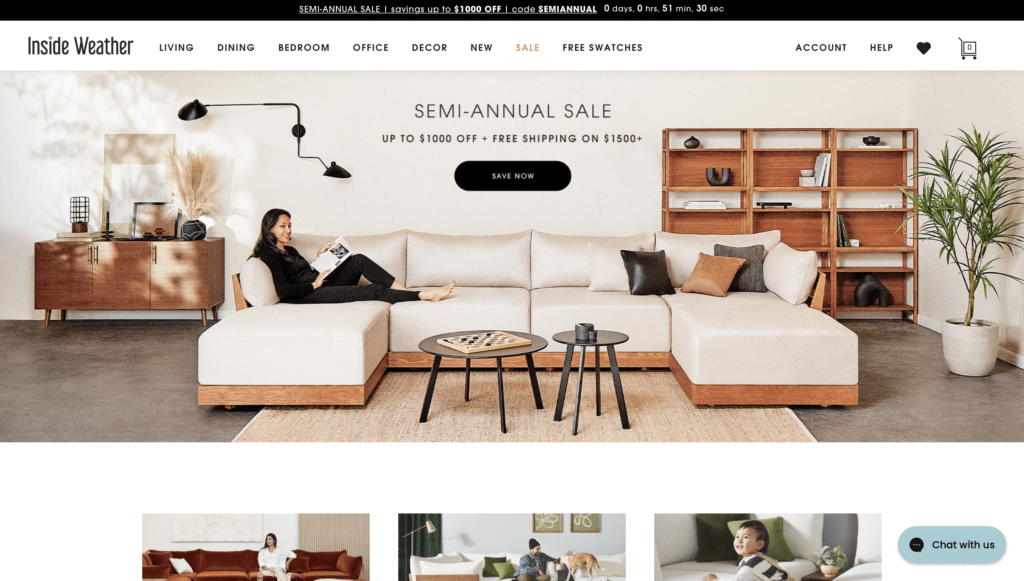 Inside Weather is headquartered in San Leandro, and all its furniture is designed and manufactured there. Their main focus is quality, affordable furniture that is thoughtfully designed, responsibly sourced, and sustainably made. They have a direct-to-customer approach via their online presence, and the cost savings are directly passed on to the customer.
Their product range includes living room furniture, dining room, bedroom, office, and decor products. They offer a deep level of customization for their products. All their wood is sustainably sourced and FSC certified. They are certified nontoxic and recycled wherever possible.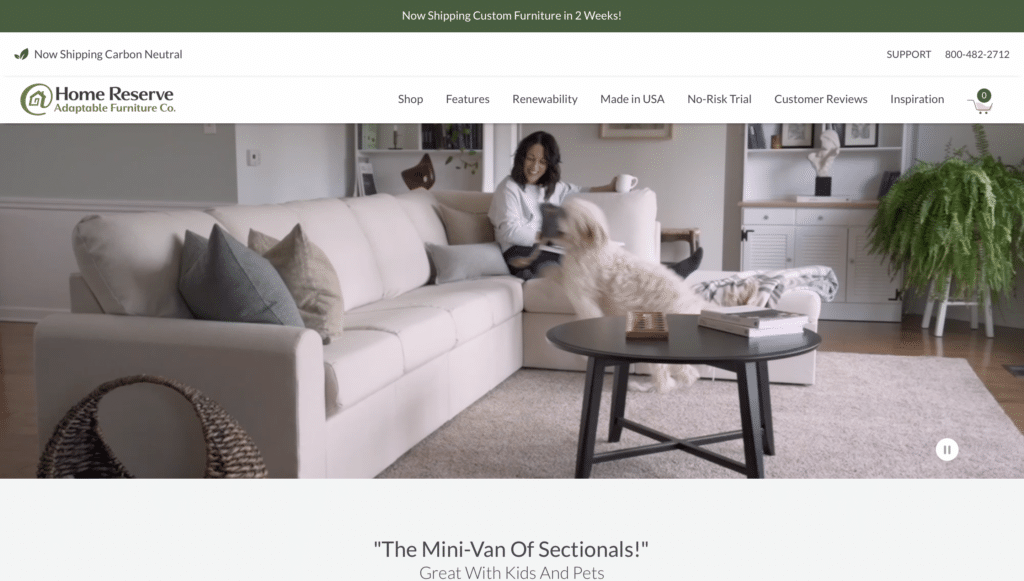 Home Reserve is an American-made furniture grand that has sofas, sectionals, chairs, ottomans, and so on. Their raw materials are mainly sourced from within the USA, and there is a stringent check on the origin of each component that goes into building the furniture.
Customers can choose customization of their preferred fabric, and they have a friendly replacement policy. They also offer refurbishment of their old furniture to maintain the longevity of the product. They also offer a 60-day no-risk free trial to ensure complete satisfaction before committing to the product.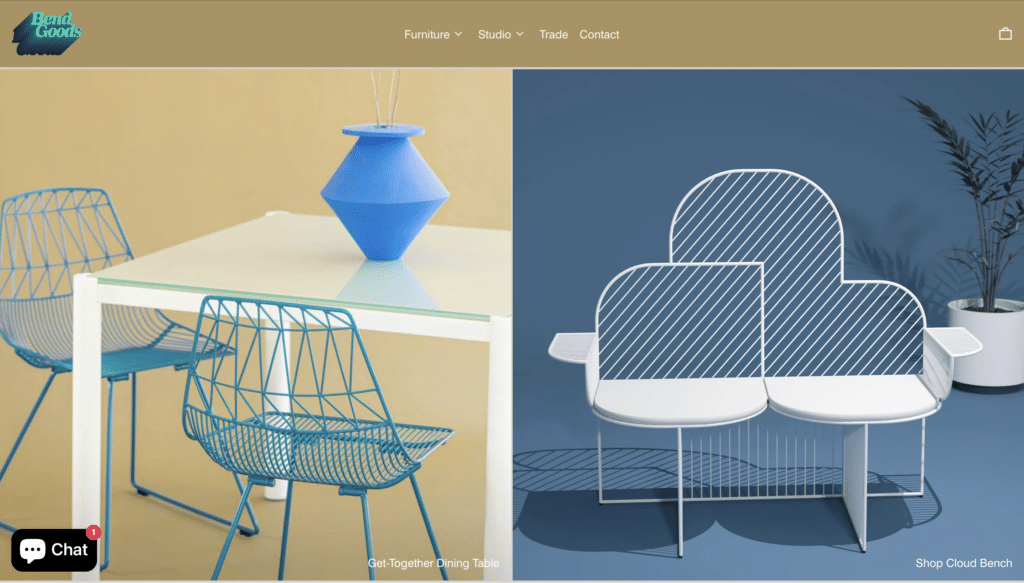 Founded in 2009, Bend Goods specializes in furniture made of iron combining beauty with utility. Based out of LA, all their products are hand-shaped and spot welded to create the initial design and shape of the product. They further undergo Galvanization or the application of DuPont fluorocarbon to make the iron more durable. They make contemporary furniture, and the range includes chairs and tables. The products can be used indoors as well as outdoors but generally do well in mild environments.
All their products are either stainless steel or zinc-plated steel, which increases its durability and longevity, thereby reducing frequent purchases and helping sustainable use.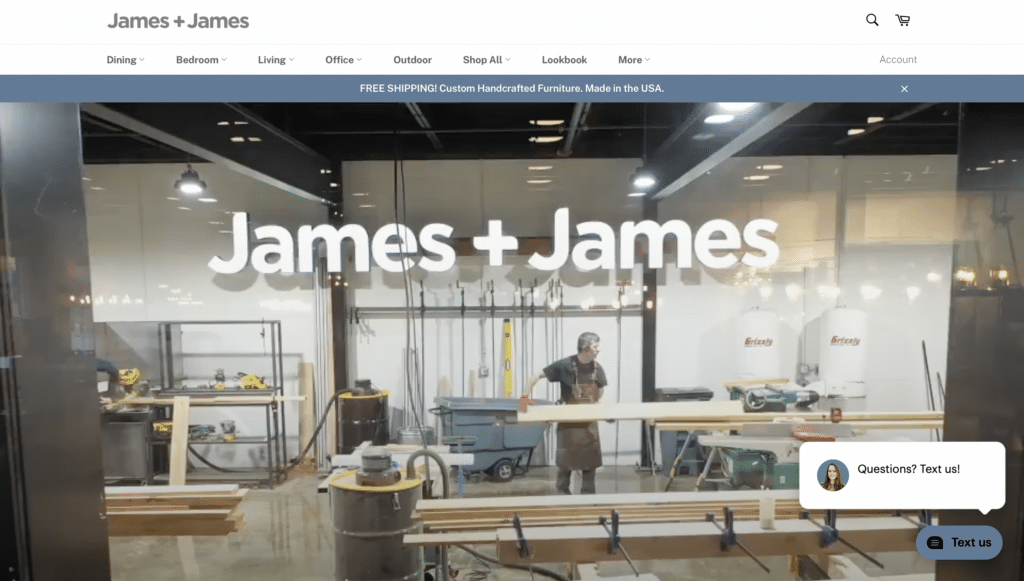 Founded in 2011, James+ James offers custom hand-crafted furniture which is completely Amercian-made. Based out of Northwest Arkansas from real, solid wood, they ensure that local artisans and craftsmen are given their due in terms of jobs. They currently provide work to over 100 team members, and the number is growing consistently.
They offer a high degree of customization on their online portal, and if there is any need for further customization, they provide those services as well. All the furniture is hand-crafted and brush finished by skilled artisans to give a reclaimed look. Every piece of furniture has a unique grain pattern and slight differences, which is the trademark of a hand-crafted design.
Their product range includes bedroom furniture, living, dining, and even some outdoor furniture.
Final Thoughts
We hope you enjoyed our roundup of some of the best American-made furniture brands. If you are in the market for some quality furniture that is not only high on craftsmanship but also sustainable, then look no further than these homegrown brands. Well-made furniture can turn into heirloom pieces if handled well, and most of these brands ensure that the products have a long life. What's more, since these are locally made, they use locally origin raw materials and allow for a higher degree of customization.
So, though the thought of assembly line fast furniture is enticing, it is true that construction quality and attention to detail can make your furniture last forever.
So which of these brands has inspired your next shopping spree? Tell us more in the comments.
hr