Finding the best place to buy a couch that matches both your style and budget can often be a daunting task. Here's genuine advice: don't rush the process. Take your time and enjoy the journey of furniture shopping.
Another helpful tip is to keep an eye on the timing. If you don't find what you're looking for on sale at the moment, it's worth waiting a few months for new styles to emerge in furniture stores. By patiently waiting for the right time, particularly during seasonal shifts, you increase your chances of snagging a fantastic deal on your desired couch.
Most importantly, research the best place to buy a couch in advance. Check out offline stores as well as online stores to get the best deals.
Here are 21 best places that you can visit, and you never know; it might turn out to be the best place to buy a couch for your home.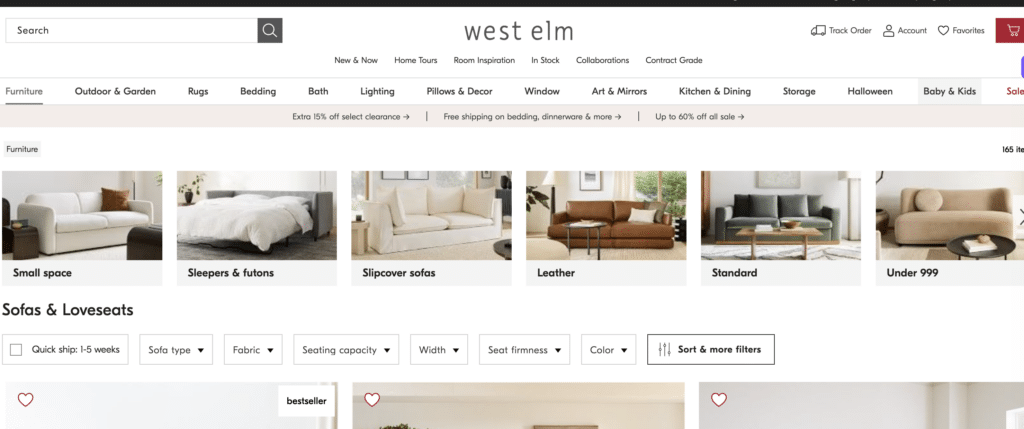 When it comes to affordable modern décor, West Elm is a trusted favorite in the heart of Brooklyn. But there's so much more to love about this store beyond its reasonable prices. West Elm goes the extra mile by offering a wide range of organic, handcrafted, sustainably sourced, and Fair Trade Certified items, ensuring both style and ethics.
To sweeten the deal, West Elm frequently holds sales events, and if you sign up for their emails, you can enjoy an additional 15% off. This means even better deals on their carefully curated selection of products. 
Not only that, but West Elm provides worldwide shipping, making their exquisite range of couches accessible to customers around the globe. These couches are thoughtfully designed by their talented in-house design crew, often in collaboration with renowned designers and local artisans.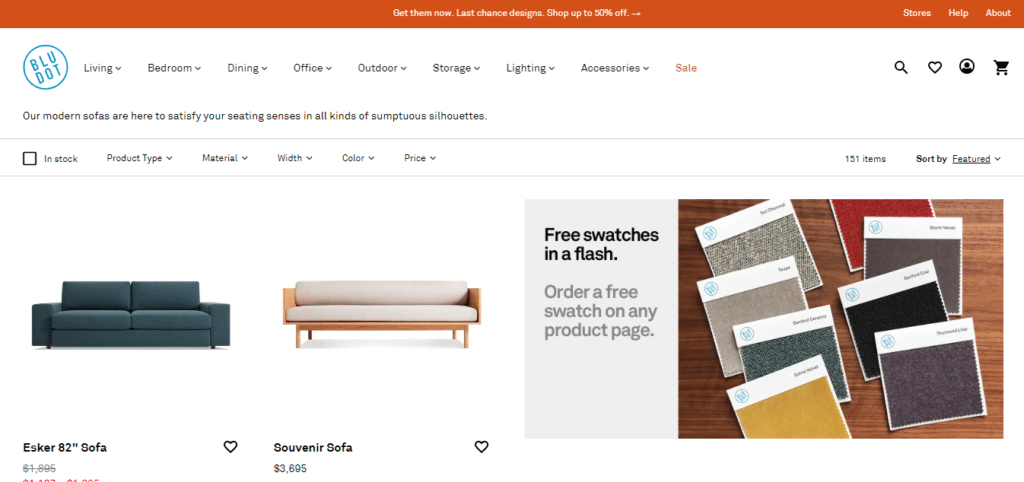 With physical stores present across Portland, Austin, and New York, Blu Dot has established its vibrant presence online too. They have established themselves as a go-to destination for modern furniture and décor, catering to various price ranges. 
Due to their immense popularity, it's advisable to schedule an in-store appointment in advance, as it is a requirement. Give them a call ahead of time to secure your spot. Blu Dot's website offers virtual tours, allowing you to explore their offerings from the comfort of your own home.
When it comes to couches, Blu Dot excels in providing a wide variety. From regular sofas to sectional sofas, sleeper sofas, and lounge sofas, their range is diverse. So, whether you're seeking contemporary furnishings, exceptional customer service, or simply a delightful browsing experience, Blu Dot has positioned itself as one of the best places to buy a couch.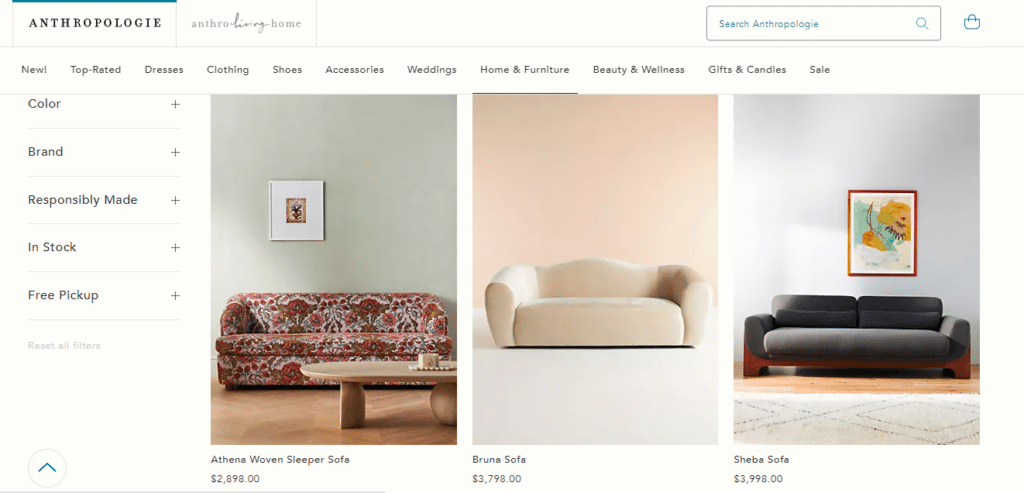 Embark on a truly unique shopping experience at Anthropologie, a one-of-a-kind destination that caters to every aspect of your lifestyle. From fashionable clothing, shoes, and accessories to beauty products, furniture, home décor, garden essentials, bridal offerings, and more, they have it all. 
Their designs are brimming with personality, ensuring they stand out and are worthy of admiration on social media and beyond. When it comes to the best place to buy a couch, this brand has embraced the new-age shopping experience.
Among their recent collection, keep an eye out for the Mina Sofa and the Mina Two-Cushion Sofa—both stunning options that are sure to catch your attention with their eye-catching appeal. You can also customize the sofas with your choice of fabric, color, dimensions, and finish.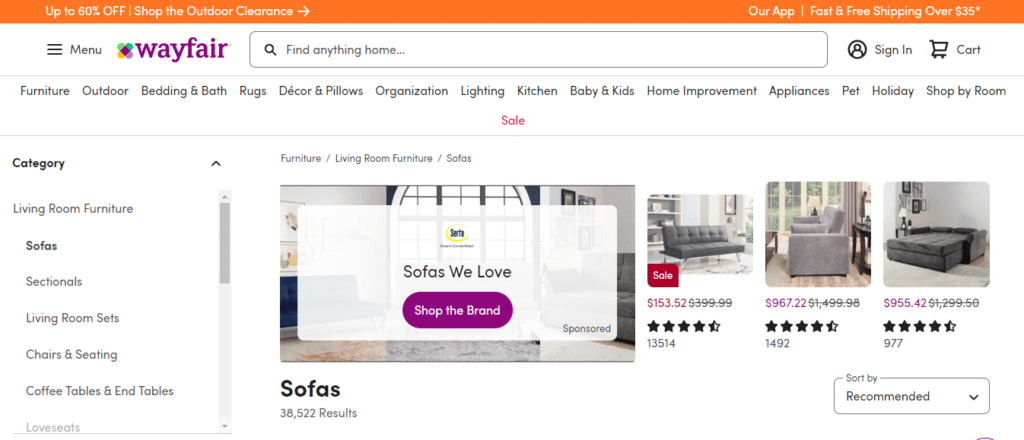 Wayfair, a global retail giant, offers an unparalleled selection of over 40 million products to cater to every home need imaginable. Regardless of your location, Wayfair strives to make the shopping, purchasing, and delivery processes seamless for all your home furnishing and appliance requirements. 
Whether you're placing a substantial or modest order, Wayfair guarantees prompt delivery, ensuring your items arrive swiftly, on schedule, and in pristine condition. With Wayfair, you have the freedom to customize and design your entire living room, from loveseats and sofas to sectionals. 
You can opt for a standalone couch or embark on a complete home decoration journey. Their collection spans from budget-friendly choices to luxurious, high-end couches and living room sets.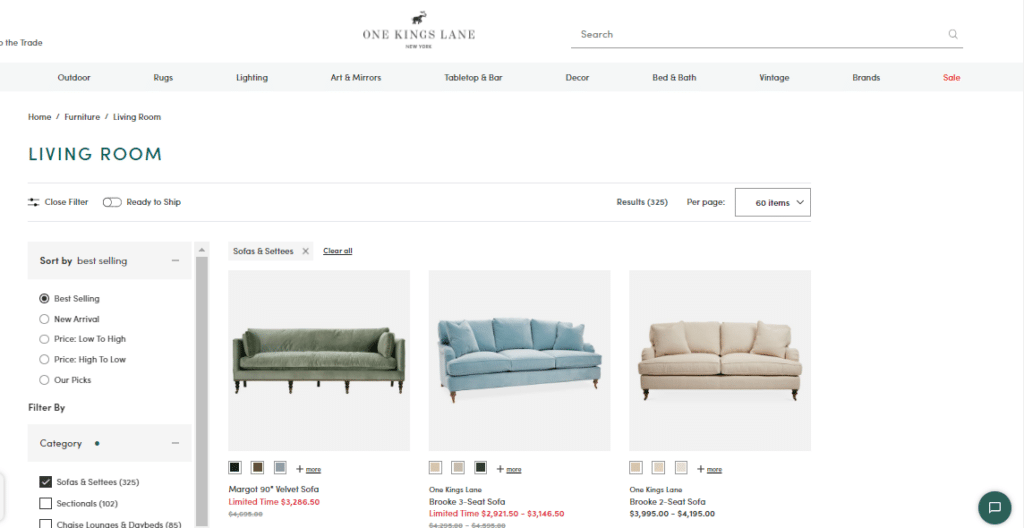 Welcome to One Kings Lane, where your home becomes your sanctuary and reflects your unique style. Their mission is to provide you with an array of products, expertise, and inspiration to live your style truly.
When you visit their website, you'll discover a curated collection of designer, vintage, and exclusive home furnishings that cater to every imaginable style, including your own. What sets them apart is their team of expert designers who are ready to offer personalized design assistance, ensuring that your vision comes to life. 
When it comes to choosing the perfect seating, they have you covered. From daybeds and chaises to sofas and settees, their wide range of couches ensures you'll find something that suits your taste. Notably, their bestselling pieces include the Margot 90″ Velvet Sofa and the Pratt Crypton Armless Sleeper Sofa, both known for their exceptional style and comfort.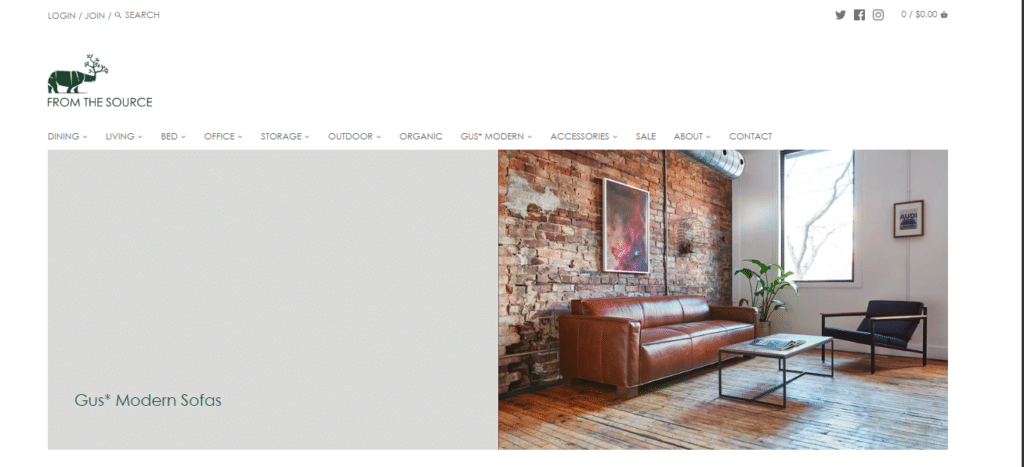 Step into the world of From The Source, a company committed to environmental consciousness through its collection of sustainably sourced hardwood furniture and accessories. When it comes to finding the best place to buy a couch that aligns with your sustainability values in NYC, From The Source is undoubtedly one of the top contenders. 
For those seeking a diverse selection of couches, their Gus Modern Sofa collection is sure to impress. With over 60 unique couches available in different materials and designs, you'll find the perfect piece to suit your style and comfort preferences.
Don't forget to explore their cozy daybeds, which serve as comfortable lounging sofas, providing a cozy spot for relaxation and rejuvenation. While reclaimed hardwood remains their flagship offering, they go beyond just furniture. Their range of products includes captivating reclaimed oil drum furniture, allowing you to appreciate the creative use of recycled materials.

Gone are the days when furniture shopping solely revolved around expensive design trends. Castlery has emerged as a game-changer in the industry. Their approach is centered around meeting the highest standards, prioritizing quality craftsmanship, real-life resilience, and time-tested durability in every aspect of their furniture.
From mid-century modern to contemporary styles, their design language is intentionally universal. They create furniture that allows you to settle in comfortably, embracing the notion of longevity. With Castlery, you'll find a wide range of options, including their highly sought-after L-shaped sectional couches, loveseats, 3-seater sofas, and complete living room sets.
What makes this the best place to buy a couch is that they take full responsibility for overseeing the entire build, shipping, and delivery process to ensure an impeccable experience for their customers. Every step is carefully executed to guarantee the highest quality outcome, accompanied by fair and reasonable prices.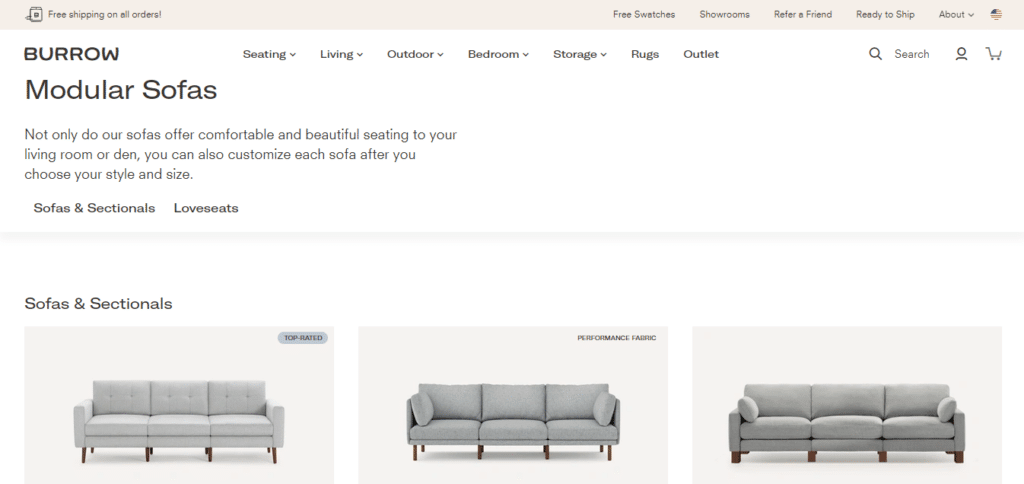 Nestle into the cozy embrace of a Burrow couch alongside your loved ones, or indulge in the luxurious comfort of a plush rug. Burrow specializes in offering soft and exceptional furniture pieces that are designed to enhance your living space.
As an online furniture shop, Burrow takes pride in crafting custom furniture and sectional sofas that cater to your specific needs and preferences. If you prioritize softness, their collection of velvet sofas is a must-see. With a range of shapes and sizes available, you can find the perfect fit for your home.
What makes Burrow the best place to buy a couch from is their commitment to sustainability. Each piece of furniture is handcrafted from sustainably sourced hardwood, ensuring both quality and environmental responsibility. Additionally, their scratch- and stain-resistant materials, coupled with non-toxic fabrics, make their furniture a great choice for your home and the planet.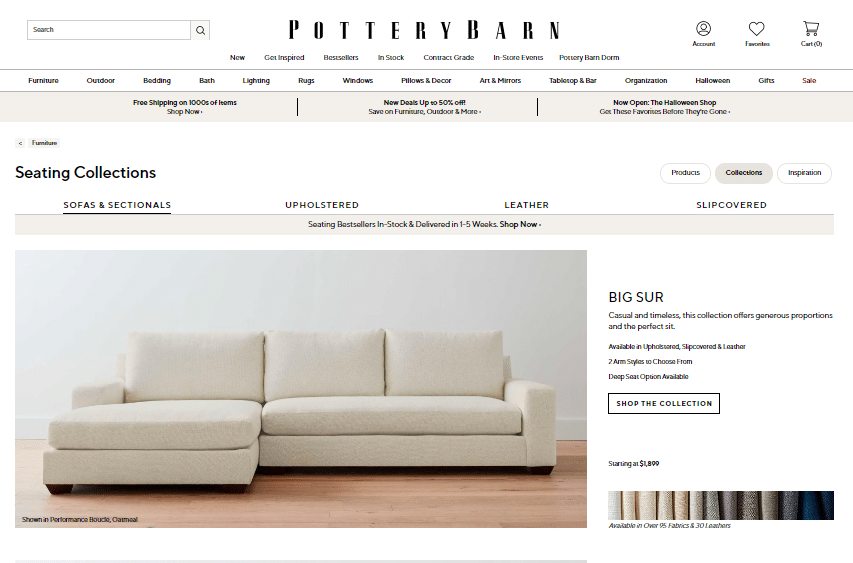 Whether you're starting fresh in a modern home, tackling a fixer-upper project, or embracing a charming barn-style aesthetic, Pottery Barn is your ultimate destination. This renowned brand offers an extensive range of products to help you build your dream space from the ground up.
They are widely recognized for their expertise in rustic design, offering high-quality furniture pieces that perfectly capture the warm and inviting ambiance of this style. Their furniture is characterized by its use of natural materials, distressed finishes, and an earthy color palette.
What sets Pottery Barn apart as one of the best places to buy a couch is its extensive selection of couches, sofas, and sectionals to suit every style and preference. Keep an eye out for their bestselling pieces, including the Chesterfield Leather Sofa, Serene Slipcovered Sofa Chaise Sectional, and Big Sur Square Arm Upholstered Sofa Chaise Sectional, among others.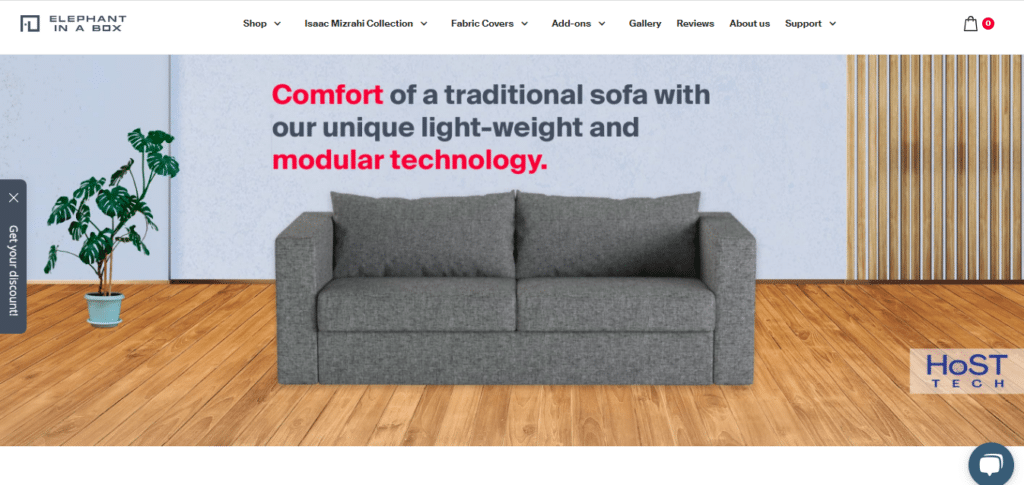 Picture this: the elephant in the room, but for once, it's a welcomed addition. That's the magic of Elephant in a Box furniture, making it one of the top destinations to buy a couch, especially for those living in small spaces or seeking versatile options for their work-from-home setup.
Let's start with their impressive selection of sofas and sectionals. What sets them apart is not only their stylish designs but also their remarkable ease of assembly. Some of their couches come with hidden surprises, like a built-in desk or cleverly placed USB ports in the armrests, making them perfect for modern lifestyles.
To enhance your shopping experience, they offer an array of perks. Rest easy knowing that your purchase is backed by a lifetime warranty. Enjoy the convenience of free delivery and free returns, and for those who are indecisive, they even offer a 30-day trial period.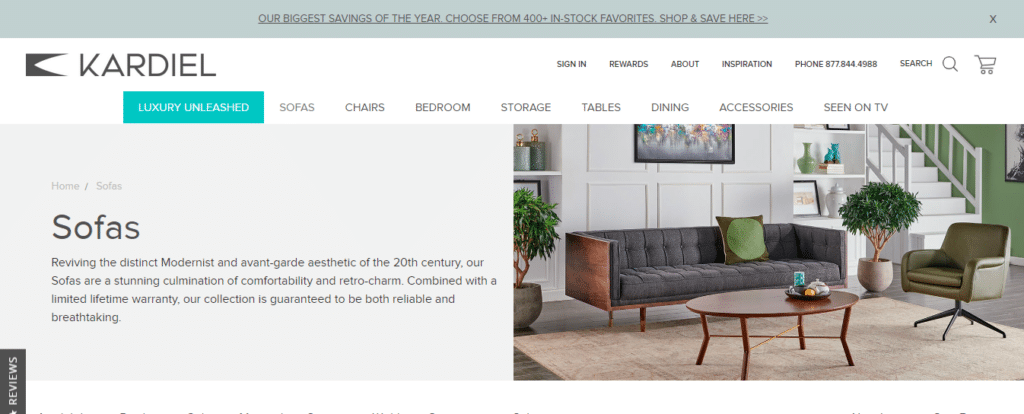 Enter the world of Kardiel, where they understand the struggles of decision-making. To make your shopping experience a breeze, they offer an extraordinary 365-day trial period, ensuring that even the most particular shoppers can find something they truly adore. Take your time, explore their collection, and rest easy, knowing that you have ample time to make your final decision.
At Kardiel, quality and sustainability take center stage. They produce all their pieces in small batches, prioritizing meticulous craftsmanship and exceptional materials. This approach guarantees that each item is crafted with utmost care, focusing on quality over quantity and minimizing waste. 
When it comes to choosing the best place to buy a couch, Kardiel offers a wide variety to suit every preference. From 3-seater sofas to modular designs, their collection is diverse and extensive. If you're seeking a touch of luxury, their upscale range features an amazing range of sofas.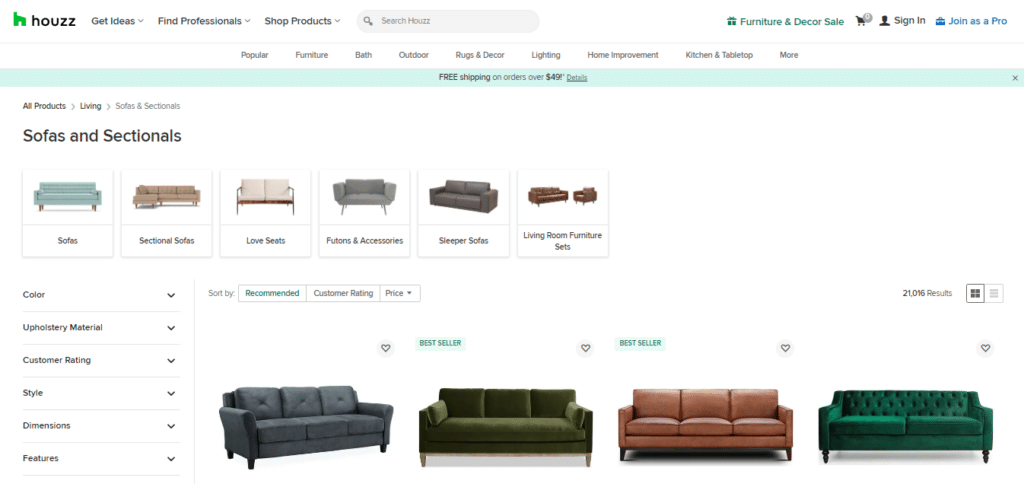 Get ready to transform your Houzz into a place you proudly call home. Houzz serves as both an exceptional online furniture store and a comprehensive platform to connect with top-notch professionals in various fields. They'll get you in touch with carpenters, designers, landscapers, or other skilled experts.
When it comes to furniture, Houzz offers a seamless shopping experience. Explore their departments to find precisely what you need for each area of your home, be it the bedroom, bathroom, office, living room, or beyond. Houzz has a brilliant feature that allows you to shop by photo. 
What makes it the best place to buy a couch is its wide variety of sofas and sectionals, wherein you can earn 5% rewards with Houzz credit cards if you want to place a bulk order or go for a home renovation project.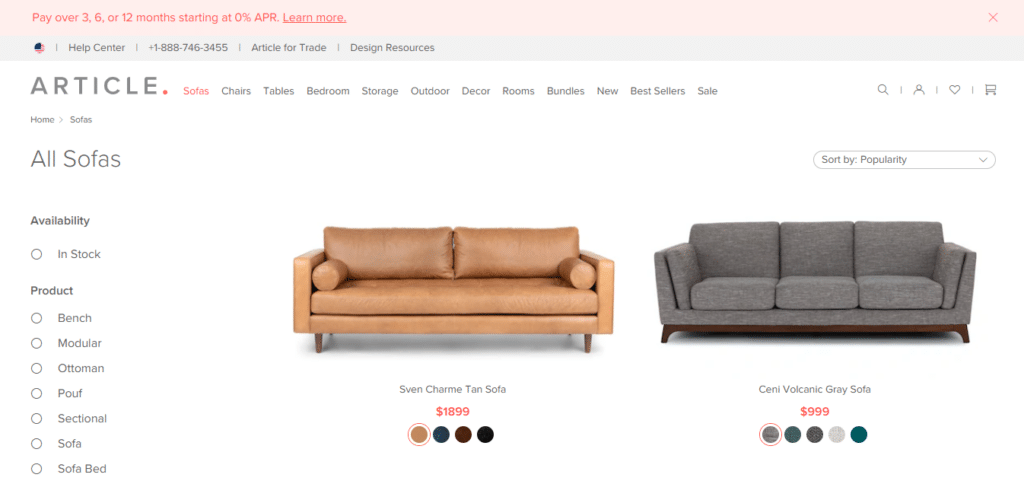 If your heart gravitates towards the timeless charm of mid-century modern style, look no further than Article for a delightful array of quality and stylish furnishing options. Prepare to be captivated by their furniture's clean lines, tapered legs, and simple yet elegant shapes. 
Crafted with utmost care, their pieces often feature high-quality materials like solid wood and leather, ensuring durability and longevity. One of the most remarkable aspects of the Article is its commitment to affordability and accessibility. Their furniture pieces are thoughtfully priced, making mid-century modern design accessible to a wider audience without compromising on quality or style.
As you explore their collection, don't forget to peruse their range of couches, including sofas, sectionals, modular sofas, chaises, and sofa daybeds. The affordable options and exceptional craftsmanship make it one of the best places to buy a couch.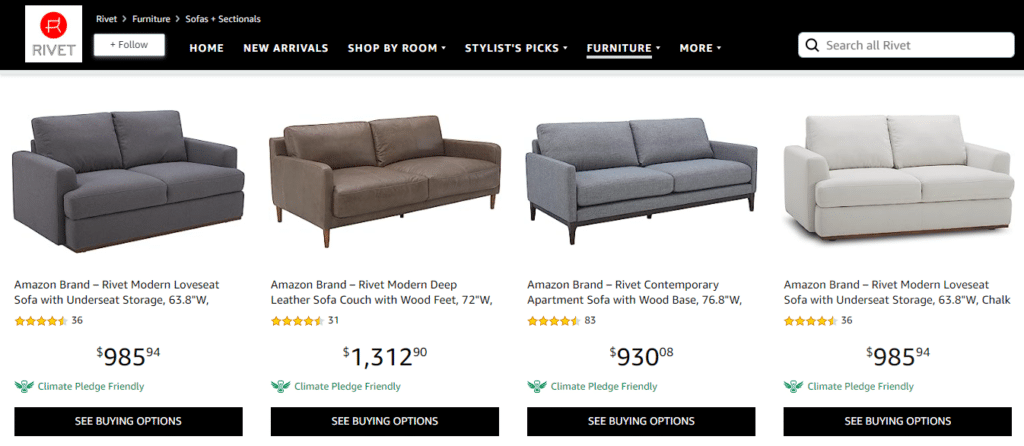 Embarking on the exciting task of decorating your new space shouldn't be hindered by the hassle of visiting multiple stores. That's where Rivet comes to the rescue, making Amazon your go-to destination for effortlessly selecting furniture, lighting, and décor.
This online furniture store simplifies the process by offering intuitive ways to shop. You can explore their collection by room, allowing you to focus on finding the perfect pieces for each specific area of your home.
Rivet provides the convenience of shopping by category, ensuring you can easily find what you're looking for. When it comes to finding the best place to buy a couch, Rivet offers a diverse range of options to suit every taste and budget. Their collection showcases couches in an array of colors and patterns.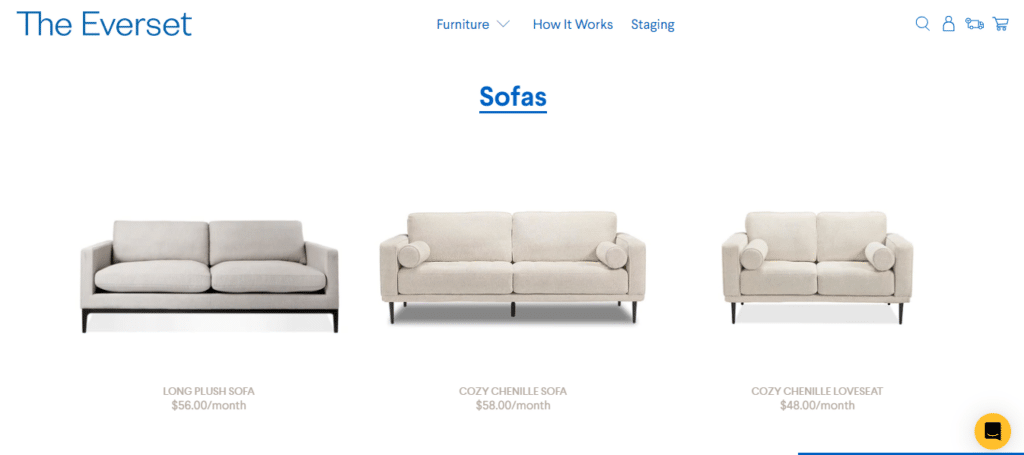 Probably the best place to buy a couch but on a rental basis. The Everset makes it its mission to give you the joy of home furnishing without the burden of ownership. All you have to do is select your furniture and select a rental period from 3 months to 24 months; the best part is you get free delivery within NYC. 
Leverage from their lower monthly rent, swap, return or buy a policy in case you totally fall in love with your furniture or just straight away dislike it. Not just free delivery; an expert assembly person will be assigned to get your couch sorted out.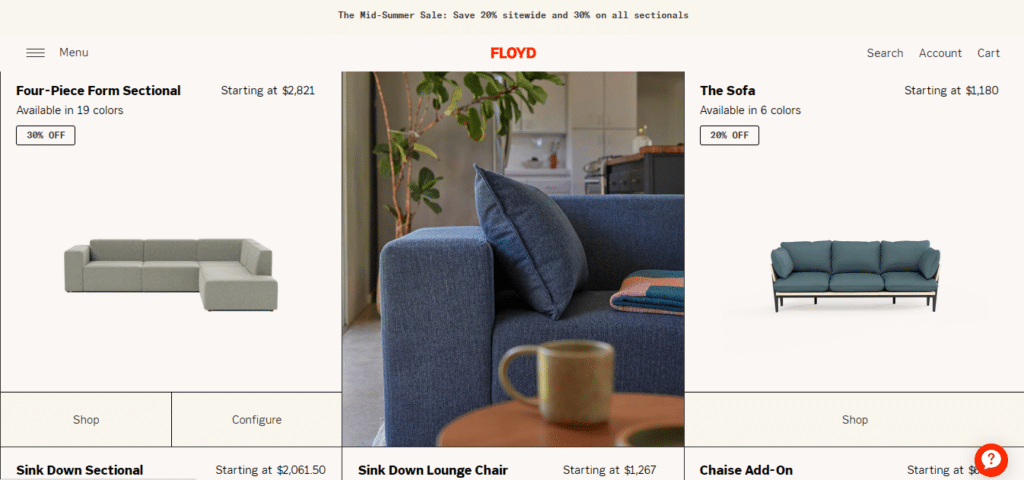 If you're in search of modular furniture that adapts and evolves with your space, look no further than Floyd Home. They stand out for their commitment to sustainability. Their furniture is meticulously designed for longevity, guaranteeing that it will withstand the test of time.
In the rare instance of any furniture failure, they provide swift recovery assistance to ensure your satisfaction. When it comes to couches, Floyd Home excels with its exceptional sectionals. These versatile pieces make them a top contender on the list of best place to buy a couch. 
The sectionals are not only easy to arrange but also allow you to customize them to fit your space perfectly. Choose from the two-seater and three-seat models, and even add a chaise for added comfort and style. With Floyd Home sectionals, you have the freedom to create a seating arrangement that perfectly suits your needs.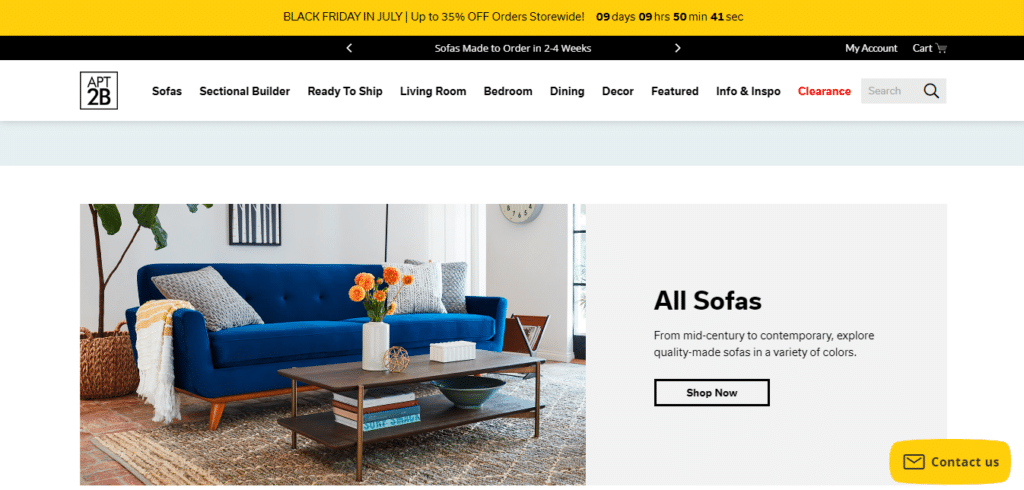 To exist or not to exist? At Apt2B, we firmly believe in embracing the "2B" and all the possibilities it holds. Apt2B stands out as an exceptional online furniture shop that offers an extensive range of modern pieces that effortlessly complement any home. Their collection includes a plethora of bestsellers, ranging from stylish chaise sofas to beautiful media stands at prices that are affordable.
Whether your style leans towards mid-century or contemporary, they have you covered. Explore their selection of quality-made sofas, available in a variety of colors, allowing you to find the perfect piece that suits your taste and complements your space.
At Apt2B, they believe that your living space should be a reflection of your unique style and personality. That's why they are dedicated to curating a collection that encompasses modern design, quality craftsmanship, and affordability.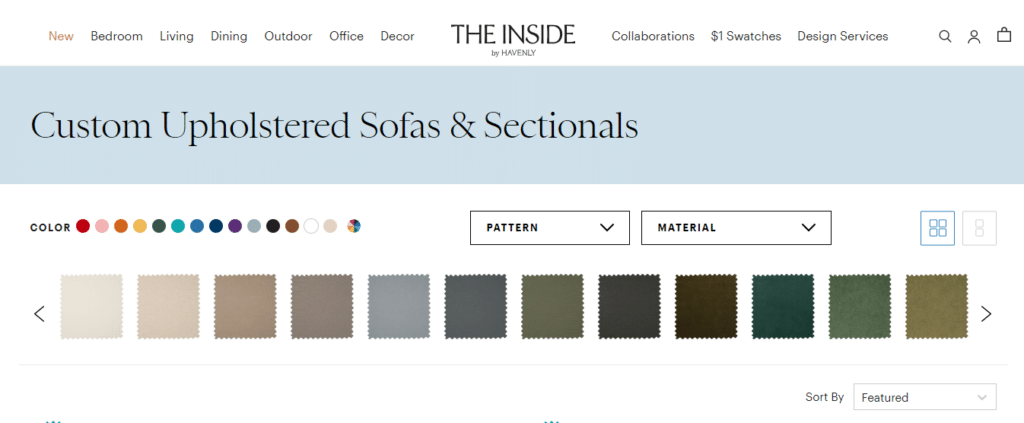 Ready to discover the accent piece that will transform your house into a one-of-a-kind home? Step right in! The Inside is your go-to destination for extraordinary fabrics and patterns that will elevate your space. 
With an impressive selection of over 100 swatches to choose from, explore their swatch section, where you can order a few samples before fully committing. The best part? Each swatch is only $1, allowing you to explore different options without breaking the bank. 
What sets The Inside apart when it comes to finding the best place to buy a couch is its versatility. They make it effortless to create a cohesive look throughout your home by offering the option to apply most fabrics to a wide range of items in their shop. Whether you're in search of accent pillows, headboards, or even a full couch, you can customize your furniture with the fabric of your choosing, ensuring a seamless and personalized aesthetic.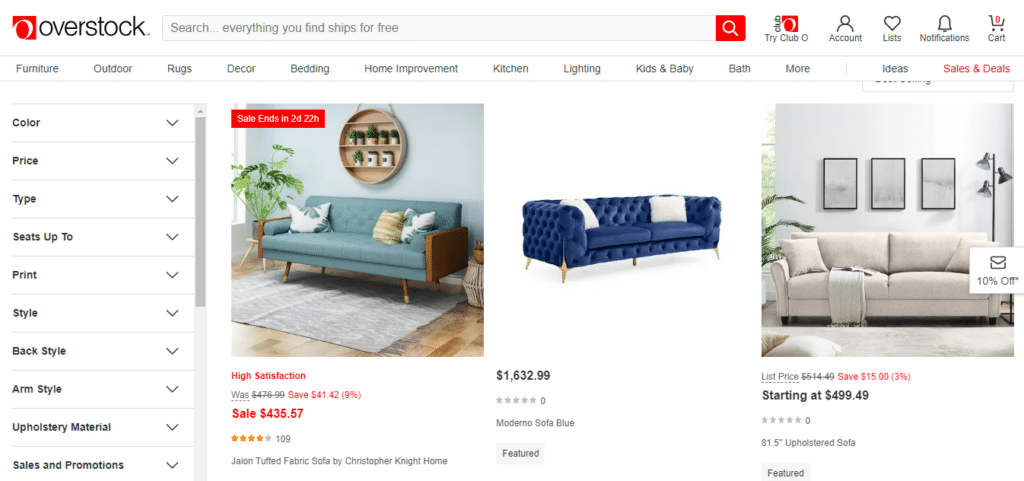 Are you feeling overwhelmed by too much old and yearning to infuse your space with a fresh, new vibe? Look no further, as Overstock has everything you need to bring your vision to life. You'll discover some of the best prices on furniture, making it a go-to destination for transforming your home. 
Whether you're in search of the best place to buy couch dining room essentials or more, you'll find an extensive range of options to suit your style and budget. Their diverse collection allows you to explore and shop by room or specific needs. 
From the bathroom to the home office, Overstock has you covered. To sweeten the deal, we are currently offering free shipping on everything, providing you with the perfect opportunity to start shopping and bring your vision to life. The time is now to embark on your home transformation journey.
elegant furniture, IKEA has long been a go-to choice for many. With a willingness to roll up your sleeves and assemble your own dresser or sofa, IKEA offers a tried and true option.
This Swedish brand excels in providing the essentials for any room, making it a reliable choice for those seeking both fashion and functionality in their home. Whether you're in need of organizational items to declutter your space or enhance its efficiency, IKEA has you covered. 
Immerse yourself in their collection of cozy couches, perfect for creating a warm and inviting living room ambiance. You'll find options that not only fit your style but also suit your budget.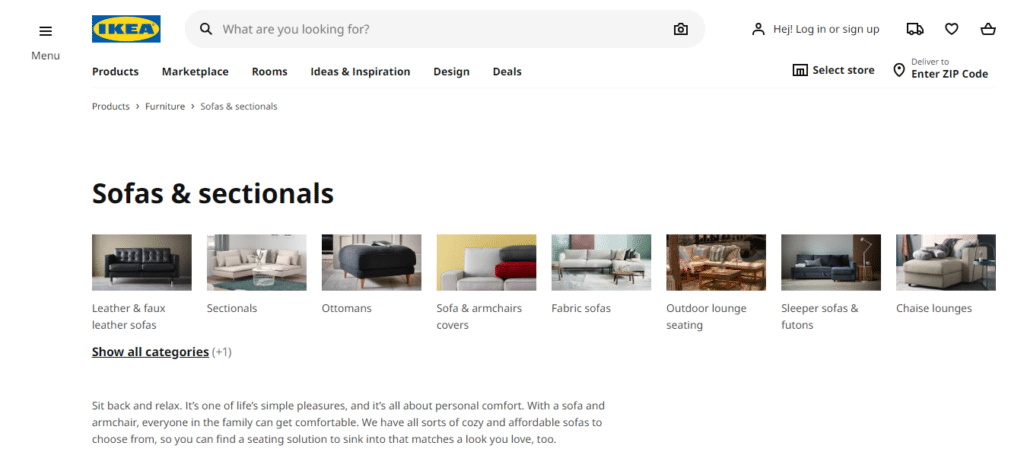 Jayson Home is more than just passionate about beautiful things—it's their obsession. With a dedication that spans over two decades, they tirelessly explore the globe in pursuit of modern and vintage furnishings and accessories that ignite inspiration. Their style is edgy yet elegant, sophisticated but never stuffy, and timeless while remaining effortlessly current. 
These principles guide them as they curate a constantly evolving collection that blends contemporary designs with one-of-a-kind vintage pieces. When you're in search of the best place to buy a couch, Jayson Home is the place to look. Explore their remarkable selection, which includes standout options like the Siena Sofa, Drake Sofa, and Marlon Sectional Three-Piece Sofa. 
All of their furniture showcase the impeccable craftsmanship and unique style that define our brand. Discover a world where beauty meets artistry at Jayson Home. Immerse yourself in their carefully curated mix of modern and vintage furniture that will elevate your living space to new heights. 
Conclusion
Whether you shop online or go the authentic route of scouring couches from physical stores, what makes a place the best place to buy a couch is the value they bring to your home. Always check for materials used. Try to get hardwood or sustainably made wood rather than imitation wood for longevity purposes. Materials have a big impact on any piece of seating quality and durability. 
Check for guarantees and warranties. A store that offers guarantees or warranties on its products is likely to stand behind the quality of its products. When shopping for a couch online, go through reviews. Photos of the products by customers are an amazing way to have a look at the item outside of a professional shooting (sometimes, you can have bad surprises).
Do a complete social media check on the brand you're purchasing from online. Usually, the number of followers and what they post on their Instagram page can also tell you more about their products.
Comment down below to let us know your take on this article!