Are you looking for a mid-century couch to level up your comfort factor and complete the look of your living room? A new mid-century modern sofa can transform the look and feel of your room.
Your couch is your living space's centerpiece, where you spend time watching TV, entertaining friends, and relaxing over the weekend. Whether you're browsing Pinterest or watching your favorite TV show, you'll likely see many beautiful mid-century couches featured in living rooms, dining rooms, and home offices.
Mid-Century Modern sofas have square track arms and can blend with different decor pieces. But where can you buy top-quality mid-century couches to transform your space? Worry not! If you have set your heart on these masterpiece furniture pieces, there are many retailers that you can choose from.
From Amazon to Wayfair and West Elm to Burrow, there are many places where you can get high-end designer pieces.
Best Places to Buy an Alluring Mid-Century Modern Couch Online
Let's take a look at the 13 best places where you can find your favorite mid-century couch, no matter your budget or style.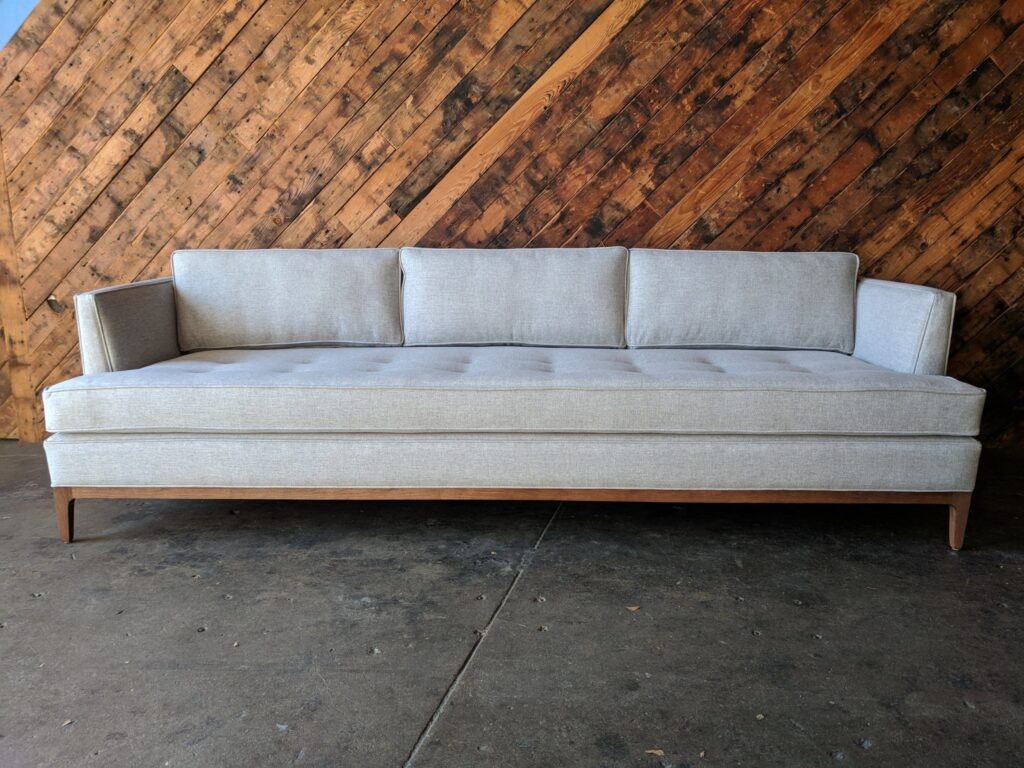 Wayfair has a great selection of mid-century modern sofas. You can find here hundreds of different styles and brands at a wide variety of price points. Browse a variety of modern mid-century sofa styles in different colors and materials. Whether you're living in an apartment or have a living area or a college dorm, you'll find a mid-century sofa that you can customize to your liking. Most of these sofas come with a warranty, so you don't need to worry about their quality.
The online store has a huge sale going on every day, so keep an eye out to save even more on your favorite furniture piece. Wayfair also offers a 30-day return policy on most of the items, so if you don't like the furniture piece, you can return it and get a full refund.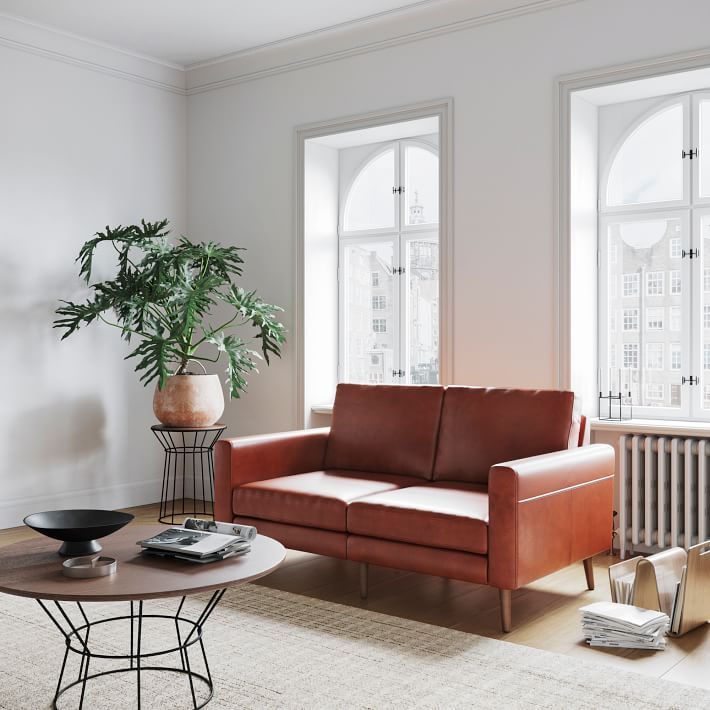 You may not have heard about Burrow before, as it is relatively new in the online furniture industry. But when you browse through its mid-century couches, you'll fall in love with the website. You can go big with a king-size mid-century sofa or pick up a single armchair. You can also configure the sofa you select to suit your space.
The best thing about this website is that it ships all the furniture pieces free of cost. Burrow also offers add-ons like an ottoman, lumbar pillows, rugs, and a sleep kit.
It ships the furniture pieces within one week, and the packaging is done with extra care, ensuring that the couch arrives at your doorstep without any damage. If you're a frequent mover or live in an apartment, you'll appreciate the fact that most of the mid-century sofas offered by Burrow are easily movable.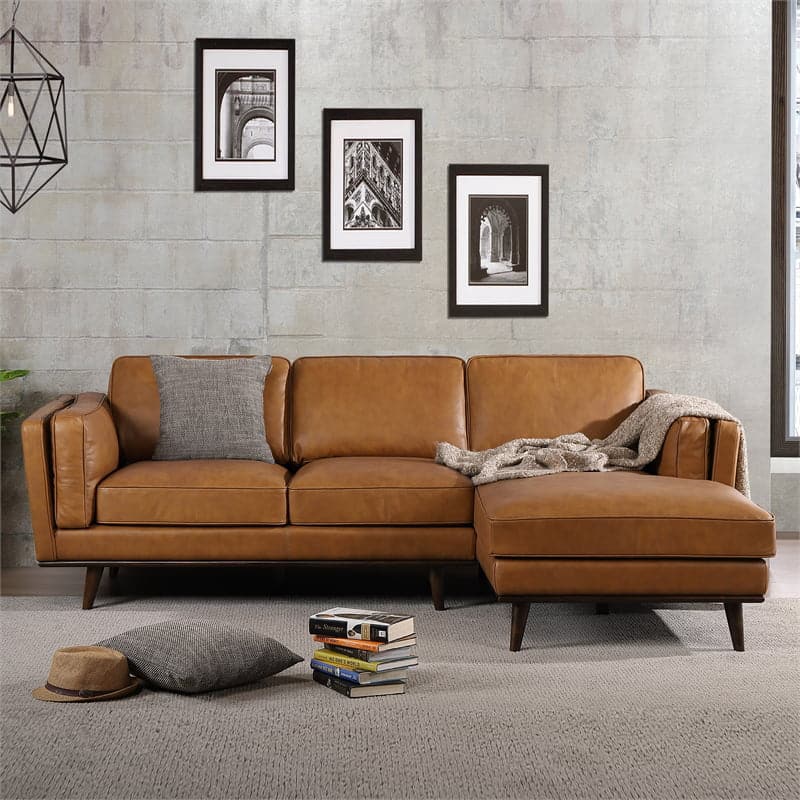 The article is one of the best places to buy your dream mid-century couch. The retailer offers mid-century sofas at a wide variety of price points ranging from $999 to $4,549. Whether you need a mid-century couch in leather or velvet material, Article will astound you with its huge selection. If you buy multiple pieces of furniture, Article offers a heavy discount. The website has over eighty thousand 5-star reviews, so you don't need to worry about the quality of the couches.
The five-minute no-tool assembly and straightforward delivery are the highlights of the Article. You can also opt for assembly and in-room delivery for an additional cost. One thing that you need to keep in mind while ordering is that if you return any product, you'll have to pay a $49 pick-up fee.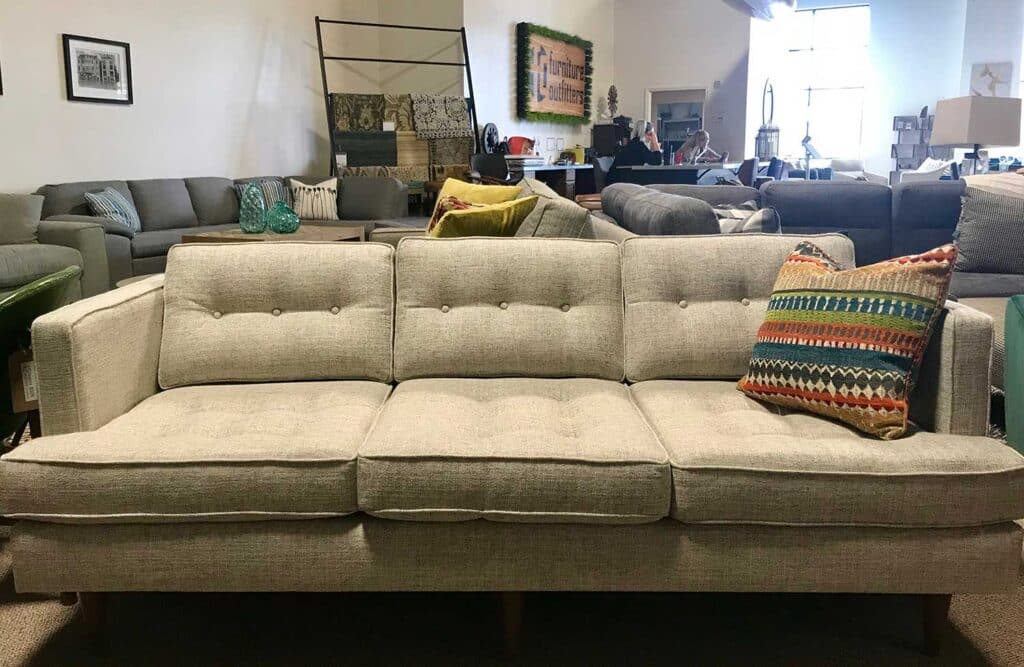 From Pinterest-inspired mid-century couches to tried-and-tested best-seller sofas, Amazon can be a treasure trove of household essentials and quirky finds. This retail giant can be your ideal choice if you want to buy affordable yet high-quality mid-century couches with quick delivery times. You'll find here mid-century sofas from reputable brands like Zinus and Novogratz and house brands like Rivet. Depending on the brand, you can choose from various customization options, fabrics, and colors. You can also check out the reviews to learn about the quality of the sofa that you intend to buy.
Go through the return policies carefully to ensure you can get a refund if the product is not good. Most of the mid-century sofas offered by Amazon are easy to assemble and reach your doorstep in the shortest time.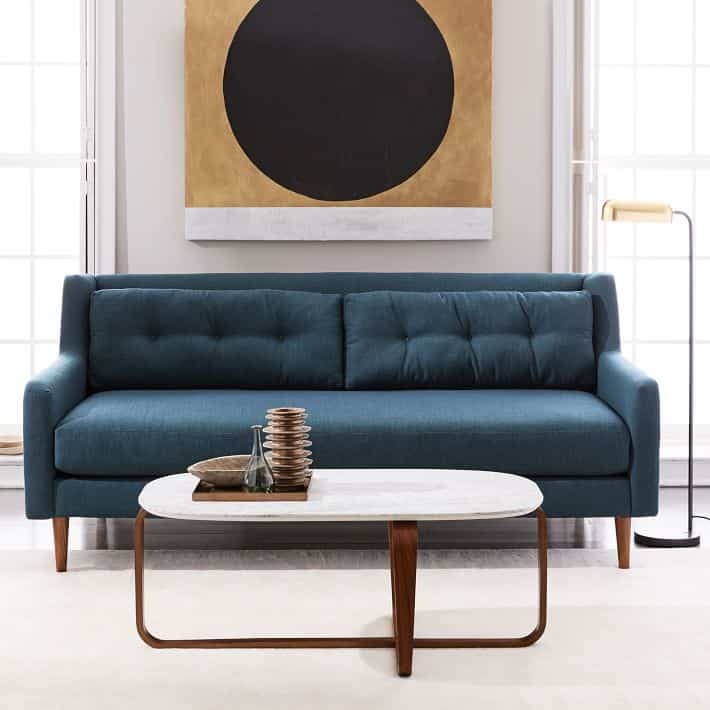 West Elm is a high-end home decor and furniture company with a huge collection of modern and traditional furniture. There are around a hundred West Elm locations across the US. You can check out your local West Elm store if you're unsure about how the mid-century couch you have selected will look in person.
West Elm collaborates with well-known and emerging designers to ensure that its inventory is always up to date. Most of West Elm's sofas are designed in-house, making it the best place to buy original and unique furniture. The company also tries its best to lessen its ecological footprint, with around 60% of its products supporting a sustainability initiative.
The mid-century couches offered on the website are a bit on the pricier side but totally worth your investment considering their quality.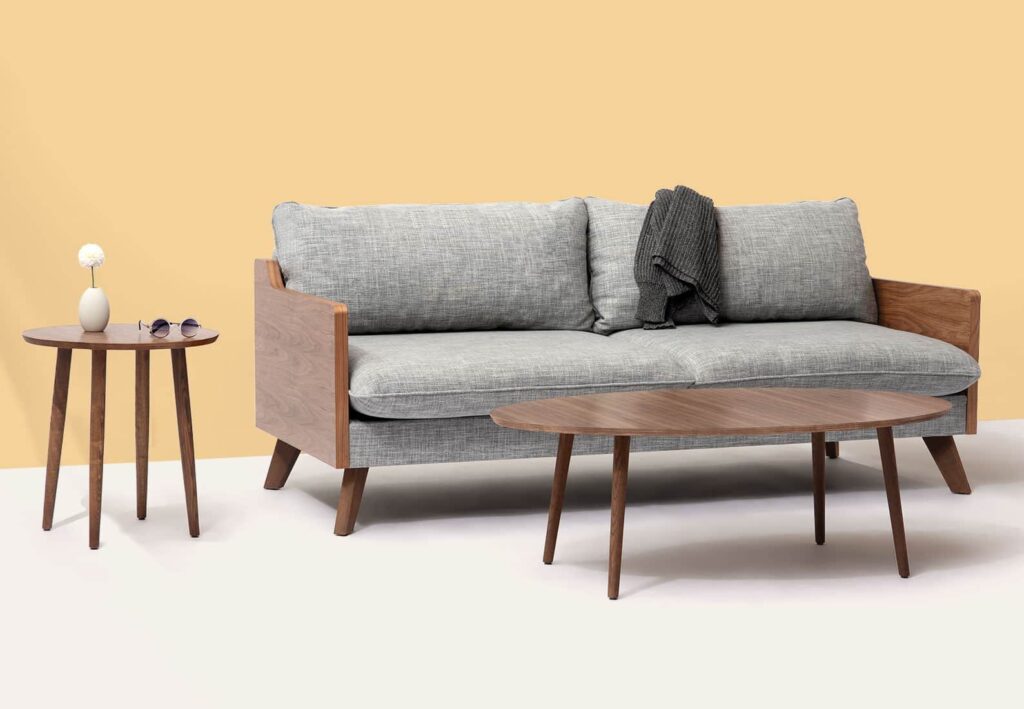 Are you looking for a mid-century couch specifically tailored to your desires? If yes, Inside Weather can be your perfect choice! Inside Weather offers tons of customization options to help you get the ideal couch for your space. You can modify the upholstery, configuration, cushion type, and frame finish of the couch. The retailer values sustainability practices as less product is wasted while manufacturing the product compared to mass-manufactured furniture. Their delivery time is also very less as they ship all the furniture pieces from the US to other American locations.
You can return the mid-century modern sofas up to 365 days after their purchase. The retailer offers over a hundred upholstery options, including pet-friendly, performance, and even commercial-grade fabrics.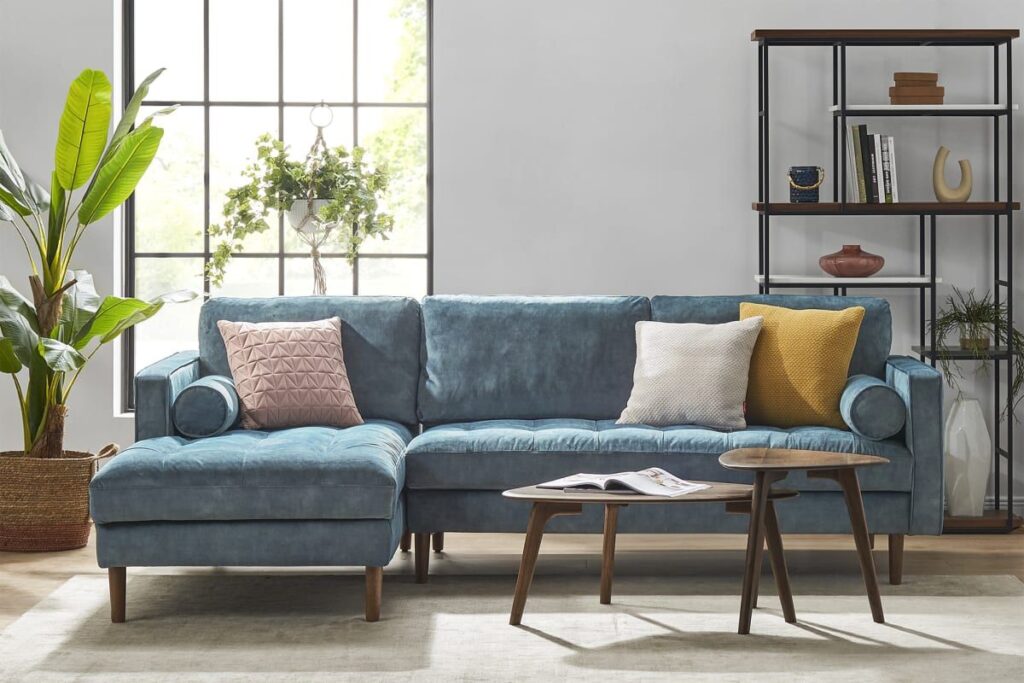 The mid-century sofa collection is not very expansive on Castlery, but the options are well-priced and attractive. All furniture pieces have been designed and conceptualized in-house from start to finish. Their mid-century couch is constructed using durable materials, ensuring that they last for a long time. Castlery also offers customization options for upholstery, configurations, or finishes of a few pieces, allowing you to personalize your choices. You can also sort the mid-century sofa search results based on your location.
Compared to other retailers, their pricing is affordable, making their products accessible to everyone. You can also buy the sale items if you're looking for something on a budget. If you want early delivery, opt for ready-to-ship pieces that will arrive at your doorstep in as early as four weeks.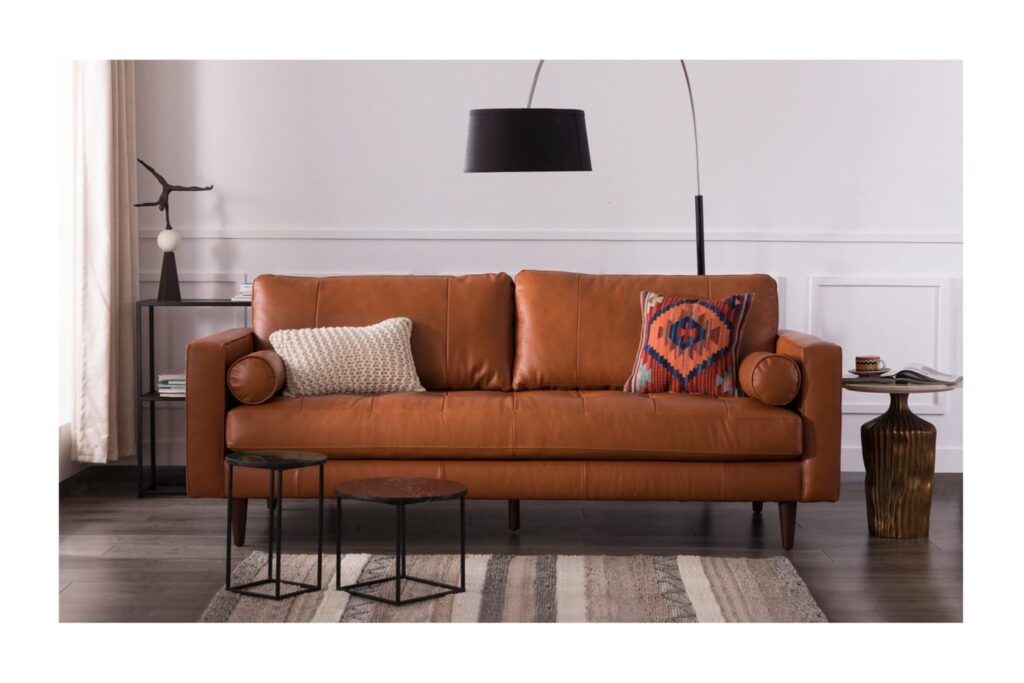 Apt2B is a furniture retailer that specializes in modern living solutions. They have a huge range of made-to-order upholstery pieces that can elevate the look and feel of your spaces. Whether you're looking for a mid-century sofa with a faux leather finish or velvet fabric, Apt2B can help you find your dream sofa.
This Los Angeles-based retailer offers couches in more than fifty fabrics. All the products come with a 100-day return policy so that you can check the comfort level and quality of the couch. If you're not happy with any product and want to return it, you'll have to cover return shipping costs.
While the price range of the sofas on Apt2B is higher than the other retailers, the workmanship and frame on each sofa are covered by a lifetime guarantee.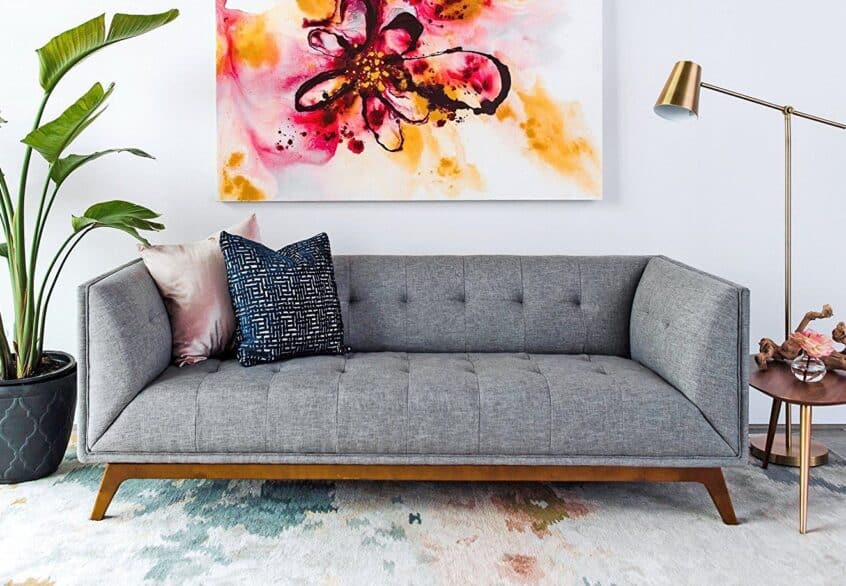 On AllModern, you can get mid-century couches in a wide variety of styles and budgets. It is the sister site of Wayfair, so you can stay assured about the quality of the products. AllModern has more than two hundred mid-century sofas, and it keeps on adding new stocks every season. You can also get a two-day shipping option on a few of the sofa designs. The customization options offered by AllModern are fewer than the other retailers, but it definitely scores high when it comes to variety. You can find here mid-century sofas in unusual fabric options such as tweed, leather, velvet, and twill. Before you add any item to your cart, it shows an estimated delivery time giving you an idea of when the product will arrive.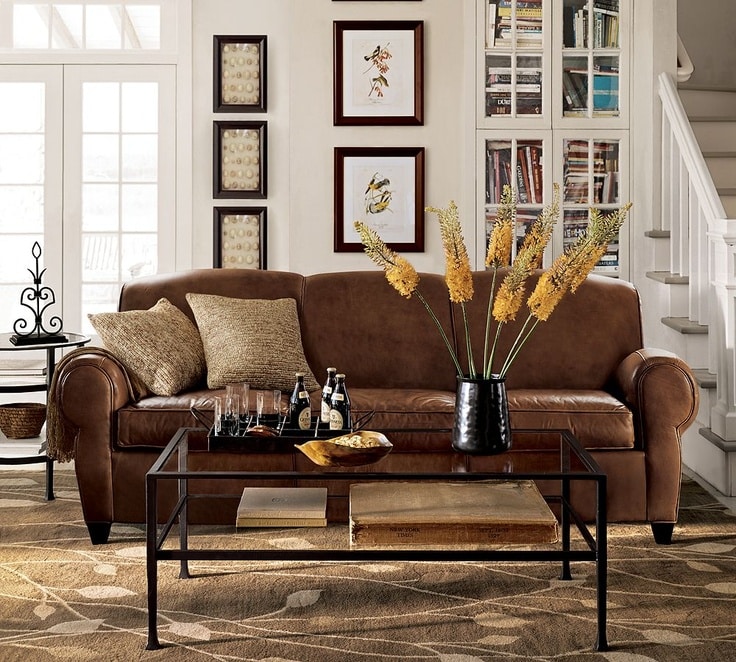 Pottery Barn has been in the furniture business for the last 70 years. It offers mid-century sofas in different shapes, fabric choices, and softness levels. Created with innovation, care, and expertise, Pottery Barn products are built-to-last. The huge selection of mid-century couches on the website will make it easier to find something even for the fussiest customer. You can also avail of services like white glove delivery and free interior designing to make your sofa-buying experience more enjoyable.
The best thing about Pottery Barn is that it tags furniture that is sustainably sourced or Fair Trade for environmentally conscious shoppers. Check out the limited-time deals that are run regularly on the website to help you save more.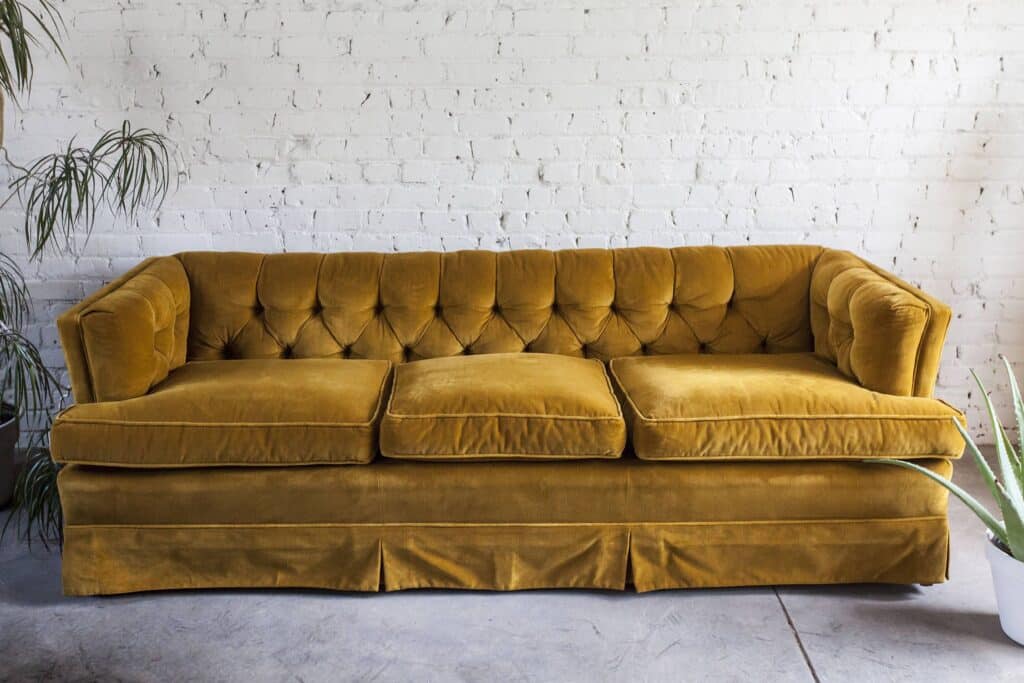 Are you facing difficulty finding luxurious mid-century sofas at affordable prices? Target offers some of the trendiest and most modern mid-century sofas for your home. Some of the most popular brands that you can try include Project62, Opalhouse, and Hearth & Hand with Magnolia. You can find here mid-century sofas for every design scheme and budget. You can also narrow down your choices by shape, style, material, color, and specifications.
If you don't want the items to be delivered to your doorstep, you can even pick them up at the store. You can return the product up to ninety days after the date of purchase. Free standard shipping is applicable for mid-century sofas over $35.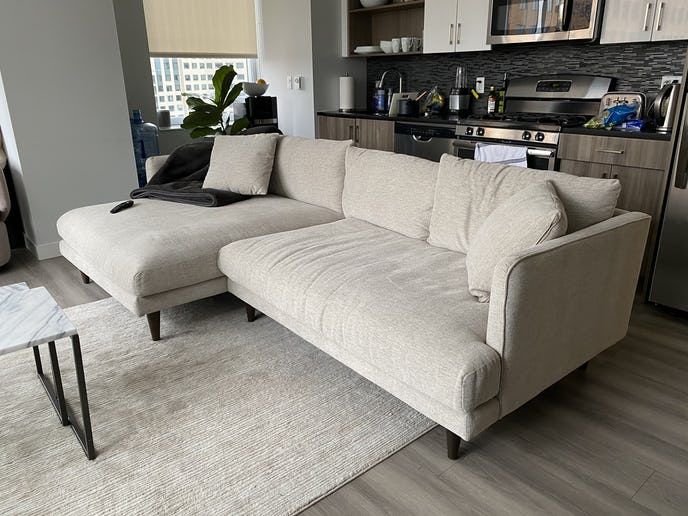 Whether you're refreshing a smaller space or furnishing your brand-new home, Joybird can be the ideal destination for buying high-quality furniture pieces. On the website, you'll find a wide variety of couches, including modular sofas, sleepers, sectionals, and apartment sofas. You can also sort your favorite mid-century sofa by material, features like modular or deep-seated size, and cushion firmness.
Customers don't need to worry about setup or unpacking of the furniture with Joybird's in-home delivery service. The company also offers free design consultations to help you find your ideal furniture. You'll have to pay shipping charges for all the products, and there might be a delay with the shipping at times.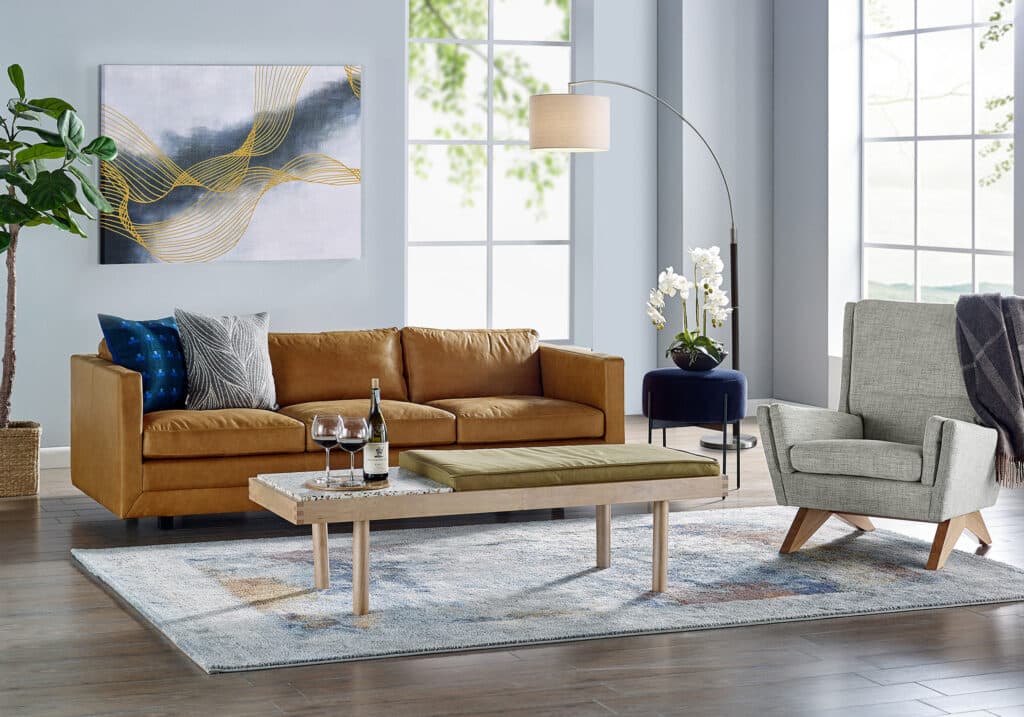 Kardiel is an online-only retailer that will stun you with its amazing mid-century sofa catalog. Their products have been featured in platforms and magazines like Forbes, Harper's Bazaar, and Town & Country. Whether you prefer sofas with low seat height, sleepers, or couches in a particular fabric, Kardiel can fulfill all your wishes with its customization option.
Most of the products come with a 365-day return window and a limited lifetime warranty. When you purchase mid-century sofas from Kardiel, there are chances that they will come preassembled, saving you from the hassle of assembling them from scratch.
Conclusion
A gorgeous mid-century couch can spruce up your space. But shopping for your favorite mid-century couch can be challenging due to the extended shipping delays, limited stock, and complicated return policies. If you're finding it hard to find mid-century furniture that suits your decor, taste, and budget, you can check out the list of the retailers mentioned above. We've included popular furniture retailers like Pottery Barn and Amazon and other stores like Joybird and Kardiel you may be less familiar with.
They are legitimate and offer flexible payment plans, returns, and free delivery options. If you can handle a few hours of searching and scrolling, you'll definitely find furniture pieces worth every penny on these sites.