Hanging plants on the ceiling brings liveliness and cheers up the mood of the house. The ceiling is the best place to involve houseplants in your space. The hanging plants can be heavy, so it is best to screw a hook into the ceiling joist or screw into the drywall. This will ensure proper support for the weight of the pot and the plant.
It is even better if you have ceiling beams. Then, a J-hook can be screwed in the beam or an S- hook can be used over the screw. But hanging plants on the ceiling requires drilling, and if you can't drill, don't have beams, and are still wondering how to hang plants from the ceiling? Then, there are other innovative ways to hang plants to add modern decor to your space.
How to Hang Plant from Ceiling?
Now, let's see how to use the alternatives effectively to hang light and heavy plants indoors.
1. Magnetic Plant Hooks for Magnetic Surfaces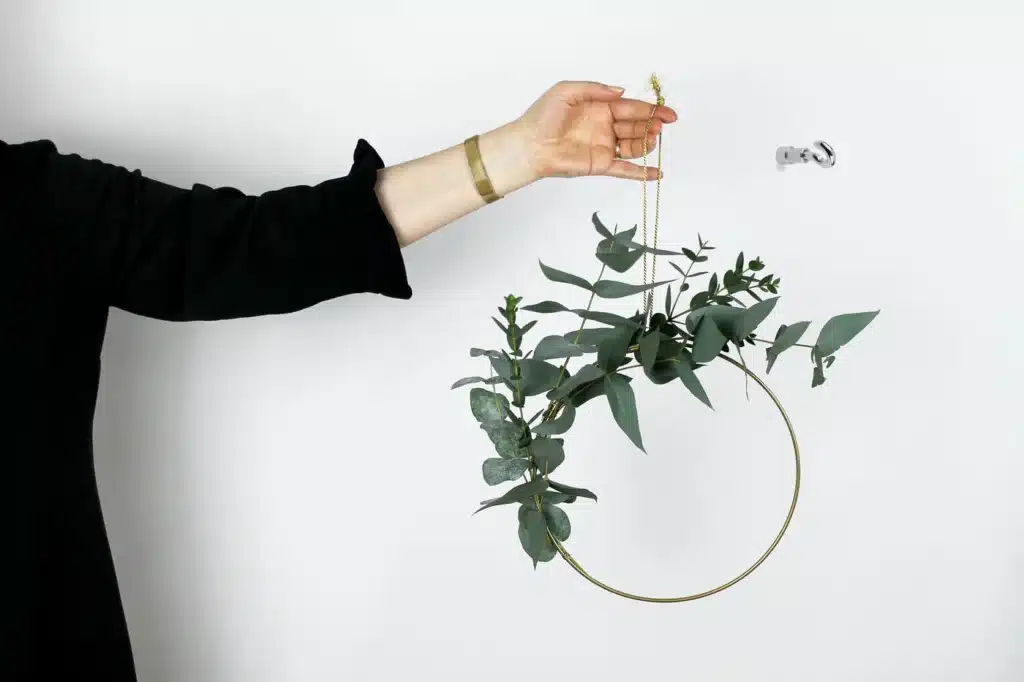 Are you wondering how to hang plants inside your house? Roam around your house. Do you see any metallic accessories? Your air vent on the ceiling can be used for tough magnetic hooks to hang houseplants. This is close to the ceiling yet not on the ceiling and is the perfect answer to " How to hang a plant from the ceiling?" It is best for holding light to moderate-weight plants and utilizing metal surfaces very efficiently.
2. Tension Rods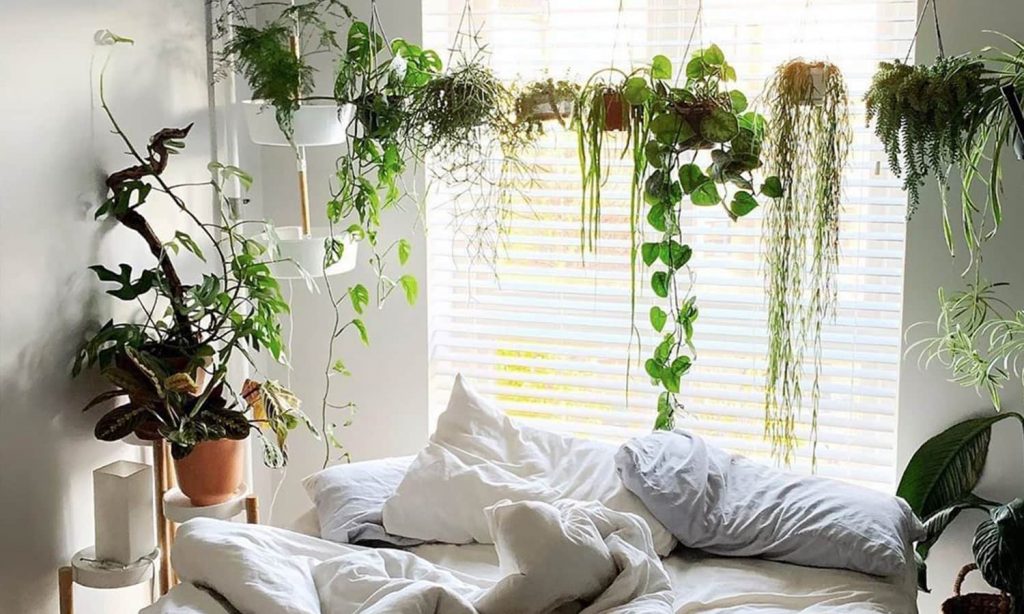 Metal tension rods extending from wall to wall are traditionally used to hang drapes. But they are a great alternative to hanging plants resulting in ceiling-hung plants that look without even hanging from the ceiling. They are cheap to buy and won't damage the walls being so close to the ceiling.
They are gripped from either side of the wall and can be used as any plant one wants. They are handy, so they can be moved under any condition.
To hang heavy-weight plants, shower tension rods are used instead of normal curtain tension rods. Shower tension rods are thicker and sturdier and have weight capacities below a pound.
3. Adhesive Hooks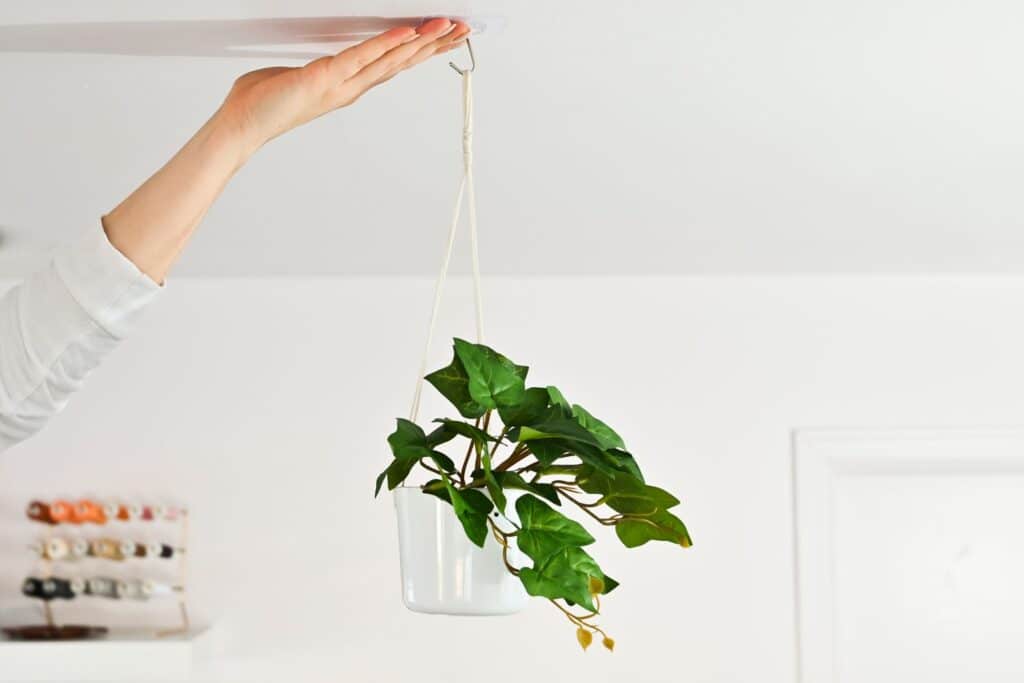 Self-adhesive hooks with foam backings are used on walls to hold keys and kitchen utensils. These adhesive hooks are a great way to hang plants without drilling. The surface needs to be smooth and clean to hang adhesive hooks and can be positioned anywhere you want.
Most adhesive hooks are designed for walls, so it is important to ensure that they can hold the plant without sliding when placed at 90*. They are great for holding plants without damaging the ceiling and walls.
4. Suction Cup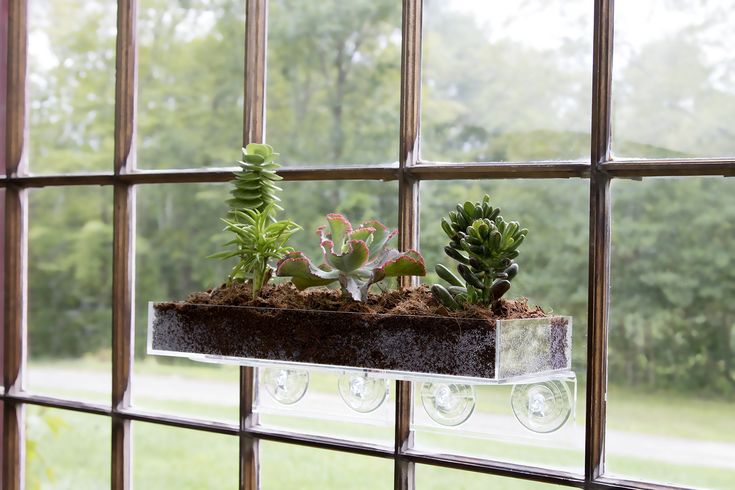 Suction cup hooks are an innovative way to hang plants and work only on smooth and non-porous surfaces. Usually study, glass and plastic surfaces are preferred for suction cups. One of the best candidates for suction cups for holding plants is skylights. The weight capacity of suction cups is low, around a pound. There is a swivel-hook suction cup also available that rotates to adapt to flat and angled ceilings.
5. Bar Clamp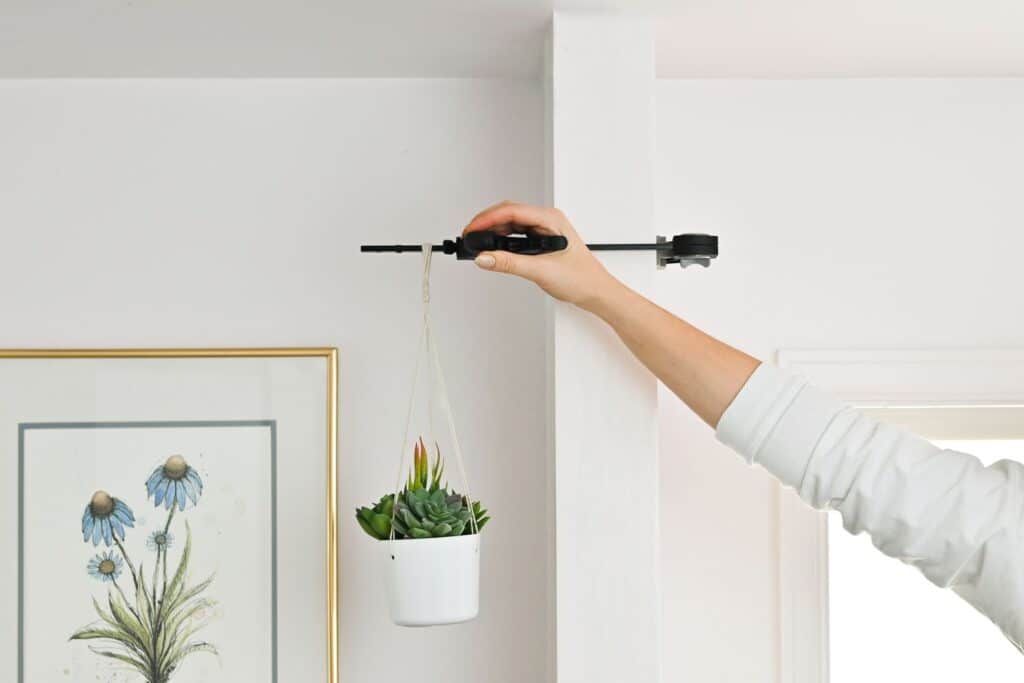 Have you ever thought that a carpenter's bar clamp could be used to hang plants? Bar clamps are a unique and eye-catching idea for hanging plants close to the ceiling without holes or drilling. They are up to 36 to 48 inches long and have an adjustable jaw that slides on a metal rail. The bar clamps can be used on a 4-inch width of an end wall along with a cantilever to hold a lightweight plant towards the end.
6. C-Clamp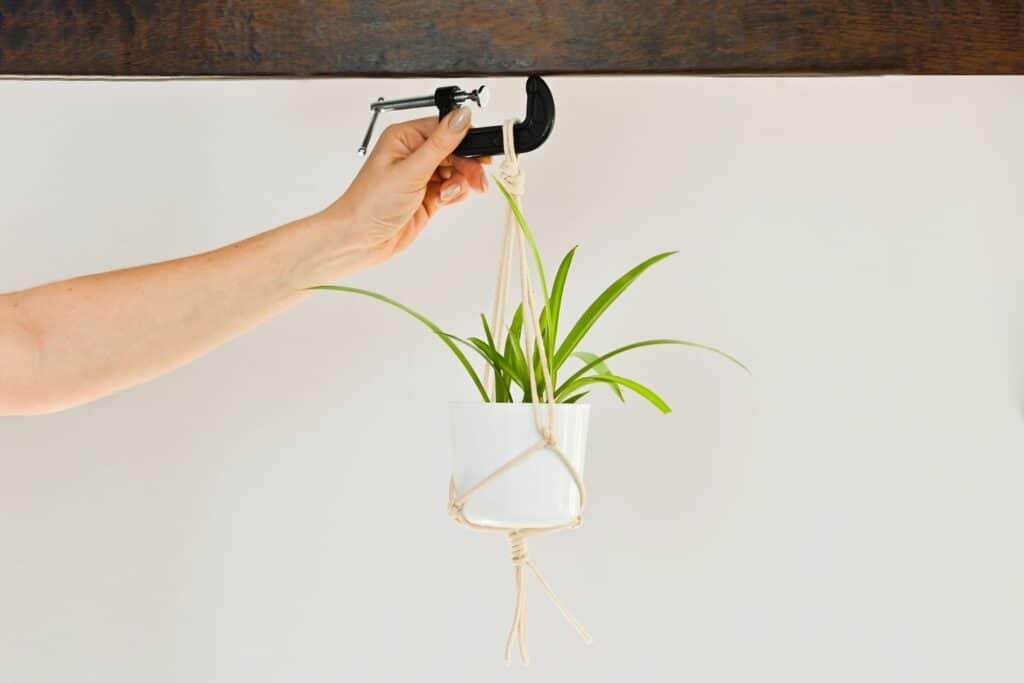 If you have exposed ceiling beams and are worried about hanging plants? No worries, C-clamp is the solution that grabs onto both sides of the beam. This ensures it holds a good amount of weight. The size of the clamp will depend on the width of the beam. It is important to protect the beam from indentation marks with separate clamp jaw pads using thick rubber squares.
To hang all your moderate to heavy-weight plants, C-clamp is the best solution to display all those plants without making any holes.
7. Wall Mount Air Plant Holders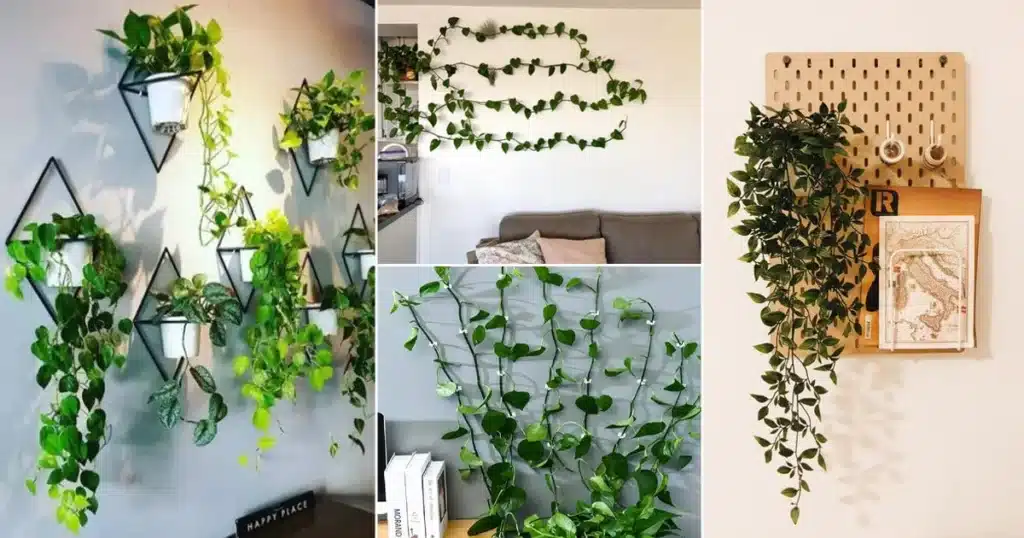 Looking for an out of box idea to hang indoor plants and elevate the aesthetics of your house? The wall-mount air plant holders are a unique and creative way of displaying air plants. It can be either used on a vertical wall or even on the ceiling. So, no more worrying about how to hang plants from the ceiling? Simply mount the silicone base with the stainless steel prongs to the wall with its adhesive tape. Place the plant in between the stainless steel wire prongs.
8. Over-The-Door Hooks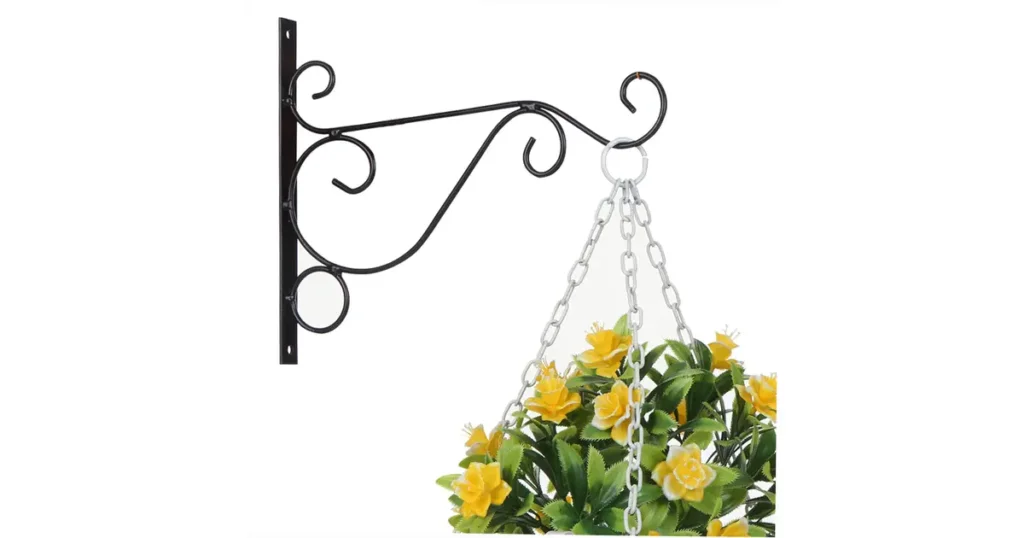 We all have at least one door in our house that is unused. Do you also have such an unused door and always wondering how to make proper use of it? Now, you can use an over-the-door hook to hang plants indoors as well as outdoors without the need to drill holes. The hooks we use in our bathroom to hang towels are well enough to hang a medium-weight plant. It is an innovative way to hang plants as well as use the unused door efficiently.
9. Use of Floating Shelves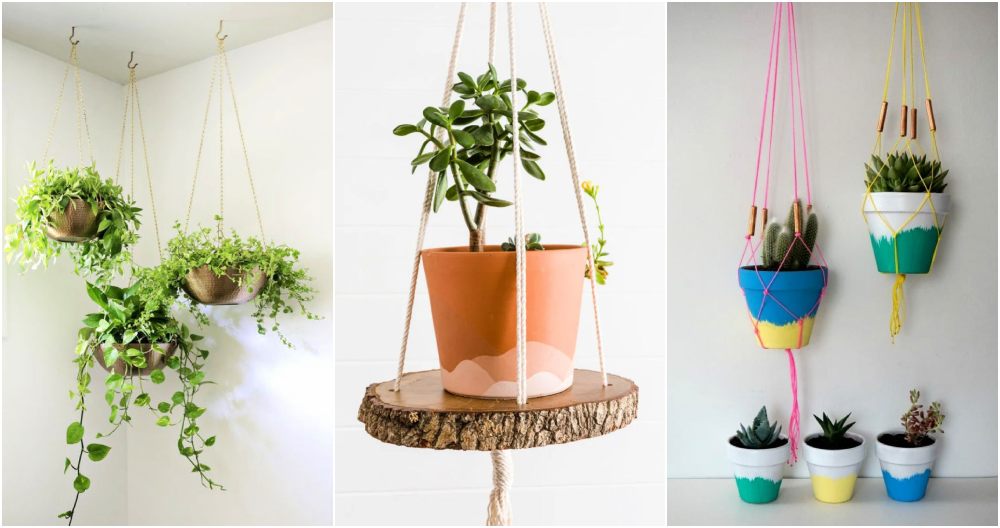 Floating shelves to hang plants indoors is a DIY( do-it-yourself) innovative process in which you can decide how you want your plant hanging to look. The floating shelves can be combined with magnetic hooks and adhesive to avoid drilling holes in the ceiling and walls. The floating shelves are usually hung in front of a window to allow direct sunlight on the plant for better growth.
These floating shelves with plants add a magnificent look to your living room without taking up any space or damage to the property.
Innovative Ways to Have Indoor Plants
Not just on the ceiling, but there are other innovative ways as well to add green grace to plants inside your house. We all have some corner or a wall in the living room, plain and empty. We keep on thinking of innovative ways to style it, but at the same time don't want anything too extra or space-consuming.
With changing trends in indoor decor, even plants become boring if not displayed in unique ways. For all such situations, we have some stunning yet elegant ideas to hang indoor plants.
1. Clothes Racks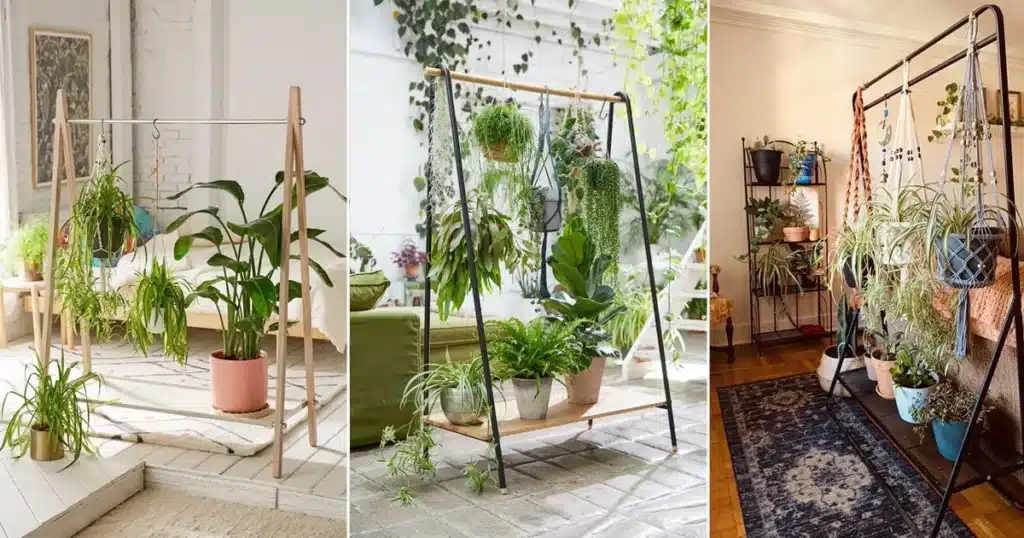 Innovative ideas need some different thinking. Have you ever thought of using a clothes rack for storing plants? Using old or buying a new open closet helps you stylishly showcase your plants. With all plants in one place, it becomes easy to manage and water them. Decorating plants on different shelves of the rack is a great way to show off your creativity and greenery in your space.
2. A Coat or Hat Stand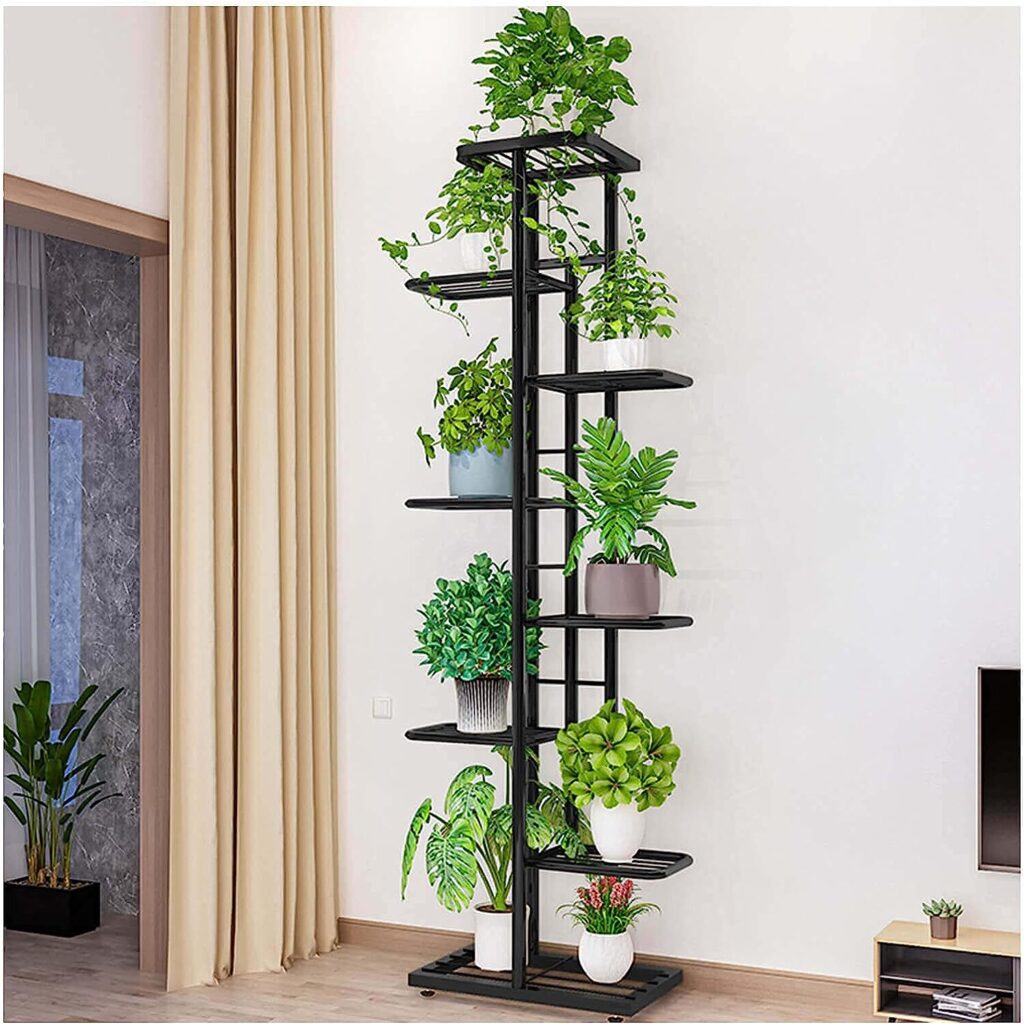 A hat and coat stand is designed to make use of narrow spaces which makes them ideal for hanging indoor plants. Be careful while choosing the one for you as you need a stand with long straight hooks to hang plants properly rather than at an angle. S-hooks and macrame holders are used to hang plants on a stand, even if you have a tiny corner space.
They are very space efficient and a very simple way to hang a series of planters. Such hat and coat stands are best suitable for hanging propagating plants as they don't require large space.
3. Leaning Shelving Ladder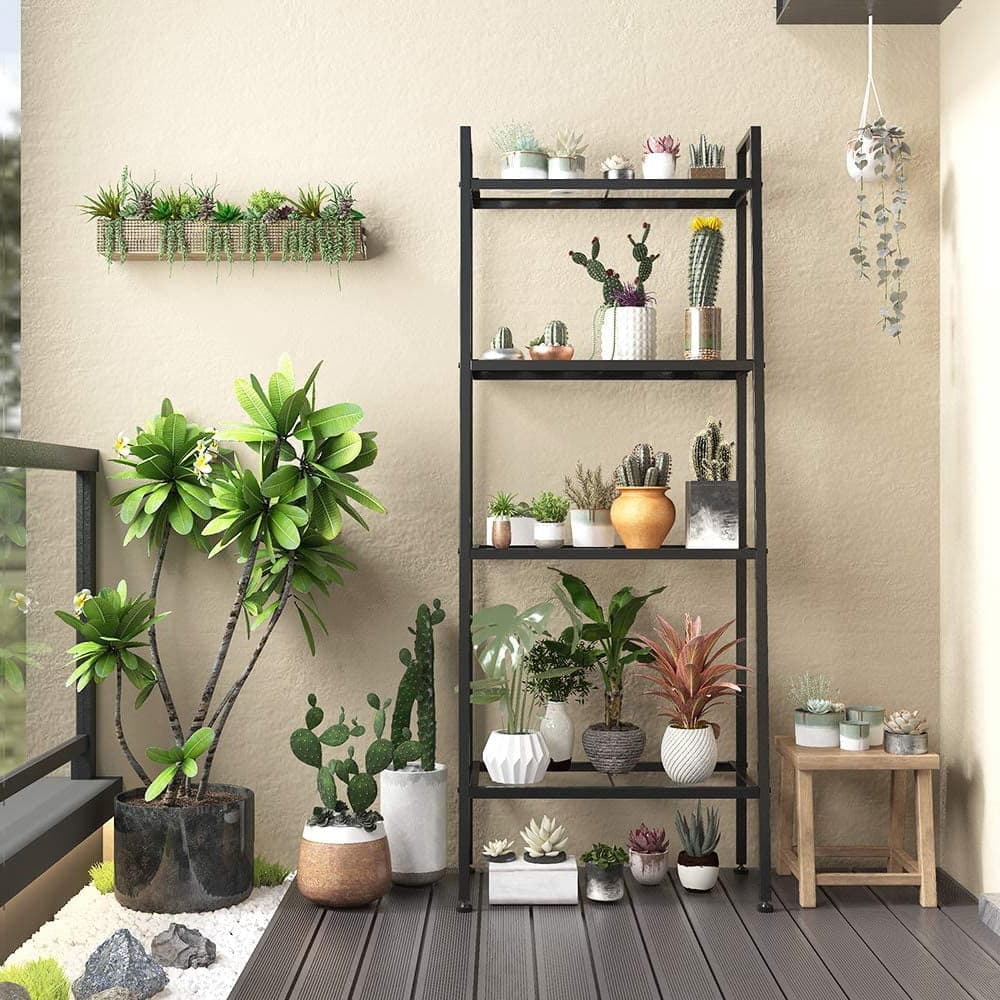 For the past several years, the leaning shelving ladder has been the top choice for interior designers. It is a perfect mix of industrial and slightly quirky storage that barely uses any space and can be used anywhere. It is simple yet elegant and can be leaned against any wall of your choice. Once you have decided on your favorite spot, you can display all your indoor plants.
This cute, little space-occupying ladder is a great way to showcase all your latest greenery and upgrade the aesthetics of your space. The small planters look stunning on the leaning shelving ladder in front of a beautiful neutral-colored wall.
4. Rustic Wooden Ladder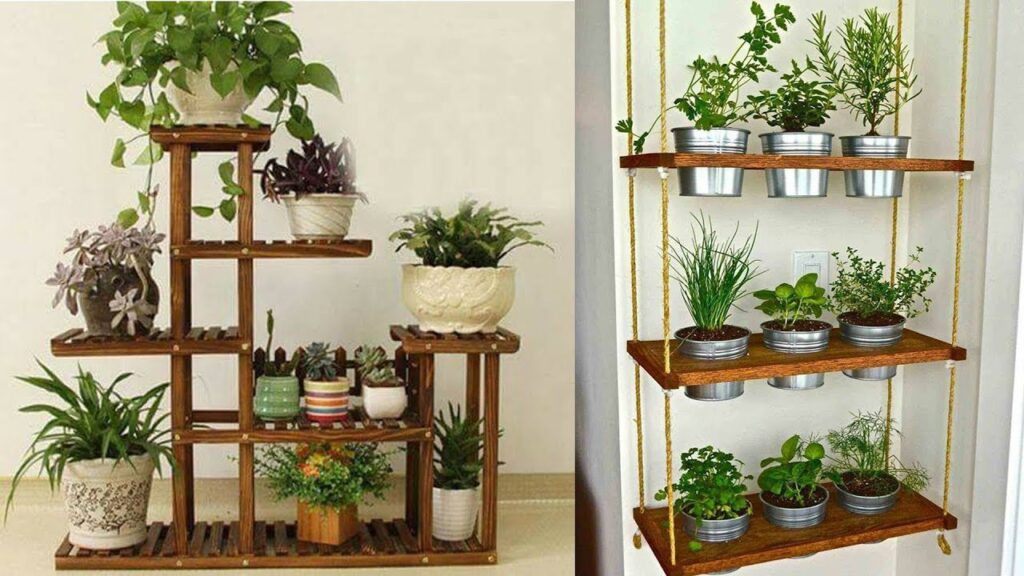 Searching for a rustic solution to store indoor plants? A rustic wooden blanket ladder is perfect for your living room wall. Treads on the ladder can be used for hanging rails to display flower pots or small planters. S-hooks or chains can be used to create a vertical garden look. It is the best way to utilize your wooden ladder as a modern decor piece and stunningly hang plants.
5. Macrame Plant Holders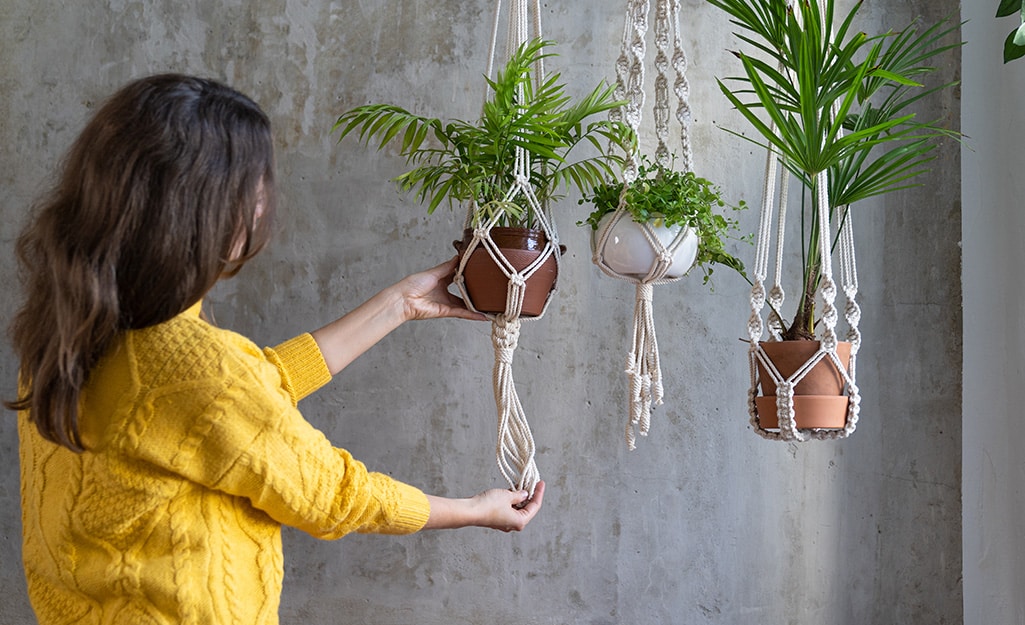 Macrame is very trending right now, being very simple yet stylish. It is made from string entwined together in various combinations. The trend of macrame plant holders doesn't seem to end any time sooner, as they can be designed with creativity. The hanging hook is built-in to hang with plants inside. The macrame plant holders come in different color options and are worth the money. The plants of 8-inch diameter or less fit perfectly inside the space in the macrame plant holder.
6. Sturdy Decorative Branches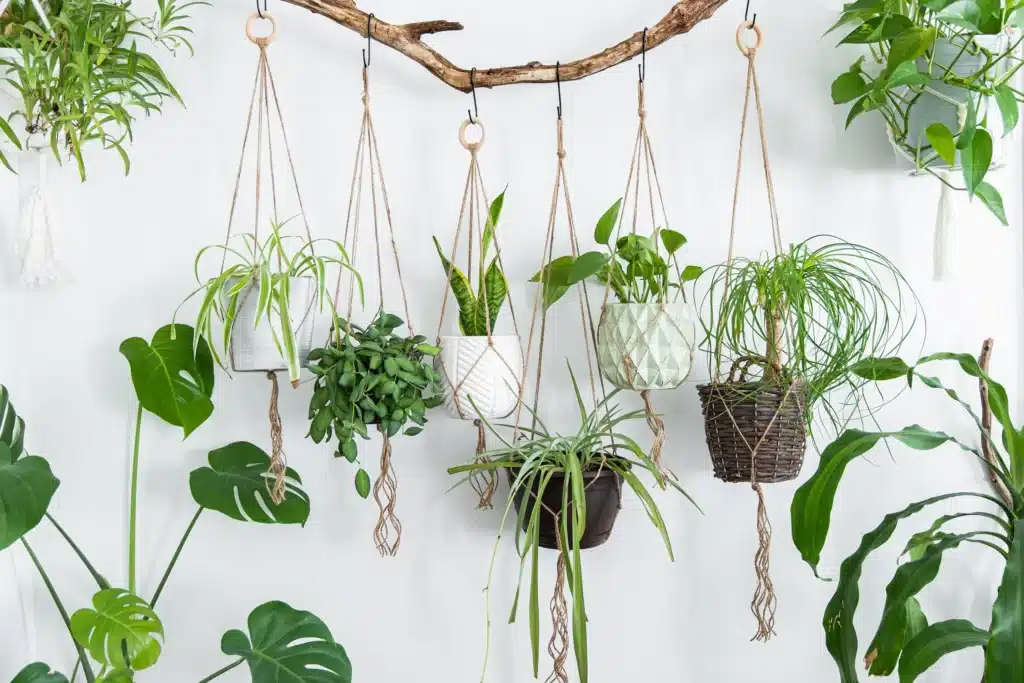 Sturdy decorative branches are a good option to consider to hang plants in an indoor setting. Select the wall or the area where you place the decorative branch accessory to set the aesthetics of the house. Use the number of branches you need together with a string to create eye-pleasing bohemian home decor. Such small additions to the house do not need much effort but enhance the overall look.
7. Pegboards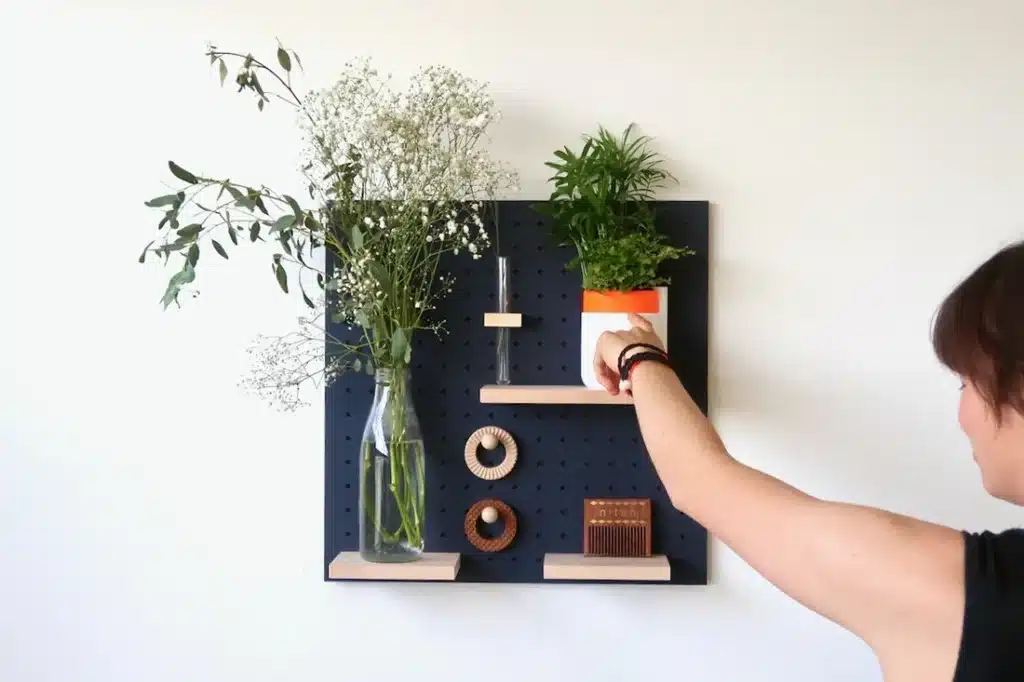 Are you looking for a cheap yet clean way to hang indoor plants? Pegboards are the top choice to display plants and transform the look of any boring wall of your house. They don't need to drill holes to hang and can be easily put to use with double-sided adhesive tapes. Very effortlessly, pegboards display the plants and elevate the aesthetics of your home decor.
Some Lightweight Plants Options
Lightweight plants are usually preferred for hanging indoors, especially when you want to hang plants without drilling. It is important to consider lightweight plants when hanging them without any solid, drilled attachment. An important factor to consider while choosing plants for this situation is to choose plants without the requirement of soil. Some such plants are-
These are some of the plants that are highly preferred by people due to their easy maintenance and stunning vibe. Plants can elevate any space with their greenery and fresh presence, may it be outdoors or indoors.
Summary
Hanging indoor plants doesn't mean you need to drill holes in the wall or the ceiling. A lot of imagination and creativity is all that is required to display your plants indoors without drilling.
The unique plant hanging designs such as magnets, adhesives, tension poles, clothes racks, ladders, and other innovative ideas discussed above will help you have all your favorite plants, even in a small space.
These innovative ideas give you a little green-living inspiration with ideas on how to hang plants without drilling or damaging the plaster of any wall.
So, don't hold on to the thought of indoor plant decor and implement some of these stunning ideas.
If you still have some doubts or queries regarding how to hang plants from the ceiling, comment down your questions. All of the queries will be answered, so start planning to hang plants indoors without damaging the ceiling or walls with drilling.