A simple-looking wall has a story to tell; there is always more than what meets the eye. When you want your room color light to exemplify luxury and suaveness, wall paint color plays a big role. Ever purchased your favorite blue-colored bag at a store, only to come home and realize it looks completely different under natural light? Experts are privy to the hacks and tricks to understand color theory and how light reflects against different paint colors. 
You must understand that the same color reacts differently in every home. How much light does the room get? What kind of artificial light and natural light does the home get? These things greatly impact the final output of the paint you have chosen. 
Therefore, it's time to explore the light variables that affect when choosing the right paint color for your home.
Effect of Sunlight on Paint Colors
Sunlight, or natural light, is a spectrum of light that differs throughout the day. Factors such as time of the day, weather conditions, and geographic locations are all factors that affect natural light on a day-to-day basis. This is why a white hue that appears bright in the bright sunlight living room differs from a rather dark basement with the same white hue. This implies external light can and does have a major impact on how we perceive colors.
When you are looking to choose the right paint color for your home, you need to consider various factors that play a role. This includes looking at the number of windows in your house, the size of those windows, and how much light is actually coming into the house at different times of the day. The direction of your house is one of the biggest contributing factors in making this decision.
Here's how different directions have different paint demands.
1. North Facing Homes
Generally, these homes have indirect natural light pouring in, thus giving the space a warm but soft brightness. Here, the variation between morning and afternoon isn't too stark, as the indirect light remains more or less consistent. Therefore dark colors may seem darker, and room color light may get slightly dimmed out. Therefore, to have a more bold and boisterous look, choosing bold colors is the way to go. Subtle shades like pastels or off-whites may wash out and look very dull. Strong colors are the way to go with these.
2. South Facing Rooms
There is no paucity of sunlight here. Therefore, picking homes that are south-facing means going for more subtle shades. If you choose bold colors, they will look a bit too much, too bright and bold, and all over the place. Instead, it is advisable to go for cooler subtle shades. Their true colors will show up well without washing out or being lost in the natural light. In fact, it will give the natural colors a subtle glow.
3. East Facing Room
East-facing rooms get ample sunlight and, in most cases, direct. Therefore, there is the typical warm and yellow tinge that remains throughout the day and becomes bluish or darker as the sun sets. This room is, therefore, perfect to be painted with shades of the sun, such as yellow, orange, and red. It will truly outshine and look bright and sunshine-like. It gives the room a very positive, warm ambiance.
4. West Facing Rooms
These rooms are perfectly well-lit during the yellow evening glow as the sun sets. It has the warmest and most comforting vibe in the evenings, but mornings can be dull. Having yellow, orange colors can look dark and dull during the day.
While the direction your house faces is critical to choosing the right color, there are more such factors to consider too. For instance, a west-facing home in Canada and a west-facing home in India could look drastically different.
Which hemisphere do you live in, how much sunlight does your town get, how cloudy is your home? Besides this, if you live in areas that have skyscrapers, chances are that direct sunlight does not reach your home. Therefore, choosing colors based on the actual brightness level of your home is essential. For example, light is believed to appear more red in the south. Therefore check the colors well in each room color light of your house before you get started on painting.
Effect of Artificial Lights on Paint Colors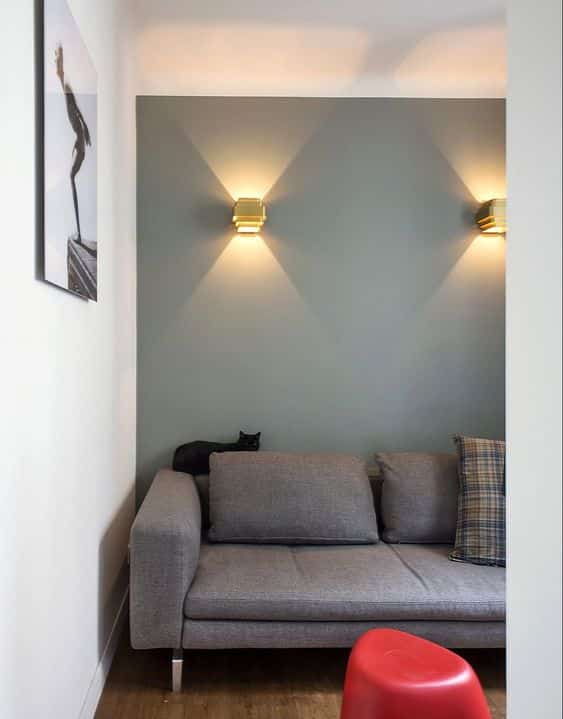 Artificial lights and colors share a very tricky relationship. The spectrum or range of artificial lights is very vast. Paint shops have fluorescent lights, whereas homes often have LED lights. These can give starkly different perceptions of the same shade. This is why a shade you loved at the store may look very dull at home.  Here are the most common types of artificial lights you may need to consider. 
– Halogen Light – These lights may not be used very often at home. However, they are the closest to natural light. Just like natural light sources, they display colors in their truest form. Therefore having a halogen bulb implies your color will appear more or less similar or at least close to its true shade hue. 
Fluorescent Bulbs – Most clothing stores, just like paint stores, use fluorescent bulbs in shops. This gives a more enhanced appearance to shades such as blue and green. 
Incandescent Lights – This light is known to be tricky when it comes to color perception. It beautifully magnifies the color intensity of warm tones like red, yellow, and orange shades. But it makes cool tones dull. For example, colors like blue and green may not appear in their full glory if you have incandescent lights.
Paint colors are the closest to their natural color radiance and reflection when they are close to natural lighting or high CRI-rating bulbs.
How Different Paint Materials Reflect Light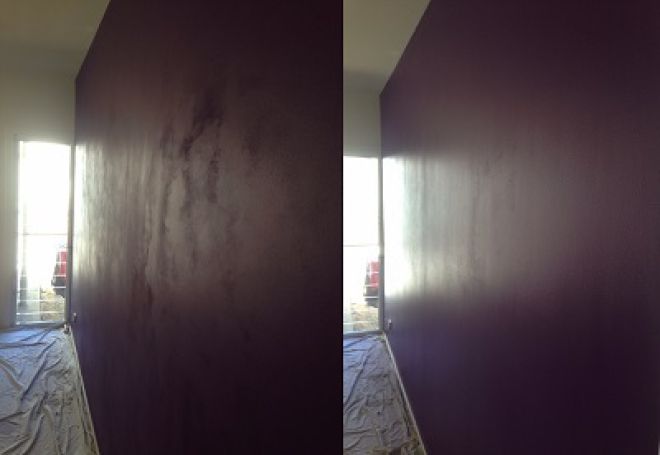 Choosing a paint that is room color light may seem like a quick and easy task, but it has so much more nuance than that. Two green colors of the same shade look completely different based on the sheen. Paints come in the following basic textures, which also impact the final color.
Flat Paint: Flat paint is considered to be a completely non-reflective style of paint. Therefore, it ends up just absorbing all the light directed at it. However, because flats are easy to apply for and less expensive, they are preferred too. Do swatches of different flat paints before choosing the one that suits your requirements well.
Gloss Paint: This type of paint is a more shiny, reflective, glowing sort of light. It acts like a mirror and reflects the light that comes its way. It reflects most of the light, in fact, and therefore the apparent color of the paint looks much different. These can be used for art decor walls, accent walls, etc., where attention must be drawn.
Semi-Gloss Paint: This paint offers the right amount of light reflection that makes it shine well. It gives a luxurious texture that looks amazing on metal, wood, or any kind of creative design. For some surfaces, gloss paint may be too much as it reflects too much light. Therefore, semi-gloss paint is ideal as it gives shine without being 'too much.'
How Light Affects Paint!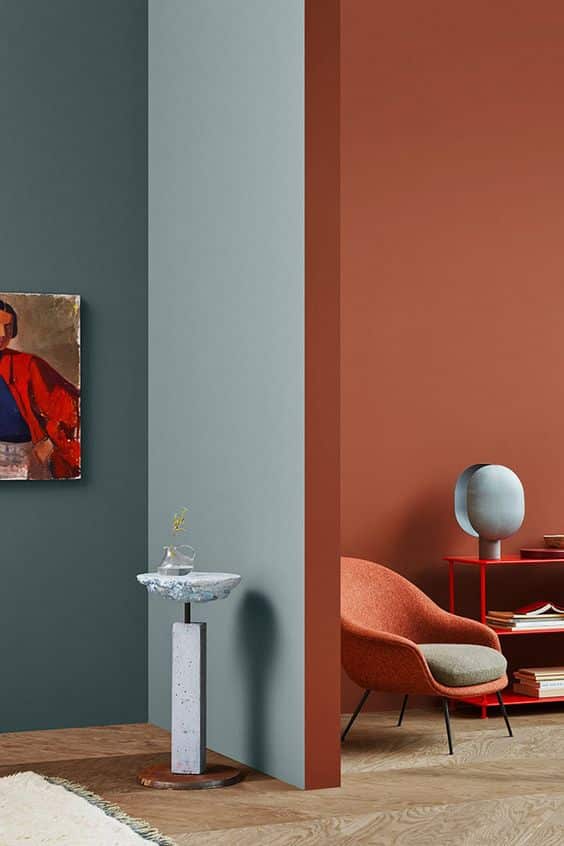 It is known that some colors react more with light than others. For example, white, vanilla color, or off-white work well with almost all light conditions. Very light or pastel shades also do well under these circumstances. The only issue here is that if you have bright red carpets in a light-colored room, the walls will tend to absorb the color. This can, therefore, not work out in all settings. Certain colors, such as beige, sage, and taupe, are a few colors that do not work well if there is a constantly changing light intensity.
The position of your light bulb impacts how you perceive color. A well-lit chandelier at the center of the home equally distributes its light. Thus, the color looks uniform across the room. However, a poorly lit room can impact how light reflects on paint around different corners of the room, thus looking dull and boring in those corners.
Know your vibe. If you want to add warm, comfortable, cozy vibes to your home, then rope lights and string lights are all great alternatives. They also work brilliantly well with light paint colors. Interestingly, they also look stunning on super dark-painted walls too.
Test it Out!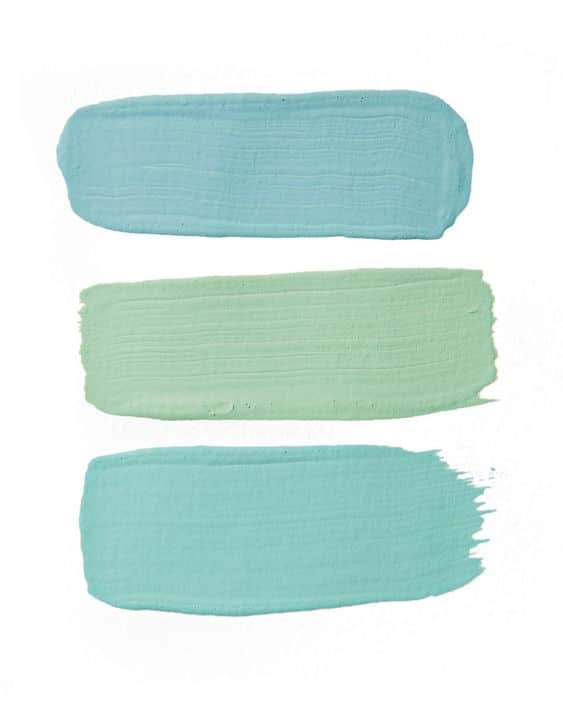 No matter how much you plan, think, and observe, in the end, making a choice without swatching can be a big mistake. Therefore you must always do a sample mock-up before painting the town red. Ideally, every wall of your home must be tested well before making the final decision. Use at least a shade lighter and darker next to the one you prefer before making the final decision. Let it dry for at least 2 hours before taking that final call.
Conclusion
Wall painting is a long-term decision you make for your home that has a big impact on your overall decor. Choosing all the right elements and overlooking how the light in your home interacts with your paint colors can be a major faux pas.
Therefore, ensure you choose a room color light for your home, keeping in mind the direction of your house, the kind of artificial light you use at home, and the color accents of your major furniture items. Testing out different colors against different backgrounds, with different set-ups, is a must-do if you wish to make a choice you don't regret later on.
Choose the right colors for your home renovation project, keeping in mind how different lights affects colors in your home!
Frequently Asked Questions
How Does Light Affect Paint?
Light has a direct impact on the paint color, depending on the source of light. In rooms that have bright natural light, colors tend to be fully bright and vibrant. However, rooms with low or unevenly distributed light may appear dull or calm depending on the situation.
Does Light Change the Paint Color?
Light changes how we perceive colors. The natural light that comes via the window affects how your paint looks. Factors such as the direction of your home, weather conditions, and how much natural light comes in can all greatly impact how we perceive the final paint color.
im