Being a coffee person, are you looking for ideas for setting up a coffee bar kitchen in your home? Allow us to excite you more! There are plenty of ways you can set up a coffee bar in your personal space! No matter how little room you have, you can still find a befitting way to set up a coffee bar without many hurdles.
Having a personal coffee bar will make your regular caffeine intake much more perfect! Imagine waking up to a beautiful morning, walking towards your own coffee bar, and preparing yourself just the best coffee to start your day! Sounds appealing, right?
We are listing out some of the best coffee bar kitchen ideas in this article for you to explore and take inspiration from!
Setting Up a Coffee Bar Kitchen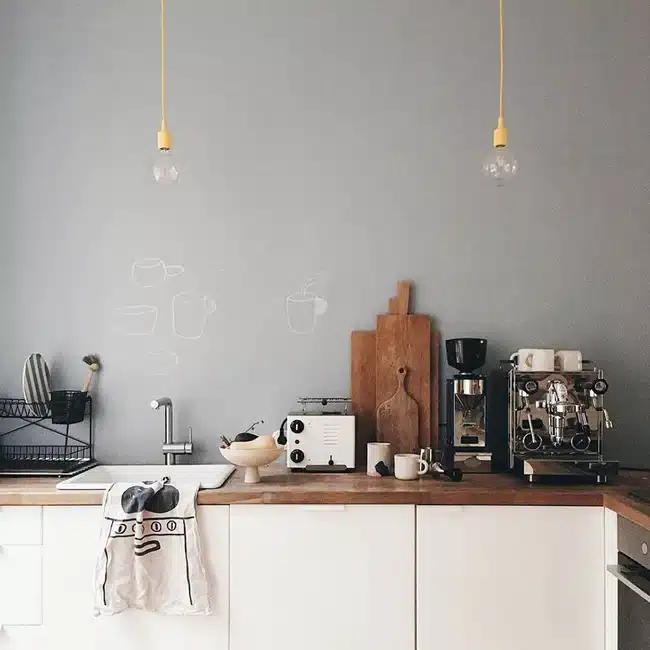 Before pondering over various styles of Kitchen coffee bars, you should first plan how to set them up in your home. You might think there is no room for a coffee bar in your kitchen, but with proper organization, you may still find the right space to set it up. If you have left-out furniture in your home, you can use the same to set up a coffee bar. If having no space is your complaint, utilizing the corners or the walls can be your solution. You can keep coming up with innovative ideas to set up just the right coffee bar for yourself.
Setting up a coffee bar kitchen depends on your home. You should gather around the basic requirements for the coffee bar, such as a coffee machine, coffee beans, a coffee grinder, a coffee pot, cups, saucers, plates, spoons, etc. What goes into your coffee bar completely depends on your taste in coffee. If you are a coffee person, then you might not need a lot of equipment. On the other hand, if you are someone who would occasionally like to sip a pumpkin spice latte, you might require an extensive room.
Don't forget to consider small but necessary things such as display items, electrical outlets, wall art, and water sources while planning a coffee bar. Building a small sink for your coffee bar is very much suggested, as constant cleaning is mandatory to maintain the hygiene of the bar. If you don't have enough room, you can plan the coffee bar kitchen near a sink to facilitate the cleaning of pots.
Best Coffee Bar Kitchen Ideas
1. Keep Things Organized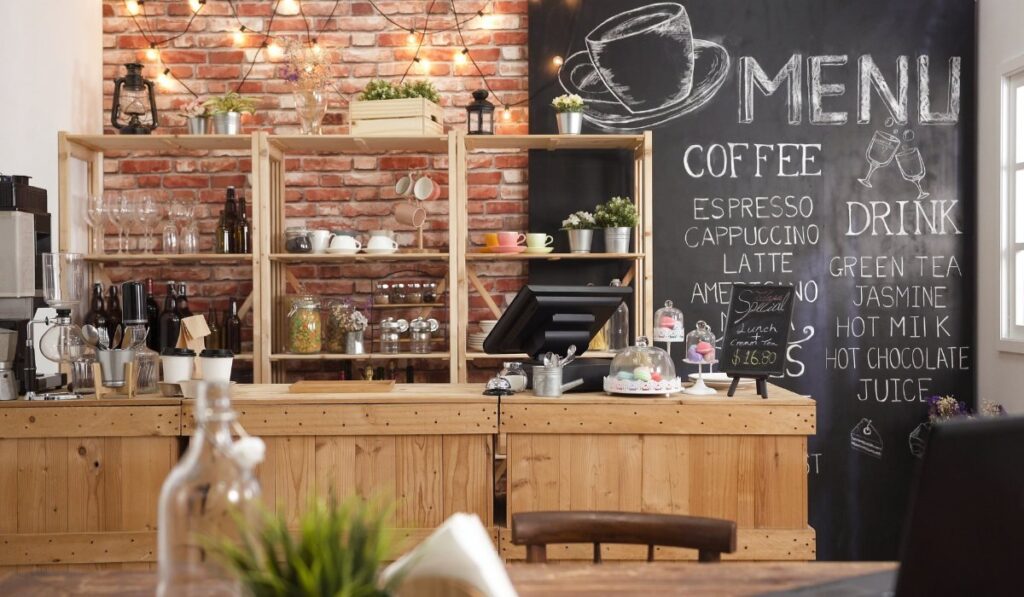 Most modern kitchen decor now follows a style that includes cabinets. Utilizing one such cabinet space to set up a coffee bar easily makes it one of the quickest spots to grab your coffee. Place your coffee maker on the slab before the cabinet, and keep only the essentials next to it.
A small tray can be placed next to the coffee maker for quick access to essentials. The rest of the coffee can be neatly organized in the cabinet. Such an organized spot makes a subtle point in your kitchen as a coffee bar, and yet it is a practical way of setting it up.
2. Make it a Display Point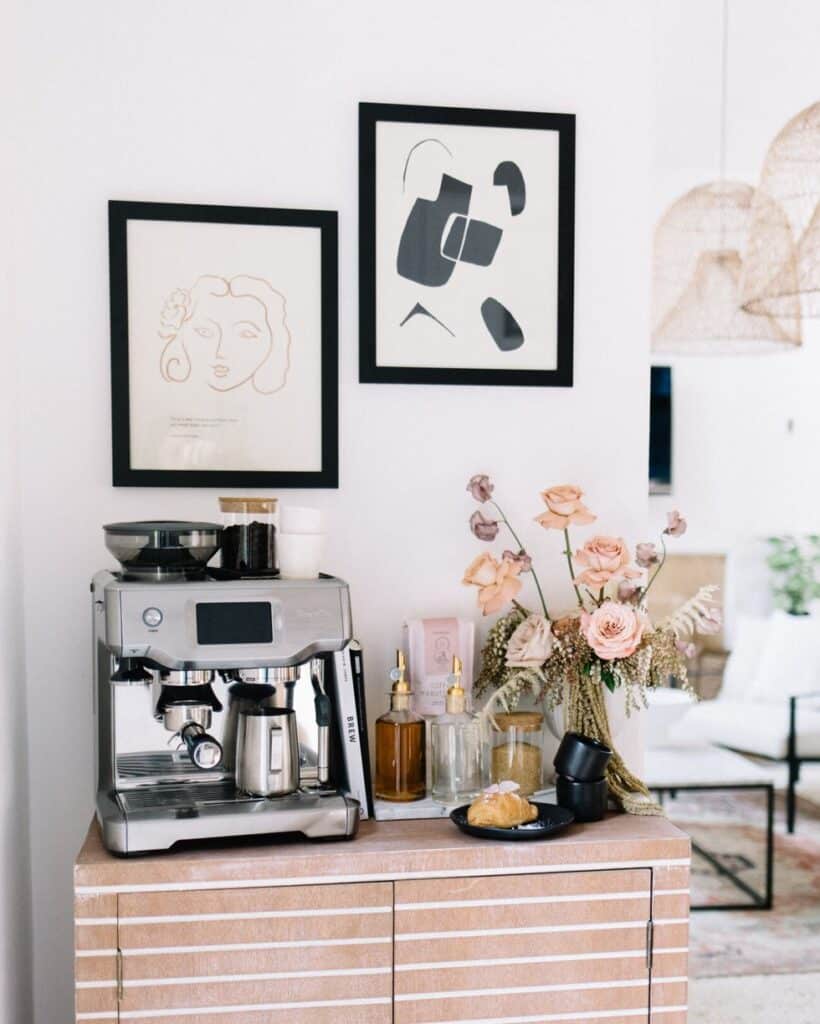 While planning a coffee bar kitchen, you don't have to be strict about the necessity of the space. Rather than just focusing on making the coffee bar just another spot in your home, style it in a way to invite some attention.
You can use your coffee bar as a place to exhibit attractive items such as flower vases or photographs. Using trays and coffee cups that follow a unique pattern is a way to make things blend in while still making them stand out in such a space!
3. A Moveable Coffee Cart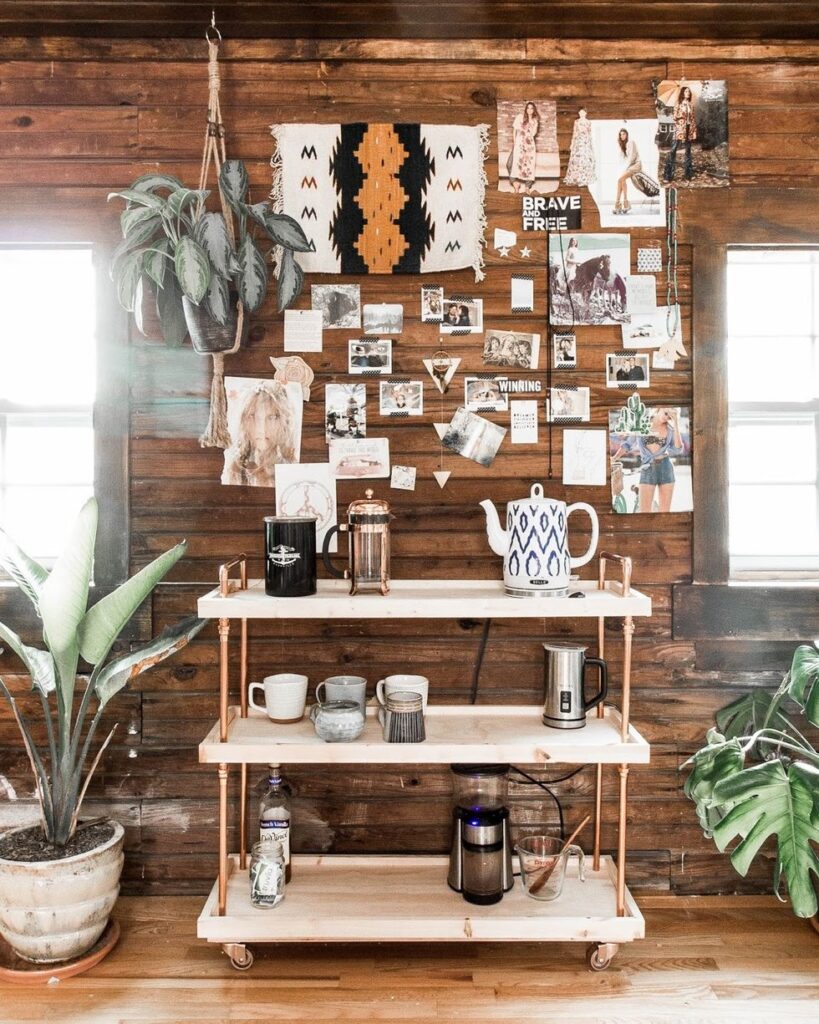 Why do you have to walk towards your coffee bar's kitchen when you can actually move the coffee bar to multiple places as per your needs? We are talking about a moveable cart that can act as a coffee bar for your home.
Building a coffee cart doesn't require much. Using sheets of plywood and copper pipes, you can easily make a dual-story coffee cart that carries everything that's seen in a coffee bar. In no time, you can have your own coffee on wheels in your home!
4. Floating Coffee Shelves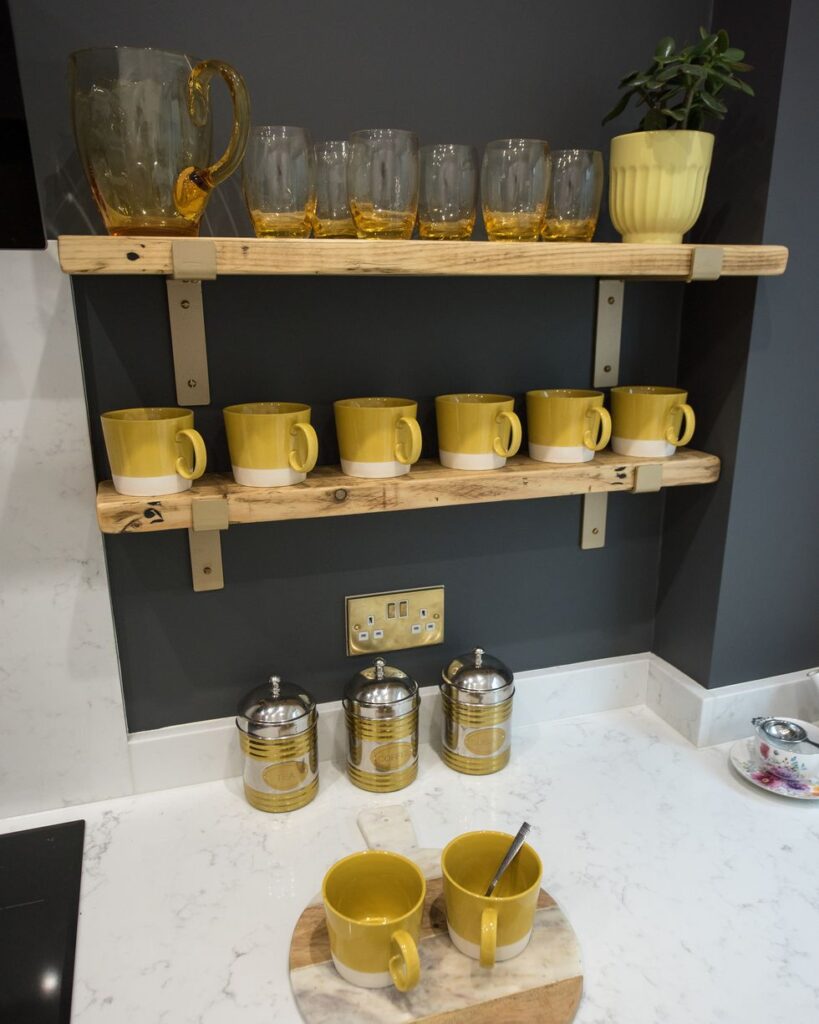 This coffee bar kitchen idea is for those who have absolutely no space to set up a coffee bar in their home. When there is space for something in your home that you badly need, make space! Installing small floating shelves on the walls and keeping a coffee maker nearby will make a small yet productive coffee bar for you.
Organize the cups and other essentials on these shelves, and you can easily access things on the go whenever you feel like having a sip of caffeine!
5. Pegboards for the Coffee Bar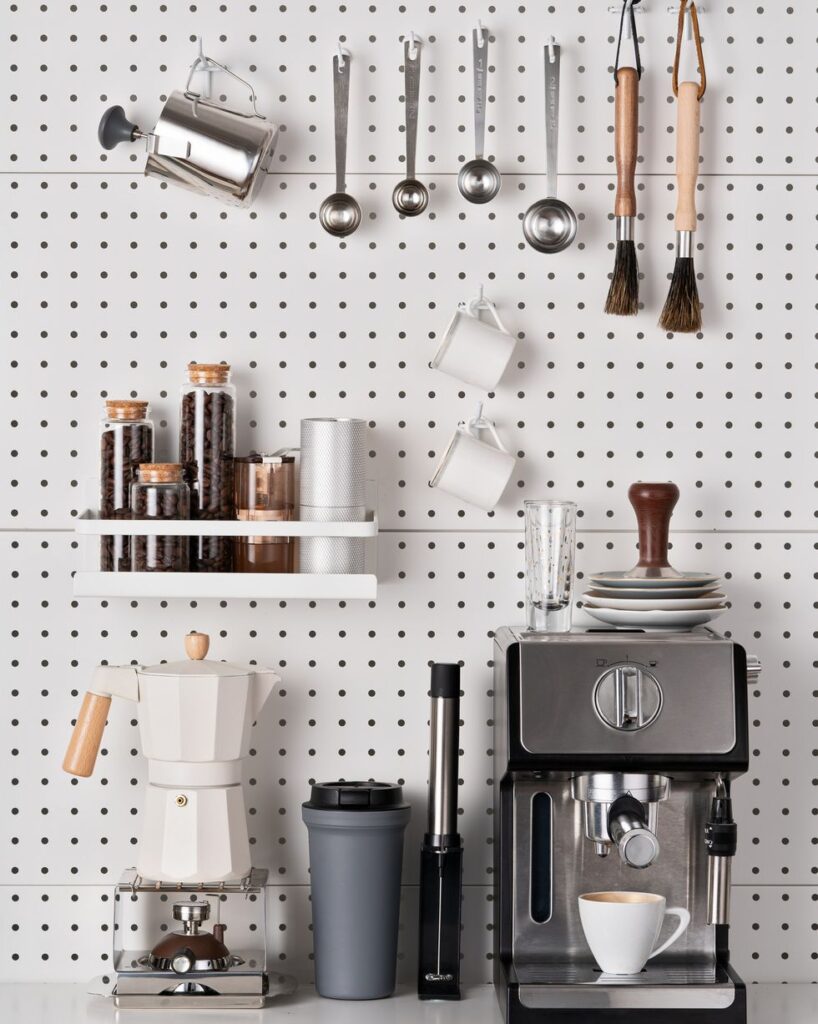 Most times, when you stumble upon setting up something for your home, pegboards can come in handy. Pegboards can be used for setting up a lot of things in your home. Why not set up a coffee bar kitchen with the help of a pegboard? This will be a very interesting and unique idea to try. Setting up a coffee board in the background can help you hang spoons, mugs, and more as you like while keeping the rest of the things on a slab. While the coffee maker can be placed on the slab along with your favorite coffee cup and other essentials like sugar, the background can make a very interesting display.
6. Display Art at the Coffee Bar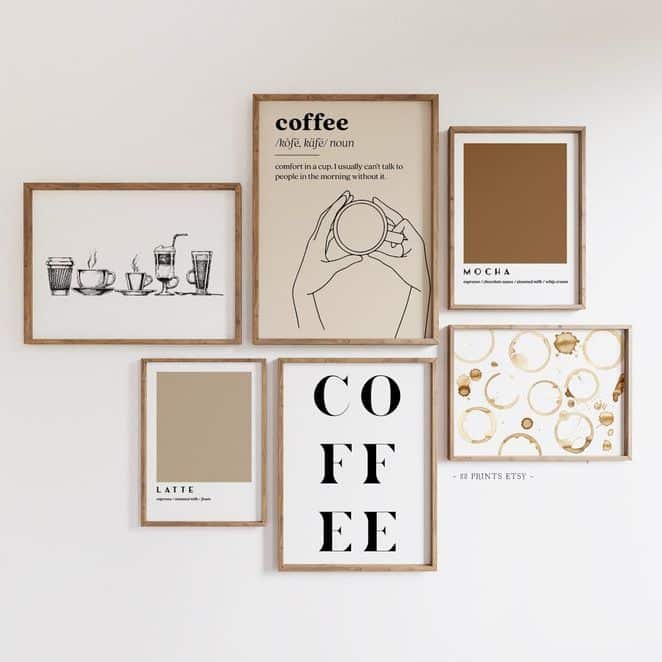 One of the unique ways to make people notice your perfectly set up coffee bar will be to add a touch of art to the backdrop. While you have arranged everything perfectly to set up a coffee bar, try hanging your favorite piece of art or quote on the wall nearby. This will make your coffee bar look more interesting. Make sure not to overpopulate the wall with pictures but to keep it subtle. You can also consider putting up one or two favorite moments captured on display that might fit the ambiance of the coffee bar.
7. Old Furniture for Coffee Bars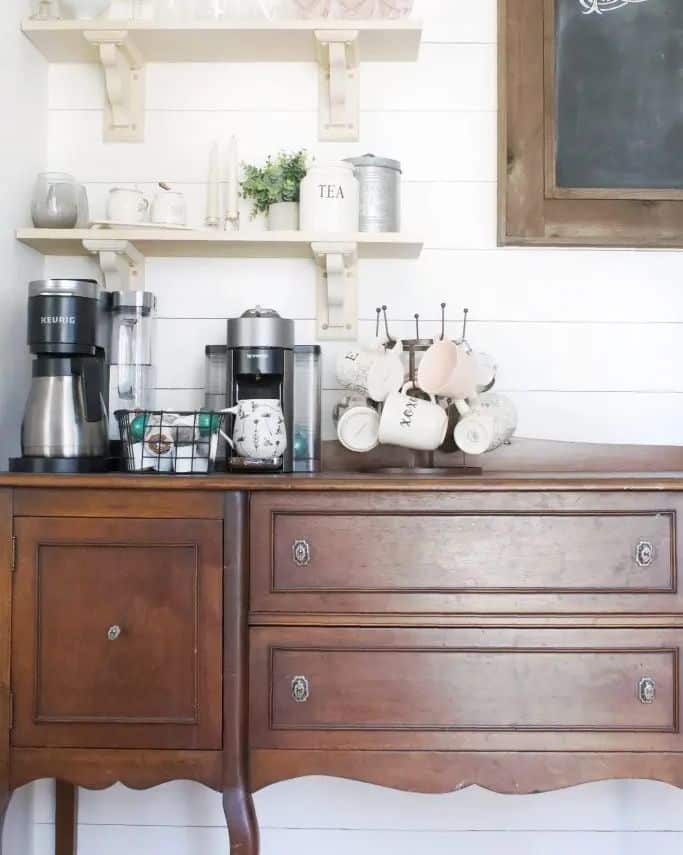 If you have unused furniture or a table you are thinking of getting rid of, hold on! You might have a great way to set up a vintage coffee bar kitchen! Using old tables or any suitable piece of old wooden furniture as a tabletop for a coffee bar can surprisingly enhance the vibe of the room! Even an unused old dresser can be used to set up the perfect coffee bar. When the nourishment offered by caffeine blends with the vintage touch of the coffee bar, it automatically converts into a favorite hangout spot too!
8. For Tea Lovers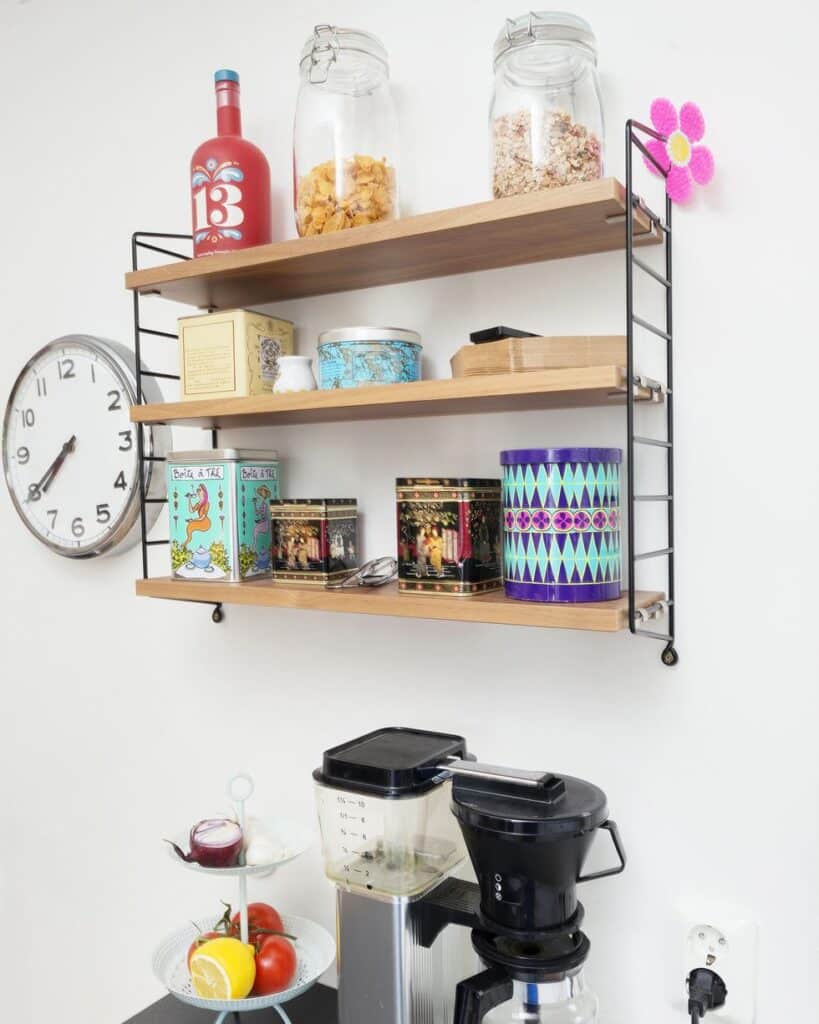 We can't ignore people who are more into tea than coffee. For tea lovers, a tea bar with floating shelves can be set up. Tea tins can be displayed to make this more unique and depict that the bar offers tea.
Tea tins come in a variety of colors and sizes. By putting these up for display, you are not only making the bar look pretty, but you can also use the tea tins to store different flavors for quick access!
9. Glass Cabinets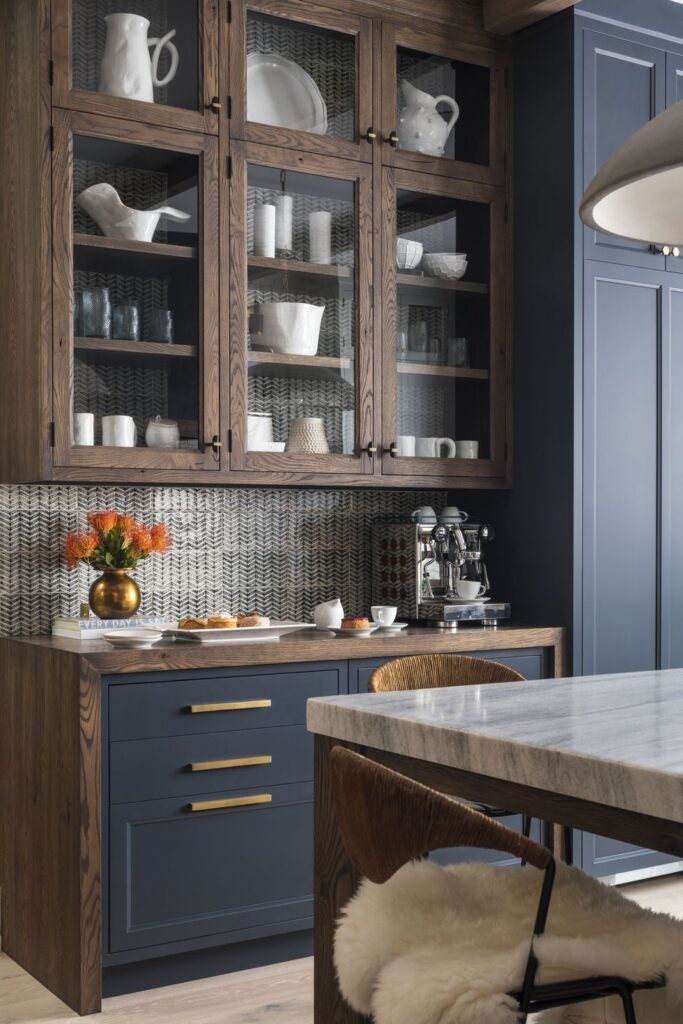 Cabinets are a great way to set up a neat coffee bar. But then comes the confusion of finding out which coffee cup is placed in which cabin without opening the cabin and checking for it.
A simple and stylish fix for this problem is to upgrade your usual cabinets to glass cabinets. This way, you can easily know what is placed where. Also, giving the frames of the cabinets a wooden touch will give your coffee bar kitchen a farmhouse look!
10. An Industrial Coffee Bar Kitchen
A coffee bar kitchen can definitely be built DIY. If you want to own an industrial-looking coffee bar, you can very easily customize one all by yourself. Mimicking the coffee cart mentioned earlier in this article. You can build a multi-story teapoy using plywood and copper sheets to construct an industrial coffee bar. Populating the coffee bar with woven baskets to contain cups and other essentials will be a great way to organize the cart.
11. Shelf and Hooks for the Coffee Bar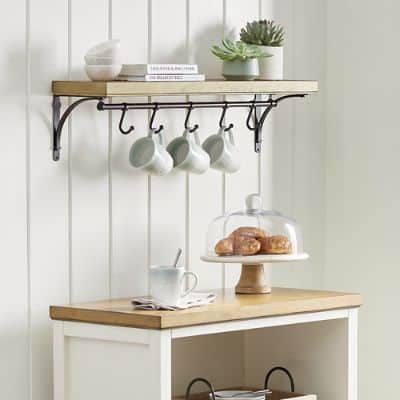 There are plenty of ways to customize a coffee bar's kitchen. Even if you already have a coffee bar kitchen at home, you can still customize it to make it look better. Here is an interesting idea you could try.
We already discussed ways to use floating shelves to set up a coffee bar. Attaching hooks to the shelves will let you display coffee mugs in an ornamental way. Let your imagination pour out and make the most of such shelves and hooks for a coffee bar.
12. Seasonal Coffee Bar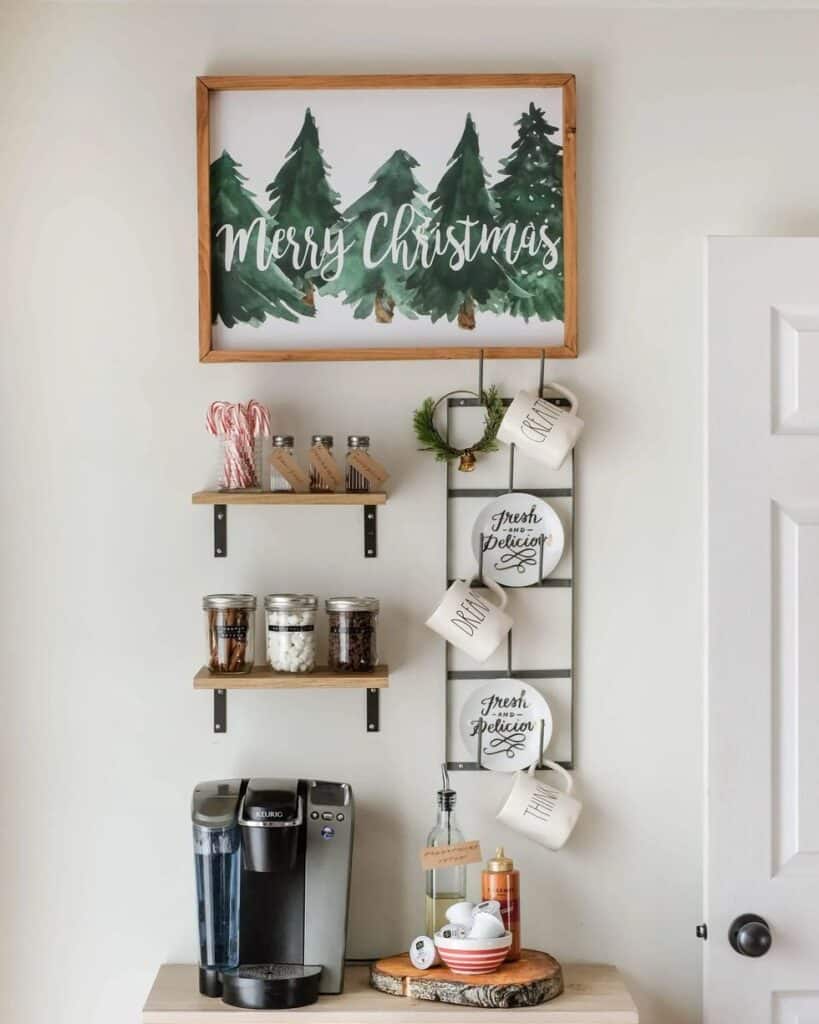 Having a stand-alone coffee bar can be well utilized to reflect seasonal trends. If it is Christmas, you can use tiny woven wools to decorate the coffee bar, along with lights and stars. Let your coffee bar kitchen convey a sweet Christmas vibe in the home without overpopulating the space with too many decorations.
You can use pictures, greetings, quotes, and more to make the coffee bar give off major seasonal vibes.
13. Concrete Top Coffee Bar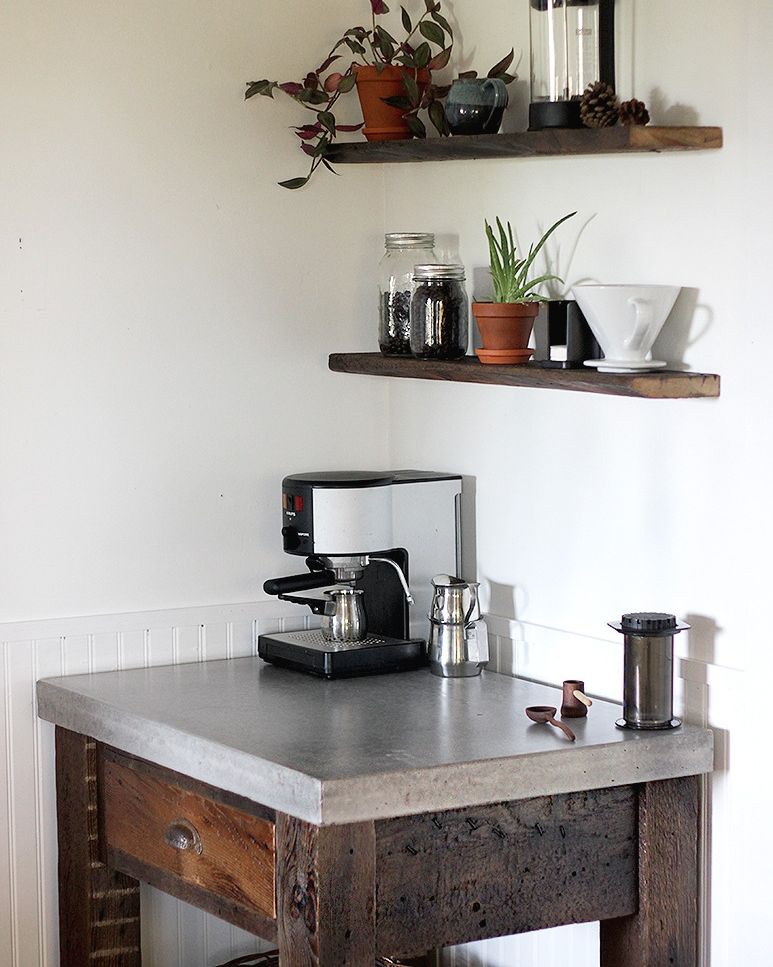 Here is a catchy way to set up an industrial-looking, rugged coffee bar for your home. Set up a concrete top over a wooden table to place coffee bar items. This way, you will have a sturdy and easy-to-clean coffee bar surface, and the overall look steals the show. You can place your coffee makers and essentials on the concrete top and let other things be organized in the backdrop or inside the drawers.
Making ample space on the concrete bar can also facilitate sipping a mug of coffee by treating it as a serving table as well!
14. Utilise the Awkward Angles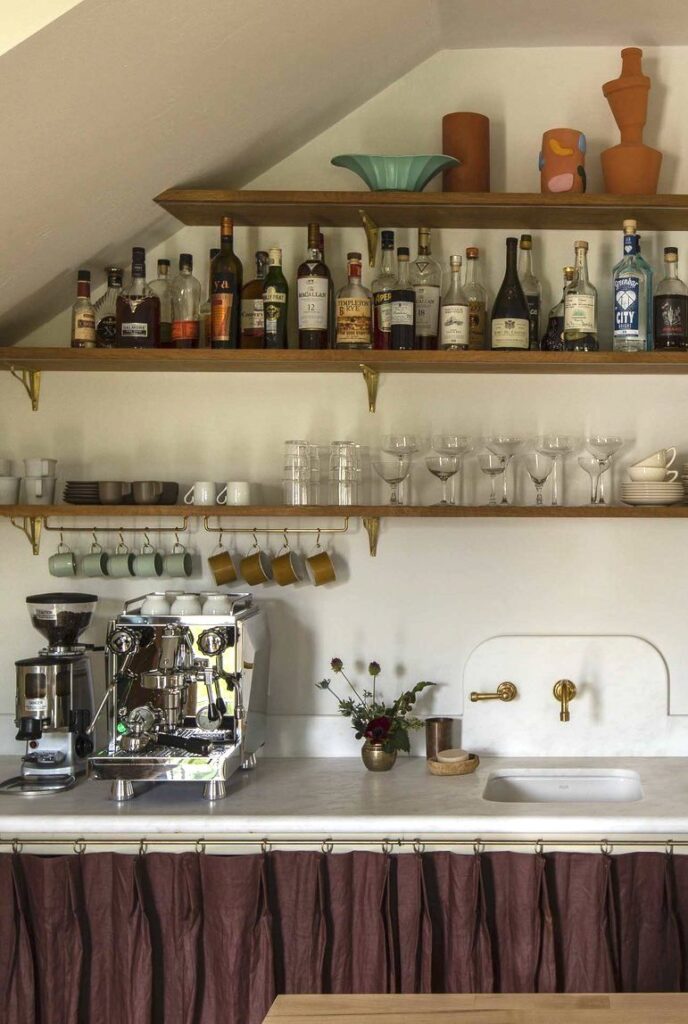 Space in your home can be left unused due to awkward angles, such as the space beneath the stairs. Coffee bars can be set up in this area to make the most of your home's leftover space. A countertop table can be set up under the stairs, and floating shelves can be leveled as per the angle made by the structure.
With such an arrangement, all the essentials required for a coffee bar can be organized in a neat manner. This depicts clever usage of unused spaces in a home, and a stylish coffee bar can be made out of the right furniture and decor.
15. Make Room for More Storage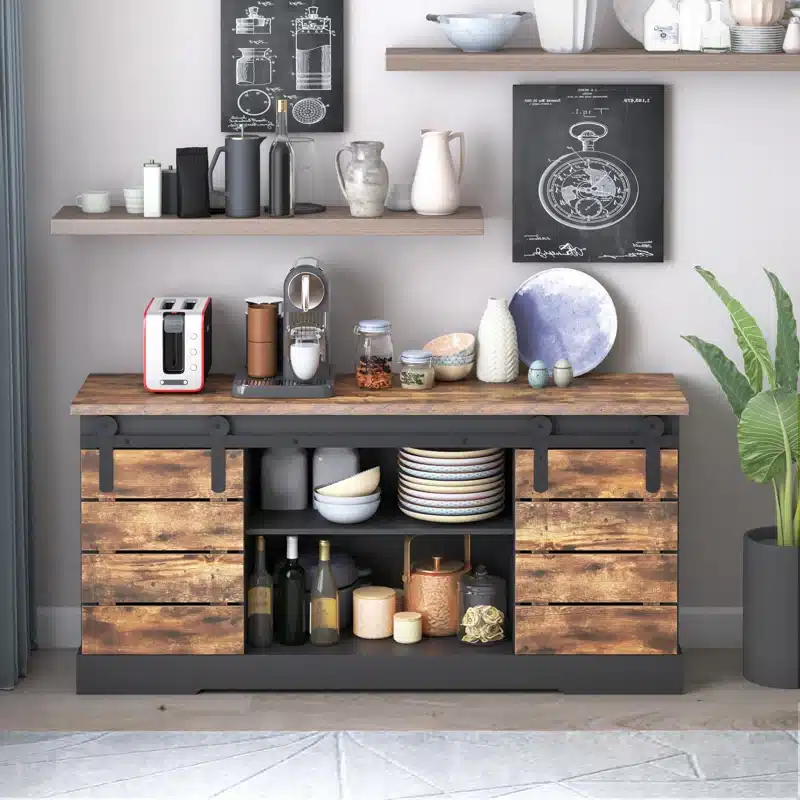 It goes without saying that a busy coffee bar requires ample storage. A table with multiple drawers can make such a storage-rich coffee bar kitchen.
You can use the drawers to stash coffee mugs, plates, bottles, etc. You can also attach hooks and hangers to the wall to add extra storage space to hang spoons, cups, etc. You can stack plates and other small vessels in the open storage area of the table and neatly organize them to make everything look in place.
Final Word
Having a coffee bar kitchen in the home will be a dream come true for all coffee lovers. We hope that this article helped you get an idea of various ways of setting up a coffee bar in your home. Even if you don't have enough space, you can still cleverly sneak into a small coffee bar to get your daily dose of caffeine. Make sure to keep the coffee bar decluttered to leave a good impression on visitors.
Occasional cleaning of the coffee bar, including the coffee machine, is mandatory to maintain hygiene. You can keep improvising different styles and looks to keep the coffee bar looking radiant and attractive.
Frequently Asked Questions
Should a Coffee Bar Always Be Set up in a Kitchen?
It is not mandatory to set up a coffee bar in your kitchen. The kitchen is just another space where you can set up a coffee bar. You can always plan a coffee bar in your dining room, living room, or any other part of your home you deem fit.
What are the Essentials Needed at a Coffee Bar?
You should have a coffee maker, coffee beans, a coffee grinder, coffee mugs, saucers, sugar, spoons, creamer, etc., on a coffee bar.
Is it Required to Have a Sink Near a Coffee Bar?
It is suggested to have a sink near a coffee bar, as it has an instant filter water system. Although it is not practical to build a sink on a coffee bar, you can use a nearby one for cleaning purposes.