Are you looking to purchase a bedroom rug for your home? In that case, it is natural to stumble upon a lot of doubts. What is the right size for a bedroom rug? What size rug should you get for a Queen bed? What rug will look good on a King bed? We are going to find answers to all your questions related to choosing a bedroom rug in this article. Even if your bedroom already has a carpeted floor, adding another layer with a beautiful rug can make the place better.
Before you scroll down to read further, it is first important to know that bedrooms shouldn't be a place that gives off a monotonous vibe where you can crash and sleep.
Adding a perfectly fitting rug in the right way can instantly boost the look and vibe of your bedroom.
Choosing a Rug for Your Bedroom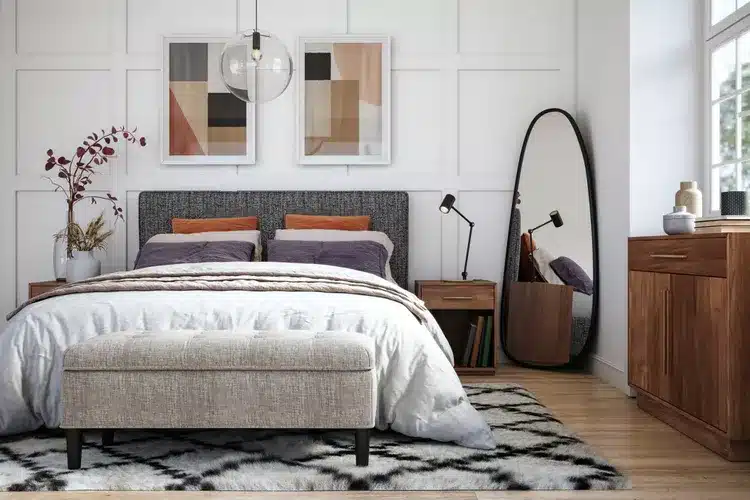 Getting a rug for your bedroom floor comes with multiple benefits. Along with making your bedroom floor less slippery, they also give a better personality to your room. Bedroom rugs are not just for your comfort. They act as good protection for your floor. Your bedroom floor can stay scratch-resistant with the help of a good bedroom rug. It is important to consider multiple factors before choosing the right rug for your bedroom. Following are certain things you should keep in mind before shopping for a bedroom rug.
Dimensions of your bedroom
Size of your bed
Free space in your room
Presence of a nightstand and its size
color of your bedroom walls
Style of your bedroom
Let us go through some general understandings about the placement of bedroom rugs now. Let us assume that you have a large bedroom and are going with a 9'x12' rug for the floor. In this case, there will be enough room to place your entire bed on the rug and also your nightstand. But that's it. Make sure nothing extra comes off the rug's surface. If your bedroom is smaller, a different approach is required when placing the rug. Only one-third of your bed can come on top of your rug. You can choose either to place the nightstand on the rug completely if you have space or to let only a part of it be on the rug. But partly placing the nightstand on the rug may not do good as it might scratch the floor as well as let the nightstand stay wiggly.
Let us now see what the right size for bedroom rug is in various scenarios to find a clear solution to your doubts.
1. Bedroom Rug Size for a Queen-Size Bed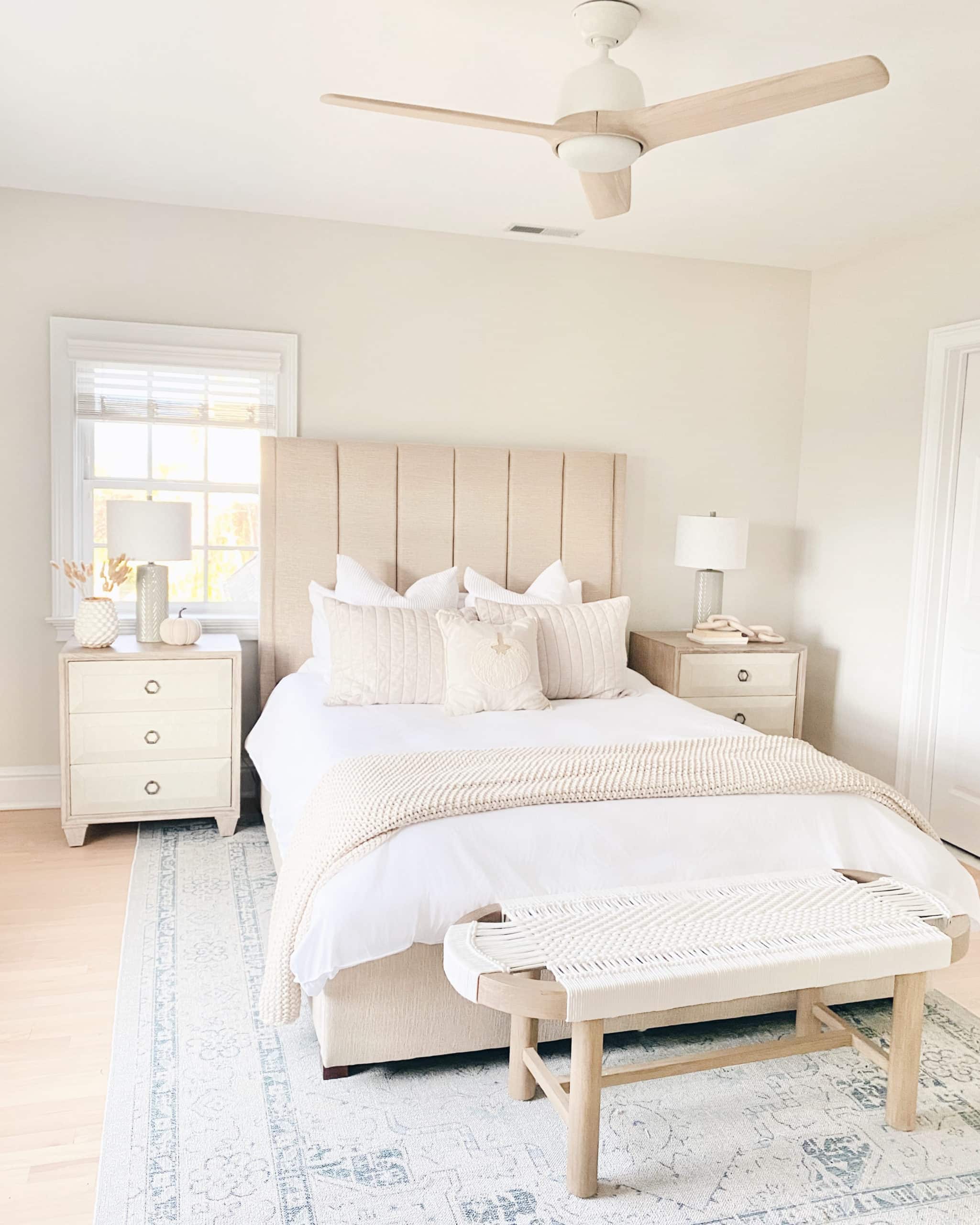 The general dimensions of a queen-size bed will be around 80 inches long and 60 inches wide. When it comes to the right size for bedroom rug for a queen-size bed, there are multiple things to consider. As the size of the bed implies, the kind of rug you will have to get should be large in size. Before getting a rug, you should make sure that there is quite enough space near the feet and sides of the bed.
The two best-fitting rugs for a queen-size bed will be either 8×10 feet or 9×12 feet. While getting either of these sizes, you should make sure to place one or two pieces of furniture over them. This is important to avoid making the bedroom rug look oversized or spread across the floor in an odd manner. You can place an ottoman or a nightstand to cover some space on the rug.
The above dimensions are for a queen-size bed when it is placed in a large bedroom. Suppose you have a standard bedroom; then the size of the bedroom rug for your queen-size bed will be 6×9 feet. But in this case, there won't be much room to place a nightstand on the rug. Though you will definitely have some space left around your bed, the rug should not look tight around it.
2. Bedroom Rug Size for a King-Size Bed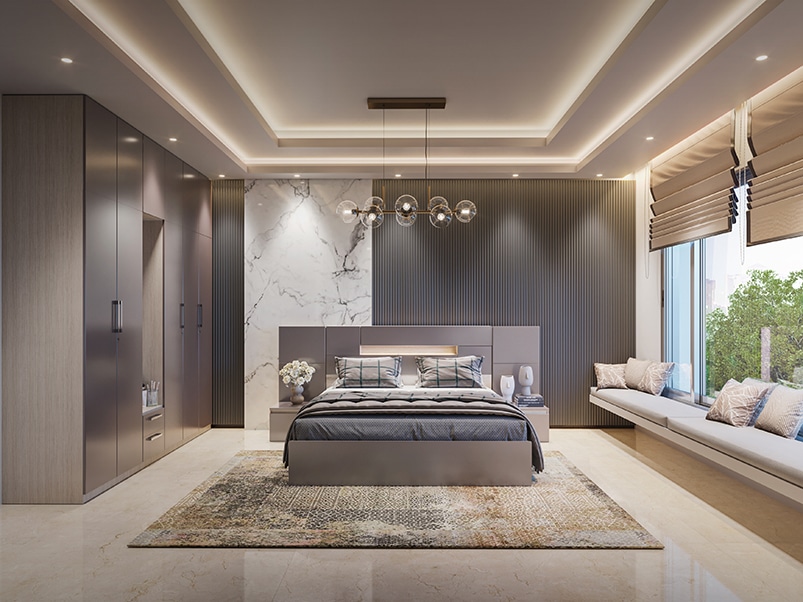 Just like in the case of queen-sized beds, king-sized beds too have multiple dimensions of bedroom rugs that can fit. This depends on the size of your room and its placement. The size of a king-size bed will be around 80 inches long and 76 inches wide. As both queen- and king-size beds share the same length, the dimensions of the bedroom rug are also similar. It is not bad if you go with a rug size that is smaller than your bed. But for best results, it is always advised to opt for a size that exceeds your bed's length.
One of the optimal and largest recommended sizes of bedroom rug for a king-size bed is a 9×12 foot rug. It is a large size for a bedroom rug, and you can easily place your bed at its center and also place one or two small pieces of furniture to make it look complete.
Sometimes, bedrooms won't be regularly shaped or large. For such homes, a bedroom rug of size 8×10 feet will fit perfectly on king-size beds. You can place this bedroom rug as per the shape of your room. If the room is longer, you can place the rug vertically, and if the room is wider, you can place it horizontally on the floor.
3. Bedroom Rug Size for a Single Bed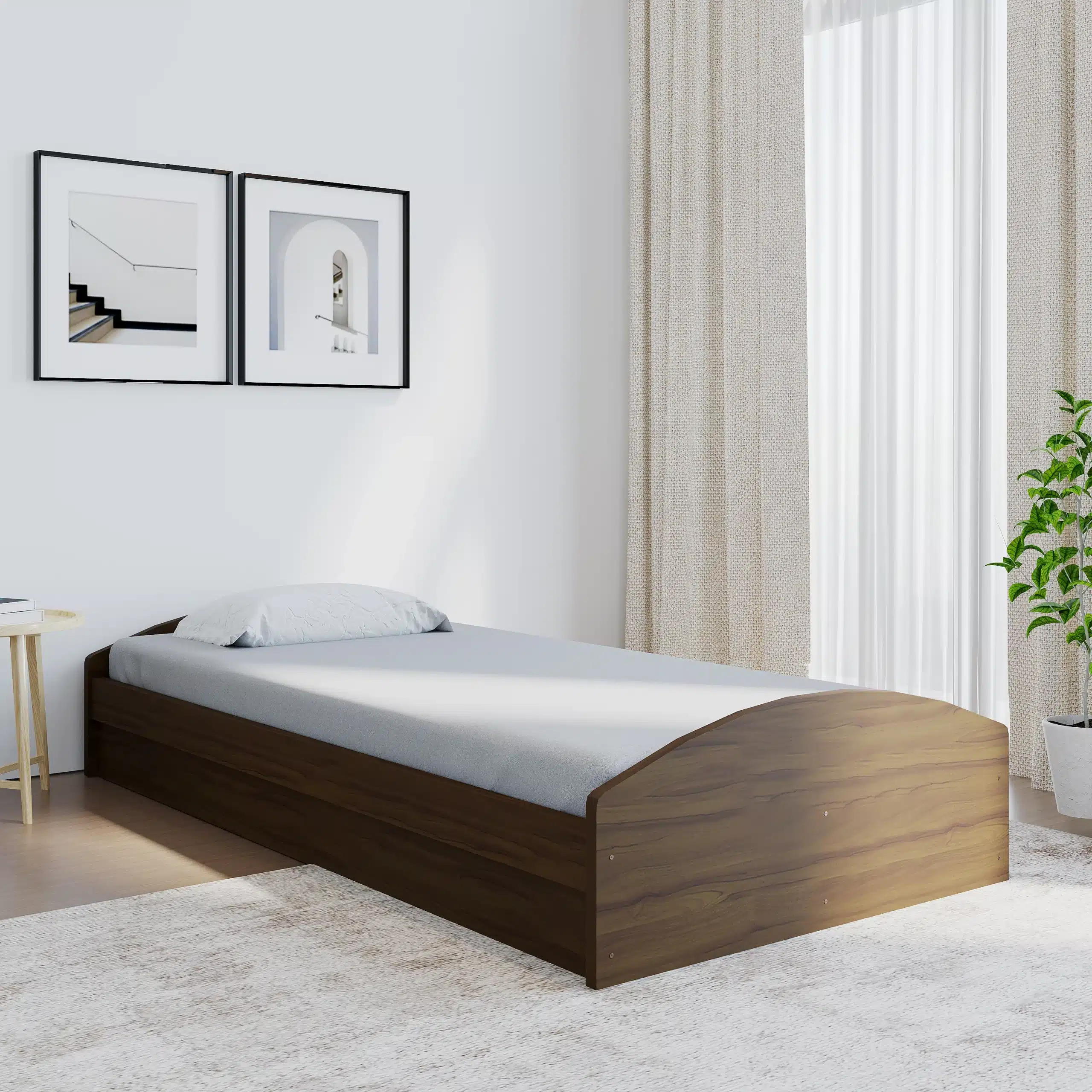 A single bed is the smallest bed that can be placed in a bedroom. This bed is designed to let one person get cozy comfortably and doesn't occupy too much space. Generally, a single bed will have a width of 30 inches and a maximum height of 75 inches. You can always find a bedroom rug that fits the size of your single bedroom floor. Also, the rug required for a single bedroom will be cheaper as the floor dimensions will be smaller.
The optimal size for a bedroom rug that can fit aptly in a single bedroom will be either a 5×8-foot rug or a 4×6-foot rug. The size can vary according to your requirements. You can choose either to place your bed completely on the rug or let only a part of it stay on the rug. If you are going to go with a rug that does not let your bed completely fit on it, you can place only two-thirds of your bed on it and leave the rest of the rug unoccupied. Leaving no space on the rug might create a claustrophobic feel in the room. Hence, it is always advised to leave at least 5 feet between the front and edges of the rug and the bed.
4. Bedroom Rug Size for a Double Bed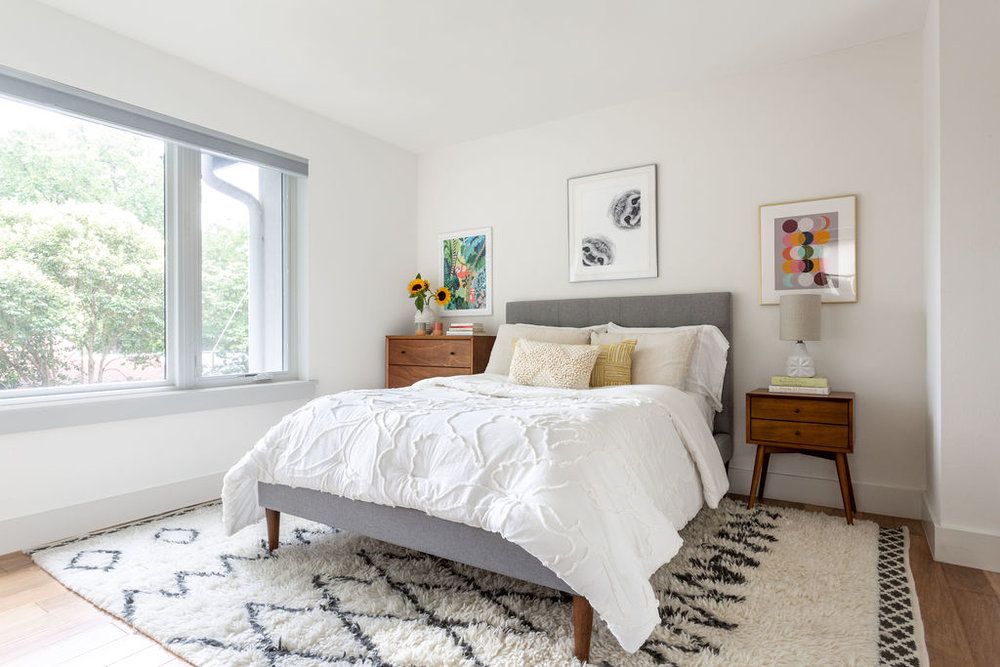 The dimensions of a double bedroom are bigger than a single bedroom but smaller when compared to a king- or queen-sized bedroom. Double beds are made to fit exactly two people on them and won't leave more space than that. The general dimensions of a double bed will be around 54 inches wide and 74 inches long.
While choosing a rug size for a double bedroom, people often make the mistake of choosing the same rug that can fit well for a queen-size bed. This kind of choice will actually make your double bed even smaller. The suggested dimensions for a double bedroom floor rug are 6x 9 feet. You would have this dimension suggested for a king-sized bed as well.
Hence, the leftover space on the rug will be larger when compared to a king-size bed, allowing you to place small furniture on it along with the bed. If your home has a smaller double bedroom, you can go with a 5×8-foot rug.
Though this rug won't allow you to place the bed completely on it, you can let two-thirds of your bed stay on it and leave the rest of the space empty. As per the structure of your bedroom floor, you can decide whether to lay out the rug vertically or horizontally.
How to Choose a Bedroom Rug
Once you have decided on the size for bedroom rug, it is time to shop. Before buying a rug, there are certain things to note about how to choose the right one. If you choose a very bright, multi-colored patterned rug without considering the room decor, it can end up being an odd choice. Choosing a pompous and strikingly patterned rug can make your bedroom look smaller. Hence, it is better to go with some neutral-colored bedroom rugs with less complex patterns.
Usually, bedroom rugs come in square or rectangular shapes. But you can always experiment with the shape of the rug to make it stand out from the rest and add a unique touch to your bedroom. You can choose an oval bedroom rug with the required dimensions to make your room look prettier.
There are also other shapes of bedroom rugs available, such as round ones or ones that look like long runners. All these shapes are available in different sizes to fit your needs, and you can comfortably place the bed on them after deciding what kind of positioning will make your room look better.
Maintenance of Bedroom Rugs
This is a part you must not skip while getting a bedroom rug. Bedroom rugs are decor items that demand proper care. The maintenance of bedroom rugs depends on their material, size, texture, and quality. Hence, it is very important for you to know all about your bedroom rug to take care of it in the right manner.
For homes that have children, it is not good to get shaggy or lighter-colored rugs. The risk of getting stains on the rug is higher, and it may not offer the required edge of safety for children. The thickness of the rug is the next thing to consider. If you are using an area rug, the placement of ottomans and nightstands may not be proper. Uneven placement of such furniture can trigger tripping and falling. To avoid this, you can use double-sided carpet tape under their feet.
The placement of heavier furniture on the bedroom rug for a long time can also cause markings on the rug. To avoid this, you can either choose to switch the sides of the rug at regular intervals or place ice cubes to level the rug.
Final Word
Before choosing a bedroom rug, it is recommended to first 'test' its placement and fit on the floor. To do this, you can entirely clear off the area on the bedroom floor where you expect the rug to be placed and visualize the results. With the help of hanging paint or wallpaper samples, you can test various patterns and their blending with the existing home decor. Studying your bedroom and the furniture present is very much required before determining the size for bedroom rug.
We hope our article was helpful for you in choosing the right bedroom rug for your home.
Frequently Asked Questions
How Much Floor Space Should My Bedroom Rug Cover?
It is suggested to leave at least 18 inches of space between the rug and the wall while laying out a bedroom rug. But this solely depends on the size of the room and the placement of the bed on the rug.
What are the Visual Benefits Offered by A Bedroom Rug?
Having a nice and perfect bedroom rug will switch the focal point of the room to the rug. It will easily make the room look much cleaner and bigger. Placing the rug correctly in the room will bring out a feeling of comfort.