Are you exploring ideas for building saunas on your own?
Saunas DIY can be a complex and long-term process if you do it for the first time. Building a structure from scratch requires knowledge about materials, electrical fittings, carpentry, and much more. However, it all feels worth it when you have an amazing sauna to relax in. The experience that the sauna gives you is incomparable.
Sauna bathing impacts your physical health and keeps you mentally healthy. Some primary benefits of sauna bathing include detoxification, pain reduction, skin rejuvenation, increased metabolism, weight loss, better blood circulation, improved sleep, relaxation, and stress management. When a sauna gives you this many benefits, it is a motivation to make an effort to build one at your home.
This article shares with you 30 DIY Sauna ideas to begin your journey. Select an idea that is easily implementable in your space.
Crazy DIY Sauna Plans to Consider in 2023
1. Wood Burning Sauna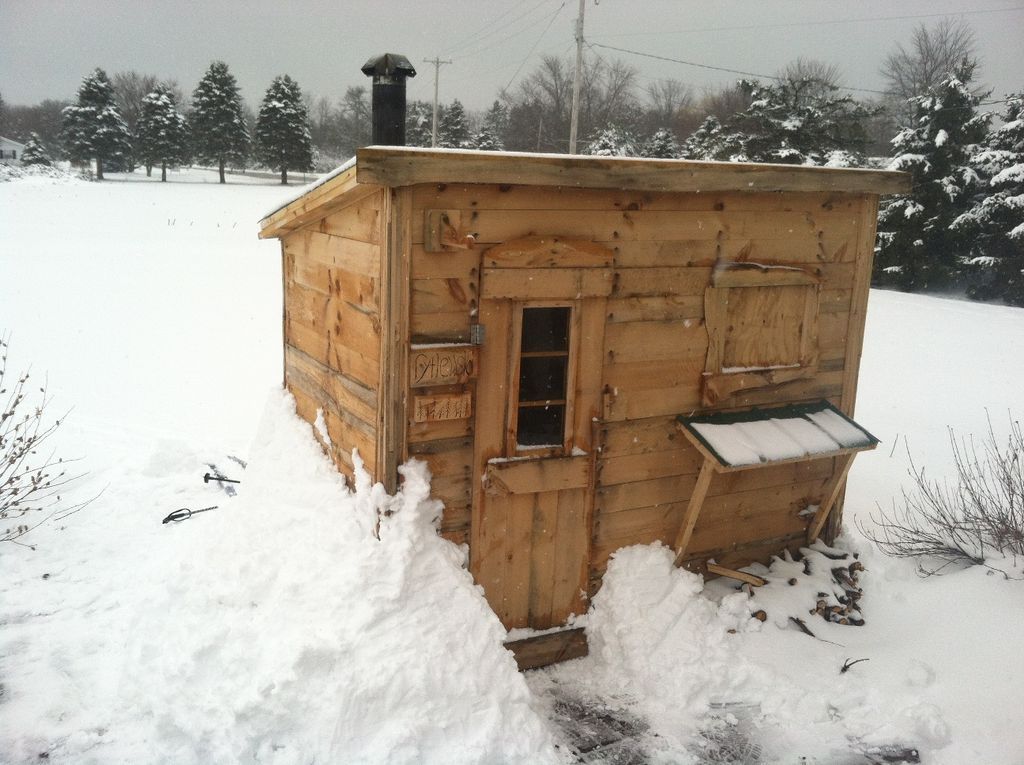 The wood-burning sauna is perfect if you are living in a snowy area. It uses cedar and white pine to create a warm and aesthetic structure. Such well-built saunas diy assure that no matter the temperature on the outside, the inner space has warmth and heat. It can accommodate 3-5 people comfortably.
The heat generates in this sauna with the help of wood. The name wood burning sauna suggests the feature of this space. The black chimney on the top assures that the excessive smoke leaves to avoid suffocation. To know the detailed process of creating this sauna, read this.
2. Garden Barrel Sauna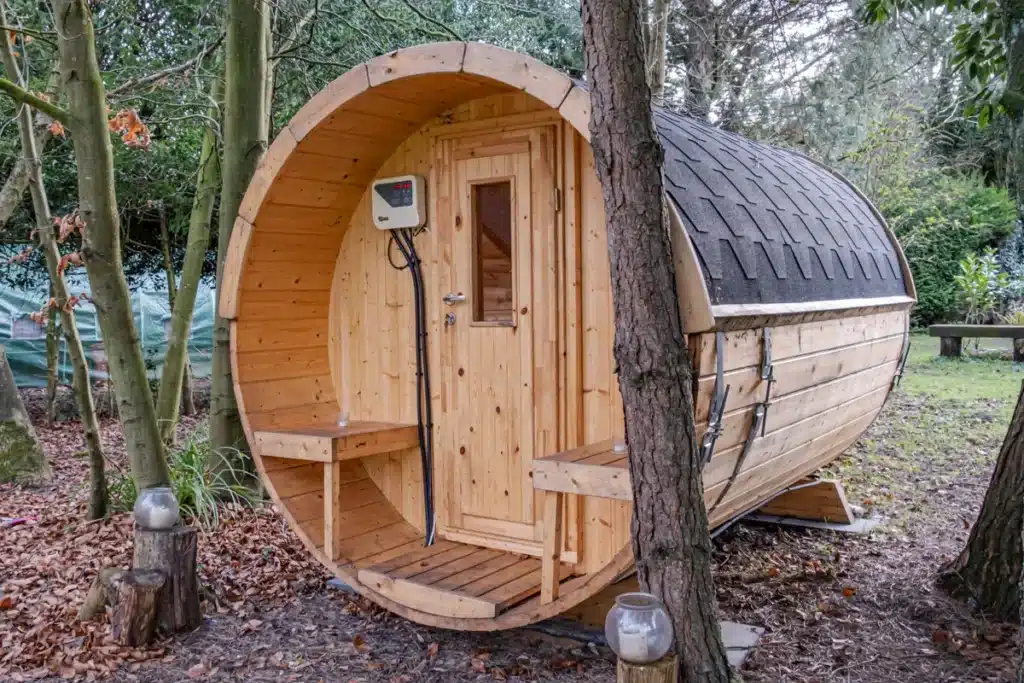 Barrel is a cylindrical container bulging out in the middle, traditionally made with wood. It is perfect for a sauna and can easily accommodate 2-3 people when making saunas DIY. This garden barrel sauna uses one such huge barrel for the DIY process. It uses an electric heater to create the needed warmth.
Barrel Saunas can be a beautiful addition to your garden area. The aesthetics of your space will enhance due to the rustic and natural look. Moreover, it is a sustainable decor and DIY material that uses eco-friendly materials.
3. Finnish Sauna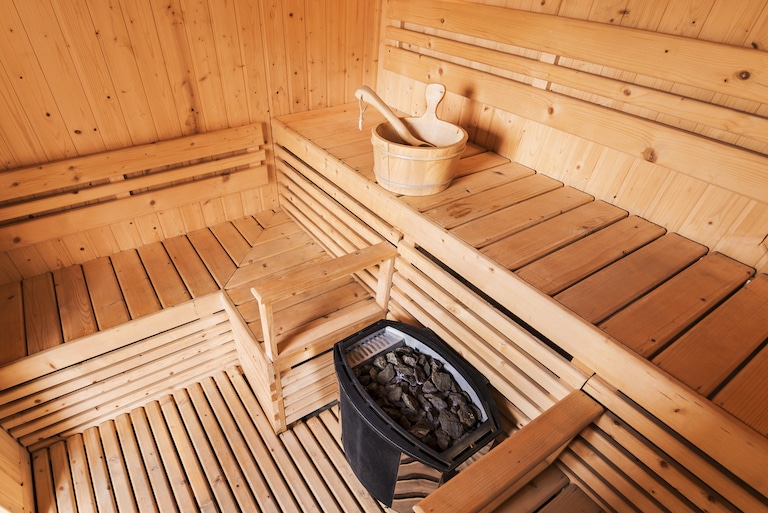 This Finnish Sauna is indeed a piece of art. The fine lines, well-crafted corners, and enticing shades of brown make it one of the best saunas. The Finnish sauna originally came into existence to combat the low winter temperatures in Northern Europe.
Finnish Sauna uses wood as its prime material and has benches with different heights. The heater stays in the center and raises the temperature to 80-100 degree Celsius. Finnish saunas use electric heaters that warm up the stones inside the sauna. You can deeply understand the process of building a Finnish sauna here.
4. A Basement Sauna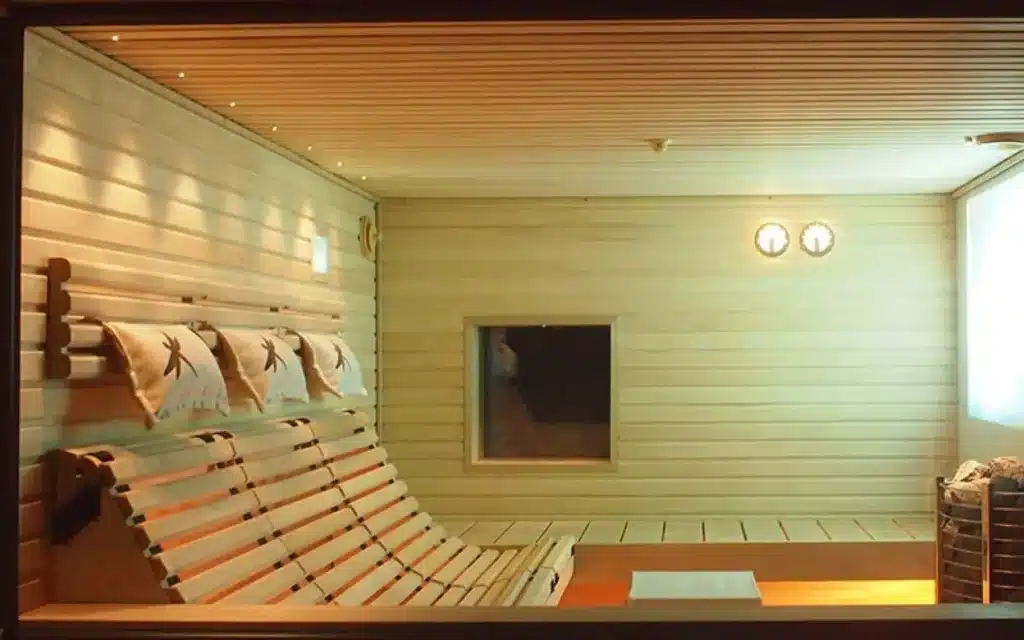 Do you have a basement that has been idle for years? Are you planning to convert it into a sauna? Then here is the best guidance for you to begin that journey. One of the quickest ways to build your sauna at home is by using empty spaces.
Saunas DIY for Basement gives you instructions on how to convert your empty basement into a relaxing sauna. It elaborates on the materials you will need and helps you go through the whole building process.
5. Building a Sauna in 20 Minutes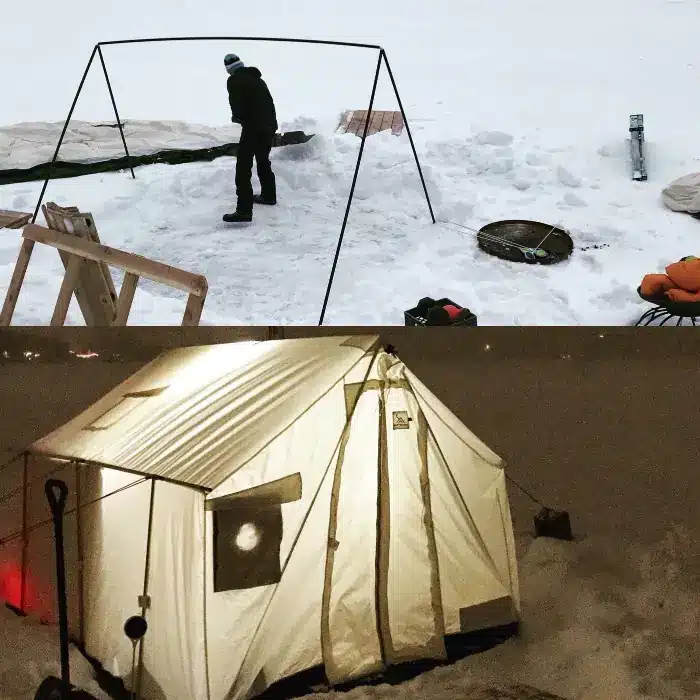 It might come to you as a shock when you hear that saunas DIY also has an option of building a structure in 20 minutes. It is not a permanent structure that gives you warmth like a wooden sauna, but it won't disappoint you.
This structure uses a tent design and breathable fabric to create a sauna that gives you the needed heath. It is portable and can be carried to any place. Without any trucks, tools, or permits, you can easily set up a structure within 20 minutes that covers a space of 8*10 feet.
6. Sauna from a Shipping Container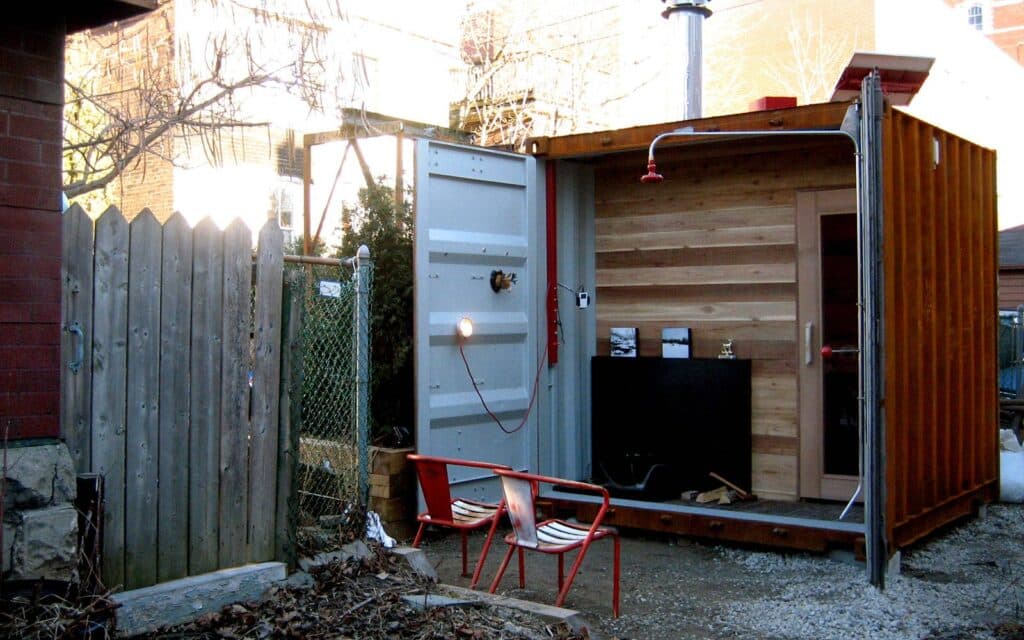 Did you find a shipping container in the dump yard? It is a sign that you need to do something creative. If you have an empty place, start building a saunas DIY structure. The shipping container in itself is a large structure. With a little bit of work, it can be the most effective sauna space.
This sauna from a shipping container has multiple features. It is portable, has a wood-fired stove powered by solar panels, and the outer skin is fabricated from corten steel. The interior of this sauna is adorned with carved stone stools, a stone sink, and wood elements.
7. Outdoor Sauna in Garden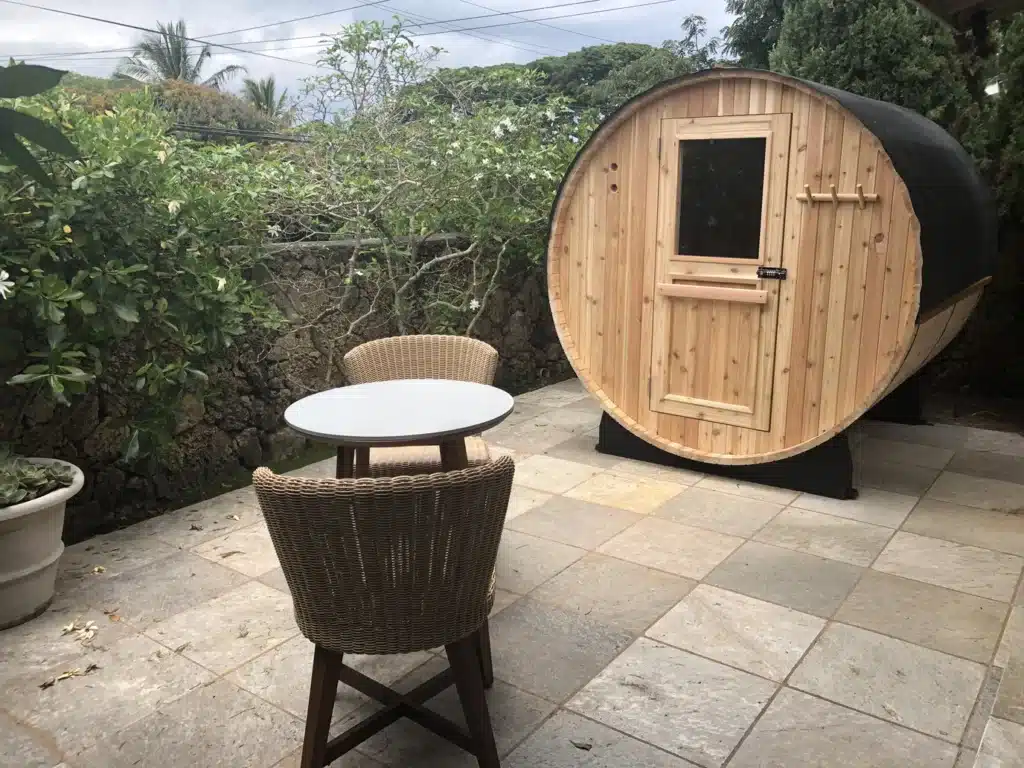 Don't let your garden remain empty for the rest of your life. Grace your space with an outdoor sauna that enhances the beauty of your garden and gives you utility. The two-person outdoor sauna is built from scratch. You can have a great time during the vacations and invite guests for a sauna bath.
Saunas DIY is a great way to bring out your creativity. Learn how to build an outdoor sauna in your space from scratch. The barrel-like-looking sauna has a beautiful shade of black and brown on the outside.
8. Converting a Storage into a Sauna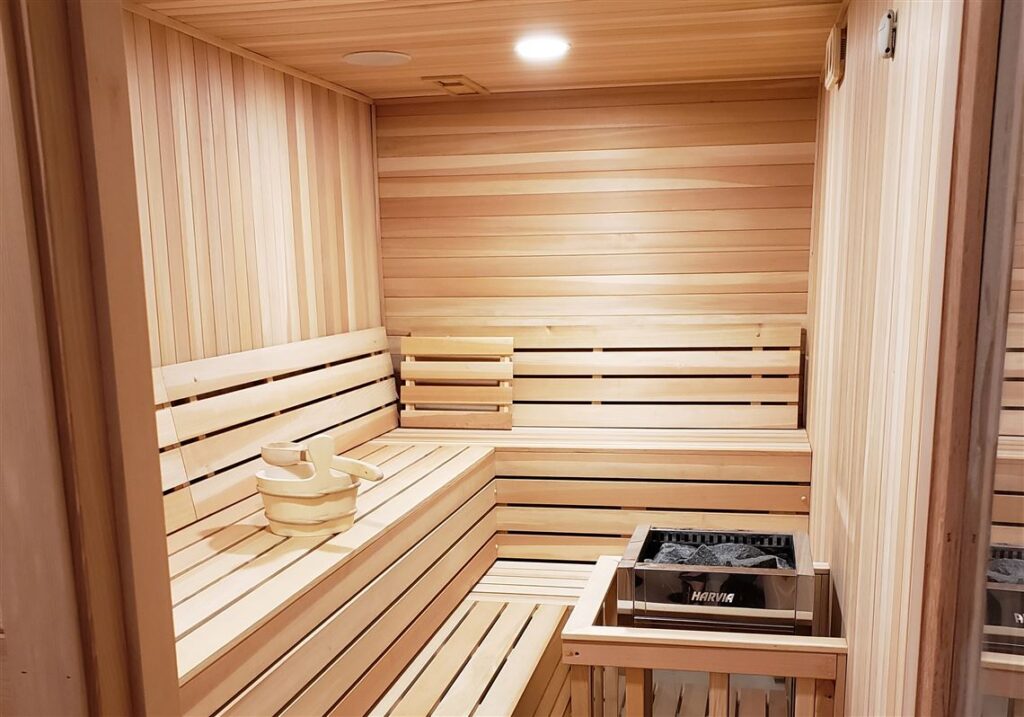 If you are not fond of reading the process of building saunas DIY, here's a video tutorial that will help. This couple has converted their storage space into a functional sauna. They share their whole journey to help you embark on your process.
Storage, garage, basement, and other empty spaces in our house have a lot of unused and unimportant things. If we segregate and dispose of them, there can be a lot of space to create meaningful features in our homes. This video is an example of one such sauna space.
9. A Sauna Built with $1000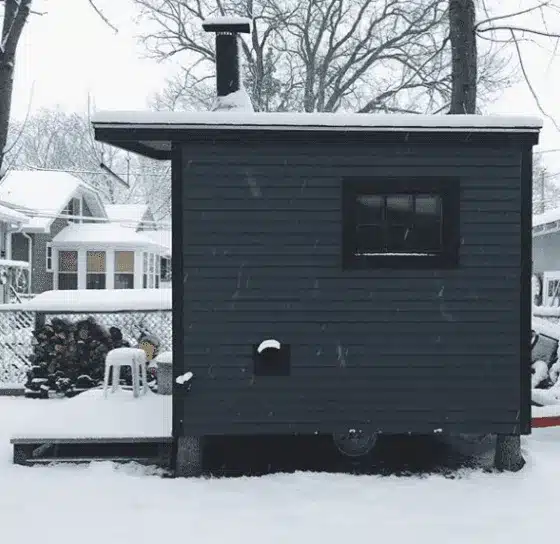 Saunas DIY does not have to be costly! If you feel that budget is a constraint in creating your sauna, then this crazy idea is for you. This small yet sturdy space with darker shades of blue and black is built for under $1000.
The creative process of building this sauna has been elaborated here. We hold ourselves back because of budgetary constraints instead of exploring new options. This sauna breaks the stereotypes and explores options that fit within a specific budget.
10. Turn Your Bathroom Into a Sauna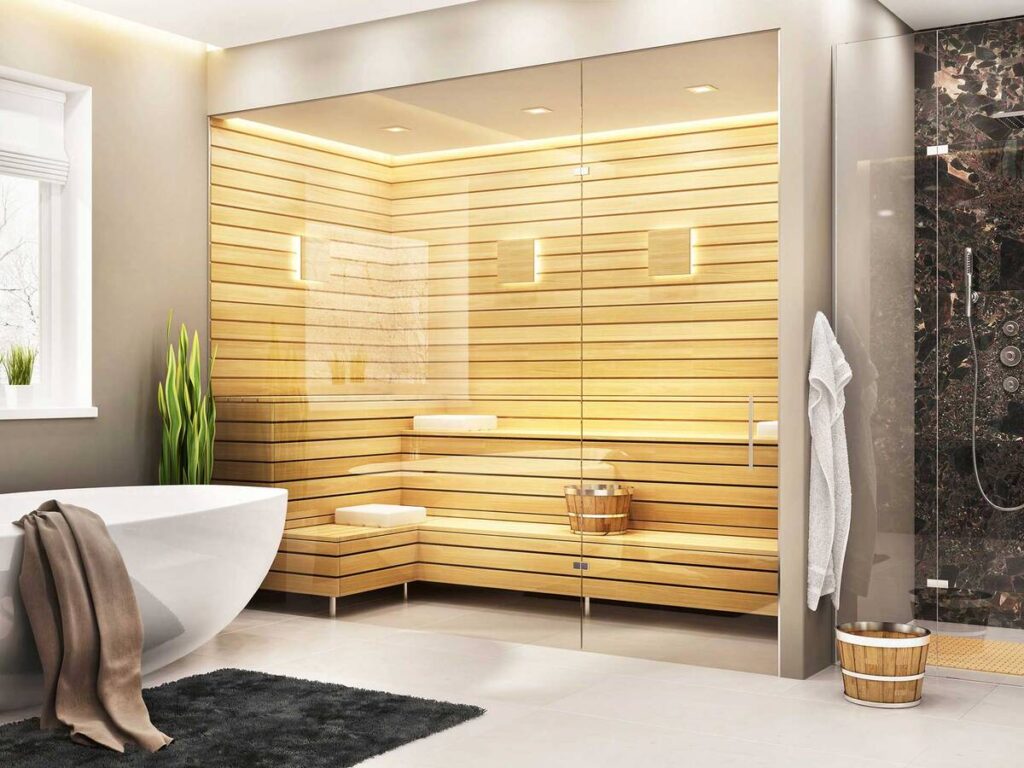 This is the best idea for saunas DIY if you have multiple bathrooms. All you need is some towels to cover up your space so that the heat does not escape from your room. Let's assume you want a sauna experience one day, but you don't feel like leaving your home.
The idea of turning your bathroom into a sauna is a temporary rescue. It allows you to enjoy the heat and relaxation a sauna gives you without additional cost. Understand the process of creating a sauna-like experience in your bathroom through this post.
11. Sauna & Hot Tub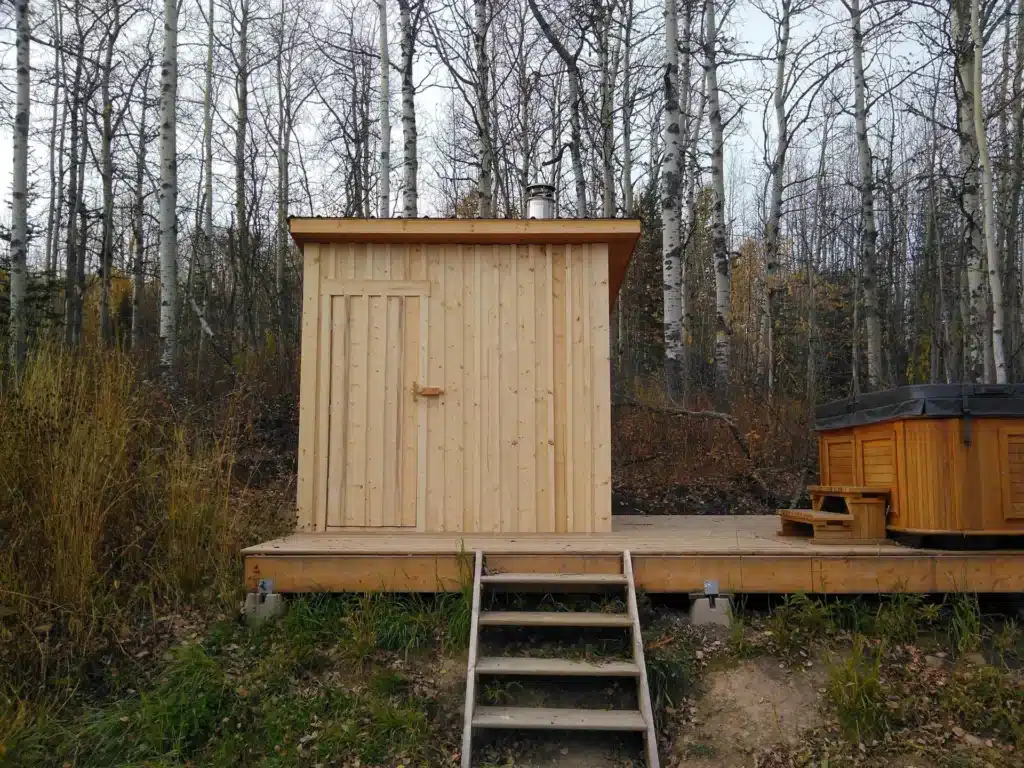 If you have a house amidst the forests, think about building a sauna with a hot tub. This structure is built on an elevated piece of wood flooring to give a luxurious feel. Surrounded by trees and mountains, this sauna gives you the best relaxation and rejuvenating experience.
Next to the sauna is a hot tub for a bath after the sauna. This is the perfect space to spend your winters. Amidst the cold weather, saunas DIY keeps your body warm and balanced through its heat.
12. Portable Bike Sauna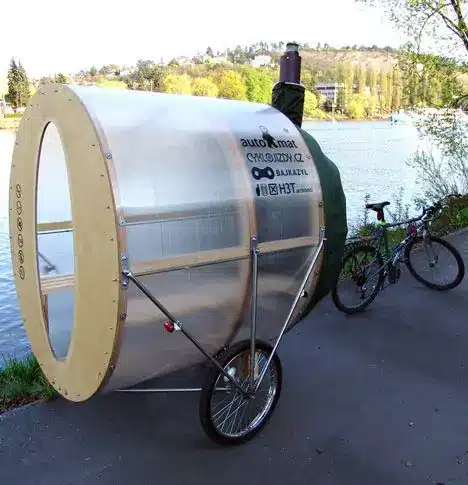 Have you ever imagined a sauna on a bike? Sounds crazy, right? Well, not anymore! This portable bike sauna is here to break all your preconceptions with its unique and outstanding designs. As you ride the bike, this sauna moves along with you. You don't even have to worry about carrying the structure and assembling it.
The moving sauna has a fully functioning fireplace that expels smoke through a small chimney. It is a non-standard way of traveling across the city and also having the privilege of enjoying the sauna. Get to know more about this portable bike sauna by H3T Architects.
13. Lake Side Sauna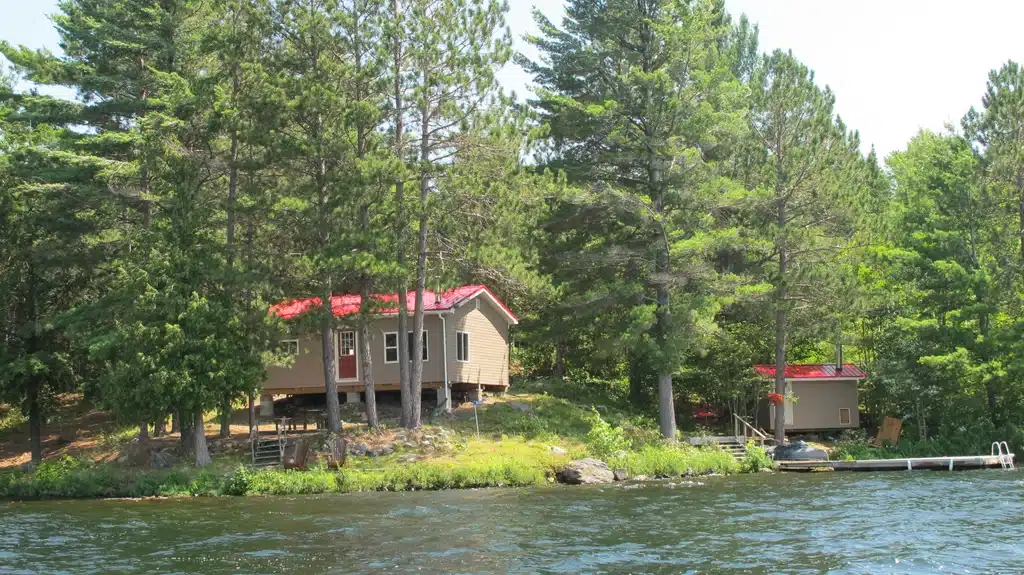 Do you have a space near the lake in your city? This saunas DIY is the best one to implement. Create a small and cozy structure to relax your body and enjoy the view of the lake. It will be the best place for outings, picnics, and spending time on vacations.
The structure is built on an elevated surface due to the uneven leveling of the ground. The beautiful combination of red and beige makes it look like a house from the outside. It uses cedar on the walls for the best experience. Get to know the whole process of building this lakeside sauna.
14. Build a Sauna in Your Garden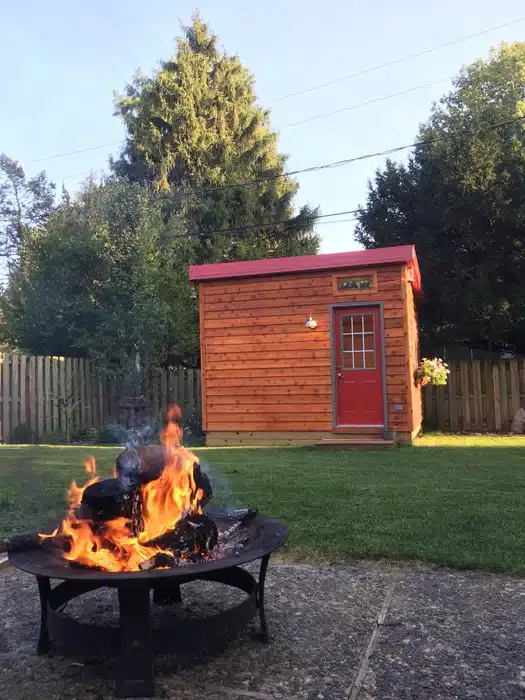 Planning a sauna structure requires a basic understanding of architecture and area. This process of building a sauna in your garden shares the raw planning images to help you understand every part of the sauna's DIY journey. The outcome of the planning is visible in the picture.
The warm external colors and effective heater in the sauna make it aesthetic and effective. The transparent spaces in the window allow you to enjoy the outside weather as you warm up your body. This Finnish Sauna structure can be built through an elaborative and well-planned process.
15. DIY Sauna for the Snow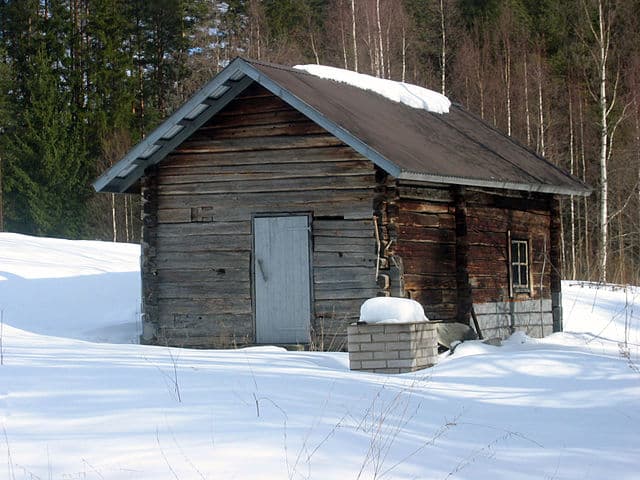 How wonderful it is to enjoy the warmth inside the sauna while watching the snow outside. This contrasting combination makes it worth it to have a sauna amidst the snow. The person who constructed this structure isn't a professional, and thus they created their base structure with chalk.
So, it's not always about being a pro at everything you do. All you need is a lot of motivation and curiosity to learn things as you go ahead in the process. The structure has an insulated door with a thin piece of oak on the frame.
16. DIY Infrared Sauna under $150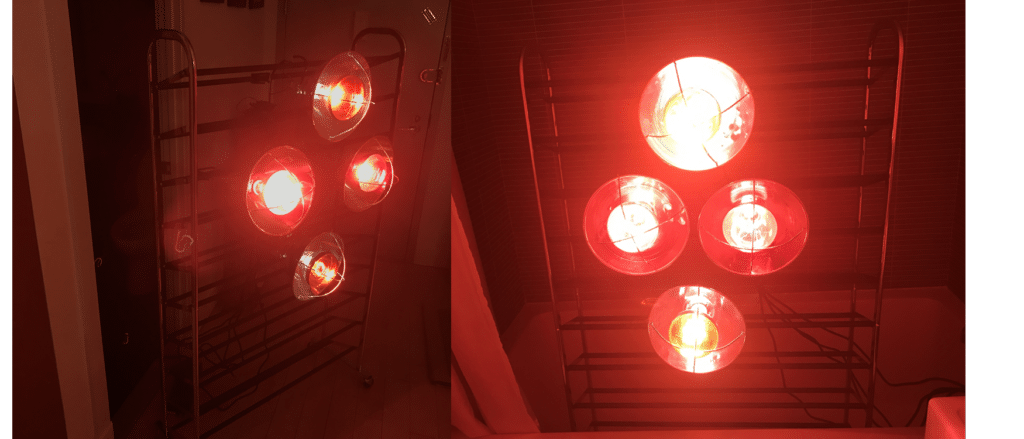 Infrared saunas use lamps and lights to offer a specific type of rays that heat the environment. These rays do not necessarily heat the temperature around you. They impact your body and enhance the body's environment. The rays enter your body through the skin and create the needed warmth.
This saunas DIY uses infrared technology and only uses $150 to build a structure. This is perfect for all those beginners who do not want to do the extreme work of cutting the wood and assembling it. An infrared sauna is much easier to create due to the use of lights.
17. A Well-Built Outdoor Sauna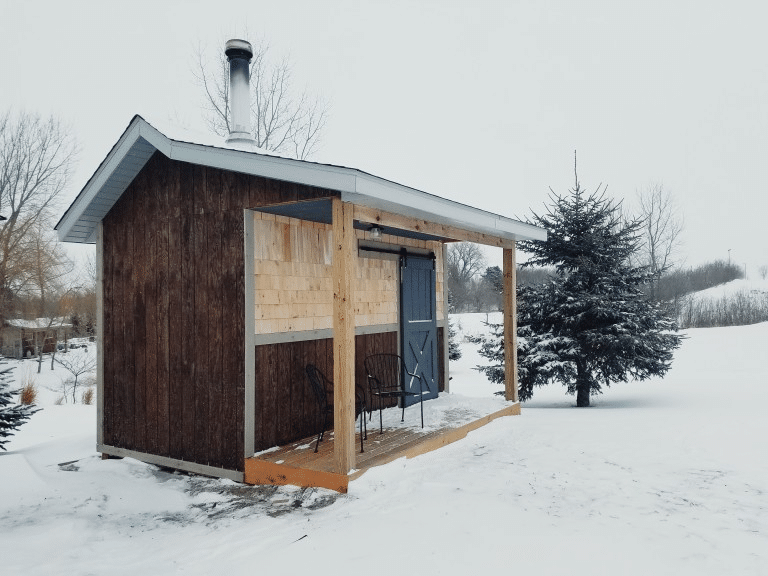 This outdoor sauna with a chimney uses wooden burnings to heat the atmosphere. The structure is built from scratch with different wood and electric fittings. This sauna also considers the color combination of its outer structure.
Along with creating optimum heating on the inside, it has an impressive exterior with blue, brown, and cream shades. The chimney releases the heat from the sauna to create a pleasant and warm experience. The two chairs near the door allow an individual to enjoy the snow after having a sauna bath.
18. Customized Winter Sauna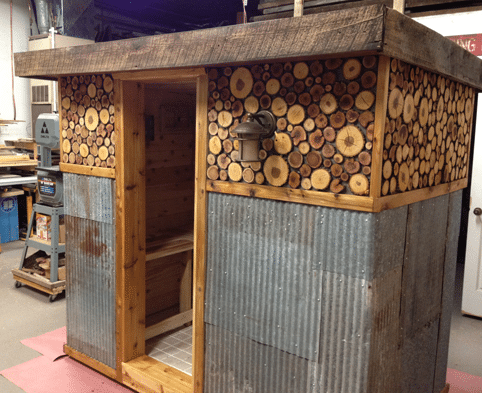 Have you ever seen a sauna that looks more like a creative art project? Well, this is a customized winter sauna that uses the most creativity. This structure uses old tin from the barn, hundreds of log slices, lots of cedar, and antique lights. This is the best example of making the best of the waste.
On completion of the door structure, this sauna will be the center of attraction wherever it stands. The best part about this sauna, along with its functionality, is the hundreds of log slices in different shades and shapes on the top.
19. Elevated Woodburning Sauna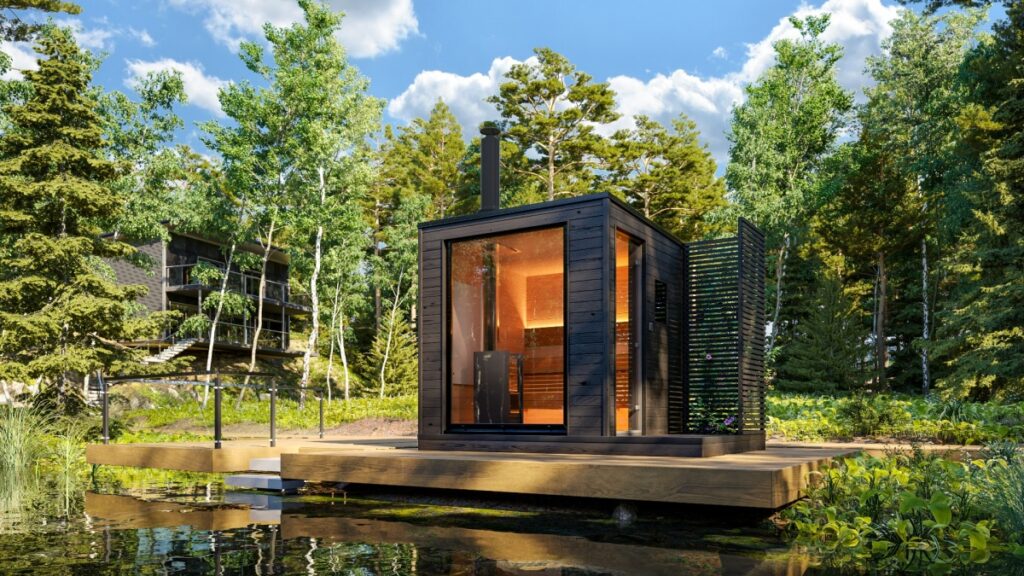 The elevated wood-burning sauna stands strong in the backyard of a house. With mild shades of wood, it has a rustic aesthetic. The whole structure stands on four floating concrete foundation blocks. It is then topped with plywood to build a platform. The aluminum foil is rolled out on the plywood.
The plywood walls and galvanized metal roofs make the structure strong. Red cedar is used to create the bench inside the sauna. The last part was fitting the stove pipe. To experience the whole process in detail, visit here.
20. Trash Bag Sauna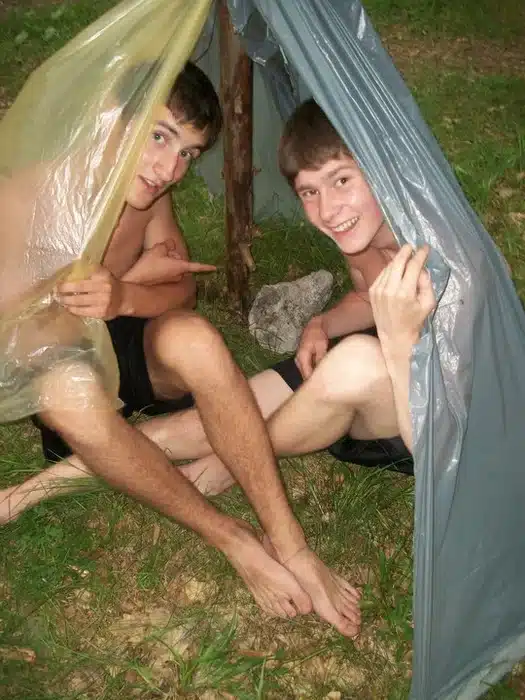 What do you do when you don't have anything with you but still want a cozy environment? This is an idea that emerged in one such circumstance. A trash bag sauna is the cheapest alternative to get the needed warmth. It is a fun activity you can do with your kids.
It won't be an impressive structure to keep you warm. However, it does have the potential to keep you creative and laugh out as you sneak into one of these saunas. You will need one long log, a few plastic bags, and a hot stone from fire to do this crazy experiment.
21. Building a Sauna in the Garage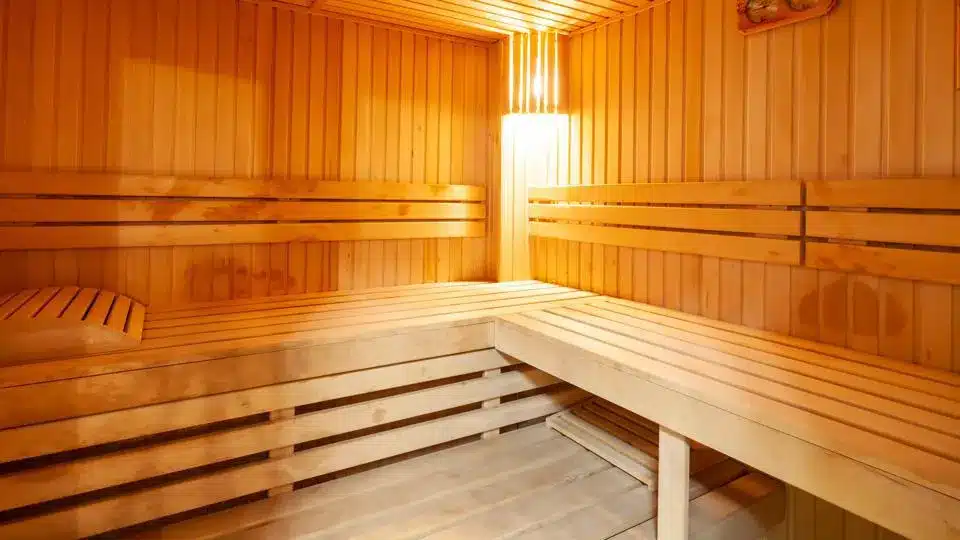 Convert your empty garage into an amazing sauna through this video tutorial. Building a sauna on your own can be a creative endeavor. It also reduces the cost of building a structure that would otherwise cost much more.
This video is part 1 of building the sauna in a garage. You can explore the process ahead by keeping up with further videos. The outcome of this process will be an amazing sauna where you enjoy and relax.
22. Turn a Shed into a Sauna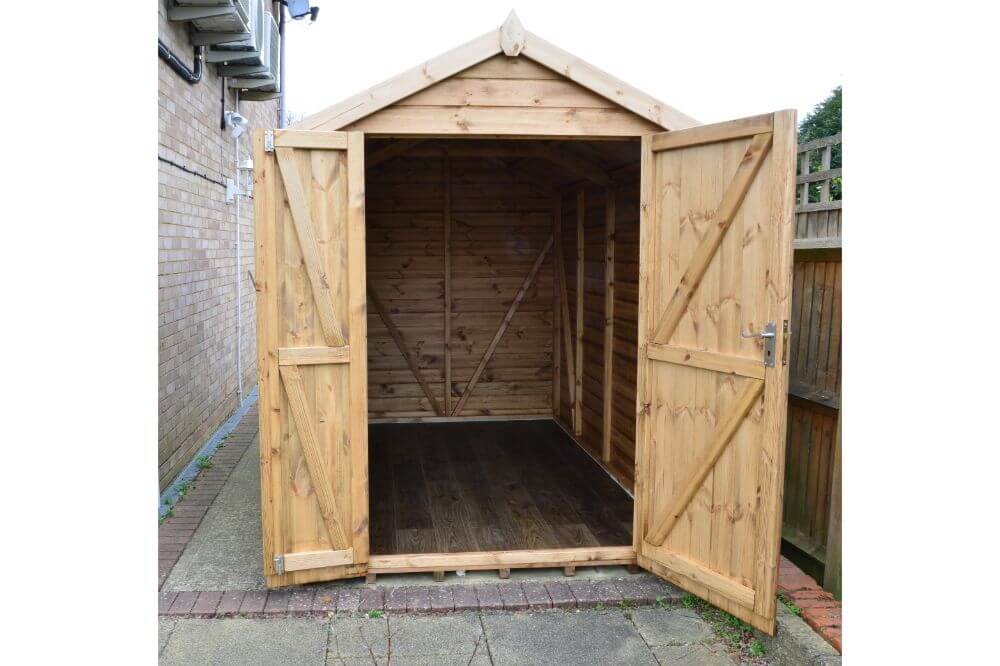 If you have a large home, there must be an empty area in your outdoors that stores the garden tools, equipment, and other extra accessories. What if we told you that this shed area in your garden can be easily converted into a sauna?
This video shares the best tutorials on how to convert your shed area into a sauna. The builder patiently takes us through the whole process and shares some important tips and tricks for the best outcomes.
23. DIY Sauna in the Backyard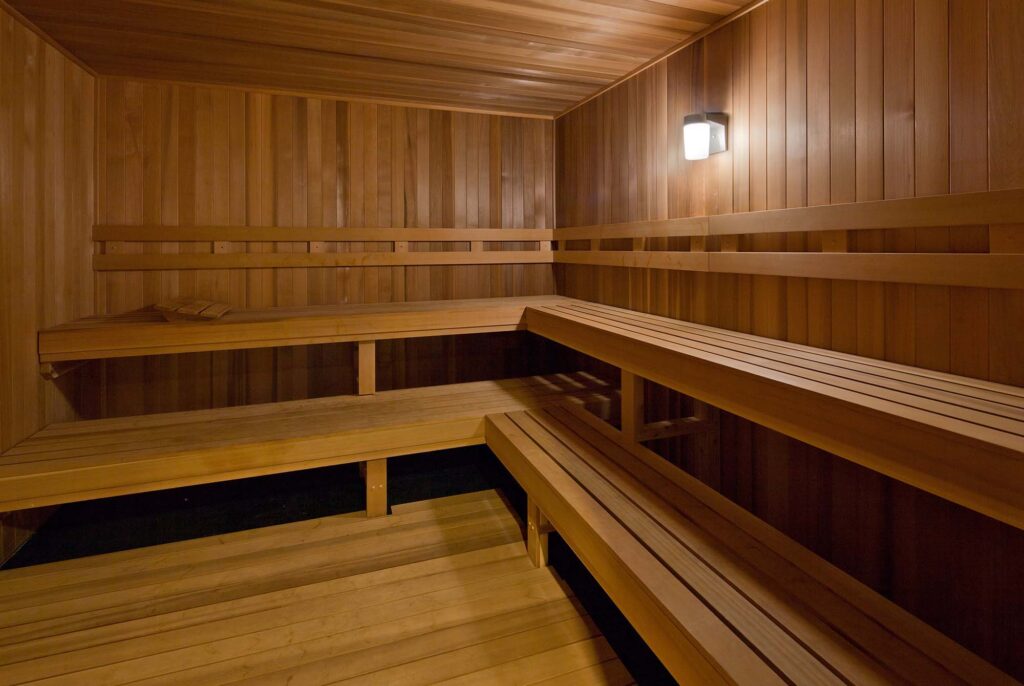 If you want to experience an extremely detailed process of building a sauna, watch this video. It begins with digging in the ground and ends with a practical demonstration of using the sauna.
Having a DIY sauna in the backyard is a great way to keep your space filled with multiple refreshment activities. Next to the sauna, you can have a pool and a few chairs to lie down and enjoy nature.
24. Underground Sauna with Detailed Process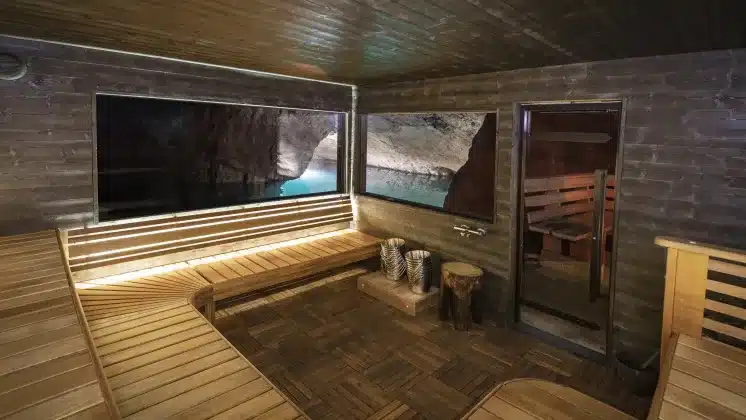 A sauna is a space that creates warmth. Having an underground arrangement is the best way to have the warmest and cozy sauna. This video shares how you can utilize space to create a sauna underground. Get ready to convert your empty landscape into an underground refreshing space.
25. 5*6*7 Custom Indoor Cedar Sauna Kit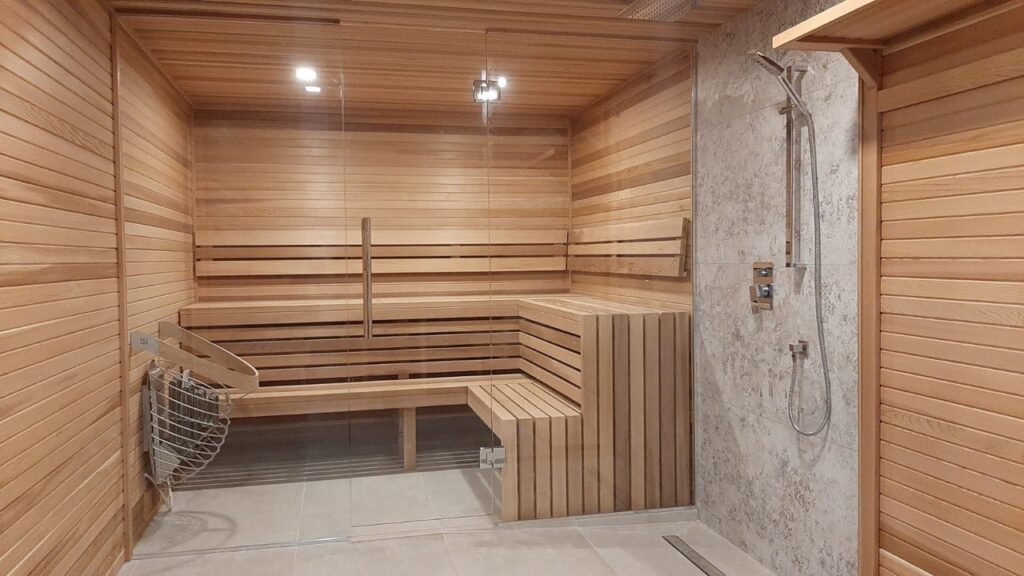 Creating a sauna from scratch can be a tough task. If you want to know how to build a sauna but don't know how to begin from scratch, we have an idea for you. There are many custom kits for different kinds of saunas to help you build the best one with the least effort.
This sauna kit will create a space of 5*6*7 with the help of cedar wood materials. The installation instructions will make it easier for you to assemble the kit.
26. Thermory Outdoor Barrel Sauna Kit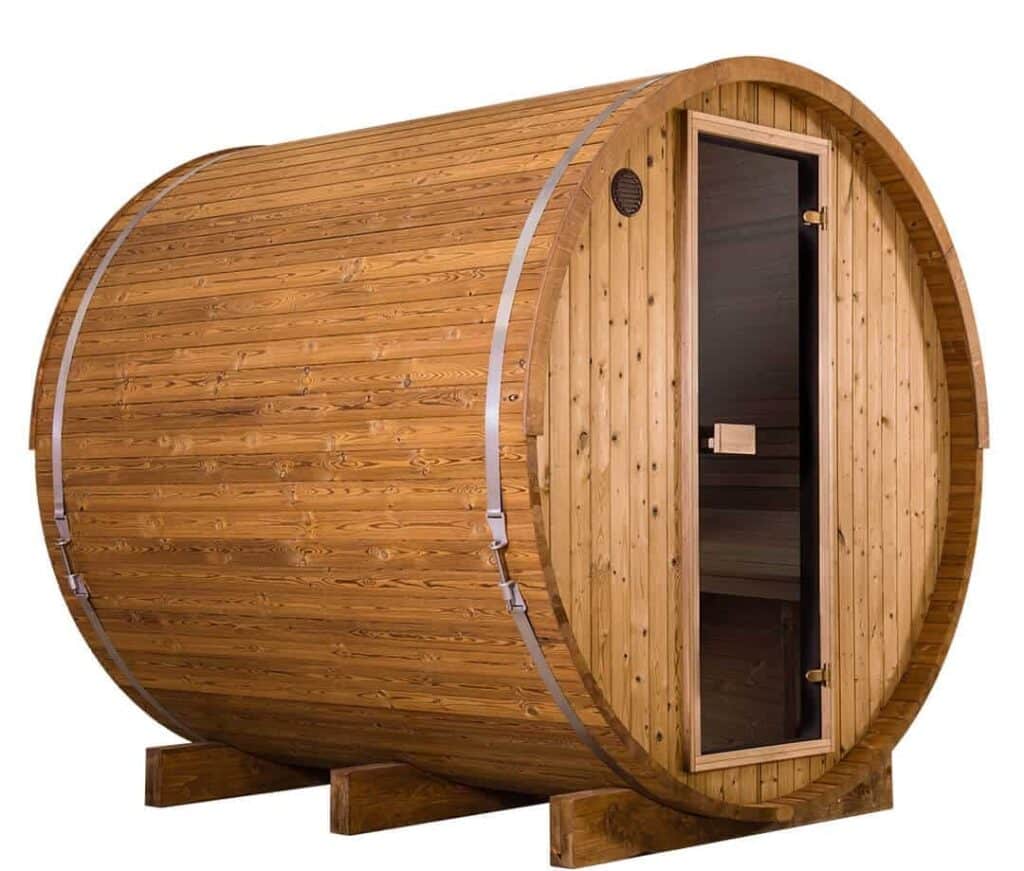 The barren sauna looks stunning in the outdoor garden. However, building an outdoor barrel can be time-consuming and backbreaking work. This Thermory outdoor barrel sauna kit will make your task easy.
All you need to do is find an appropriate space to affix the structure. Once you get the kit, it's time to understand the different spare parts and put them together.
27. Patio Outdoor Prefabricated Sauna Cabin Kit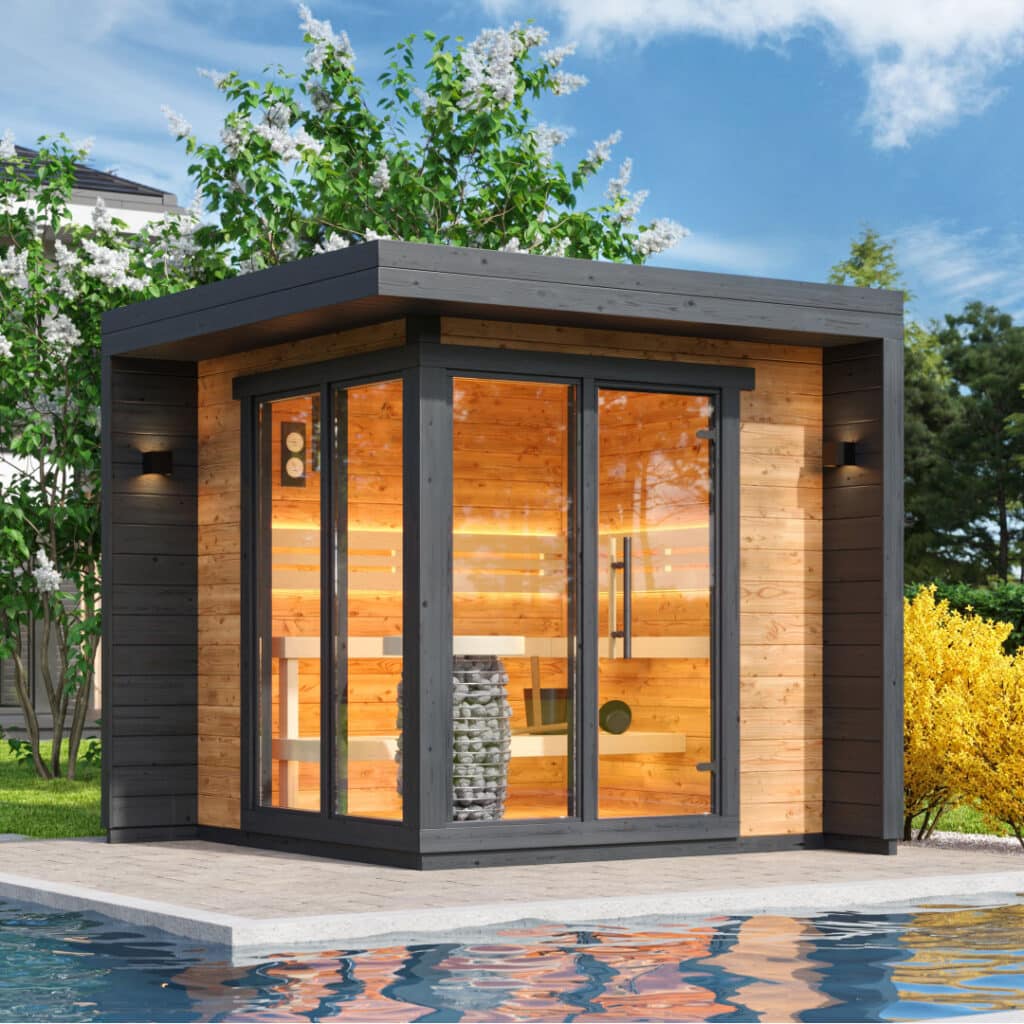 Having a sauna right next to your swimming pool is the best idea! You can enjoy the water as you heat up and get in the pool after sauna bathing. It's better to take a break for a few minutes before you enter the pool.
This easy-to-assemble kit will make your space the center of attraction for your guests. The pre-fabricated kit has multiple parts that can be joined together to form a sauna structure. Made with durable material, this structure is long-lasting and can be moved to new spaces.
28. Red Cedar Indoor Prefab Sauna Room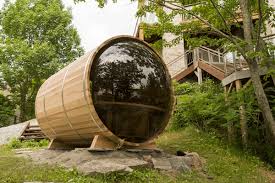 The prefabricated sauna kit uses red cedar wood. The compactness, functionality, and mobility of the structure make it suitable for all homes. You can place it anywhere inside your home or in the gardens. With a touch of Finnish traditions, this sauna room enhances the beauty of its exterior.
29. Precut Home Sauna Kit – Himalayan Salt Sauna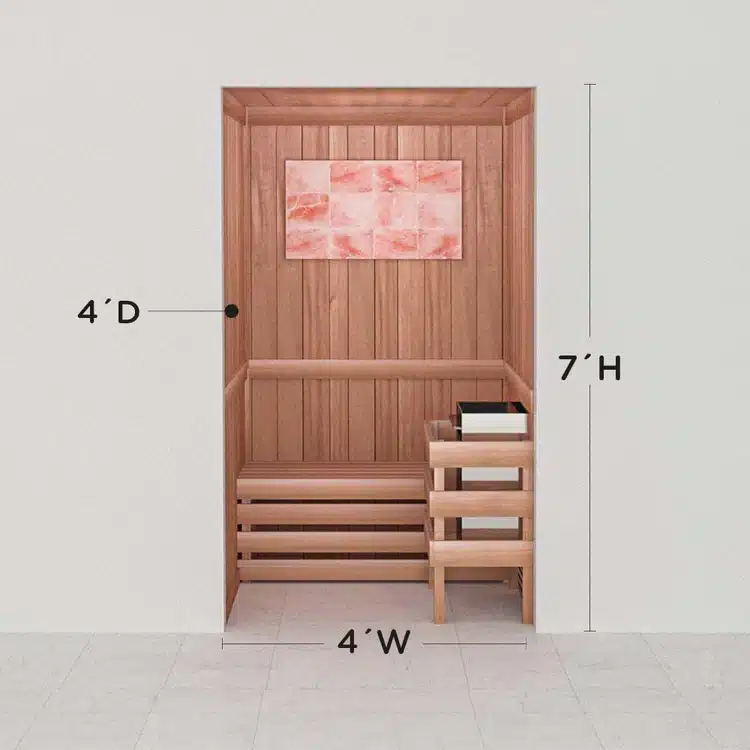 It is a unique sauna kit with a Himalayan salt sauna. The hygroscopic properties in this salt activate the natural humidity in the air to condense on the surface of salt blocks, triggering the natural ionization process. It purifies the air in the sauna.
The atmosphere created due to Himalayan salt interacts with the body on a biochemical level. It releases the natural mood-balancing chemical serotonin. It positively impacts digestion, memory, sleep, appetite, and mood.
30. Pre-Cut Indoor Cube Sauna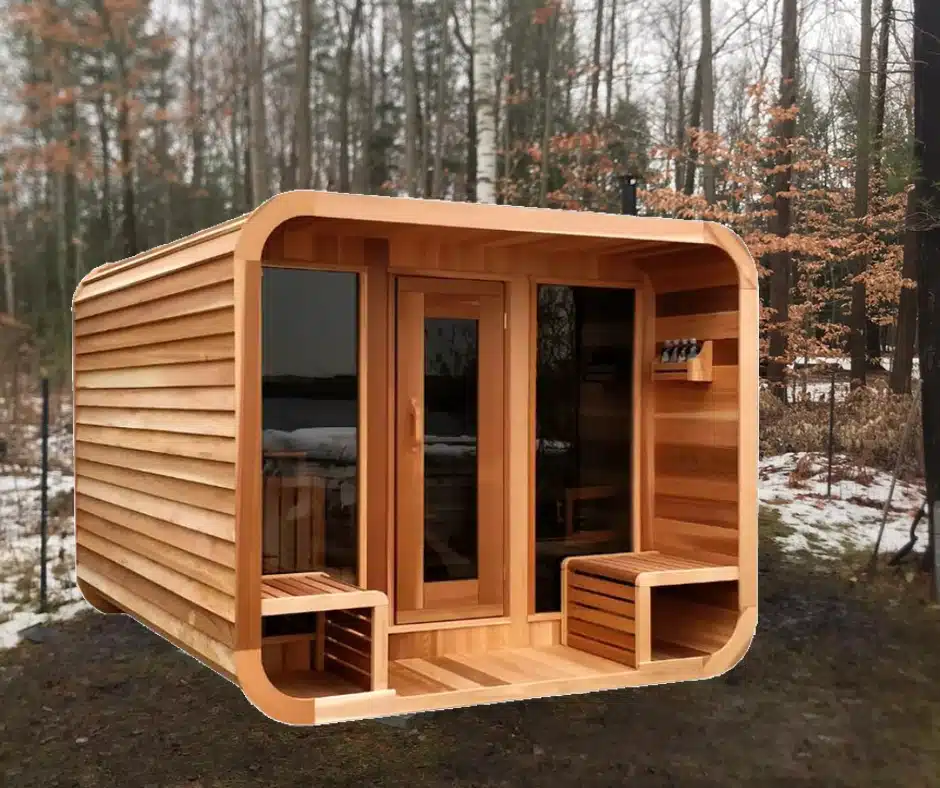 The pre-cut indoor cube sauna is perfect for the corner next to your bathroom. If you have extra space within the bathroom to place a sauna, use it. Assembling and moving the pre-cut cube structure will be an easy task.
You can also move it to a new space whenever you wish to modify the arrangements of the interior.
Are You Ready to Go on a Saunas DIY Journey?
The saunas DIY in the above list has amazingly crazy ideas to experiment with. It smartly utilizes the empty spaces within and outside your home to convert it into a sauna. Building your sauna gives you the liberty to select your raw materials. This way, you can select the best quality wood and fittings to make the structure long-lasting. You also get the freedom to decide the size, features, and structure of your sauna.
Sauna bathing is a powerful activity to have in your weekly routine. Doing it with your kids and partner can also be a bonding activity where you spend intimate time with them. Create this space in your home and give your family memorable leisure time.
Also, feel free to add your essence and creativity while you build your sauna!