Are you planning to change your wall paints? Well, going all neutral can be the classic obvious choice to make. How about taking it a level up? That's exactly when you can experiment with mushroom-colored walls.
Mushroom colors are a big trending hit amongst people. They are the perfect mix of natural and soft earthy tones that make them the most favorite choice. A mushroom colored wall can be the inspiring soft, warm, and cozy background for your space.
The mushroom paint colors can get as beautiful as you want and like them to be. Obviously, the mushroom palette is not one shade for all situations; there are plenty of options to choose from. To help you choose the most beautiful mushroom colored wall for your space, we are here with the top 6 choices that you will surely love.
What are Mushroom Colors?
If you still aren't sure about what mushroom colors are, they are basically brown-beige as the dominant colors with a combination of gray shades.
Are mushroom colored walls similar to greige and taupe? Well, taupe is more on the deeper gray/beige combination with a more purple and pink undertone. On the other hand, greige is more towards the softer pastel shade, more like a great combination of white and off-white.
To talk more precisely, the mushroom paint colors fall in between these two. They are deeper than the warm greige and slightly less than the classic taupe. The perfectly chosen mushroom color will certainly make a cozy, warm, and lovable backdrop!
Top Mushroom Colored Wall Paints to Elevate Your Space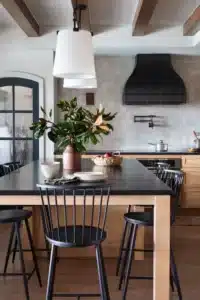 The first mushroom colored wall paint that makes a distinct appearance is light taupe. The color makes a great choice as it looks beautiful in every possible room. Moreover, the color is more on the whiter side; thus, it makes your space look brighter, airy, and elegant.
The color can also be chosen to add more depth, warmth, and coziness to the room.
This is one of the most attractive choices that strike the perfect balance between neutral white and warm beige. The color looks amazingly beautiful with modern room décor and aesthetic furniture choices. You can also enhance the attractive charm of this color by contrasting it with shades of blue, green, and brown.
Lastly, the color looks just awesome, especially with the flowing natural light. As the natural light falls on this mushroom color, it is likely to appear even more vibrant and charismatic. Usually, it makes the perfect choice for your large living rooms and even bedrooms to create a relaxed and calm atmosphere.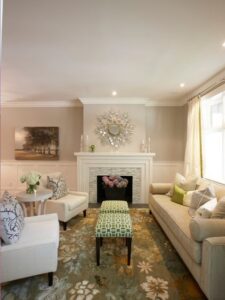 Mushroom wall paint colors are more natural and organic to make anyone fall in love with its beauty subtly. The muslin wall paint color completely justifies the warmth, naturalness, subtleness, and coziness expected from the natural color. The color is one of the perfect choices for people looking for mushroom colors in lighter shades.
Muslin mushroom color shade is one of the choices that fit naturally in every room décor. As it is more on the natural side, it makes a beautiful selection for the living room to be brighter and more spacious. 
The color is more warm and rich and can be easily paired with other lighter/warmer shades without any second thoughts. You will be amazed by the beauty of this color as it changes its texture with the changing lights. It looks the most beautiful in the medium of natural light.
This shade is one of the top favorites of people looking for a subtle yet interesting mushroom color to enhance the beauty of their place with utmost sophistication. Choose this mushroom color to make your space more elegant and charming in the easiest way possible.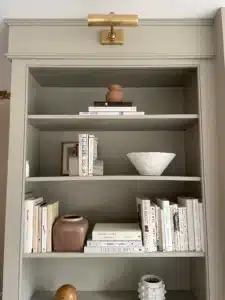 If you prefer mushroom colored wall paint colors more on the gray shades, this color will make a perfect choice. The color is appealing and has amazing beauty that never lets your expectations get down. You can confidently choose this color for any of your traditional or modern home décors to elevate its beauty in the most sophisticated way possible.
Honestly, the color is amongst the top favorites of interior experts as it gets along with every possible contrasting color. However, the light golden and dull beige makes the most attractive combination with this mushroom-inspired color. Additionally, the color is nothing less than the center of attraction, complementing the modern aesthetic décor.
The color looks more like gray or green most of the time; however, it also reflects shades of taupe. As a result, the color will always surprise you with an attractive color shade that just impresses everyone around. Moreover, the warm and rich texture of the color does complete justice to the expectation of people preferring subtle and impressive wall colors.
Lastly, the richness and warmth of the color instantly brighten the space to create a lasting impression. Nothing can be more satisfying than witnessing the beauty and charm of this mushroom-inspired wall paint color.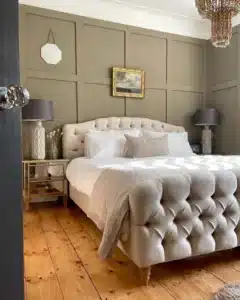 This mushroom color is one of the highlights that can instantly spark anyone's love. The color is the perfect blend of happiness, warmth, relaxation, and coziness to enhance the charm of your place. This is more on the brown side that adds subtle sophistication and elegance to your place.
The right texture of the brown color is what makes your place look fancy and rich without any hassles. If you want to try a darker mushroom color on the walls, this can be the right choice. However, it is suggested to use this wall paint in rooms with better natural lights.
The richness of this color is so beautiful, even to make your modern home décor look so mesmerizing. You can easily contrast this color with any other color as it usually looks beautiful with all the other colors. Beige, brown, and rust are some of the most recommended colors to try with this mushroom-inspired wall color.
Besides welcoming your guests with its warmth, this color is also soft to please the eyes and hearts. This natural mushroom color will never let you feel regretful about your decision to paint your walls with it. Would you give it a try?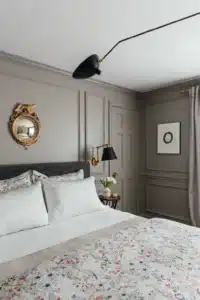 This is another beautiful gray-based mushroom colored wall paint color that will surely impress you. The color is more on the gray side of the mushroom color palette; thus, if you like more warm and dark color shades, this will make an interesting choice. The color is best known for adding warmth and sophistication together to your space without ruining the overall vibe.
The color is a charm that instantly attracts all the eyes toward its beauty. It is one of those few colors that never fail to make a bold yet subtle style statement. Moreover, the color does complete justice to the modern home décor vibes by matching its trendy design.
Contrast with subtle golden color, rust, brown, or natural white and off-white; this color will never disappoint you. It is best suggested to pair it with neutral color tones to ensure that its beauty stands distinguished. You can also paint all your walls with this color, and honestly, it will create a magic that always leaves an impact.
According to experts, the color shines at its best when used in a room with lots of natural light. However, if natural light is not available, it is recommended to use good quality artificial light to do complete justice to its beauty.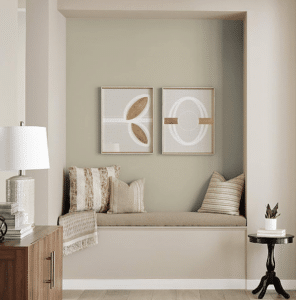 Last but not least, this super amazing and beautiful mushroom color cannot miss its distinct place in the list. The color is super subtle and attractive to charm everyone with its beauty. It has a distinguishing beauty that is soft, welcoming, and appealing to never fail grabbing all complements.
The color is a beautiful shade that combines beige, brown, and a bit of a khaki undertone. It becomes a popular choice as it does complete justice to traditional home décor as well as the modern décor style. Additionally, the color looks magnificent in every room, whether you use it in your bedroom, kitchen, or living room.
According to interior experts, the color becomes even more beautiful when used with neutral tones like whites and off-whites. The neutral tone colors instantly enhance its charm and sophisticated beauty to stand out. If you are using it in a room with maximum natural light, it almost becomes irresistible to fall in love with its beauty.
The Tricky Part About Mushroom Colors 
Mushroom-colored walls do make a great attraction, but only when they are carefully and rightly chosen. Any wrong shade of the mushroom color can dull the whole vibe of your place. On the other hand, with the right mushroom color shade, you can get a perfectly soft, neutral, beautiful, warm, and fabulous wall paint color.
Well, the tricky side about the mushroom colors is that many colors aren't actually the right shade, but they look one with perfect lighting. This can be confusing but with careful observation, it can easily be taken care of.
Some greige colors appear in mushroom tones in the south-facing area as the natural light will add the required warmth.
Many beige colors can appear more in mushroom tone, especially in the north-facing rooms, as the cool and natural light enhances its beauty.
Mushroom colors appear in their correct shade only under the perfect medium light; anything lighter will make them appear tan, and anything darker will make them look brown.
Final Thoughts
Mushroom-colored shades are classic, timeless, beautiful, and gorgeous choices that instantly bring subtle changes to your place. The mushroom-inspired color palette gives so many options to elevate your space's elegance and beauty to the next level. Whether you want to keep it timeless or trendy, the mushroom colors are here to stay for a while to make a distinguishably impressive style statement.
Which of the mushroom colored ideas is your favorite? Do let us know in the comment section. 
Frequently Asked Questions 
What Colors Can Go Well with Mushroom Colors?
Mushroom-colored walls can be the prime attractive background of your place to catch everyone's attention instantly. The mushroom paint colors go well with shades of warm whites, greens, blues, creams, deep browns, and grays.
Are Mushroom Colors Trending or Timeless?
Mushroom wall paint colors make a good combination of trendy and timeless. As they are more on the neutral side, they are timeless when carefully chosen. The mushroom colors are also a trend when they are tested and used mindfully depending upon every room's décor.
Are Mushroom-Inspired Colors and Taupe the Same?
Though both the color shades look very similar, they are different. Taupe attracts more with its pink and purple undertones, while the mushroom colors are more neutral. Mushroom colored shades have more versatility in portraying in terms of beauty, warmth, and sophistication.
How to Choose the Best Mushroom Color Shade?
To choose the best mushroom-inspired color, ensure to do a large patch test beforehand. Also, make sure to test the color under good natural light to be sure of the actual shade. Lastly, it is suggested to go with your preference and liking.