Wall color and wallpapers are mainly used on the walls to create a base for the home decor idea you have in your mind. It plays a major role in shaping your room's look and emitting a desired vibe. So, you must be careful about what to put on the wall.
You can often get bored with the room decor and want to make changes to it to make you feel fresh and give a sweet illusion of a new beginning. So changing the decor becomes an important task. When you paint your wall with one particular color or wallpaper, making substantial changes every time becomes a difficult task. Painting the walls frequently is a huge job as it comes with a lot of work and high investments.
In such cases, using a safe and neutral color is the best way to go. It allows you to decorate the walls with any type of paint, stickers, and decor pieces. One of them is Sherwin Williams Alabaster White which has been gaining popularity recently. Let's know more about it.
Sherwin Williams Alabaster White
Sherwin William introduced Alabaster, one of the most known white paint colors vastly used in houses and other properties to give a neutral color on surfaces. It has a huge hype on the internet, with its shades creating a warm and perfect undertone for any decor idea.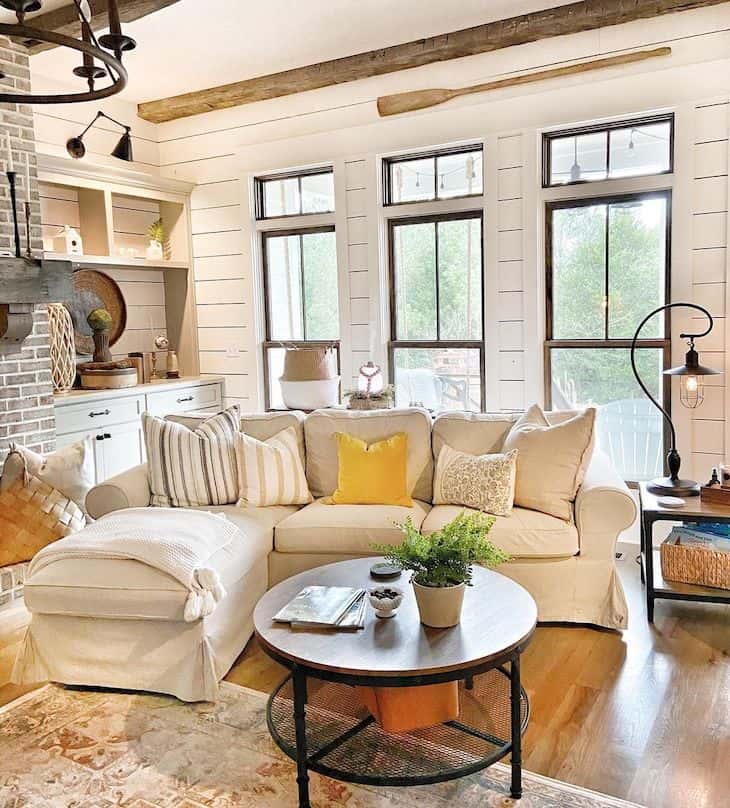 Sherwin Williams Alabaster white can be used for cabinets, exteriors, windows, interiors, and various other places. It is an amazing-looking off-white color that feels warm and looks cool in your house.
Sherwin Williams Alabaster white is a soft and creamy color that gives a hint of off-white but is light enough to be considered white. It was Sherwin William's color of the year and is a great option to go for if you want a neutral-colored home.
Sherwin Williams describes it- "Alabaster is neither stark nor overly warm, but rather an understated and alluring hue of white."
Undertones of Alabaster
The basic meaning of the undertone is the parts of color that you cannot see. It comes into the picture when you wonder if a color can be called warm or cool because that is dependent on its undertone.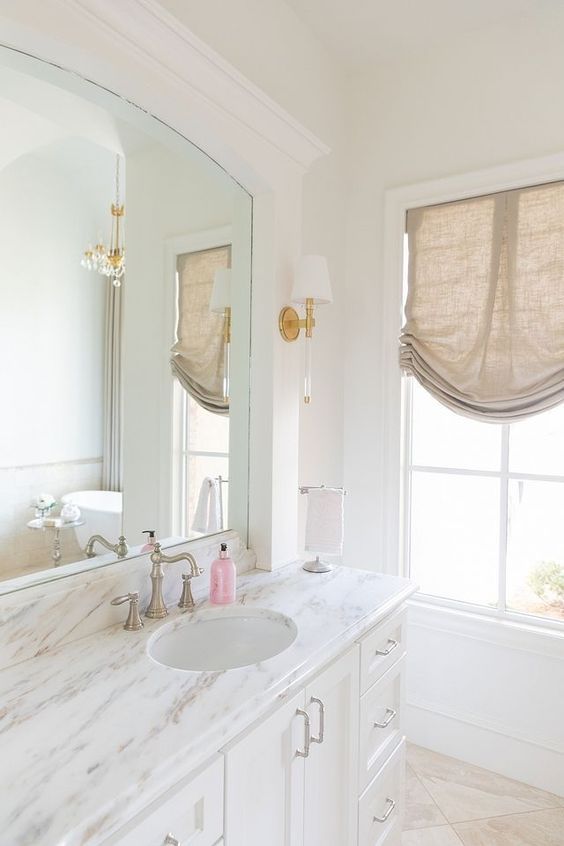 In the case of Alabaster, the undertones are subtle and quiet. It has a neutral base and does not fall into the category of any particular neutral color like white, beige, or yellow. It has both a hint of beige and yellow, along with a little sense of gray. These undertones fill in for both warmth and coolness, which is a quality of all neutral colors.
What is Alabaster's LRV?
LRV stands for Light Reflectance Value goes from a scale of 0 to 100, where 100 is pure white, and 0 is pure black. In this range, Sherwin Williams Alabaster White stands at 82, which is close to a white color, but not completely there. So if you are looking for a fresh white shade with no compromise for your decor, this may not be the one. Although it's a better option as it does not give the coldness of a pure white and adds some warmth to the room. It appears to be creamy and soft.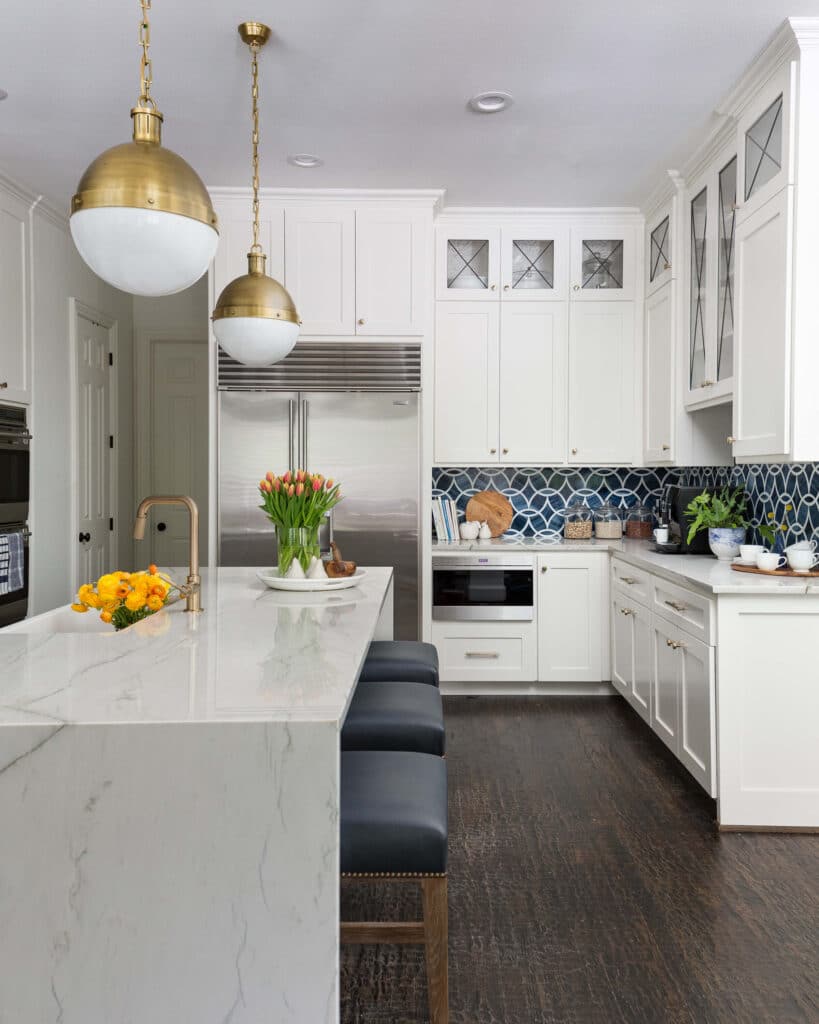 You can pair this color with any darker shade to make it stand out and enhance its creaminess.
With a good setup of lights and colors, this color shines bright in any room and reflects the light to its maximum. So if your room does not get enough light naturally, you can go for this shade to maximize the little sunlight emerging from the window. It will make the room shine bright and beautiful.
Sherwin Williams Alabaster White for the Bedroom
If you are planning to paint the bedrooms of your house with Sherwin Williams Alabaster white, just go for it without much thought. It gives a calming and soothing vibe in your bedroom as it's not too bright to make it look tacky while you are asleep.
If your bedroom has low lighting, this is a great option for you as it does not shadow out in the corners. For a creamy, velvety texture, you can use the Sherwin Williams emerald matte paint, and it will do wonders in your room.
You can pair it with a darker shade on the ceiling or paintings, giving out a color splash for a dramatic effect. The best part about having a white-painted wall is that it gives you an open canvas for whatever you want to make out of it. When it comes to the bedroom, it is a personal space for everyone, and you want to make it feel like themselves by using your favorite things and themes for the decor. Sherwin Williams Alabaster White turns out to be perfect for it as it takes a back seat and allows other parts of the decor to shine.
Sherwin Williams Alabaster White for Exterior
Sherwin Williams Alabaster white is a perfect color for your home exterior in the right setting. It is a bright color and can make your house glow like a diamond in the presence of sunlight. If you don't want that, you can go for a darker shade. But if you have a house surrounded by trees or buildings, you can use this color, and it will give a subtle shine, making it look elegant and outstanding in your area.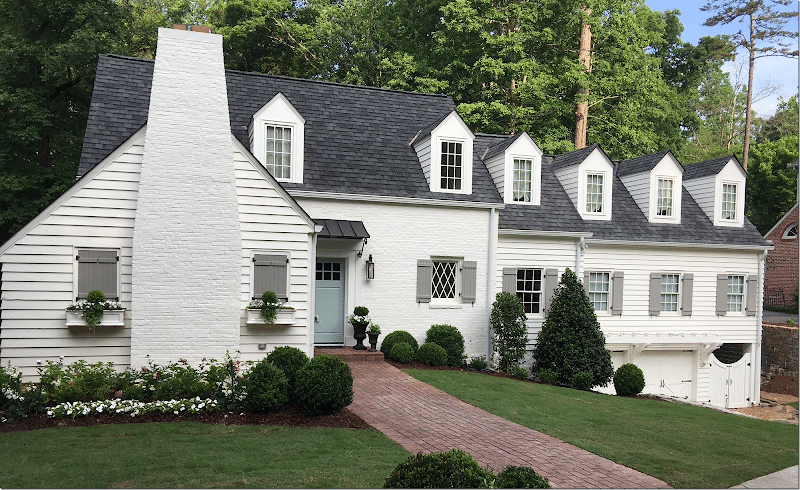 Also, suppose your immediate neighbor's house is very close to you, and they have houses in red, yellow, or any such darker shades. In that case, it's better to avoid this color as the reflection of their house will make your house look pink, light blue, or yellow, eliminating its charm. If you want your house to have a crisp white shade, this is a great choice.
Avoid using it in contrast to very dark colors, and go for bright shades of purple, pink, red, and yellow, as it can make your house look perfect from the outside.
Although, if you are a risk taker, and want to use the darkest shades to compliment this white, just go for it.
Which Colors Go Best with The Sherwin Williams Alabaster White?
1. Black
We all know that the combination of black and white is a classic one. It can do wonders in any type of home decor. When you are using these two shades for your home decor, you don't have to worry much about the other things in the design. Your major job is done. It is gaining popularity in the current times.
Using a pure white in this combination is likely to make your decor look harsh, so you might want to tone it down a little by using Sherwin Williams Alabaster's off-white shade as it looks warm and cozy. Further, it has enough pigment such that it does not wash out.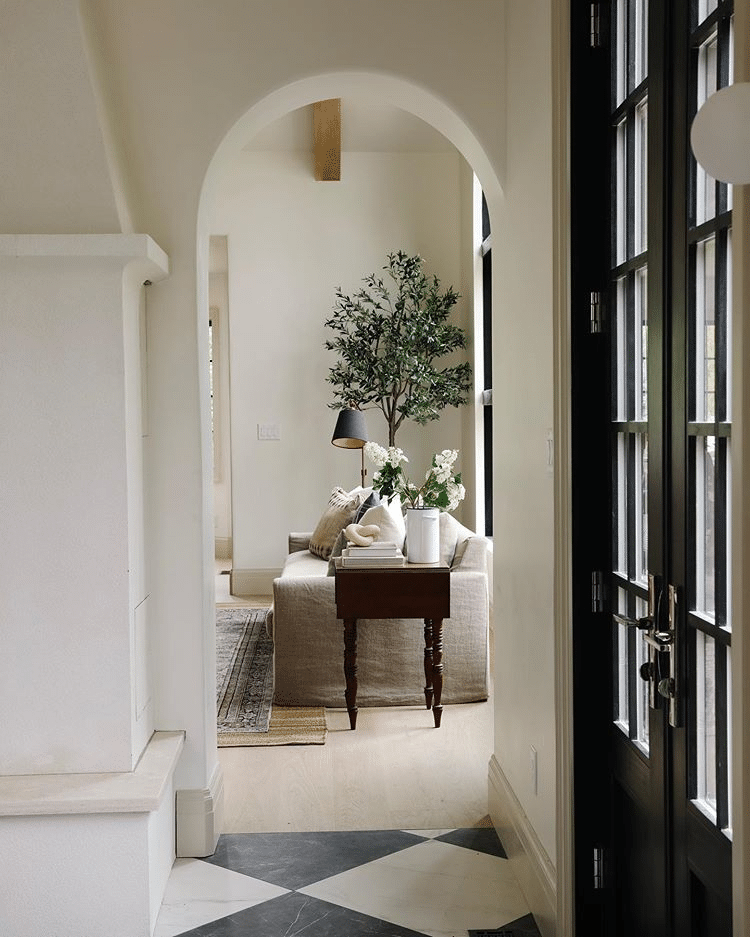 There are a variety of black colors for walls, and alabaster goes well with all of them. The slightly muted black shades are a perfect fit to make your house look stylish and beautiful.
2. How About Gray?
With the variety of gray shades, it is difficult to understand which will go the best with Sherwin Williams Alabaster white. However, it pairs great with almost all of them unless any of them is a shade at the brightness level of this white.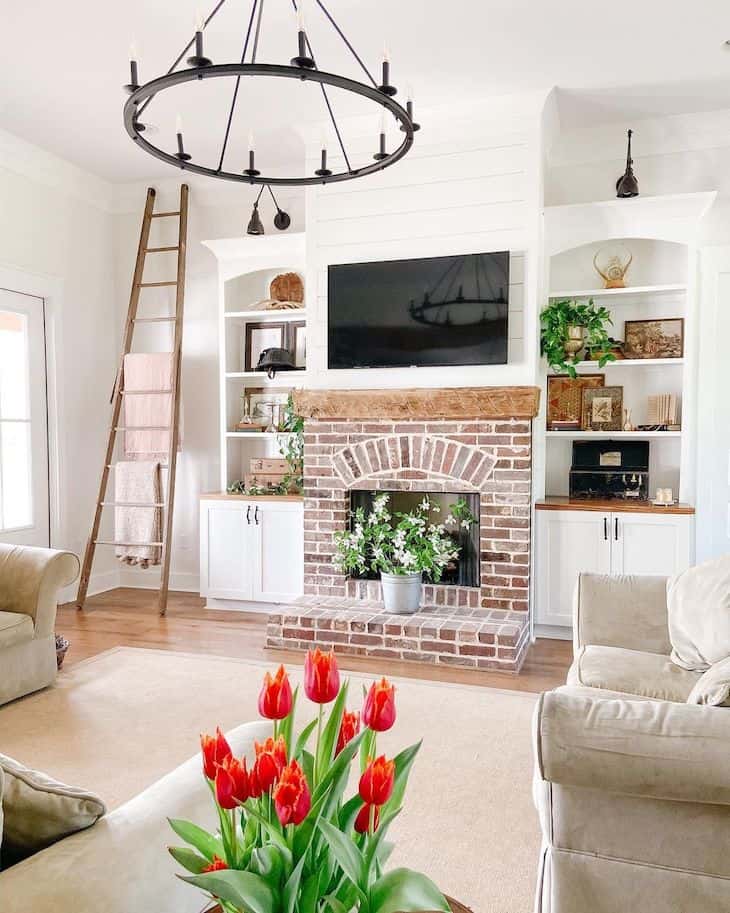 It can be very well used as a trim color on your walls, or you can pair it with gray cabinets and furniture in your rooms. The darker shade you use to pair Sherwin Williams Alabaster white, the brighter it will look.
3. White
As you know, Sherwin Williams Alabaster white is not very far from the pure white color. It creates a monochromatic white room with a palette of slightly different shades of white. It has a hint of grayed-out undertones in yellow that helps in making the place look and feel warmer than with just pure white.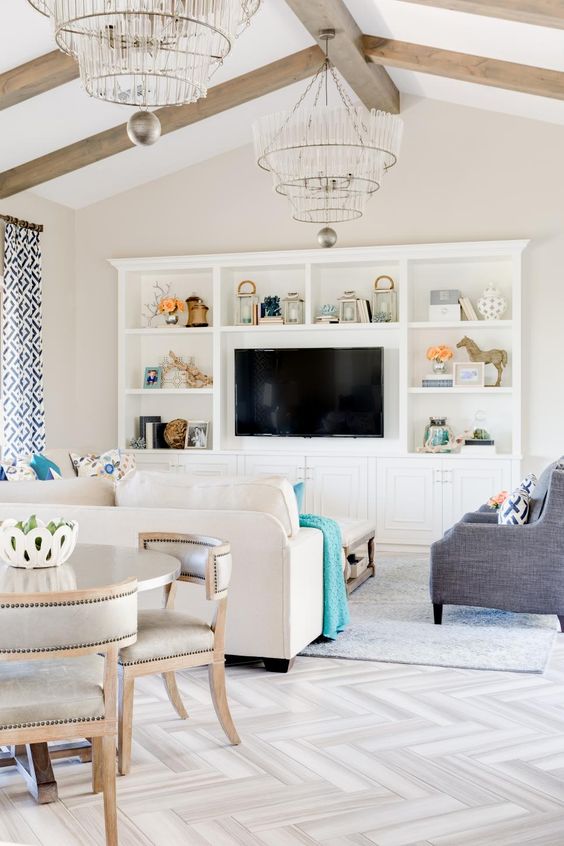 It goes best with the wooden furniture in your room, accompanied by minute and delicate pieces of accessories and decor. A cherry on the cake would be a floor and ceiling made of wood.
Best Trim and Ceiling Colors with Sherwin Williams Alabaster White
It might be difficult to believe, but the best trim that can be used for a Sherwin Williams Alabaster white is a pure white color. It pairs best with reflective white and also the ceilings. If you are a fan of going wholeheartedly white, this is a great way to go using Sherwin Williams Alabaster white.
You can also use different paint sheens like semi-gloss, flat, and eggshells. It gives an outstanding texture to the walls making it look comfortable and elegant.
The Easiest Way to Test Sherwin Williams Alabaster White
Before beginning to paint the walls in your house with Sherwin Williams Alabaster white, you must sample and test the paint color on a piece of your wall. The main purpose of doing this is that a color like Sherwin Williams Alabaster whitecan give a different look in every room depending on the furniture and amount of natural light you receive in the room.
To do that, you can use Samplize. They have peel-and-stick paint samples that are easy to use and give accurate results.
What Makes Sherwin Williams Alabaster White so Popular?
Sherwin Williams Alabaster White is one of the few soft and warm shades of white available easily in the market. It can be used on various types of projects like home exterior, interior, ceilings, furniture, cabinets, trims, walls, etc. It can be used as an all-purpose paint that can be easily used on all surfaces at once.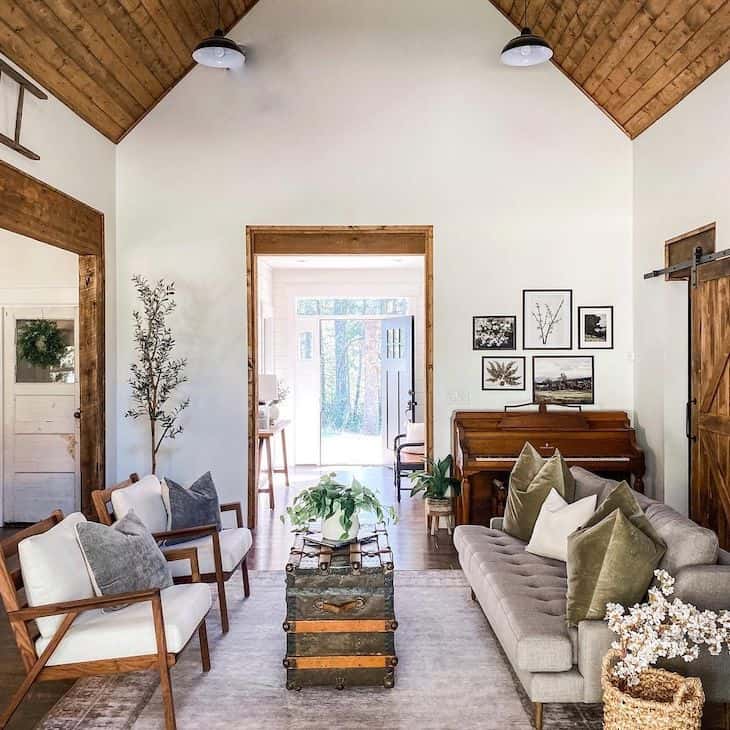 The shade off-white is one of the most popular and go-to shades for a majority of people. It gives a subtle hint of yellow that makes you feel warm but does not take away the brightness of white. All these qualities in the Sherwin Williams Alabaster white paint make it an easy-to-use and easy-to-access type of item that has gained trust from consumers over the years.
1. Alabaster and Lighting
Light plays a major role in making or breaking a room's decor. It can make a color feel different in every room based on the natural lights and placement of windows in the room. It defines the way a color looks at a particular time. So it is a good idea to know the lighting situation of the rooms and walls in your house. It can help you to choose the correct paint and decor idea to make it better.
2. North Facing Rooms
In north-facing rooms, the light comes off in a cool shade giving a hint of gray and blue. Colors like white, beige, etc, are likely to appear muted. In these conditions, bolder and darker colors are the best way to go. As you know, Sherwin Williams Alabaster white is a light color, so it is likely to appear drab or muted in a north-facing room. You can use it with a darker shade to make it look better.
3. South-Facing Rooms
In the case of the south-facing rooms, the room gets a consistent and bright light at all times of the day. In these rooms, you can use cool light shades as the color is intensified with the brightness of the sun. If you use a darker shade, they will look vibrant and borderline tacky on days of excessive sunlight. But if you use Sherwin Williams Alabaster white in this setting, it will glow and shine at its best. It brings out the warm side of Alabaster without making it look too yellow.
4. East-Facing Rooms
In the case of east-facing rooms, they have the brightest light in the morning times, emitting a yellow and orange tone. But the light gets dull by the time it's noon or evening. If you are planning to use this room only in the evening time, you must go for a warm palette of colors that can help you compensate for the lack of natural light. As Asbaster is a warm color, it will be a great choice for east-facing rooms.
5. West-Facing Rooms
The best time for abundant light in the west-facing rooms is the early evenings. In this case, the warm colors may appear too much because of the red-orange shade emitted from sunlight. Although, if you plan to use this room only during the daytime, the colors won't feel too bold and intense, and you can go with the Sherwin Williams Alabaster white. This color will create the warmest vibe in the west-facing rooms.
Should You Use Alabaster White in Your Home?
Not all people are enthusiastic about experimenting with bold shades of color in their house as it always has a risk of getting bored, feeling old, or having the need to renovate. So neutral colors are a safe option as they take a back seat in the home interior and let the other aspects shine and gain all attention. Many people go with a safe white which always has a risk of getting dirty. But if you use an off-white shade in its place, it is the best option.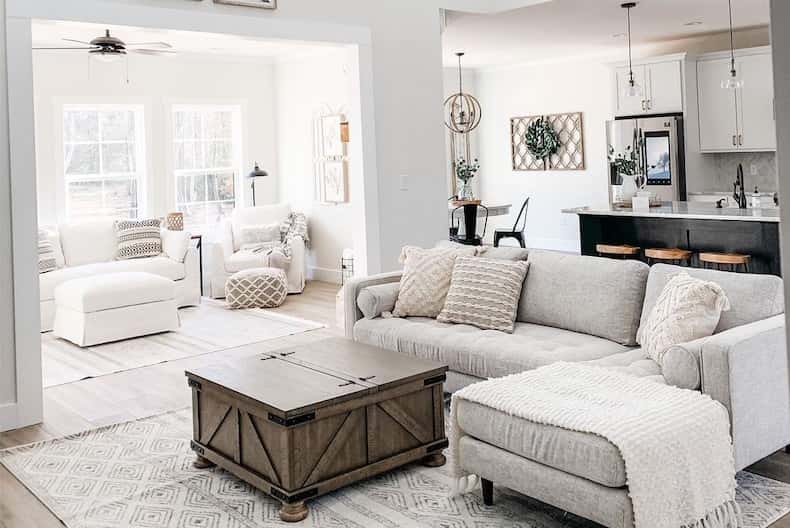 Alabaster is one of them. With its high LRV, the color makes the room shine bright and airy. It is cozier and softer on the eyes as compared to the other whites. It stands as a beautiful backdrop in your house, especially the living room, as you can go wild with creativity and make it feel like yourself. It is the best choice for everything from a house exterior to furniture.
So without much thinking, you can just go for this soothing color in your room.
Conclusion
Sherwin Williams Alabaster white is a neutral shade of off-white with a creamy and soft texture used for painting multiple surfaces in your house, including cabinets, walls, exteriors, furniture, and others. It has been gaining popularity because of how well it blends with any type of house and interior decor.
If you are about to go for a renovation of your house with wall paint and want a simple, elegant, and safe color, this can be the best way to go. It allows you to go creative in designing your home decor and renovating it with significant changes and different themes whenever you want.
Tell us about your experience with Sherwin Williams Alabaster White in the comments.