When it comes to planning how your home is supposed to look, every detail matters. From the windows to the ceiling and the light, the patterns must fit your ideas as well as be practical. The ceiling, however, is often overlooked, but it has a great capacity to create an impact. And two of the most popular choices for this space are smooth ceilings or knock down ceilings.
But when your contractor asks you which finish you would like, you need to make an informed decision. Both textured and nontextured ceilings have their pros and cons. And the choice depends on your wants and needs.
And in this article, we expand on all the points you should consider before you choose one above the other.
Knock Down Ceilings or Smooth Ceilings
What are Smooth Ceilings?
Smooth ceilings get their name from their flat finish, which seems to blend seamlessly with the walls. It makes a room look cohesive in style, as well as bigger and lighter. The pristine finish is amazing to look at but can be quite hard to achieve. But professionals have perfected the method of getting a smooth finish.
Smooth ceilings are the most common choice among painters because of their aesthetic. Yet this finish is not ideal for every room. You can have a flat finish in your kitchen or the living room. But for other rooms like the bedroom or game room, you would want something that blocks sound a little bit.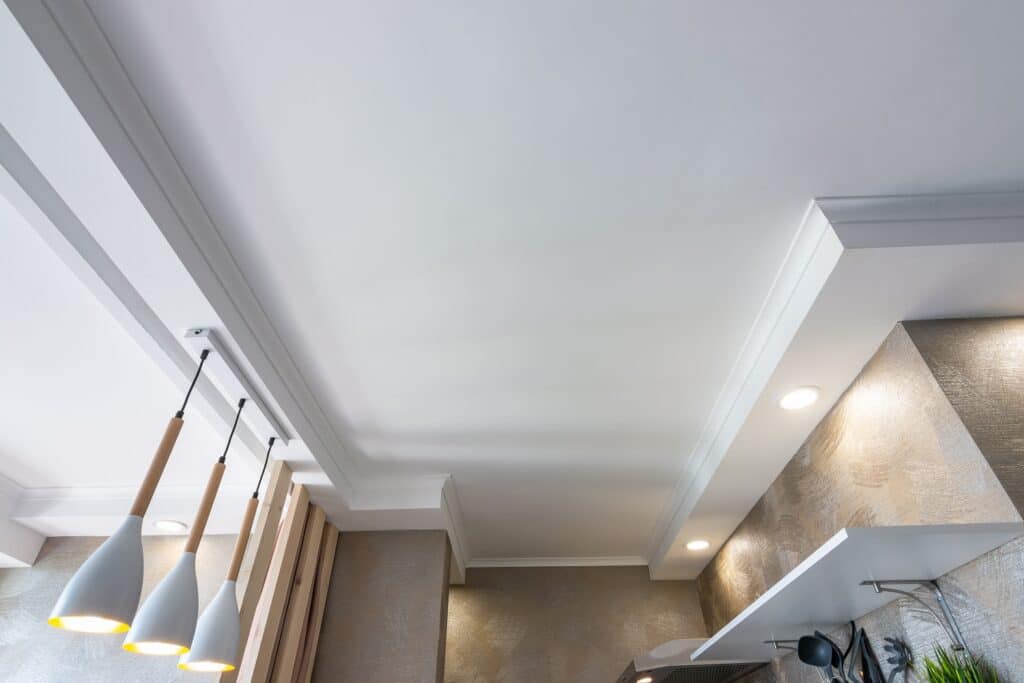 People also believe that a smooth surface is less costly than a textured one. But it is quite the opposite because the finish requires a lot of effort. To make the room look more modern and spacious, about 3 to 5 layers of the joint compound are layered. The flawless finish is only achieved when you smoothen each layer meticulously.
The texture of the paint will also need attention, as a thick mixture cannot be applied in too many layers. On the other hand, a watery mixture will require too many layers, with an uneven result. The drywall will need to be sealed with some skim coat or drywall mud. And you might even need a drywall knife if you are a rookie. Overall, a smooth ceiling is a hard project to attempt by anyone.
| | |
| --- | --- |
| Pros | Cons |
| Modern Aesthetic | Highlights The Imperfections |
| Illusion Of Height | Costs More Money During Installation |
| Easy To Maintain, Repair, And Clean | Is Not Noise Cancelling |
What are Knock Down Ceilings?
Knock down ceilings are fundamentally different from smooth ceilings as they have texture throughout. It can often be confused with other textures like orange peel or popcorn, but all of them have distinctive features. This modern drywall texture has a far more hardened appearance than the other ones. And the rough patches are also not as defined as they are in patterns like skip trowel.
But creating a knockdown texture is not hard when you know the right procedure. The amazing appearance is achieved by spraying the entire surface of the ceiling with some joint compound. The texture spray is used in layers to make the nooks and crannies stand out. And the mixture used is also made thinner so that it can be applied faster.
It will keep the compound from solidifying before you complete the application.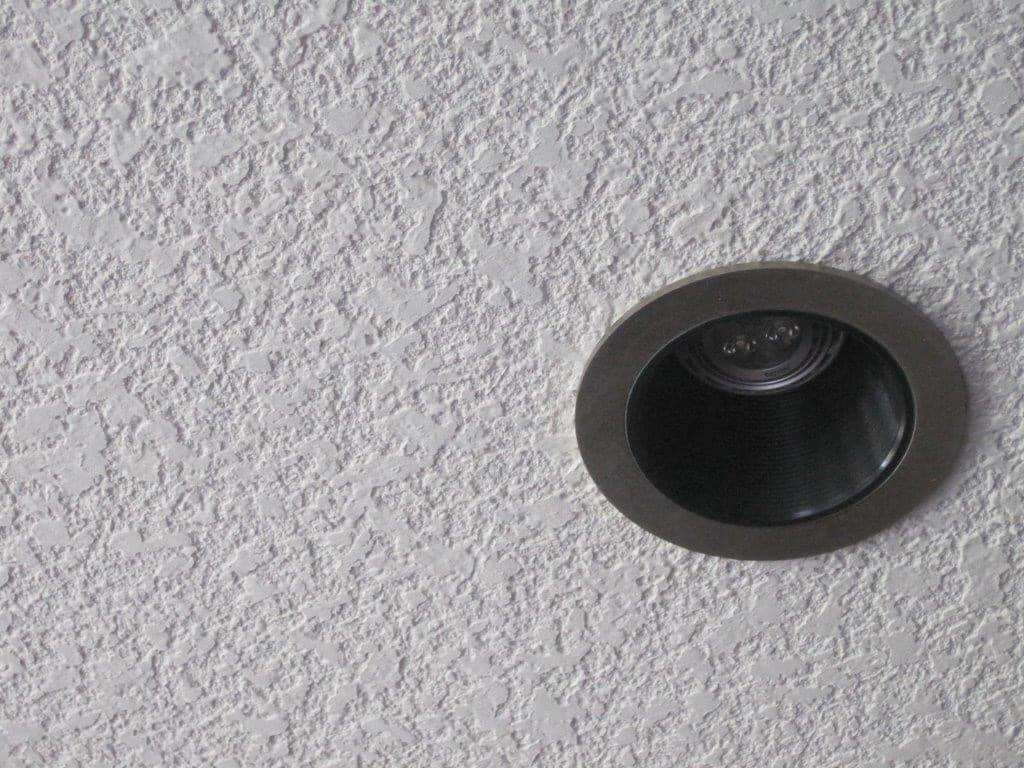 When you apply the compound, you will see that the material starts drippings. This creates stalactite structures of various sizes. But make sure you scrape these off with a drywall knife so that you do not lose the original texture of the top. The texture surrounds the original in a softer way when you rake in the icicle-like stalactites. By choosing knock down ceilings, you will have a cozy room with an old-world charm.
| | |
| --- | --- |
| Pro | Con |
| Hides Blemishes Easily | Looks Outdated |
| Cheap Installation | Repair, Cleaning, And Maintenance Difficult |
| Helps Reduce Noise | Older Ceilings Might Have Asbestos |
Other Types of Ceiling Finishes
If you are planning on redoing the ceilings of your house, you might want to consider all the options out there. There are many other textures to consider apart from knock-down and smooth ceilings. Here are the popular ones.
1. Swirled
Another textured ceiling that is sure to take your breath away is swirled ceilings. They are also quite easy to execute, making it a popular as well as affordable choice. The texture might look outdated to some, but it suits most interior decor choices.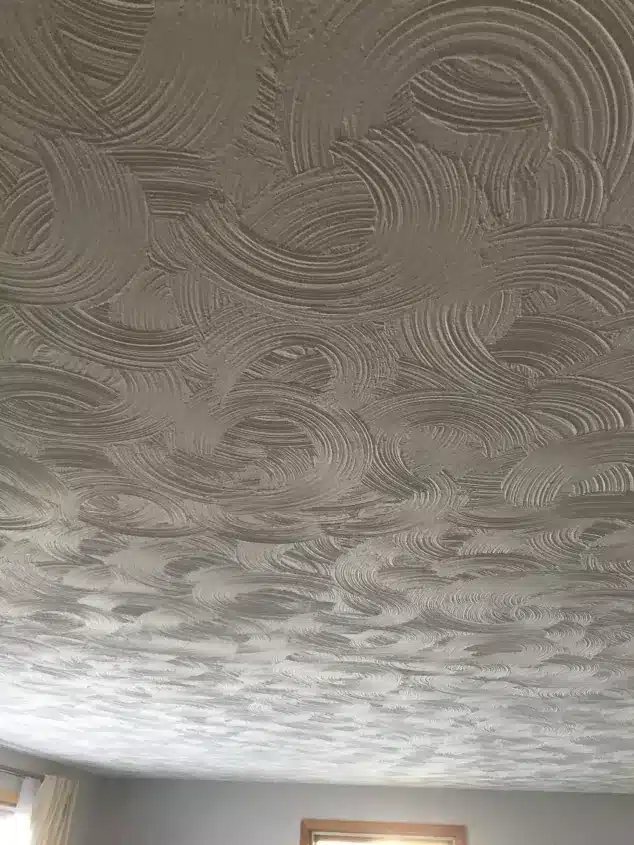 2. Orange Peel
An orange peel-finished ceiling looks much like a knockdown ceiling, but it involves much less material. You also do not have to scrap after application, making the application easier. These ceilings go well in unique settings with unusual lighting to make them stand out.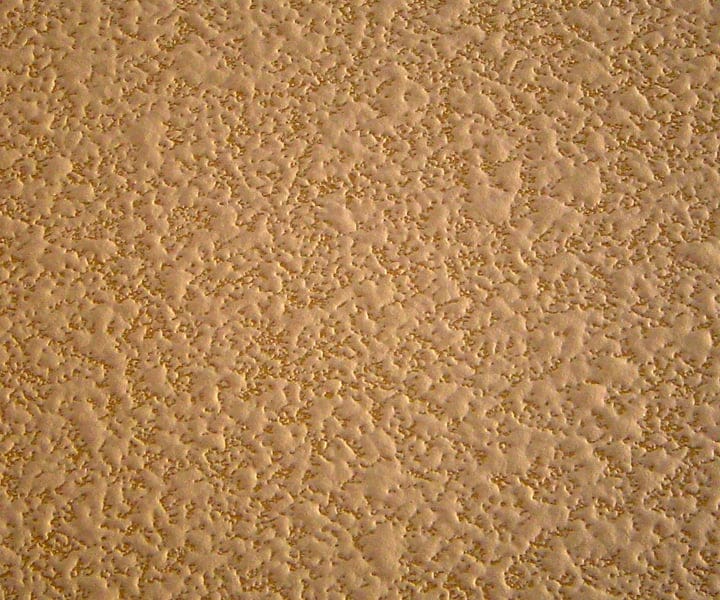 3. Skip Trowel
A skip trowel is another textured ceiling that is similar to an orange peel one. However, the material is distributed randomly to make it look unique. Smearing the texture across the surface is done in thinner layers to avoid dripping. This finish also goes well with advanced decor choices.
4. Dropped
A dropped ceiling is a modern contraption that allows you to hide everything. The part of the ceiling that is recessed hides all the wires and other structural elements for a pristine finish. This type of ceiling is also good for rooms with lots of light fixtures.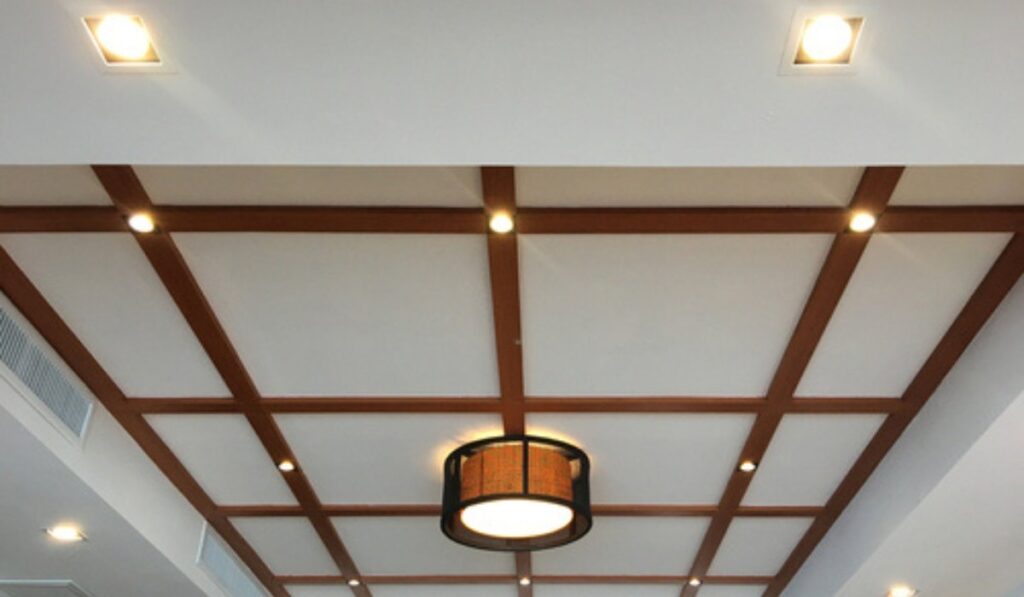 5. Popcorn
Popcorn ceilings are also textured, and they resemble orange peel ones. But in popcorn style, the texture is much more evenly distributed. This is quite popular as a lost-cost finish that looks amazing.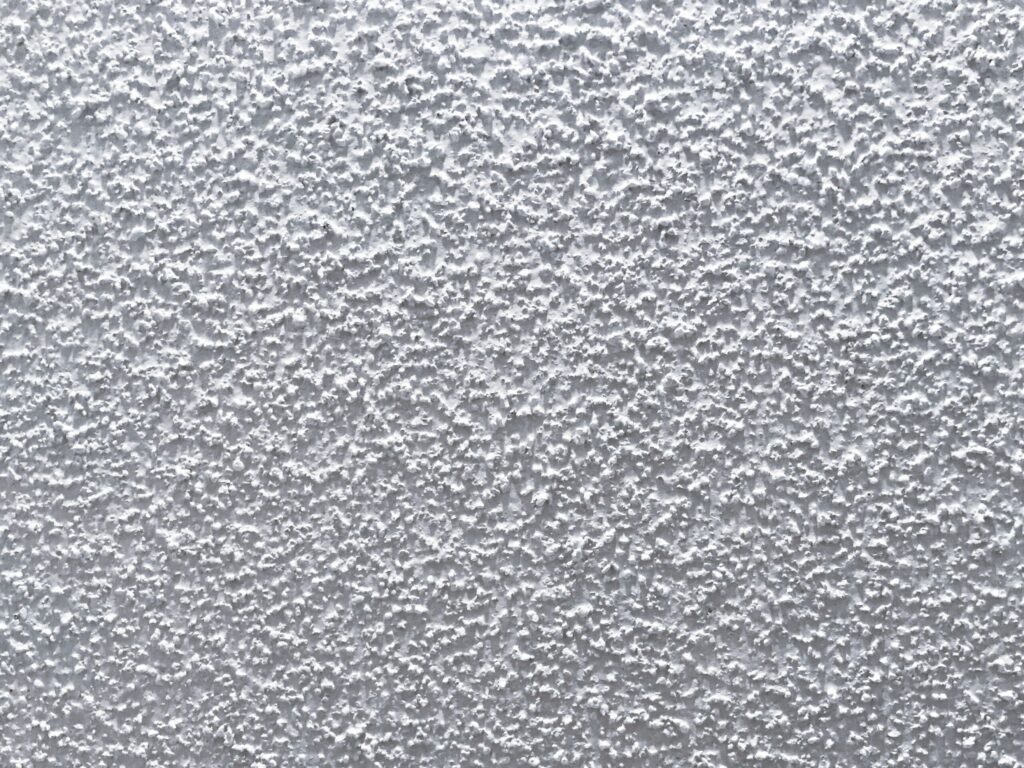 Which Finishes to Choose and Why
Now that you know all the basic textures that can be applied to a ceiling, it's time to choose. The options may be many, but the choice depends on what your house needs. From knock-down ceilings to a smooth finish, which will suit your decor and style? Here are the fundamental differences explained.
1. Aesthetics
The difference between known downs and smooth finishes may not seem much, but you are sure to notice them right away. Even in the same apartment with the same style, you will have two very prominent ambiances. And it all depends on the kind of aesthetics you want. A bumpy, knock-down ceiling will offer you great depth with its texture. This way, the room would look cozy and small.
However, when you opt for a flat finish ceiling, you will see that the room seems lighter. The ceiling will also look higher. So if you have a small room that you want to enlarge, go for a smooth finish ceiling.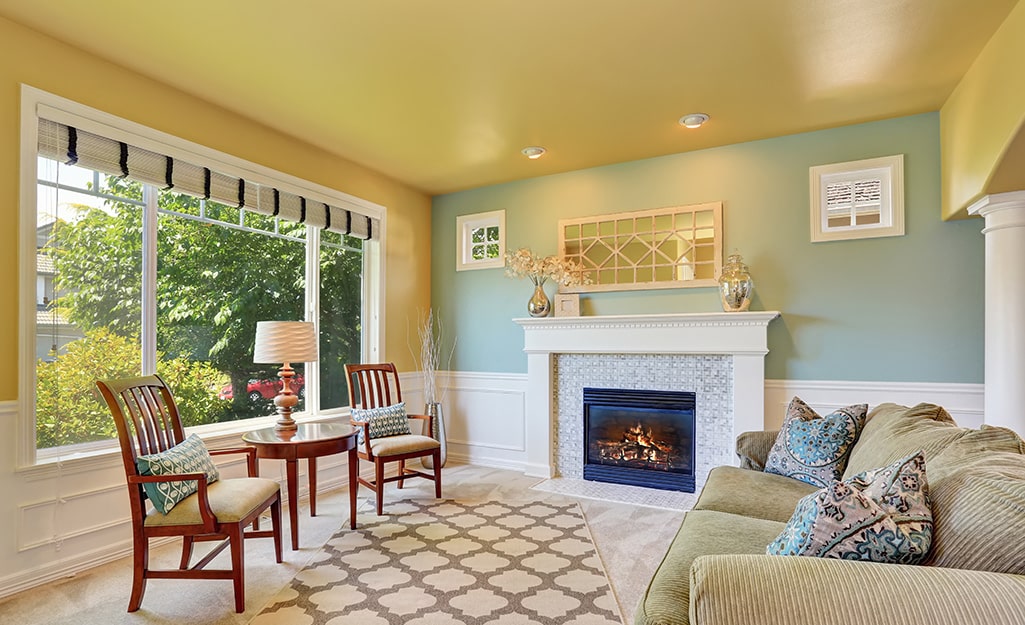 2. Soundproofed
If you are living in an apartment with paper-thin walls, you might want to think about getting a textured ceiling. The reason behind this is that with the increase in surface area, less sound will come through that particular wall. So if your bedroom is directly underneath a noisy neighbor, get knock-down ceilings. Of course, it will not make the room fully soundproof, but it will help more than a smooth ceiling.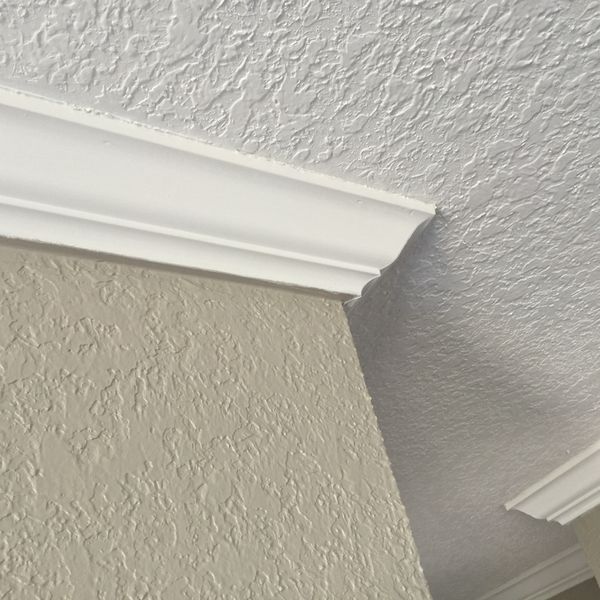 3. Coverage
Smooth ceilings are known for being spotless and pristine. But they are also the worst choice for somewhat older homes. A new building with no repairs will shine under a flat coat. But if you have had work done on your ceiling before, an attempt at a smooth surface will only highlight those parts. So, it is better to go for a textured finish like a knock-down. The texture will cover up all the previous cracks and dents and make it look completely fine.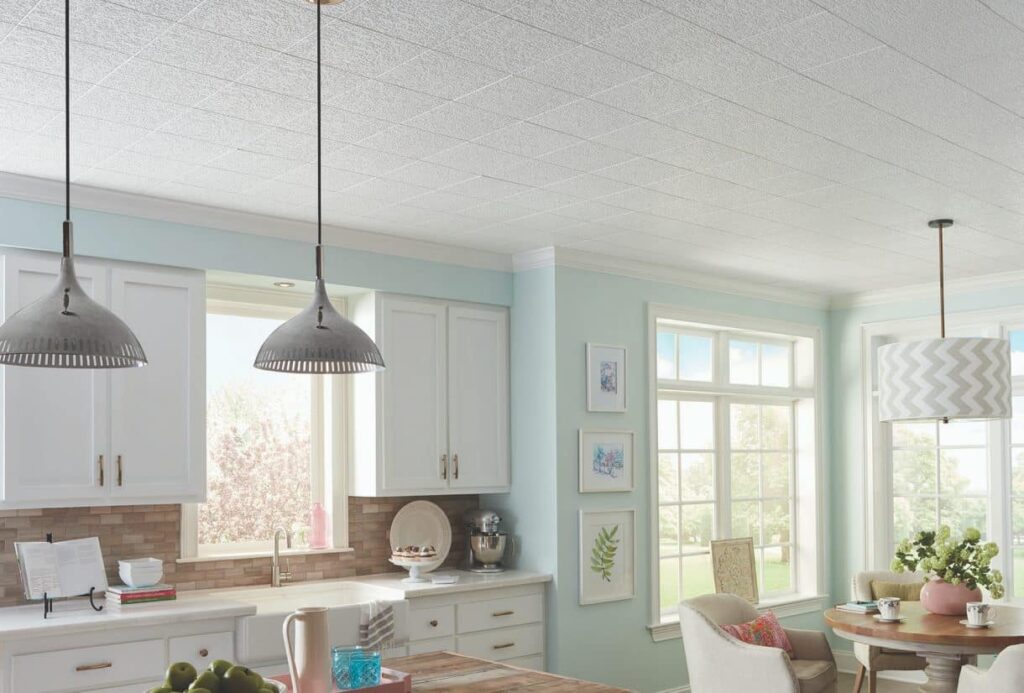 Application Process
The application process for any kind of ceiling takes much time and preparation. A call to the contractor is a must unless you figure out what you need to do. The choice of ceiling finishes also depends on how much effort you want to put into the process. But on an average basis, it is safe to say that knock down ceilings take far less effort than smooth ones.
The first step to follow while installing any kind of ceiling is cleaning it thoroughly. You have to prime the surface before the application. The primer will need to be mixed carefully, as it will give the ceiling the texture you desire. And if it needs more than one coat, make sure the layers are not too heavy.
For known down ceilings, precision doesn't matter, and you can start as soon as the primer dries. But smoother surfaces will need a careful inspection. Every crack and hole will have to be filled generously with a filler. And when that has dried, the entire area will be sanded thoroughly. After that, a base coat goes on to hide the repair marks.
A smooth ceiling also requires a light skim coat before the actual paint. This serves as a plaster and will make the finish look flatter in the end.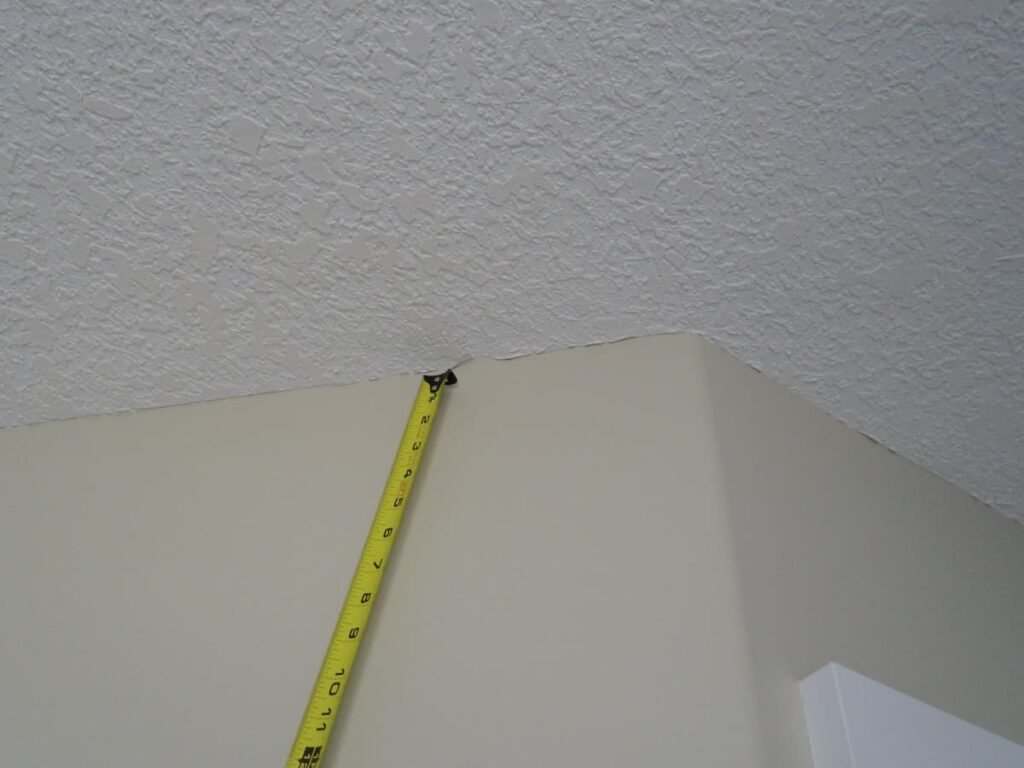 Costs
The cost of installing any kind of ceiling must include every aspect of the application. From the labor charge to the cost of materials as well as the installation, and maintenance, take heed of everything.
When it comes to smooth VS knock down ceilings, remember that at the initial stage, a smoothing ceiling costs more. This is because a smooth surface requires many kinds of materials to prep it and make it clean. However, it should also be noted that a knockdown ceiling has a higher maintenance rate than a smooth ceiling.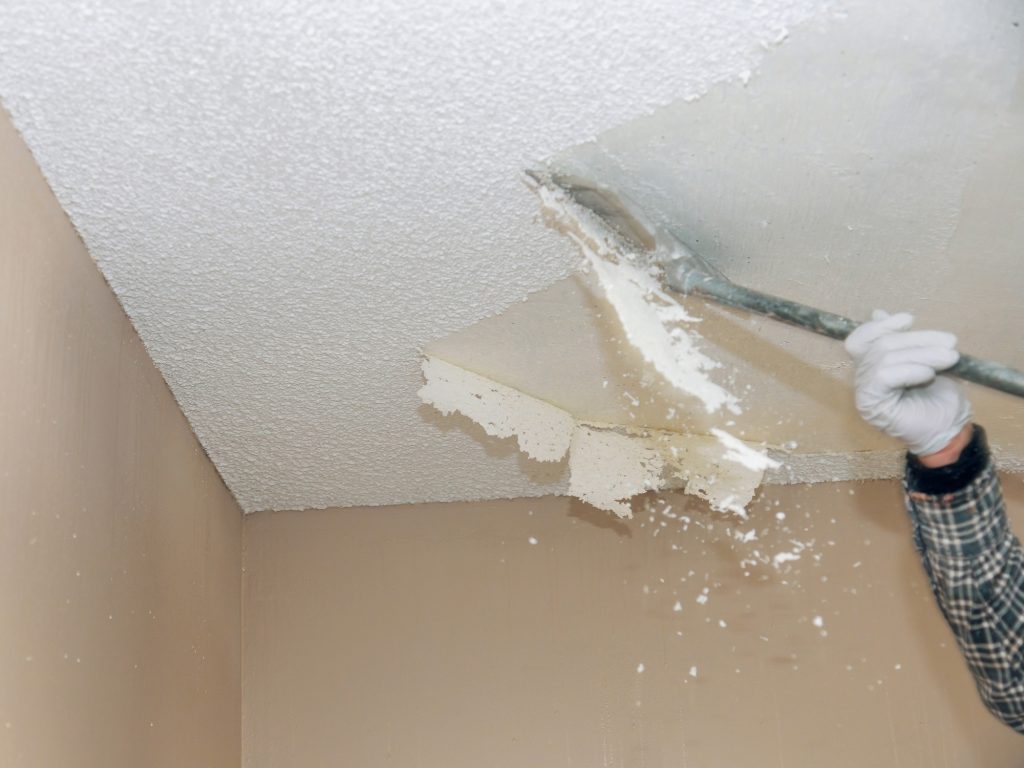 Repairs
Before installing a new ceiling, you will need to plan it thoroughly. Everything must be considered before choosing the right finish, especially how the future repair work would look like. For example, if your ceiling gets water damaged, you will find that a knock-down ceiling is not an easy one. The repaired space would have to match the dents and texture of the other parts of the ceiling for a cohesive look.
But on the other hand, a smooth ceiling will only need to be cut and replaced with a new part. A repaired smooth ceiling looks seamless just after it has had work done, making it a popular choice among many.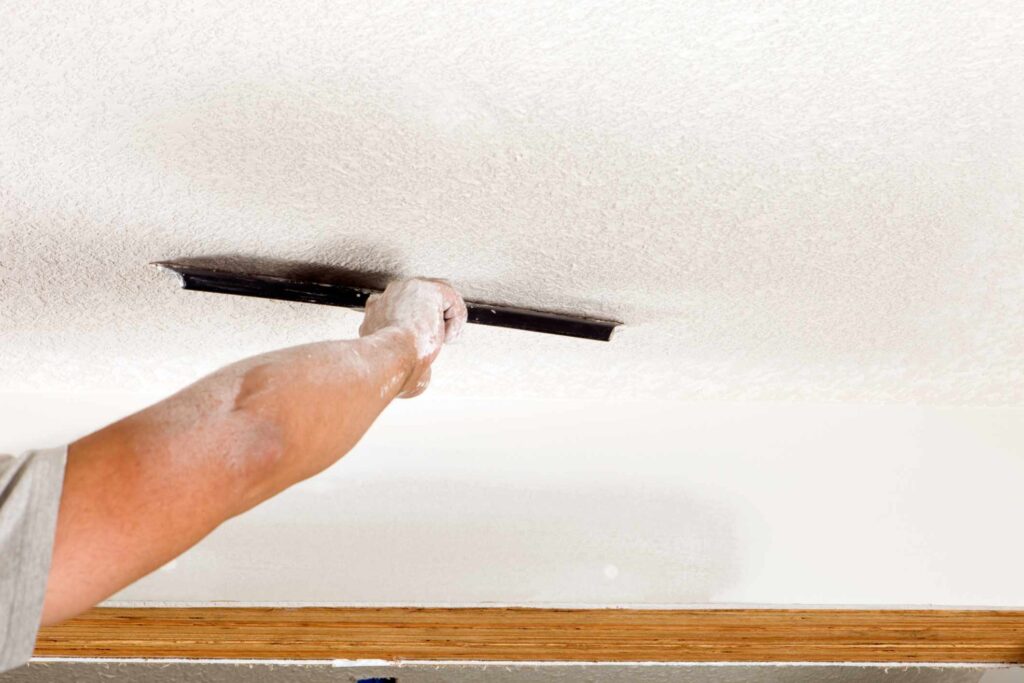 Maintenance
Smooth ceilings are also a blessing to maintain because of their finish. Without any bumps and crevices, there will be no place for dirt to hind so that it can be cleaned with little effort. But knock down ceilings, while pretty to look at, will start gathering dust from the get-go.
The texture of knockdown ceilings is also quite hard to clean as the nooks will hide the dirt. And if you put too much force onto it, the texture might come off, making the ceiling look patchy. But in the end, the decision of knockdown VS smooth ceilings lies on you and your preference.
Point to Note: Asbestos
For houses made before 1997, textured ceilings often had asbestos in the mix. The compound was once considered to be a miracle mineral, but it was later proven to be a hazard. Asbestos exposure often leads to serious health conditions. So if you think your old house and its vintage textured ceiling might have asbestos, get it removed immediately.
Bottom Line
Choosing every detail of your home can be exhausting, but the result is equally satisfying. Your dream space will suit your need at every point, and that includes the ceiling. The finish of the ceiling will depend on what your vision for the room is. But now that you have a clear idea of how these ceilings look and act, you can make an informed decision.
Knock-down ceilings might make the room look unique, but the upkeep is equally difficult. On the other hand, a smooth finish will look seamless but will not give you noise protection. So choose the one you think will benefit you the most, and you will never go wrong.
And if you have any other queries, do not forget to ask away in the comments!