Do you want to organize your linen closet like a pro? Your linen closet holds extra towels, medicines, beauty supplies, boxes of tissues, spare bed sheets, and many other items that don't fit in the bedroom or bathroom. But since it is used to store so many items, there are chances that it may get cluttered easily.
A disorganized linen closet can make it difficult to find matching bed sheets, hand towels, or blankets when the guests arrive. And there might even be chances that as you open the door of your closet, oversized quilts, towels, and sheets might fall on the floor.
To save yourself from the hassle, you can designate specific zones for storage and use bins and baskets to group similar items together. Whether your linen closet is wide and big or narrow and small, by using smart organization ideas, you can make the closet more functional and clean.
Linen Closet Ideas to Create Beautifully Organized Storage Solutions
Take a look at the clever organization ideas that will turn your linen closet into the storage space of your dreams.
1. Declutter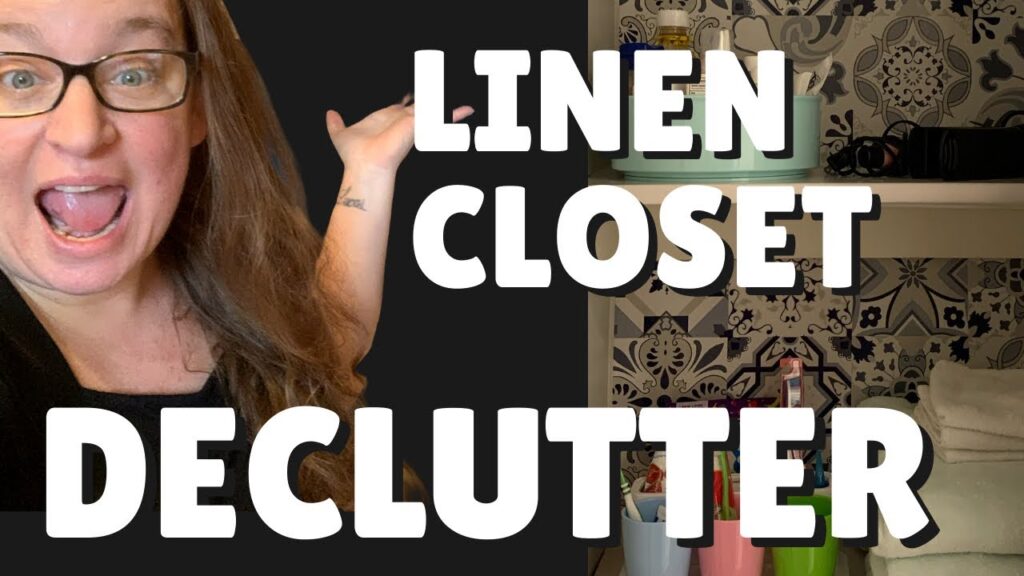 When organizing a linen closet take everything out and access your closet closely. As you clean your closet, you may find stray hand towels and pillowcases shoved into smaller nooks and crannies. You must remove them to give your closet an aesthetically-pleasing and tidy look. Take a look at the items that you want to keep and the ones that you want to donate.
Your main goal should be not to overstuff your closet but only keep the items that are really needed. If you have upgraded to new pillows, it's time to donate the ones that you're not using.
Also, if you've been storing items that are not related to linens in the closet, consider whether you can free up space by keeping them elsewhere. For example, if you find your winter clothes in your linen closet, sort them and keep them in your bedroom closet.
2. Go for Alternate Storage Solutions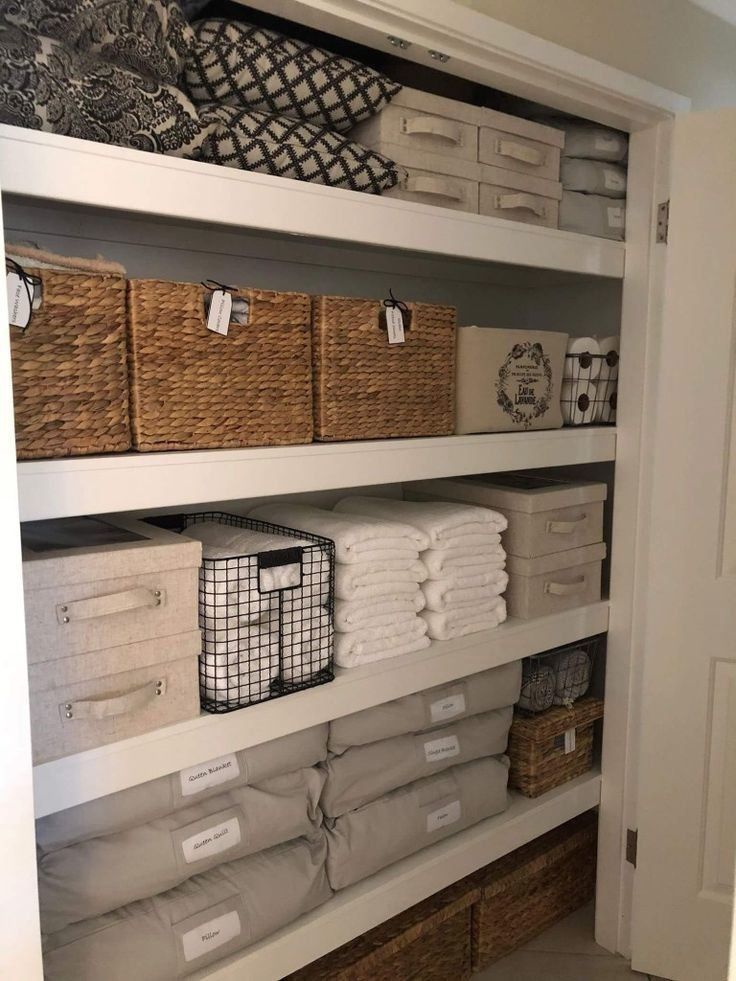 Laying the pillows, linens, and towels flat on the linen closet shelf can lead to clutter. You can use bins and baskets to store similar items together, making it easier to find things you're looking for. Buy a mixture of containers and baskets in different sizes to accommodate both large and small items.
For example, you can use smaller baskets for keeping washcloths and kitchen towels and bigger containers for keeping pillows and blankets. You can also opt for attractive solutions, like wicker and woven baskets, as they are great for storing skinny linen items. Fill glass jars with items like bars of soap, cotton balls, travel-sized conditioners and shampoos, and cotton swabs.
3. Create Storage Zones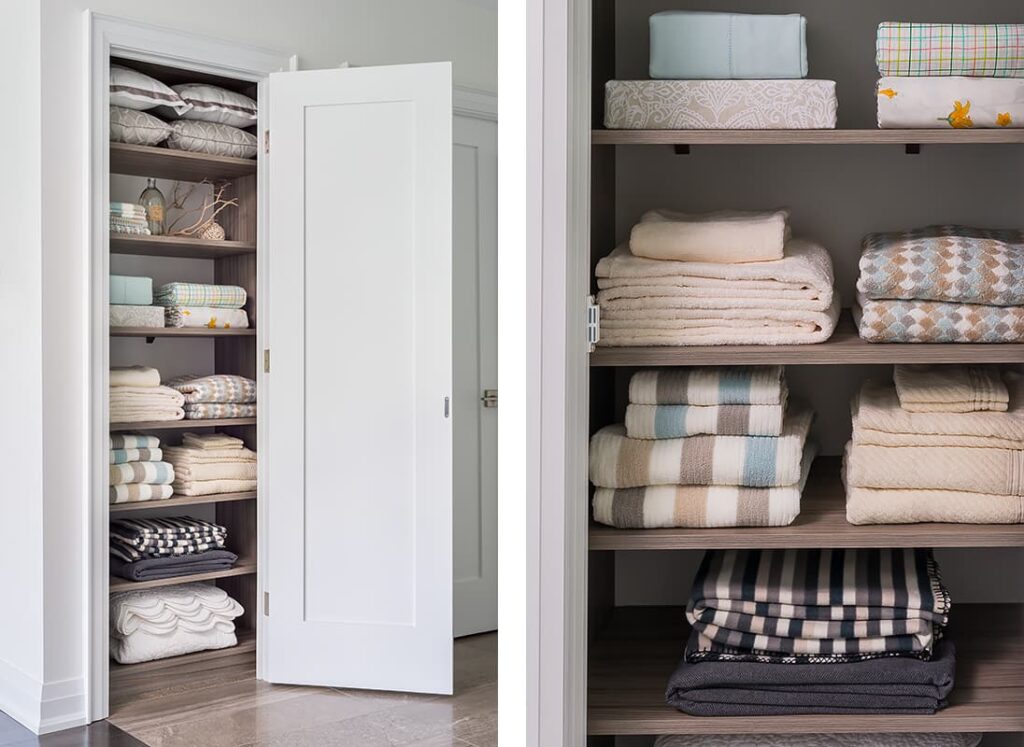 Are you facing difficulty in finding the matching bed sheet or newly bought pillows? To avoid this situation, give each item a designated space in your closet. Establish storage zones within your linen closet to keep everything organized and distinguish between different items. Keep items like linens and pillows that are only used during special occasions and holidays on the top shelves and most often-used linens like washcloths and bath towels at an easy-to-access height.
Keep off-season clothing in the closet's lower or upper area, as you'll need them only during a particular time of the year. You can also label each zone to ensure that your closet remains functional and well-organized. Label the storage bins to make it easy to find the items that you're looking for.
4. Roll Fabrics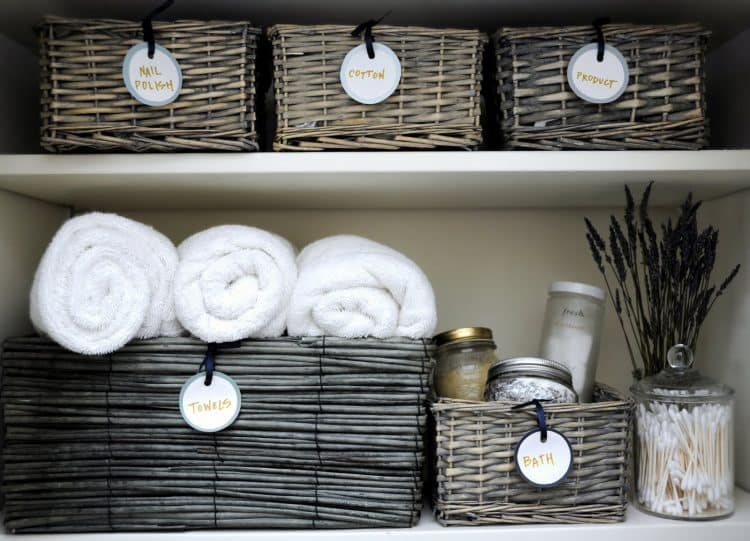 When storing fabrics in your linen closet, one of the best ways to maximize space is by rolling instead of folding them. This especially works well for large fabric pieces like bed sheets and towels that take up too much space in your closet. Instead of stacking your blankets, towels, and bedsheets, roll them. This easy trick will give an appealing look to your linen closet and enhance the storage space. You can also roll your bed sheet or linen around paper towel rolls or cardboard tubes.
This way, you'll be able to store your wide fabric that can't easily fit on your shelf. If your closet is small, rolling the fabric can be the best way to accommodate more items without taking up much space. So the next time you organize your closet, roll your washcloths and towels into tubes like you would see at a spa.
5. Apply a Coat of Light Paint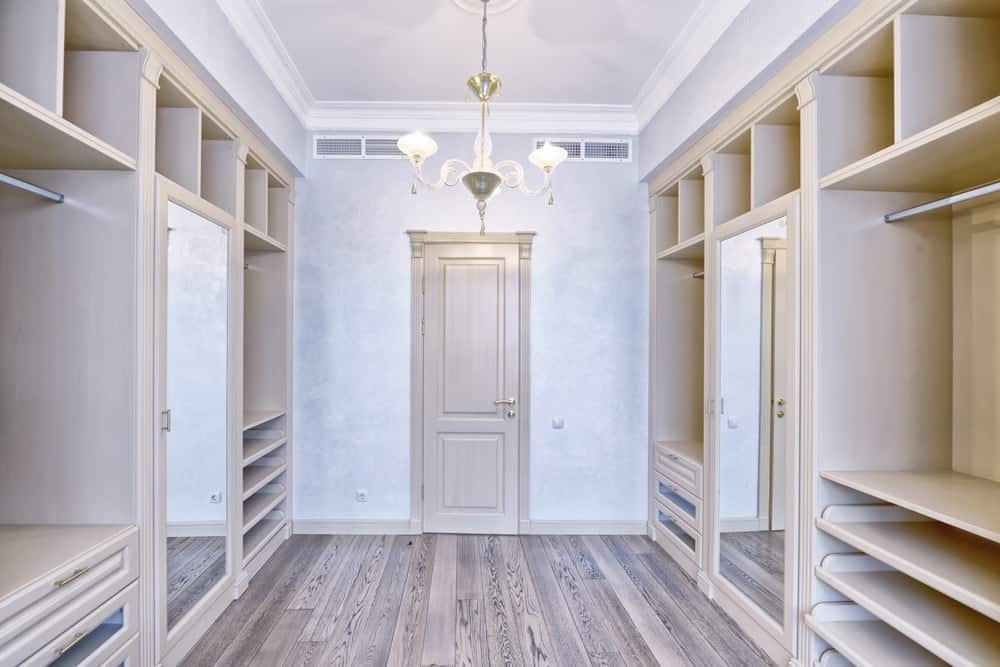 Do you know that a coat of light paint can give a new look to your linen closet? Even if you organize your closet in the best way, if the paint is chipping and the walls are cracked, your closet won't look neat and tidy. Applying a lighter shade of paint on your closet wall can give the space a fresh look.
Satin interior paint can be the best choice for closets as they hold up well when linens and storage containers bump against the walls. If you want the walls to reflect light, go with a glossier finish but remember too much gloss can create glare.
You can also apply white or neutral paint colors to brighten up your closet. The lighter color makes it easier to find the items in your closet and gives the illusion of wider space.
6. Install Shelf Liners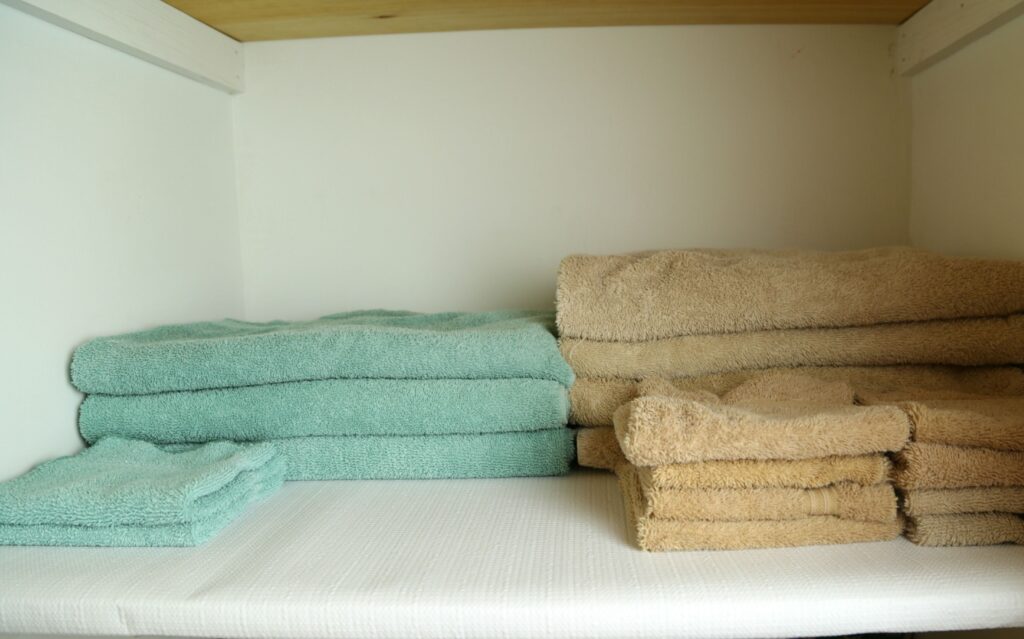 Many times small items slip through the gaps in the wire shelves, making it impossible to find them. A shelf liner can be the ideal solution to seal the gaps in your linen closet's wire shelves preventing your valuable items from slipping through the gaps. By adding a shelf liner, you can also add a dash of style to your closet.
The shelf liner also protects your closet from moisture, scratches, stains, and damage making it easier to clean up messes and spills. Spending a few extra minutes to line your closet shelf before organizing your closet will keep it looking nice for years to come.
7. Add Lighting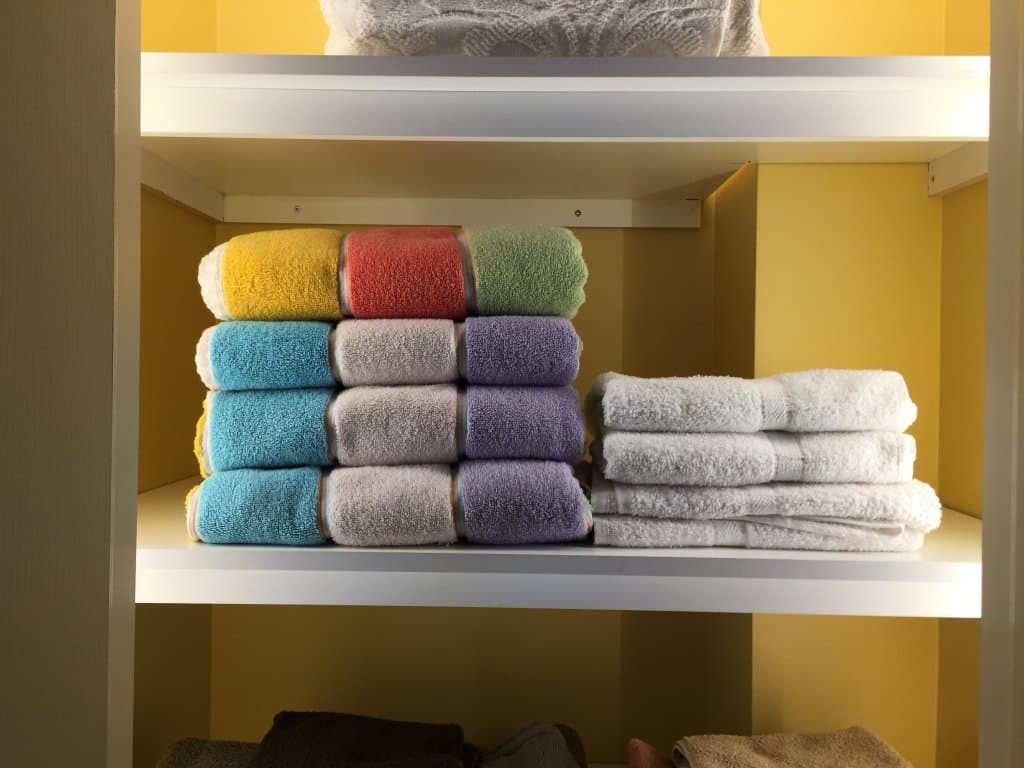 The right lighting can significantly impact the functionality of your closet space. Whether your linen storage is very big or small, lighting can give your closet an elevated look. With the strategic placement of ribbon lights along the shelf's edges and recessed puck lights at the top shelves, you can create a pleasant ambiance.
If you don't already have a closet light, consider adding one to give your space a refined look. You can go for battery-powered options if you don't want to get wiring for a light. This will make it easier to find things stacked in the corner of the closet in the dark. With the help of the right lighting, you'll be able to find what you need easily, leading to less disorganization while searching for your favorite items.
8. Leave Breathing Room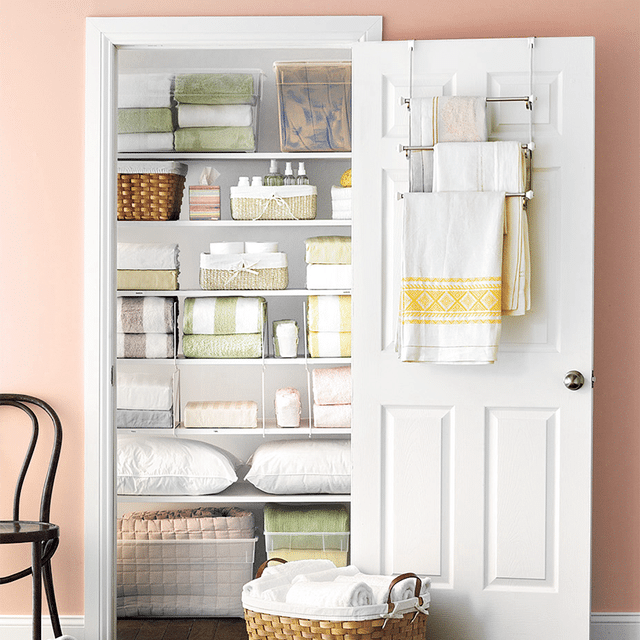 If your closet is big, it doesn't mean you can overstuff it and keep even the things that are not required. An overstuffed closet can be a nightmare, with bed sheets falling off shelves and pillows stacking up against one another. Always leave some space while organizing your closet so that things don't look pile up on one another.
With the help of negative space, you can create some breathing room within your closet and give it a balanced feel. If your closet is small, you don't need to leave much space. Just ensure that there is a slight space that can easily differentiate every item. To create this space, donate the items that you don't use or throw away the items that are damaged.
9. Utilize the Floor Space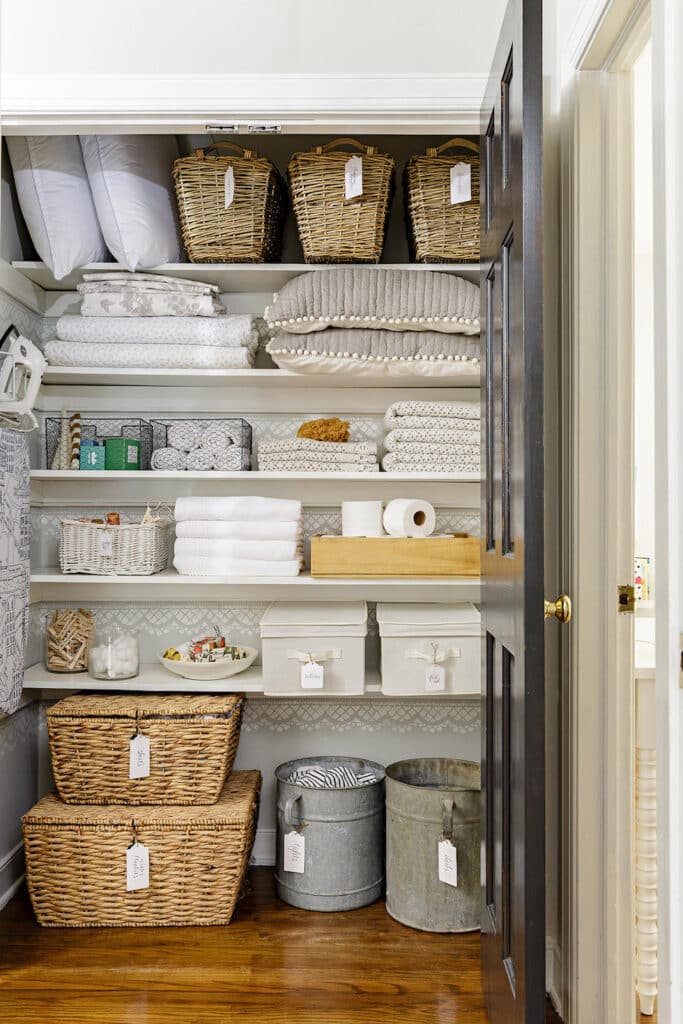 A brilliant way to maximize your linen closet storage space is by utilizing the floor space. Even small closets have some floor space that can be used to store extra items that you can't accommodate inside the closet. You can place small bins on the floor and store bulky items in them.
Maximize vertical space by using the top of a lidded bin or trash container as another shelf. If you have more space, you can even use the floor area beneath the closet to store an oddly shaped item like a handheld vacuum cleaner.
You can also store baskets, small appliances, and hampers on the floor. Floor space can also be utilized for off-season storage of your winter clothes and blankets.
Tips to Have a Well-Arranged, Clean, and Nice-Smelling Linen Closet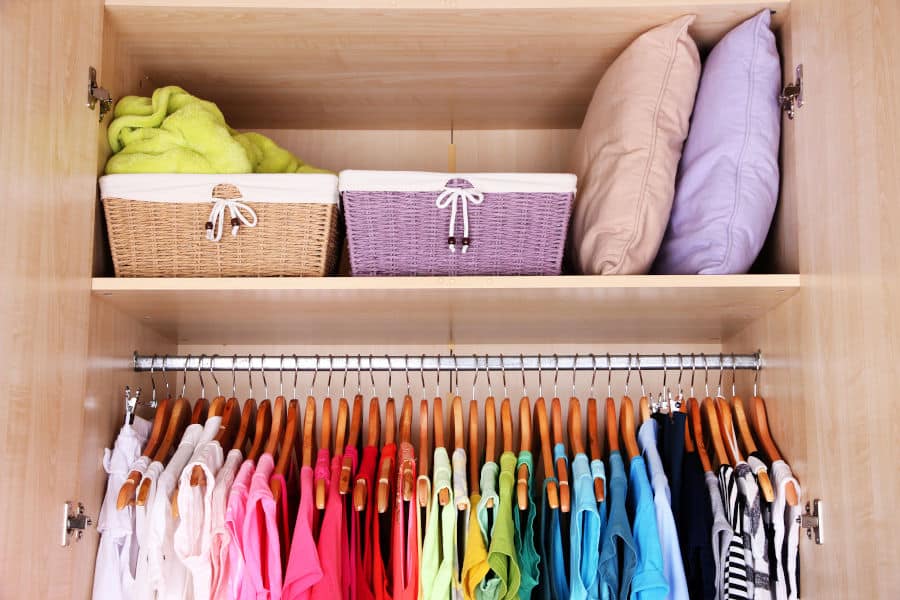 You can keep items separate on your closet shelves by using shelf dividers. Choose shelf dividers with smooth and round corners so that they don't scrape your shelves.
Color code or label the shelves in your closet with the items that belong in each stack. You can use tape and colored slips of paper or a label maker to label the shelves.
If you have complete sets of pillowcases and bed sheets to store, try to keep them together. This way, you can find them easily when the guest arrives, and you won't have to look for each item separately.
Add some vertical dividers to create a more streamlined storage system. If your closet has space to hang items, you can consider installing a sweater organizer or hanging shoe organizer. Shoe organizers can be used to hold paper towels, and you can use sweater organizers for storing toilet paper.
Instead of stacking the pillows, arrange them vertically in your closet. This will add some interest to your linen closet organization and prevent you from toppling pillows while attempting to retrieve one.
Install an over-the-door rack to hang your towels, broom, and ironing board.
Use a rollout basket to store your toilet paper rather than stacking them wherever you find extra space.
The door is an overlooked storage spot that can ease out your linen closet organization. Install an over-the-door towel rack to store your larger items, like table linens.
If your linen closet is in the bathroom, add an over-the-door organizer with baskets to maximize your storage space. It can hold everything from cleaning supplies to medicines.
If you don't want to label your linen closet container, use wire baskets or clear containers. This makes it easy to find the items you're looking for, as you can see everything clearly.
Enhance the look of your closet with the help of porcelain bowls and hardcover books.
Keep the most-used items near the middle, within reach, or at the bottom of your closet. The items that you don't use often can be placed at the top of the closet.
After washing out the sheets, spray them with a light spritz of linen spray. Don't place musty towels or bed sheets in the linen closet. You can use baking soda and vinegar to clean them and eliminate the odor.
Conclusion
A well-organized linen closet is easier to use and maximizes storage space. When organizing your closet space, evaluate the things that you need to store carefully. Pull everything out, sort similar items, and remove items you no longer need.
You can incorporate decorative vases and labeled storage baskets to make your closet aesthetically pleasing. If you're looking for a few more ideas to give your closet a clean and streamlined look, follow the tips and tricks mentioned above.
This will help you organize and declutter your closet and make your life easier. And if your guests arrive unknowingly, you won't have to dig up your closet to find the items that you want.
Frequently Asked Questions
What Should You Keep in Mind While Organizing Your Linen Closet?
While organizing your linen closet you should keep in mind the space you have in your closet and the number of linens you have. It is also important to access all the items in your closet and downsize your collection.
How Can You Organize a Small Linen Closet?
While organizing a small linen closet use bins and baskets to utilize every inch of your space. Go vertical rather than going horizontal to maximize your closet storage. Place everyday sheets and towels on the most accessible shelves and off-season linens on higher shelves.