Nothing soothes the soul like good, unfiltered, pure white goodness. It brings in a feeling of peace and serenity like no other. Not every home decor idea must be wild, vibrant, and boisterous. In Fact, most interior designers love the brilliance in simplicity. This is what makes Benjamin Moore Chantilly Lace OC-65 such a loved shade. When asked which is among the top favorite whites for most interior decorators, architects, or contractors, Benjamin Moore Chantilly lace paint definitely makes it to the top of the list.
This may confuse you if you are a naive novice who is looking to find the right white for your home. After all, what does 'favorite white' mean? Isn't all white just pure white?
In this article, we break down everything there is to know about Chantilly Lace and what makes it such a loved and preferred paint.
Explore Benjamin Moore Chantilly Lace OC-65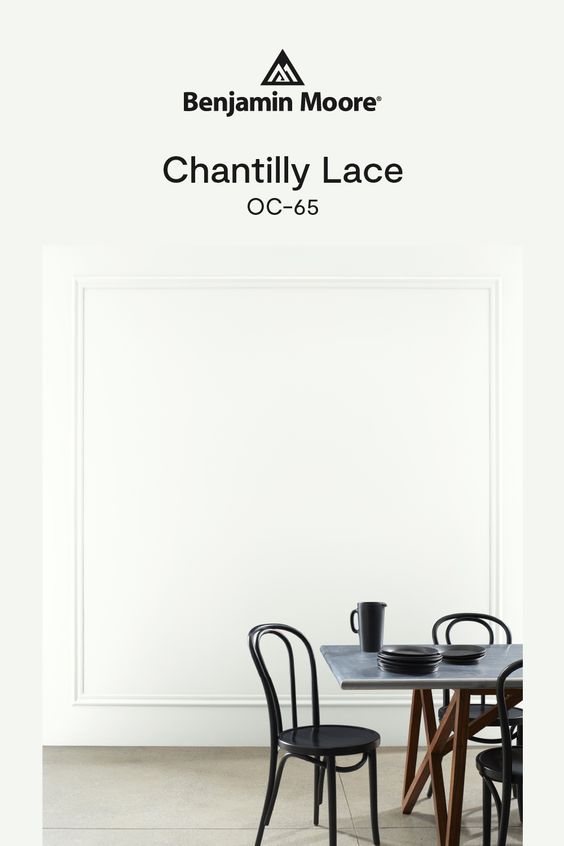 Benjamin Moore is a popular paint manufacturer offering a range of paint colors across the USA. They are known for offering high-quality paint popularly used across home and commercial renovation projects. Benjamin Moore's Chantilly Lace OC-65 is among the most widely famous shades of the brand. This shade is a pure white shade.
And that in itself is its biggest USP. Benjamin Moore's Chantilly Lace OC-65 is one of the whitest white their range has to offer. While they have a couple of more shades, such as simply white around a similar range, the chantilly lace OC-65 overtakes them all. Especially in the whiteness quotient it has to offer.
This product is a fan favorite for a good reason. The paint appears extremely clean, spotless, and crisp. It makes the room feel light, spacious, and airy. Like most white's it gives clients the space to color coordinate, mix, and match with unparalleled versatility.
Must Know Specifications Of Chantilly Lace OC-65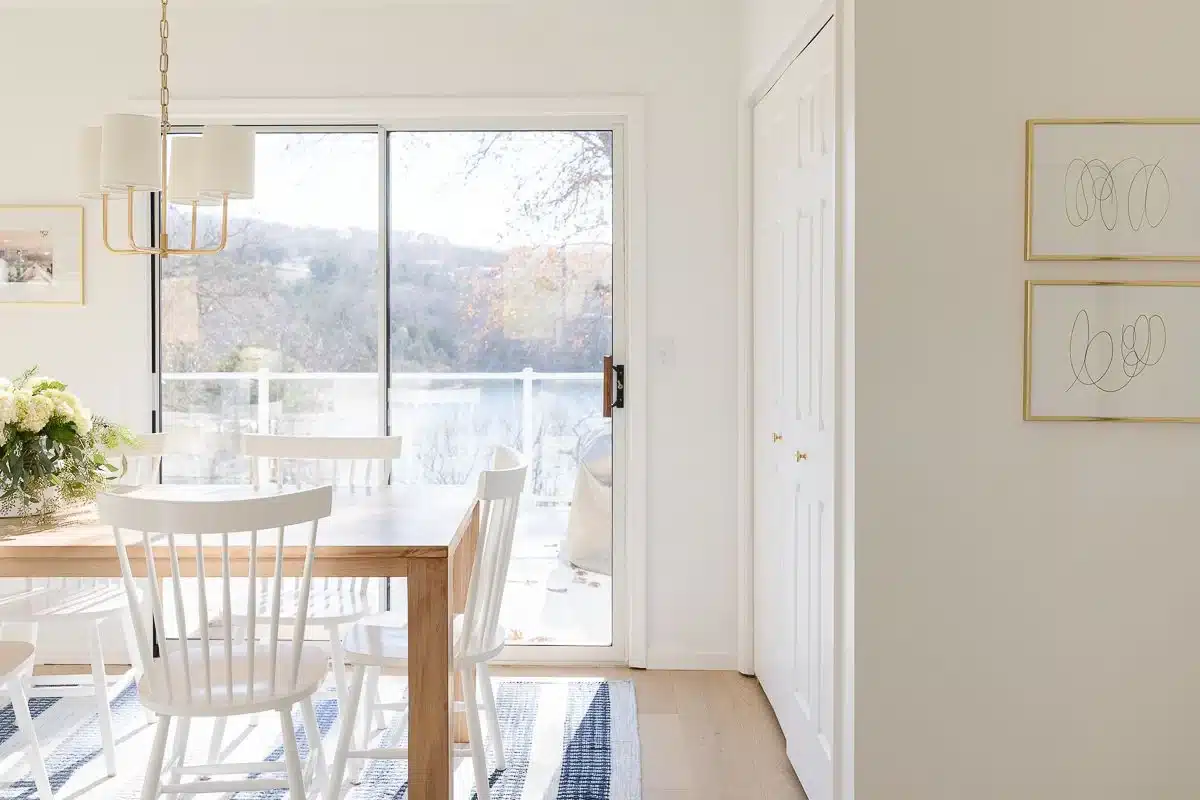 Every color comes with its own stringent specifications. These specifications are what give the color its personality. The right analogy here would be to compare these specifications as being the DNA of the specific paint shade. Let's first understand the nomenclature of this product. The abbreviation OC within Benjamin Moore stands for an off-white range of products. Here are the rest of the specifications
Delightful Hue of Chantilly Lace Paint
A hue is considered a gradation or a specific tint of color. It signifies a specific shade or undertone that may not be directly apparent. It is the property of light because of which any object may be classified into a specific shade, such as red, yellow, green, or blue. Benjamin Moore OC-65 has undertones of green and yellow hues. However, it's the most subtle hue as compared to any other white. This is why chantilly lace OC has garnered the reputation of being an almost neutral white shade. Understanding this hue undertone is critical while positioning the color in a specific room.
Light Reflective Value
LRV, known as the light reflectance value, measures the percentage of light a specific color reflects. Colors that have a higher LRV may reflect light to create a bright and airy ambiance. However, one with lower may give off a more full, dark, and moody ambiance. Chantilly lace paint has an LRV of 90.04, which thus lies pretty high on the scale of 0-100. Therefore this shade reflects light brilliantly, thus giving off its characteristic brightness. With an LRV this high, it can be considered almost pure white, with very few whites superseding this specification.
Benjamin Moore, the company, describes this color as a classic go-to white that elicits images of fresh cotton and pure silk.' This is exactly what makes chantilly lace OC-65 s loved among all. It's the pure, airy freshness that gives any and every room the blank slate it deserves. You have complete free reign on how you want to play around with complimentary colors within the room. The perfect white canvas can be used even in the most minimalist setting, given its brilliant serenity.
Why Does Everyone Love Chantilly Lace OC-65?
1. The Shapeshifting Undertones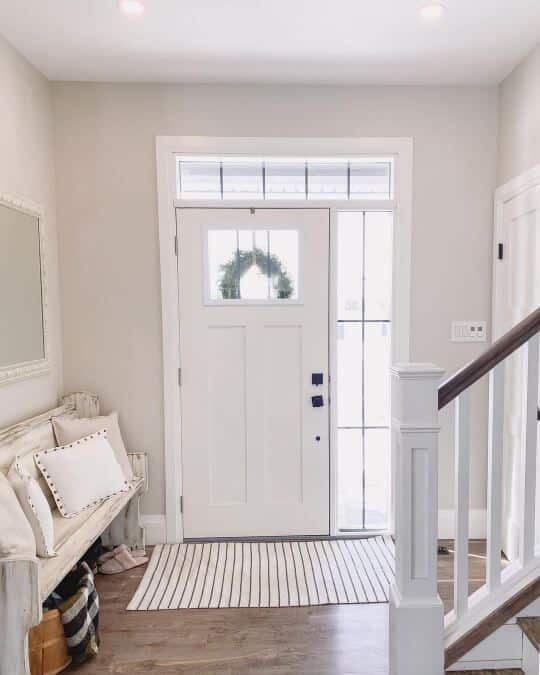 While choosing the right paint color for your room, you may often come across colors being described as cool or warm. This depends on the undertones or hues the colors have. The thing about this color is that, as described before, it is a perfect, beautiful serene white. It is almost like a shapeshifter that takes in characteristics depending on the surrounding.
For instance, it can appear warm in certain lighting settings and cool in others. This is why external factors such as the type of light, the color of light, complementary colors in the room, and big factors decide the fate of chantilly lace OC-65.
Unlike other whites, which are easier to decipher, Chantilly Lace paint manages to trick us all. However, when you manage to compare Chantilly lace to its contemporary counterparts, the task gets easier. Chantilly lace is much cooler when compared to other whites. For example, a Sherwin-Williams white gives off a much warmer tone when compared to this shade.
Therefore it may often be considered a cool tone of white.
2. Perfect for Most Rooms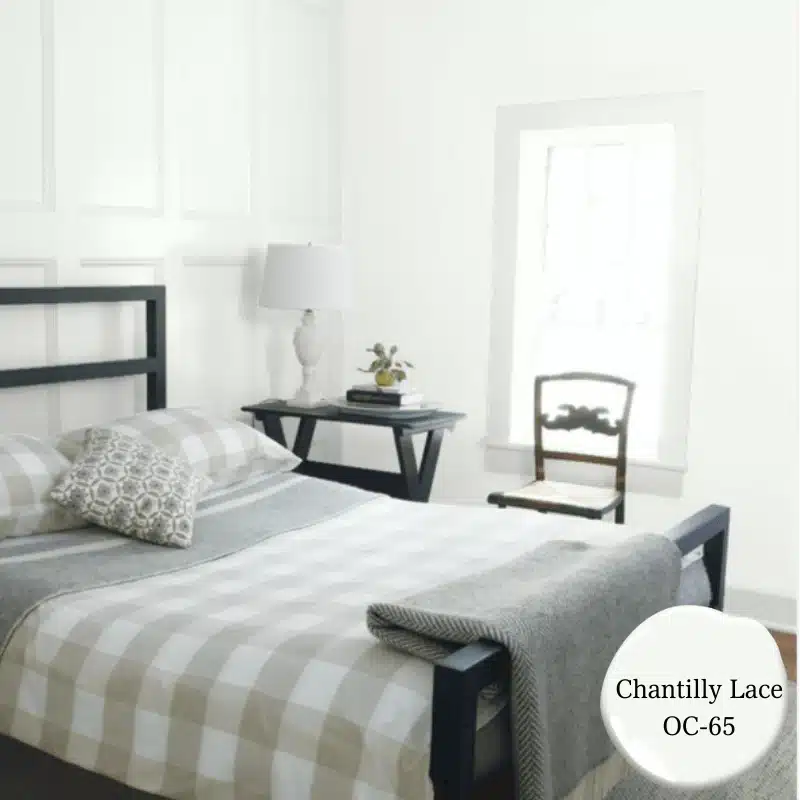 Chantilly Lace OC-65 has been time and again praised for its versatility. Its range makes it easy to use and easy to pair. We keep harping in on the brilliance of this whitest white, neutral white shade for a good reason.
This stunning white shade can fit in well in almost any room. In North facing rooms, this shade might be more inclined to look like it has bluish undertones, slight blue. In Fact, it could almost seem to have cool greyish tones.
But, if you look at it under a south-facing room or bright afternoon light, it gives off a more natural bright color that's warmer. It looks brilliant and beautiful in both of these setups, which is why you may love this versatile shade.
3. Perfect for Trim and Baseboards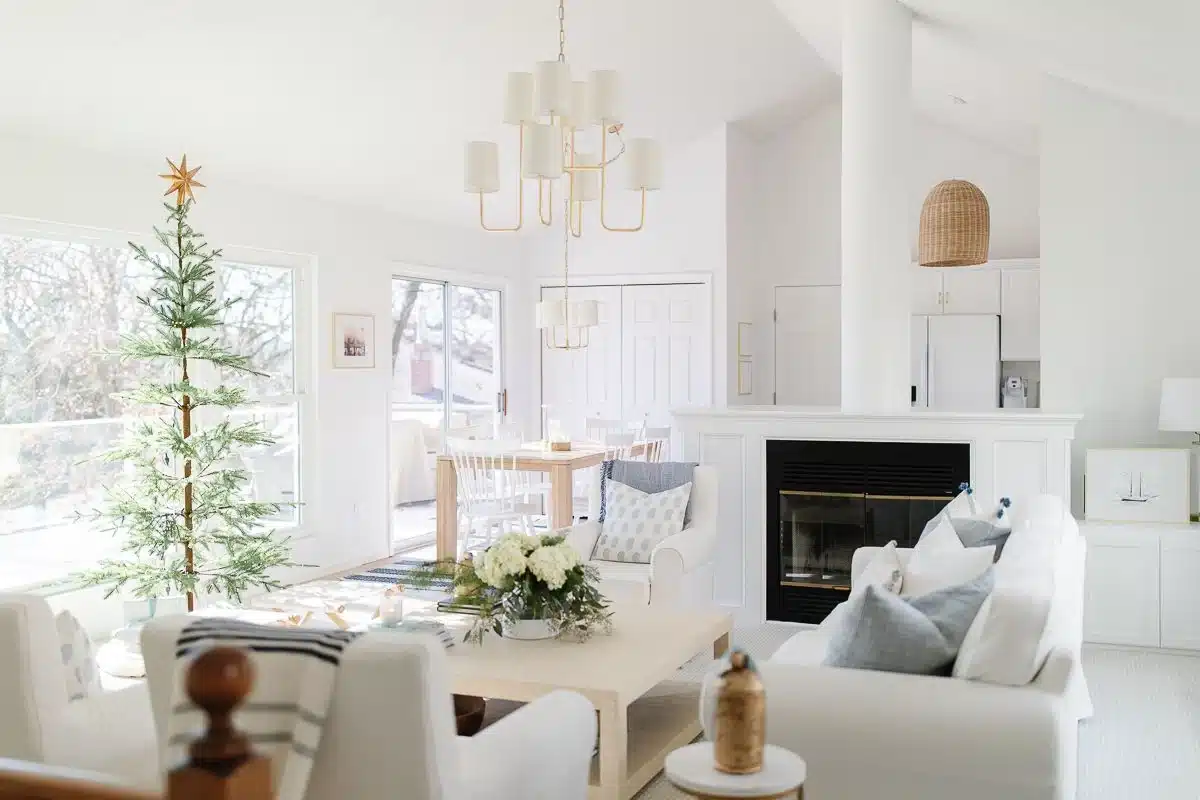 Have you faced this often? When you see a wall shade of white, the same white looks drastically different on the baseboards, trims, and furniture. You can attribute this to the materials of these products and the natural undertones these products may have. Thus giving the white color a certain different hue of white.
However, because of its star-quality properties, this product looks brilliant even in baseboards and trims. It gives off the same pure white color without having much interruption from its undertones.
Because of its neutral white color, it looks perfect for wall annealing, window casings, and more! This color looks beautiful when contrasted with bold shades such as deep purple, navy blues, hot red, flaming orange, and more.
It brings out trimming details with unmatched clarity and crisp focus. Even when paired with silvery tones, it gives a rich look.
How Can You Sample Chantilly Lace Paint?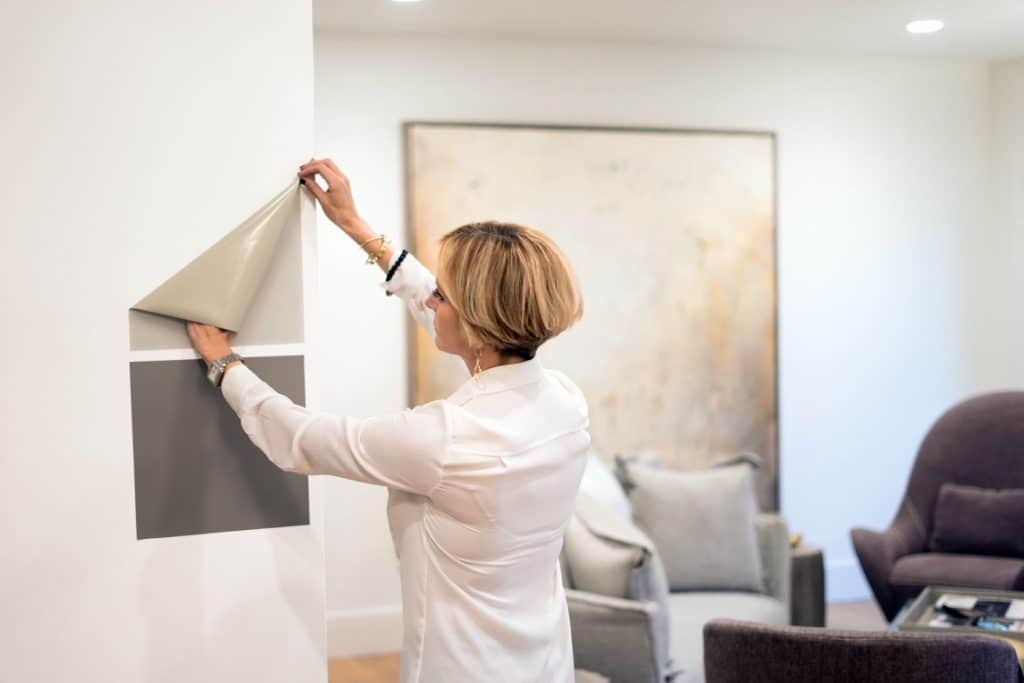 Irrespective of how much research you put into choosing the right paint color, it will still need a practical approach. Chantilly Lace paint is a neutral white paint with negligible undertones that looks stunning in almost any setting.
However, how it shines through in your home will always be subjective to the light in your house, the kind of decor you have, and the type of artificial paint you choose to have.
For this reason, it is recommended to always sample paint in different setups before making your final pick. You can call for samples from the Benjamin Moore Website and test them out across your home.
Pro-tip, let the paint dry for at least 24-30 hours before you make the final call. Also, test any sample out on a bright day and under the artificial lights you use at home.
Alternatively, you can also use Samples for sampling your paint. Instead of purchasing the whole paint box, you can choose this option. Samplize offers non-damaging paint samples that come as adhesive samples. They can be put up in different parts of your home without damaging any parts.
These samples have the original manufacturer's paint shade. This is especially good if you are looking to compare these with the contemporaries of Benjamin Moore Chantilly Lace OC-65, i.e., Sherwin Willams or Farrow and Balls.
Shades of Similar White vs. Benjamin Moore Chantilly Lace OC-65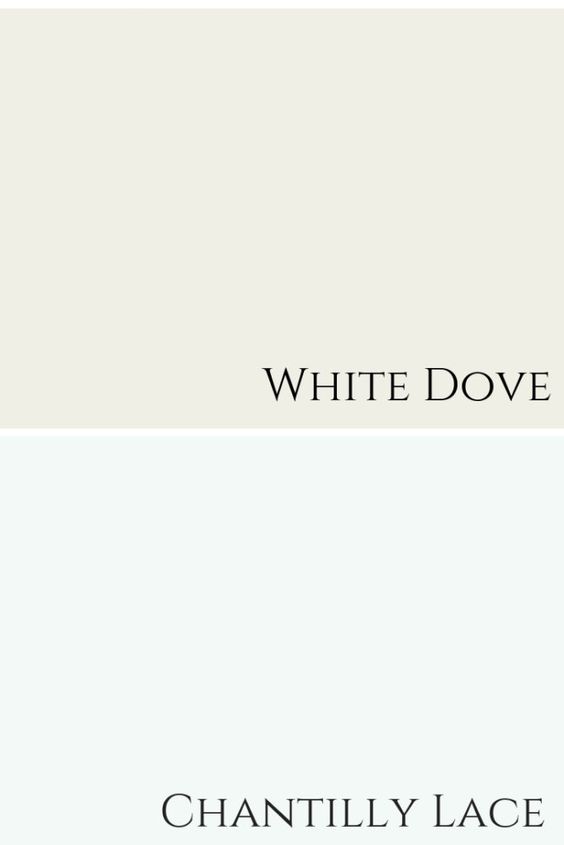 Let us first begin this comparison with Benjamin Moore's mother's popular white shades. This includes Benjamin Moore White Dove. It is easy to differentiate between the two if you are an expert. Chantilly Lace is the proclaimed whitest white offered by Benjamin Moore. The neutral undertone is what makes it stand out as compared to others. The White Dove has a softer finish and tone, whereas Chantilly Lace is more airy and bright in comparison.
When it comes to its contemporaries, Sherwin Williams's white paint is a close competition. Sherwin Williams pure white offers better flexibility that goes well in rooms of different types and styles. Similarly, another shade, i.e., Sherwin Williams High Reflective White, actually has an LRV higher than chantilly lace paint. It has an LRC of almost 93, which also has a similar neutral white hue and brightness. While HRW may give off a slightly more soft white tone, chantilly lace is a more cool grey tone.
Where Can You Use Chantilly Lace OC-65?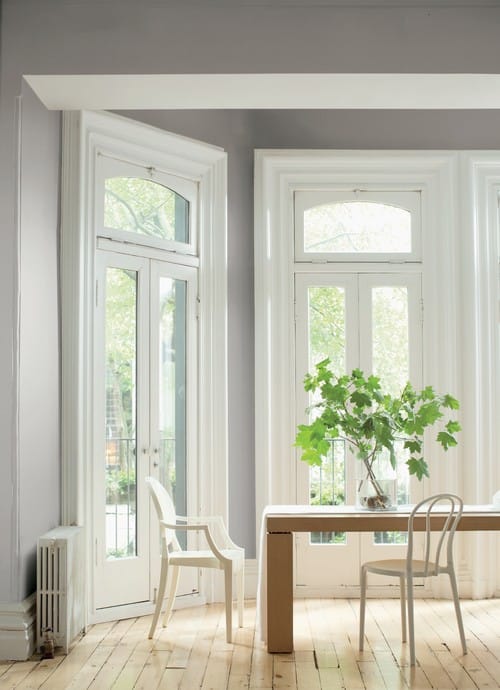 The color pure neutral white is a great shade because of the flexibility it offers. This is why it's time to dive into locations around the home where you can use this shade. In general, the seamless serene white offers the room a bright, airy lightness. Therefore ideally, it can be used throughout your home. Use Chantilly Lace OC-65 for your living room, bathroom. Kitchen, laundry room, dining room, office area, guest room, or hallways. It works everywhere! That's the beauty of this painting. This paint can be used beyond your walls! Paint your cabinets, wardrobes, trims, panels, and ceilings white with Benjamin Moore Chantilly Lace OC-65.
You can pair this shade with grey tones like Gothic Green and Oxford grey and also bold colors like yellow, red, orange, etc. This is what makes this paint color a staple paint color in homes. The flexibility and adaptability of this shade and the color comparisons it offers make it an unmatched shade to use!
Chantilly Lace OC-65 is an excellent choice for exterior paint jobs as well. The neutral white makes the outer walls shine bright and light like no other. If you love having pure white picket fence-type dreamy houses, then this is the perfect paint to match that aesthetic. If not the whole, some prefer using this paint for the beams, wall panels, boards, window casings, door panels, and more. It gives your home the perfect outlining that makes the home stand out gracefully.
Conclusion
If you have been searching for that 'perfect white' shade that stands out, well-defined, then this is the paint for you. Benjamin Moore Chantilly Lace OC-65 is a brilliant white paint color with an almost neutral undertone or hue. It blends in well into any decor without losing its personality. It brings a nice, white airy, and bright vibe into any room.
This Benjamin Moore paint shines through it all, from simple trim paintings to amazing complete wall paint, from subtle window casing paint to complete exterior paint.
It's time to explore that renovation project you have been considering and go bold by choosing pure white color for your home with Benjamin Moore's Chantilly Lace OC-65. 
Frequently Asked Questions
What are the Undertones of Chantilly Lace Oc-65?
Chantilly Lace OC-65 is a pure white bright paint color with a high LRC. While it mostly looks completely white, it may appear to have a bluish tint in north-facing light. However, when under south-facing light or bright outside light, it leans in toward a warm, soft white color.
Is Chantilly Lace Paint the Best White?
Benjamin Moore Chantilly Lace-65 is the Whitest White color offered by Benjamin Moore. It has a clean, crisp look and appears bright and airy when painted in any room. It is one of the most highly recommended paints by professionals such as painters, interior designers, and architects. The lack of almost any undertone and the flexibility with which it adapts to its surrounding makes it one of the preferred tones.