Renovating the living room is usually an annual task. You get bored of the living room decor and want to make slight variations in it to change the vibe and the feel and make the place look better than before. Some of the things in living room decor can be changed frequently, like paintings, articles, accessories, drapes, etc., to make innovative changes in the place.
But several other things are bought once in a few years and expected to sustain for a long time. They include your wall colors, wallpaper, furniture, wooden arrangements, etc.
In these cases, they must be bought such that they go well with all types of accessories and decor ideas that come to your mind in the coming years. Ideally, you can go with neutral colors like white, beige, and brown, which are safe for your decor.
But in case you want to make your living room more interesting than the plain, simple neutrals, you can go for blue couches for your living room.
Blue Couches Living Room Ideas
Blue couch living room ideas will help you understand the ways you can innovate your house in different ways, even with a niche type of couch. These couches come in all sizes and shapes, and you must choose one based on your living room size and decor. Blue is a color available in multiple shades and tones. It is one of the most multi-functional colors in the interior design spectrum that goes with several shades.
They are versatile and can go well with any type of home decor. They convey a variety of moods and vibes, making the creator feel themself in the room. They can be easily introduced to different types of living room decor ideas with ease.
In this blog, you can learn more about the blue couches living room ideas that you can take inspiration from to experiment with your home decor frequently.
If you are someone who enjoys artistic designs and is wholeheartedly open to experimenting, you can create a quirky vibe out of your living room. The room will make you feel inspired and cozy every time you enter. This can be achieved by using shades of two or three quirky colors and making a living room out of this palette of colors.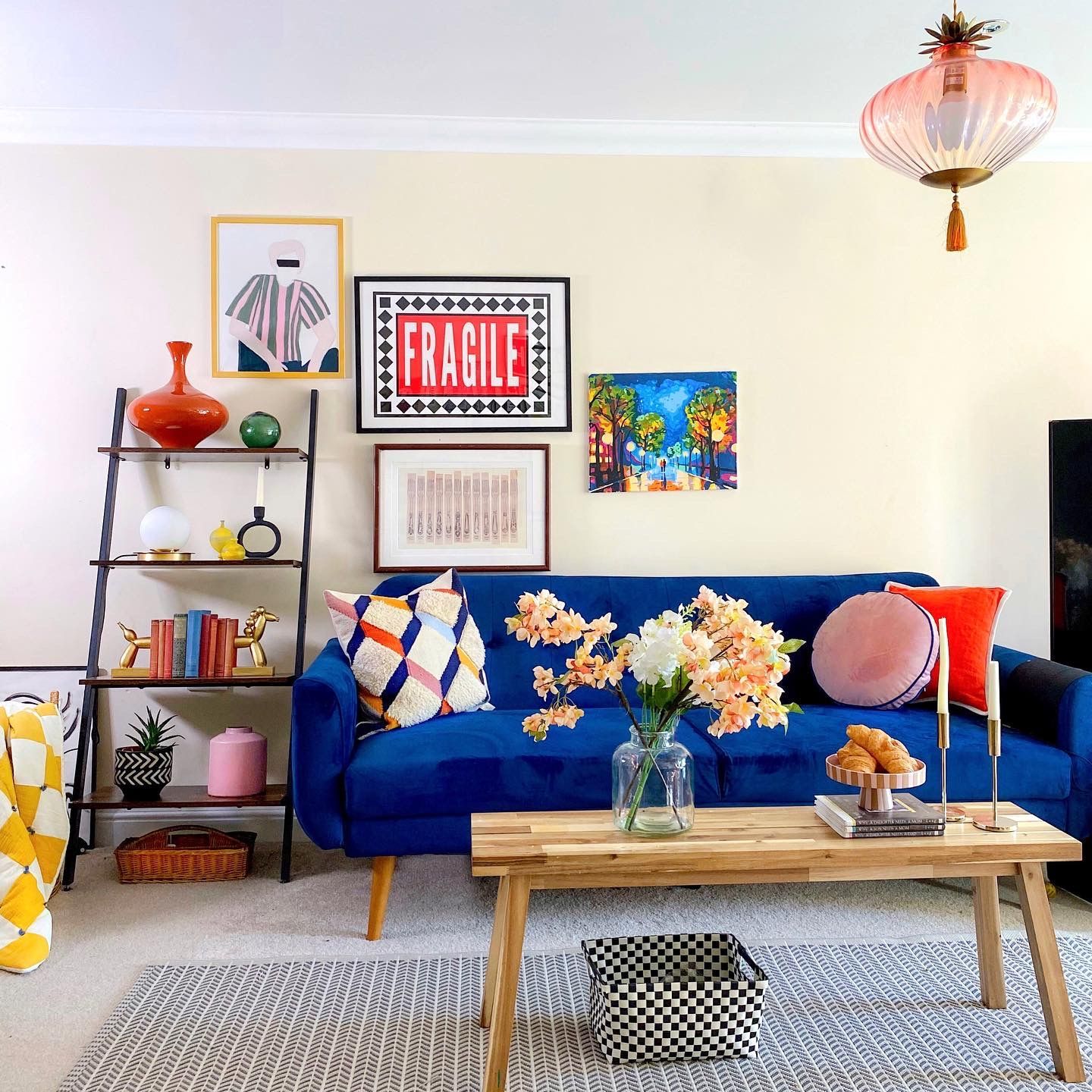 Blue is a color that gives a hint of elegance along with fitting very well in the quirky design. Hence, you can make it the base color and build major aspects like drapes, furniture, walls, etc., out of it. Apart from that, you can use neutral shades like white, gray, and beige to decorate the other parts of the room or go with a quirky design using yellow, red, and green at places.
The place will make you feel like a well-designed piece. The room must have the right proportion of these colors. You can add accessories of white and yellow in this place. As we have gone bold with the color shades, you can use simple and minimalistic accessories and decor pieces in the room for a classic and rich look. Ensure a good amount of lights in the room and give a chance for these colors to shine bright.
If you have a full-length window in your living room with a beautiful view outside, your major job is done. A full-length window with a pleasant view from the living room of the house dramatically adds beauty and class to your room. It does not require you to put much effort into decorating your living room. You can just do the basics by making full use of the window, and that will be more than enough.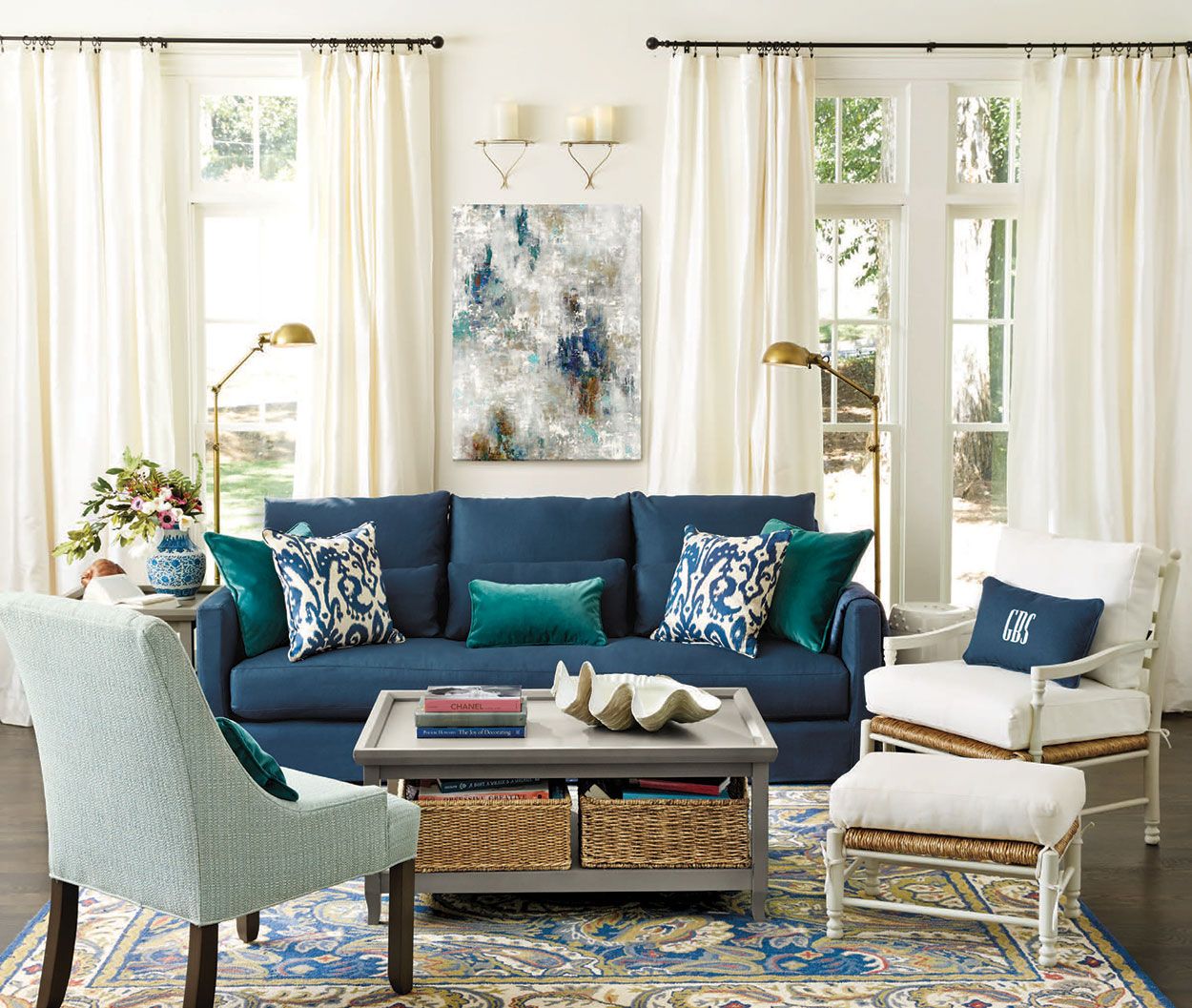 The green and brown views of trees can be complemented by a blue couch placed across the window, making a statement. You can design this place with minimalistic decor ideas and make the place look warm and cozy.
Also, you can use more natural and organic-looking items like wooden tables, jute accessories, and bamboo items in the room to make it feel like a work of nature. The beautiful blue couch in the room can be contrasted with neutral color chairs, tables, and drapes. White is the best choice in this setting, but if you don't want the trouble of maintaining and cleaning it regularly, you can go for off-white and beige. The presence of sunlight and air will elevate its coziness.
If you have a small living room, here's a great opportunity to make the most out of it. You can make the place playful and energetic with the use of bright shades of colors and quirky accessories. Use this blue couches living room idea and get a light blue colored couch giving away brightness and light. You can make use of other pastel shades like pink, dark blue, and yellow to make the place a bright riot. The best way to place accessories is by placing contrasting colors one after the other.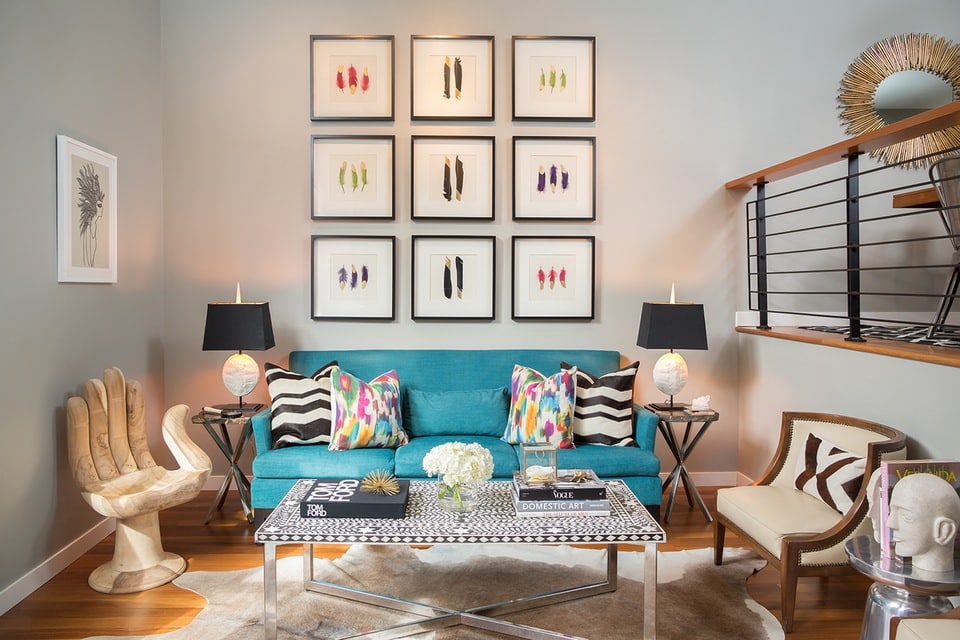 You can use colorful paintings and accessories by being bold with the carpets, drapes, and all other things in the room. Let the colors contrast with each other, and your living room will stand out, shining the brightest. This place can make you feel inspired and warm at the same time. You can frequently experiment with the items and give them a new look all the time.
If you want to use wallpaper in such a setting, the best way to do that would be to use a multicolored design with an aqua-blue couch. You will feel like your place has everything it needs, and anything else would just be an add-on.
Make your place look minimalistic and yet stylish with the blue couches living room ideas. You can choose a dull blue and that would do wonders for your room. You can enhance its beauty by placing neutral-colored accessories and earthy color shades of drapes, mats, and rugs. Also, ensure proper ventilation and sunlight in the room for it to shine bright even with the least effort.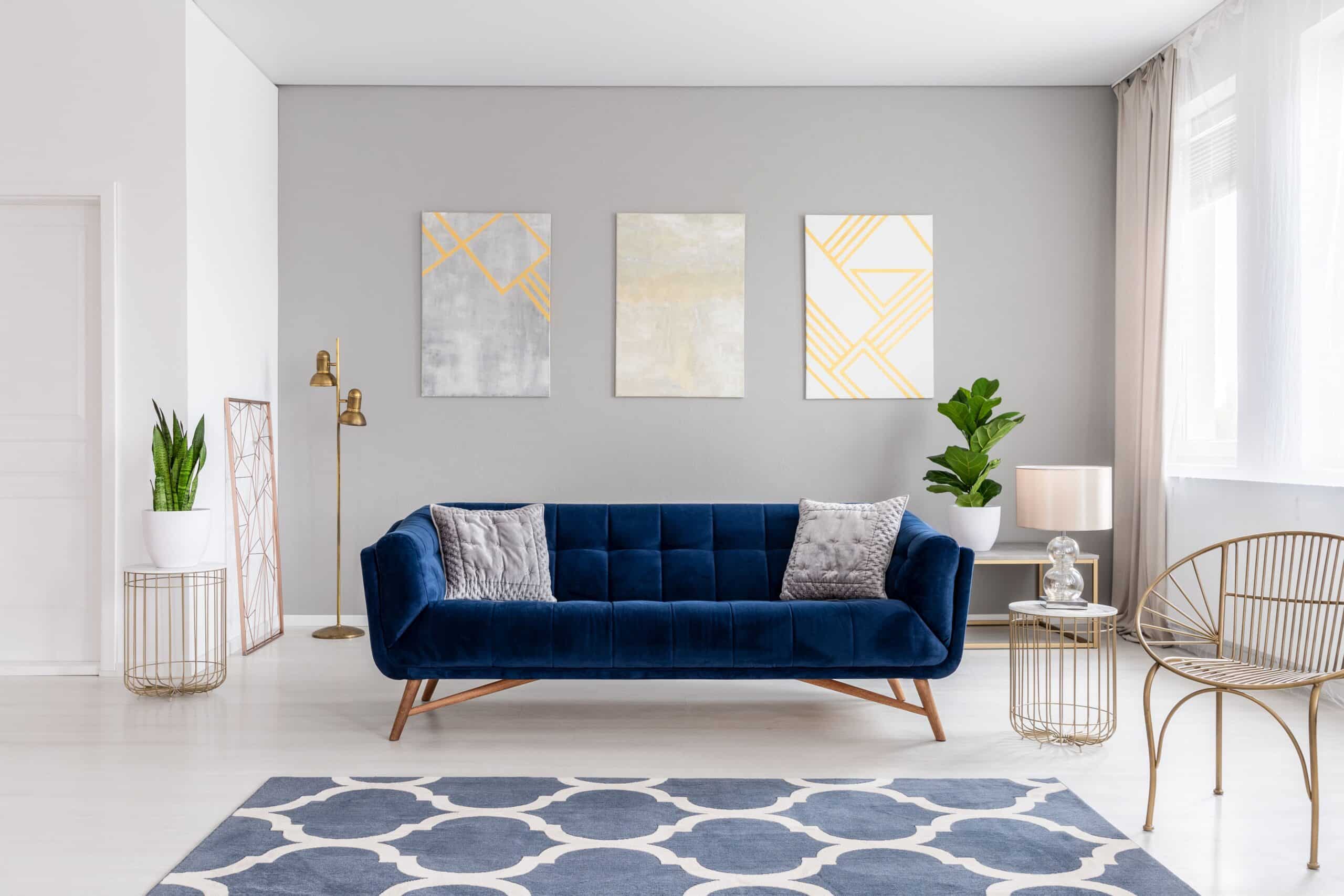 You can place statement accessories, like pots, paintings, and wall hangings, in the same color shades, and it will do the work of decorating your room. This is a menial design idea that would not require much effort or thinking, as all you have to do is play with a three-colored palette and use them in the right place.
The best part about using a minimalistic design with blue couches is that the blue shades subtly blend with the other colors creating a vibe with a tease of drama and elegance. It eliminates your investment in several accessories and decor pieces and yet gives a comfortable and welcoming feel to the room.
Color drenching is the process where you pick any color of your choice and paint it across multiple surfaces in a single room. It creates a monochromatic view of your place. It gives a brilliant and bold result with a vibe of fearless decor that is modern and classy. The place has its charm, and its aesthetics are glamorous and pleasantly placed. This kind of decor looks best with darker shades of colors.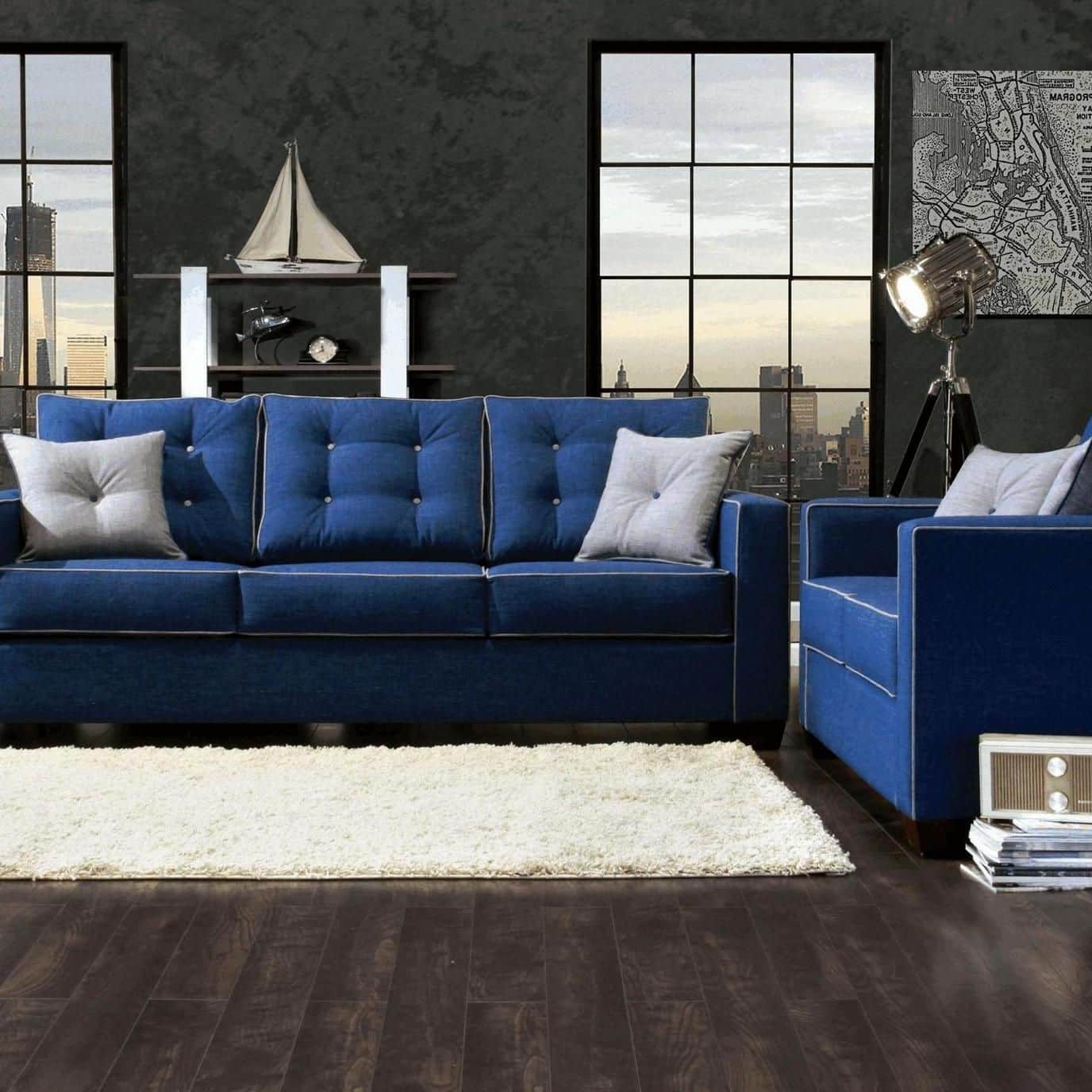 For this, you can use a blue couch in an elegant and delightful shade that can go well on other items like cushions, pillows, walls, rugs, accessories, etc. You can make the place look great with small hints of white or yellow in a few corners to make it look interesting and dramatic.
It gives a playful charm to the place. You can also use a designed wallpaper in the same color shade. In this case, you do not have to put effort into designing the room or have heavy investments. It gives outstanding results just by following the rules. Ensure to put enough lights in the room for the decor to stand out.
Let your blue couch gain attention and stand out in your decor. A dark midnight blue couch for the living room idea can create a statement of boldness. It will help you in enhancing your basic decor. You can choose a velvety couch in blue such that it will shine in the room. The best way to place this couch is amid lighter color shades of walls and drapes, such as white, beige, and yellow.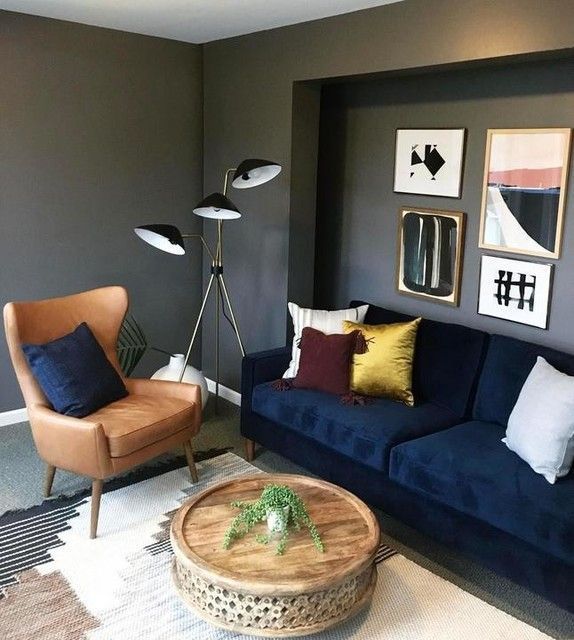 You can use items and accessories of light colors to complement the couch. This way, the entire place lights up and looks more elegant than ever. They are also useful to create a sense of depth of decor in the room. You can also use pastel shades of yellow and red that will suit you based on your living room.
The living room will feel more classy and elegant with well-organized decor and colors. You can improve the decor by placing plants and saplings of different sizes in a few places in the room. This well-organized decor gives a warm and comfortable feeling. It soothes the people whenever they enter and makes them feel welcome. You can spend a good time in this room reading, napping, or chilling.
If your favorite color is blue, probably, only setting up a blue couch would not be enough. You will want to have multiple accessories in the same shade. Frankly, it's a great idea to elevate your living room decor. You can use multiple shades of blue for different aspects of your living room, like curtains, rugs, accessories, paintings, and other parts. It will give a rich and elegant vibe to your house. You can begin by placing the large-sized items in darker shades like furniture, couches, etc.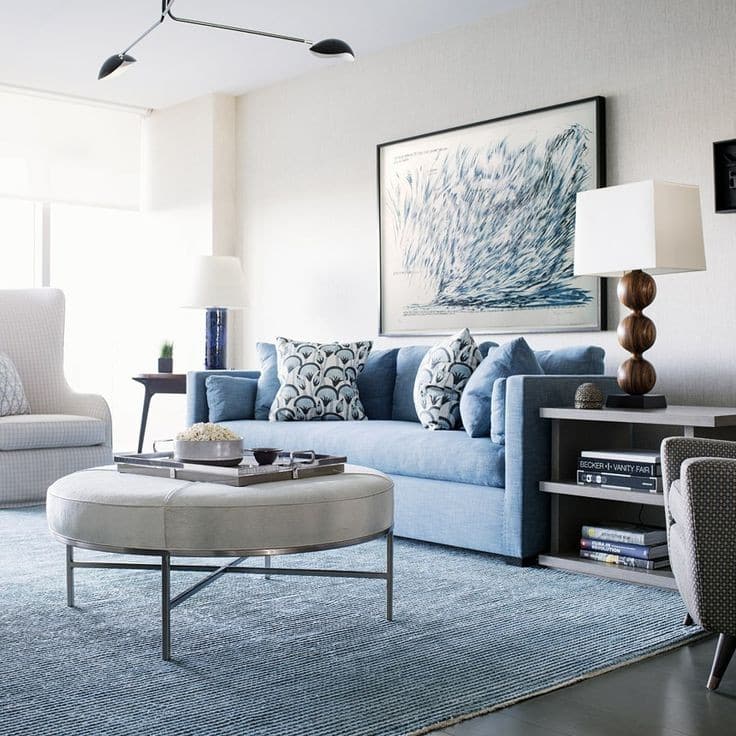 Further, things smaller than these items can be in a lighter shade of blue, like drapes, rugs, etc. You can place paintings in a shade of aqua blue, whereas the small accessories and items can also be in white. In such a setup, the best way to color the wall is in two contrasting shades. It will enhance the look of your place.
This is a type of blue couches living room idea that wants you to use your creativity and go on with whatever feels right to you in the room. Placing a few succulents and plants in this blue-shaded place will break the monotony and create elegant drama in the room.
If you are in love with the beaches and want to give your living room to give a coastal vibe, it can be easily done with a palette of a few colors. The most amazing part of the beach is the ocean and sand, surrounded by a few trees and, sometimes, mountains. You can achieve this look with a little effort. To gain the look, you can cover your walls with wallpaper, giving a coastal theme or just a light blue shade if you are going to paint the wall.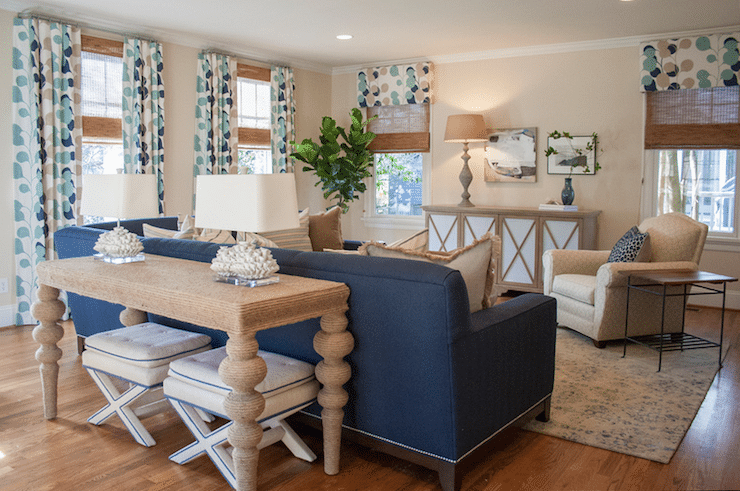 Also, you can place the blue couch adjacent to the wall and place rugs and drapes in a sandy brown or beige as you feel. Also, you can use accessories and items of different colors and shades in the living room, especially in yellow and red, to break the monotony.
Place a few succulents and plants in the living room that are tall and come to the level of the couch. Your place will give a perfect feeling of a beach, along with making everyone get a vibe of warmth and coziness in your living room. Even if you are not very enthusiastic about the coastal theme, this blue couches living room idea is a great way to decorate your place.
You can design your modern decor without the help of any professional designer with these blue couches living roomideas. A blue couch of any blue shade is always a hit when it comes to modernizing your house. It will never go out of fashion.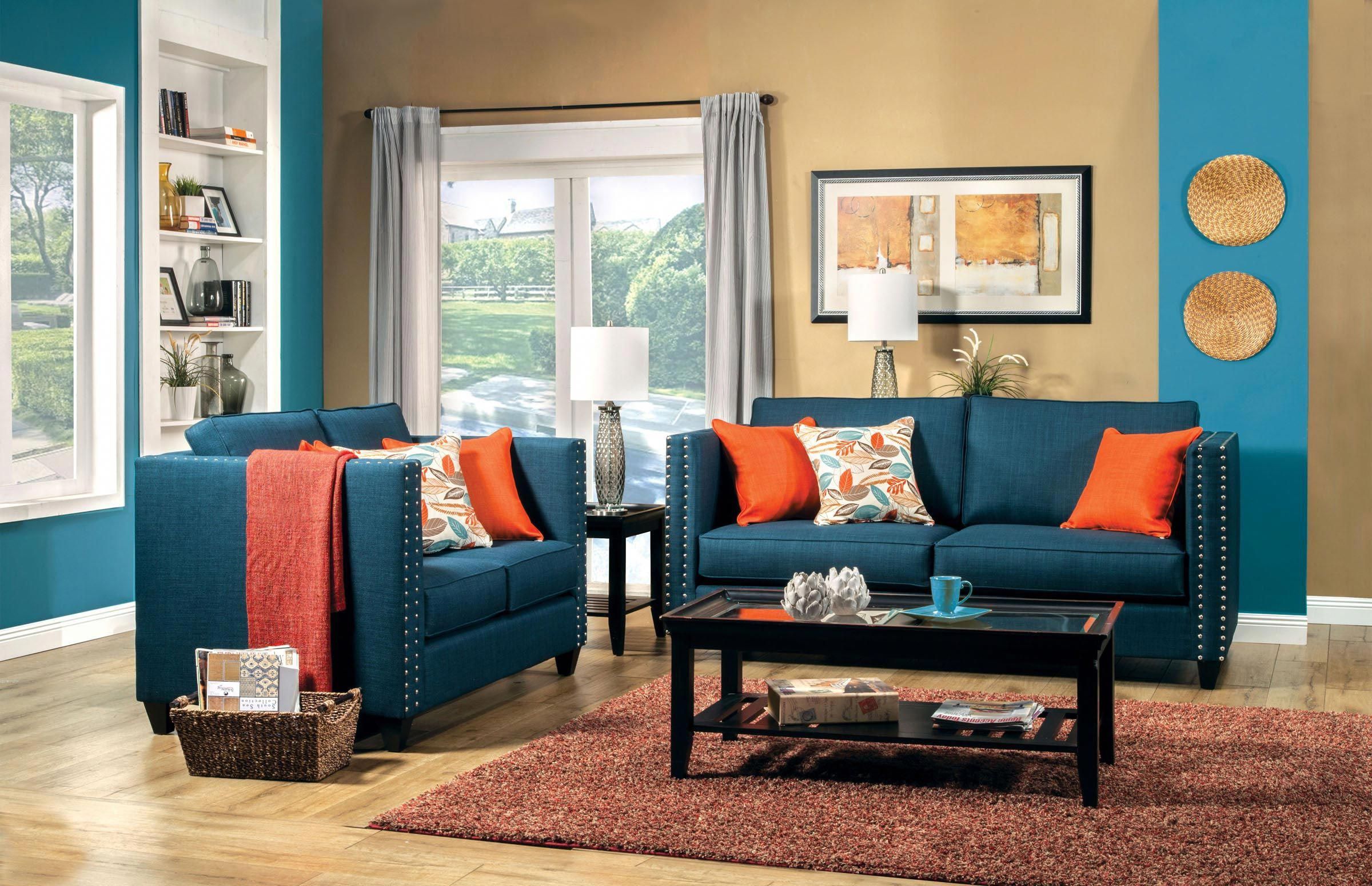 You can pair it with white chairs and a table. Further, place a few plants around the living room to give it a minimalist and cozy vibe. You can place a fancy painting on the wall to create a statement. Ensure that the shades of the painting are contrasting with the blue couch to create a perfect pair and make the most out of it. It creates the necessary drama in your room. You can also use a rug with multiple colors that are not neutral. Also, use metal accessories highly modernized for a contemporary look in your living room.
The combination of yellow and blue is just enough in your living room to create a bright and vibrant-looking living room decor. This can be achieved by using a blue couch with yellow chairs or a table adjacent to it. Also, you can purchase plenty of yellow pillows and place them on the blue couch.
This combination can be enhanced by using decor items and accessories of different colors like orange and purple. If your living room is small, you make it a place emitting high energy out of it.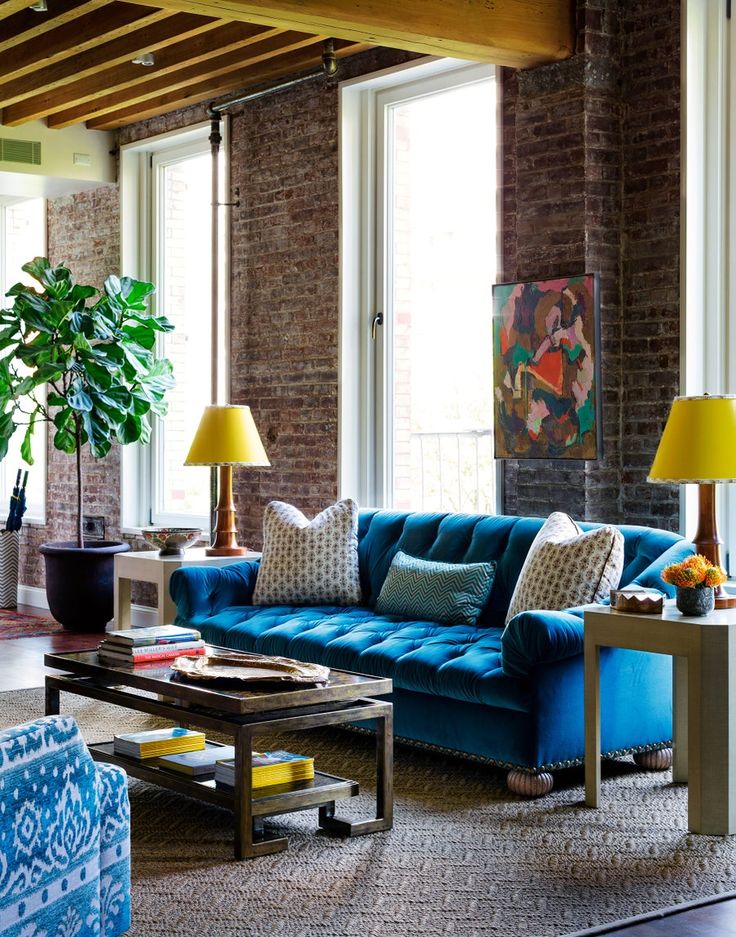 Placing a colorful painting in this setting can take the room decor to the next level, making it feel more organized and elegant. The setup will make you feel warm and soothe you. It is a place that requires low maintenance and low investment to get it done right. Also, you don't need a professional designer to make it look good as you just need to splash these two dominant colors and watch wonders happening in your living room.
Last but not least, let's talk about giving a feminine touch to your place with a blue couches living room idea. The best way to go for this is by using a light blue or teal shade of couch and filling the place with floral paints and accessories. You can use a pastel shade for the carpet that looks elegant and cute in the living room. This place emits an energy of warmth and friendliness.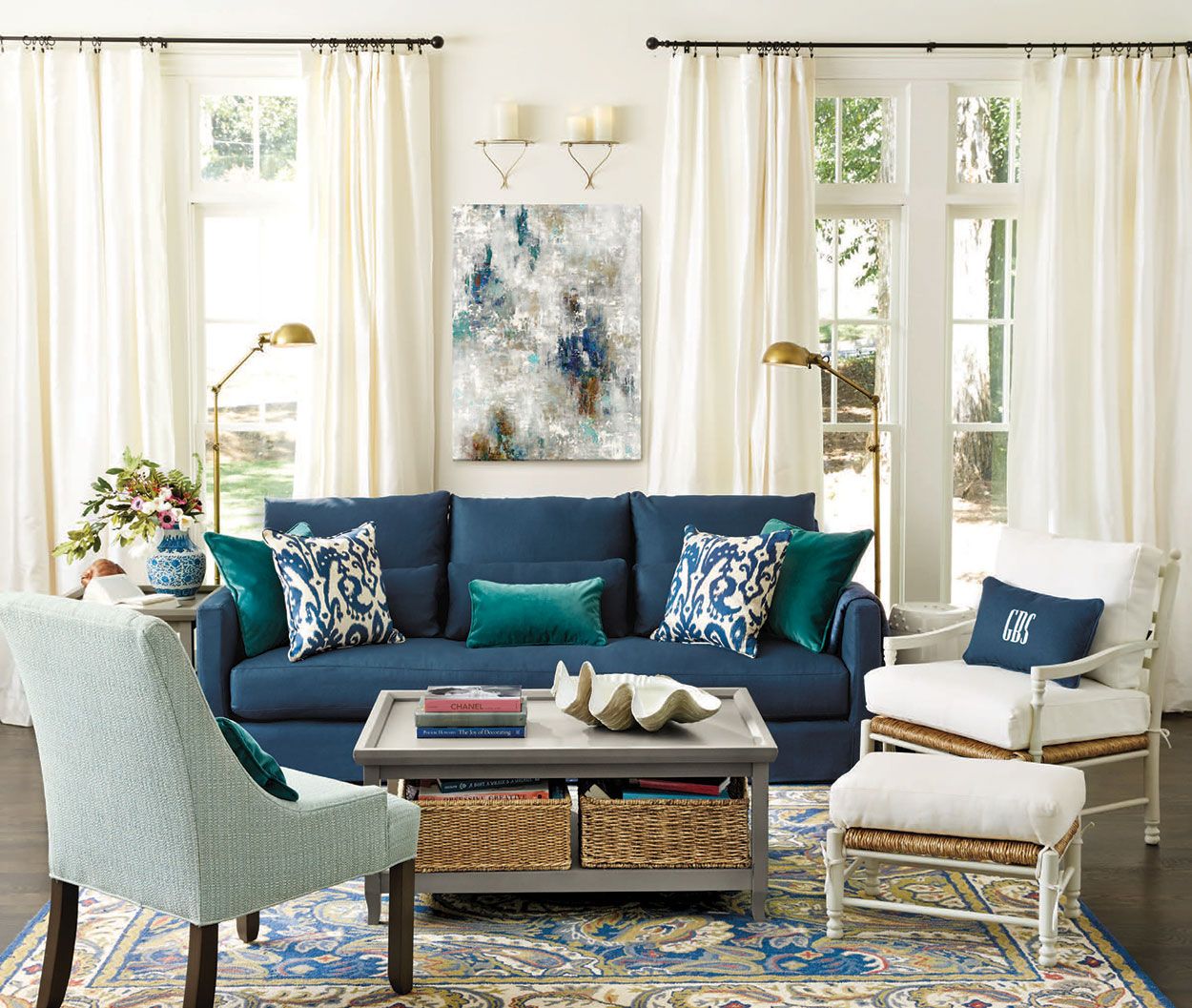 Anyone visiting your living room would feel cozy and welcomed. You can go crazy with your imagination in this type of decor. Use your favorite colors of accessories and items that you feel are right. Here, you are clear with what you want from your decor, so just go with what you think suits well in this setup.
Conclusion
The best way to create stylish and safe decor is by using blue couches' living room ideas. The blue couch emits a vibe of class and richness in any household. It is a great option in your house if you do not want to risk your living decor and want a safe option that will go well with everything.
Based on your choices and themes, you can create a decor that makes you feel the best. You can take inspiration from these 11 ideas of blue couches for decor or just implement them as it is, and it will be enough.
So let your creative juices flow from within, and tell us about your experience and ideas with the blue couches and living room decor in the comments.