Cloud couch. The name rings a bell. Yes, you have heard and seen it on TikTok. Restoration Hardware's cloud couch has become quite a rage for its unbelievably soft feel, low backrest, and stylish look. But it can't adorn the living room of many unless they are A-list celebrities or billionaires because cloud couches cost a lot. Way a lot.
So does this mean you can't experience the sheer joy of lying and sitting on this perfect cushion couch? Nope! There are superior alternatives in the market selling at cheaper rates. And we bring the best ones to you.
The alternatives are not only similar to the original Cloud couch but way more affordable without compromising on the quality and the looks.
Why is Cloud Couch so Famous?
A cloud couch demands your attention. One from its highly modern and neat looks and second from giving you the urge to experience how it feels to sit on. The sensational couch is the creation of a London-based designer, Timothy Oulton. First launched in 2015, the sofa received applause for its attractive design and plush comfort. And then TikTok happened. The sofa became a rage on the platform and soon found its way into celebrity homes like those of Noami Watts and Kendall Jenner.
Things to Consider when Buying a Cloud Sofa Alternative
Now, before you go looking at alternatives, it is important to understand the features of a cloud couch to get a perfectly identical sofa at a lower price.
A cloud couch not only feels like you are sitting on a fluffy cloud but also looks like one. The entire point of the cloud couch is to resemble the clouds as much as possible in looks and feel. A Cloud sofa has the below features, which are very different from a regular leather or fabric sofa.
Three sections with a corner, a middle section, and an ottoman
Down feather filling for a cushiony soft feel
Super smooth edge design
No visible feet to give it a feeling of floating in the air
Low height and backrest for ultimate comfort
Large pillows
Customizable design
Things to Avoid when Buying a Cloud Couch Alternative
A cloud couch is a near-perfect sofa that provides superior comfort and enhances the look of your interiors. But there are certain features of cloud couches that are best avoidable and not for everyone. When you are looking for a less expensive version of the cloud couch you might want to avoid the deeper seat with 18 inch height. It can be annoying as it leaves your feet dangling off the ground. Look for a medium depth and height for a balanced seat.
Another thing is the color. Understandably, a cloud couch is often available in shades of white to come as close to the real clouds as possible. But it might not be suitable for homes with pets and kids. Unless the covers are washable and stain resistant, you might want to look for dark shades to avoid the inconvenience.
Best Alternatives to the TikTok Sensation Cloud Couch
Here are the 13 best and most inexpensive alternatives to the popular cloud couch.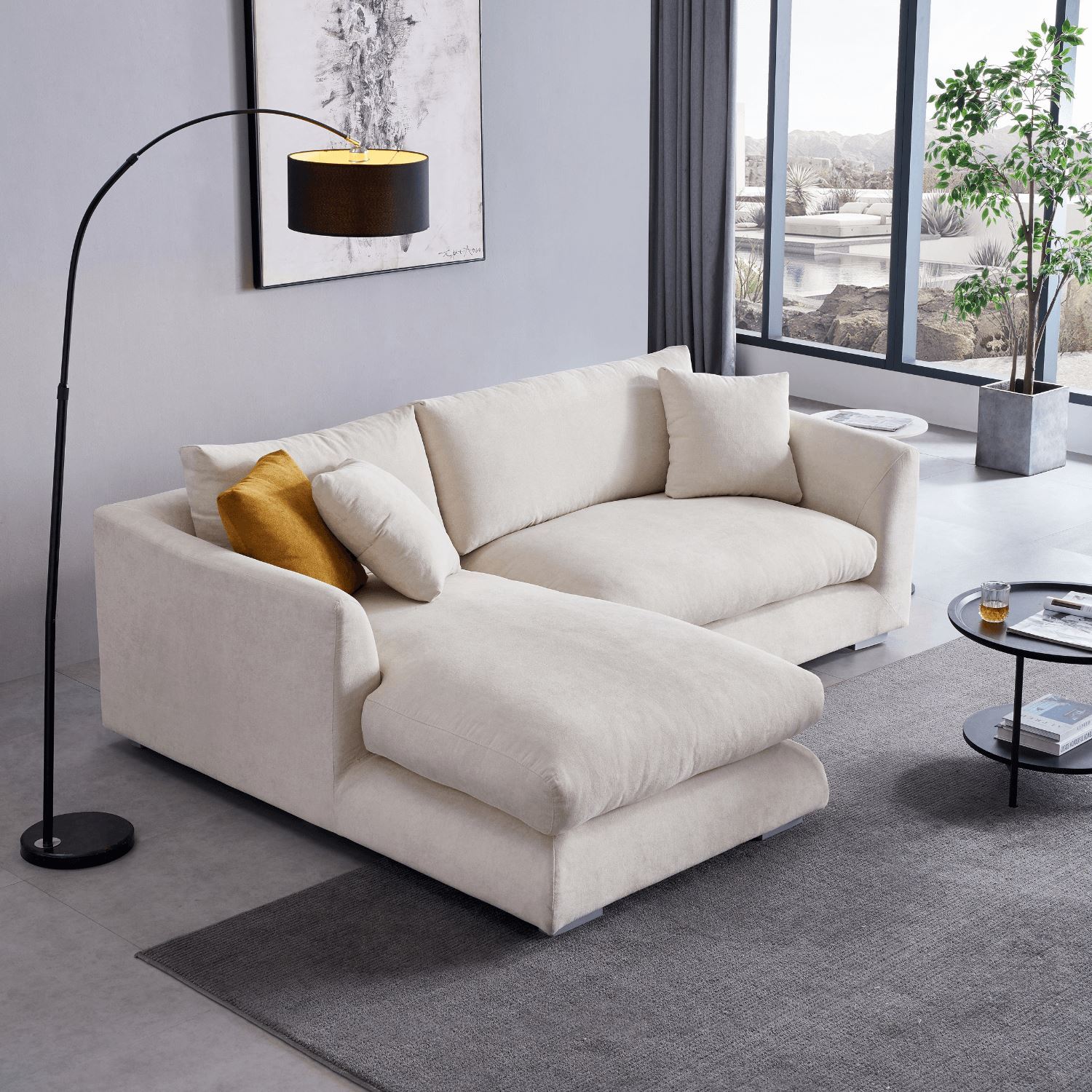 This pure work of delight is created by Italian designer Mario Capasa and promises to give 100% sink in plush softness. Plus, the elegant look of the sofa deserves applause. You can choose this beautiful cloud couch alternative in the beige or gray shade and 4 different width sizes. It's made from three materials – linen, Egyptian cotton, and microfiber. The filling, which is responsible for its cushiony soft feel, is made up of 25% Polyurethane Foam Pad, 3% Polyester Fiber, 29% Polyester Fiber Batting, and 43% Duck Feathers. Plus, it has fully removable and washable covers.
Dimensions
Width: 88, 110, 142, or 170 inch
Height: 32 inch
Depth: 40inch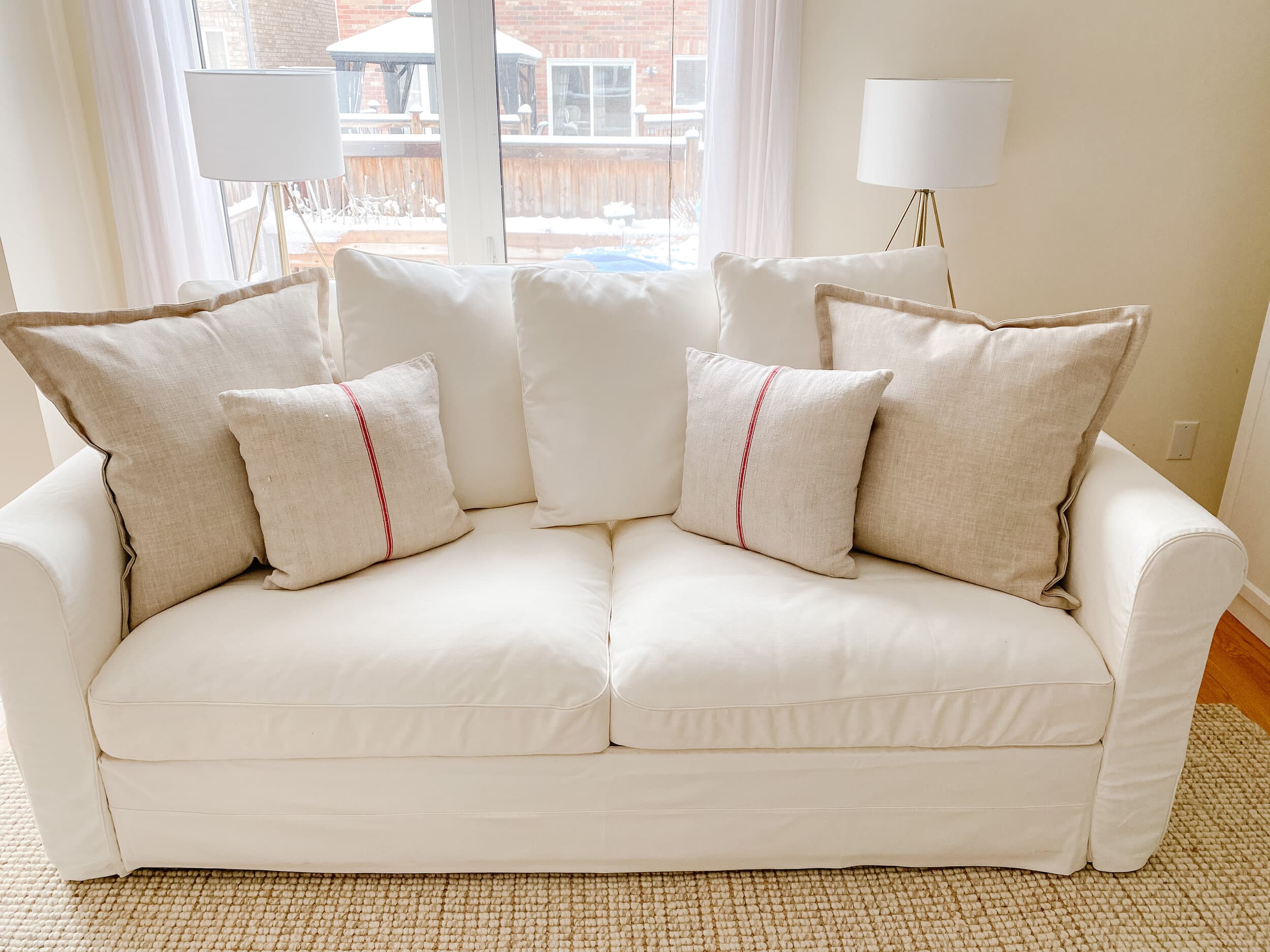 Designed to be extra soft like a cloud sofa, this couch by Ikea gives your tired body the perfect rest. It comes with extra cushions like the original cloud couch that add to the comfort of sitting on it. It is made using high-resilience foam and polyester fibers, complete with movable deep pocket spring seat cushions. It is an adjustable sofa where the size and shape can be adjusted to suit your varying needs. The cover of the sofa can be removed and washed in the washing machine. Ehlén Johansson/Francis Cayouette designs this masterpiece.
Dimensions
Width: 98inch
Depth: 38 5/8 inch
Height: 41 inch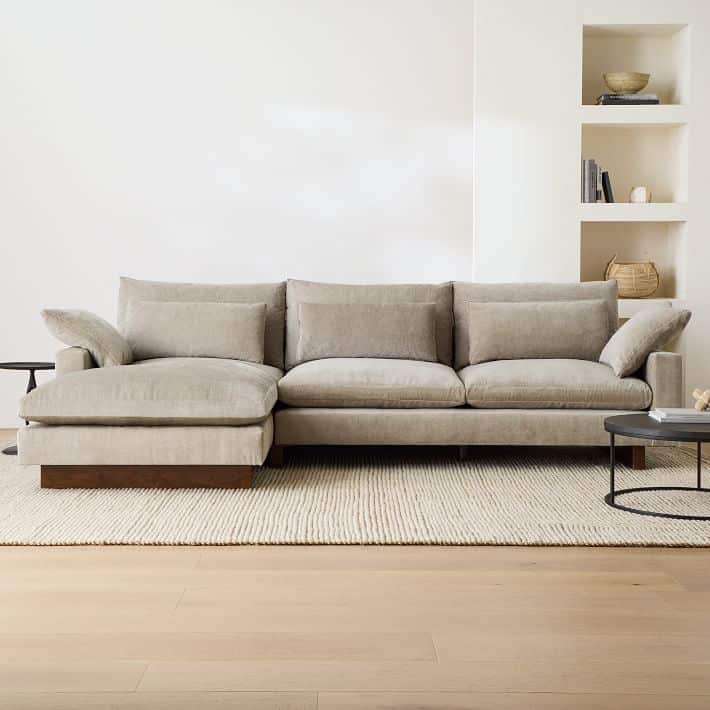 This sectional cloud couch alternative is made to last with its kiln-dried wood and engineered hardwood frame. The entire sofa is built by hand, which promises excellent craftsmanship and durability. It comes with seat and back cushions made with the finest and softest of fibers and feathers. The seat cushions contain fiber-wrapped, high-resiliency polyurethane foam cores. Back cushions have 50% polyester fiber, 45% duck feather, and 5% duck down.
Dimensions
Width: 112 inch
Depth: 62inch
Height: 36inch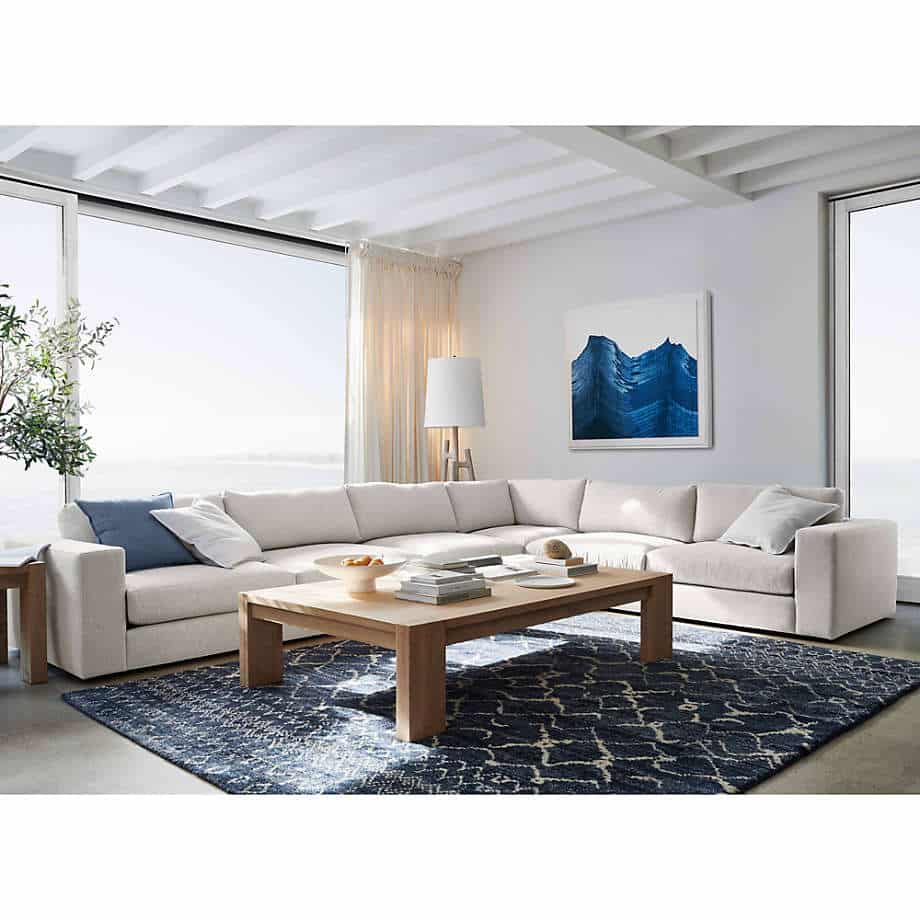 This one's more on the firm, soft side than sinking in the soft side, but the comfort level is intact here. Its neat and wrap-around design gives it a classy look that is pure beauty to look at. Armed with soft and structured pillows, this sofa is perfect for reading or casual conversations. The sofa is engineered using Polyester-cotton performance fabric and FSC-certified wood from forests.
The back cushioning is made using synthetic blown fiber. The seat cushioning is made from plant-based polyfoam wrapped in fiber and a feather-down blend.
Dimensions
Width: 89″
Depth: 39.5″
Height: 23″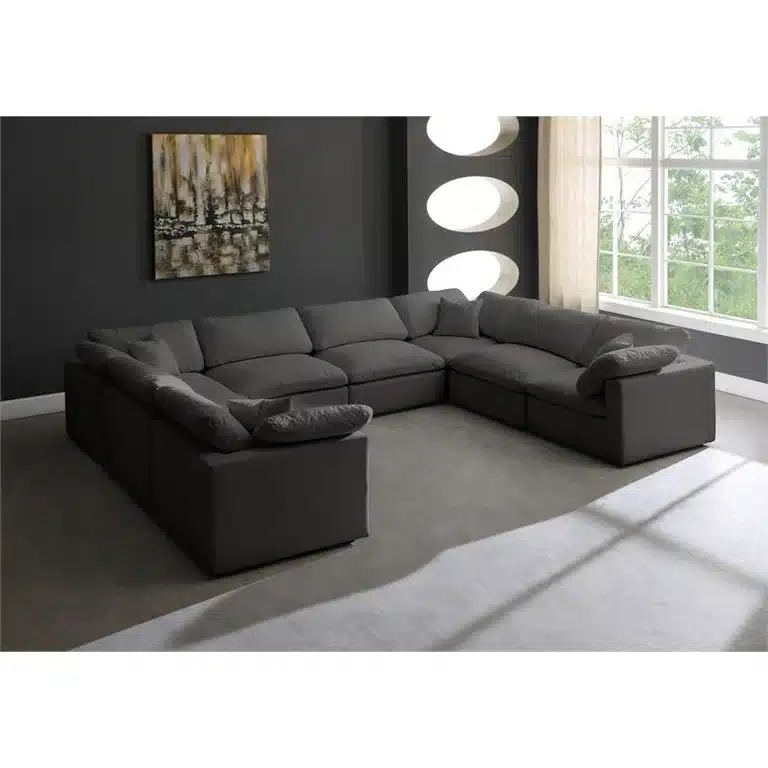 This cloud couch alternative comes very close to resembling a cloud couch in looks. It is a 6-piece set with a U-shaped design. But you can configure the shape based on your comfort and needs. This plush sofa is constructed with soft velvet fabric with overstuffed pillows. The pillows are made with a combination of feather and down blend for other perfect medium firm softness. The sectional sofa is available in three different colors of navy, gray, and cream.
Dimensions
Width: 140 inch
Breadth: 70 inch
Height: 32 inch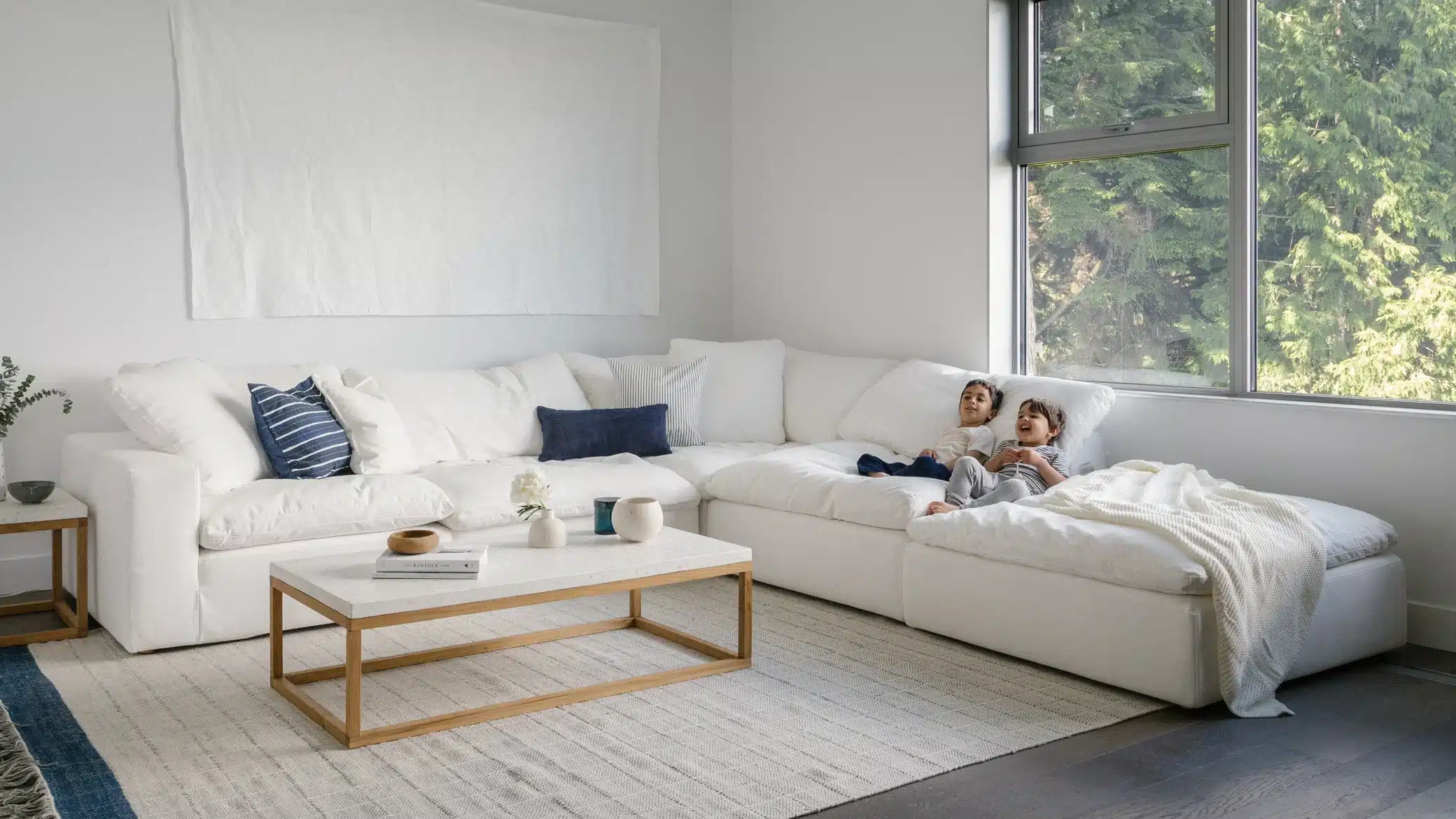 The comfort that one craves while watching their favorite content will be delivered by this cloud couch alternative by Sundays. Aptly named Movie Night Sofa, it has a plush and luxurious make that enables you to settle in and have one of the most comfortable movie night-watching experiences. It comes with deep seats and oversized pillows that enhance the usability experience. It has a foam-padded frame with feather and fiber filling. Available in multiple designs, this sofa is easy to maintain with its stain-resistant and removable and washable covers.
Dimensions
Width: 135 inch
Depth: 90inch
Height: 32inch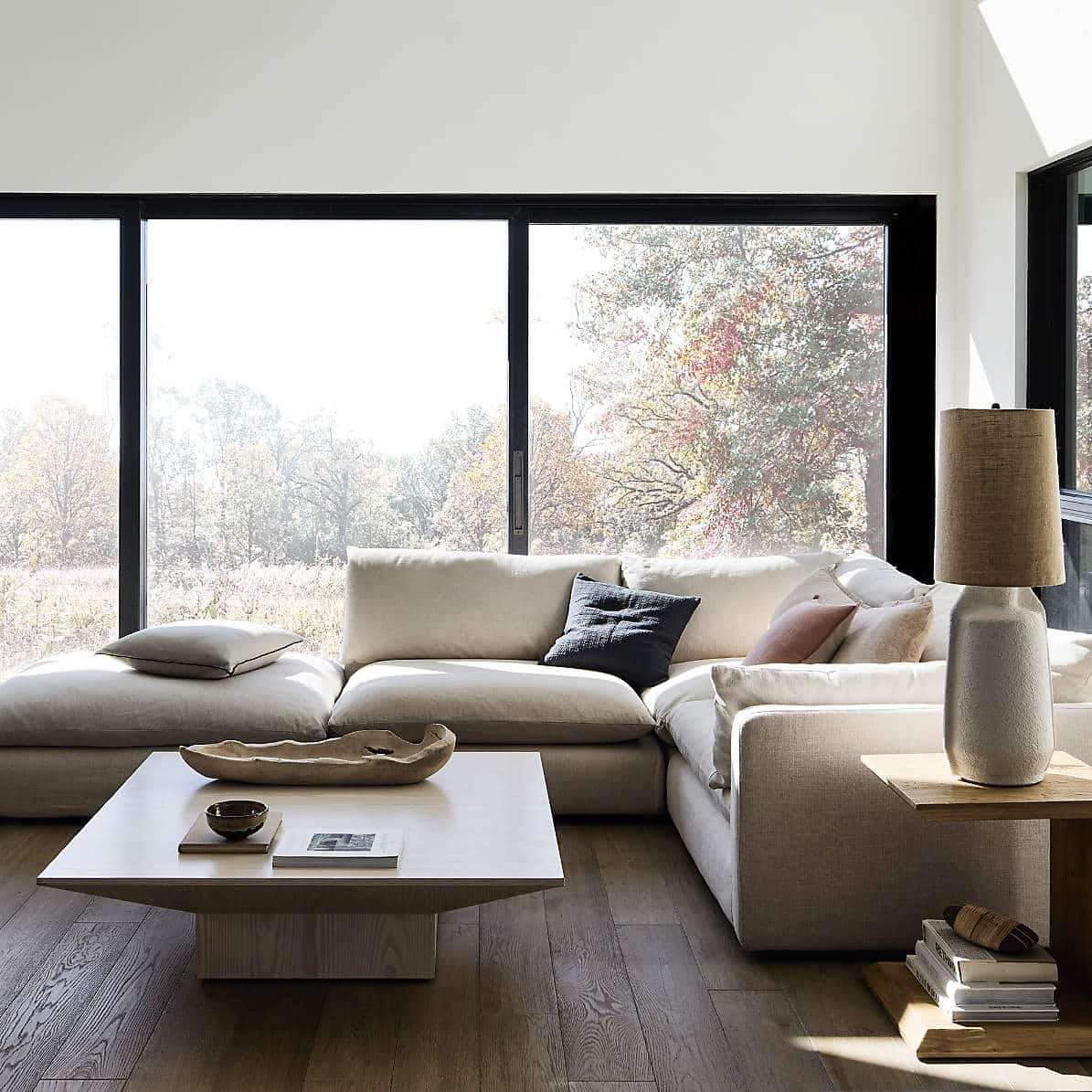 A perfect seating arrangement for the whole family! This exceptionally beautiful 5-piece slipcovered sectional sofa will make you and your family find reasons to get together because you will be spending most of your relaxing time on it. It has a birch and engineered wood frame and cotton linen blend fabric complemented by a down-proof ticking encased feather blend and poly fiber cushioning. The 5 pieces include 2 armless chairs, a left armchair, and a right armchair.
Dimensions
Width: 142inch
Depth: 142 inch
Height: 30 inch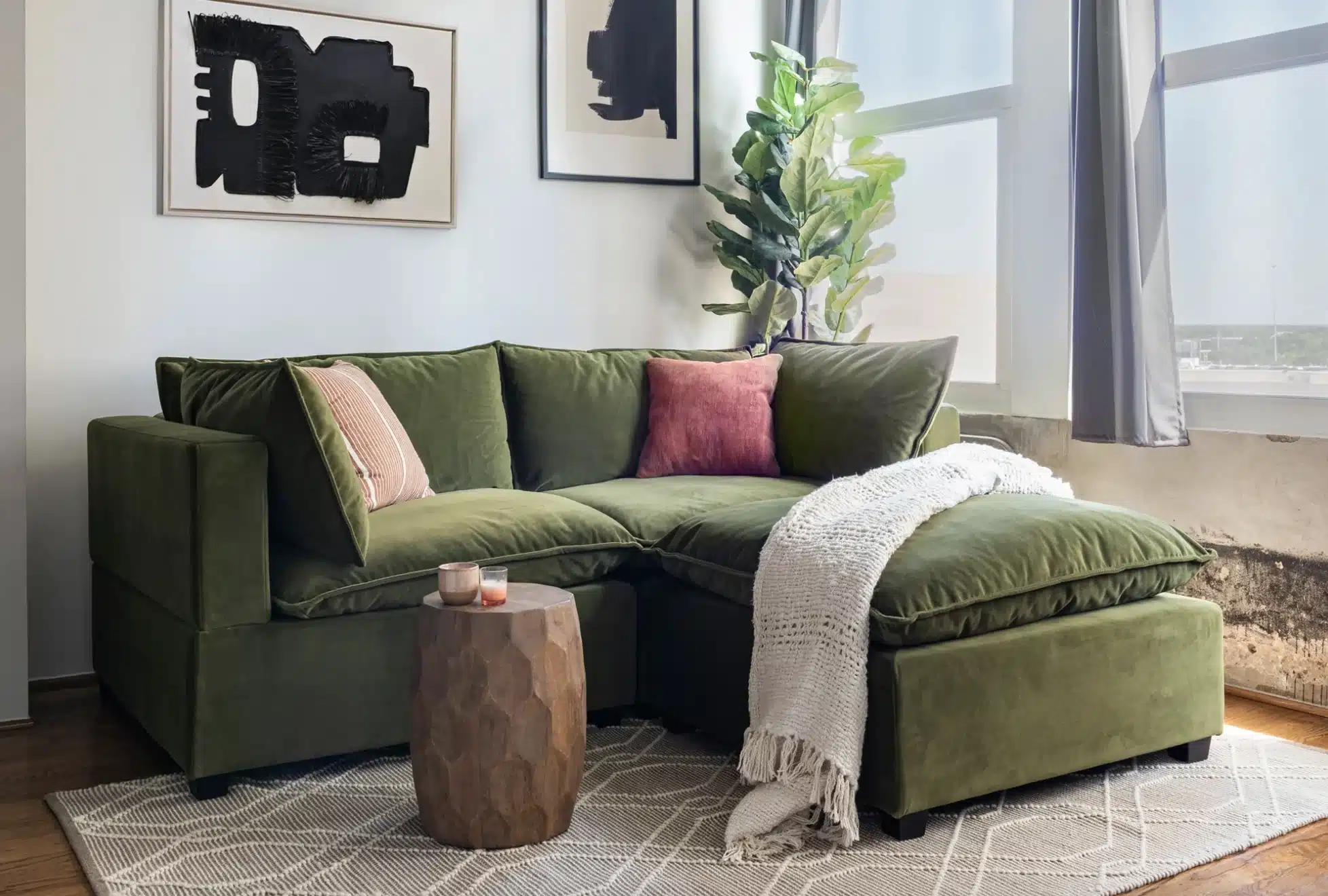 The deep and comfortable cloud couch resembling sofa will make your days at home utterly relaxing. It has extra deep and wide seats accompanied by fluffy cushions. The cushions are 100% vegan and hypoallergenic. Perfect for a family of three or four members, this sofa also comes with an ottoman that can be moved according to your changing needs. You can choose this sofa in a fabric of your choice as it is available in around 9 fabric options. Moreover, you can choose the ottoman with or without storage.
Dimensions
Width: 120 inch
Depth: 78 inch
Height: 39 inch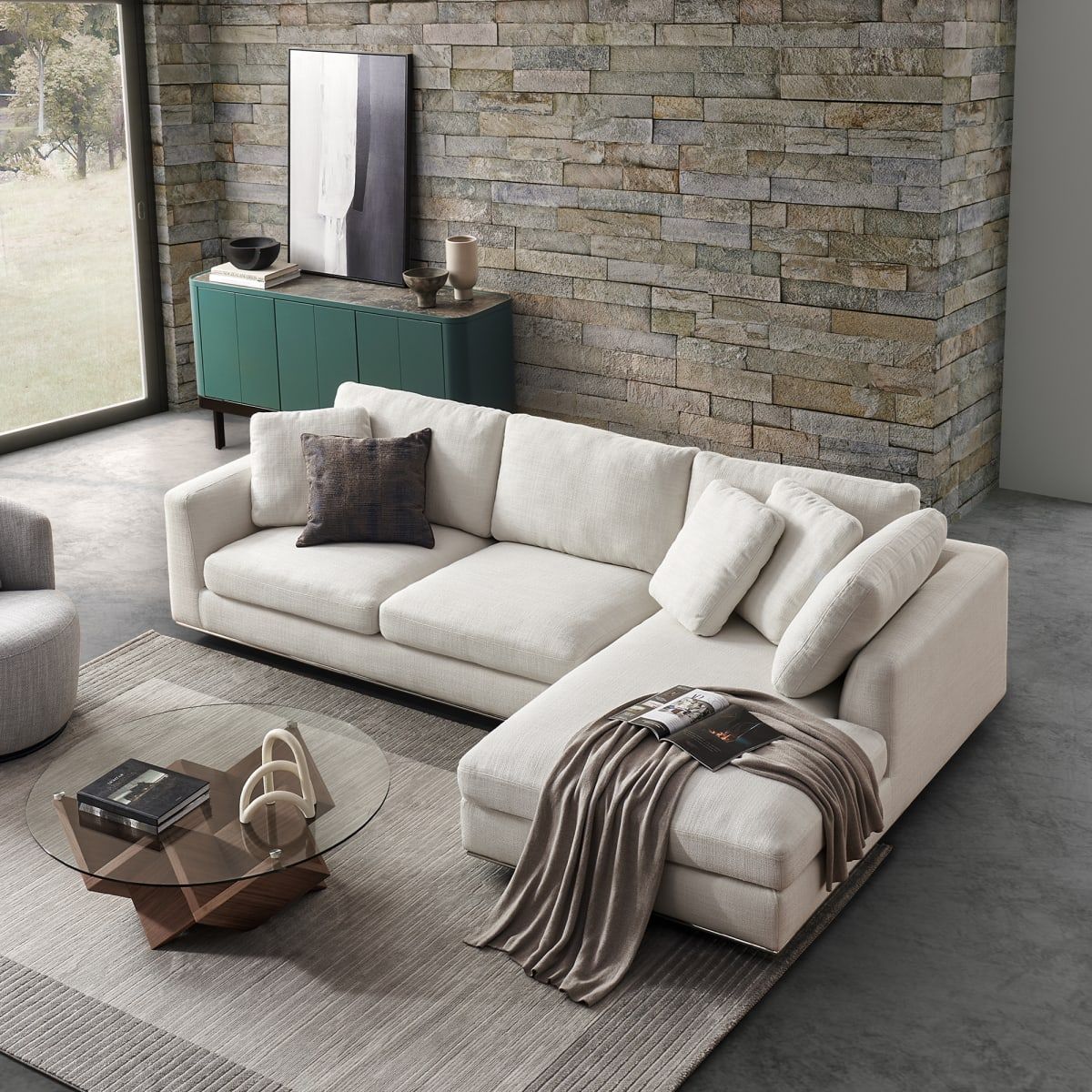 This deep-seat cloud-like sofa from Castlery is designed to give you maximum comfort and lend your living room a touch of elegance. The seat filling is of fiber and pocket spring, while the back is made of fiber. Together they provide a sink-in softness that is highly enjoyable and comfortable. The cloud couch-like sofa comes with extra cushions that mimic the cloudy softness of the sofa, making it all the more difficult for you to get up from it. It is available in classic shades of Brilliant White and Smoke Gray.
Dimensions
Width:109.4 inch
Depth: 67.3 inch
Height: 32.3 inch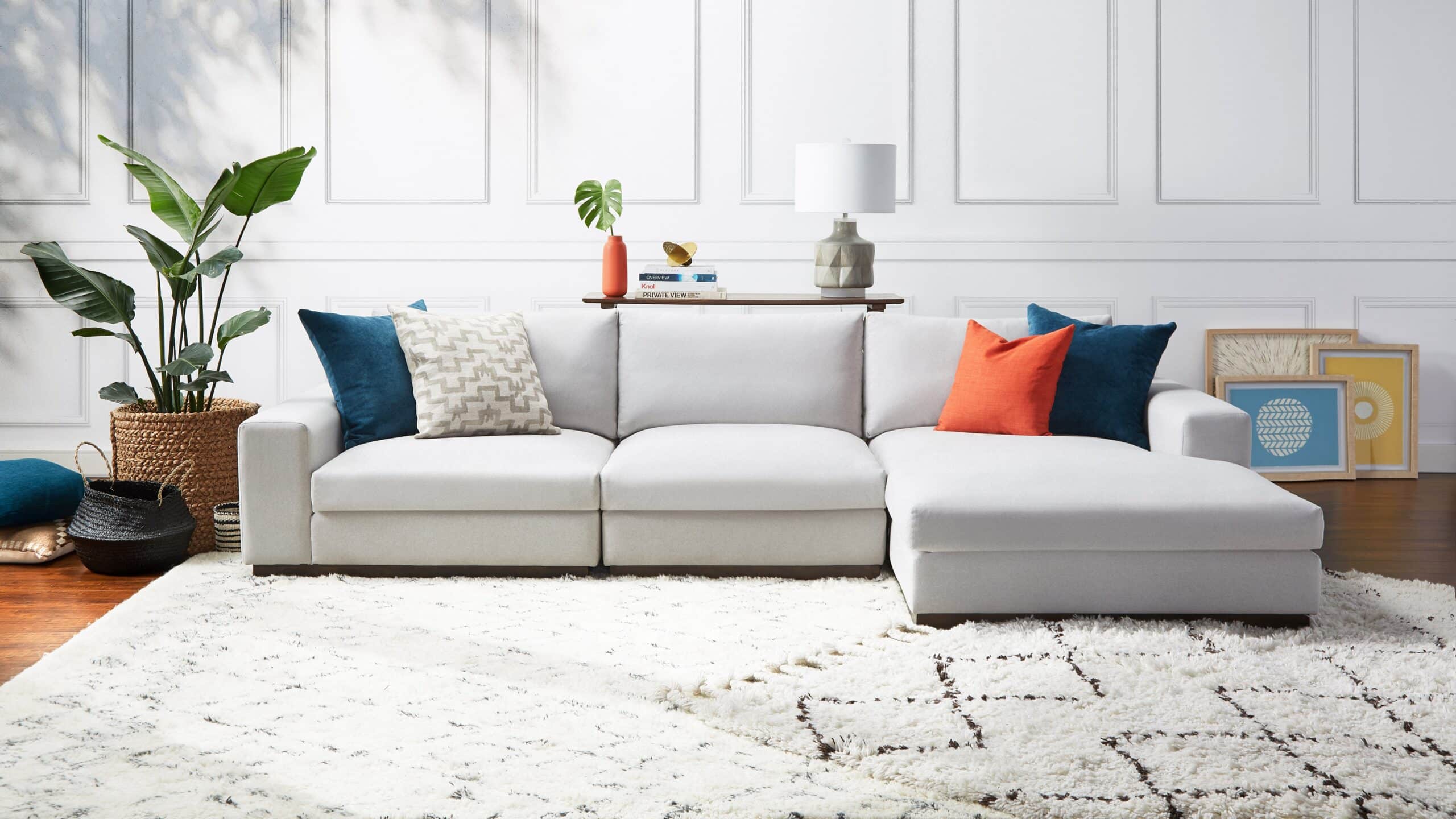 The Holt sectional cloud couch-like sofa from Joybird wins your heart at one glance. It is beautiful with a sophisticated and neat look having its roots in Nordic-inspired design. This design focuses on clean lines, marrying beauty with functionality and durability. It is basically a no-nonsense design with nothing there for mere show. Everything serves a purpose while appearing gorgeous. Its seat is made using high gauge sinuous spring suspension, and the back has synthetic webbed construction that delivers soft yet posture-maintaining support. The sofa is available in 15 plus sizes and 18 fabrics.
Dimensions
Width: 121 inch
Depth: 68 inch
Height: 34.5 inch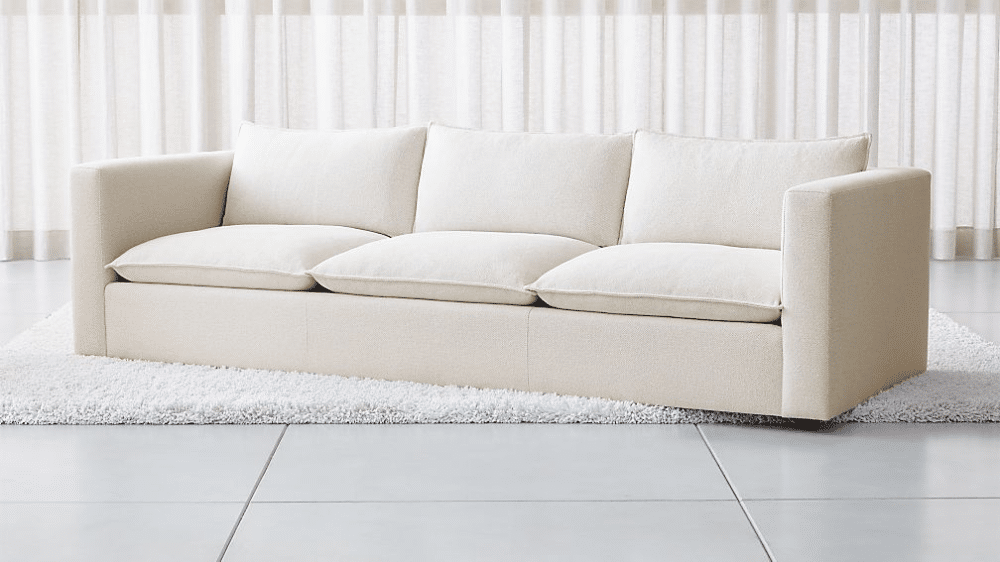 Another gem from Crate & Barrel, this cloud couch-like sofa looks very cute and sophisticated and is highly cozy. The seats are crafted from a down blend and a supportive core to deliver a balanced comfort of soft and firm sit. Plus, it makes the sofa look crisp without appearing out of shape after use. The loose seat cushions are made using soy-based polyfoam wrapped in a fiber-down blend and encased in down-proof ticking. It is available in around 187 fabric options.
Dimensions
Width: 91 inch
Depth: 39.5 inch
Height: 28 inch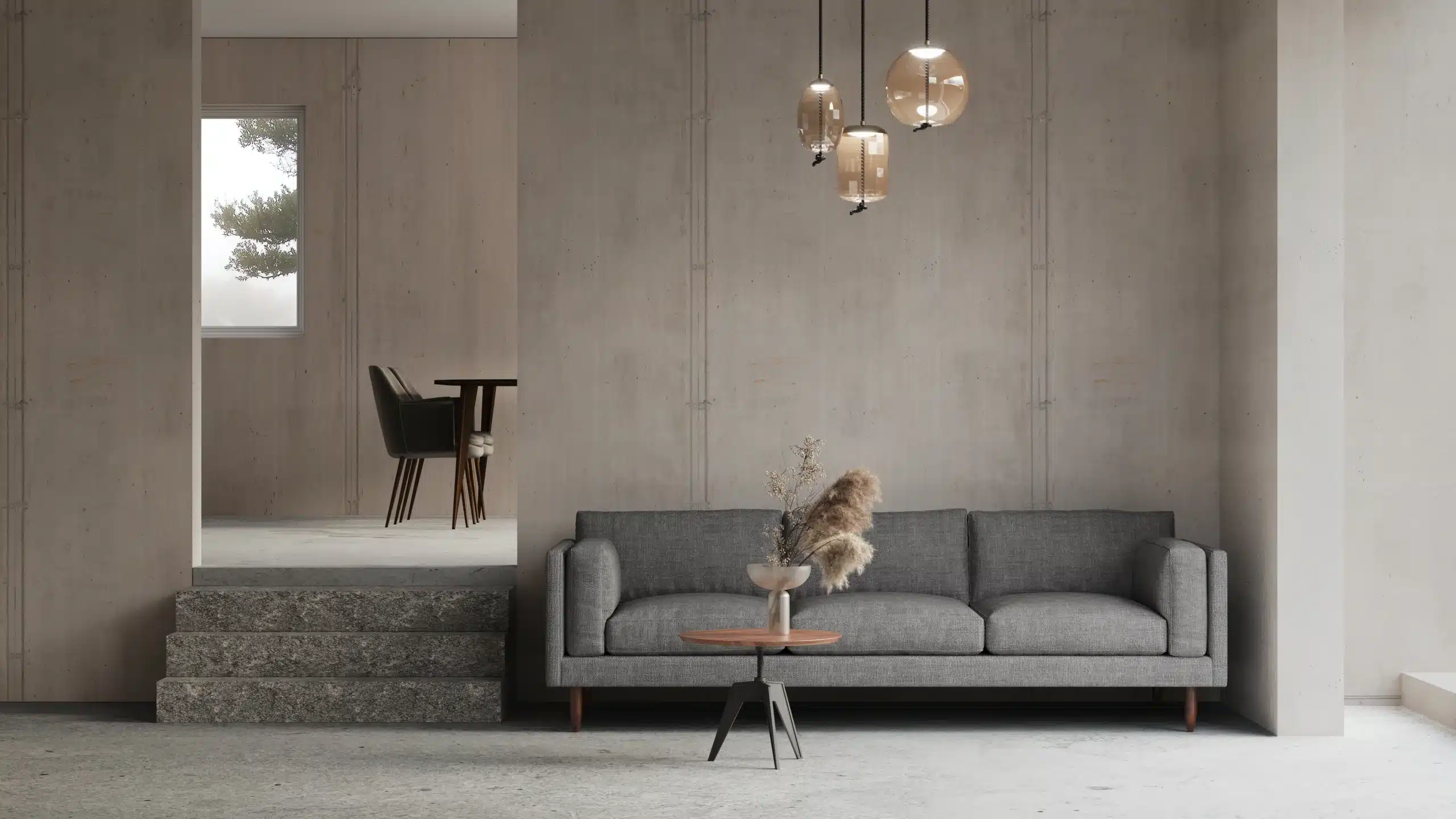 Low sloped back frame, thick-wrapped seat cushions, and soft back pillows make this affordable cloud couch alternative a winner for providing relaxing comfort without compromising on your posture support. This sofa resembles the neat and contemporary design of a cloud couch. It also comes with extra cushions that are trillium wrapped to enhance your comfort level while sitting on it. This sofa is designed to fit the crampest of corners with its lean shape and size. You can select the size and fabric of the sofa to suit you best from its large variety of options.
Dimensions
Width: 65 to 100 inch
Height: 33 inch
Depth: 37 inch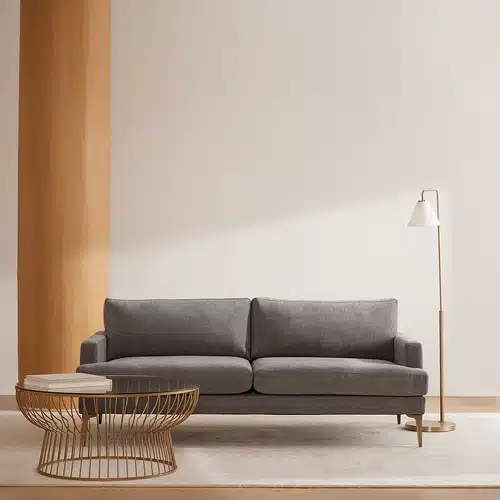 A sofa that gives you innumerable choices to suit your needs and style preferences is one of the best things. This Andes Sofa from West Elm lets you choose the seat depth, fabric and color, and leg finish. Its seat cushions are fiber wrapped with high-resiliency polyurethane foam cores that are super soft yet comfortably firm. The back cushions have foam and fiber filling that support your posture and deliver cozy comfort at the same time. It includes fluffy cushions with reversible covers for experimenting with different looks.
Dimensions
Width: 60 inch
Depth: 34 inch
Height: 30 inch
Let's Have a Seat
This was our list of the best 13 alternatives to the TikTok famous cloud couch. Which one did you like best? These not only look like the original cloud couch but also resemble its feel and comfort. Plus, most of them include the features of a cloud couch, such as extra fluffy pillows, adjustable pieces, and a variety of fabrics to choose from.
Don't think twice before investing in a cloud couch alternative, as this will be the most cozy and stylish furniture you will introduce in your home. And don't worry about the durability of these cloud couch alternatives.
They are built to last as they are made using high-quality materials, solid engineering, and craftsmanship.